New year, new me.
That's how most of us start the year.
New goals, a fresh outlook on life and all the motivation to achieve everything we have set out to.
But many people struggle to stick to their New Years Resolutions – including me. I don't think I've ever stuck to one for the entire year… and I'll get to the end of the year and look back, thinking – I wonder if my life would have been any different if I'd stuck to them?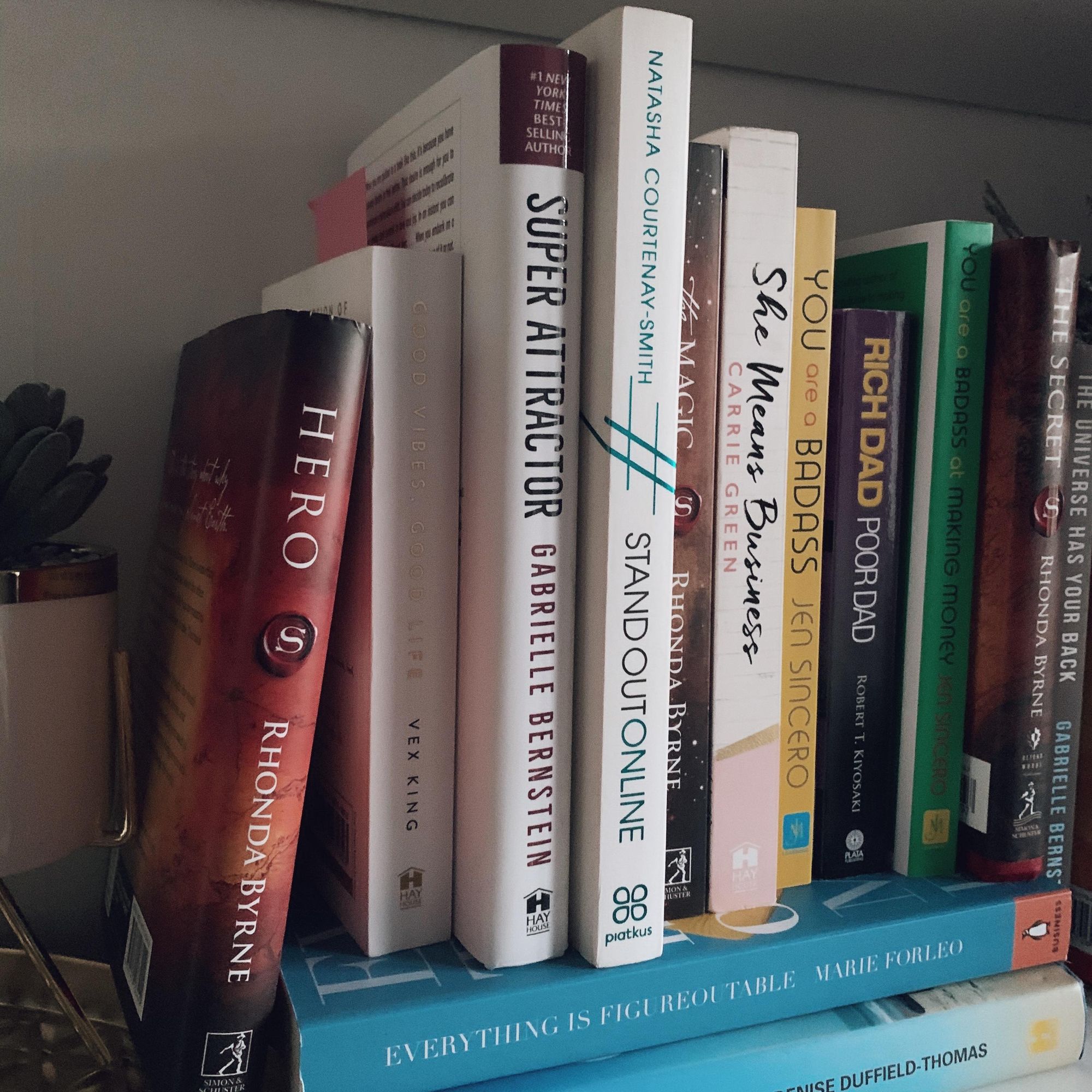 Towards the end of last year I added a few books to my bookshelf (yep, I've not finished any of them yet) and I found that if ever I was feeling a little meh, de-motivated or stuck, these gave me the little boost that I needed.
These made me take a step back and look at life in a different light… and then got me back onto my motivated path with a clear head.
I've never been one to invest in 'self-help' books because I've never thought of myself as someone who needs 'self-help'… but now I've actually read some in this genre – I think they're incredible. Honestly, don't be put off by the title of the genre.
So here are the books I've added to my bookshelf over the past few months and I'm working through reading right now.
1. GOOD VIBES GOOD LIFE – VEX KING
I'm one to judge a book by it's cover initially… and that's how I was drawn to this book. I know, I know, I shouldn't judge a book by its cover – but, ignoring the saying, when it comes to books, this has generally worked for me so far…
And that's how I picked up this book – I spotted the book on an Instagram post and I looked it up.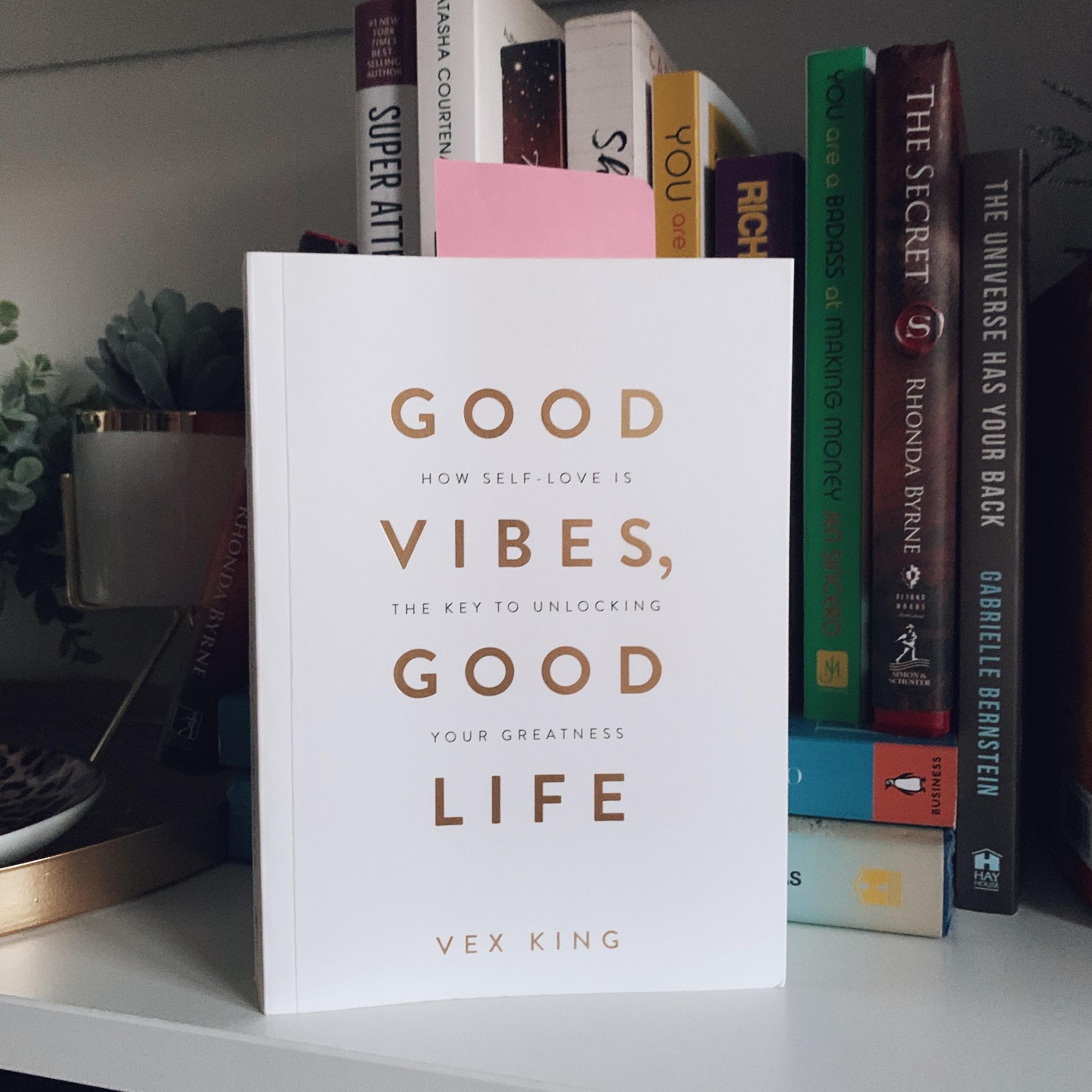 If you need a little more positivity in your life or fancy looking at life from a different angle, you need to read this book. Vex King covers everything from toxic relationships, mindfulness, overcoming fear and changing beliefs, to finding your purpose and learning to change how you feel.
You learn that changing the way you look at something, or changing how you think about something can change your life completely.
I'm halfway through this book and the part I've read so far has been refreshing. Reading it really makes you feel so positive about life! I'd definitely recommend.
2. THE SECRET – RHONDA BYRNE
Do you believe in the Law of Attraction? I didn't – I thought it was a load of rubbish… I mean, how can our thoughts actually have an impact on things outside of ourselves that we physically have no control over? Psh.
Well… then I discovered The Secret.
I'd heard of this book from several different sources but when I found out it was about the Universe and manifestation and stuff I stopped listening. However…
Several people I follow on social media had read the book and said it had changed their lives.
I started to listen more…
And then I bought the book. I mean what's the harm in trying it – if it's changed all of these people's lives for the better then maybe it could do the same for me?
All I can say now is I'm a changed person. After reading half of the book (yep still not finished a single book, but you knew that), I'm definitely a believer in the Law of Attraction – and this book will make you a believer too.
If you want to learn more about the Law of Attraction and learn exactly how you can change your life with it… You need to read this book.
It's super affordable and honestly you won't regret it.
3. THE MAGIC – RHONDA BYRNE
The Magic is another book in the 'Secret' series by Rhonda Byrne. This one is slightly different to The Secret and focuses on a mystery which has been revealed from a sacred text, and how this is used to take you on a 28 day journey to change your life.
The book goes through secret teachings, scientific laws and revelations to help you learn how to live your dream life.
If you're not a believer in The Law of Attraction then these books probably won't sound like your regular self-help books but give them a try – they're definitely worth reading.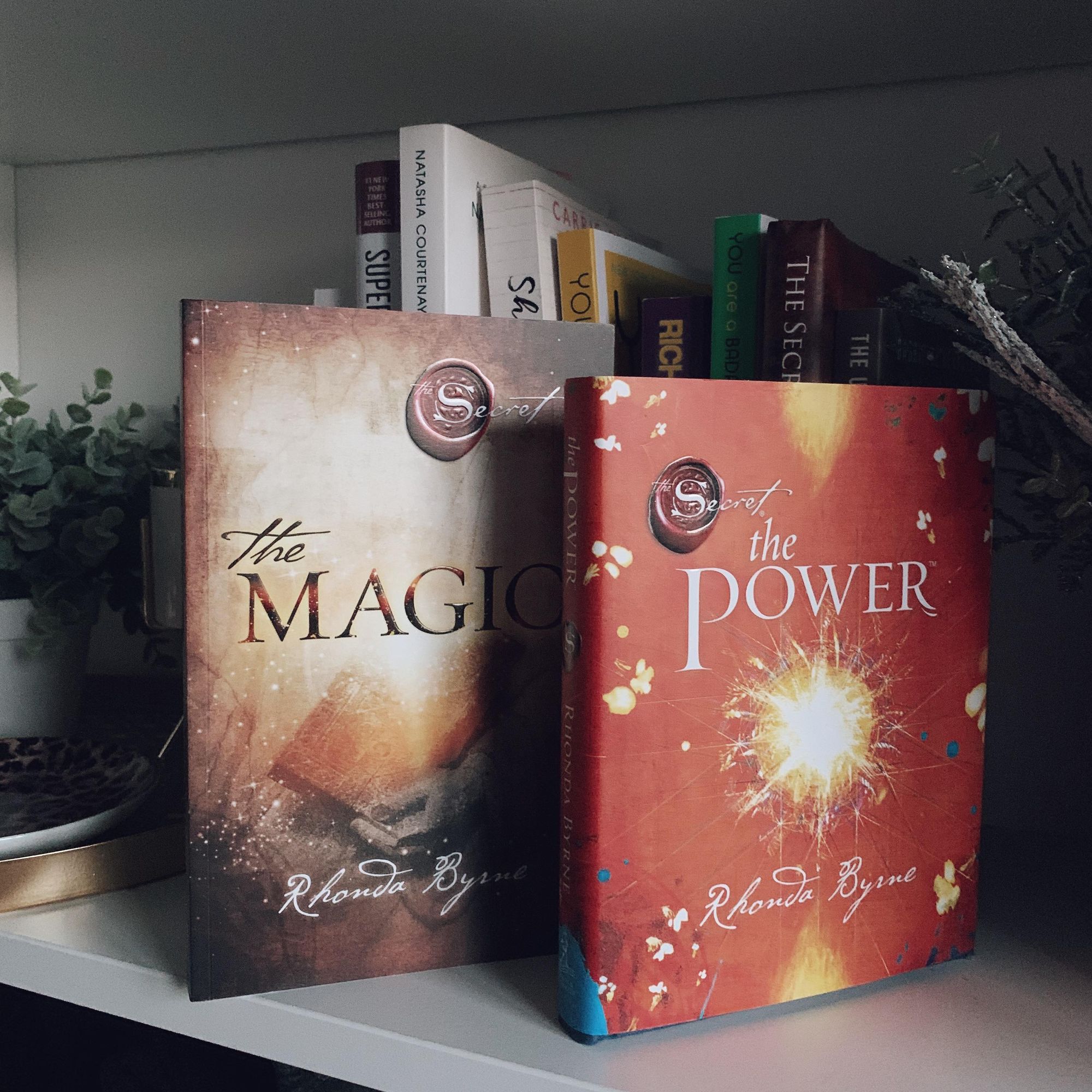 4. THE POWER – RHONDA BYRNE
The Power is… yup, you've guessed it… another book in the series from Rhonda Byrne. This book teaches you that whatever you want from life, whether it's health, wealth, a dream job or your dream car, the power to achieve this is inside of you.
And this book teaches you how you can learn to use that power to achieve your goals.
There are also several examples of successful entrepreneurs and business-people who have used the Power and followed this method to become the success they are today.
5. HERO – RHONDA BYRNE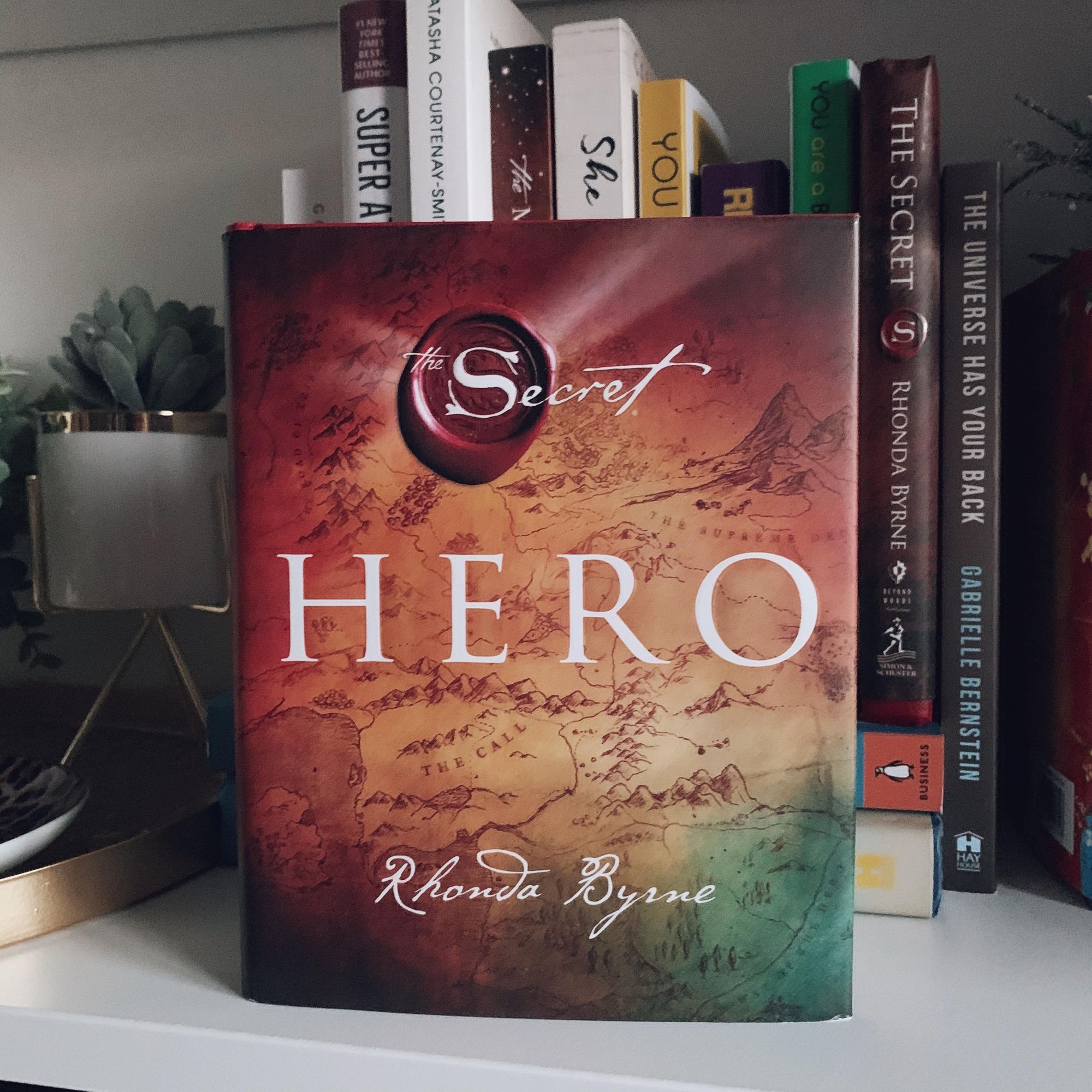 The fourth and final book in the series from Rhona Byrne is Hero. This book tells the story of 12 of the most successful people who have believed in their inner Hero to achieve all of their goals and live their dream life.
The 12 people featured in the book seemed to be on paths which would have made it impossible for them to achieve anything in life… but after learning to believe in the Hero within, success was born.
Within the 12 people featured are some of the most successful entrepreneurs who have used this method – I think you'll be surprised at some of the names!
6. THE UNIVERSE HAS YOUR BACK – GABRIELLE BERNSTEIN
Another book designed to teach you how to live your best life. Packed with stories and lessons on how to have faith in life, The Universe Has Your Back book shows you how to rid fear and instead use your power to live a truly happy life.
I've not started reading this book yet but it sounds like it will fit perfectly with The Power!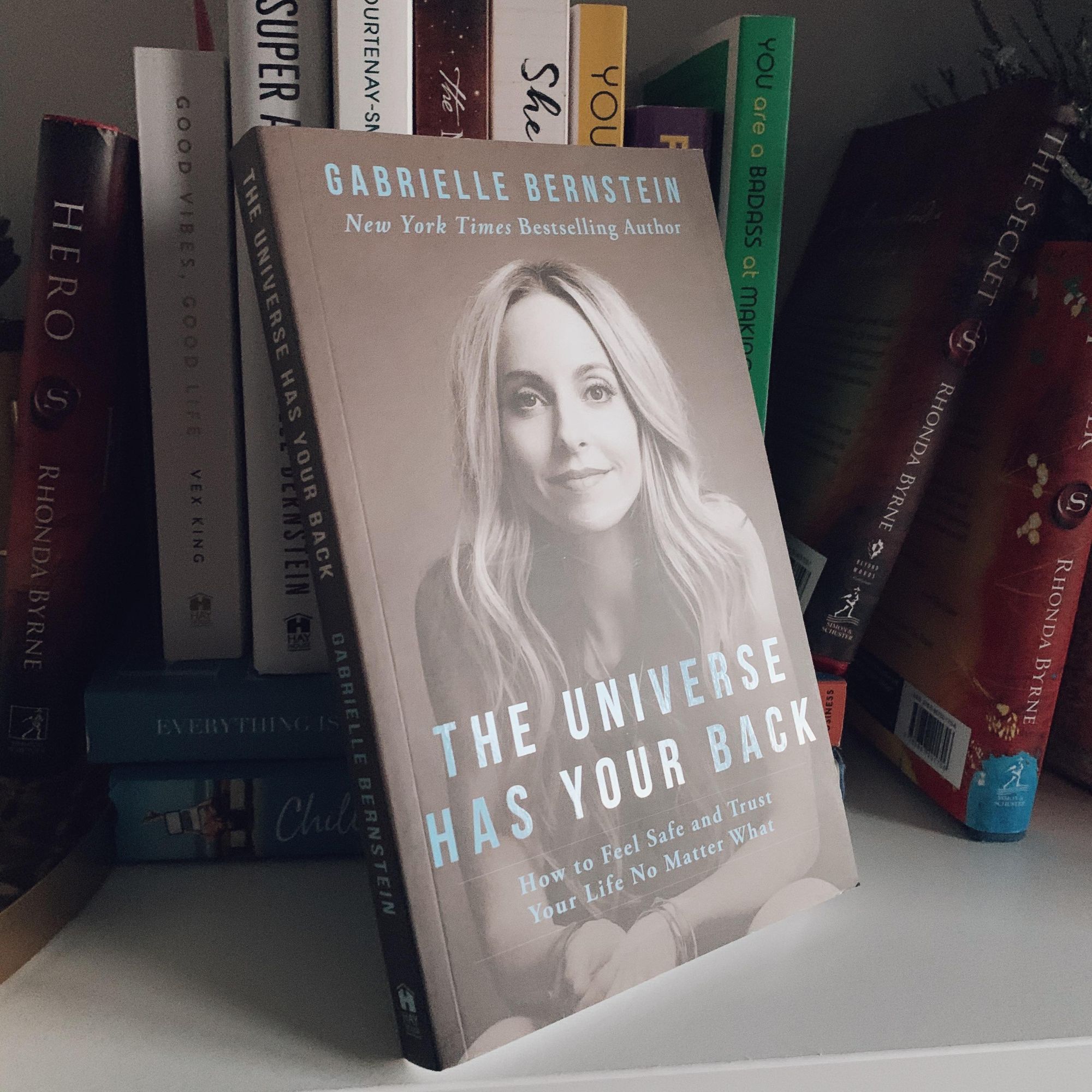 7. YOU ARE A BADASS – JEN SINCERO
This is the first book on the list that I've actually finished… well, finished listening to. I downloaded the audio book on Audible and loved it so much I needed the book too!
Jen Sincero has brought us the ultimate self-help book (don't let the genre put you off) on how to get what you want from life, by changing your beliefs. Jen uses many of her own life stories to illustrate how you can change your life by changing your behaviour and beliefs like she did.
If you want to change your life and start getting what you want out of life, this book is for you.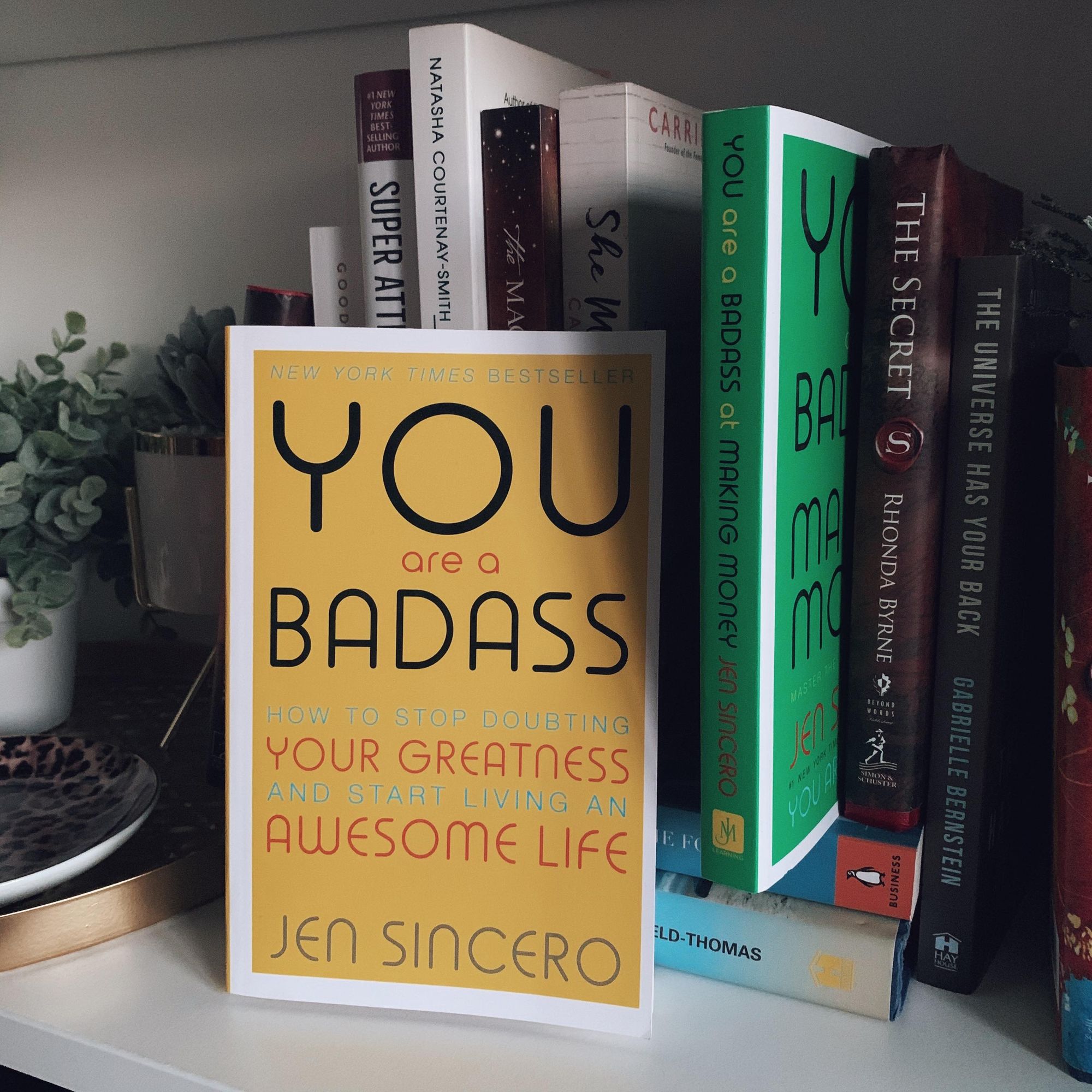 8. YOU ARE A BADASS AT MAKING MONEY – JEN SINCERO
Following on from 'You Are A Badass' is this next book – You Are A Badass At Making Money. If you're one of those people who doesn't have enough money to live the life you truly want, this should help.
Packed with tips and lessons on how to make the money you need to live the life you want, this book leans on Jen's own life stories on her struggles from having minimal income to her luxury life now.
9. LESS STUFF – LINDSAY MILES
Tidy home, tidy mind – that's how the saying goes, right? Well that's what I was going for when I bought this book.
Written to teach the art of decluttering and only having exactly what you need, this book goes beyond 'if you don't need it, throw it out' and shows you exactly how to declutter and the impact a tidy environment can have on your life.
This book also touches slightly on how best to dispose of items you don't want or need whilst minimising the impact on the environment.
10. RICH DAD POOR DAD – ROBERT T. KIYOSAKI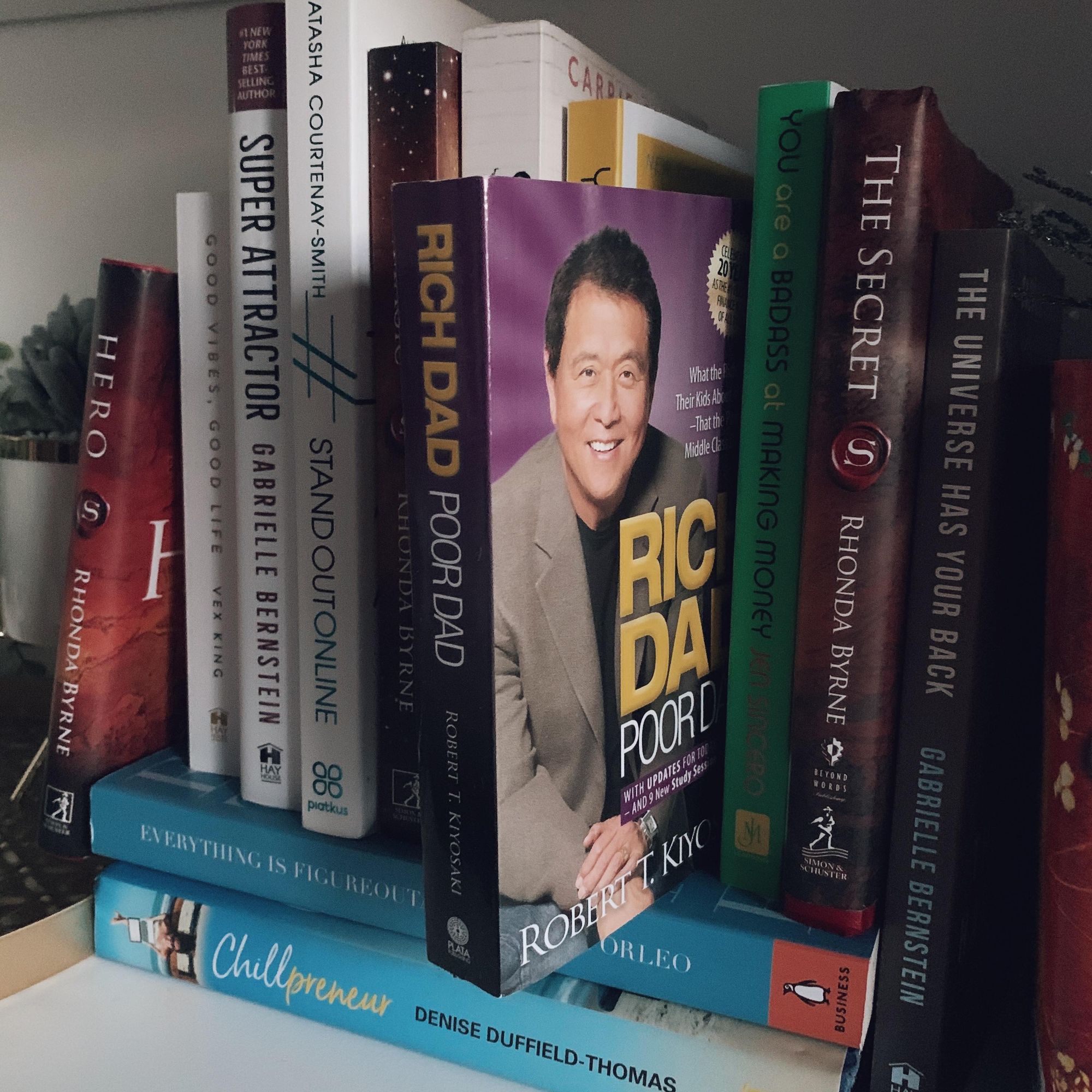 I think everyone has heard of this book – it's iconic in the world of business and self-help. Written by Robert Kiyosaki, he uses his experience of growing up with a rich dad and a poor dad, and the lessons he learned from them both when it comes to money and success.
This book explores the difference between earning a high income in a paying job, and investing to generate cashflow. Say goodbye to 'working for money' and use the tips and tricks in the book to help money 'work for you'.
And if you think that owning your own house means you own an asset… I'll let you read what Robert has to say about that one!
11. SHE MEANS BUSINESS – CARRIE GREEN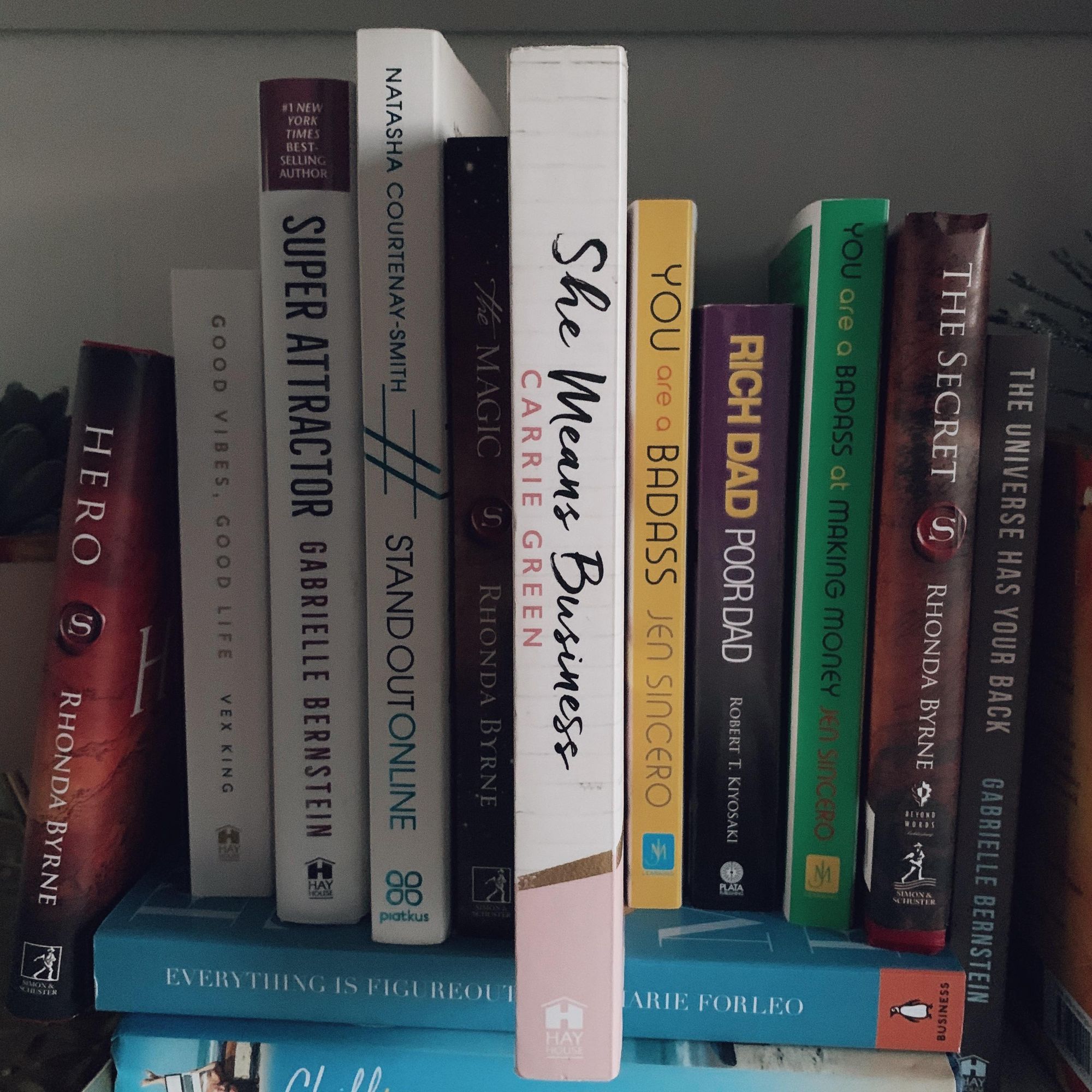 I think most of us have had an awesome business idea at least once in life – where you've sat there thinking it through wondering how exactly you could make it happen… but, most of the time this is how far people get before they quit. People just think it's a dream and there's no way they could actually go ahead and act on their idea.
She Means Business holds the key to actually taking action on your dreams and take control of your life. It's packed with stories, tips and tricks for you to create strategies to get started on that business idea and take the first steps in your journey as an entrepreneur.
12. STAND OUT ONLINE – NATASHA COURTENAY-SMITH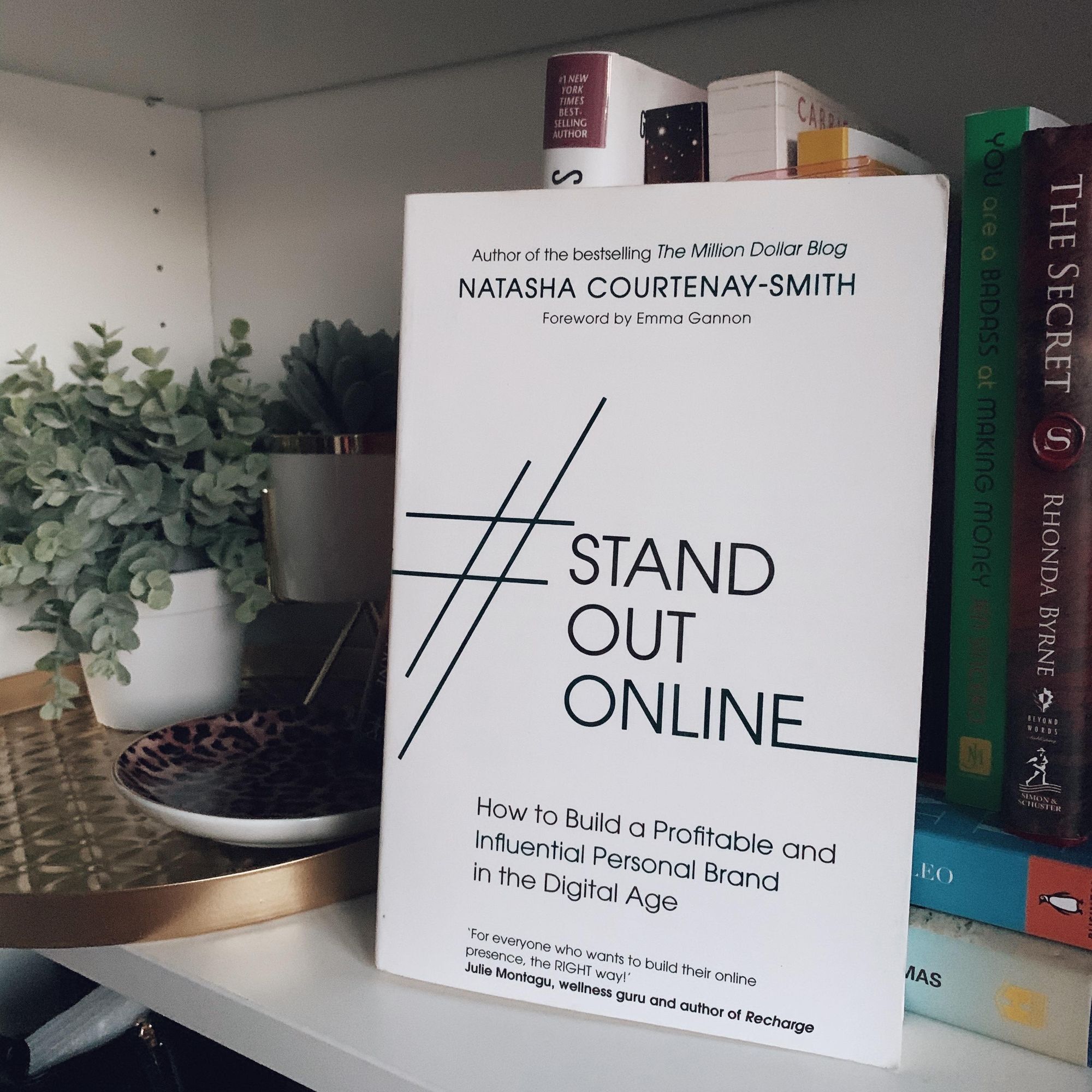 If your business isn't online, there's only a small chance it will actually thrive in today's world. The importance of building a brand and an online presence is invaluable if you want to build or grow a business.
There's so many people starting online businesses though, how do you stand out? This is where Stand Out Online comes in handy. This book teaches you exactly how to build a strong personal brand and become a known expert in your industry.
13. SUPER ATTRACTOR – GABRIELLE BERNSTEIN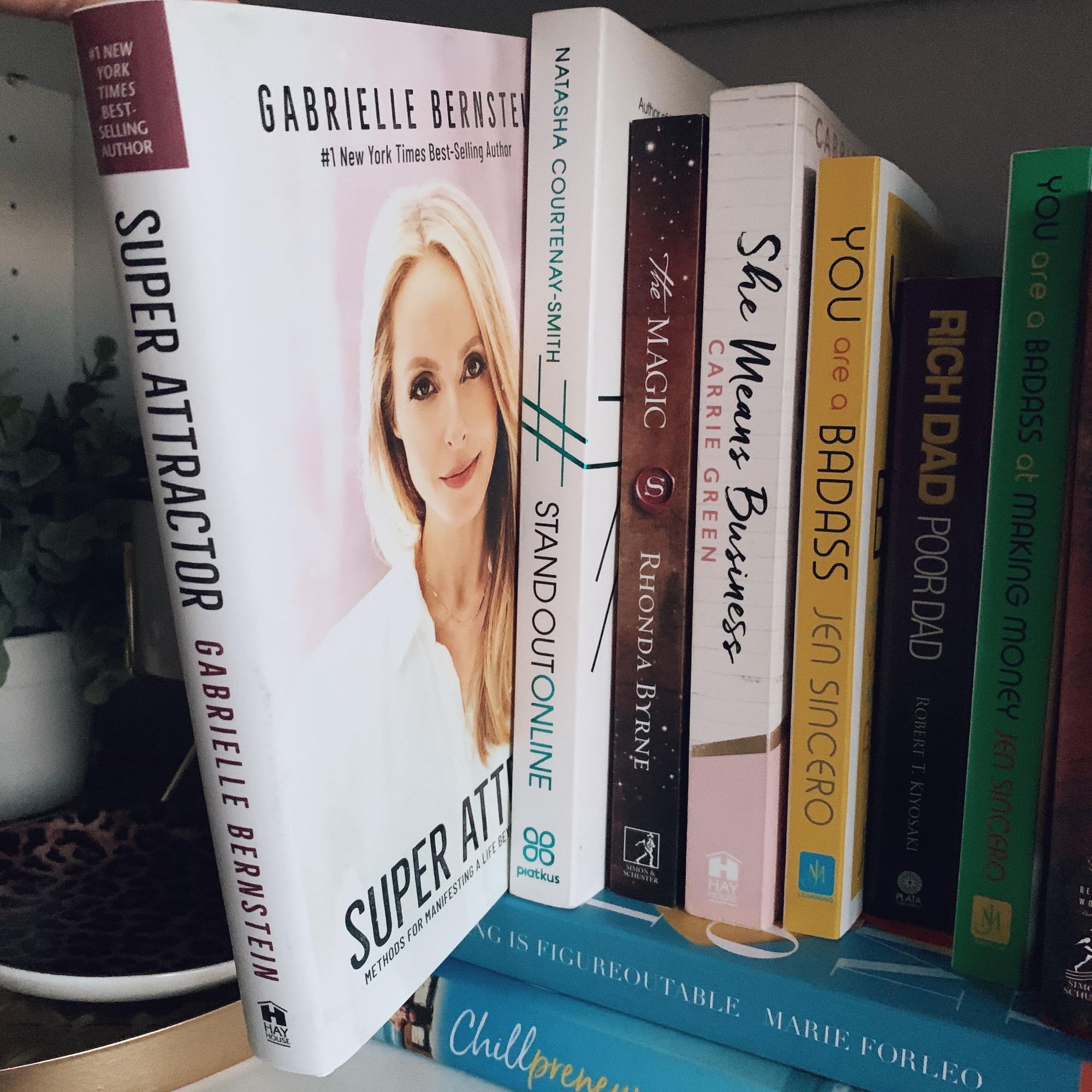 Another book aimed at helping you live your best life… so of course I needed this on my bookshelf! Super Attractor teaches you how to manifest your best life by doing less.
Find out exactly how to attract everything you want in life and how feeling positive does actually attract positive things – it's all in the Universe!
14. EVERYTHING IS FIGUREOUTABLE – MARIE FORLEO
Whatever your obstacle , or tricky situation, everything is figureoutable – and this book shows you how to succeed in everything you do by breaking things down into manageable steps.
If you're someone who never finishes what they start, you want to get out of a job you hate, or you want to change your life in any way, this book will teach you how to look at each situation and break it down to get the best result.
It's also filled with stories of people who have succeeded in doing this – proof that you can do it too.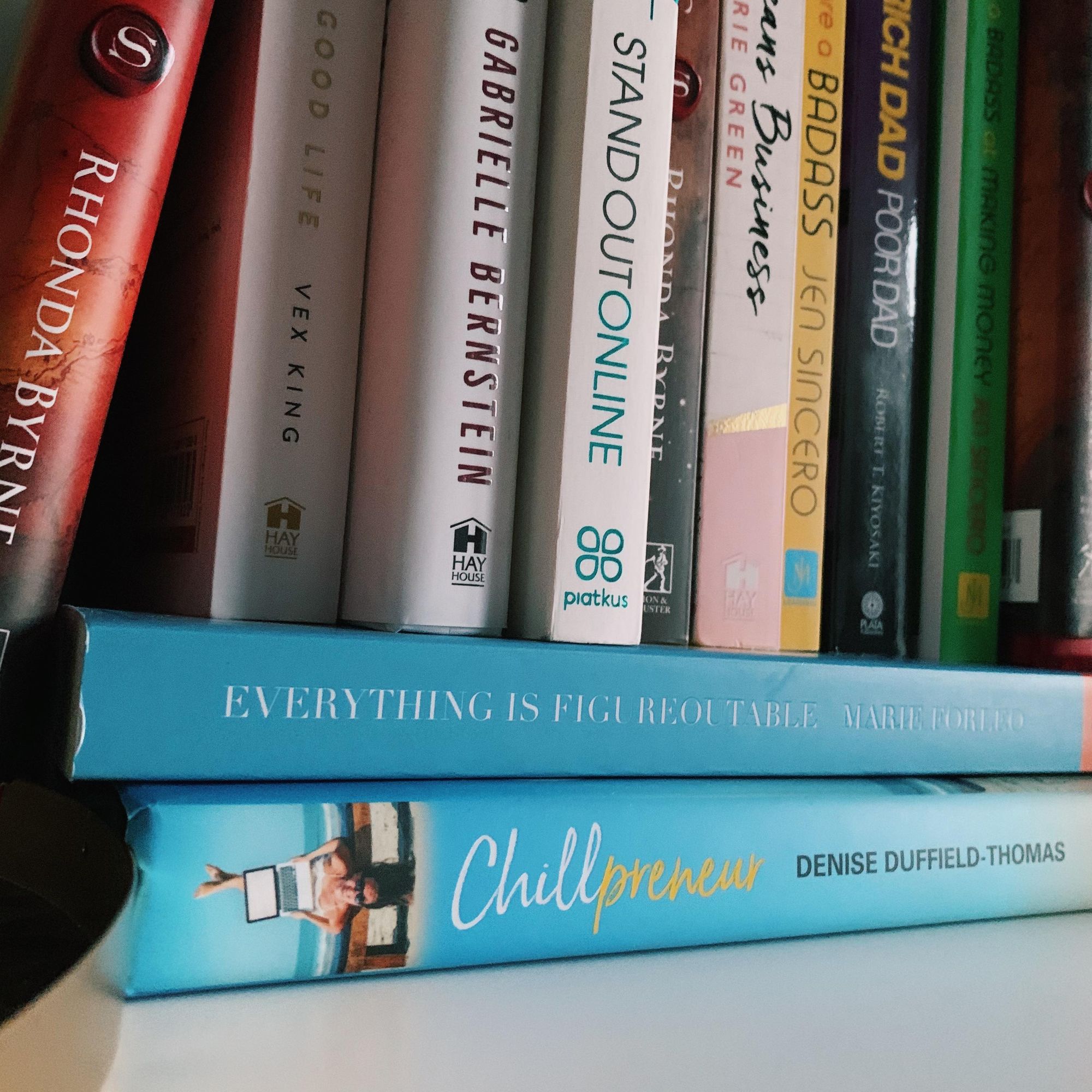 15. CHILLPRENEUR – DENISE DUFFIELD-THOMAS
The front cover of this book got me before I even read the blurb… a hammock, palm trees and relaxation is my kinda life plan.
If you want to live a successful life as an entrepreneur but don't fancy all of the stress and hard work, Denise will show you how to achieve this lifestyle as a 'chillpreneur' – and it's much easier than you think.
Working less and earning more is what this book will help you achieve. Just follow her advice and concepts and you'll be there in no time.