Aloha everyone! And welcome to the July unboxing of our favourite Beauty Box, Glossybox! (For all the skincare junkie's out there, 10 points if you know which Youtuber I'm referencing there 😉 ).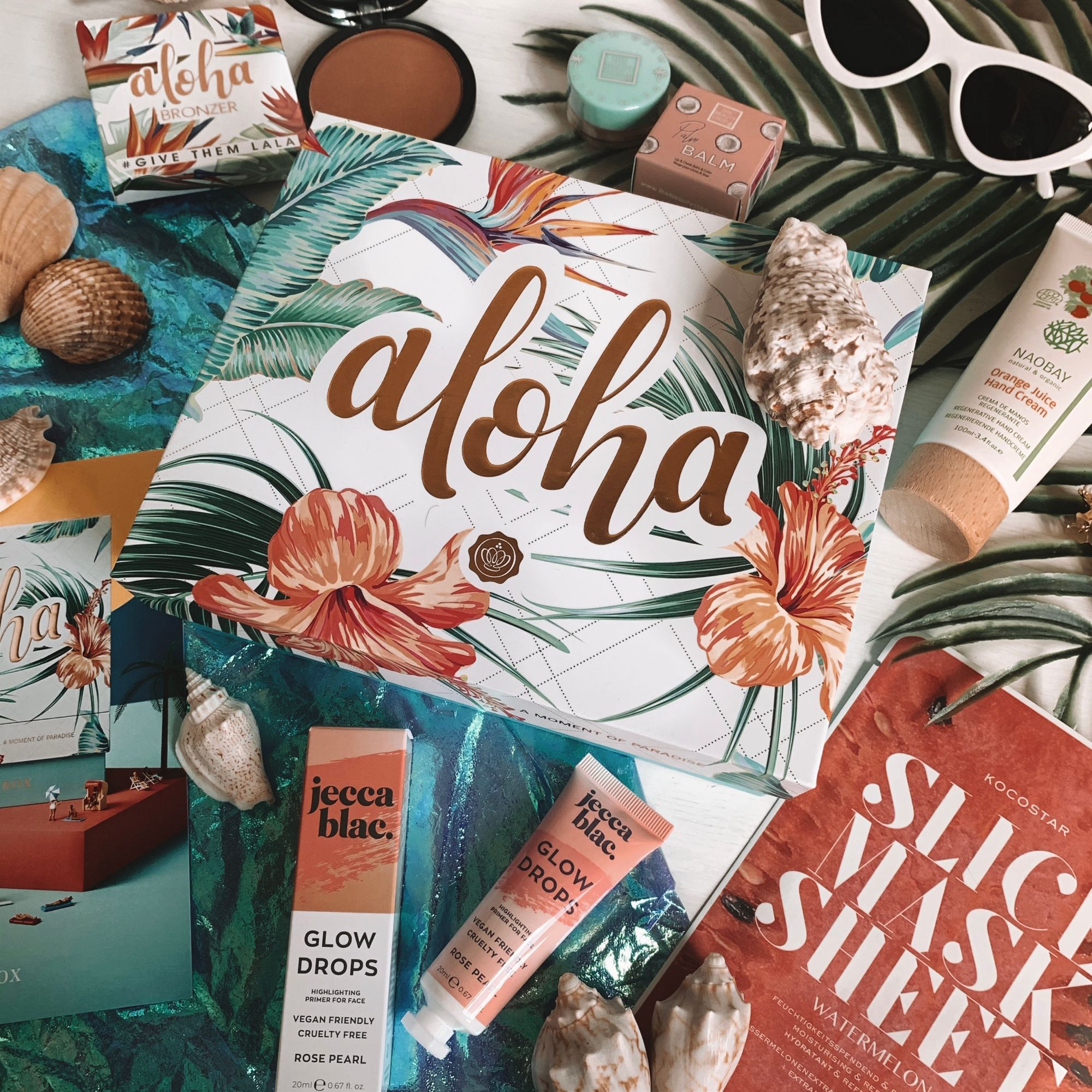 If you haven't guessed already, this month's theme is 'Aloha' – think tropical vibes, Hawaii, sunshine and coconuts! I mean if we can't go on holiday this year at least we have our tropical Glossybox to give us those summer vibes.
The box design is gorgeous, a beautiful Hawaiian floral pattern with 'aloha' written across the front and the tropical colours feed through the box with the beautiful ocean coloured tissue paper and pink ribbon. Attention to detail is just perfect.
So this month's Glossybox is bringing us 5 full sized summery products to give our skin that glow sun kissed look. Let's take a look at what's inside:
1. JECCA BLAC – GLOW DROP PRIMER
Worth £16
Oh my goodness these are incredible. At first it might just look like a tube of highlighter but it's so much more! The Glow Drops can be used as a primer for a glowy makeup look, or can be patted onto the skin to add an extra glow.
I've recently been using these as a primer, then adding some banana powder, and then powder bronzer to contour and it's given me the perfect glow no-makeup makeup look. The drops are super hydrating on the skin too. This is definitely a product I will be repurchasing!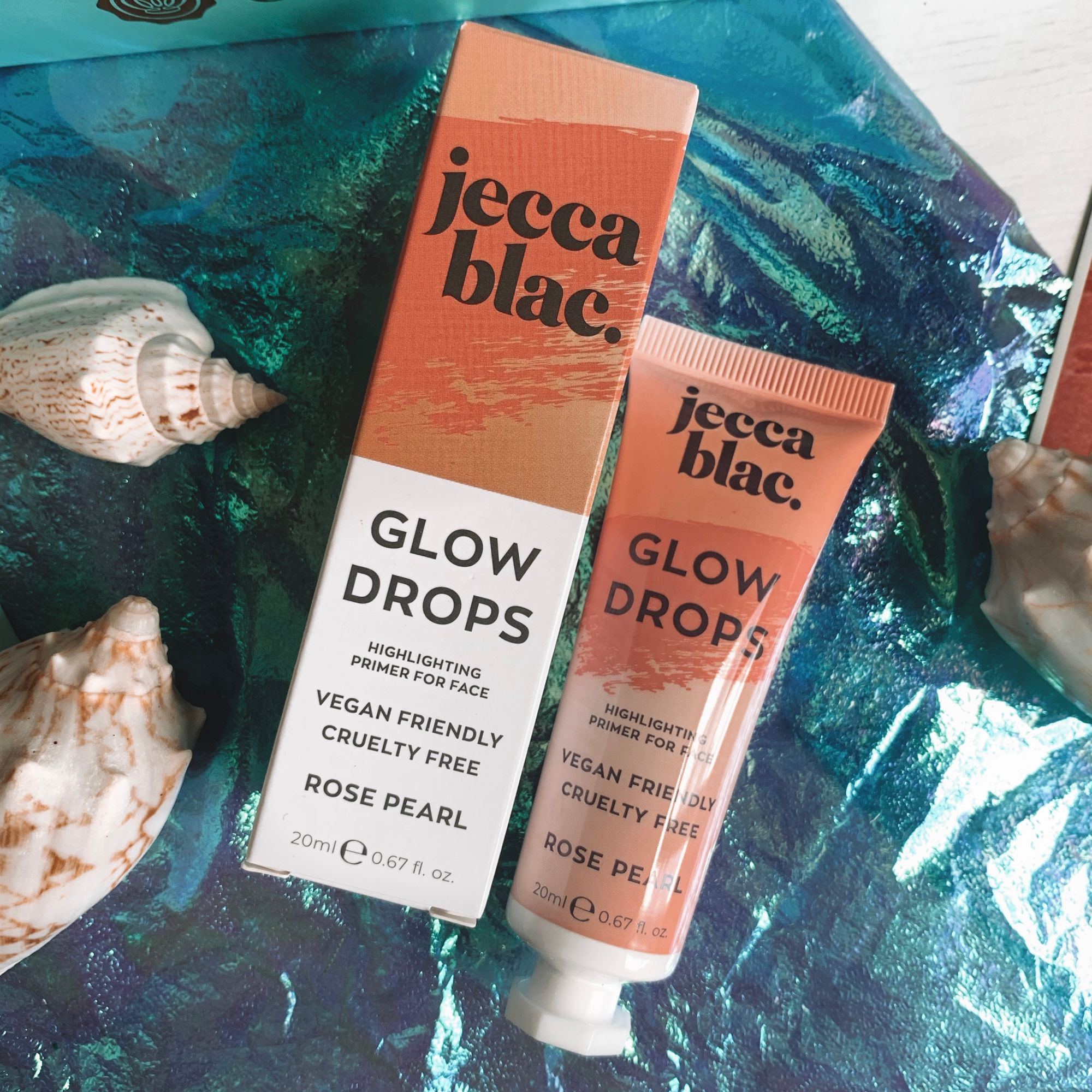 2. NAOBAY – ORANGE JUICE HAND CREAM
Worth £11.50
The next product in the July Glossybox is an orange juice hand cream from Naobay. All of the products in this month's box are full sized but this one seems exceptionally large! The wooden cap is also a unique feature.
The hand cream itself smells amazing… it's infused with shea butter, chamomile, aloe vera and orange water. These ingredients work together to keep your hands super hydrated and soft. During this time when everyone is washing their hands much more frequently, this is a welcomed addition to a Glossybox!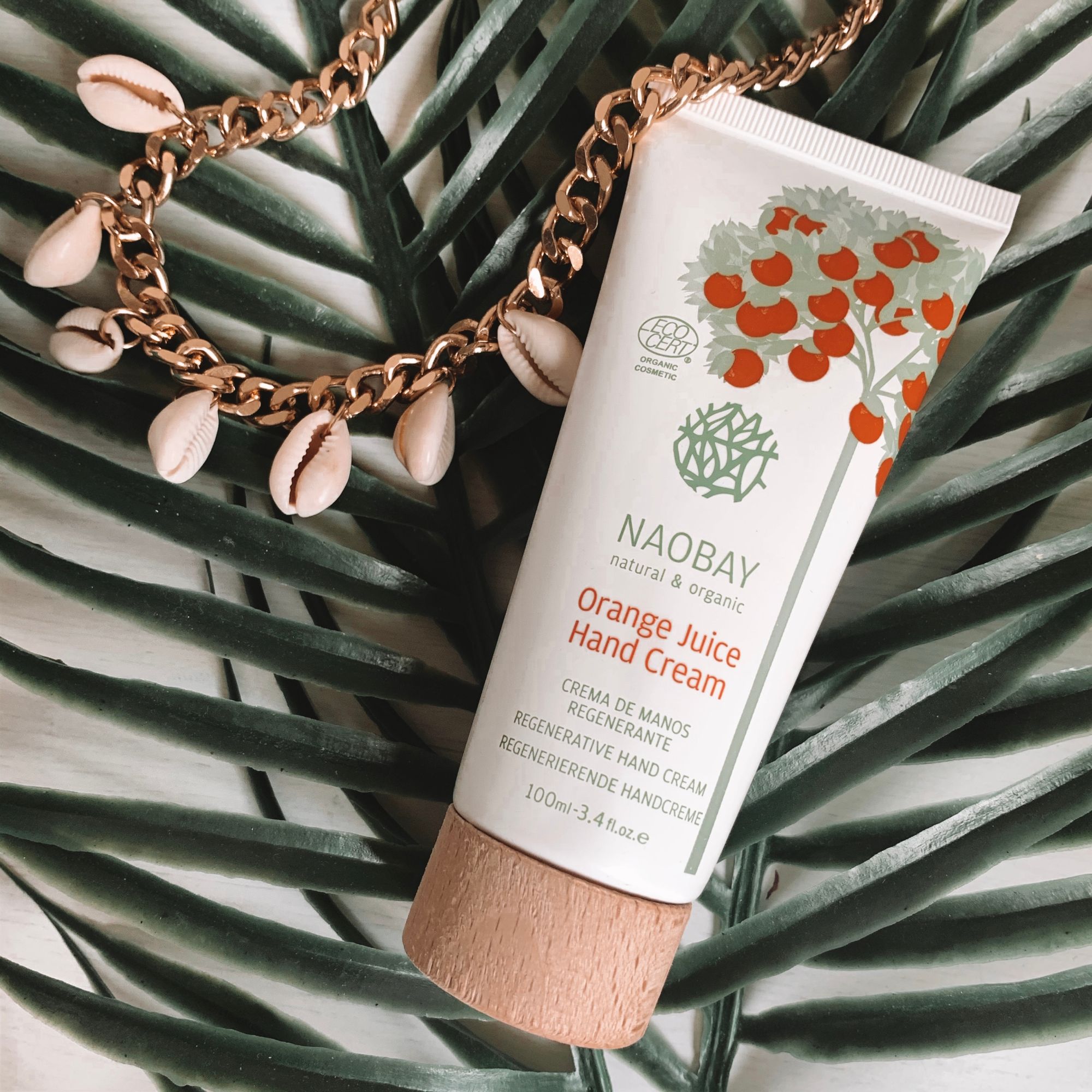 3. GIVE THEM LALA BEAUTY – ALOHA BRONZER
Worth £19.80
How amazing is the packaging on this Give Them Lala Bronzer?! The packaging matches the Glossybox perfectly! The Aloha bronzer is ideal if you want a sun kissed finish – so you can still look like you've been on a beach this summer even if you haven't! It's highly pigmented and applies really smoothly on the skin.
It's also great for contouring the cheeks and forehead by adding a little more product in those areas. If you want to use it to contour areas such as the side of your nose, or underneath your lower lip, try using a small eyeshadow brush to apply it more precisely.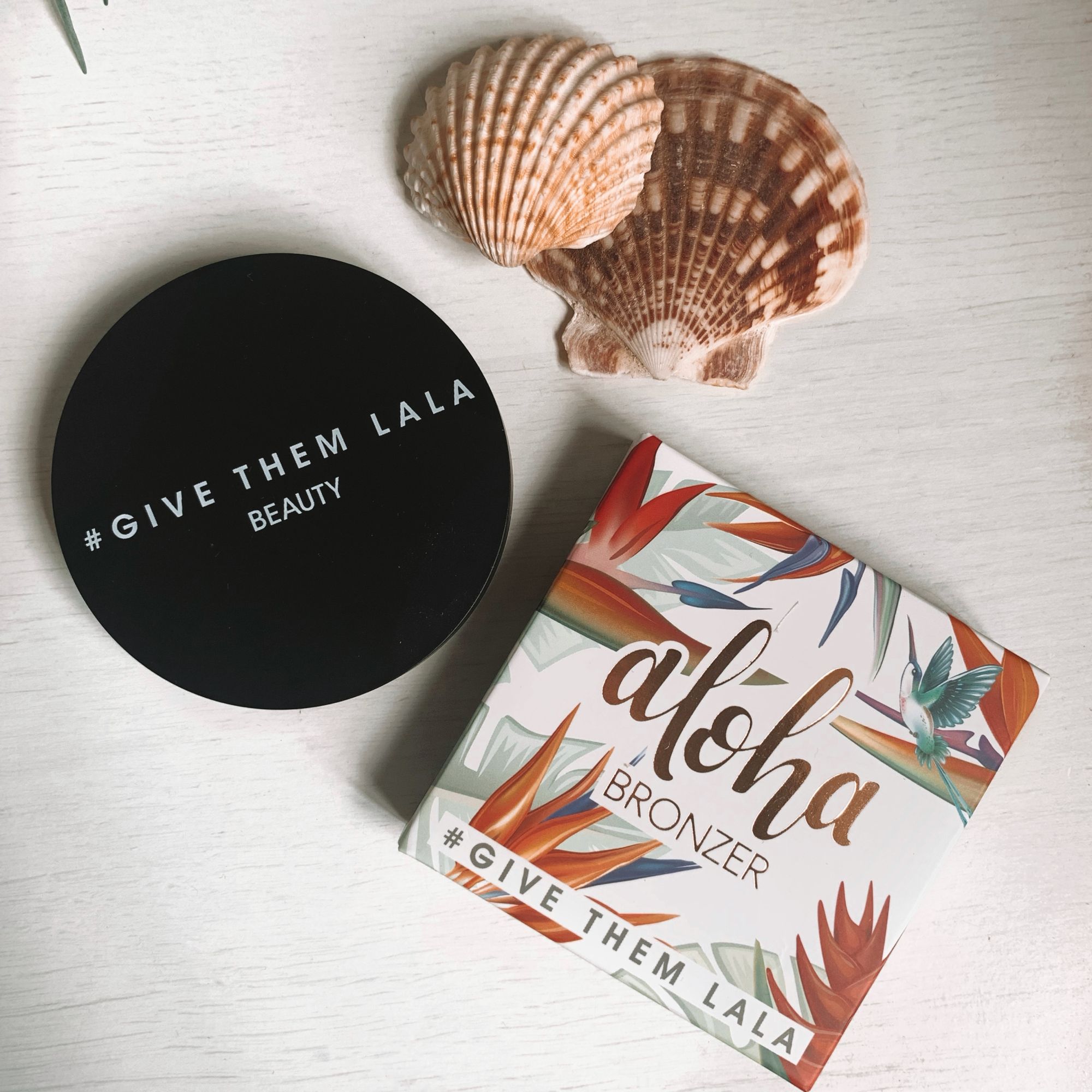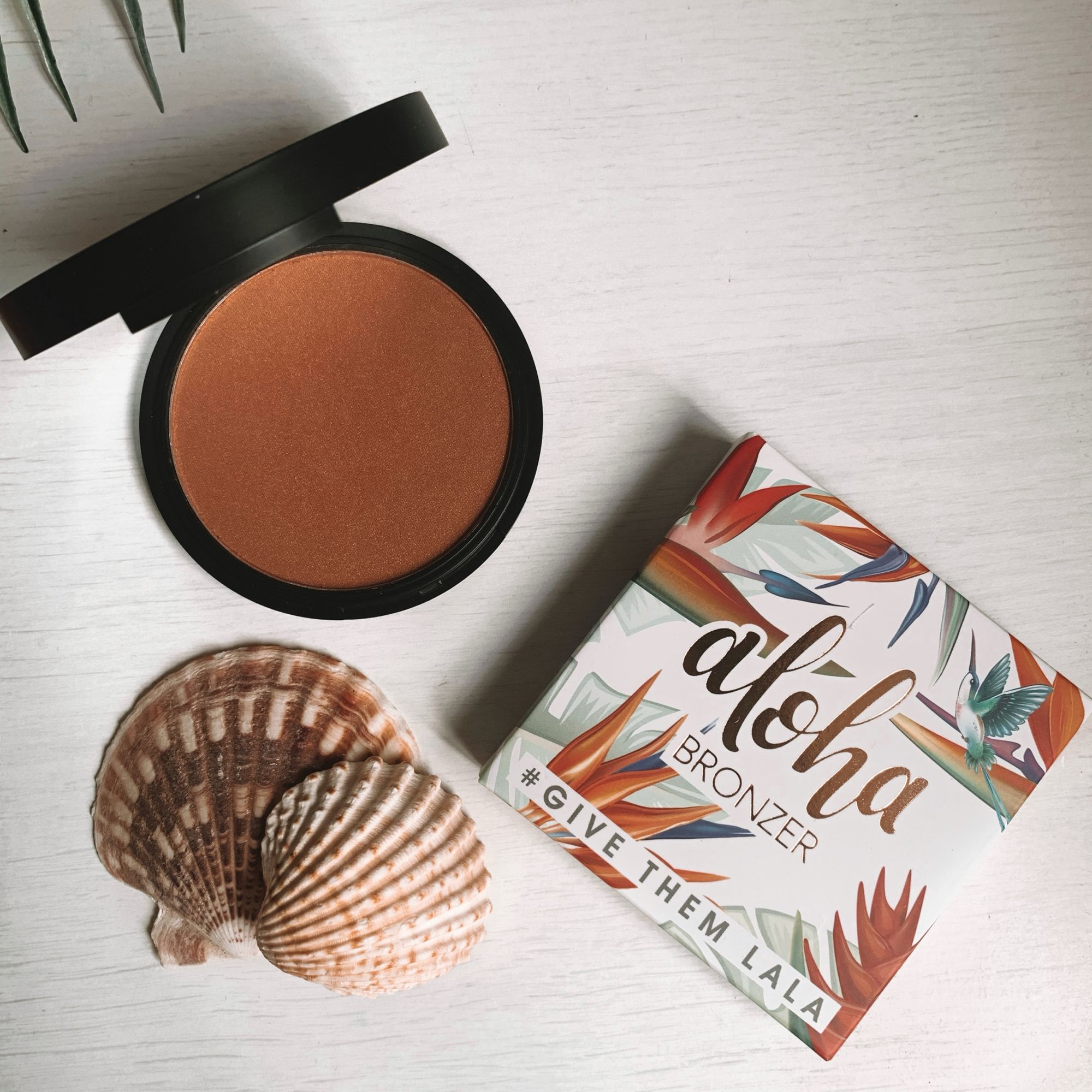 4. THE BEAUTY CROP – PALM BALM
Worth £18
This Palm Balm was the sneak peek from last month and honestly it's fab. It's a multi purpose balm with a bit of pinky tint in the shade 'Mauve Wave'. It contains 90% natural plant based oils including coconut and apricot oil so it's really hydrating on the skin.
Add some to your lips, eyelids or even cheeks for a bit of colour. It creates such a natural finish on the skin – perfect for summer when you want to apply less products on the skin and have a lighter more natural makeup look.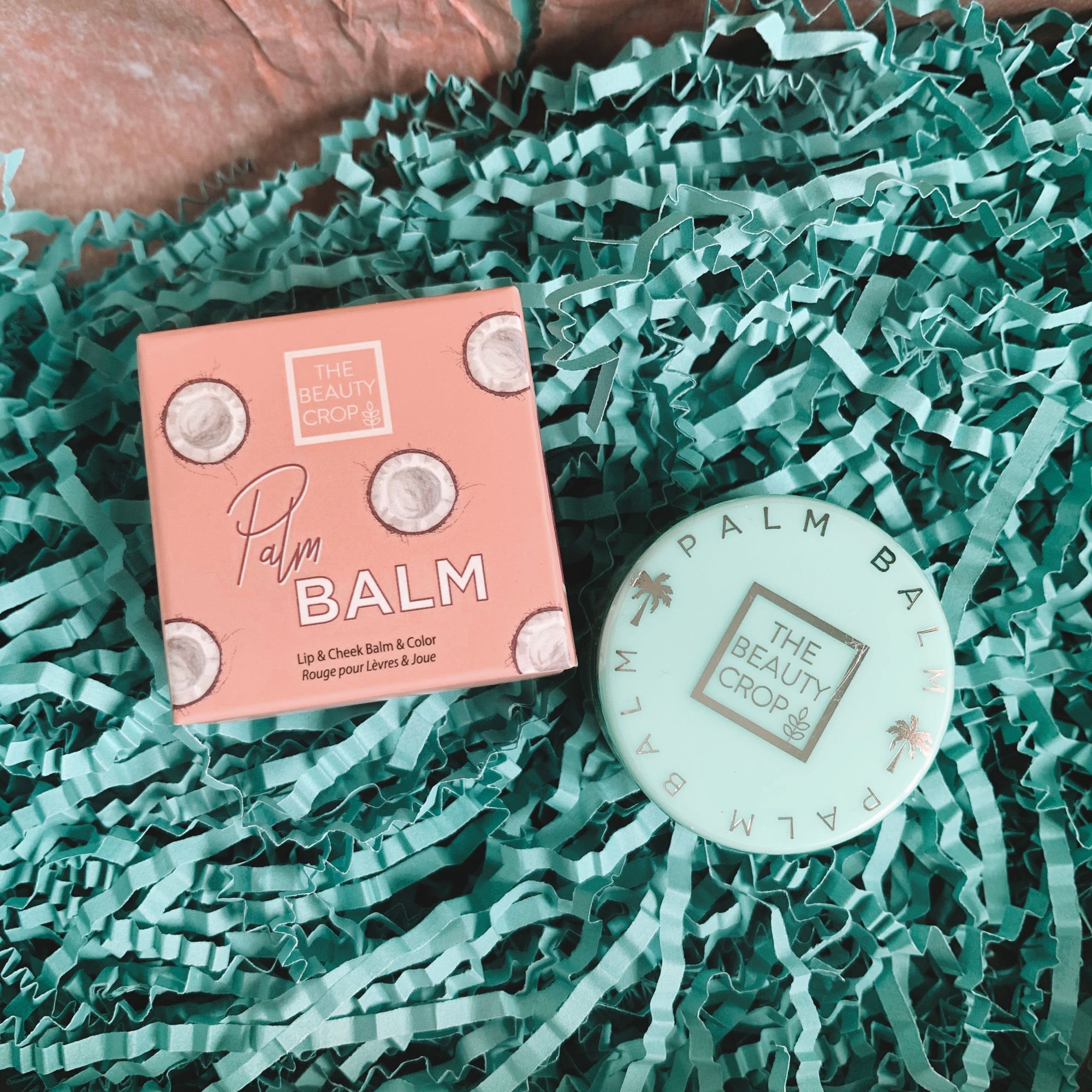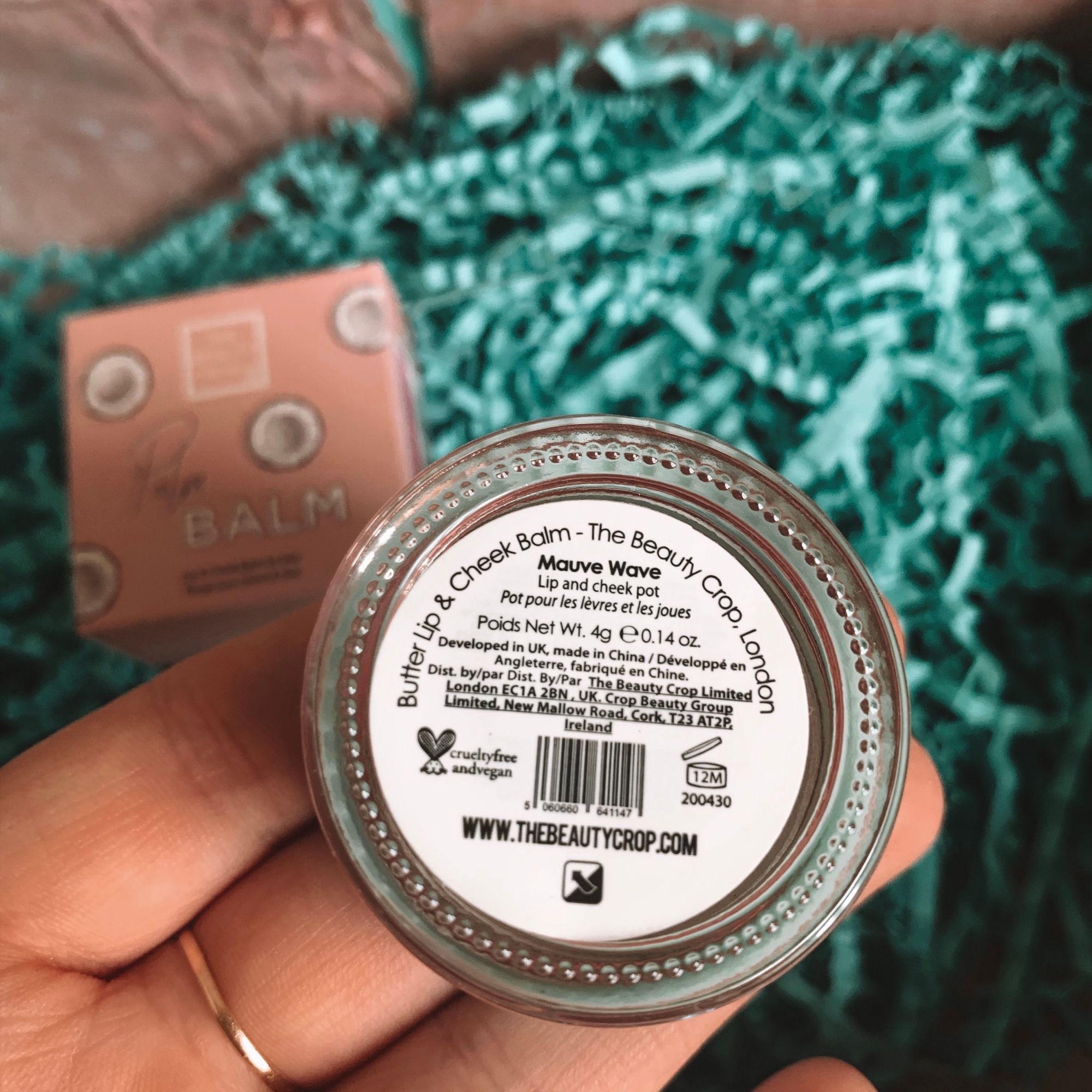 5. KOCOSTAR – FRUIT SLICE MASK SHEET
Worth £4
When you see a Korean sheet mask in Glossybox you know it's going to be a good one! This month includes a sheet mask form the brand Kocostar and subscribers receive one of two masks – watermelon or strawberry. I received the watermelon mask which is infused with natural watermelon extract. Both versions are super hydrating on the skin and work to protect your skin's barrier. Apply for 15-20 minutes then pat in any excess serum.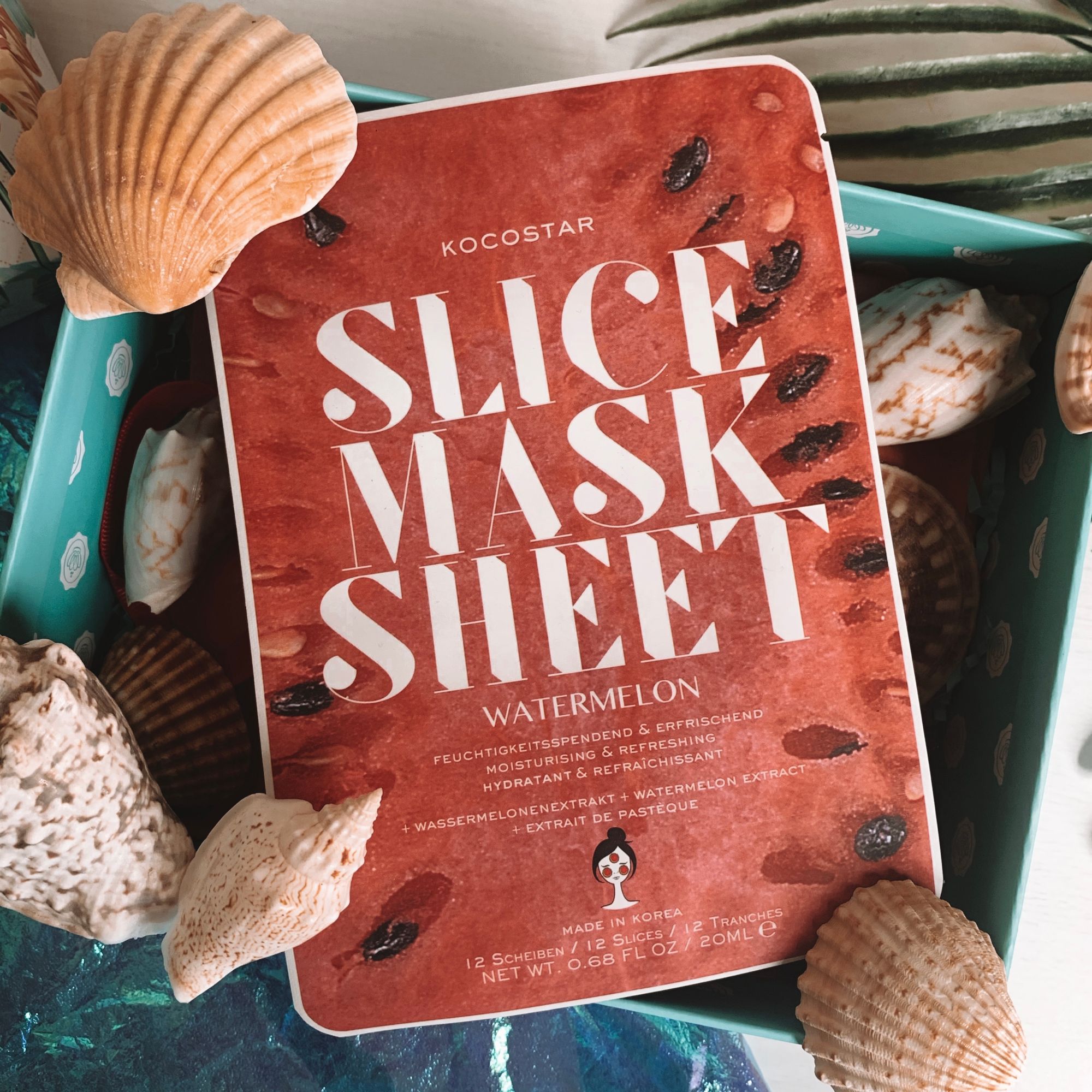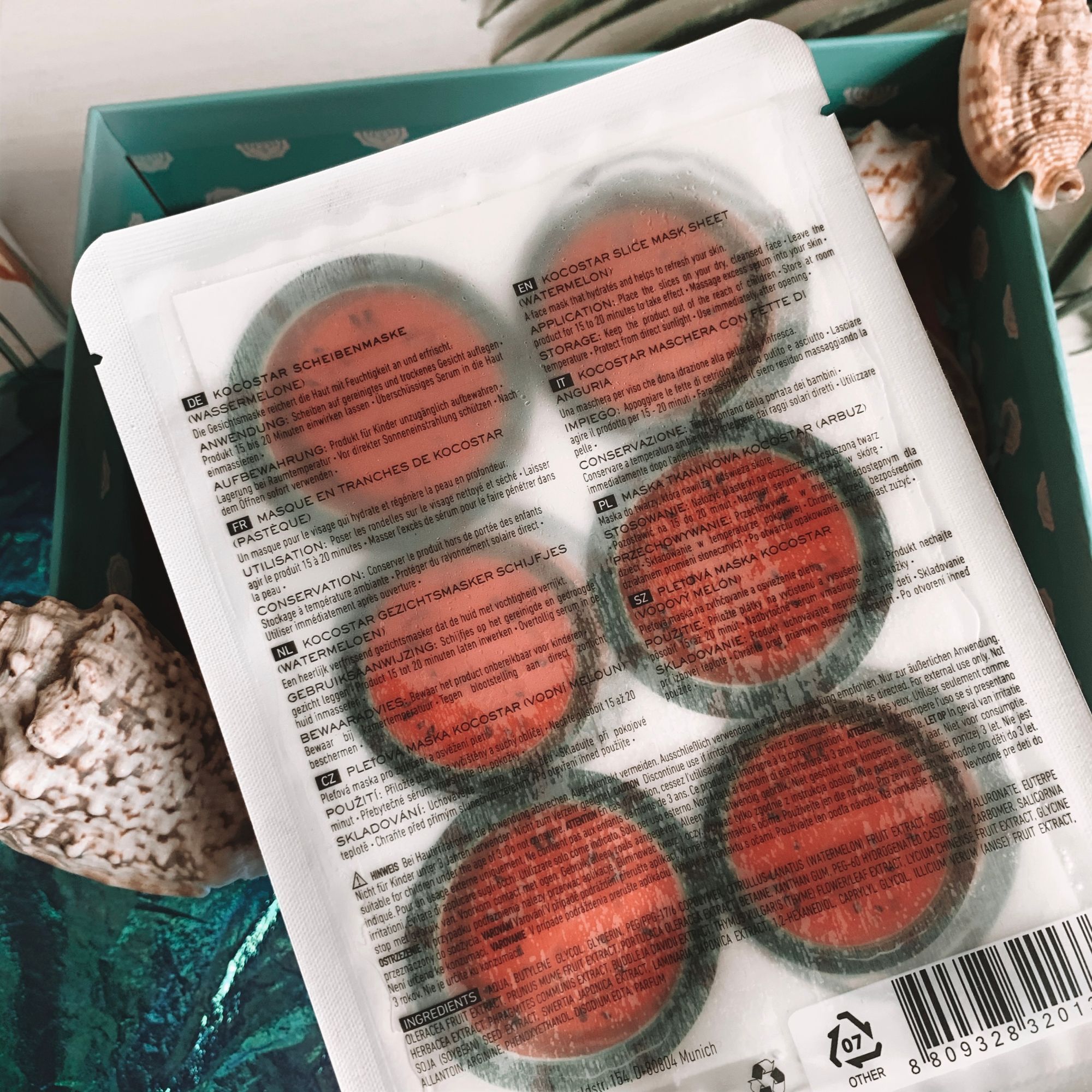 SOMETHING EXCITING IS COMING…
Usually, the back of the Glossybox booklet gives us a sneak peek of one product that is appearing in the next month's Glossybox, but this month's sneak peek is something even better.
August is the month of Glossybox's birthday and this year, to celebrate, they are launching Glossy Skin! It's a project Glossybox have been working on for 2 years… so I am super excited to see what's included!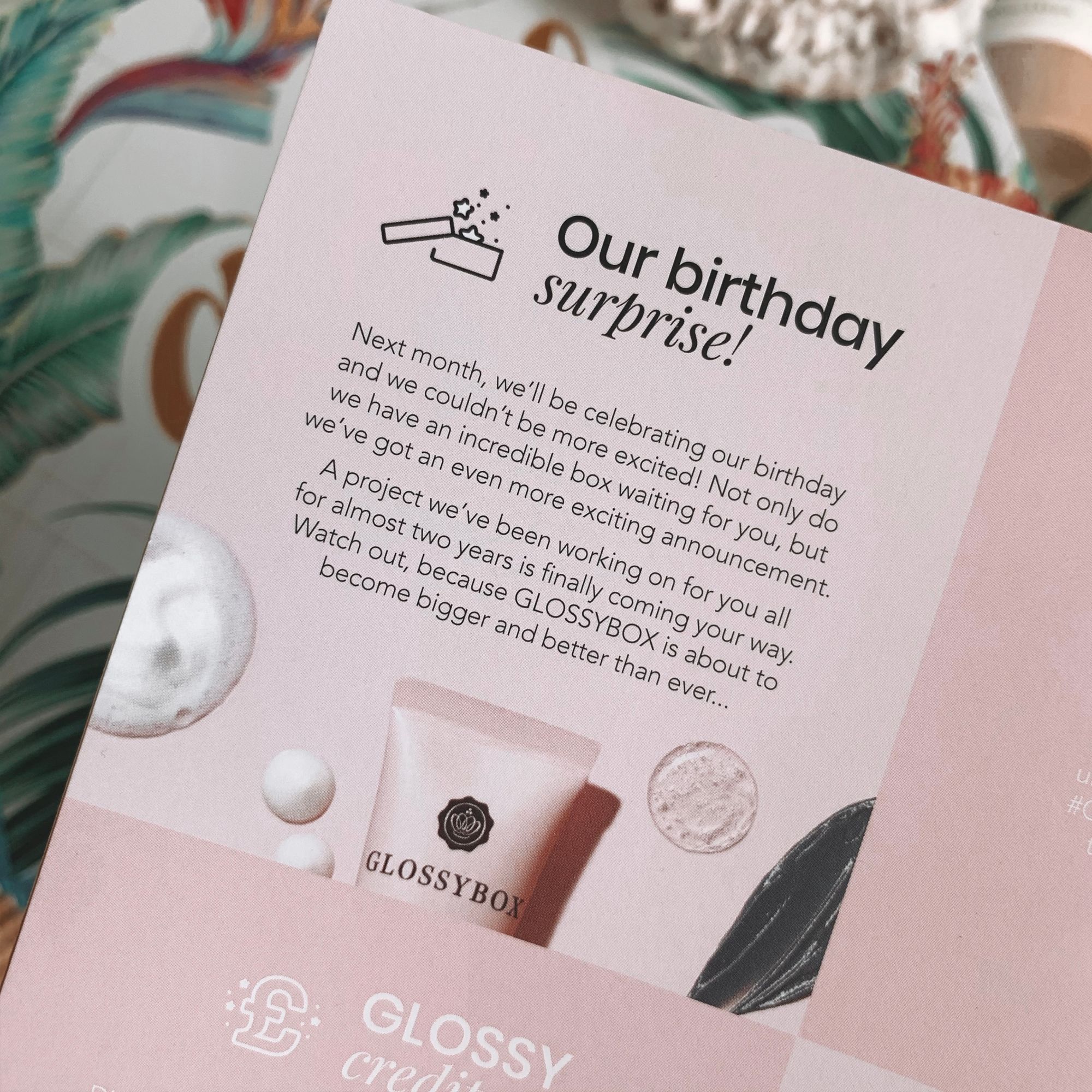 Don't forget to hop over to the Glossy Lounge to complete your product surveys and get your credits to spend on Look Fantastic!
*This box was kindly gifted to me. This does not affect my opinions.