To celebrate Veganuary, ASOS have surprised us with another Beauty Box this month. ASOS release a monthly beauty box at the start of each month with 5 products inside for a cost of £12. The box isn't a subscription, you're free to purchase a box as and when you choose and you get to see the contents of the box before you purchase too!
I've already purchased and unboxed the January ASOS Face & Body Beauty box here. However, I was browsing the ASOS website mid January and noticed they had released another box this month, the Limited Edition Vegan box.
The Vegan box was also £12 and contained 5 products which can be purchased individually from the Face & body section on ASOS.
Like the monthly box, this edit sold out incredibly quickly… it's a case of checking the ASOS website regularly and looking out for these kinds of boxes and snapping one up as soon as you see it.
Here's what was inside the ASOS Vegan Limited Edition Box:
1. MISS PATISSERIE – MATCHA BATH BALL IN LEMONGRASS ESSENTIAL OIL & MATCHA TEA POWDER
Worth £4.50
The heaviest thing weighing the box down was this bath bomb from Miss Patisserie. It contains lemongrass essential oil to help relieve muscle pain and is also high in antioxidants. The matcha tea powder works to detoxify the skin and it also has antibacterial properties.
2. BAREMINERALS ORIGINAL MINERAL VEIL
Worth £23
I was so happy to see this product inside the box! The Bareminerals Original Mineral veil is a finishing powder to apply on top of makeup, or alone if you prefer a no-makeup look. This size is full size and is worth £23 – almost double the cost of the box!
The powder itself works to absorb oils, minimize lines and soften the complexion and it never looks cakey on the skin.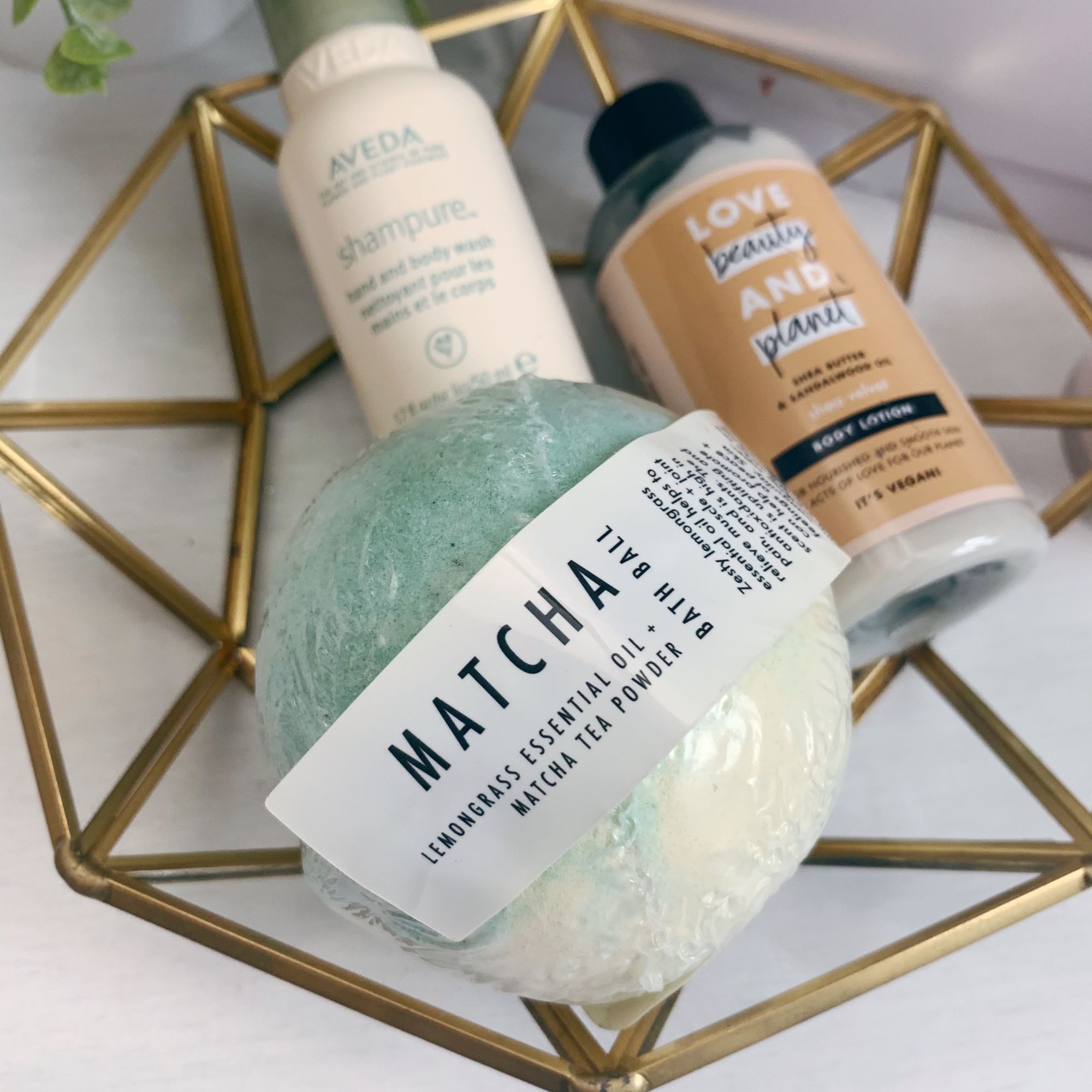 3. LOVE BEAUTY AND PLANET – SHEA BUTTER & SANDALWOOD BODY LOTION
Worth £1.87
Next is a deluxe mini of the Shea Velvet body lotion from Love Beauty and Planet. It provides 24 hour moisturisation and is infused with shea butter and sandalwood fragrance.
4. AVEDA – SHAMPURE HAND & BODY WASH
Worth £3.50
Working to protect the skin's barrier, this hand and body wash from Aveda is made up from 25 pure flower and plant substances to cleanse the skin. It's sulphate free and gentle on the skin.
5. WE ARE PARADOXX – HAIR ELIXIR
Worth £5
The final product in the vegan box is a hair oil. The Hair Elixir from We Are Paradoxx works to reduce frizz, enhance shine and give tired 'hungover' hair a second life. It's a leave in treatment that should be applied to damp or towel dried hair before drying it. Argan oil and coconut oil strengthen the hair whilst the Irish Whiskey in the formula helps to add strength, shine and bounce.