The August edition of Glossybox is ALWAYS one to be subscribed for. August is the month we celebrate Glossybox's birthday and Glossybox always go all out with their boxes - sparkly packaging, cute designed box and a birthday theme that runs through the box.
This year it's a special birthday month because Glossybox are celebrating their 10th birthday! The design on the box is gorgeous, with disco balls and sparkles, what says birthday party more? And of course this month's special design doesn't mean it's any different to the usual value of goodies we get - every Glossybox is always worth over £50 and contains at least 5 beauty products. This month's boxes are all worth over £75 and some even have a little freebie thrown in too!
If you're not yet a subscriber to Glossybox and you want to get your hands on this box you can use the code KTFXO to get your box for only £10. If you want to try out a subscription for 3, 6, 9 or 12 months you can also use the same code to make sure you only pay £10 per box!
So let's dive into this month's Birthday box!
1. Elemis Pro Collagen Marine Cream
Deluxe mini worth £30
First up is an award winning product from Elemis. Yup, you read that right… Elemis in a Glossybox! The Pro-Collagen Marine Cream is here to hydrate our skin whilst keeping it looking young too. It's a fairly lightweight moisturiser so it works great underneath your party makeup… and it's worth £30!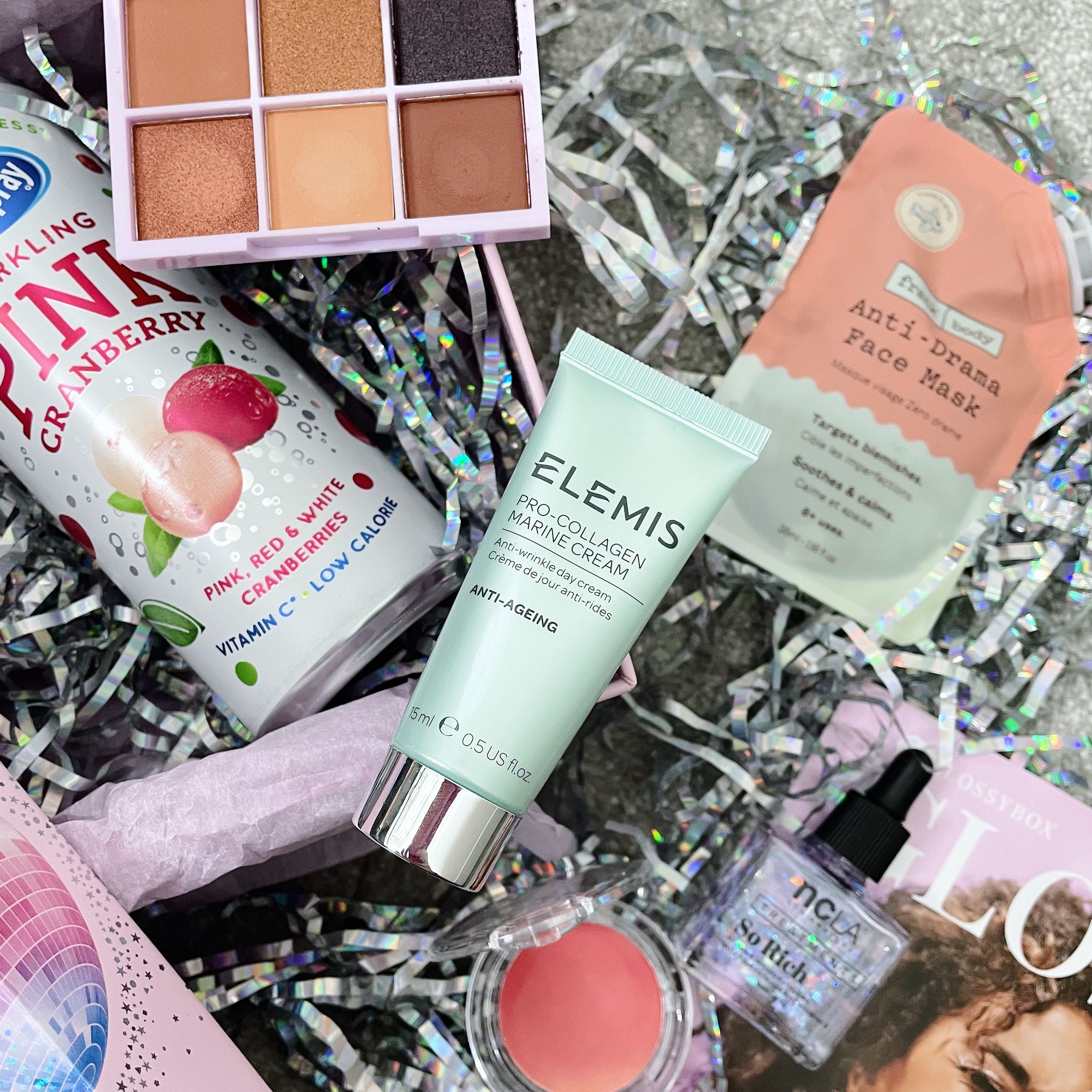 2. NCLA - So Rich Birthday Cake Cuticle Oil
Full size worth £13.80
I didn't know I needed a cuticle oil until I saw this… this Cuticle Oil from NCLA is scented in 'Birthday cake!'. The pretty purple oil is also decorated with star confetti to give it that extra sparkle in the bottle! This oil was launched for NCLA's 10th birthday so Glossybox got in on the action too and shared this little beauty in their birthday box. It contains safflower seed oil and Vitamin E so it's sure to keep your cuticles looking and feeling amazing!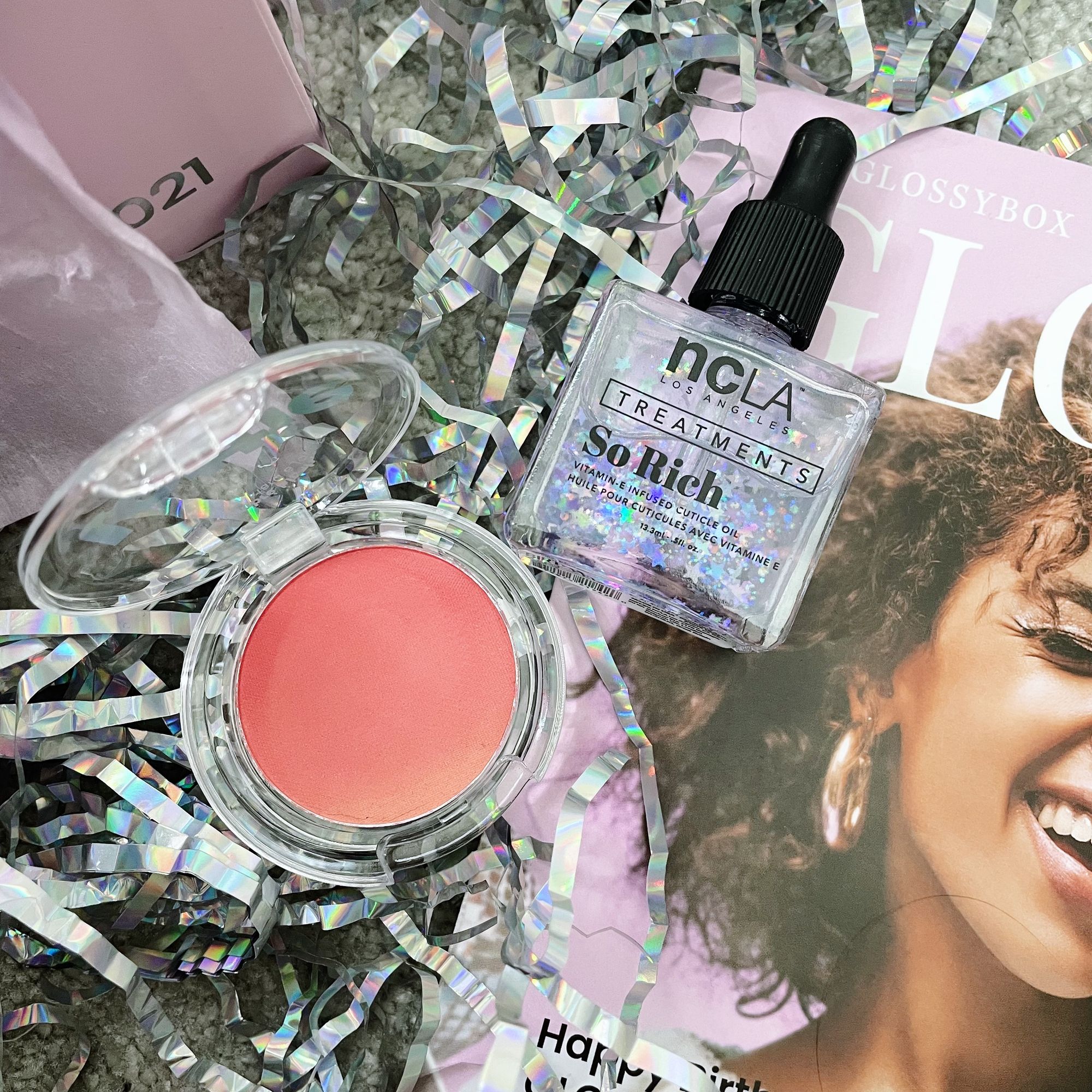 3. Steve Laurant - Celebration Eyeshadow Palette
Full size worth £23
It wouldn't be a birthday celebration without an eyeshadow palette, so Steve Laurant is providing the goods! The Celebration Eyeshadow palette is full sized and has been designed to match this months box too… how cute! Inside we have 9 warm shades in both mattes and shimmers which can be used to create a plethora of day to night looks. Having used Steve Laurant eyeshadows in the past they're definitely pigmented and have been pretty long wearing too!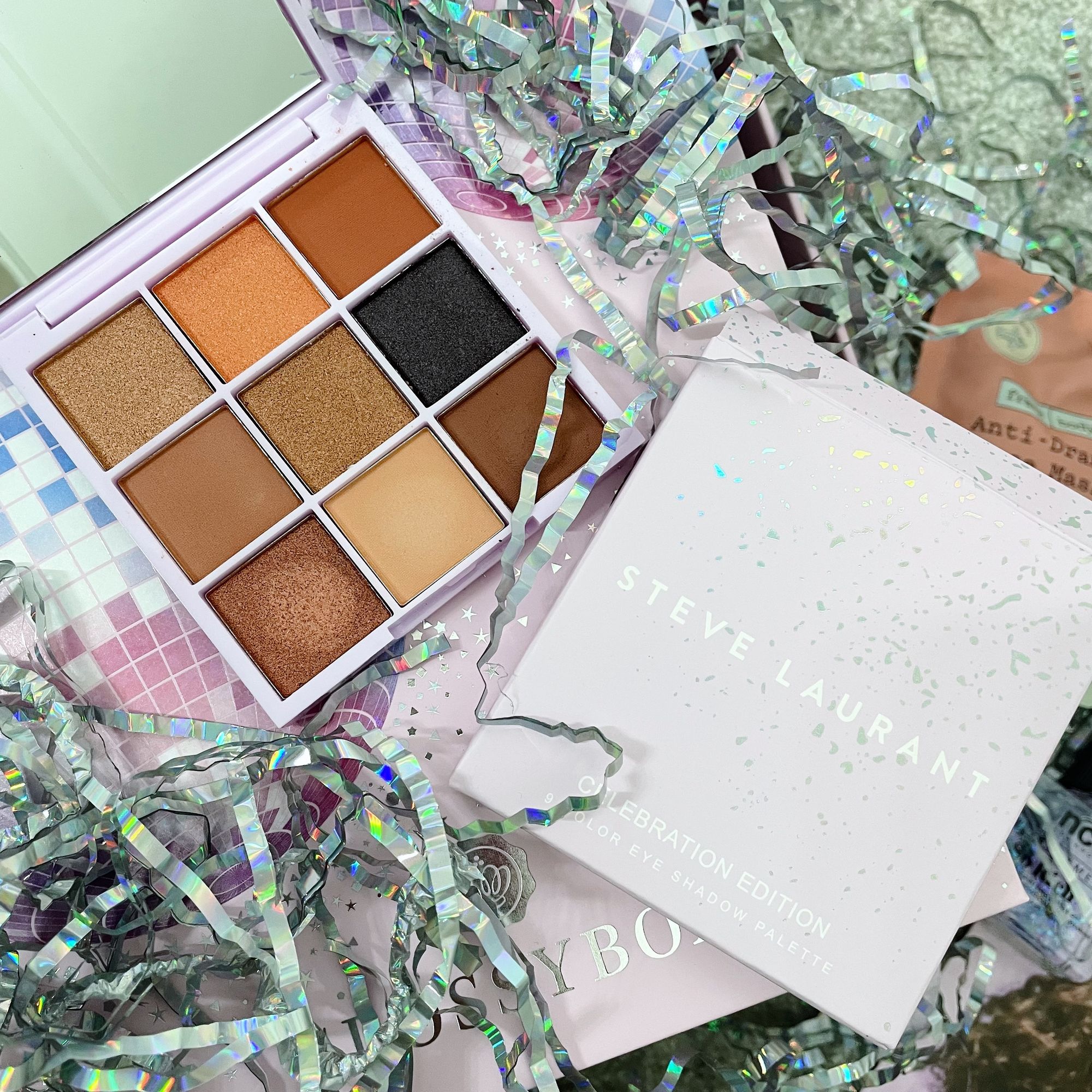 4. Lottie London - Ombre Blush in Haze
Full size worth £5.95
Ombre blusher is the answer to every makeup look, whether you want to go for full Barbie vibes, or a more subtle peachy hint you can achieve both looks with this one product. The Lottie London ombre blush is in the shade Haze and goes from a vibrant deep pink on one side to a pretty peach on the other, giving you every option of shade in between. Super buildable, you'll find this will look fab on most makeup looks.
5. Frank Body - Anti-drama Face Mask
Deluxe Mini worth £4.95
The final product in this box is the Frank body Anti-Drama Facemask. It contains a blend of charcoal and evening primrose which works to unclog pores and reduce blemishes too! The scent is a blend including chamomile honey and lavender so it's the perfect mask to pop on whilst you're relaxing in the bath!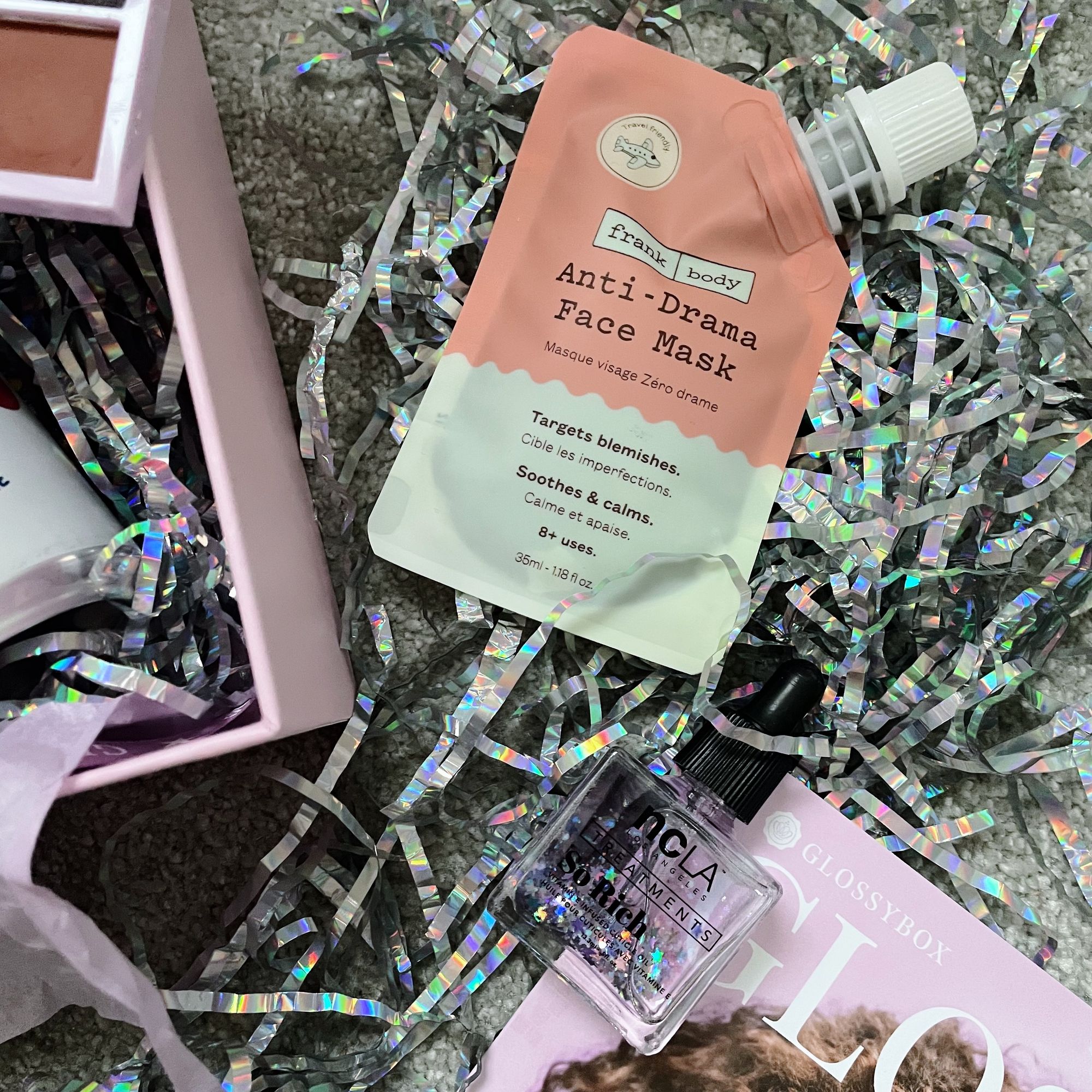 BIG NEWS: The Glossybox Advent Calendar is just around the corner… launching on 7 September it contains 25 products and is worth a huge £465!! It's a calendar you don't want to miss out on! Subscribers can pick it up for a discounted price. If you want to subscribe to Glossybox to get priority access and a discount on the calendar, don't forget to use code KTFXO for discount!
And if you're a regular Glossy who completes the Glossy surveys don't forget you can use your Glossy Credits to put towards the advent calendar to make it even cheaper!