Since lockdown, I've been focussing a lot more on my skin, and learning a lot more about skincare. So of course, I've used a lot more products than usual. I always find these kind of 'Empties' posts really interesting, finding out what products people actually use, especially bloggers who have received/promoted items as part of collaborations. Maybe I'm just nosy though?
So I've collected the empties of the products I've used over the past two months, and I'm sharing what I used each product for, and telling you whether I'd buy it again.
Disclaimer – I haven't used all of these products completely over the last two months, they've just become empty during this time. Also, where I may have used a moisturiser for example, just in the evening, it doesn't mean that it can't be used in the morning too. I just chose to only use it in the evening. Not all these products are suitable for everyone and everyones skin may react differently so it's always important to check the product information before using it.
As a blogger and content creator, I do receive products in PR. Any of those which I have received in PR will be marked with a *. However, I have not been asked to include any of these products in this post. I'm just sharing with you the products I have used and my experiences with them.
GARNIER MICELLAR WATER
Like I said, I have learned so much more about skincare since lockdow! Prior to this, I would use Micellar Water to take my makeup off and also to cleanse my skin. I've now learned that it shouldn't be used as a cleanser, so since then I've only used it to remove makeup when I haven't had a makeup remover. After that I'd go in with my double cleanse.
Find Garnier Micellar Water here.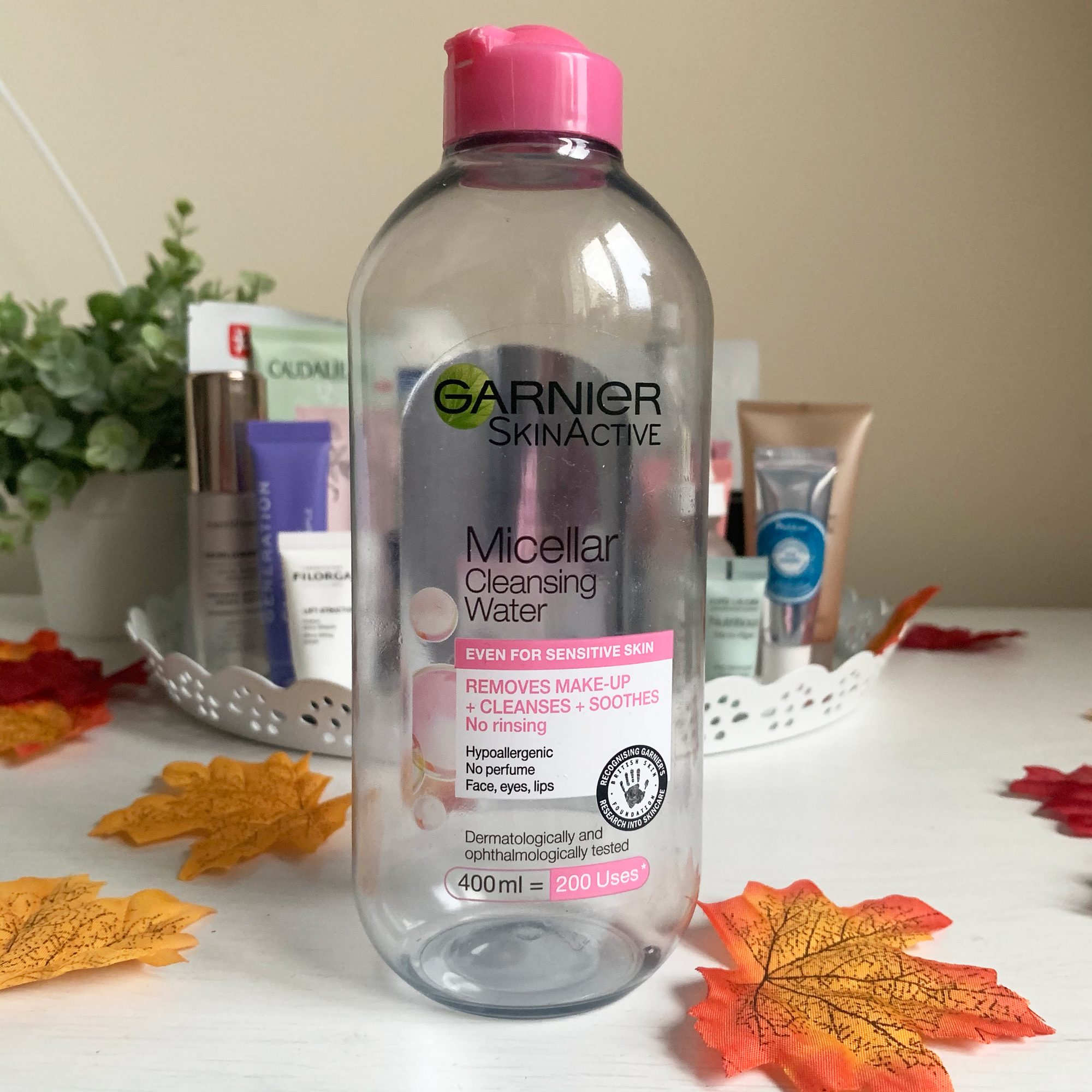 THE ORDINARY HYALURONIC ACID SERUM
This is one of my favourite products from The Ordinary. Not only is it super affordable but it's been a great addition to my skincare routine.
I introduced hyaluronic acid into my skincare routine this year, I'd use it morning and night after cleansing and exfoliating and before moisturiser. I can definitely say I've seen a difference in my skin since using it. It seems overall more plump and smooth.
I regularly rebuy this once I've run out so I always have one in my skincare collection! It's also under £6 which is crazy. You can pick it up at Asos, Look Fantastic or The Ordinary.
Find The Ordinary Hyaluronic Acid Serum here.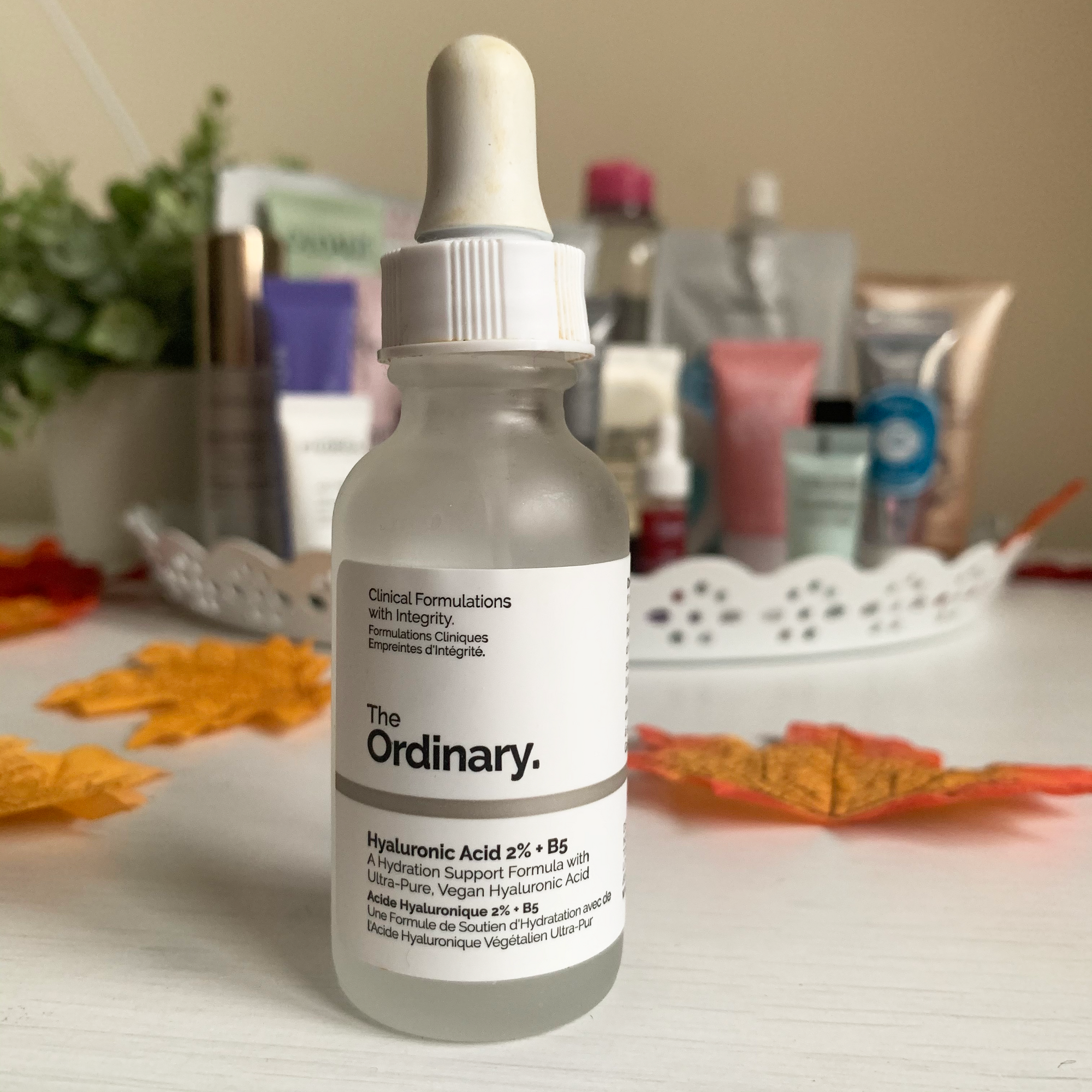 PIXI RETINOL TONIC*
I received this Retinol Tonic in PR with a few other pieces from the Pixi Retinol collection. You can read my full review on these products here.
This is a product I would just use in the evening as it contains retinol. So I would use it after cleansing and before serums and moisturisers. In the morning I would use the regular Pixi Glow Tonic instead. I'd say it worked as well as the Pixi Glow Tonic but I couldn't see a massive difference. This could be because I was already using a retinol on my skin anyway, or it could be that I only used this small bottle. It does take a while for the effects of retinol on the skin to show (up to 12 weeks I believe? I may be wrong).
I won't be rebuying this as I have a lot of Pixi Glow Tonic to get through and also my favourite chemical exfoliator, Paula's Choice 2% BHA.
Find the Pixi Retinol Tonic here.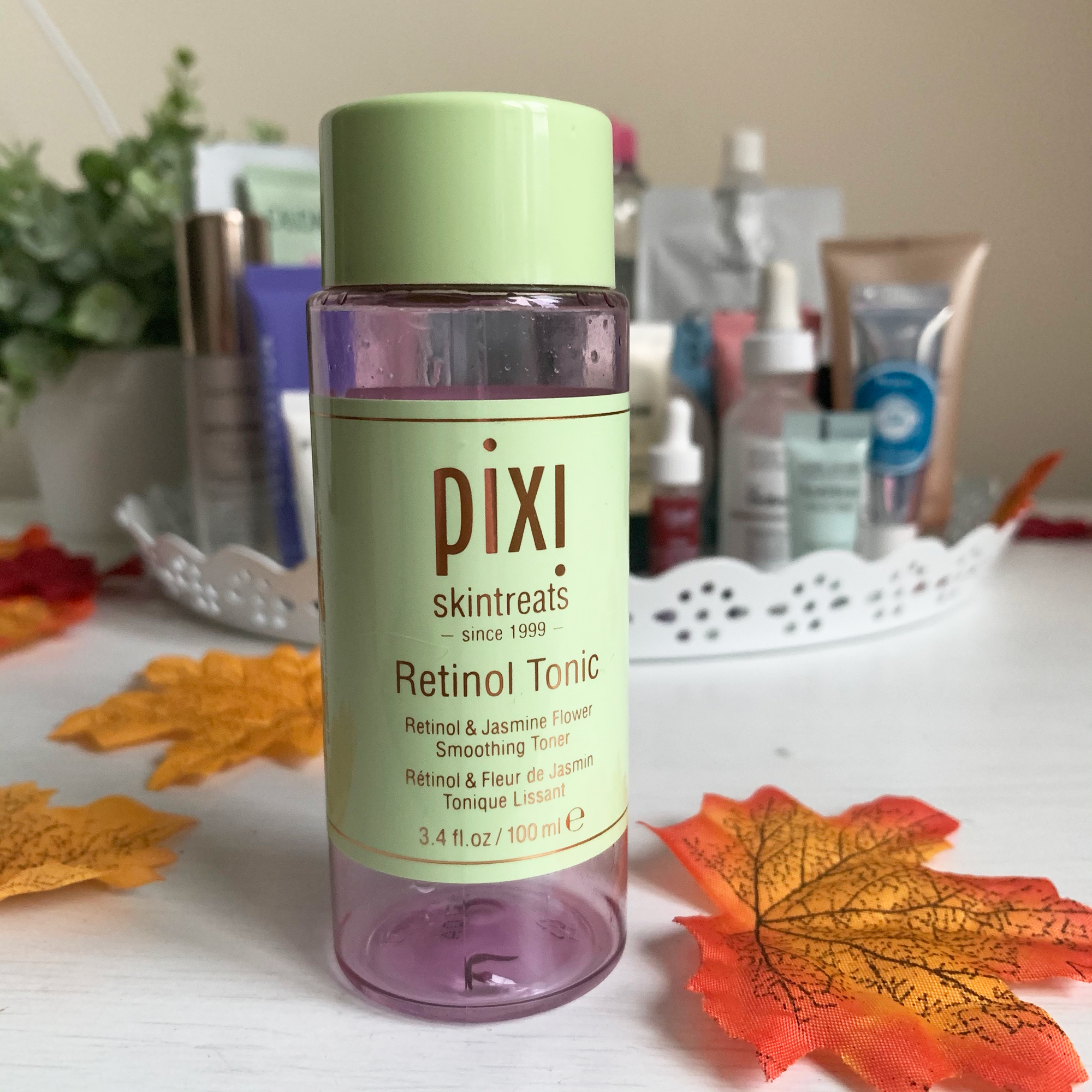 CAUDALIE GLYCOLIC PEEL*
This glycolic peel from Caudalie is one of the first 'peels' I have actually used… and I loved it! I'd use this once a week or once a fortnight, apply it with a brush, leave for around 10 minutes and then wash off. My skin felt sooo soft after using it and it just felt like it removed all my impurities and build up.
It's super refreshing and whilst I would rebuy this, I already have a couple other peels/face masks I'd like to use up first.
You can find the Caudalie Glycolic Peel here.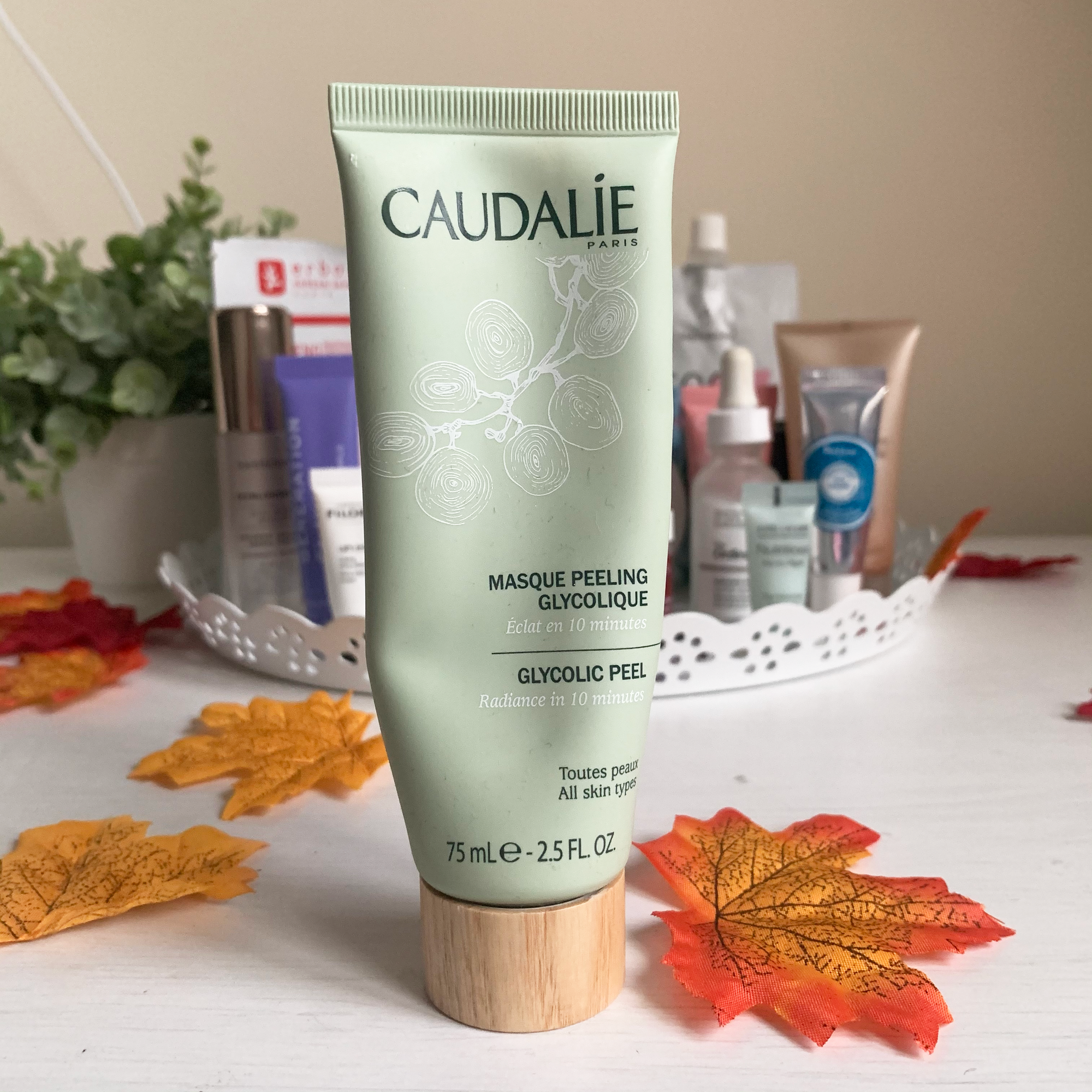 GROW GORGEOUS SCALP DETOX
I actually received this Scalp Detox as part of a gift set last Christmas. I am a regular customer of Grow Gorgeous and I LOVE their Hair Growth Serum. Last year they had an offer on which included the Serum, Scalp Detox and a makeup bag for the same price as the serum on it's own. So it was a no brainer really!
To use this I applied it to my scalp just before shampooing. The scent is incredible, I love the Grow Gorgeous signature scent… but I found it really difficult to apply to my scalp having so much hair. This isn't something I'll be rebuying.
Find the Grow Gorgeous Scalp Detox here.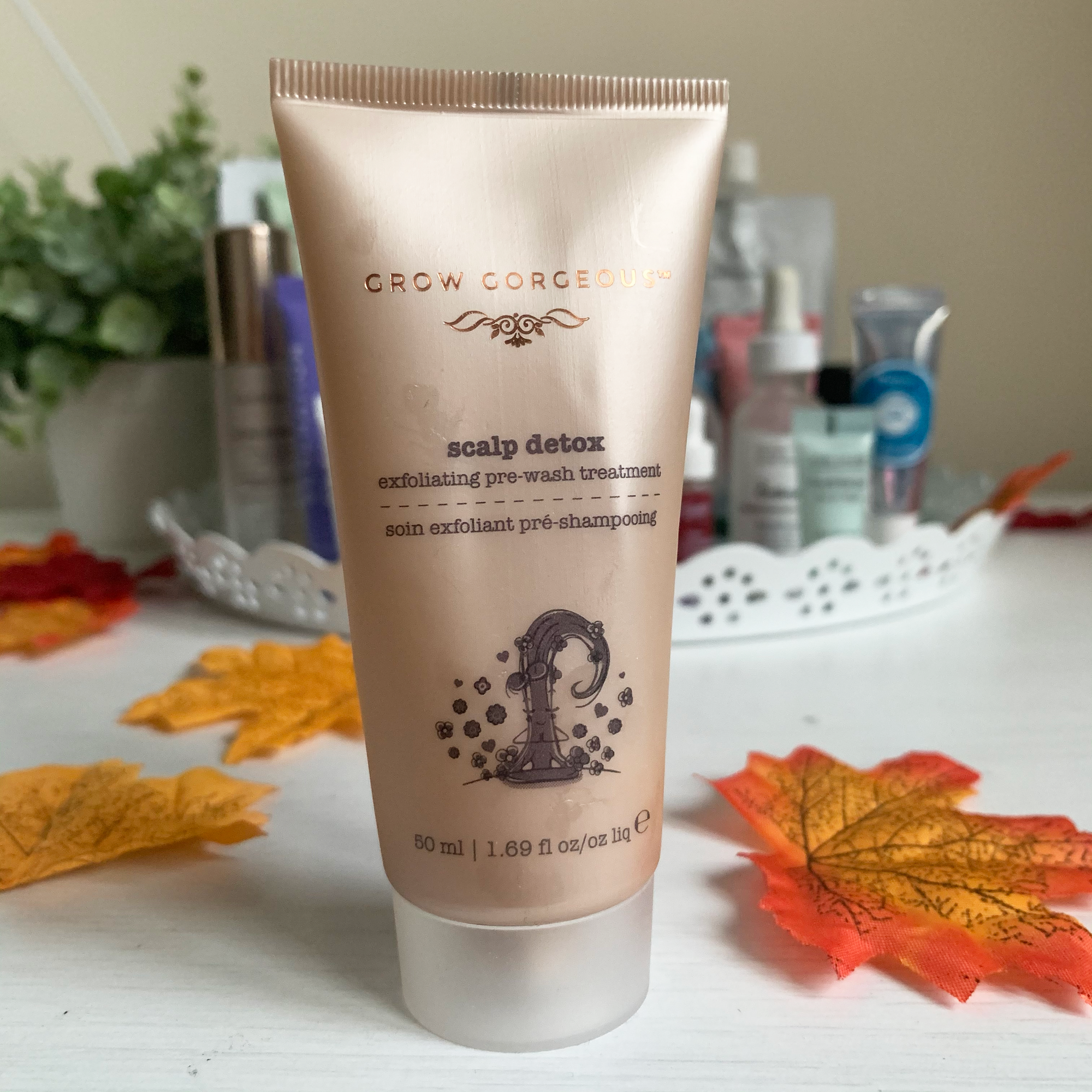 ELEMIS PRO COLLAGEN OXYGENATING NIGHT CREAM*
I received this in the Elemis Limited Edition Glossybox (gifted) and wow! This is incredible – hands down my favourite night cream I've tried so far… and I've tried a lot.
Not only does it smell amazing but it contains some incredible ingredients too. My skin always felt so nourished after using it.
I'd love to re-purchase this one but it's around £99 full size (a little pricey!) and I have several other night creams to use up before I buy any more.
Find the Elemis Pro Collagen Oxygenating Night Cream here.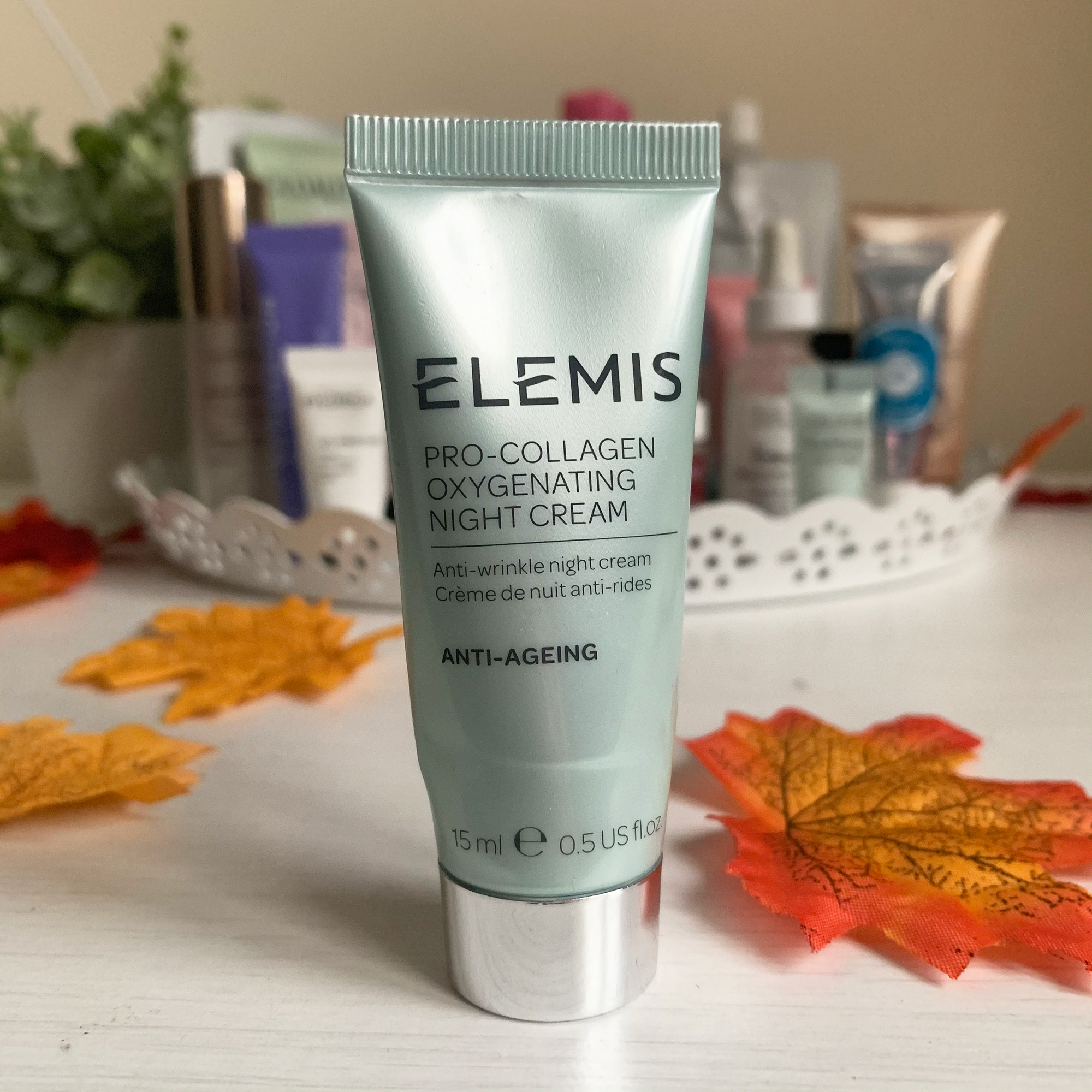 BAREMINERALS COMPLEXION RESCUE DEFENCE RADIANT TINT MOISTURISER*
This was a product I used in August as a day time moisturiser. It contains SPF30 and it had a slight whitecast but not too bad. I received this in the bareminerals limited edition Glossybox which is why it's such a miniature size but I would definitely repurchase this as a summer moisturiser!
Find the Bareminerals Complexion Rescue Defence here.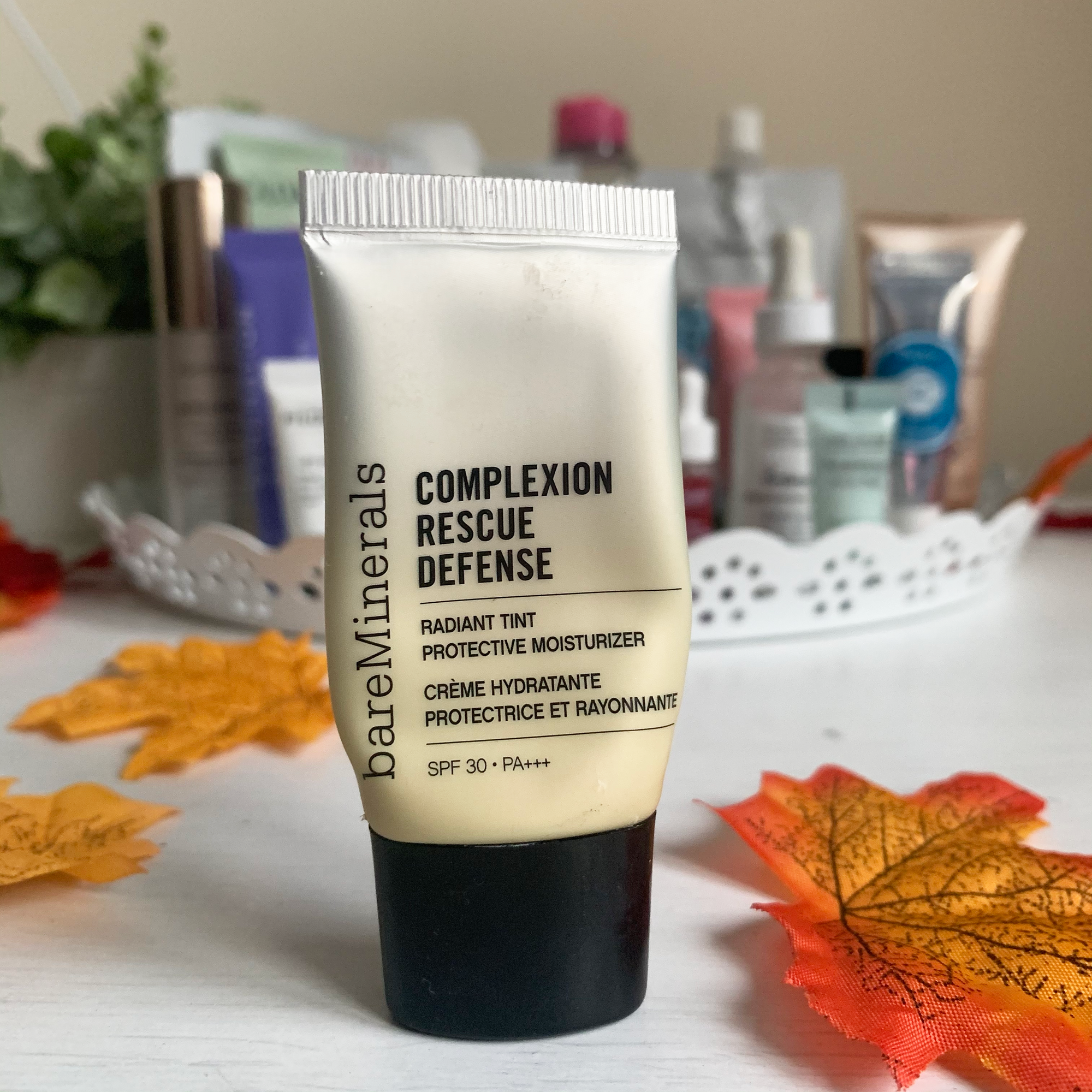 BAREMINERALS SKINLONGEVITY VITAL POWER INFUSION SERUM
I think this has got to be my favourite bareminerals product ever! I first discovered this in the bareminerals limited edition Glossybox and then I bought the full size product in the Christmas sales (it's £50 usually!).
I used this as my day time serum after cleansing and exfoliating and my skin felt so incredible when I was using it. It's super lightweight and melts into the skin so well. I will definitely re purchase this as soon as my current serum runs out!
Find the Bareminerals Skinlongevity Vital Power Infusion Serum here.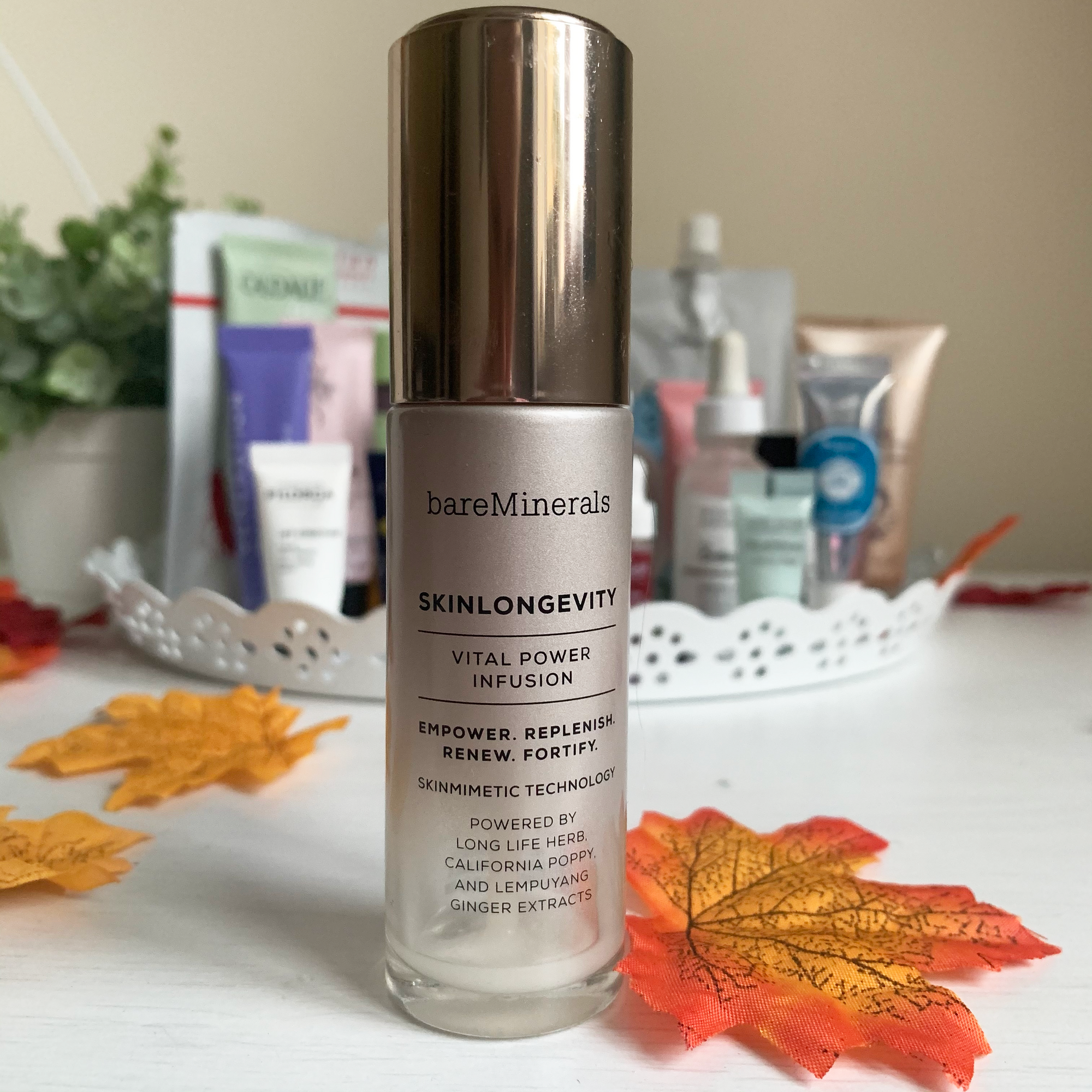 ERBORIAN GINSENG SHOT MASK*
Erborian is a brand I actually discovered through PR and I'm so glad I did! It's a Korean skincare brand and it honestly creates the most incredible products for your skin.
This ginseng shot mask made my skin feel so refreshed, plumped and glowy. I loved it that much I even folded over the top of the packet and used the excess serum as a day/night serum for the following couple of days!
Find the Erborian Ginseng Shot Mask here.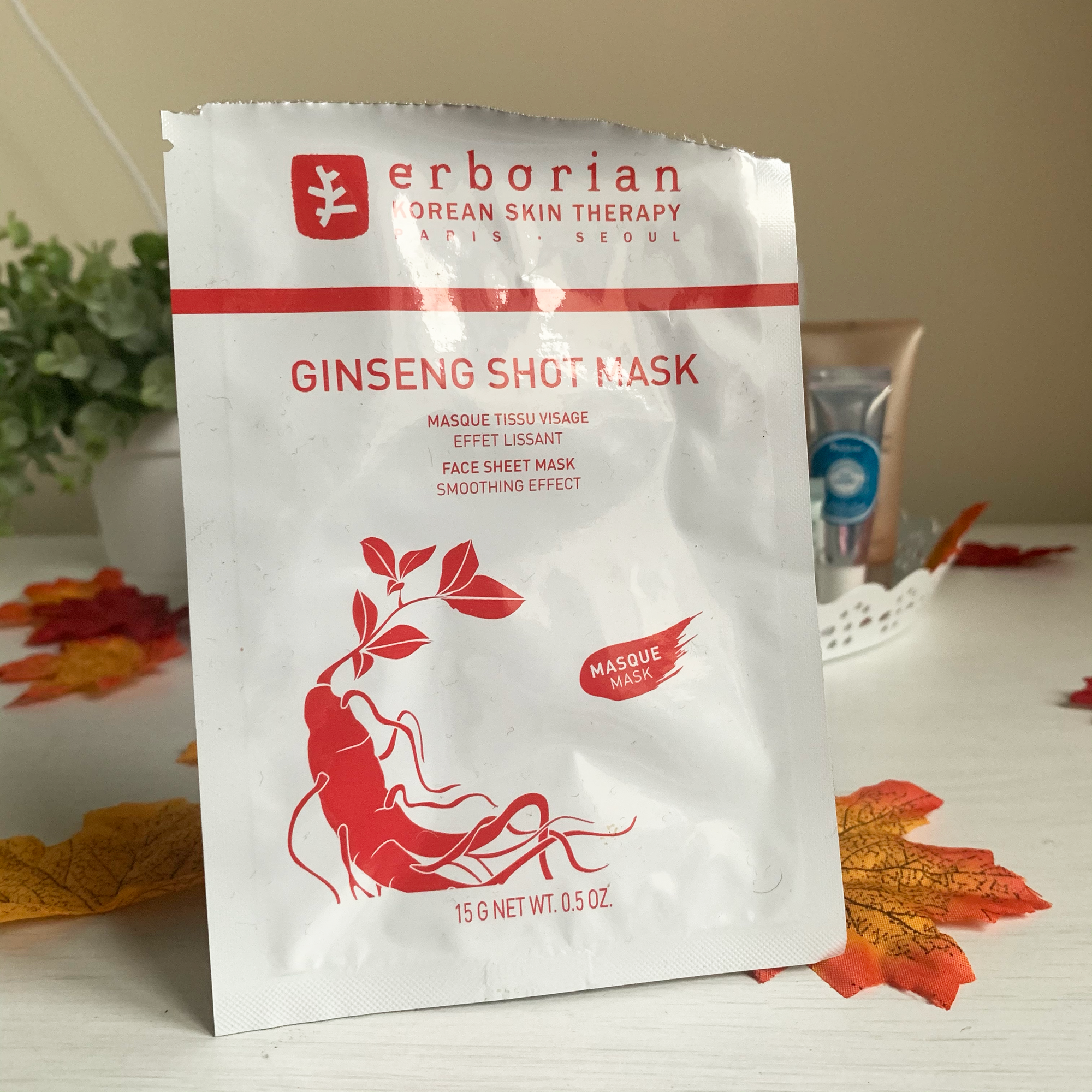 FAB FACIAL RADIANCE PADS*
Another one of my favourite products – the First Aid Beauty Radiance Pads. First Aid Beauty in general is incredible. My favourite product from the brand is the Ultra Repair Cream. That cream works wonders on my skin… even if I have dry lips, I pop a small amount of the cream on and they feel so hydrated again really quickly! I love it!
These Facial Radiance pads were my daily exfoliator in the day time over summer. They can be used both day and night, but I used one once a day (to make them last as long as possible!). After cleansing I used these to exfoliate my skin. They contain Aloe, Glycerin and also Hyaluronic Acid so they're really hydrating on the skin too.
Find the First Aid Beauty Facial Radiance Pads here.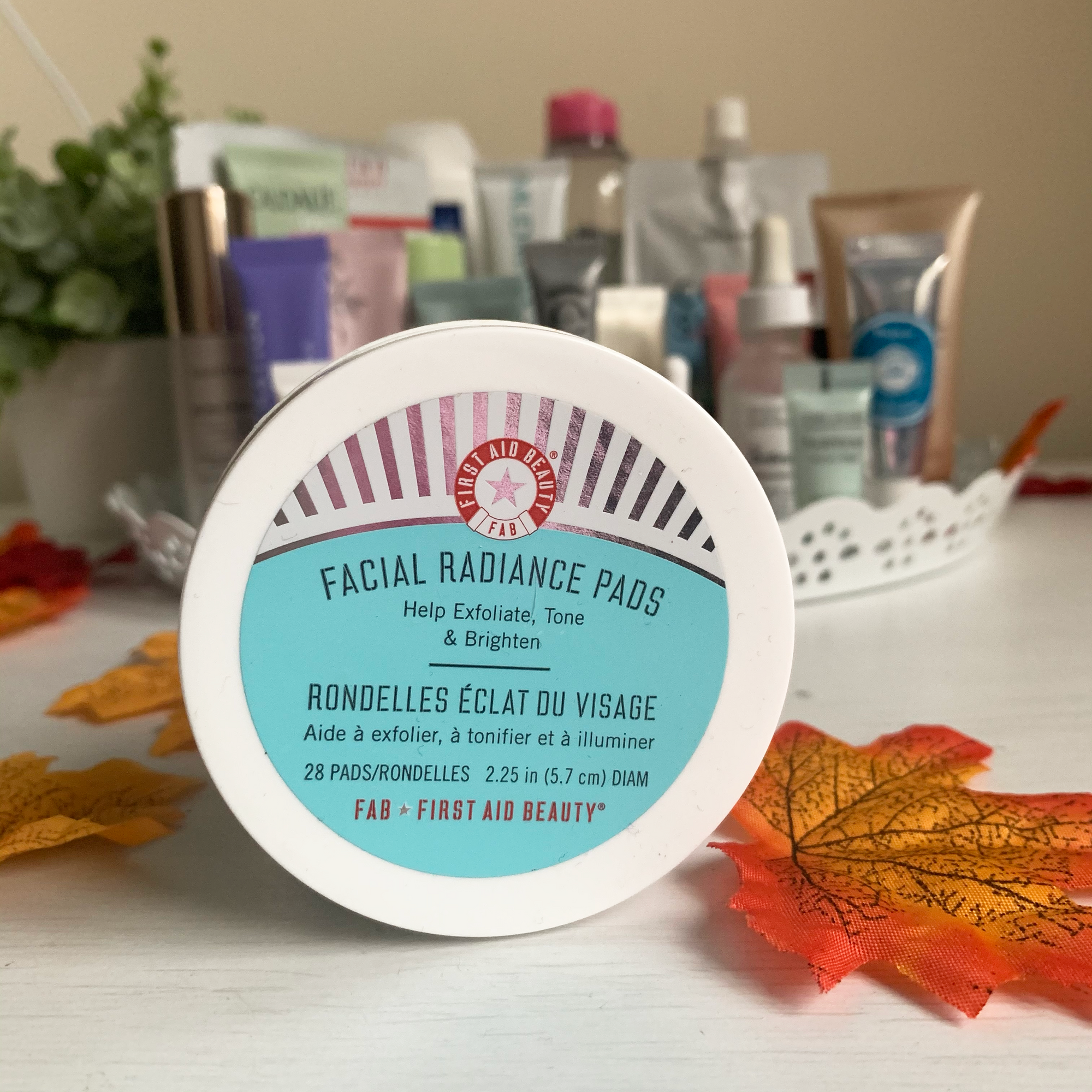 MUDMASKY AFTER MASK VITAMIN SERUM*
Mudmasky is a brand I discovered through Glossybox and I wasn't too excited about them at first… but then I tried this serum. Wow. Another incredible day time serum, a close second to the bareminerals one!
Again my skin felt incredible, really hydrated and fresh. I will definitely be repurchasing this at some point. I think it's fairly expensive though so I might look out for some offers around Christmas.
Find the Mudmasky After Mask Vitamin Serum here.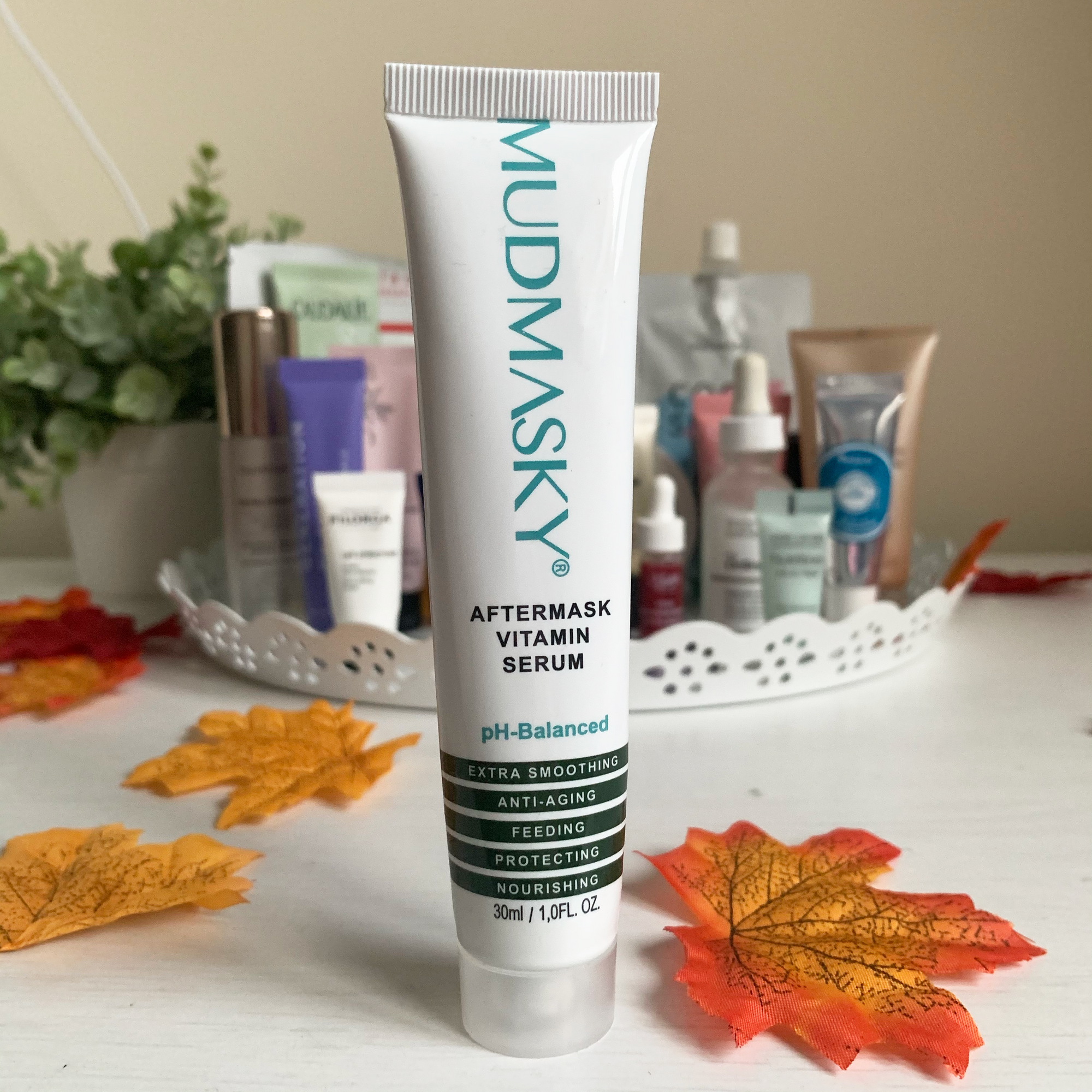 POLAAR ICY MAGIC INSTANT EYE CONTOUR ENERGISER*
Whilst some people say that an eye cream isn't necessary as part of a skincare routine, I absolutely love one. This Eye Contour Energiser was kindly gifted to me by Polaar.
It was more of a serum consistency than a cream and my eye area felt refreshed, hydrated and cool. However, the applicator is a roller ball. Not only was this really difficult to apply (it would often struggle to roll and end up dragging my skin – not good) but it's not very hygienic either as the ball is touching the skin and then going back inside the tube.
So I won't be repurchasing this one.
Find the Polaar Icy Magic Instant Eye Contour Energiser here.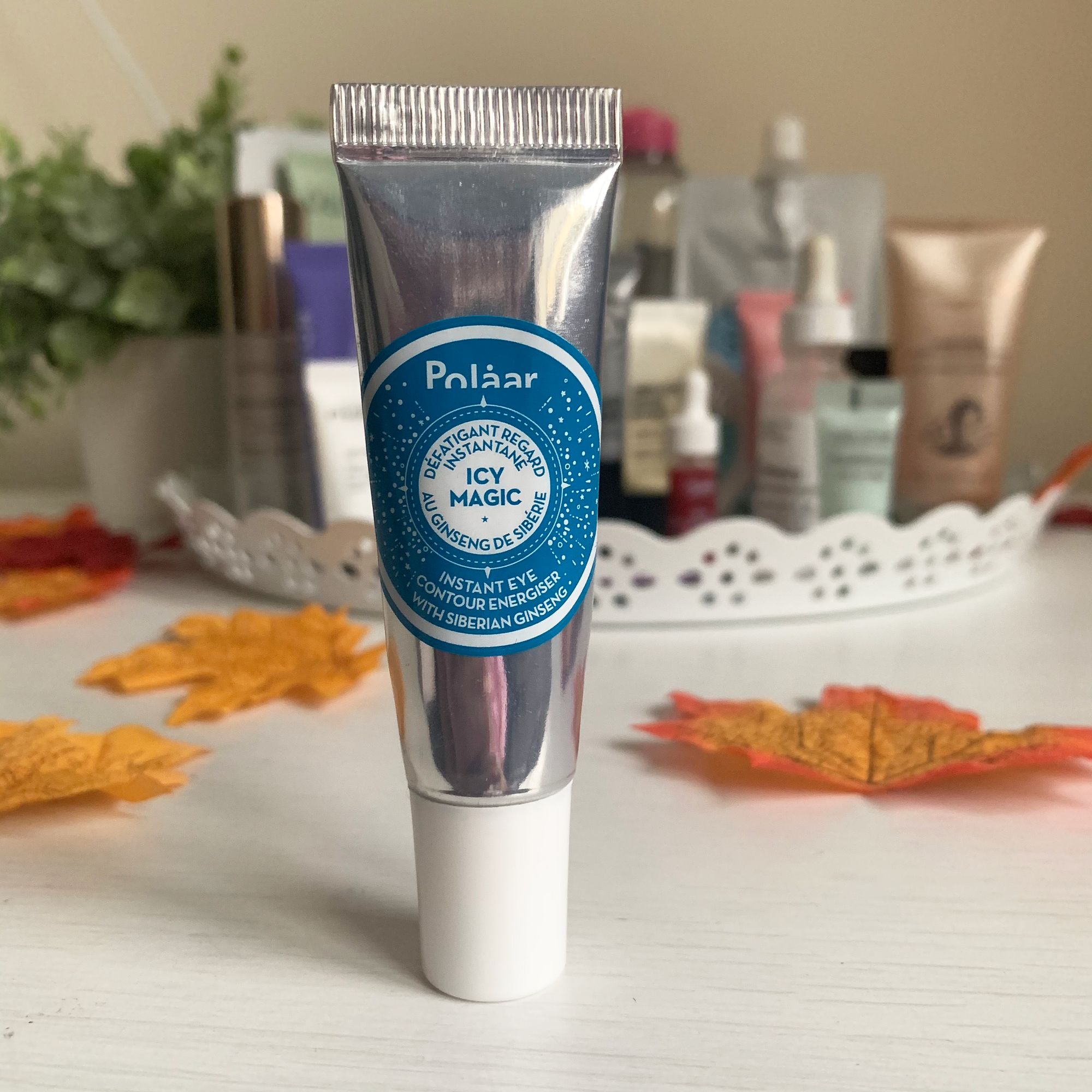 CRABTREE & EVELYN HAND CREAM EVELYN ROSE*
I think a hand cream has been an essential for everyone over the past few months with all the hand washing an alcohol gels. I opened this one which I received in the Christmas Glossybox last year and used it up!
It's a kind of rosy scent but it's not too strong, which I love. It also absorbs quickly into the skin so you don't have to wait around flapping your hands until it dries!
I would re-buy this one if I needed another hand cream but I have a lot in my drawer at the moment.
Find the Evelyn Rose Hand Cream here.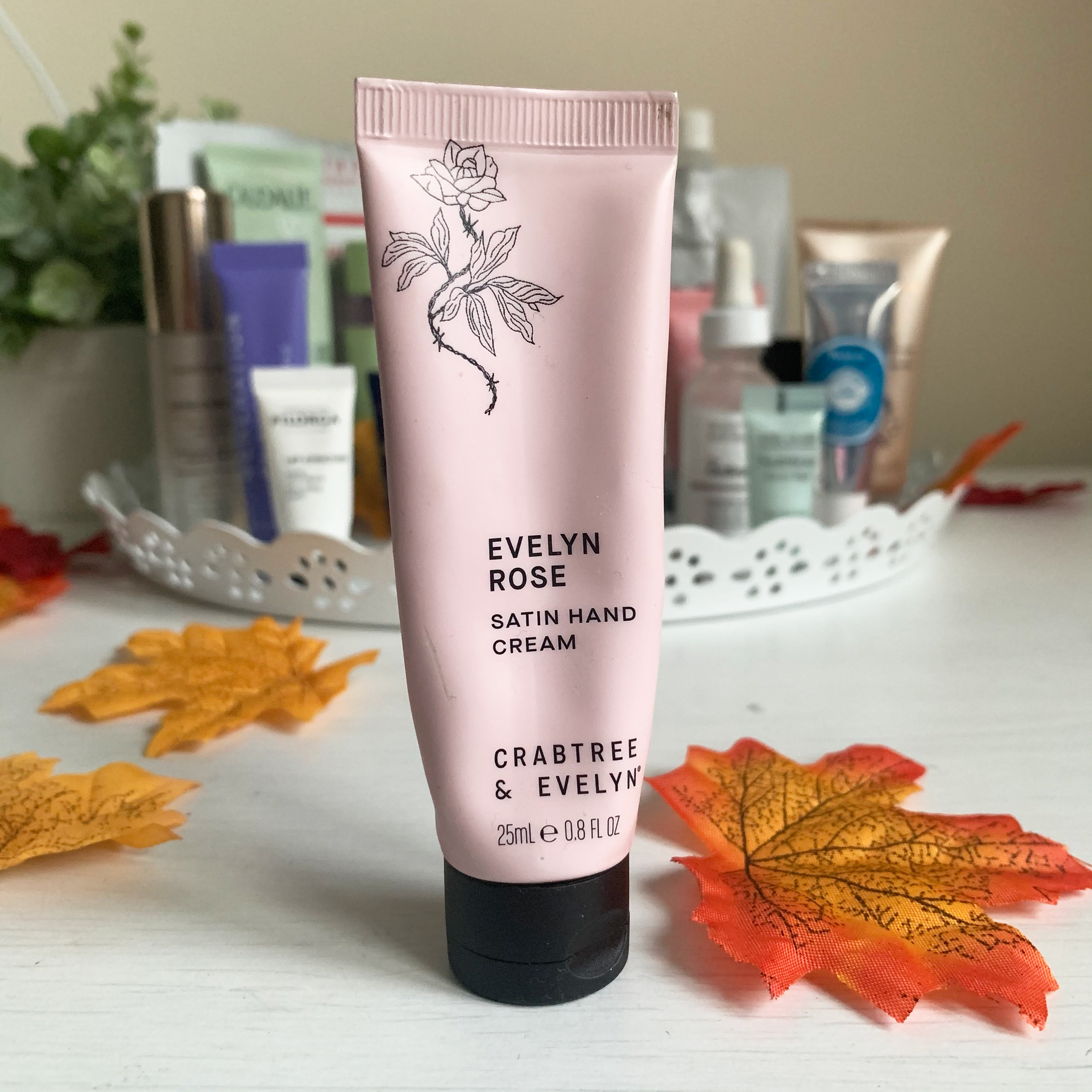 URBAN DECAY EYESHADOW PRIMER POTION
I'm not sure why I had two of these, or why both of these were empty at the same time…. but here we are.
These are the eyeshadow primers from Urban Decay. They worked well, but nothing special I didn't think… although I haven't used that many different brands of eyeshadow primer so I can't really compare properly!
I used these as a primer, but also over eyeshadow if I wanted to apply an even lighter colour on top of what was already there.
Find the Urban Decay Eyeshadow Primer Potion here.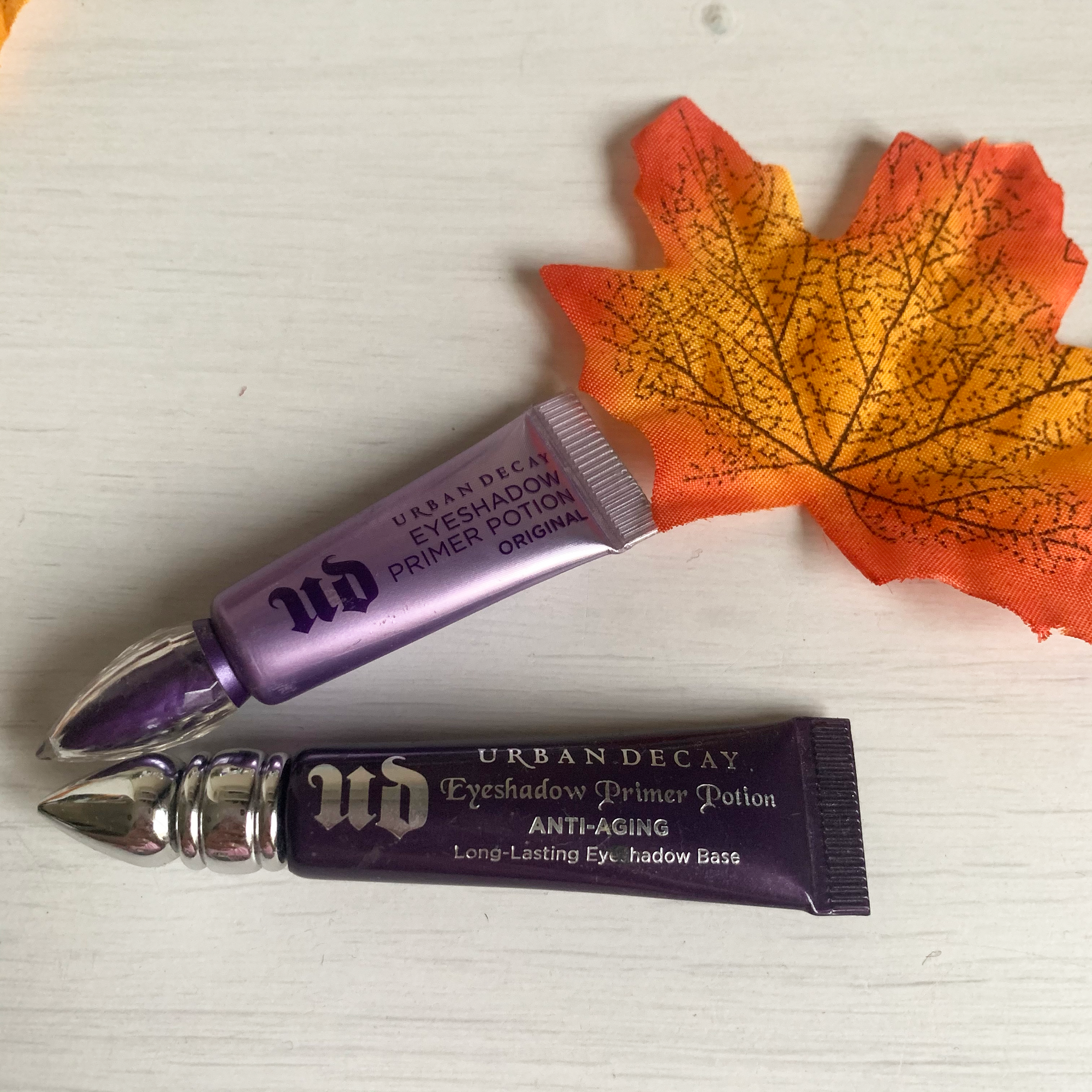 FILORGA LIFT STRUCTURE
Filorga is a new favourite brand of mine. Having recently discovered this Lift Structure cream and Time Filler cream, I can definitely say I'm a Filorga fan! I first discovered this in one of the Advent Calendars last year and then I purchased a small 'discovery' set from Look Fantastic for only £7.
This made my skin feel softer and instantly more smooth and plump, it was incredible! I'll definitely be re-purchasing this one.
Find the Filorga Lift Structure here.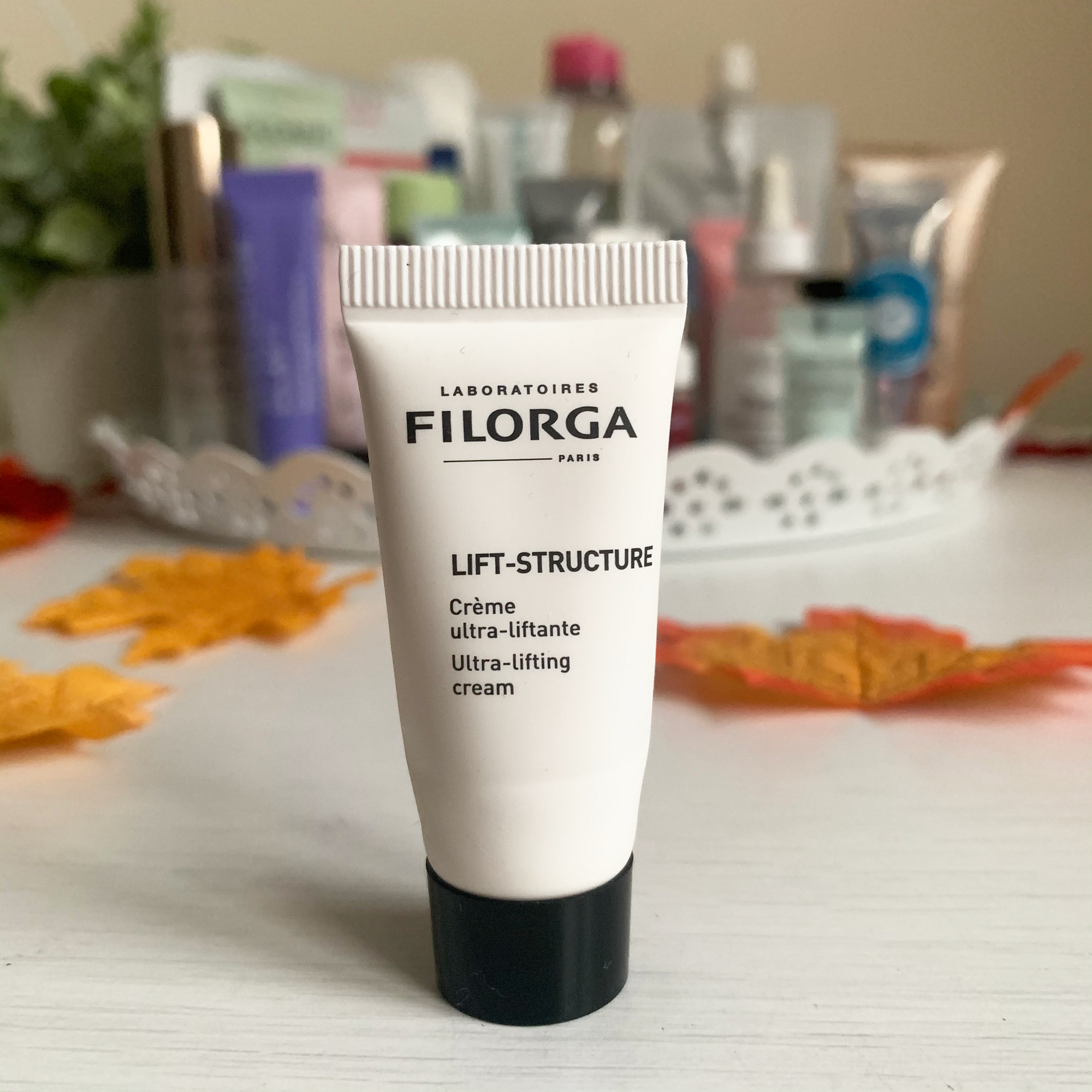 GENERATION CLAY UV PURPLE CLAY MASK*
I can't remember where exactly this came from, but I know it was a beauty box of some sort. It's a clay mask which works to nourish, brighten and refine the skin.
I began applying it to my t-zone but then quickly moved onto the rest of my face too… so this tube didn't actually last long. It's such a fab mask though, it worked well on my skin and my face felt so soft afterwards.
Find the Generation Clay Mask here.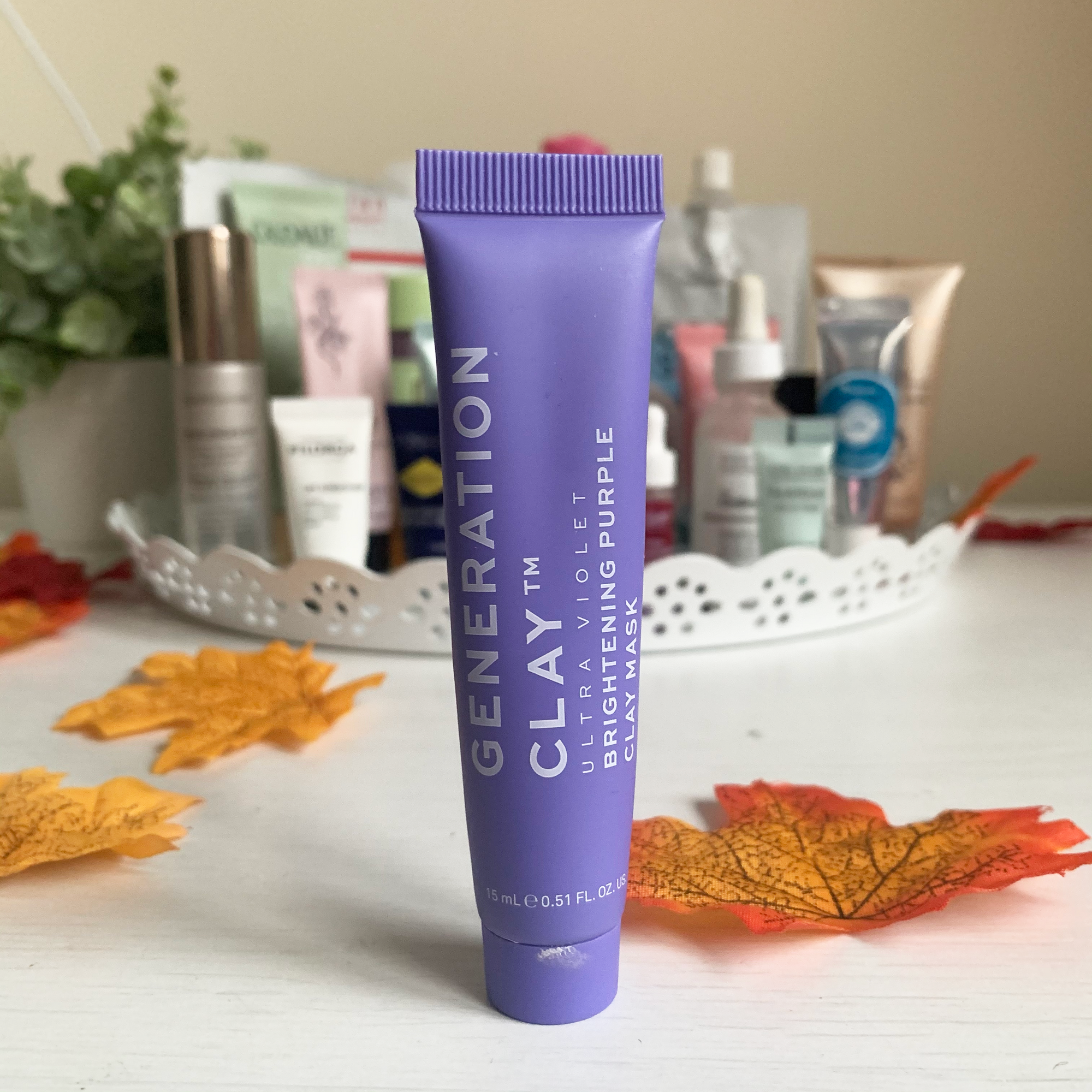 CAUDALIE VINOSOURCE MOISTURISING SORBET*
Another product I received in a beauty box but I'm not sure which one! I was using this Moisturising Sorbet as a day cream in the summer and I really enjoyed using it.
It was a strange consistency, not a cream or a lotion but it came out kind of bubbly… it's hard to explain. It was lightweight on the skin and absorbed quickly. I'd possibly re-buy if I needed a new day cream but there would be others ahead of it.
Find the Caudalie Moisturising Sorbet here.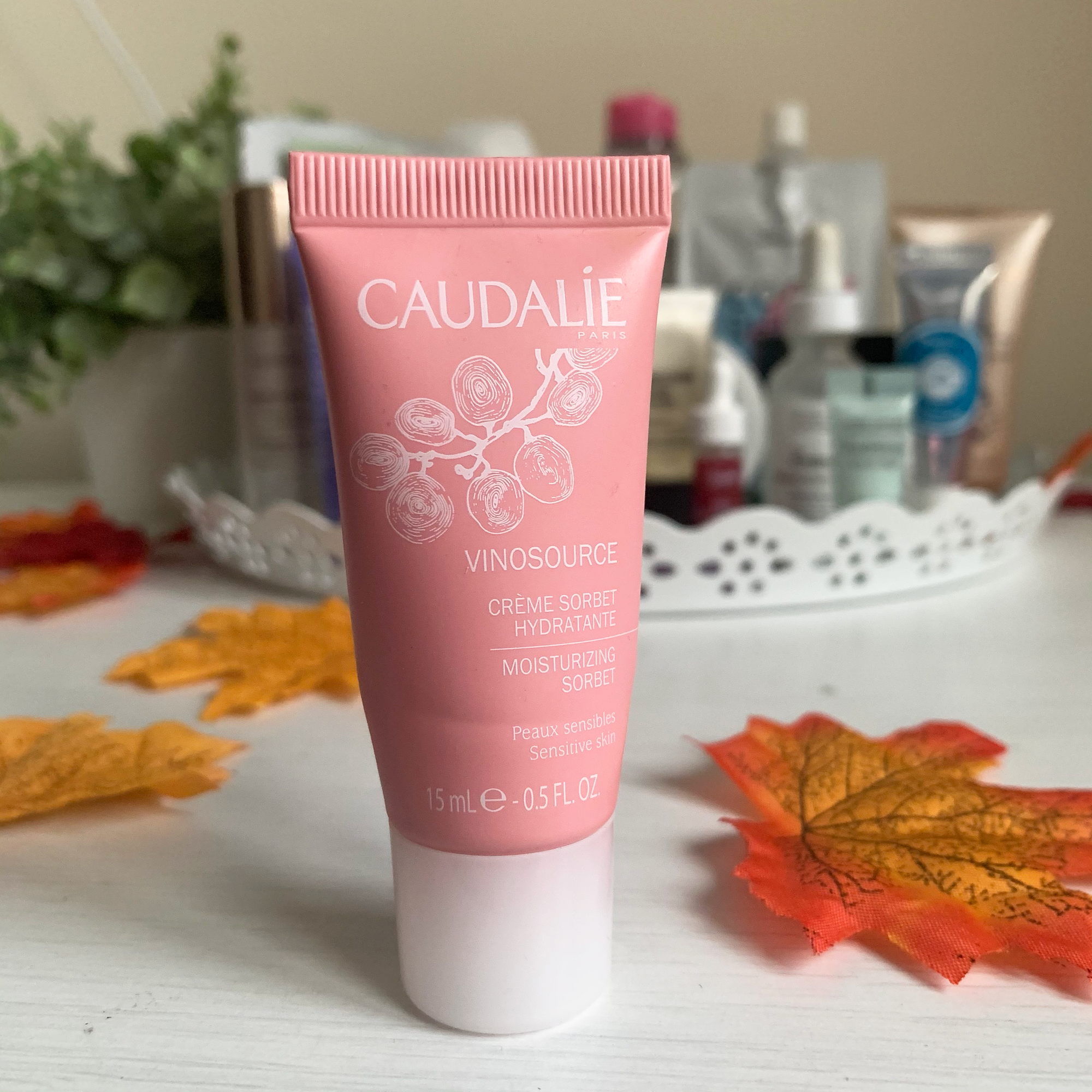 JOHN FRIEDA HAIR MASK DETOX*
I go through hair masks so quickly! With having bleach in my hair (although it's not been done in a while), it can get quite dry so I need to take good care of it. I like to apply a hair mask at least once a week and recently I was using this one by John Frieda.
It smells amazing and I was able to keep it in my hair overnight too (which I sometimes do) without my hair feeling crispy. My hair always felt so soft afterwards! It contains avocado oil and green tea so super replenishing.
Find the John Frieda Hair Mask Detox here.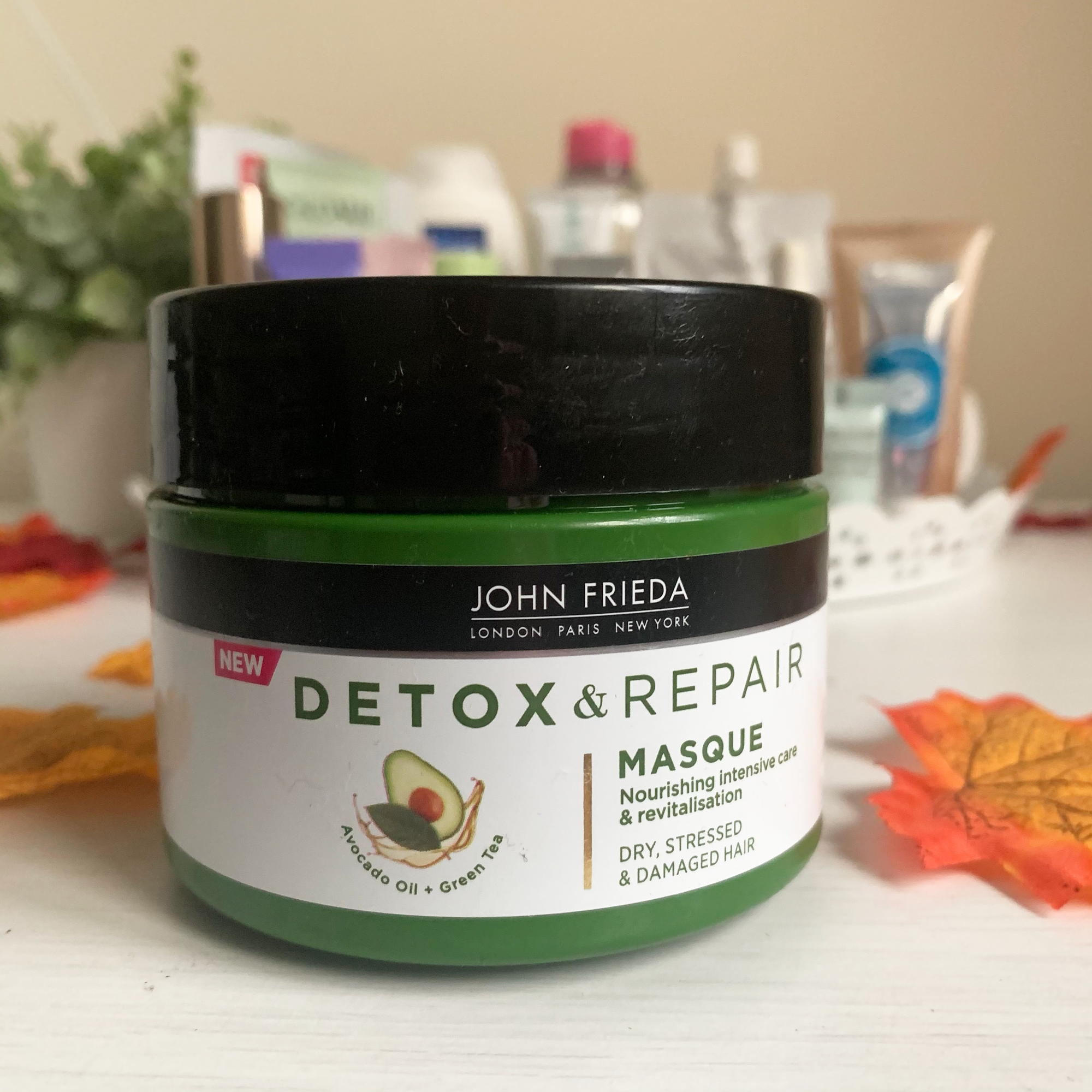 HELLO BODY COCO SHINE HYDRATING HAIR MASK
Another hair mask I used up was the Coco Shine from Hello Body. I was expecting good things from this one because I'm using one of their moisturisers at the moment and I'm really impressed with it… however it was so much more effort to use than an ordinary hair mask!
You have to put it in the fridge 15 minutes before you're going to use it and then you have to squeeze the packet well to mix the product because it contains little pieces of coconut too. I ended up with a lot of excess coconut in the bottom of the packet and a lot of the liquid dribbling out.
I'm not a fan of the consistency… but the product did smell amazing and my hair felt great after using it. Purely because of the extra effort and mess it makes, I won't be re-buying this one!
Find the Hello Body Coco Shine Hair Mask here.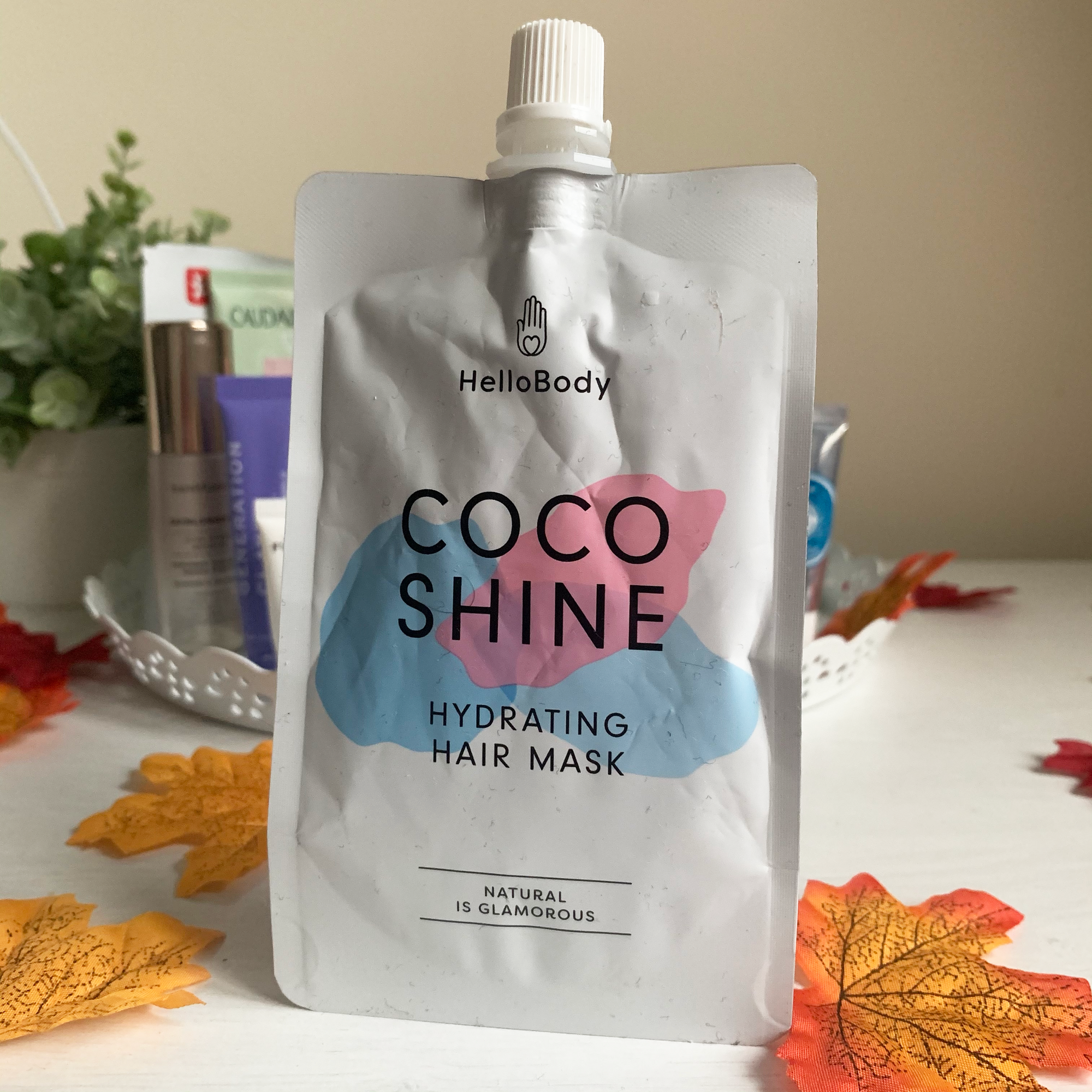 ROC CLEANSING MILK
A cleansing milk I bought ages ago – I didn't open it until recently and it was really nice to use. I was using this as a first cleanse or a morning cleanse. It was really gentle on the skin and ok at removing makeup. I found it better to remove makeup with makeup remover then go in with this as a first cleanse afterwards!
I have another bottle of this to use yet but I'd re-buy this.
Find the ROC Cleansing Milk here.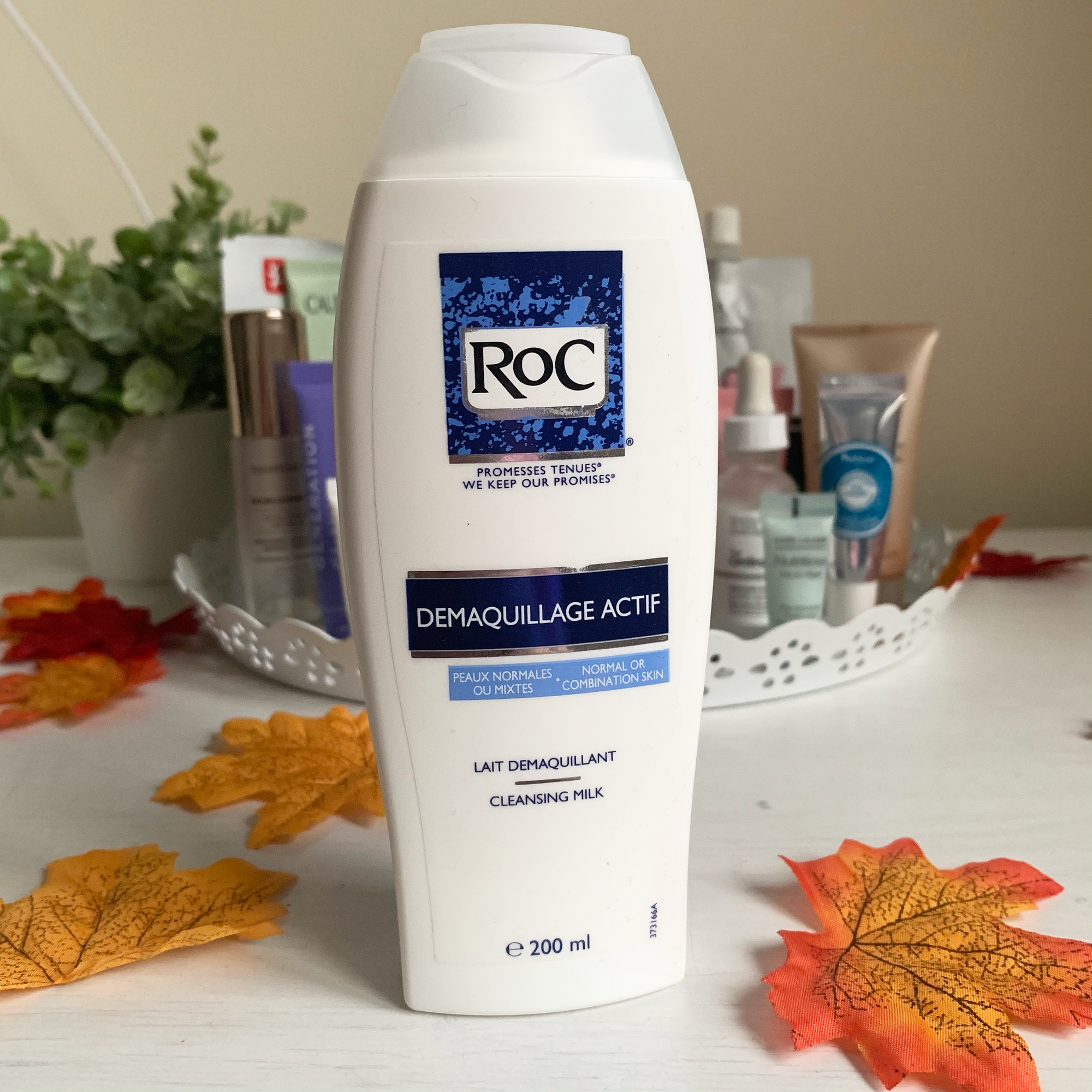 KIEHLS VITAL SKIN STRENGTHENING SUPER SERUM*
The Kiehl's Super Serum (the full name is way too long!) is another product I received in a Glossybox, this time the Limited Edition Grazia box. I was using this as a serum at night and it's meant to strengthen the skin's barrier.
My skin felt nice after using it although the product itself is very fragranced so it must contain fragrance which can be irritating to some people. Kiehls use a lot of essential oils which I'm not a huge fan of in skincare. It was also a very small sample to use to decide whether it was actually effective on my skin.
Find the Kiehl's Vital Skin Strengthening Super Serum here.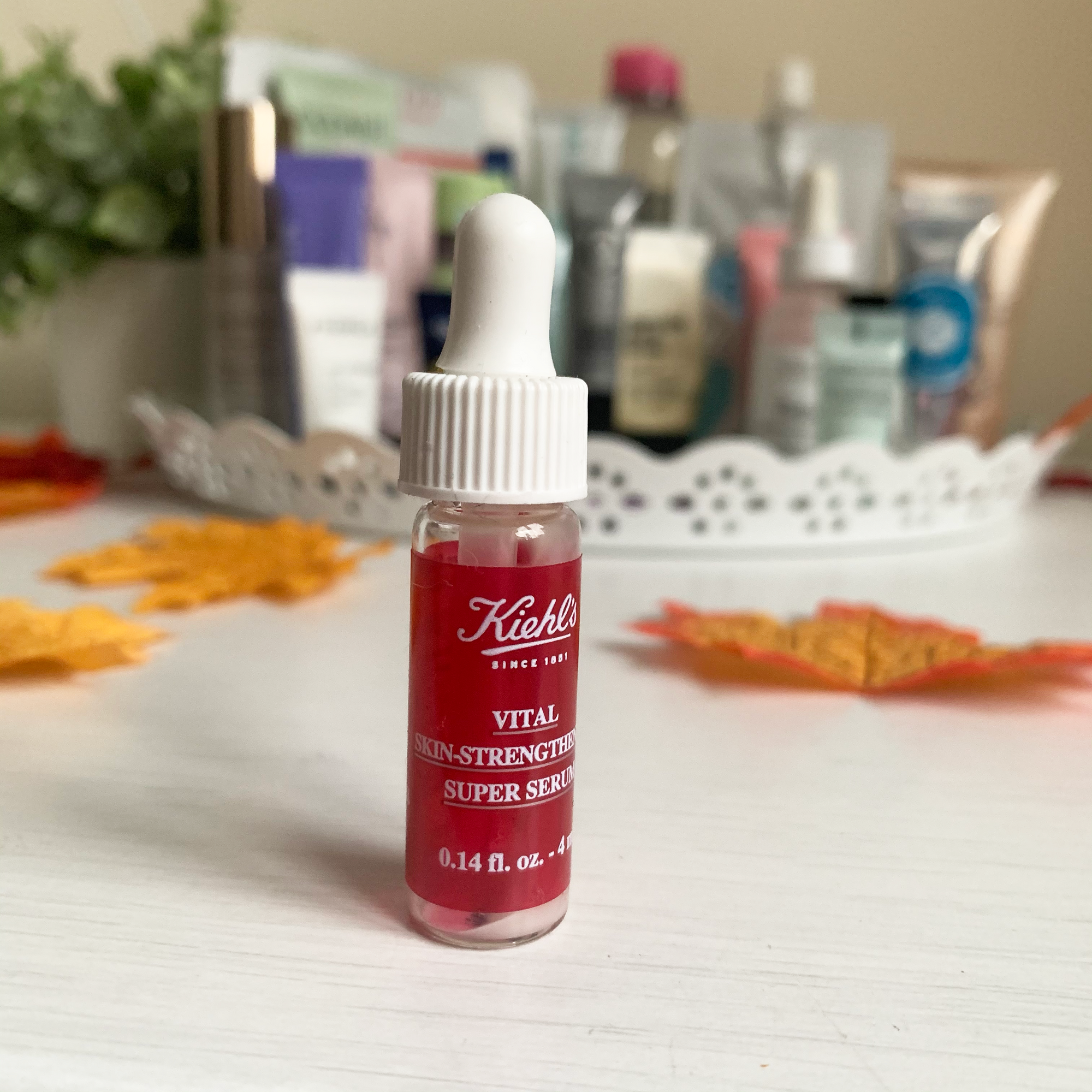 EYEKO BLACK MAGIC MASCARA*
This is the only product which isn't empty, but I feel like it should be empty by now, so it's in the empties pile!
Eyeko are fab for mascaras and eyeliners, so if I ever run out of mascaras I'd definitely re-buy this one.
Find the Eyeko Black Magic Mascara here.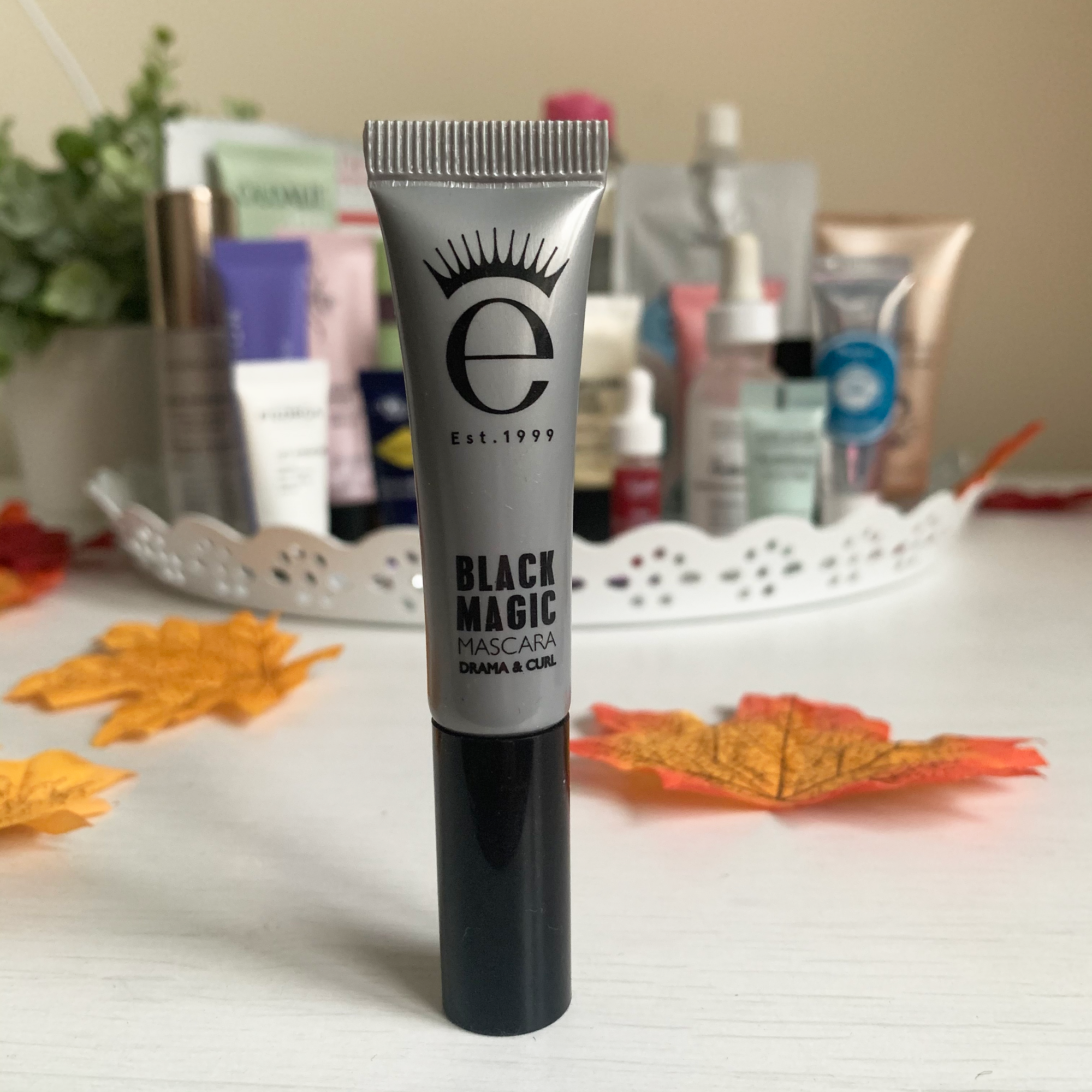 L'OCCITANE PRECIOUS CREAM*
The L'Occitane Precious Cream is a teeny little sample I received in the 2019 L'Occitane Advent Calendar. I only opened it recently and it didn't last long as it's only a small sample size.
I used this as a night cream. It was really rich on the skin, which is what I like in a night cream, but it was very scented. I wasn't really a fan of the smell so I wouldn't re-buy purely for that reason.
Find the L'Occitane Precious Cream here.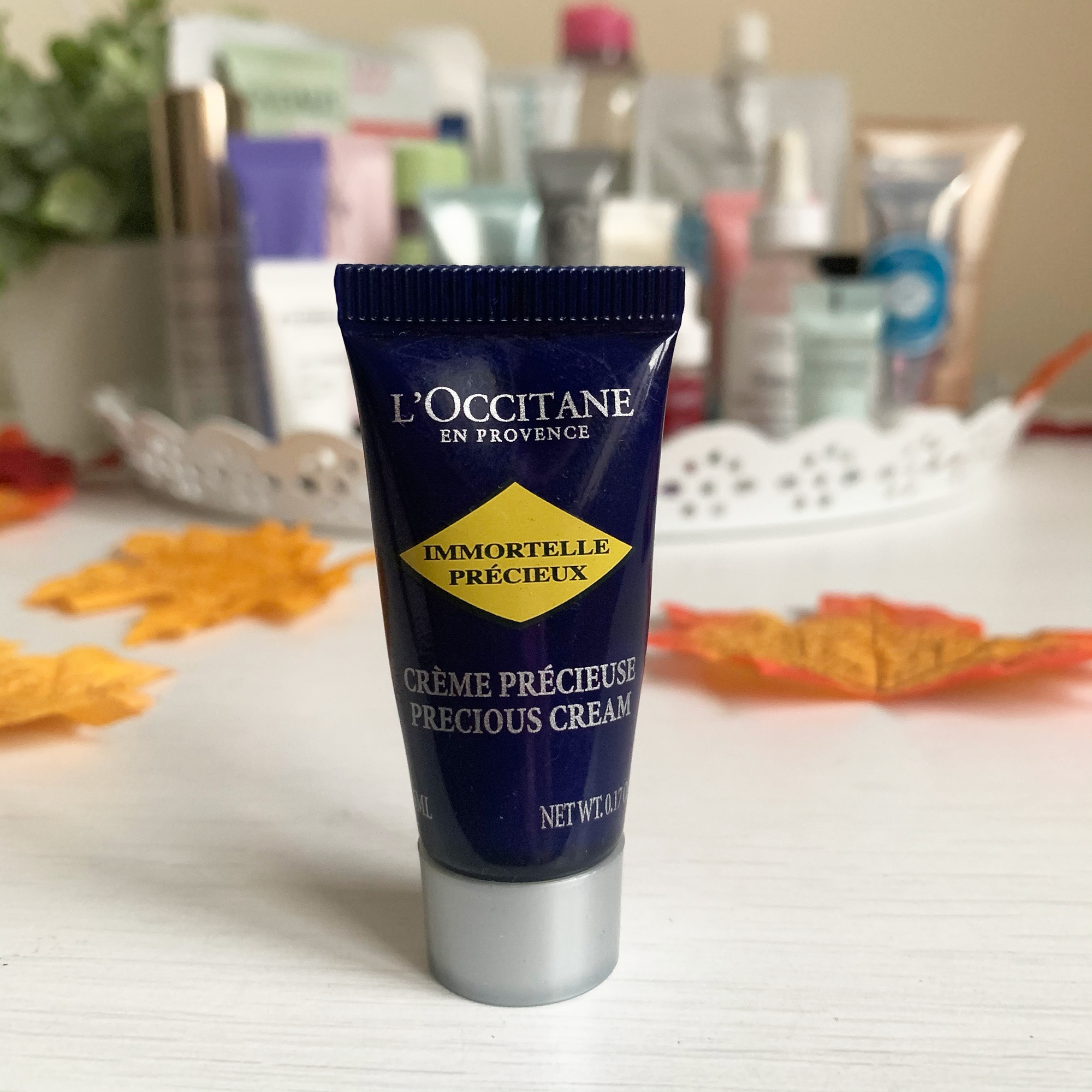 ESTEE LAUDER NUTRITIOUS MICRO ALGAE HYDRA LOTION
The final product is another sample size and it's the Estee Lauder Hydra Lotion. I'm not sure where this came from, maybe my Mum gave it to me? Either way it's a moisturiser that's meant to minimise pores and hydrate the skin,
I used this as a day cream and it was nice on the skin. However, as it was such a small sample, I can't say I noticed a difference in my pores.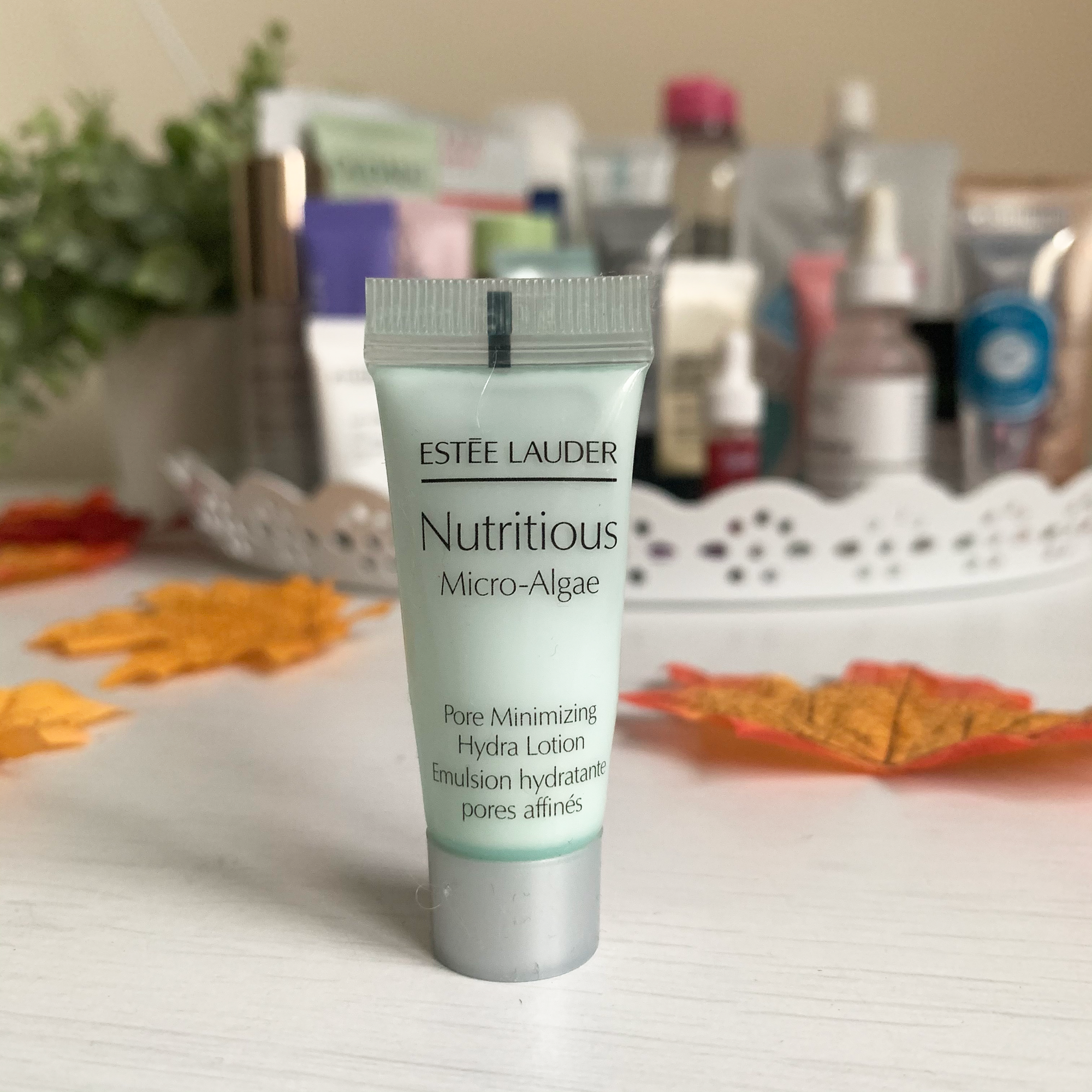 Find the Estee lauder Nutritious Micro Algae Hydra Lotion here.