Molly Mae has teamed up with Cosmetips to bring us her very own Beauty Box filled with all of her favourite beauty items.
Molly Mae announced this on her Youtube in a GRWM video (if you missed it, here's the link) and showed us everything inside the box whilst demonstrating a couple of them whilst getting ready.
Honestly, the box looked incredible, but I'd never heard of Cosmetips before, so I checked out their website to see what they were about. Cosmetics are a beauty box company which collaborate exclusively with influencers and other makeup artists we all LOVE, and bring us Limited Edition Beauty Boxes packed with that person's must-have items.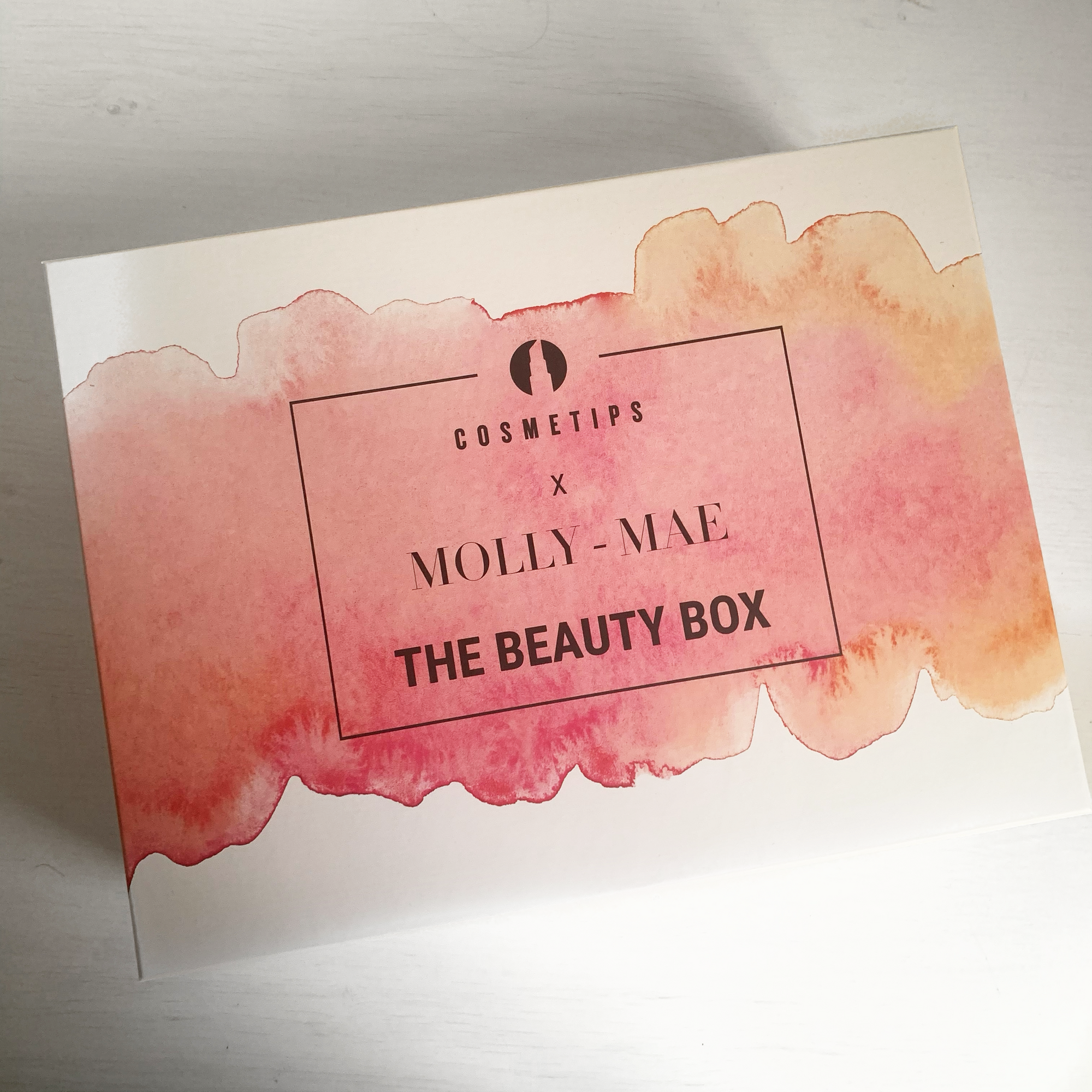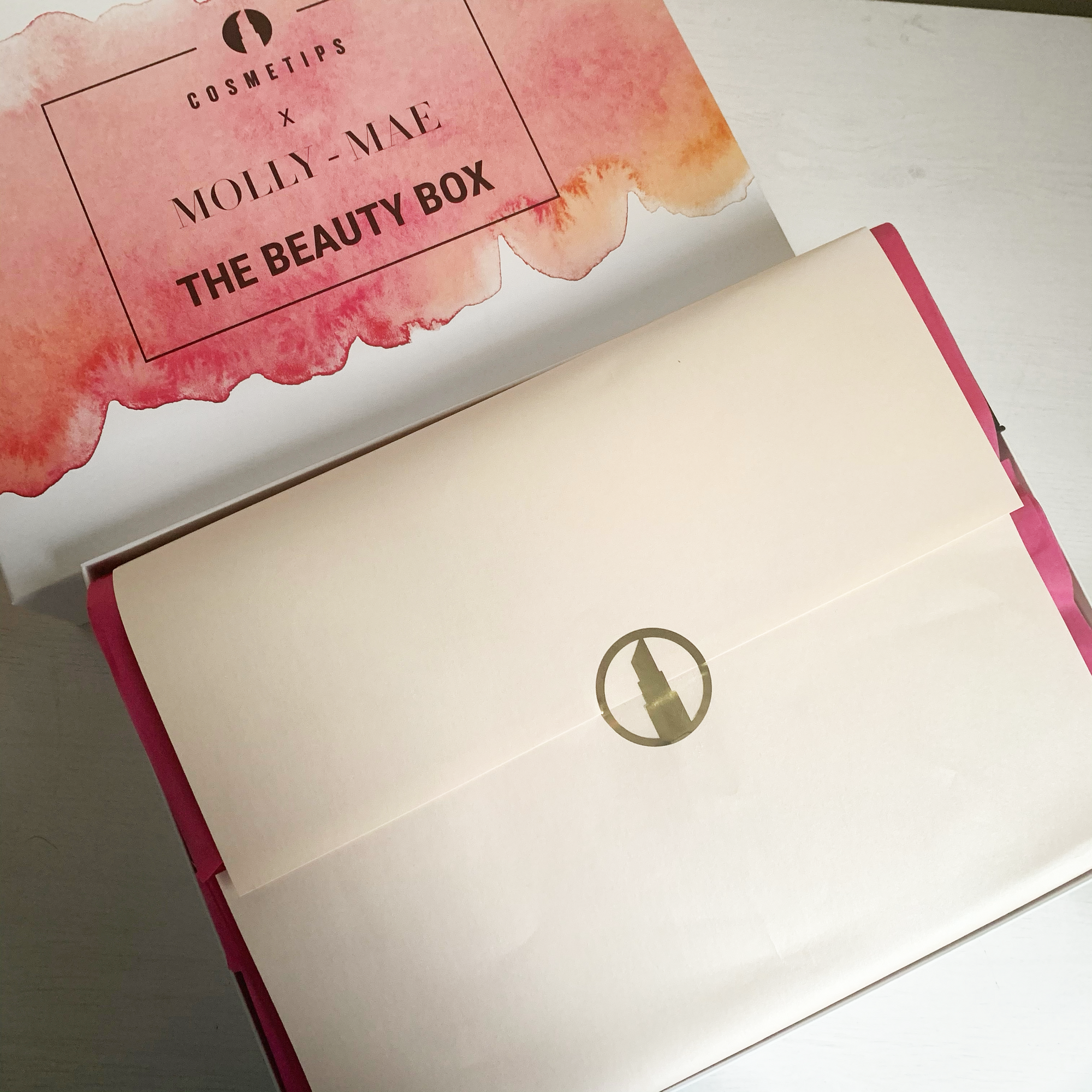 With influencer receiving lots of different products in PR and trying out lots of different brands, they've had the chance to trial more items than any of us can, and then pick out their faves to share with us. Something I think is a fab idea – I mean, it's not everyday I can just drop £70 on an eye cream to see if I like it, but if someone has tried out several eye creams and picks their fave to include in this box, it's saved me the money AND the hassle.
So the Cosmetips x Molly Mae Beauty Box is filled with 7 of Molly Mae's beauty must-haves including skincare, makeup and tools and it worth £325. The box is on sale for only £110, which is a fab saving… but is it worth it?
Let's take a look.
The box itself has been designed by Molly Mae, from the image on the outside, to the colour of the tissue paper and the sticker inside – Molly Mae told us how proud she was of this box on her Youtube video. The booklet inside the box also tells us how Molly Mae has worked so hard to get the best brands and make sure everything inside was perfect.
BENEFIT – BAD GAL BANG MASCARA
First up is one of the smaller products in the box – the Bad Gal Bang Mascara from Benefit. Lasting 36 hours, this mascara is said to create massive volume without weighing down your lashes, and it's all to do with the formula which contains gravity defying aero particles derived from space technology. I can honestly say I've never heard that in a mascara before!
The mascara is a pitch black shade with a custom Slimpact! Brush which is streamlined to reach every part of each lash to create the most intense volume.
Molly Mae described this as her absolute ride or die mascara and it's worth £22.
HUDA BEAUTY – DESERT DUSK EYESHADOW PALETTE
Next is one of the most beautiful eyeshadow palettes I've seen… and one I've wanted in such a long time! The Desert Dusk Eyeshadow Palette from Huda Beauty is an 18 pan palette with four finishes including a matte, shimmer and glitter.
The colour palette is inspired by the colours of the Arabian desert at dusk which I think is so beautiful. The mix of colours is perfect for all skin tones and you can definitely create some day looks and night looks with just this one palette.
Molly Mae explained in her GRWM video that she's not a fan of bright bold colours and this is why she likes this palette… I found that a little strange because this palette has some gorgeous bold colours in it such as purple and orange alongside some of the more subtle shades… so I was surprised that this was her go-to. But I love this palette so I'm super happy it's been included in this box!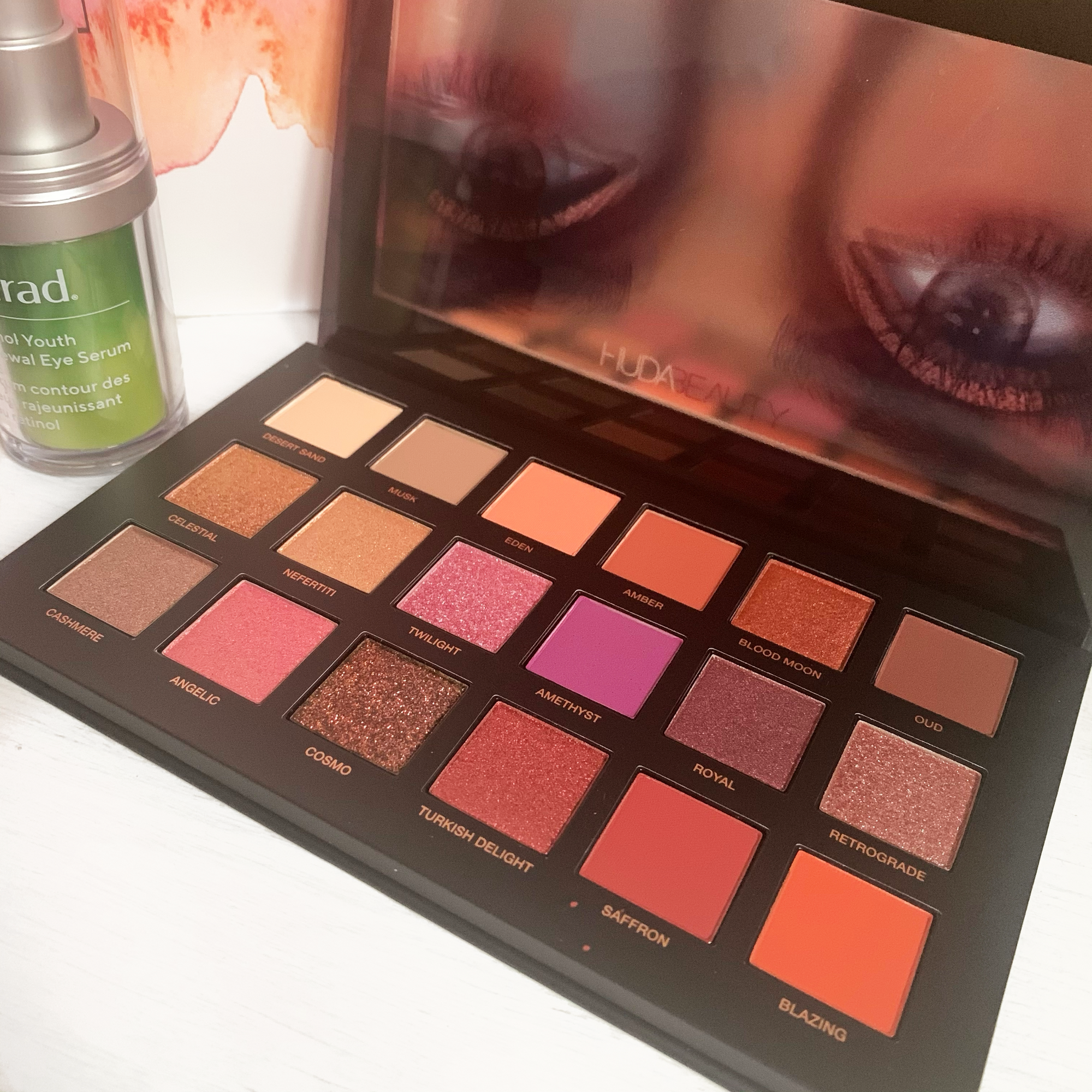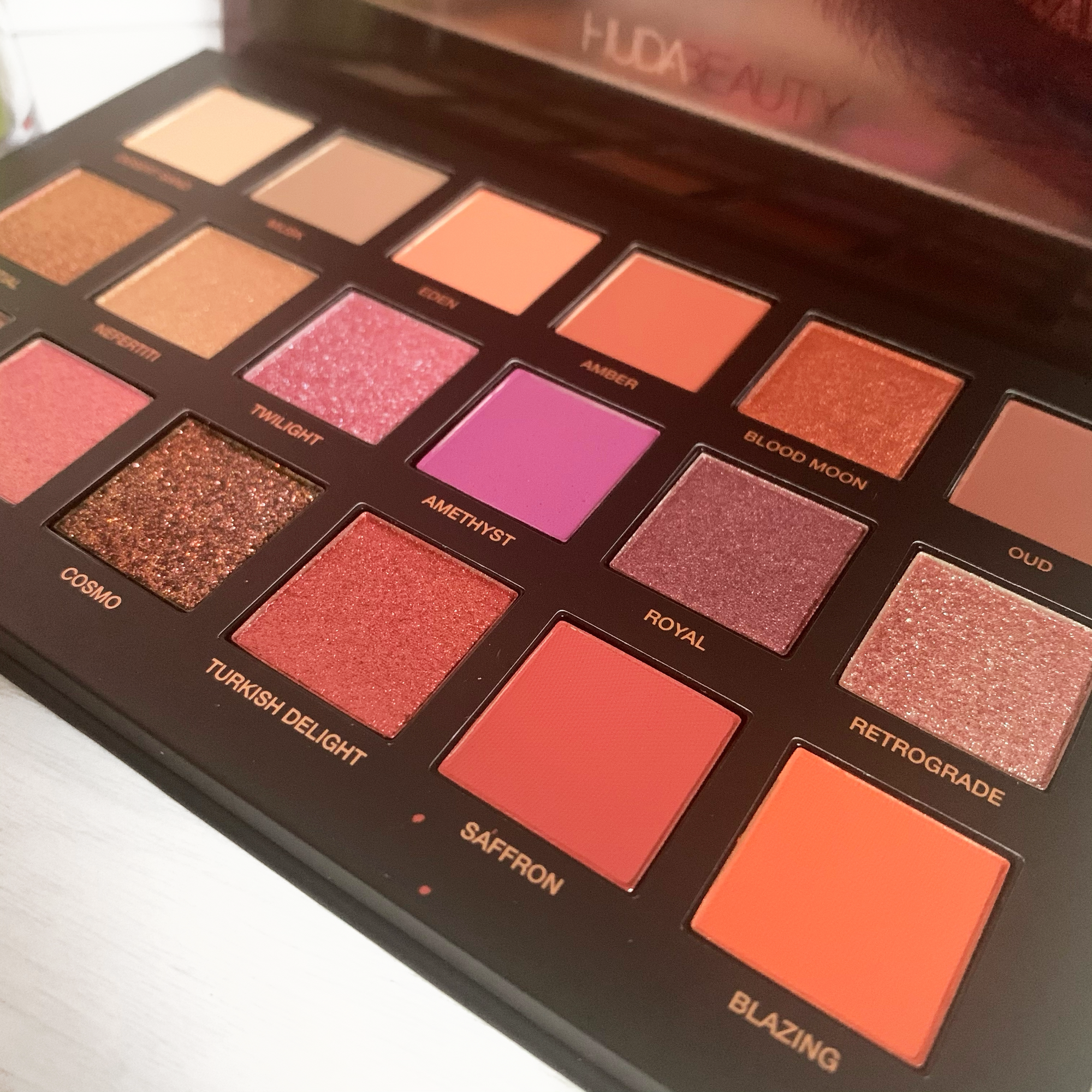 SPECTRUM COLLECTIONS – WHITE MARBELOUS 12 PIECE SET
The cosmetic tools in the box are a set of 12 makeup brushes from one of my favourite makeup brush brands, Spectrum Collections. Spectrum are a vegan brand and the quality of the brushes is unreal.
The gorgeous Marbelous set is made up of 12 white and rose gold brushes, 5 for the face and 7 for the eyes, brows and lips. These brushes are great for anyone… from someone just starting a makeup brush collection, to a professional makeup artist.
SUNDAY RILEY – C.E.O. VITAMIN C RICH HYDRATION CREAM
On to the first skincare product in the box – the Sunday Riley C.E.O Vitamin C Rich Hydration Cream. This is a daily moisturiser infused with 5% Vitamin C to brighten the skin. It's said to be super hydrating and fights signs of dehydration and aging.
HUDA BEAUTY – POWER BULLET MATTE LIPSTICK IN PROM NIGHT
Molly Mae's go-to lipstick is the Huda Beauty Power Bullet Matte lipstick in the Shade Prom Night. A gorgeous dusky pinky nude this shade is perfect for day time and night time looks. The packaging is sleek and super premium and the lipstick itself is highly pigmented giving the lips the perfect colour.
MURAD – RETINOL YOUTH RENEWAL EYE SERUM
Now one for the eyes – Molly Mae's favourite eye cream for when she's feeling a little extra – the Murad Retinol Youth Renewal Eye Serum… and it's expensive!
At £70 this 15ml product is pretty small but luckily only a small amount is needed around the eye area. As it contains retinol, it helps to minimise signs of ageing and protect the skin's barrier.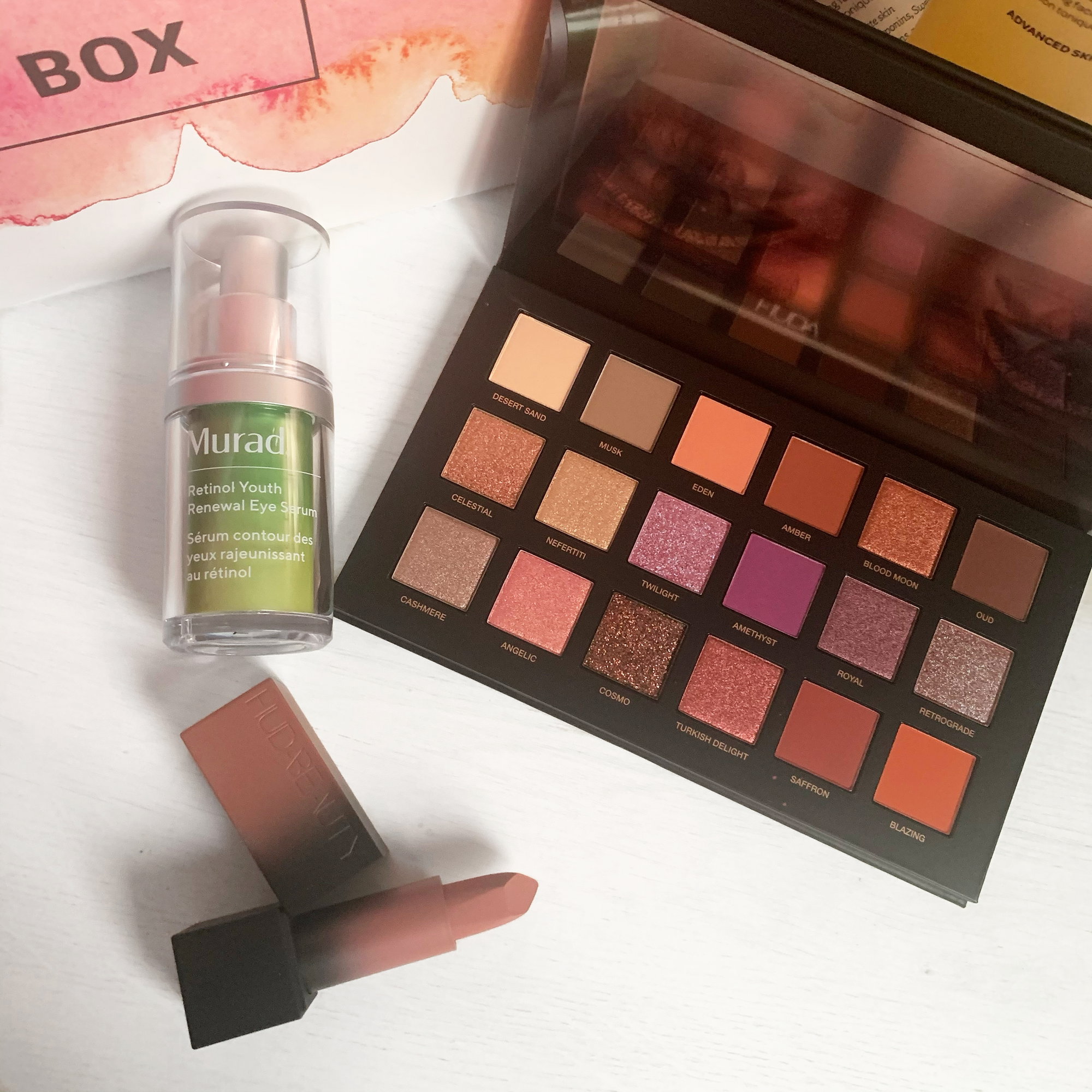 ELEMIS – SOOTHING APRICOT TONER
The final product is another skincare hero, the Elemis Soothing Apricot Toner. I've used this myself for around 10 years now – it's my favourite toner to use and it's so refreshing and gentle on the skin. It's suitable for sensitive skin too and it works to balance ph levels whilst soothing to leave the skin super hydrated. It also aids in the penetration of moisturisers which you apply on top of it so your skin can get all the benefits from the products.
Overall this box was a no-brainer for me. An eyeshadow palette I've wanted for a long time, my favourite makeup brushes, a gorgeous lipstick and 3 incredible skincare products too. The only product I wasn't too fussed about was the Bad Gal Bang mascara – I find that a mascara wand with actual bristles rather than a plastic head works much better on my lashes to create length and volume. One of my favourites for that is the Bareminerals Lashtopia.
What did you think of the box? Let me know in the comments down below.