I recently teamed up with Indulge Beauty to review a bunch of products from Ecooking. It's not a brand I've used before… or even heard of if I'm honest but I'm always on the look out for new products to mix up my routine!
Ecooking is a beauty brand that specialise in skincare… from face wash to lip balm they've got you covered… they've even got a few products for the guys!
You'll probably notice that writing on the packaging isn't all English… that's because the brand itself is Danish. Ecooking was founded by Tina Sogaard when she started hand-making products at her kitchen table… she used ingredients which were so natural they could even be used in cooking… hence the name 'Ecooking' – eco + cooking!
I received six products and I've tried them all out over the past couple of weeks.
1. RENSEGEL CLEANSING GEL (200ML)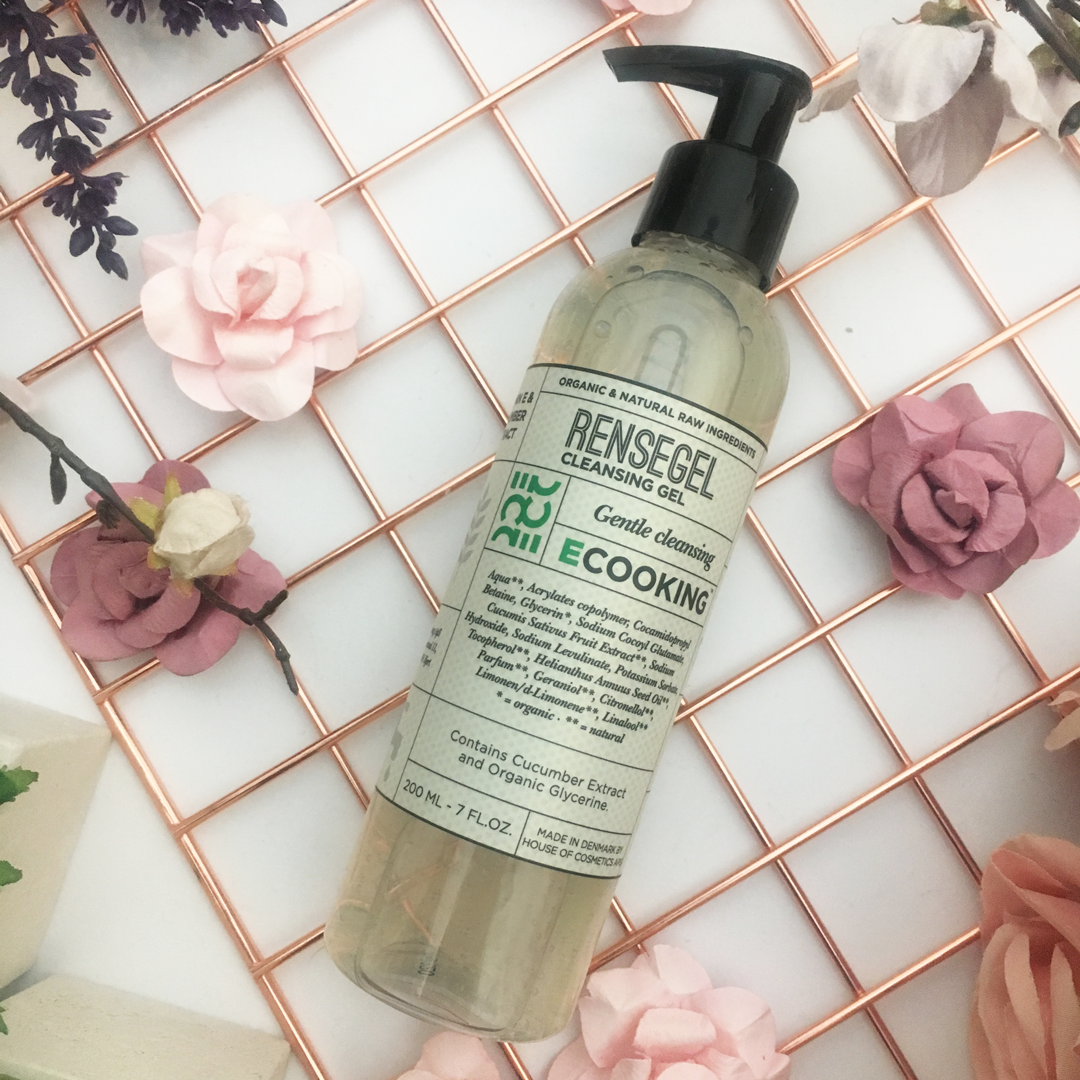 Okay so first up is the Cleansing gel or 'Rensegel'. It comes in a 200ml bottle which is a good size – a decent amount of product but not too big to throw in your bag if you're travelling.
It works just like any cleansing gel – rub some together in your hands and then massage onto the face in circular motions. Then rinse off with water.
I'm always a bit sceptical when it comes to cleansing products that you apply then wash off as they always seem to make my skin really dry after I've washed it off. With this one my skin felt super clean but not too dry afterwards… my skin didn't feel tight but it still felt like it was fully cleansed.
The gel contains cucumber extract and organic vitamin E and it is 100% vegan so is really good for the skin – there are no nasty chemicals like there are in other cleansers I've used in the past.
Like with any facial cleanser, I always apply a moisturiser afterwards to keep my skin soft and supple.
2. DAGCREME – DAY CREAM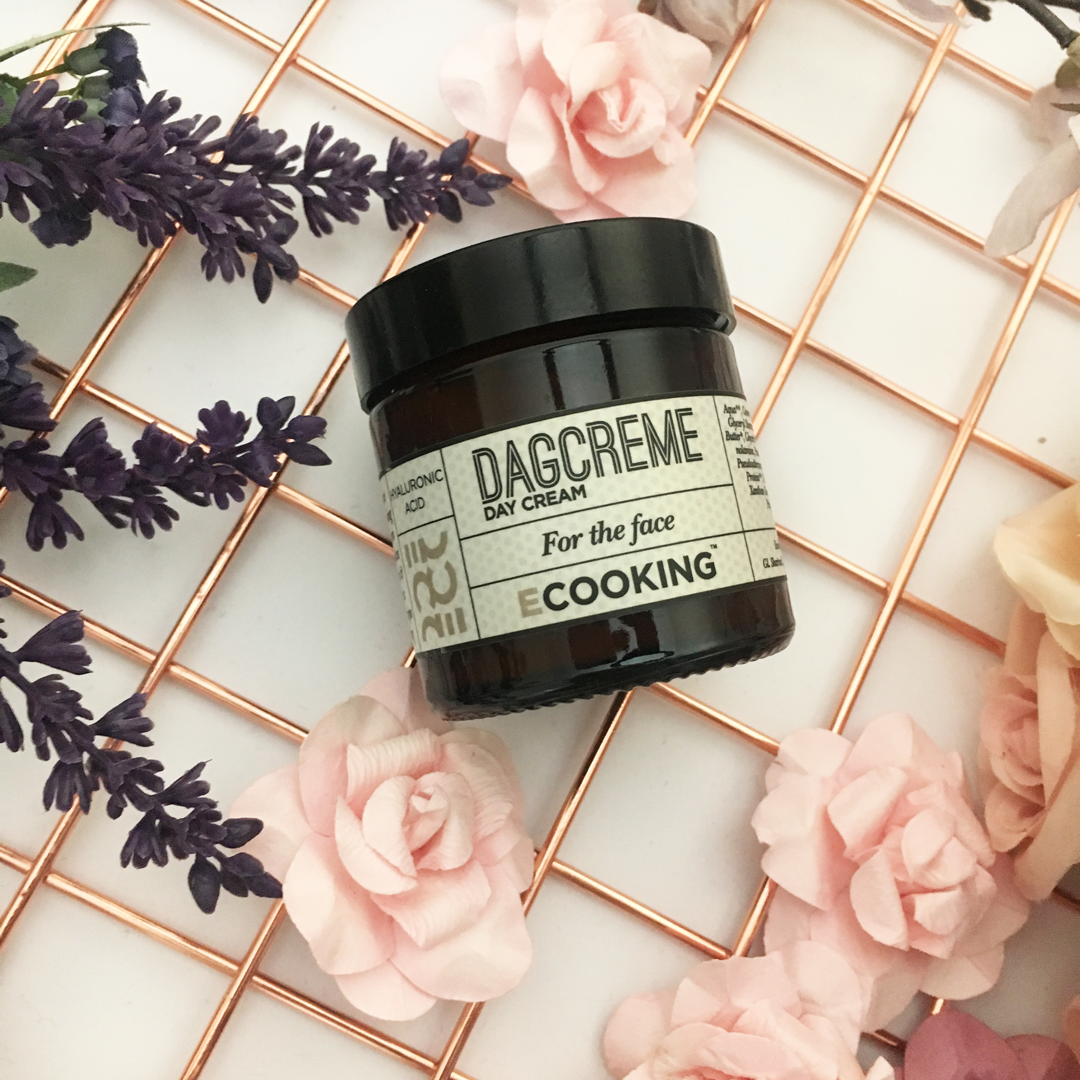 Next up we have the Day Cream… or Dagcreme.
This is the moisturiser which I applied after I had used the cleansing gel. The first thing I noticed is that a little goes a long way…
The moisturiser itself isn't super thick but I wouldn't say it's one of the lightest day creams I've used. It contains Hyadisine which is proven to improve collagen and elastin in the skin which in turn keeps the structure of the skin moisturised.
Another one of the main ingredients is Trylagen which works on the collagen in the skin to prevent signs of ageing…
Sounds pretty good all round, doesn't it!
My skin felt soft and moisturised as soon as I'd applied it but it didn't feel greasy. Another one of the key ingredients is shea butter (my fave!) so you can imagine how soft my skin felt afterwards!
Like the cleanser it's also 100% vegan.
Although it's a day cream, I would still sometimes apply this after taking off my makeup at night – I find that mixing my skincare up slightly keeps my skin clear.
Ecooking also have a night cream which I haven't tried but here is the link.​
3. FUGTMASKE – MOISTURISING MASK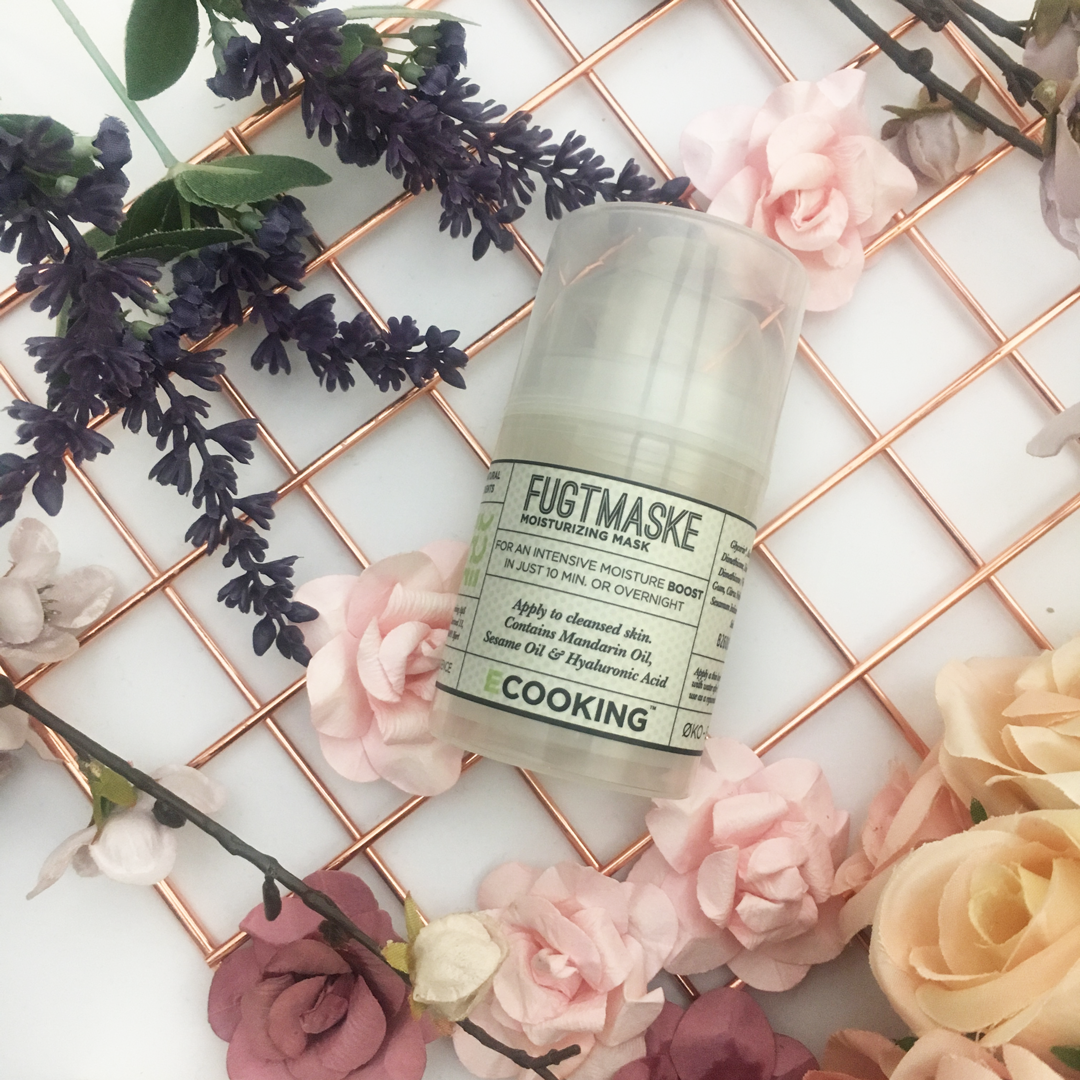 I love applying a moisturising mask every now and again to give my skin a boost of hydration. This 'Fugtmaske' (Moisturising Mask) comes in a cute little bottle with a pump lever top.
To apply this you need cleansed skin (so apply straight after using the cleansing gel) and you just need to apply an even layer all over the face (avoiding the eyes obviously) and leave it for 10 minutes.
The mask contains shea butter, glycerin, vitamin E and sunflower oil – again it's 100% vegan and full of goodness. It's like sitting with a mask of super skin fairies swishing their perfect skin wands over your face for 10 minutes.
If your skin needs a bit of TLC you can leave the mask on overnight but personally it's a bit too thick and sticky to leave on my face overnight – The mask gets stickier the longer it's left on and I prefer a moisturiser that soaks in so I don't stick to the pillow or wake up with my hair stuck to my face. But that's just me :).
Once you've finished with the mask you just rinse it off with water. My skin felt lush after using this so I'm making it part of my weekly routine now!
4. FUGT SERUM – MOISTURISING SERUM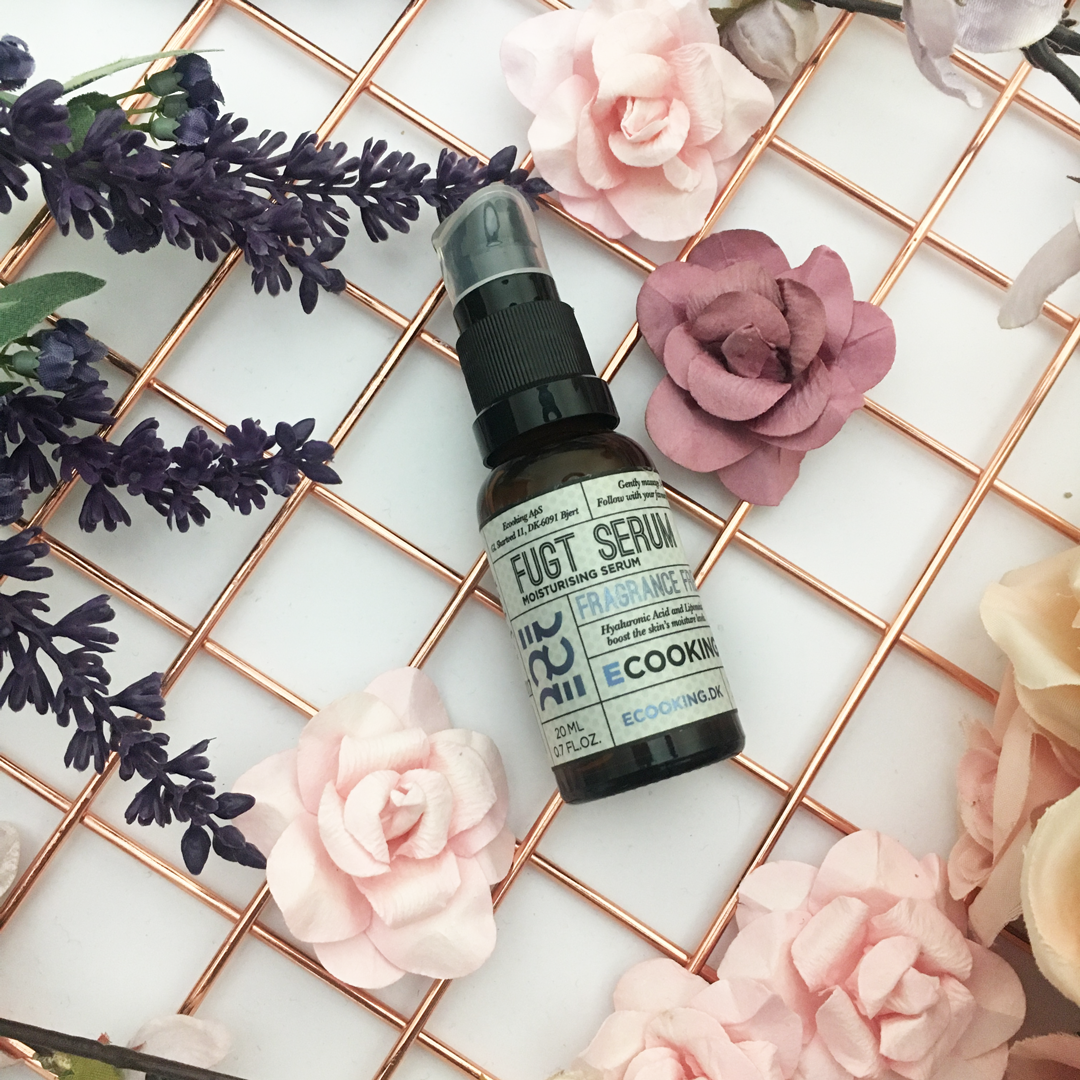 The 'Fugtserum' or Moisturising Serum is pretty similar to the moisturising mask but a lot thinner. This is to apply after cleansing or even after washing off the moisturising mask if you feel that your skin just needs a little boost.
It's a clear serum and like with all of these products, a little goes a long way! I used way too much the first time I tried it and ended up with a lovely moisturised neck and forearm too (to use up what I had squirted out!)
It blends into the skin really easily and quickly soaks in. I don't think I've commented on the scent of any of these products yet have I? They all smell very similar but don't really have a strong scent of any kind – they just smell super natural.
The serum is packed with hyaluronic acids to keep the skin supple and prevent any signs of ageing. It's 100% vegan and also doesn't make the skin look greasy!
5. MULTI BALM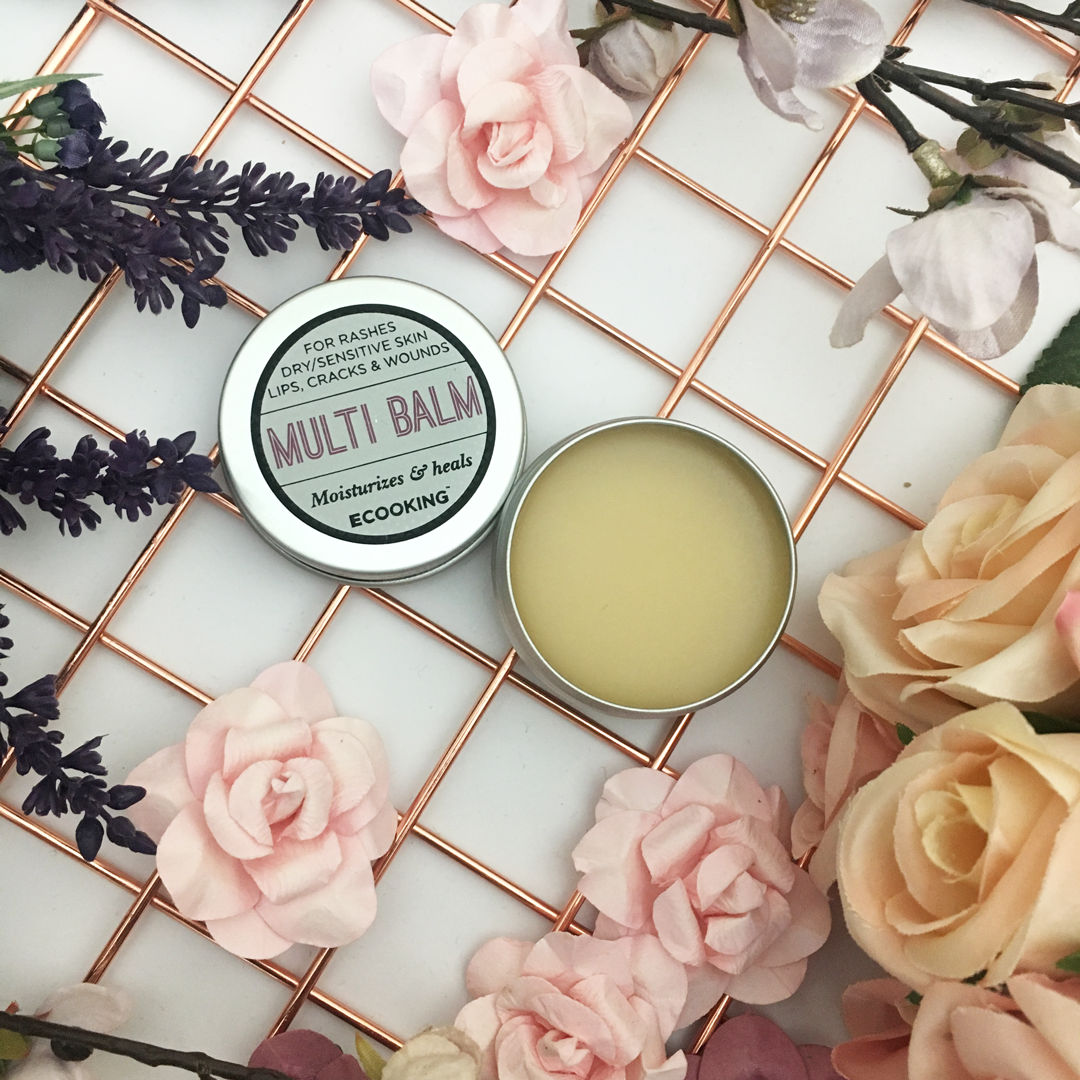 Next up is the Multi Balm.
This comes in a cute little pot (a perfect handbag size) and the lid twists off. It's a pale balm which is see through when applied to the skin and it works to moisturise and heal rashes, dry/sensitive skin, lips, cracks and wounds. It's basically an all round wonder balm.
I gave this a try on my hands and lips as travelling to and from work in the winter has meant that my skin has needed a little TLC.
My lips are always cracked or just dry in general so I try to keep a lip balm on me all the time. I used the Multibalm as a lip balm for 2 days and ended up with perfectly soft lips.
It's not only for lips and hands though – anywhere on the body which needs moisturising, even cuticles and cracked heels… this will sort it out!
The shea butter works with the thistle oil to form a protective layer over the skin whilst moisturising and healing it from within.
It even contains delisens which help soothe insect bites… this is definitely going to be one of my summer essentials and will be coming on holiday with me.
6. LIP BALM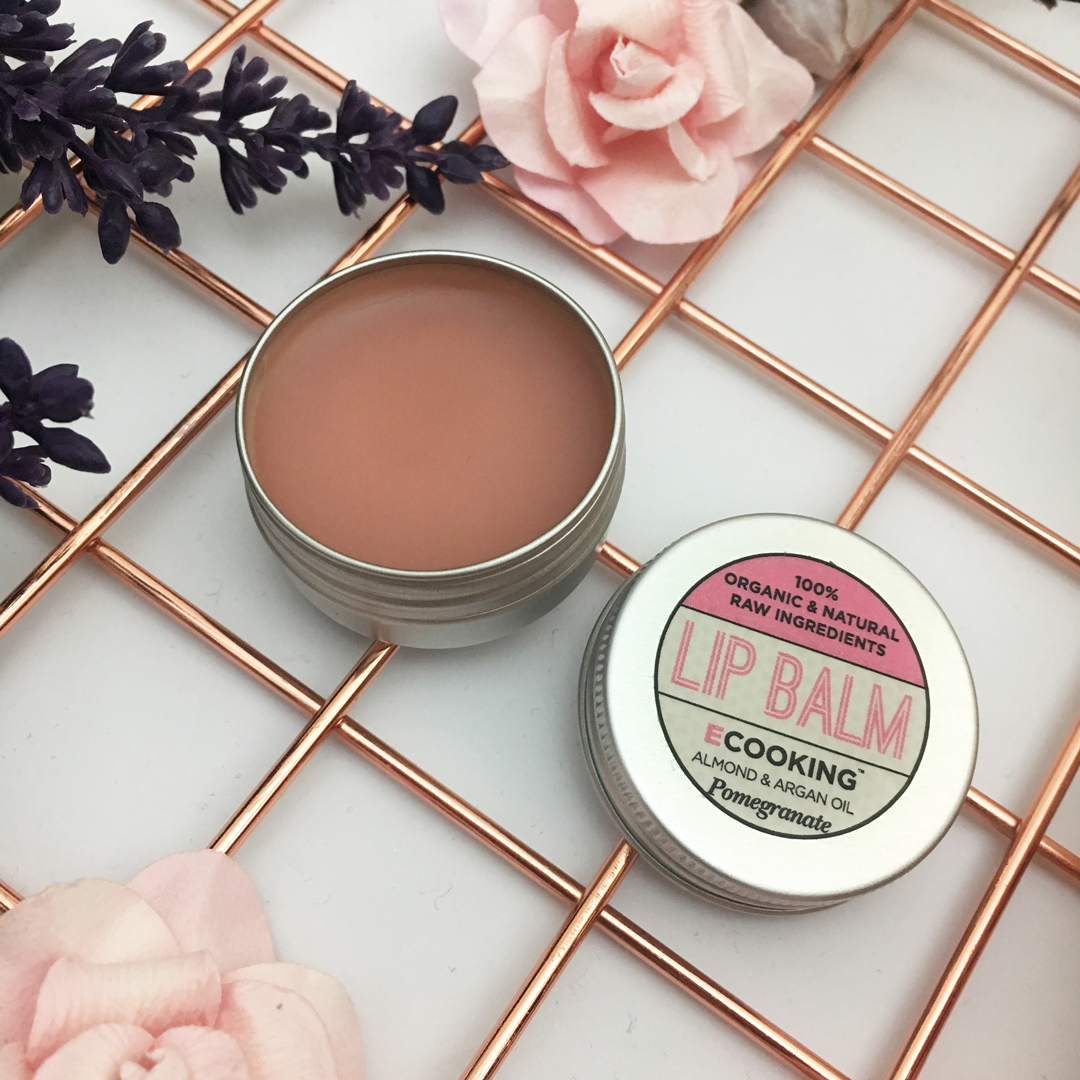 And last up is the Lip balm.
Now I know I used the Multi balm on my lips but this balm is specifically for the lips and is even tinted slightly to give them a bit of colour. Whilst the Multi balm didn't really have a scent, the lip balm is Pomegranate flavour so it smells amazing!
It contains argan oil, shea butter, natural beeswax and almond oil as well as vitamin E for extra goodness.
Honestly this teeny little pot works wonders – my lips felt soothed from the minute I applied it and they had a gorgeous pinky natural tone to them too.
It's the perfect size to throw in your bag or pocket so there's no excuse to never have gorgeous lips! If you wanted a different lip colour you can even mix a small amount of your favourite lipstick with it.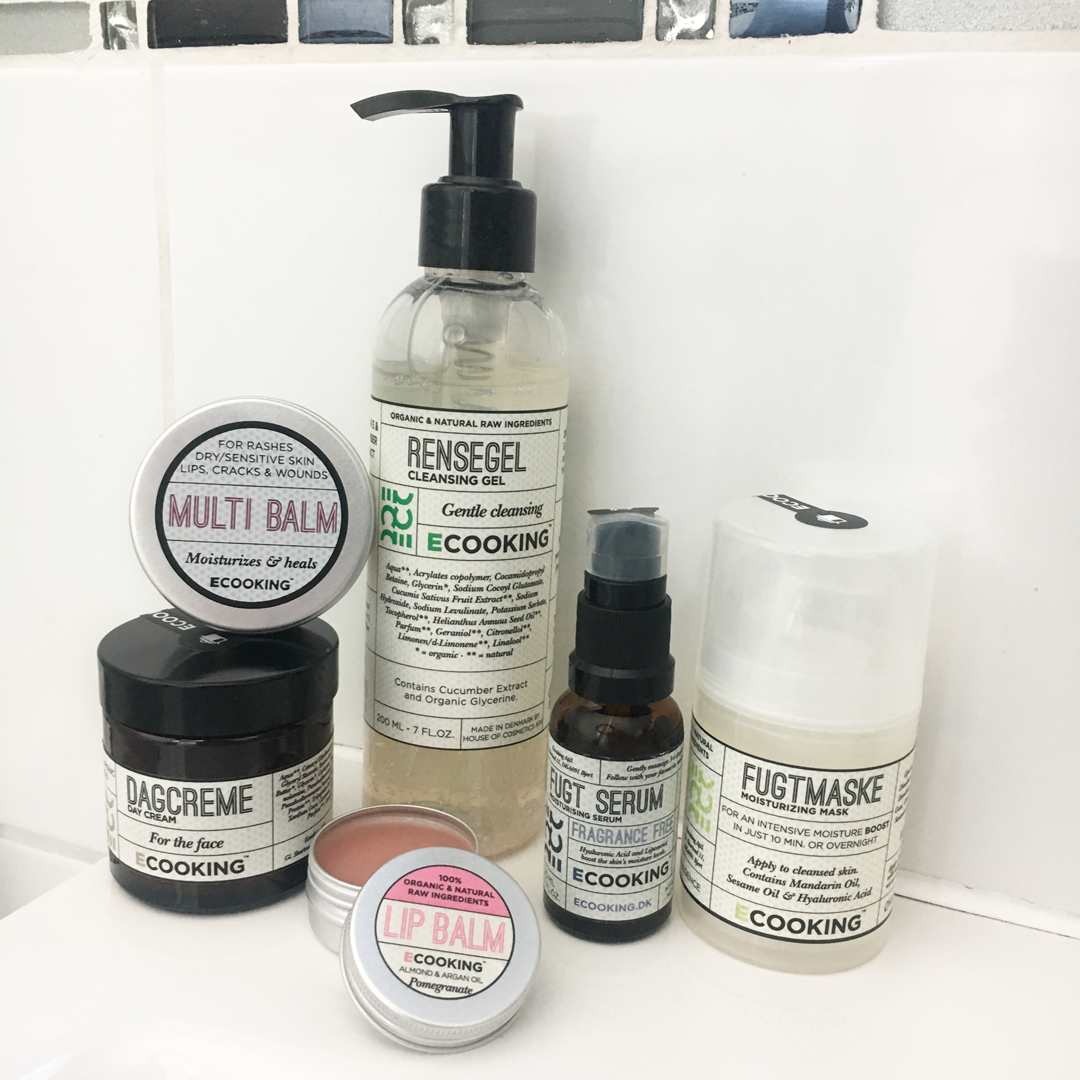 So all in all I think I've fallen in love with another skincare brand! Considering I'd never heard of the brand before they've definitely left their mark.
All of the products were so nice on the skin – my skin felt so soft after using them.
Everything made by Ecooking is 100% natural and 100% vegan and they don't test on animals either! I literally can't find any negative points about this brand.