Another one of this year's faves is the Feel Unique Advent Calendar. On sale for only £89 you find some of the latest beauty products including the Charlotte Tilbury Magic Serum deluxe and Elizabeth Arden ceramics capsules. Worth over £250, this is a Calendar you don't want to miss.
One of the 2020 Beauty Advent Calendar faves is this one from Feel Unique. This is the first year I have tried a Feel Unique Advent Calendar and I'm glad I did…
With 25 drawers to open, there are 27 products inside (yup, an extra little treat on Christmas Day!) and it's a mix of skincare, makeup, haircare and wellness.
With brands such as Charlotte Tilbury, Elizabeth Arden and Laura Mercier, it's got a pretty good line up… but as for the sizes of the products inside… that's not so good.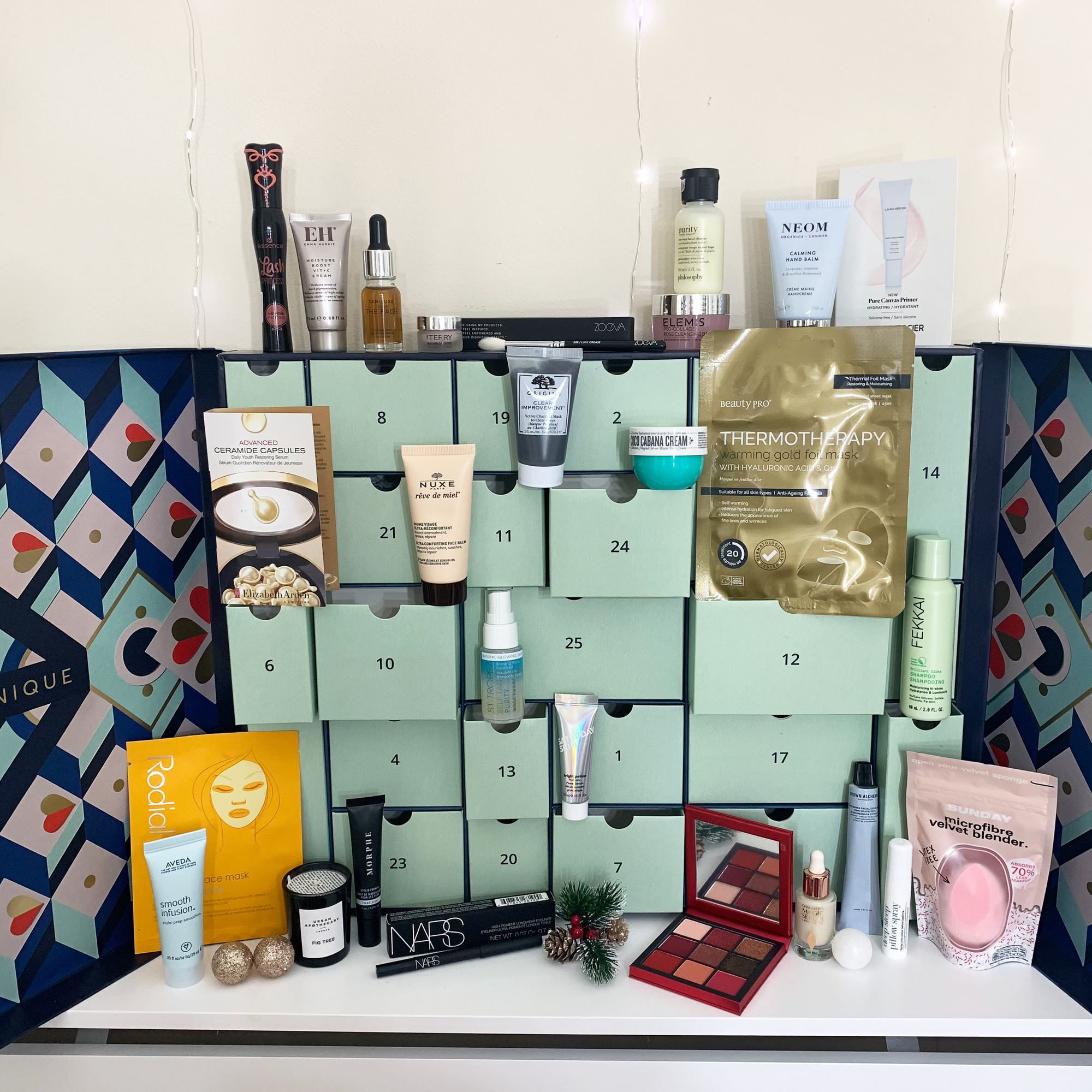 The Feel Unique Advent Calendar is on sale now and priced at £89. It's not one of the more expensive calendars, but being priced at a similar amount to Glossybox and Look Fantastic, I had some big expectations!
Let me know what you think of the products… listed below!
1. EMMA HARDIE – MOISTURE BOOST VIT + C CREAM
The first product in the Feel Unique Advent Calendar is the Emma Hardie Vit+C Moisturiser worth £19.60. Packed with vitamin C and vitamin B3 it works to brighten dull skin, reduce signs of ageing and increase cell renewal. It can be used both morning and night as a moisturiser.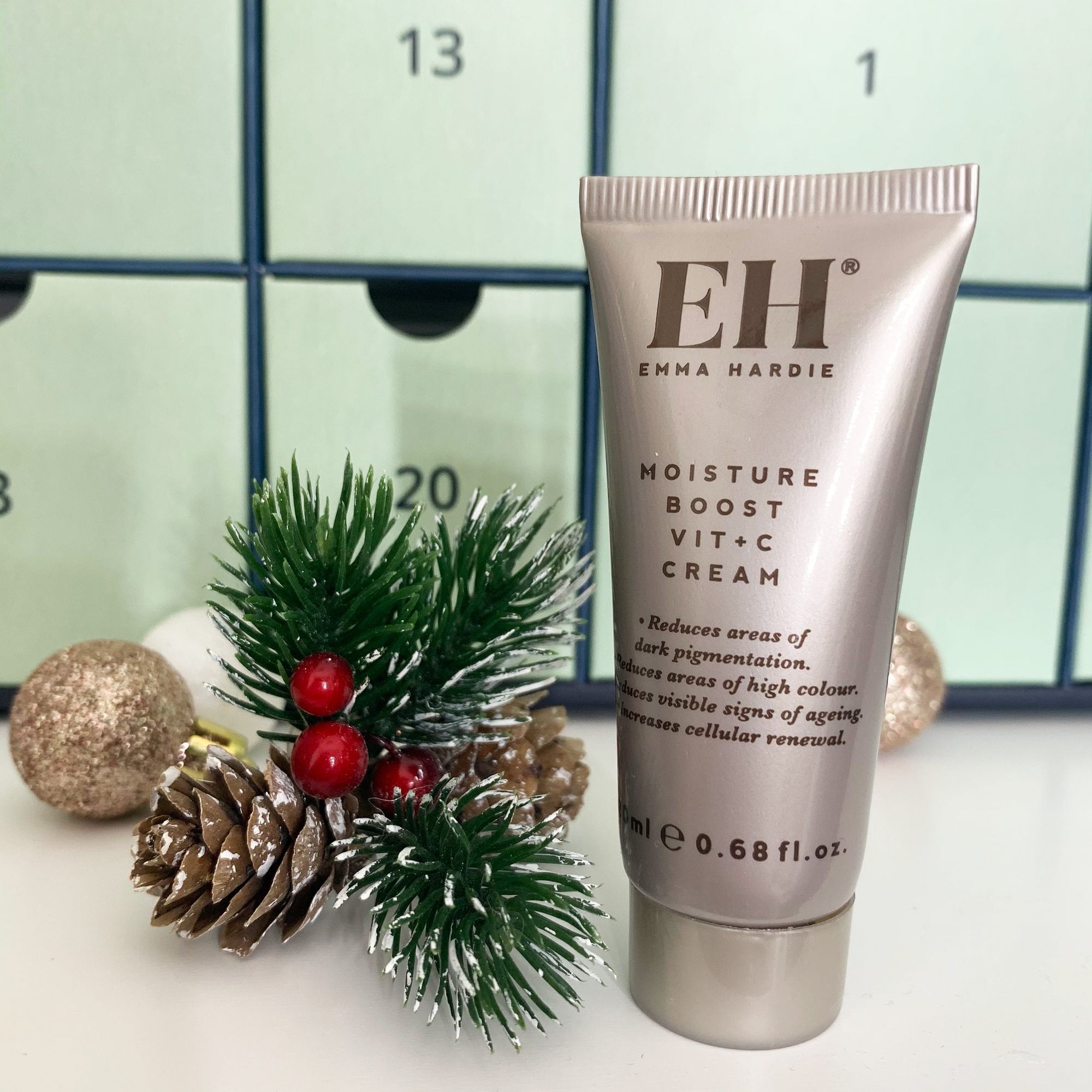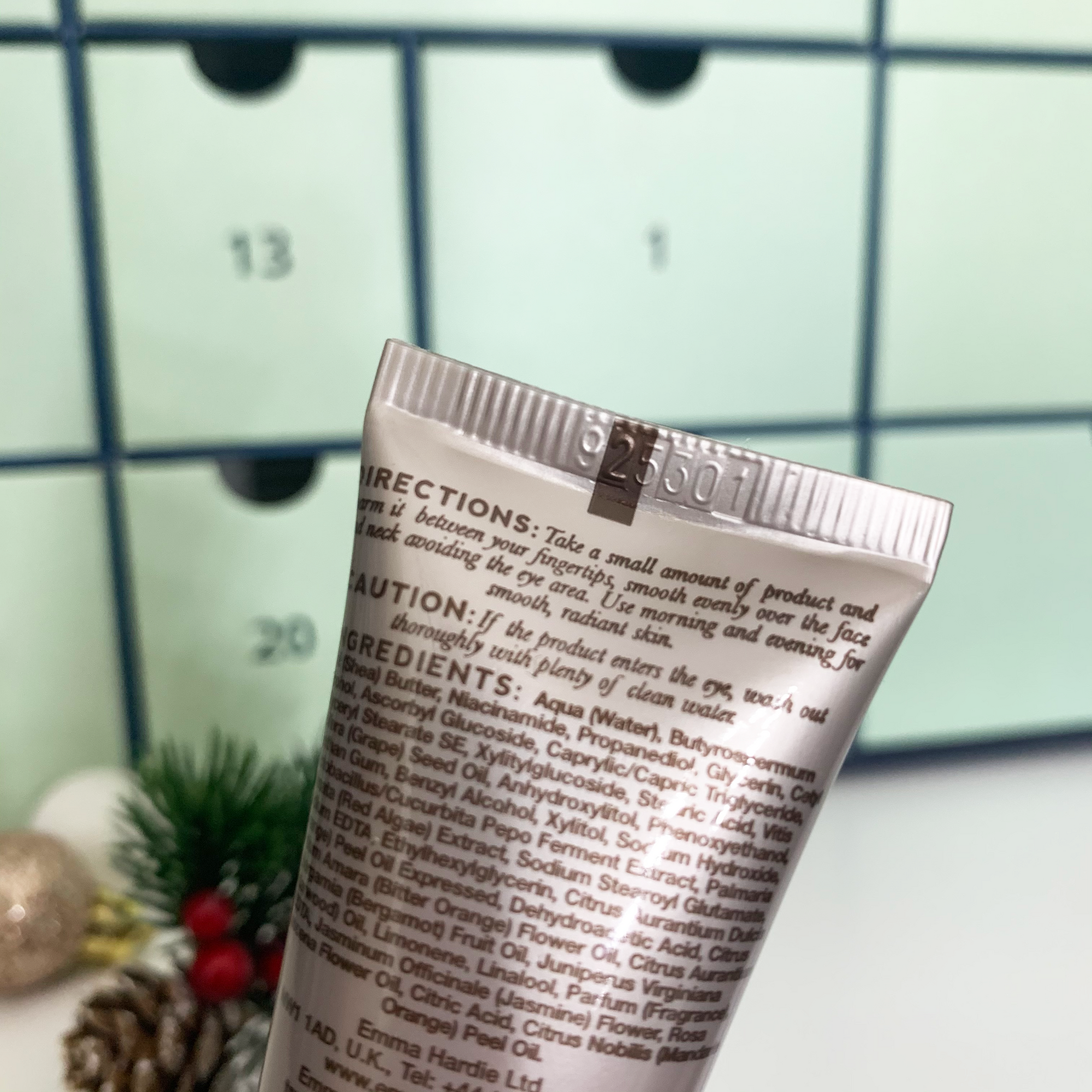 2. CHARLOTTE TILBURY – MAGIC SERUM
Next is one of the products I was super excited to try – the Charlotte Tilbury Magic Serum. Being one of Charlotte Tilbury's newer launches it's not featured in many of the Advent Calendars yet and this sample size is more than big enough to try. A few drops of the serum is enough to cover the face and neck and it should last a fair while. According to surveys of people who have used the serum, 93% look …. And ….. so I'm very much looking forward to seeing some results!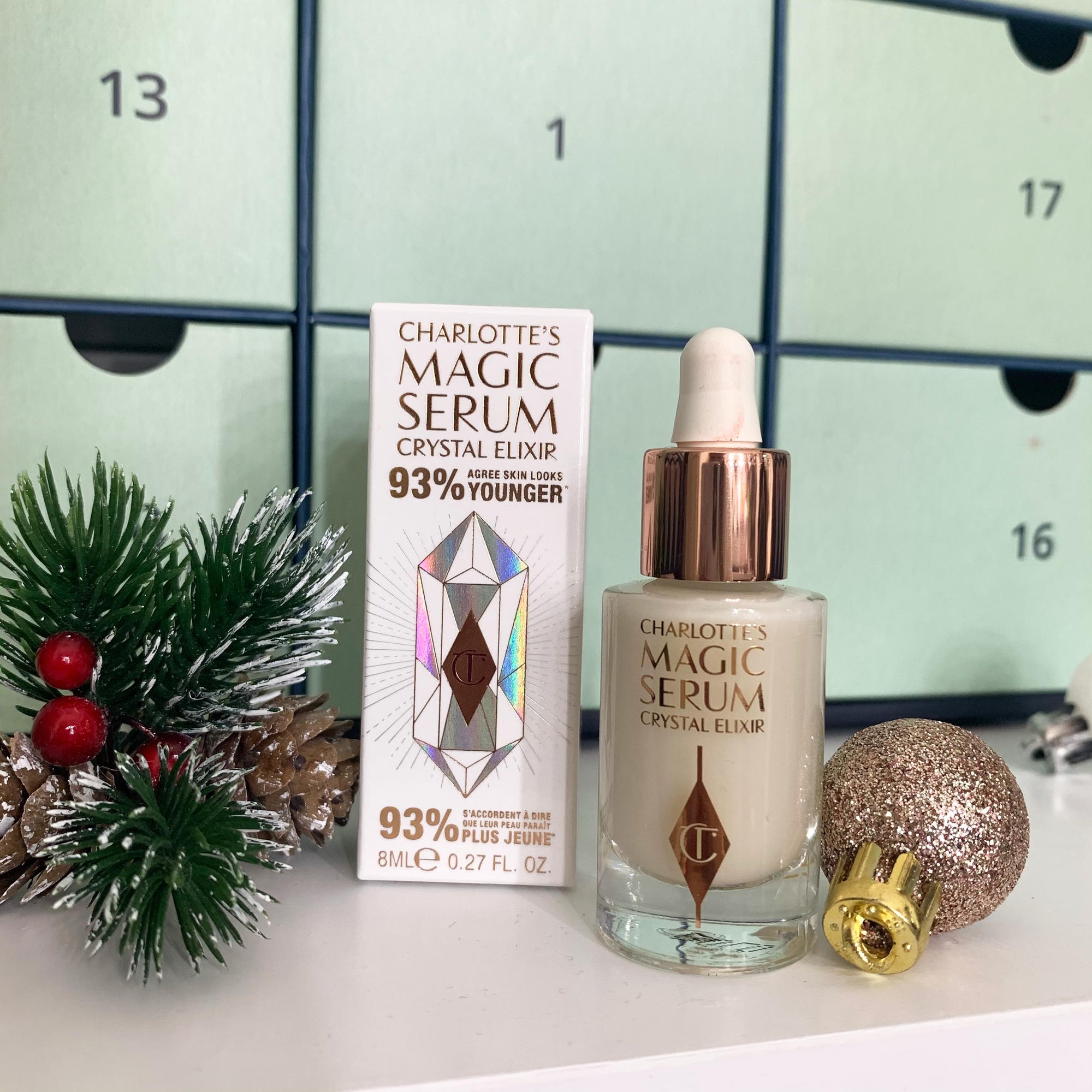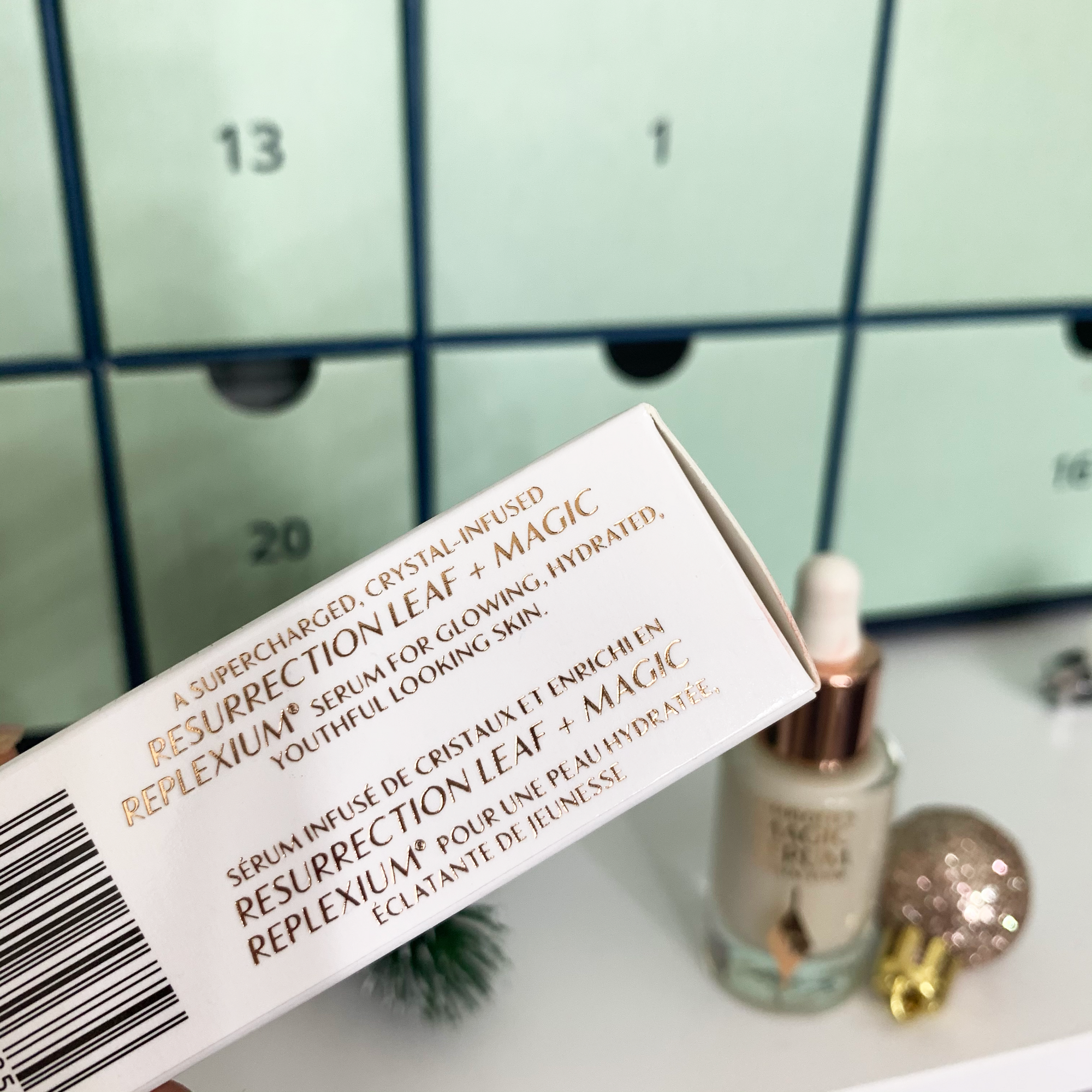 3. FEKKAI – BRILLIANT GLOSS SHAMPOO
Whilst this Fekkai Brilliant Gloss shampoo is a travel size at 60ml, it's enough to try and at least get a couple of washes out of it (if you shampoo twice). It contains French cold pressed olive oil which enhances shine and replenishes moisture in the hair.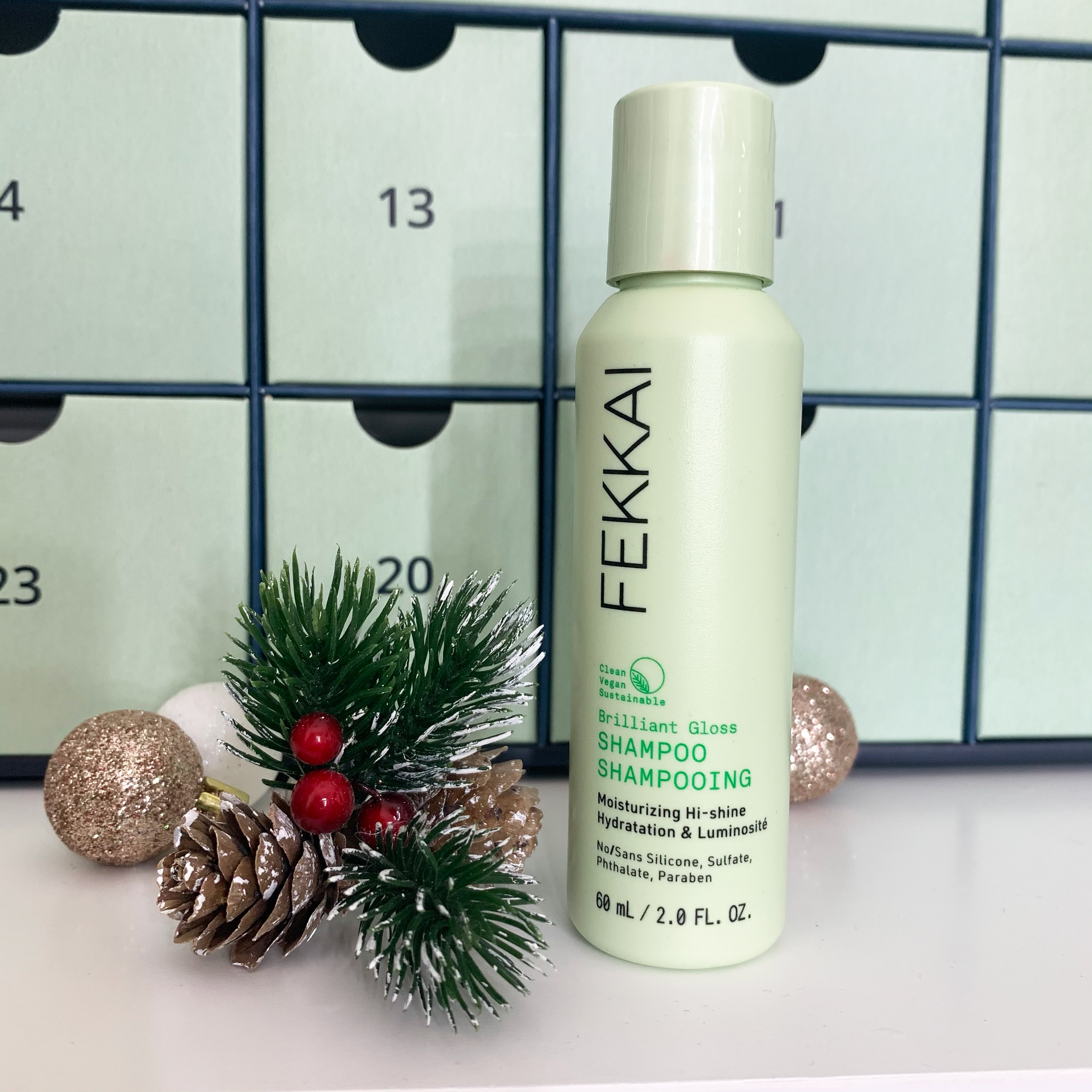 4. NEOM – CALMING HAND BALM
Day 4 gives us a Calming Hand Balm from Neom. It contains Lavender, Jasmine and Brazilian Rosewood so this is not only going to smell incredible, it's also going to be super relaxing too!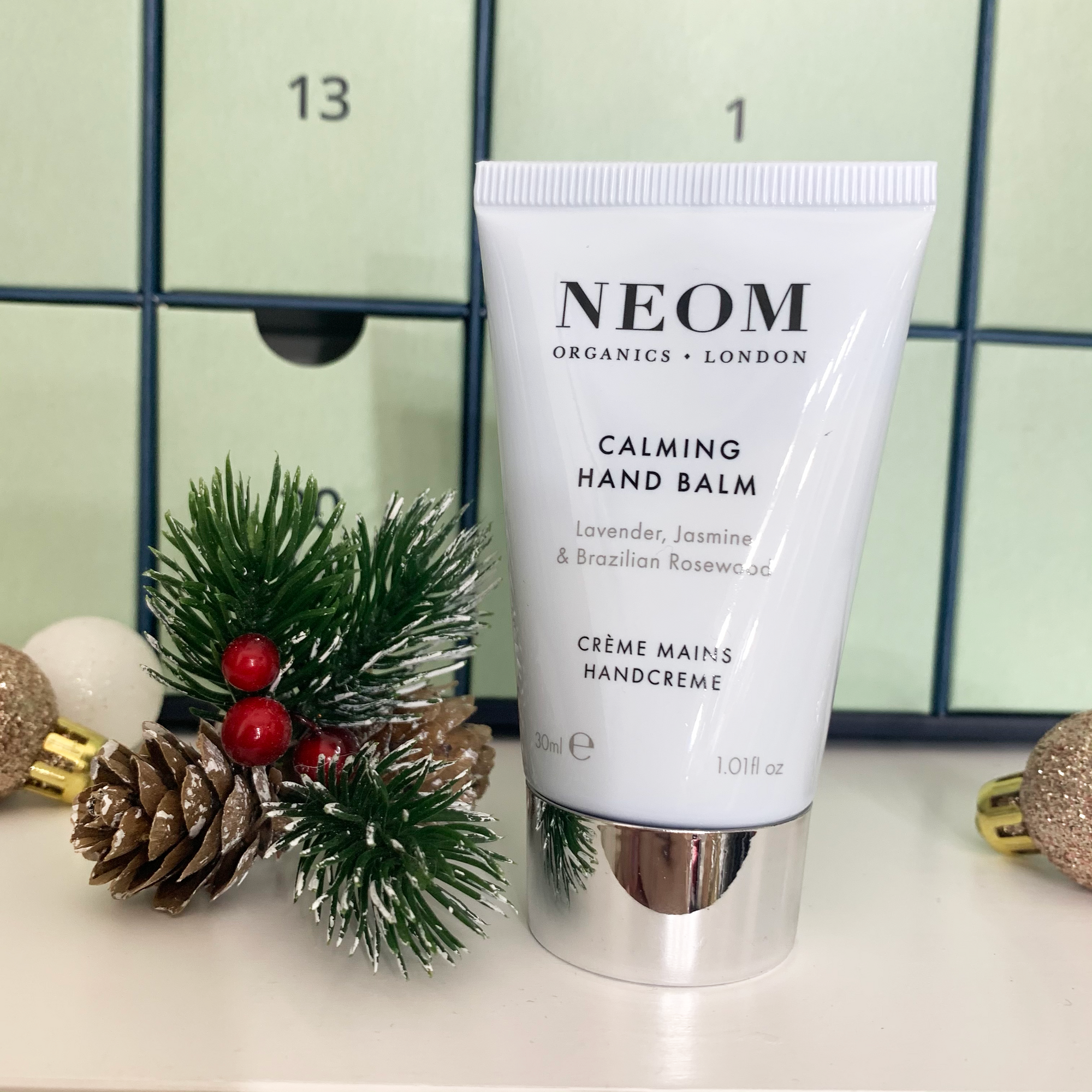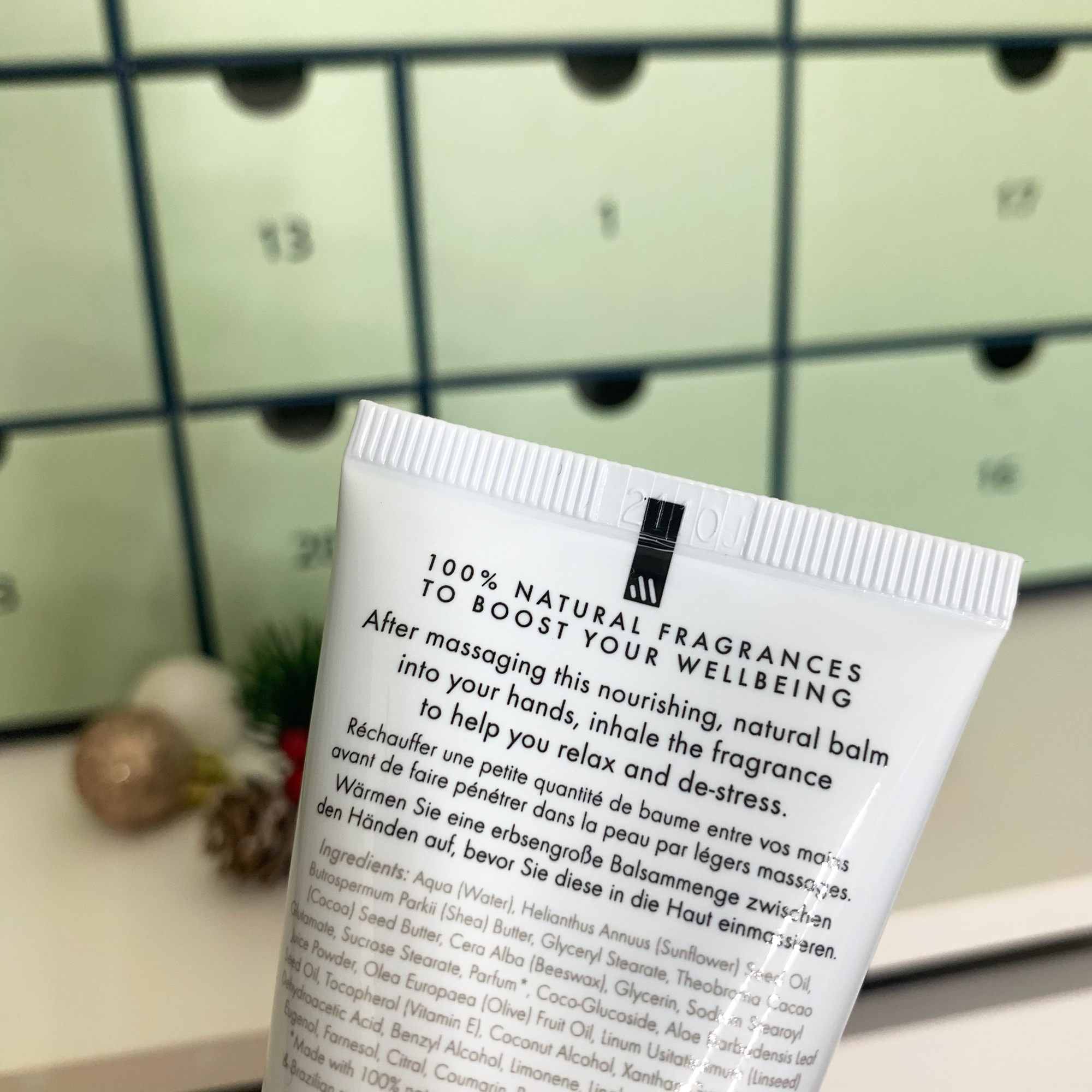 5. RODIAL – VIT C ENERGIZING FACE MASK
Another Vitamin C product is in drawer 5 – the Rodial Vitamin C Sheet Mask to brighten and renew. It contains vitamin C, vitamin b3, amino acids and hyaluronic acid and works to hydrate and brighten the complexion.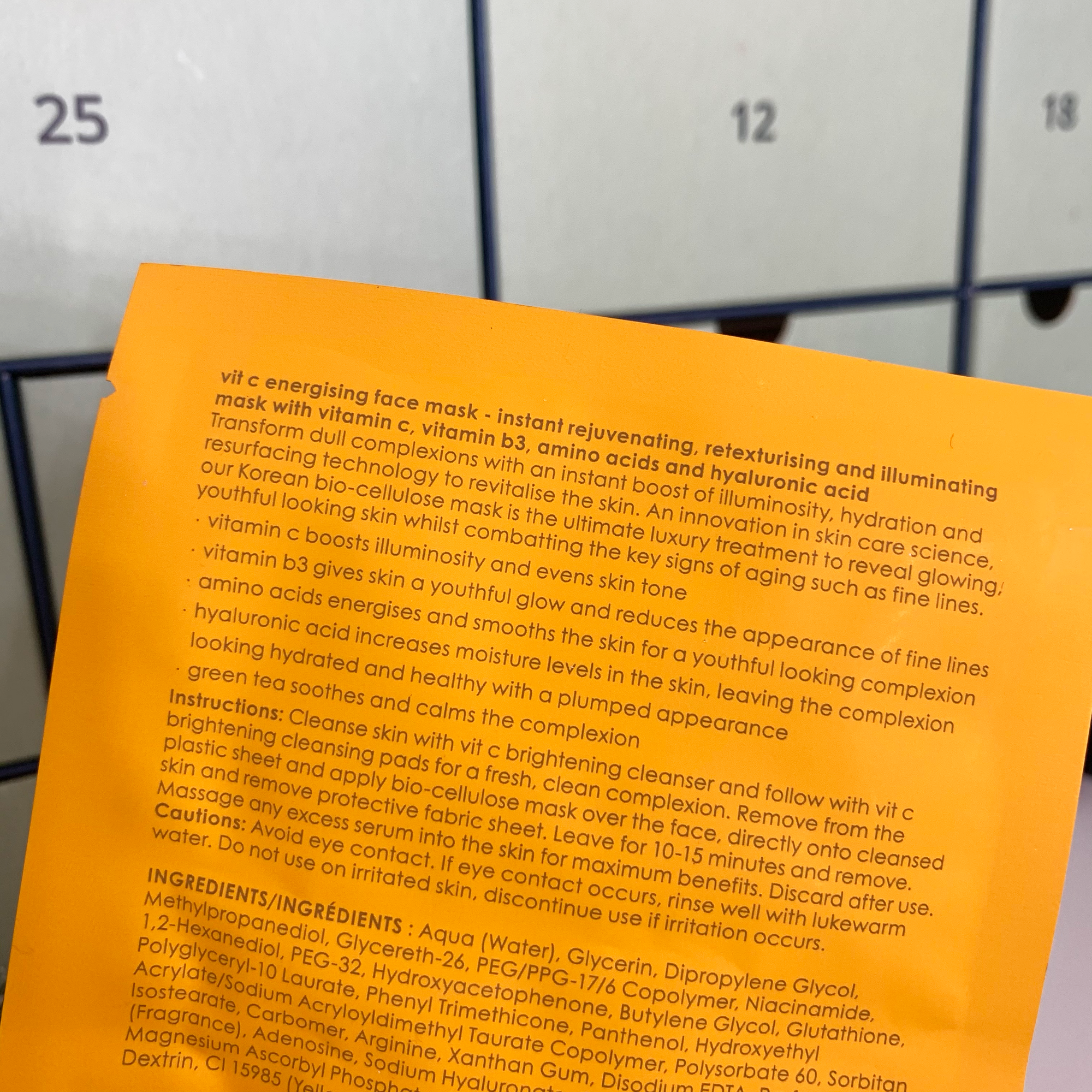 6. THIS WORKS – DEEP SLEEP PILLOW SPRAY
A regular in the Advent Calendars this year, the This Works Deep Sleep Pillow Spray is in Day 6. With a lavender scent this is the perfect spray to spritz on your pillows before going to sleep. The scent helps to relax you and send you off to sleep.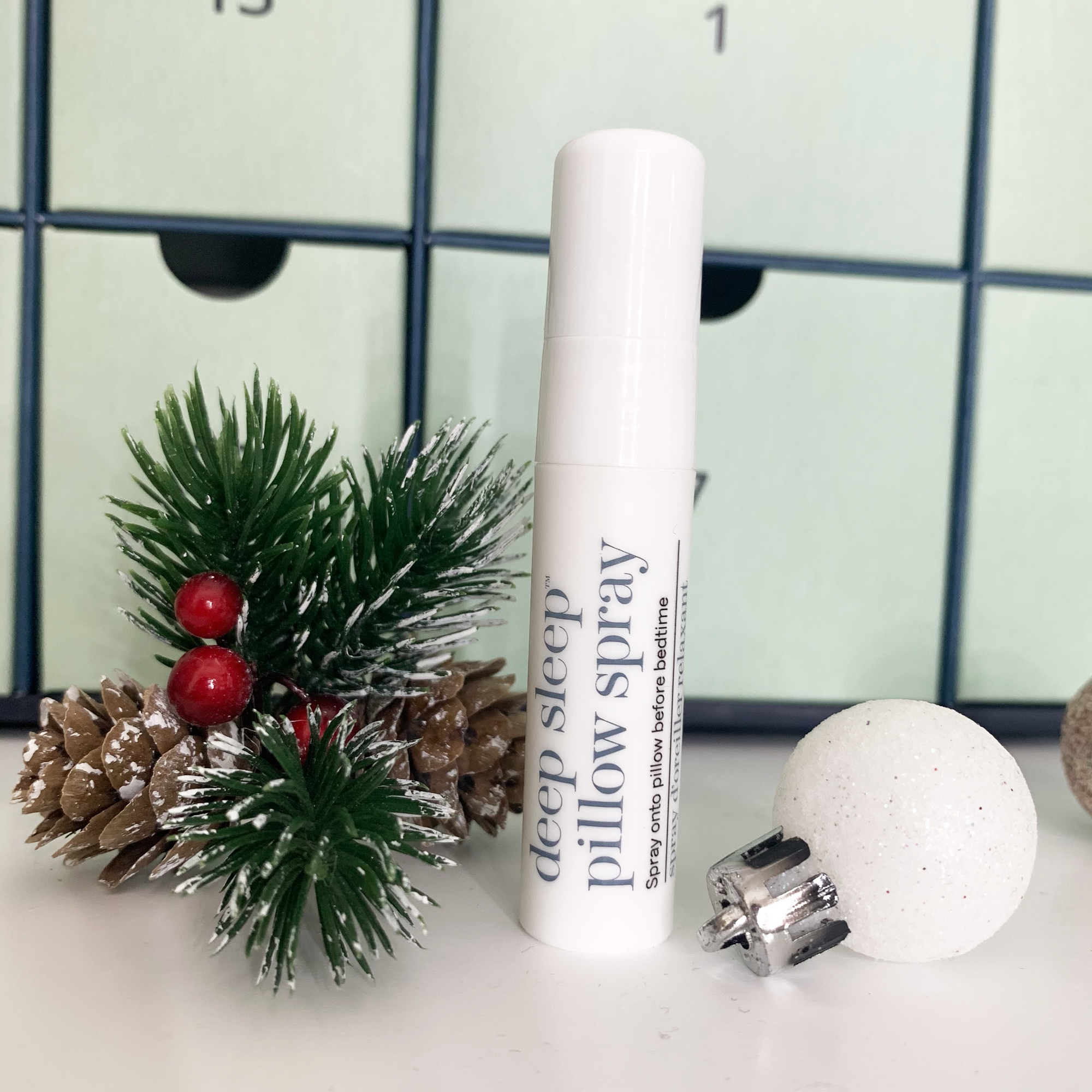 7. SUNDAY IVY – MICROFIBRE VELVET BEAUTY BLENDER
The Sunday Ivy Micro Fibre Velvet Sponge is in drawer number 7 – beauty blenders in an advent calendar are always a bonus! This one is latex free and is designed to absorb 70% less makeup than a regular beauty blender which is amazing! The blender can be used wet or dry to leave a flawless finish.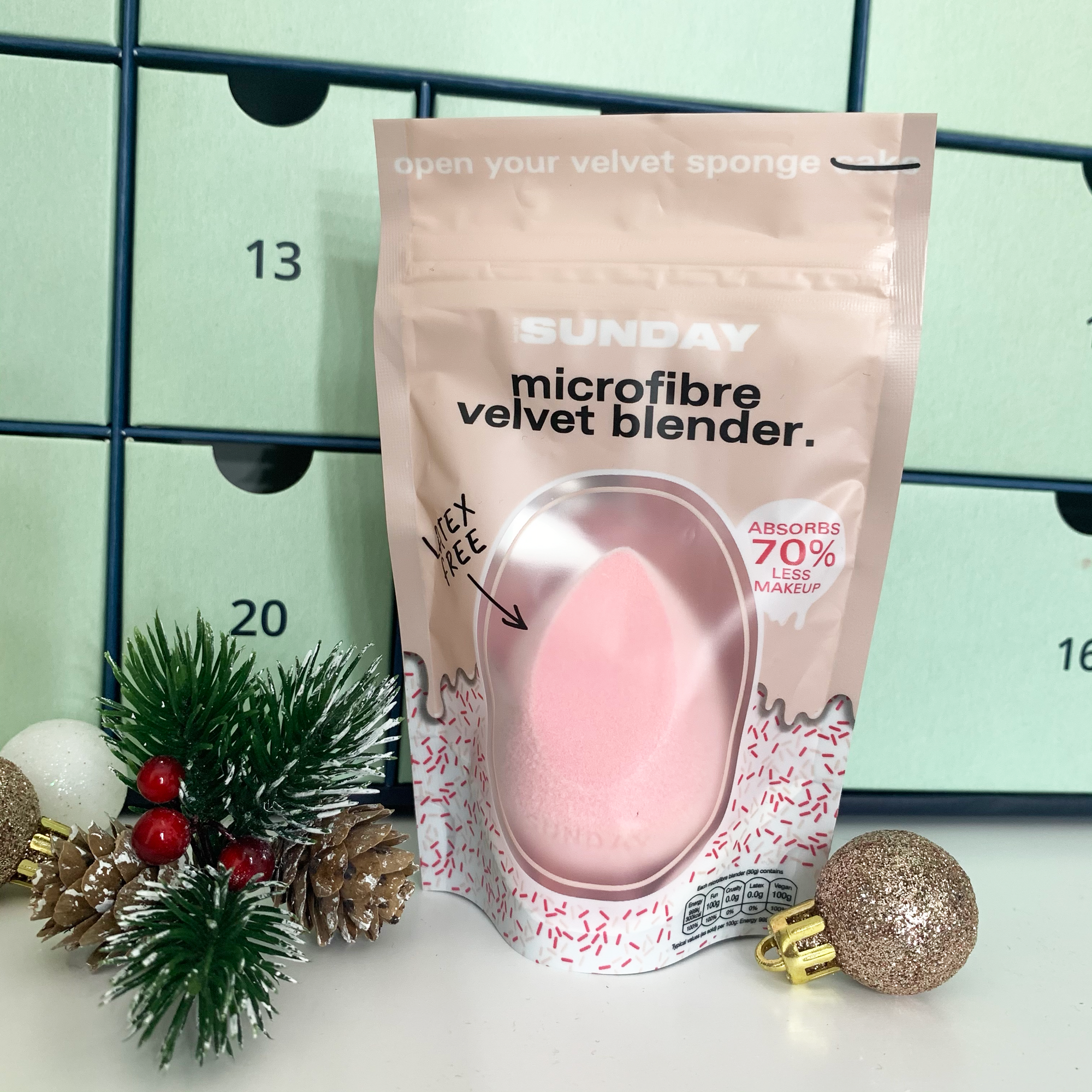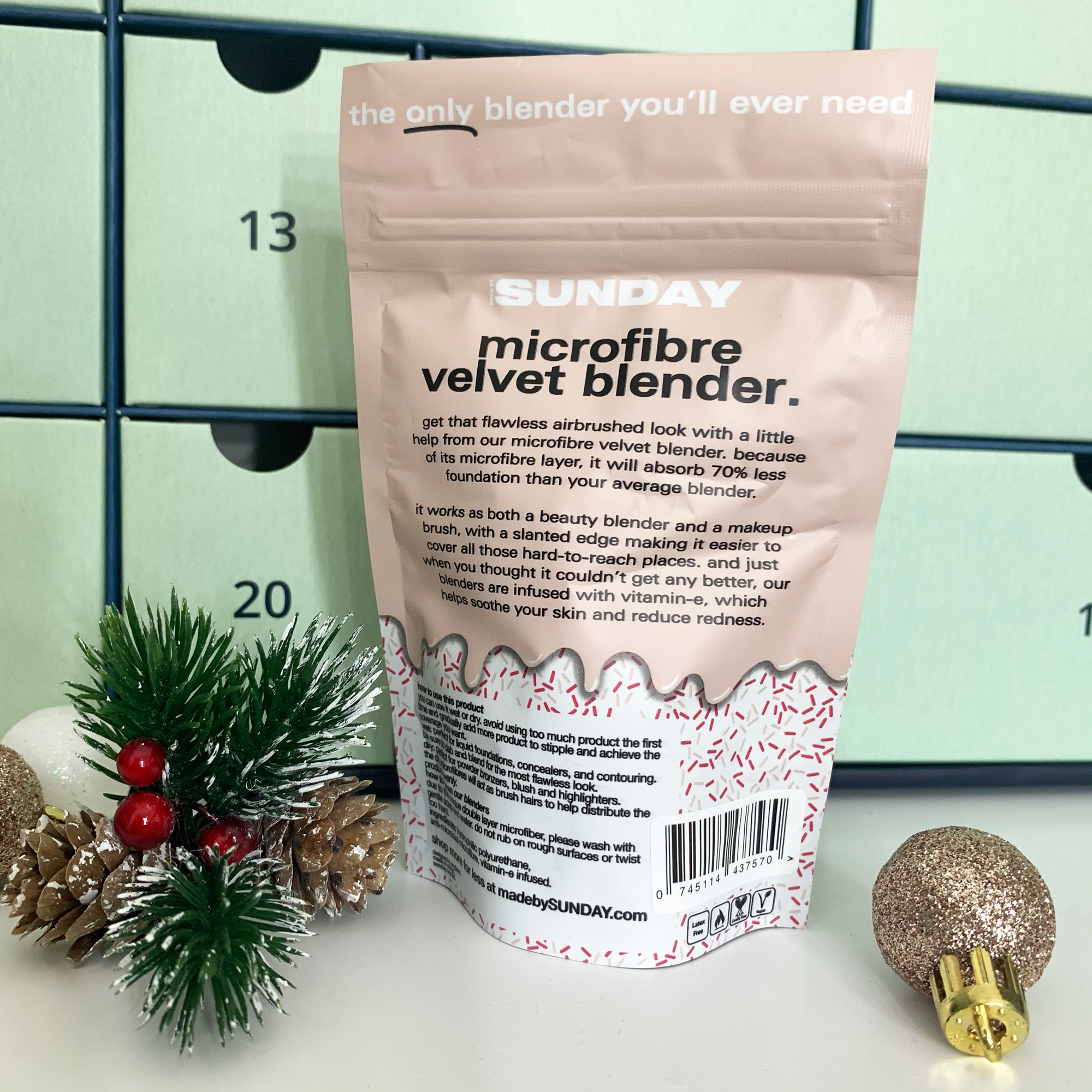 8. ST. TROPEZ – SELF TAN PURITY BRONZING WATER FACE MIST
If you like a bit of a natural sun kissed look on your face, this product is for you. The St. Tropez Self Tan Water leaves a natural looking tan on the face. All you need is 5-6 sprays onto clean skin and it gradually tans! It's super hydrating and isn't streaky on the skin.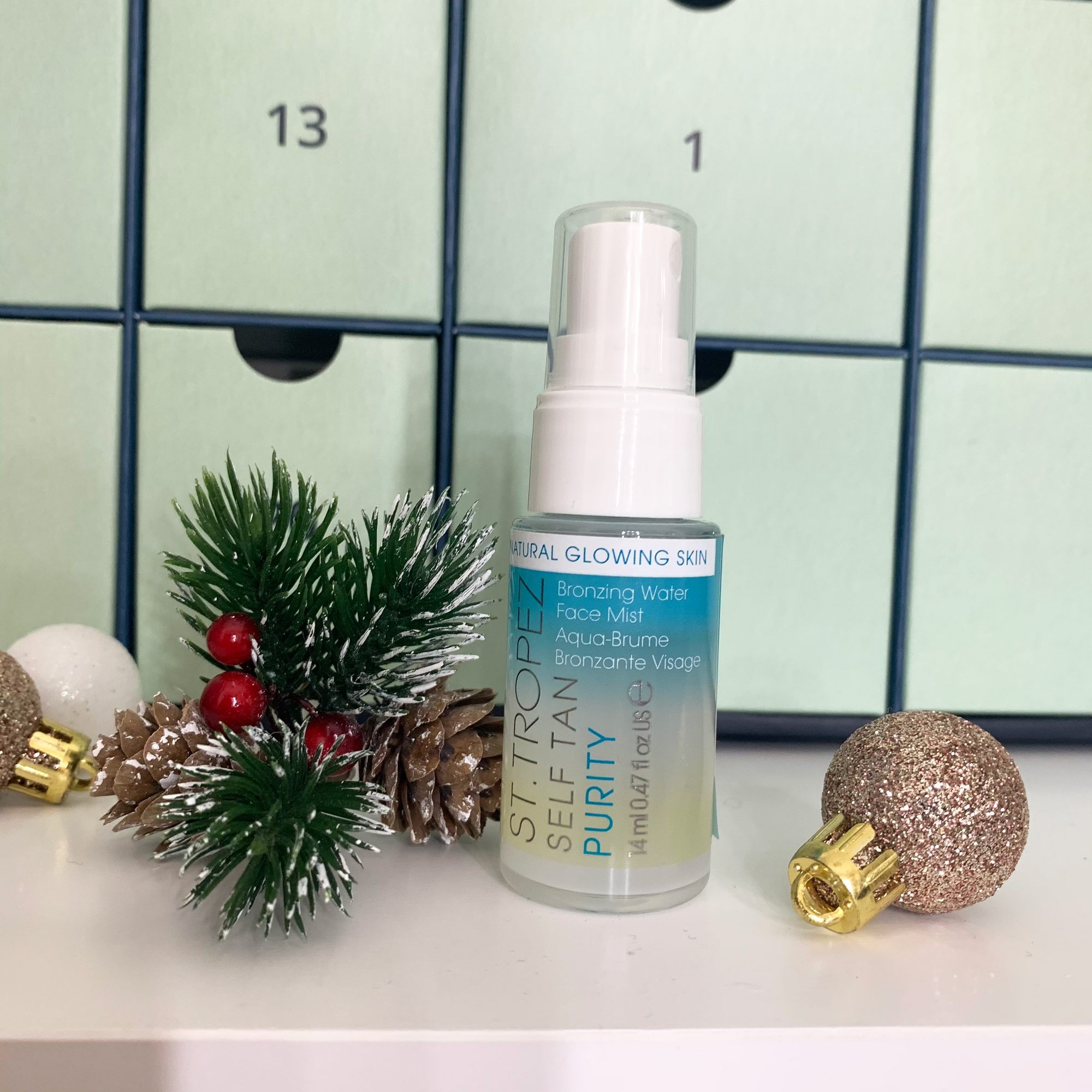 9. GROWN ALCHEMIST – POLISHING FACIAL EXFOLIANT
The polishing exfoliant from Grown Alchemist contains pink grapefruit and glucomanan extract to gently exfoliate the face. This size is the travel size and is worth £22.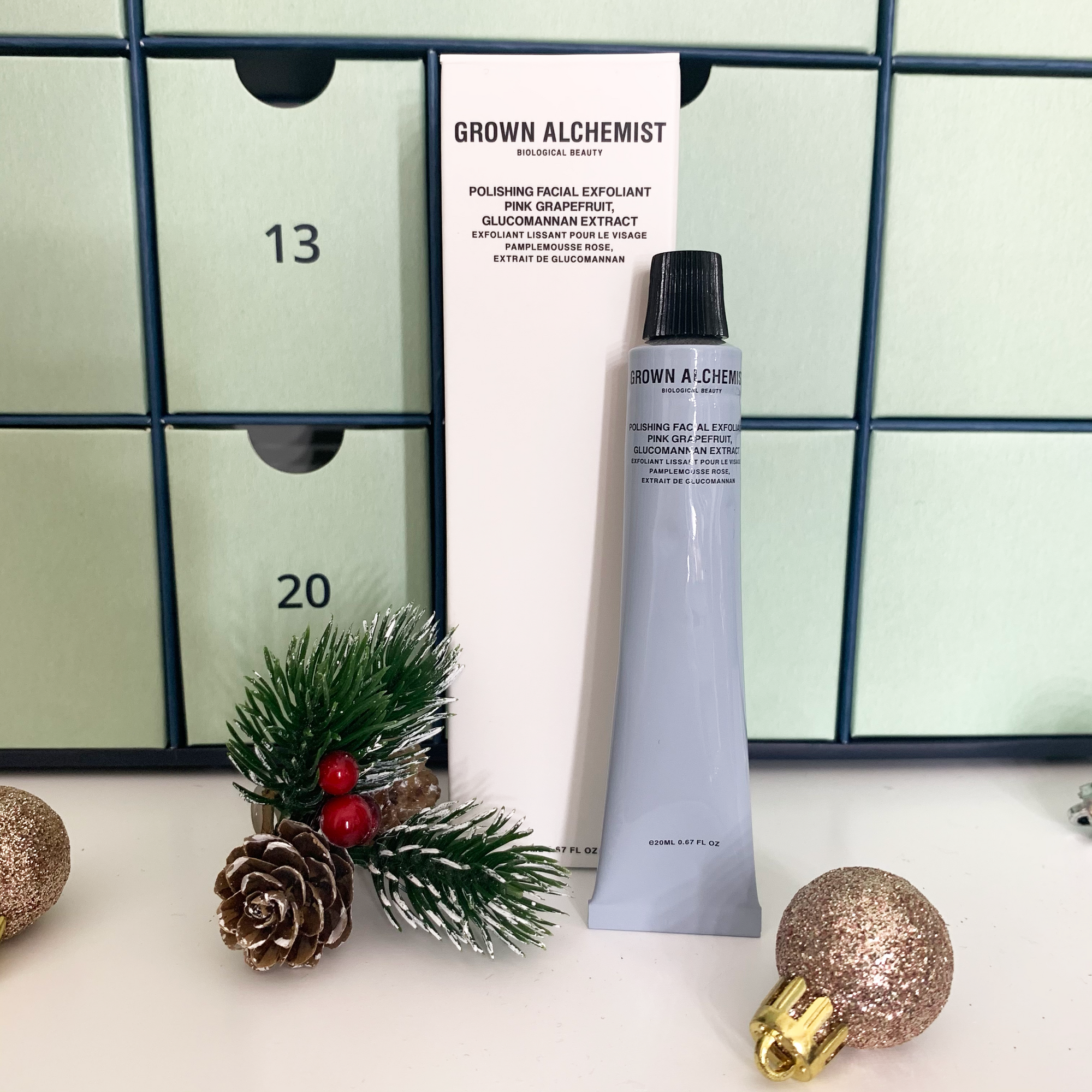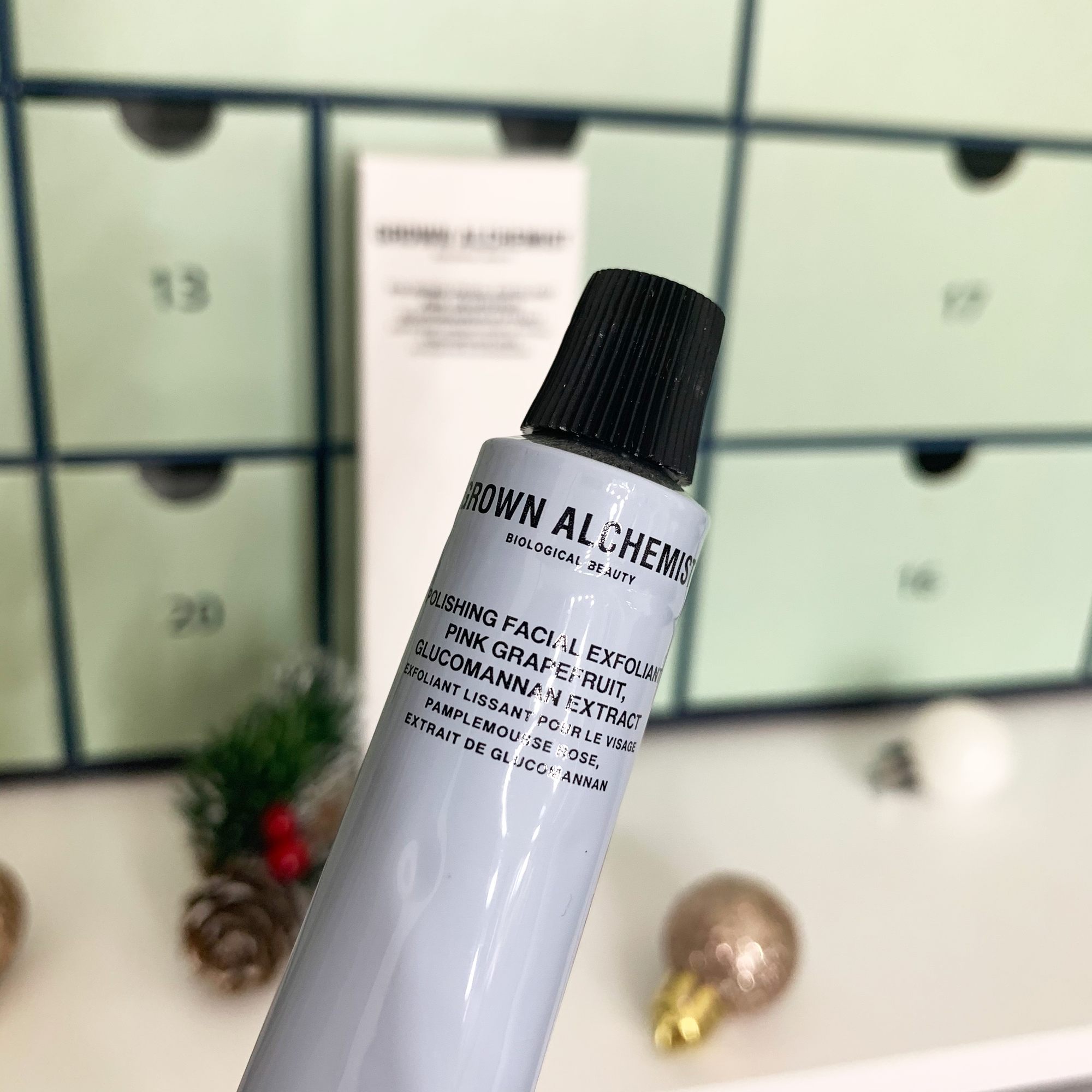 10. AVEDA – SMOOTH INFUSION STYLE PREP SMOOTHER
Aveda's Style Prep Smoother is a pre style treatment which you apply to damp hair, after washing, before drying with the hairdryer. It contains a blend of aloe, maize and guar beans and makes styling your hair quicker and easier and reduces frizziness and fly aways!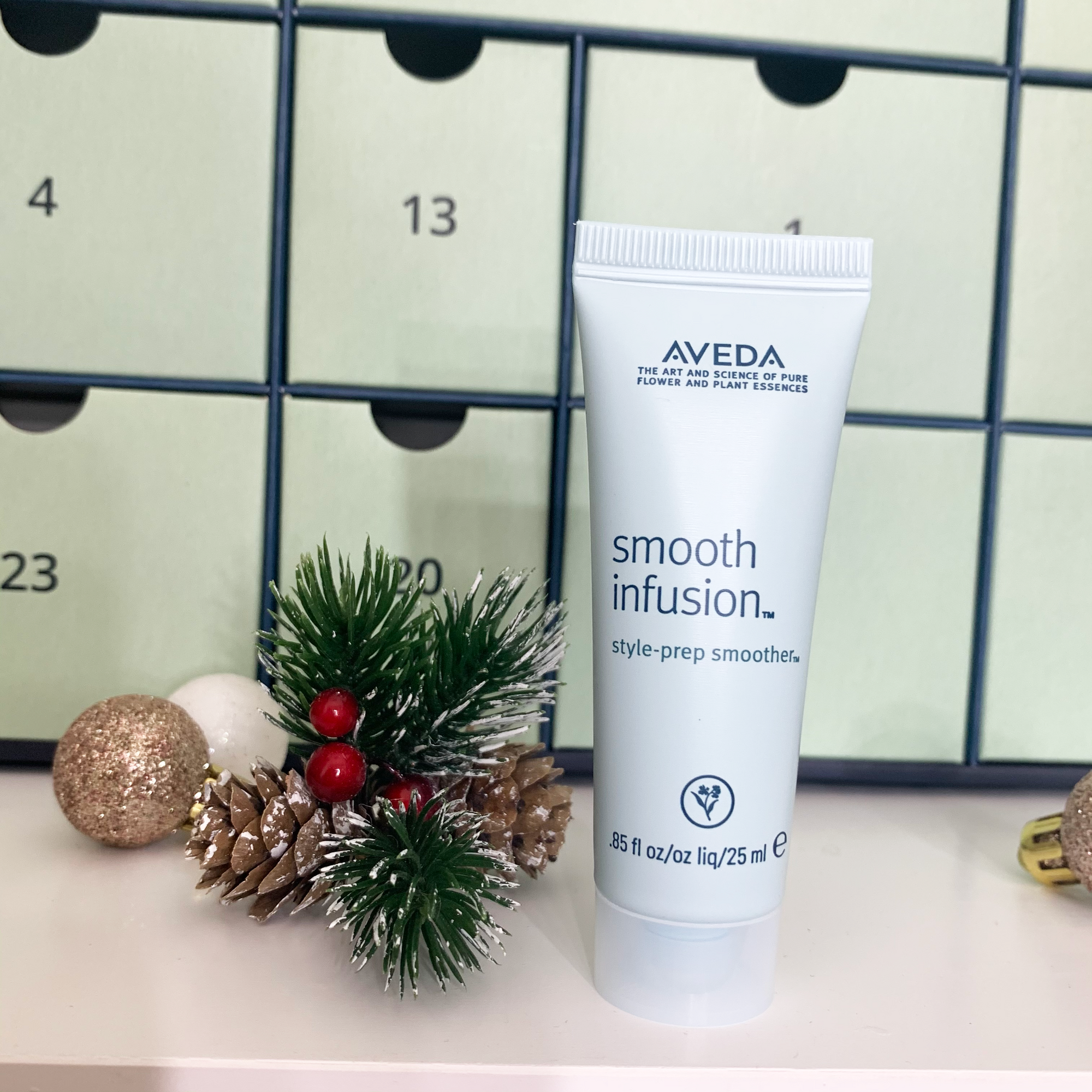 11. ELEMIS – PRO COLLAGEN ROSE CLEANSING BALM
If you've not tried an Elemis cleansing balm before then this is your chance! The Rose Cleansing Balm is perfect for removing makeup and impurities from the skin. It contains shea butter and sweet almond oil so it's gentle and super hydrating on the skin. It's only 20g which is unusual for an Advent Calendar as there have been several full sized Elemis products in other Advent Calendars this year.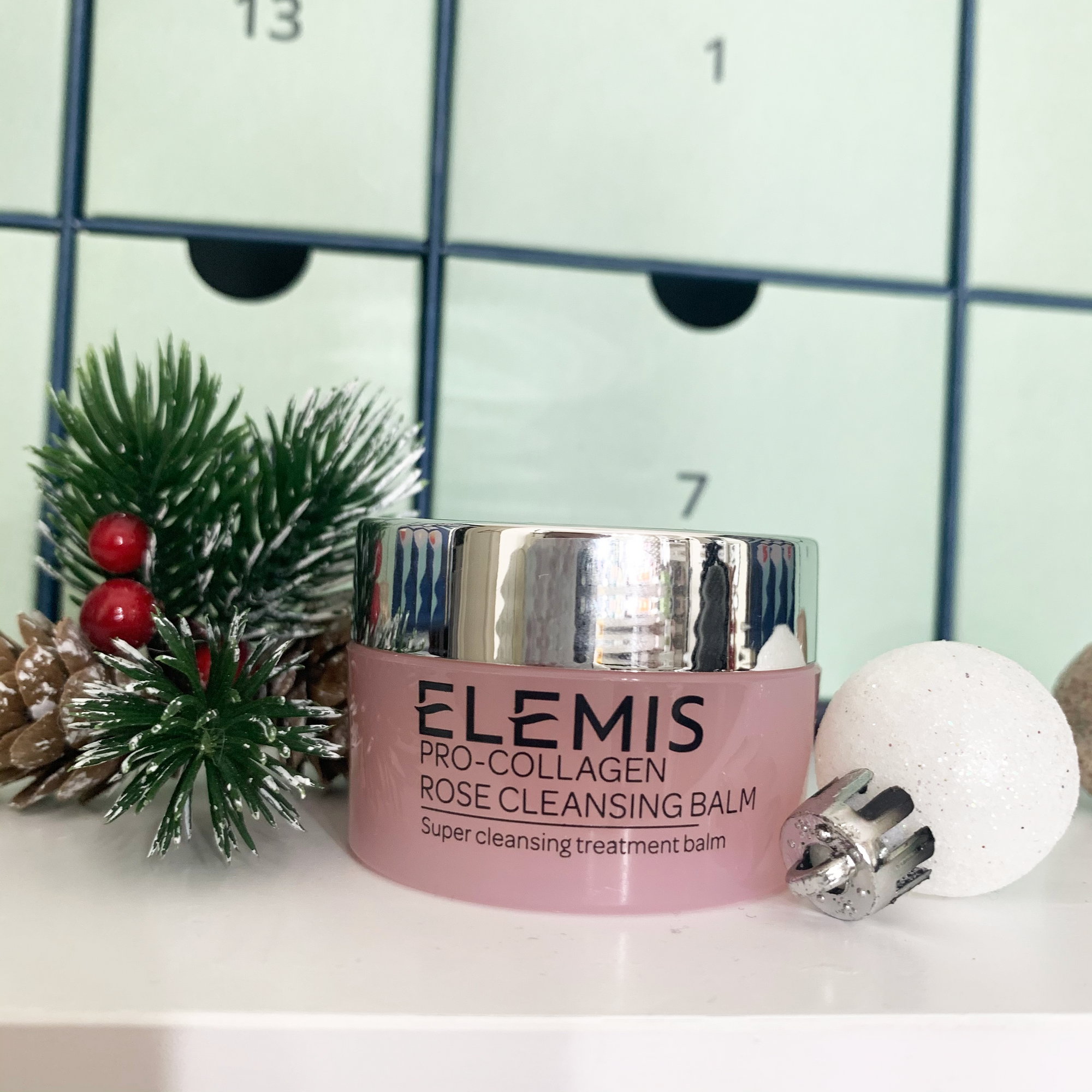 12. ELIZABETH ARDEN – ADVANCE CERAMIDE CAPSULES
The Advanced Ceramide Capsules from Elizabeth Arden are in drawer number 12 and were one of the reasons I purchased the Advent Calendar. However, the tube only contains 7 capsules (3.5 days worth) and the cardboard packet they are held in says 'Sample not for sale' which is fairly disappointing. The capsules are designed to smooth skin and give an overall firmer and more youthful appearance.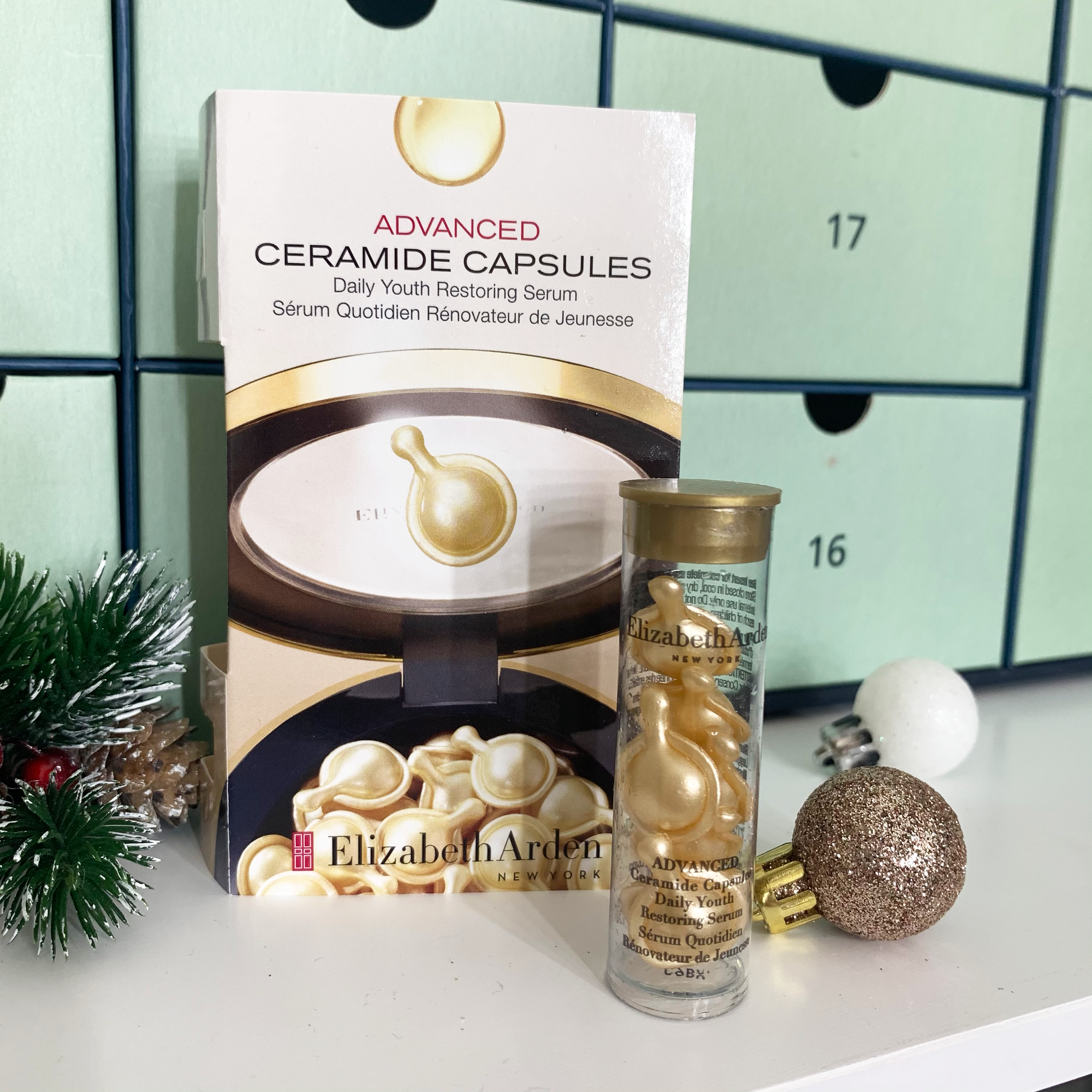 13. URBAN APOTHECARY – FIG TREE CANDLE
The candle of the Advent Calendar is Fig Tree by Apothecary and wow does it smell incredible! This size is the miniature size and is contains 3 layers of scent, the top is figleaves, eucalyptus and cardamom, the middle is coconut and violet and the base is cedar wood cinnamon and clove.
A small candle that won't last long but the perfect way to try a new scent.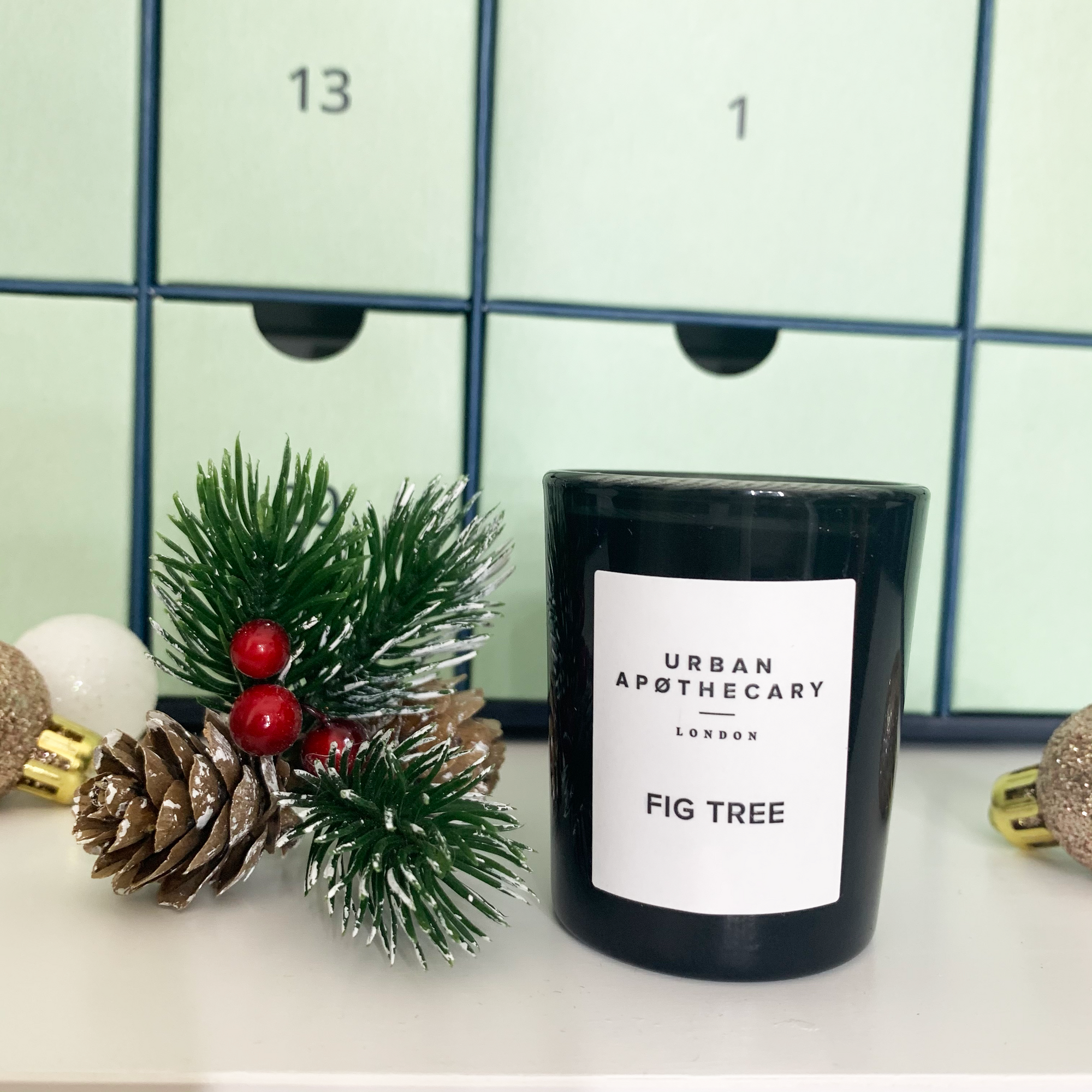 14. ESSENCE LASH – PRINCESS VOLUME MASCARA
One of the few full sized products in this calendar is the Volumising mascara from Essence. The brush head is a 'cobra' head which means it's shaped to cover every lash and give immense volume.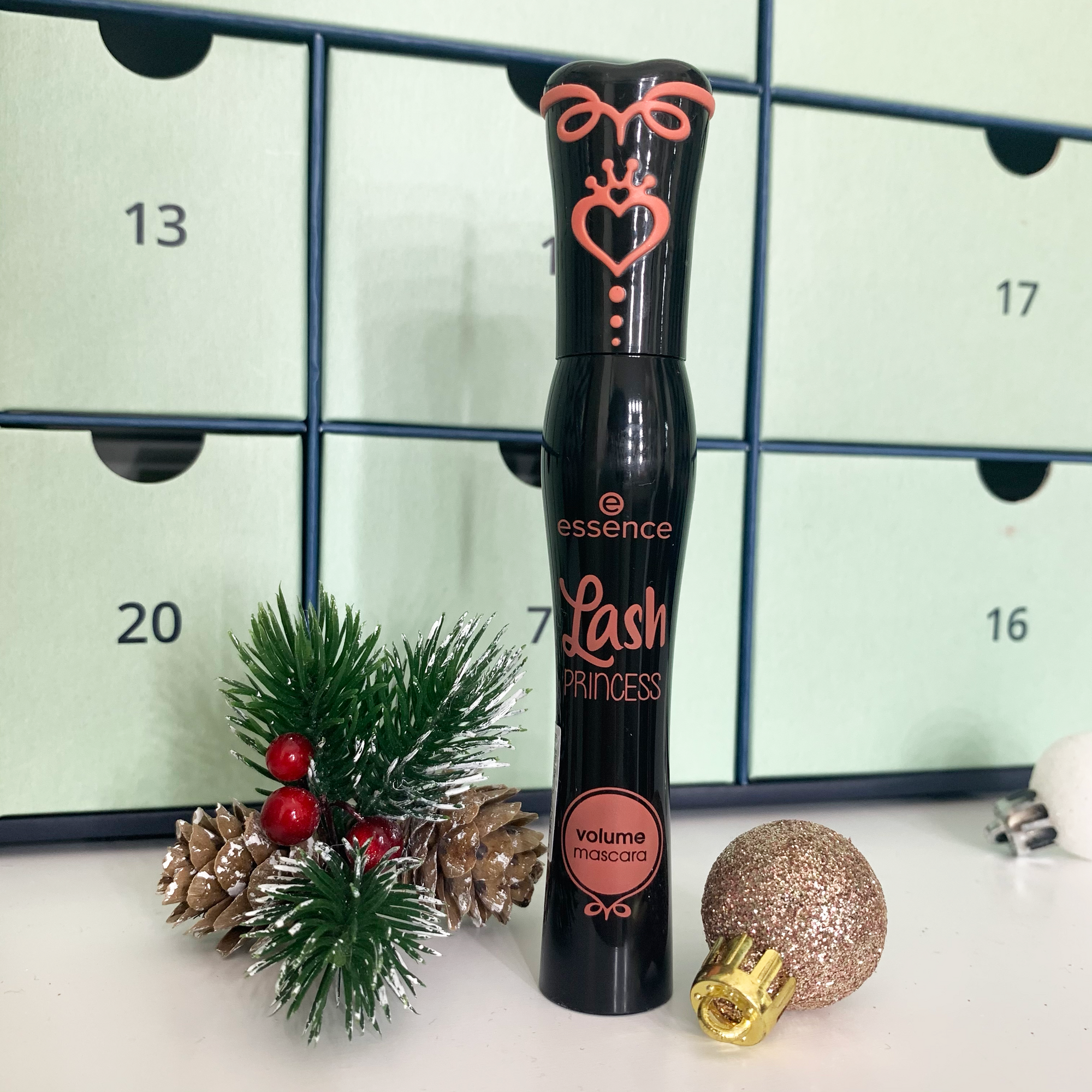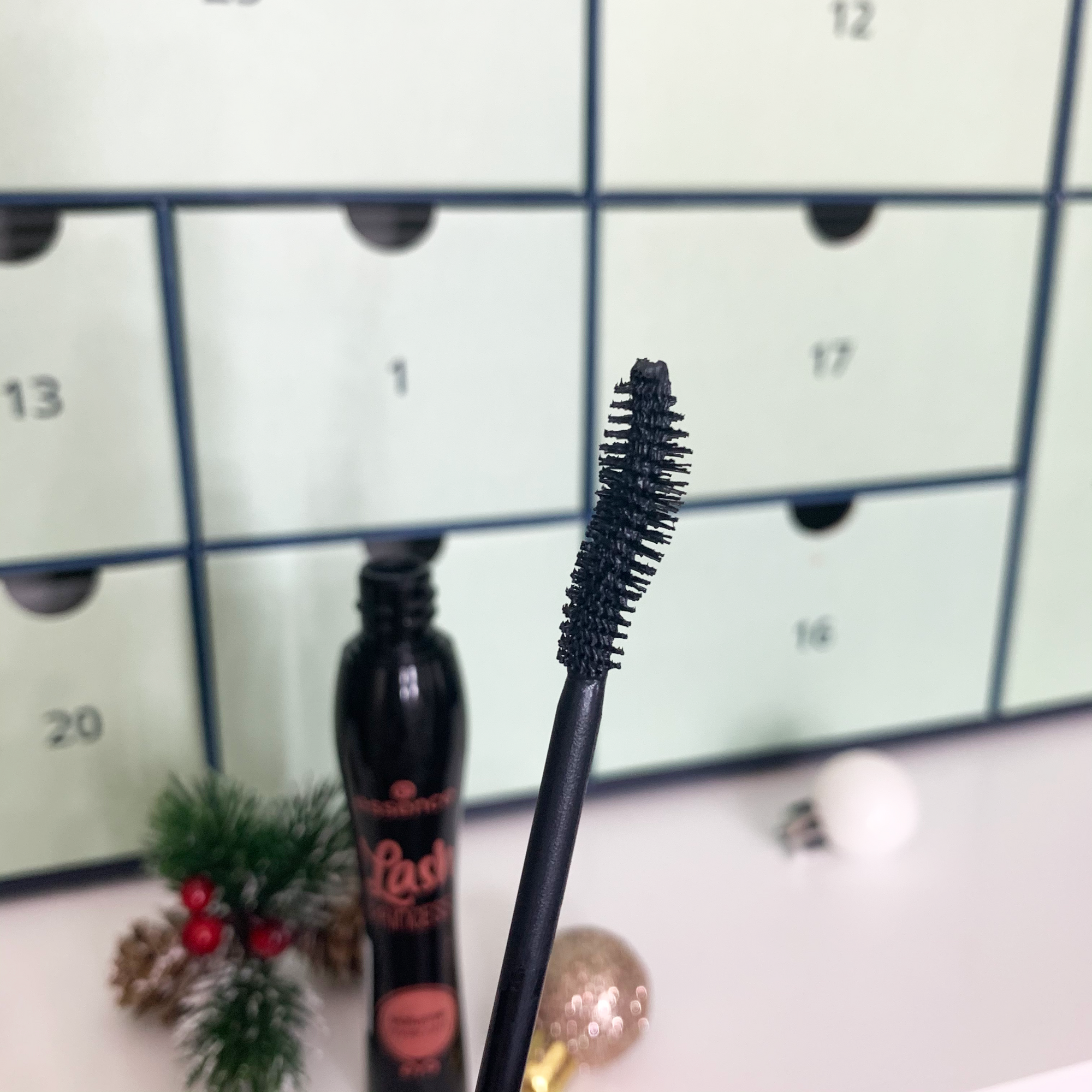 15. BEAUTYPRO – THERMOTHERAPY WARMING GOLD FOIL MASK
The Thermotherapy Sheet Mask from Beauty Pro is one of my faves! Formulated with hyaluronic acid and Q10 it works by using the heat from the skin to assist with the penetration of ingredients into the skin. It provides intense hydration to the skin and also helps reduce fine lines and wrinkles.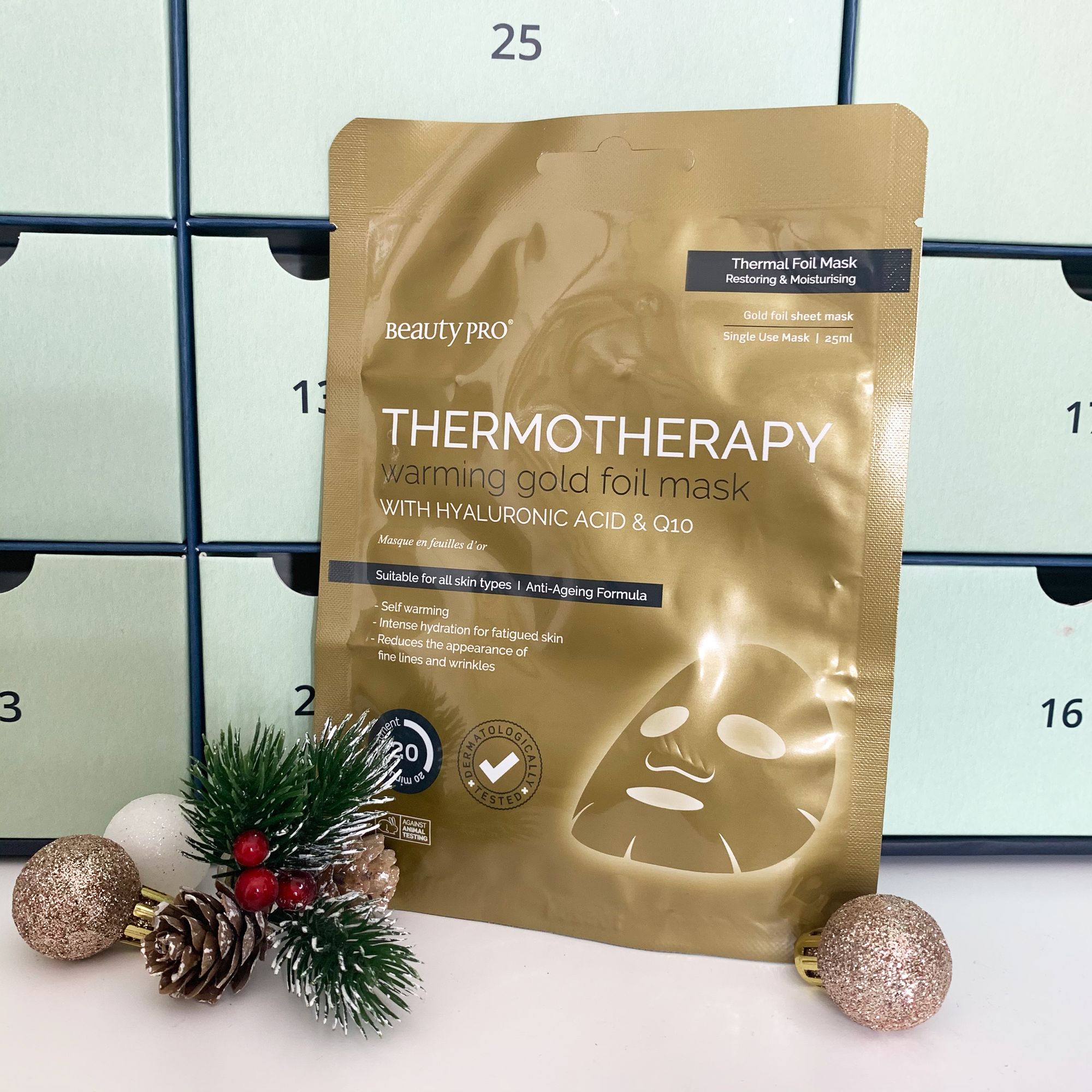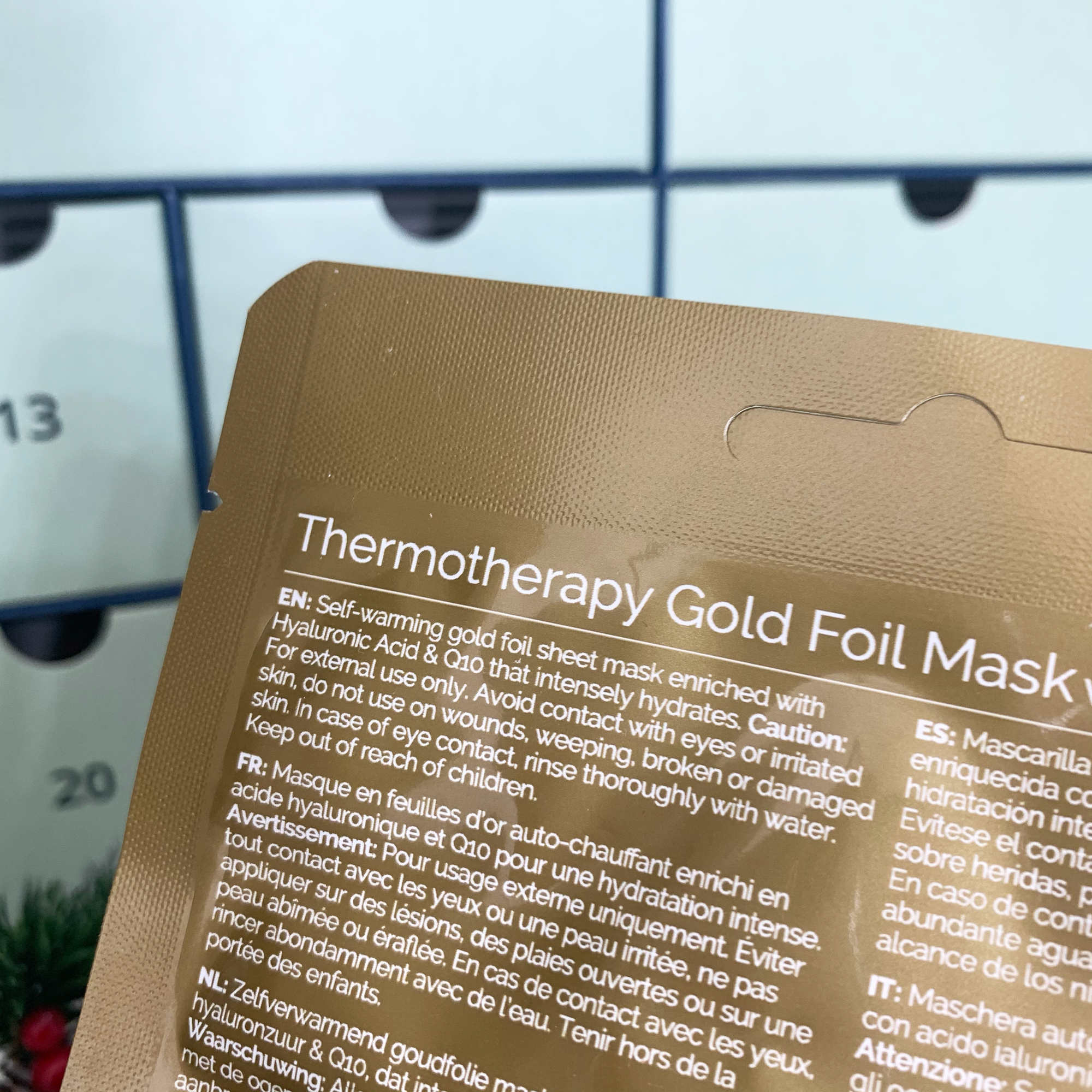 16. NARS – EYELINER IN VIA VENETO
Next is an eyeliner from Nars. Whilst it looks like one of those you twist to release more product, it's a regular pencil design which needs sharpening, so make sure you have a sharpener with you.
The eyeliner applies well and is super creamy so it's great for a smoky eye look. However, it's a very small size. I'm not sure if this is full size and it's just a smaller style, or whether this is a deluxe mini.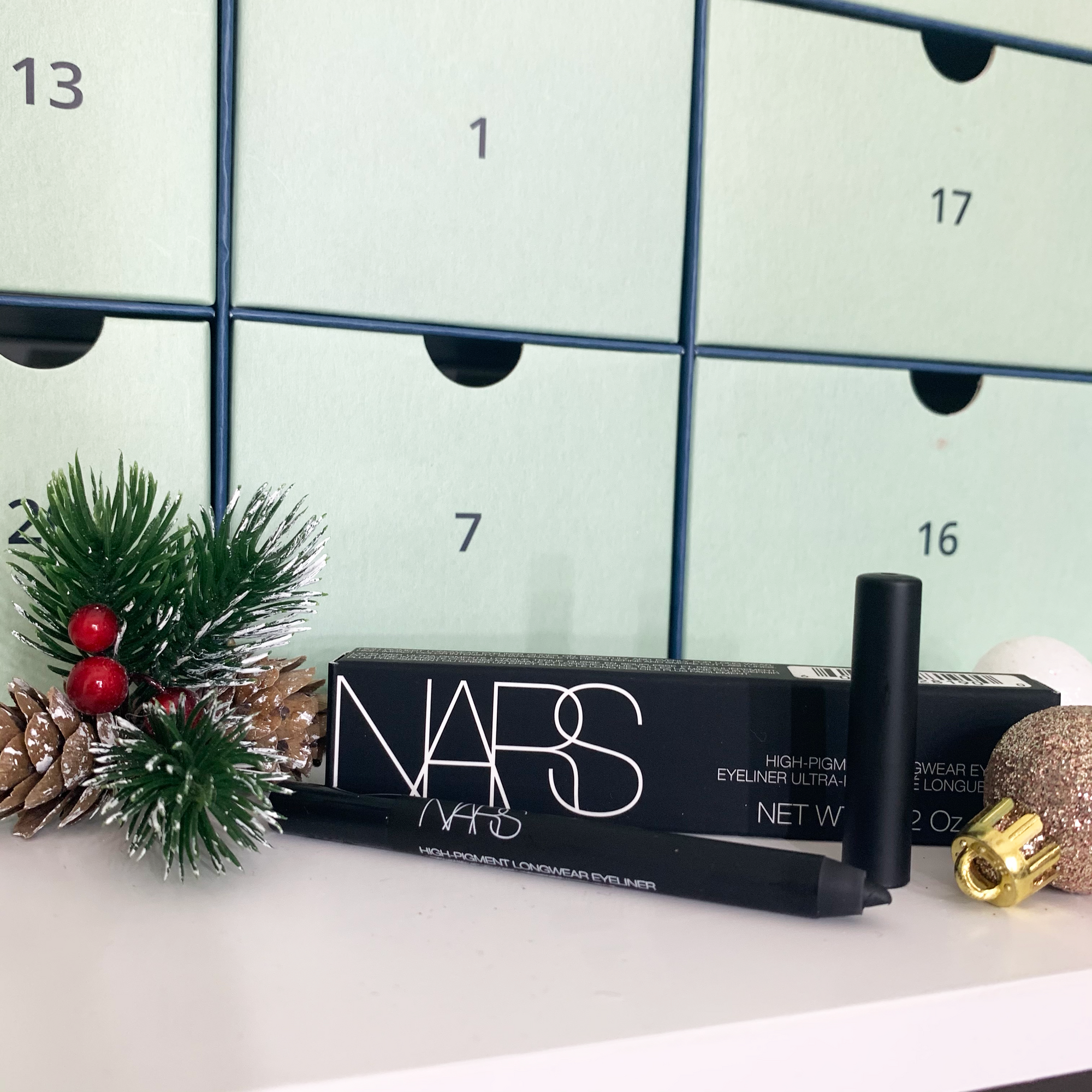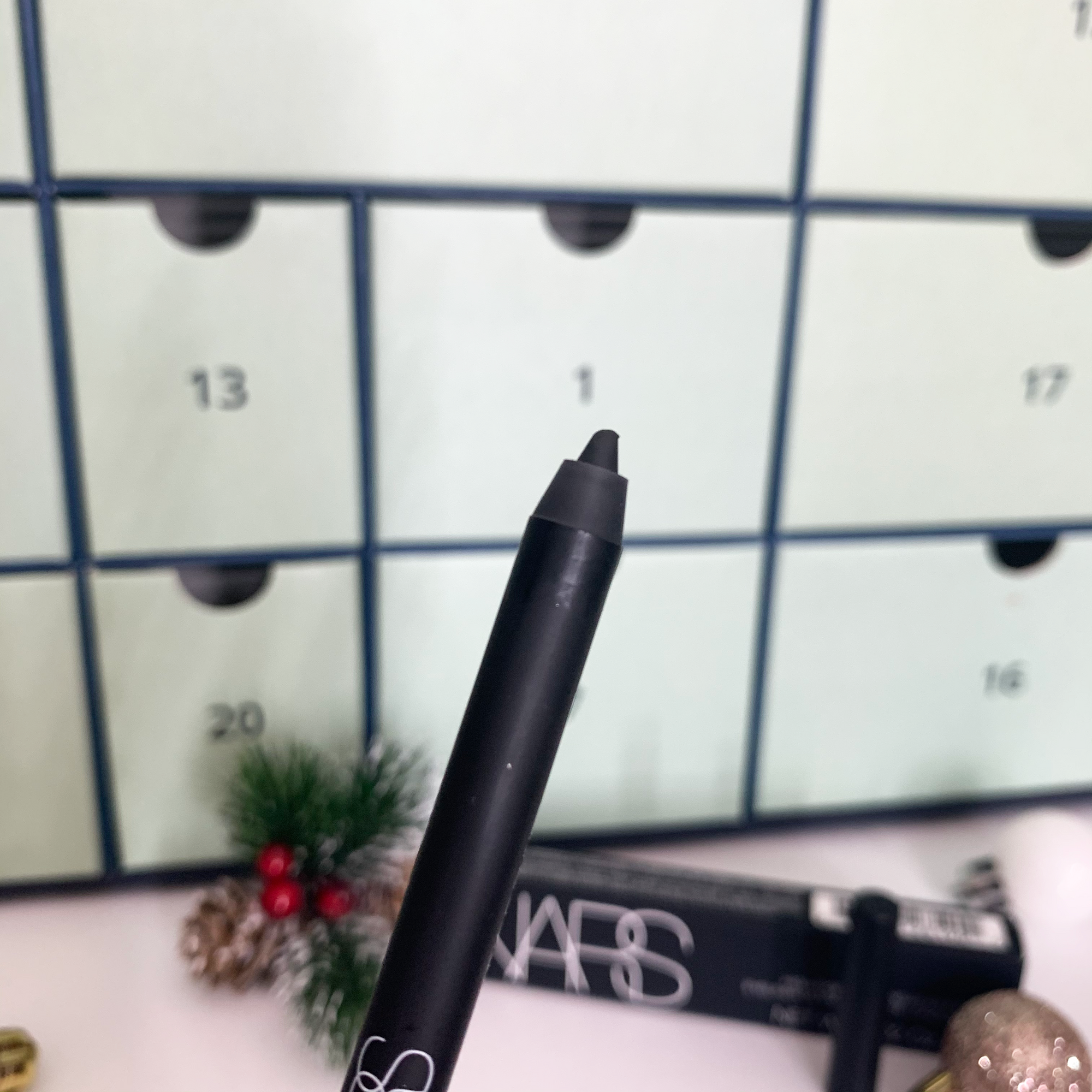 17. LAURA MERCIER – PURE CANVAS PRIMER
Another product which I really wanted to try from the Calendar is the Laura Mercier Primer. However it's another product which has arrived in a card slip and is incredibly miniature. The back of the card it's attached to says 'not for individual sale' and it's one of those samples you can pick up from a Department Store for free.
The primer itself is really hydrating and creates the perfect base for makeup, making it last longer too. The full size version of this is 25ml and is £17. This sample size is only 10ml so it should be worth £6.80. However as it's actually a free sample, to me it's worth nothing as I could have picked this up for free myself.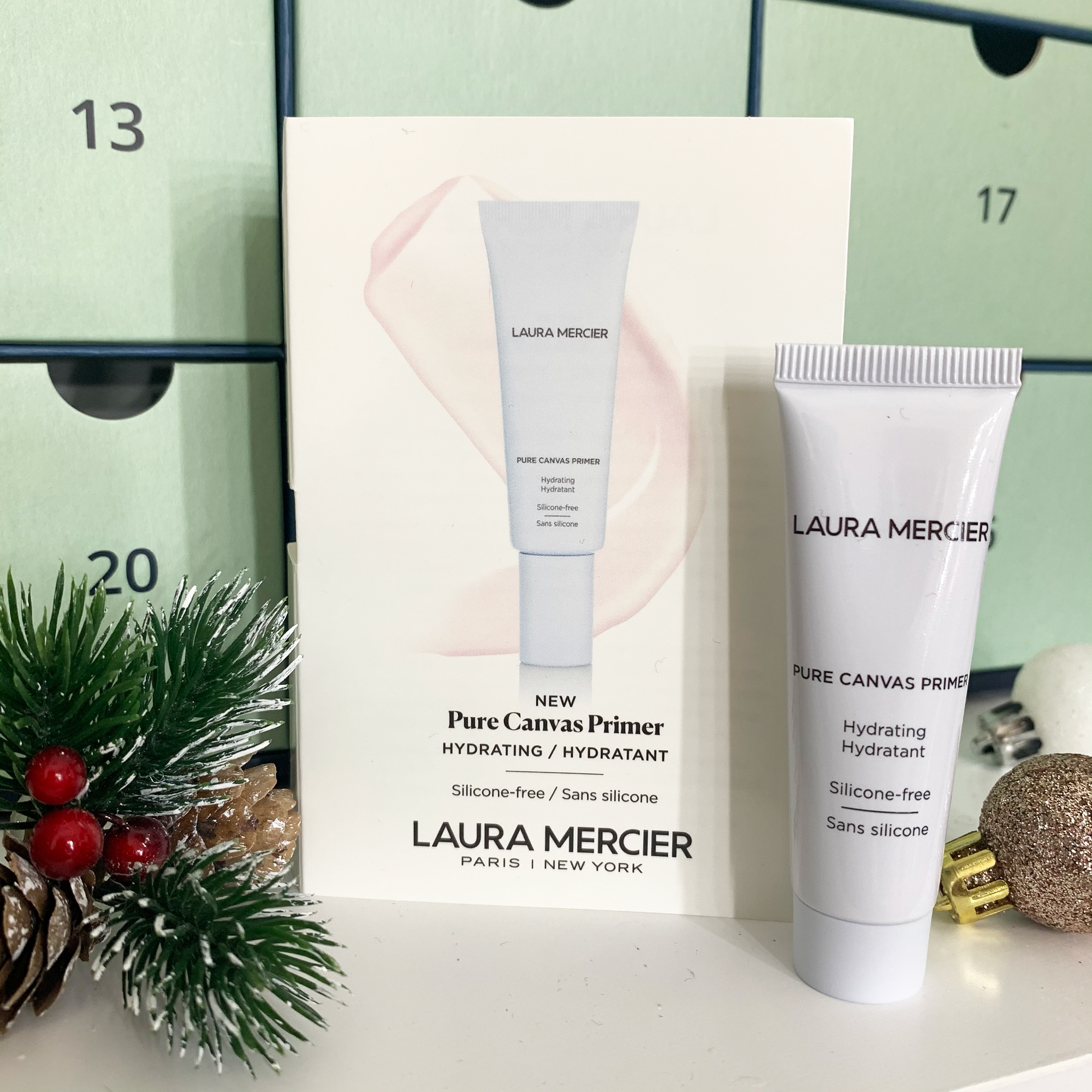 18. PHILOSOPHY – PURITY ONE STEP FACIAL CLEANSER
Another cleanser but this one is more like a milky cleanser than a balm. It's a 3-in-1 award winning cleanser which works to remove makeup whilst also toning and hydrating. It contains glycerin too which is super hydrating on the skin. 240ml of this product is worth £15.20. This small sample is 30ml so it's worth £1.90.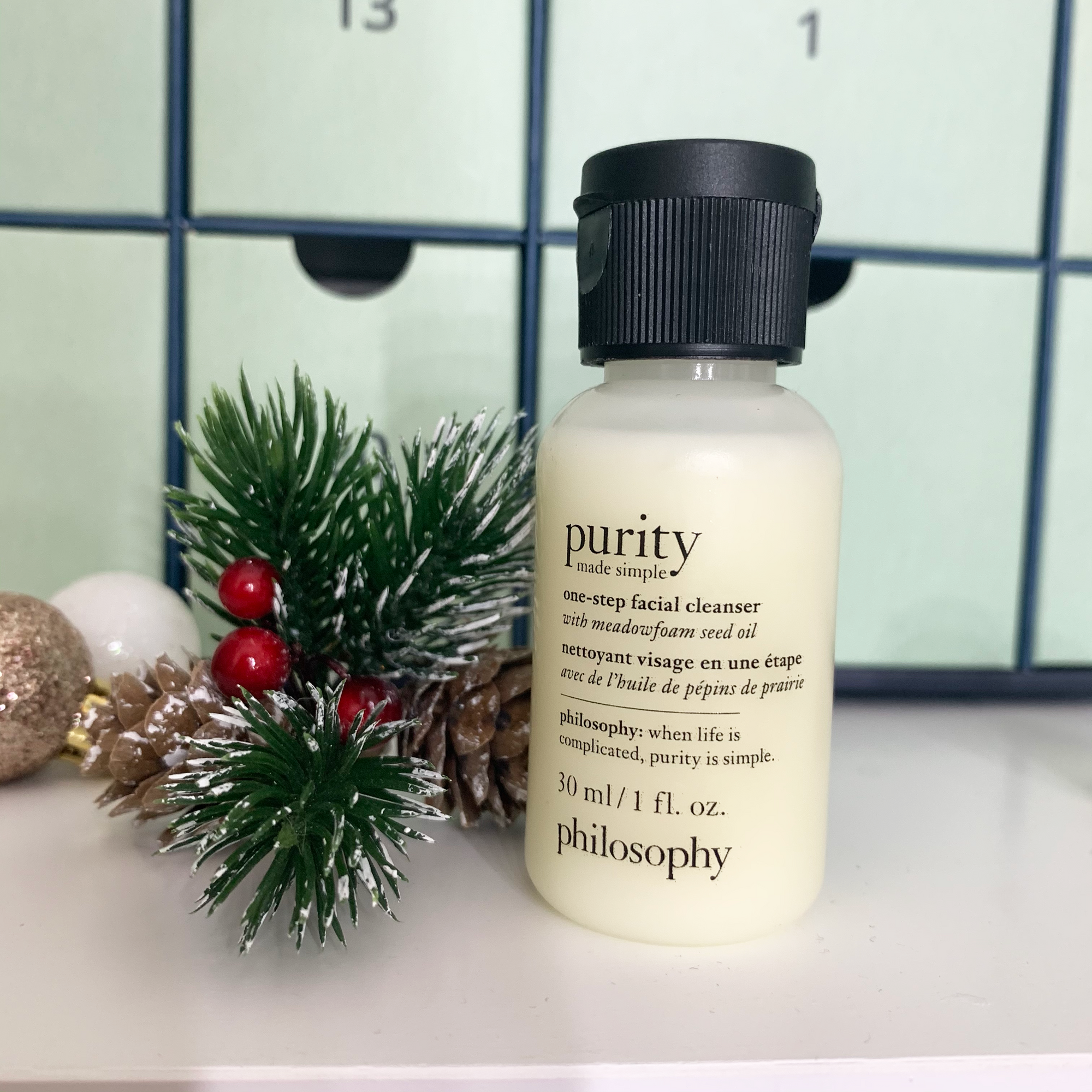 19. SOL DE JANEIRO – COCO CABANA CREAM
I was so excited to receive this in the Advent Calendar… but again I thought it would be bigger! This is the Sol de Janeiro Coco Cabana Cream, a coconut body cream that smells incredible and delivers 72 hours of hydration to the skin. It's a really light formula so it's easy to apply. The full size of this is worth £18 but this miniature is worth £6. At this size you'd only get one use out of it though.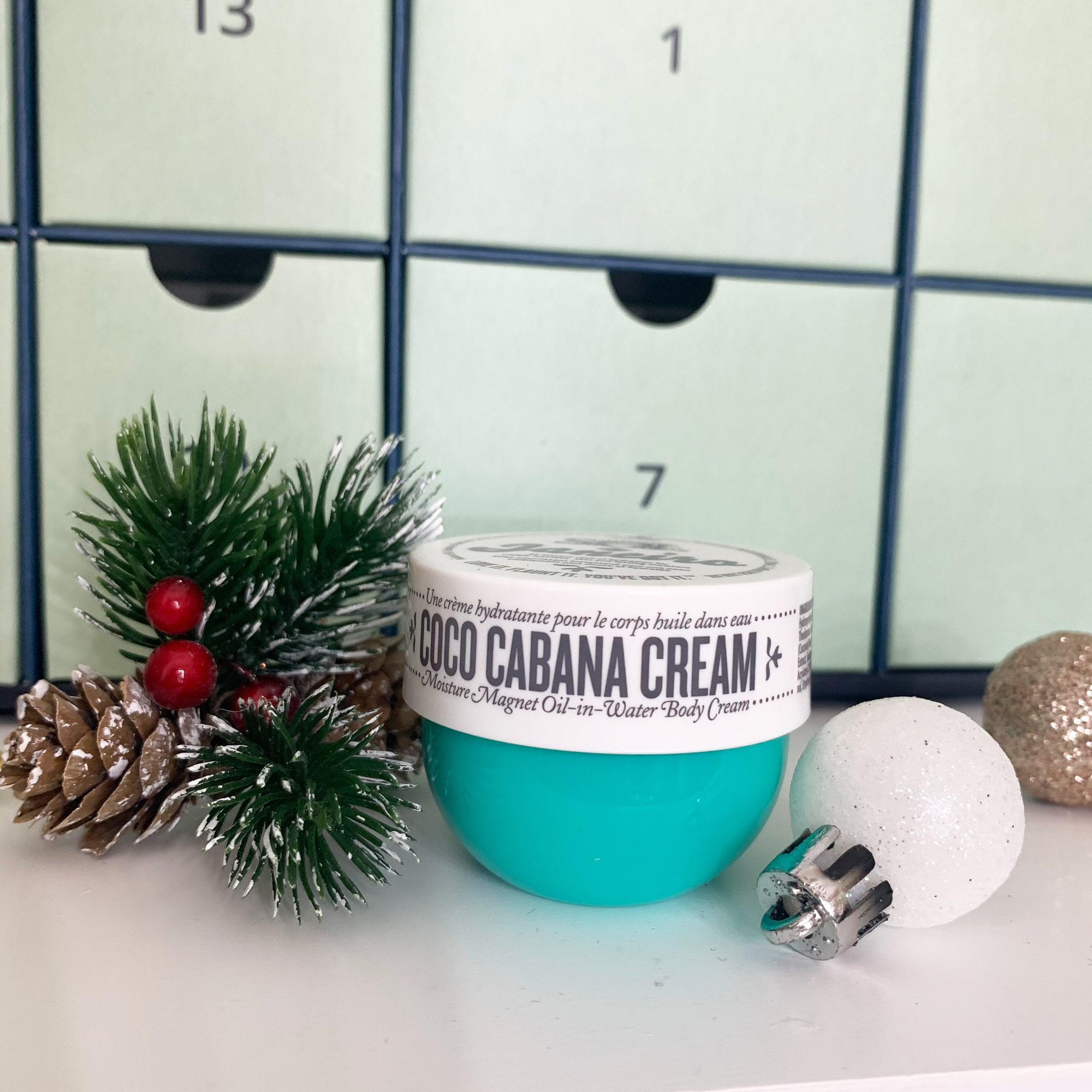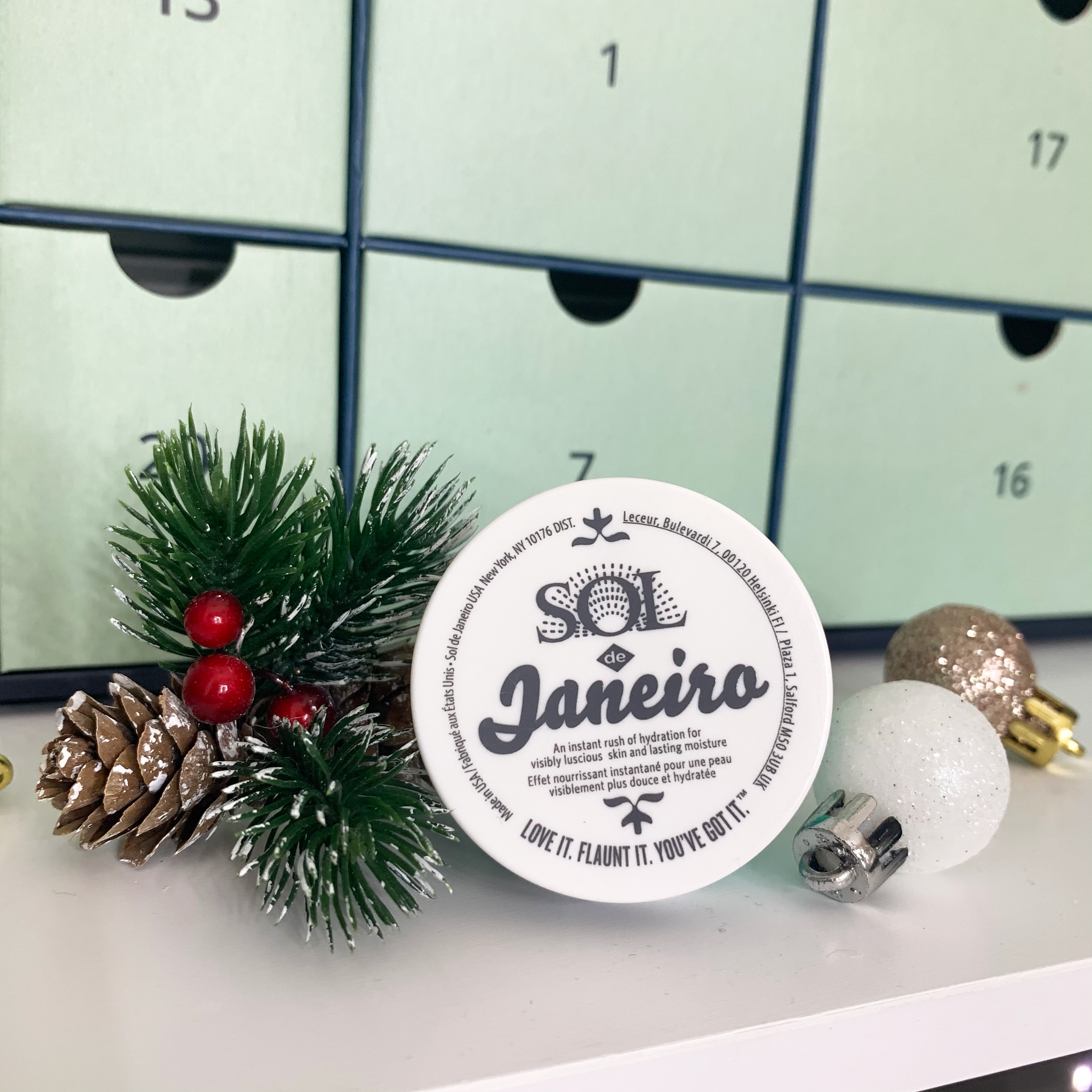 20. BY TERRY – BAUME DE ROSE
Next is the tiniest product I have ever seen in an Advent Calendar… I mean, it's cute but sooooo tiny!! This is the By Terry Baume de Rose lip balm. It contains rose flower essential wax, ceramics to encourage cell regeneration and also vitamin E. The full size is 10g and is £40. This is 3g and is worth £12. A pretty pricey lip balm so I'm expecting good things!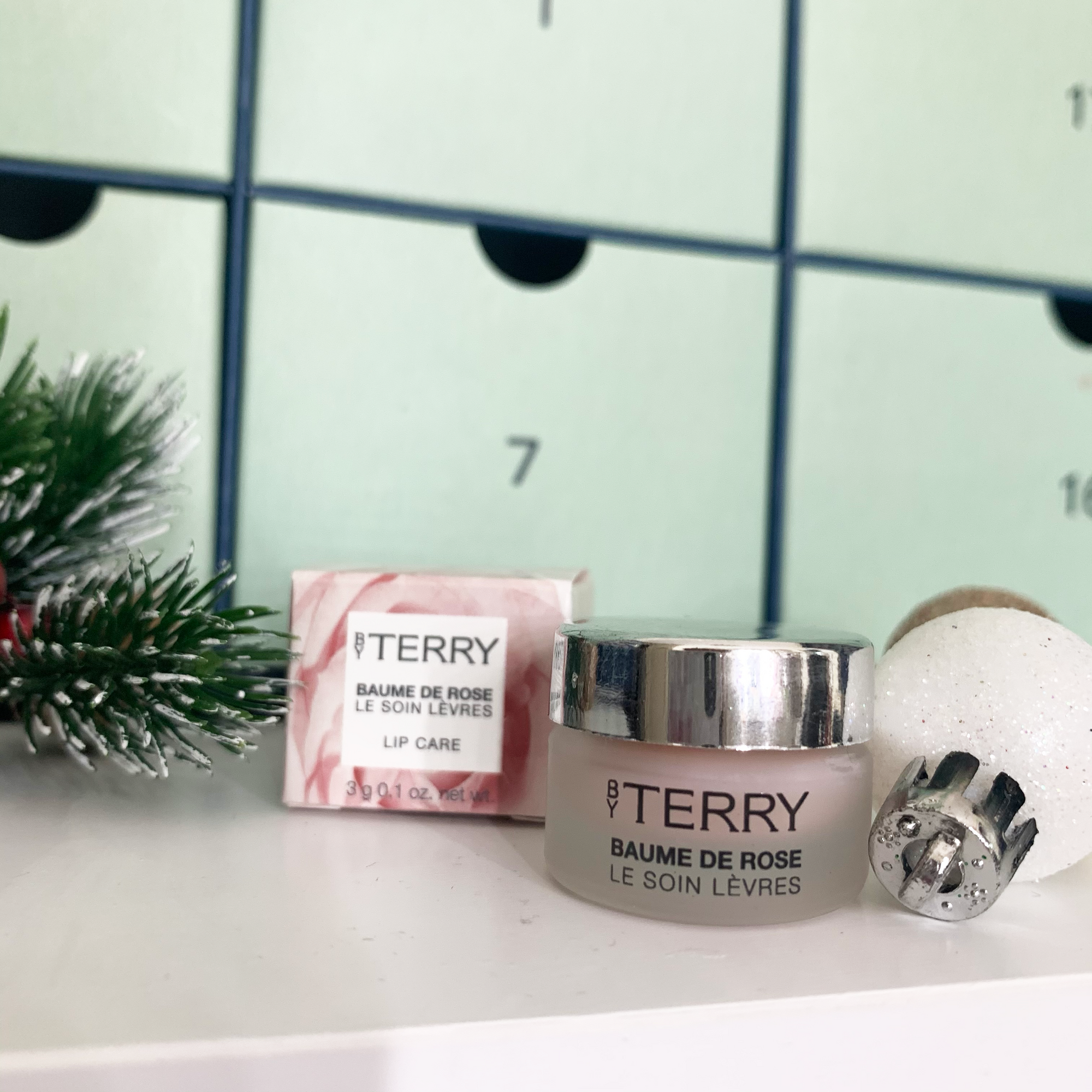 21. TAN LUXE – THE FACE ILLUMINATING SELF TAN DROPS
Another fab brand – Tan Luxe with their 'The Face Illuminating Tan Drops' is in day 21. This is the second tanning product for the face in this calendar which is unusual… although they are spread out nicely which is good. With this one, you simply apply a couple of drops to your serum or moisturiser and apply the cream as normal. The more drops you add, the darker the tan goes. These gradual tanning drops tend to give a more natural finish than fake tan sprays or mousses. Full size is 30ml worth £35. This is 10ml so is worth £11.67. It's definitely enough of a sample to try as you only need a few drops each time.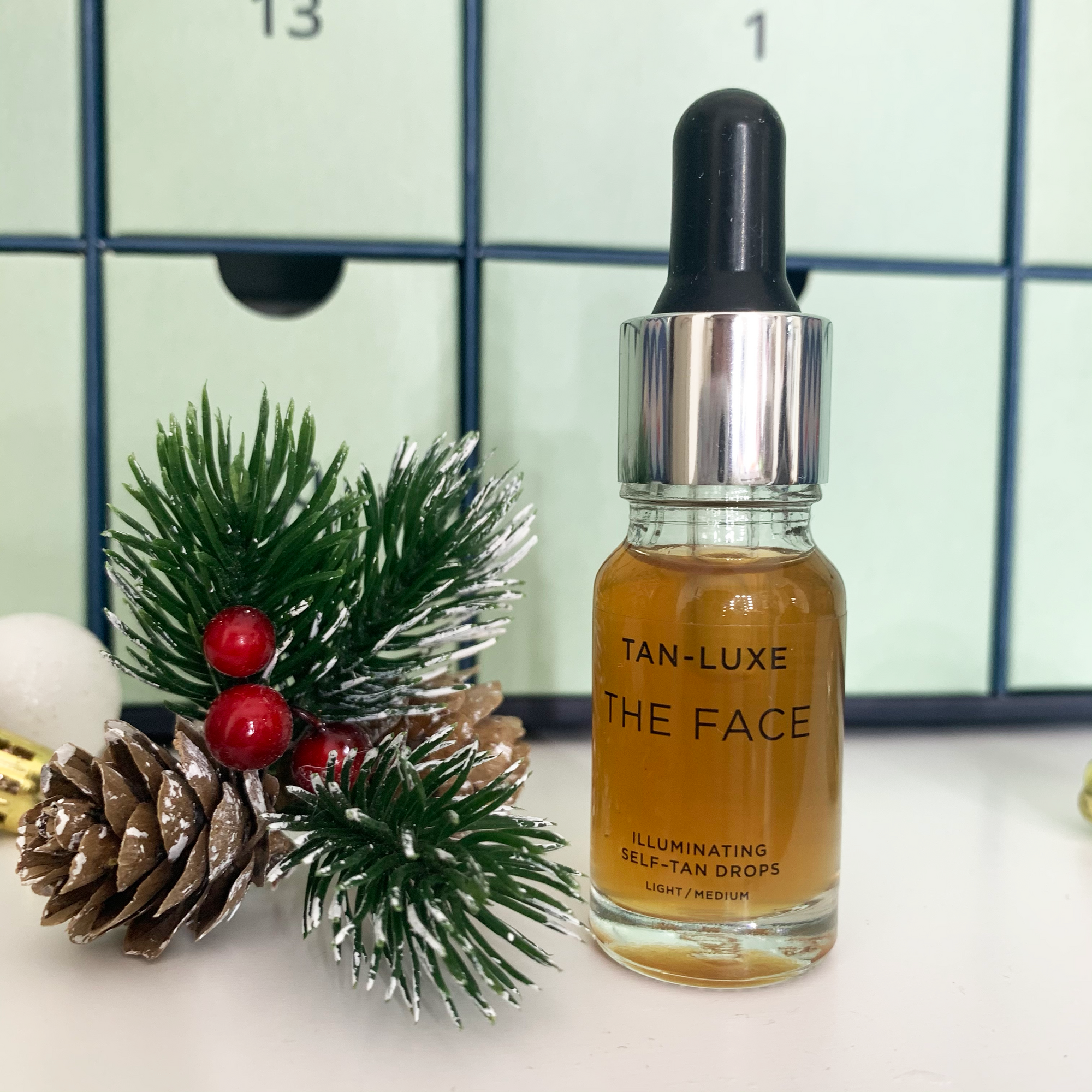 22. NUXE – ULTRA COMFORTING FACE BALM
In Day 2 we receive an Ultra Comforting Face Balm by Nuxe. It's a discovery size but it's 30ml which I think is a really good size to try out. It's worth £16.50 and works to intensely nourish and smooth the skin. This is a thicker, richer moisturiser which is perfect for winter to give skin that extra bit of protection in the colder weather.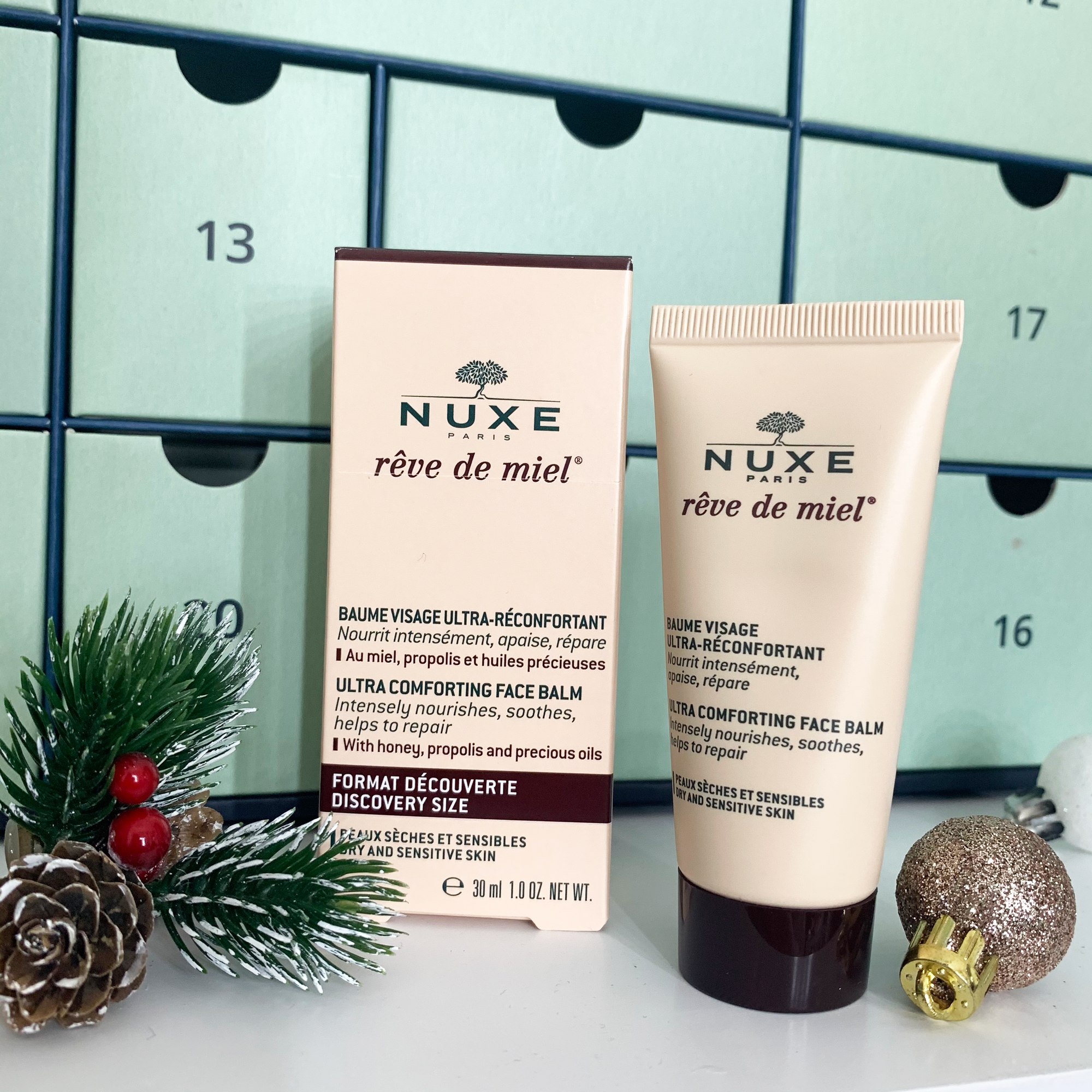 23. ORIGINS – CLEAR IMPROVEMENT ACTIVE CHARCOAL MASK
The Charcoal Mask from Origins works to clear pores and remove impurities from the skin. Before you apply it, open your pores using a warm moist towel, then apply the mask and wait for it to dry. It contains white China clay which removes environmental toxins from the skin too. This size is worth £9.60.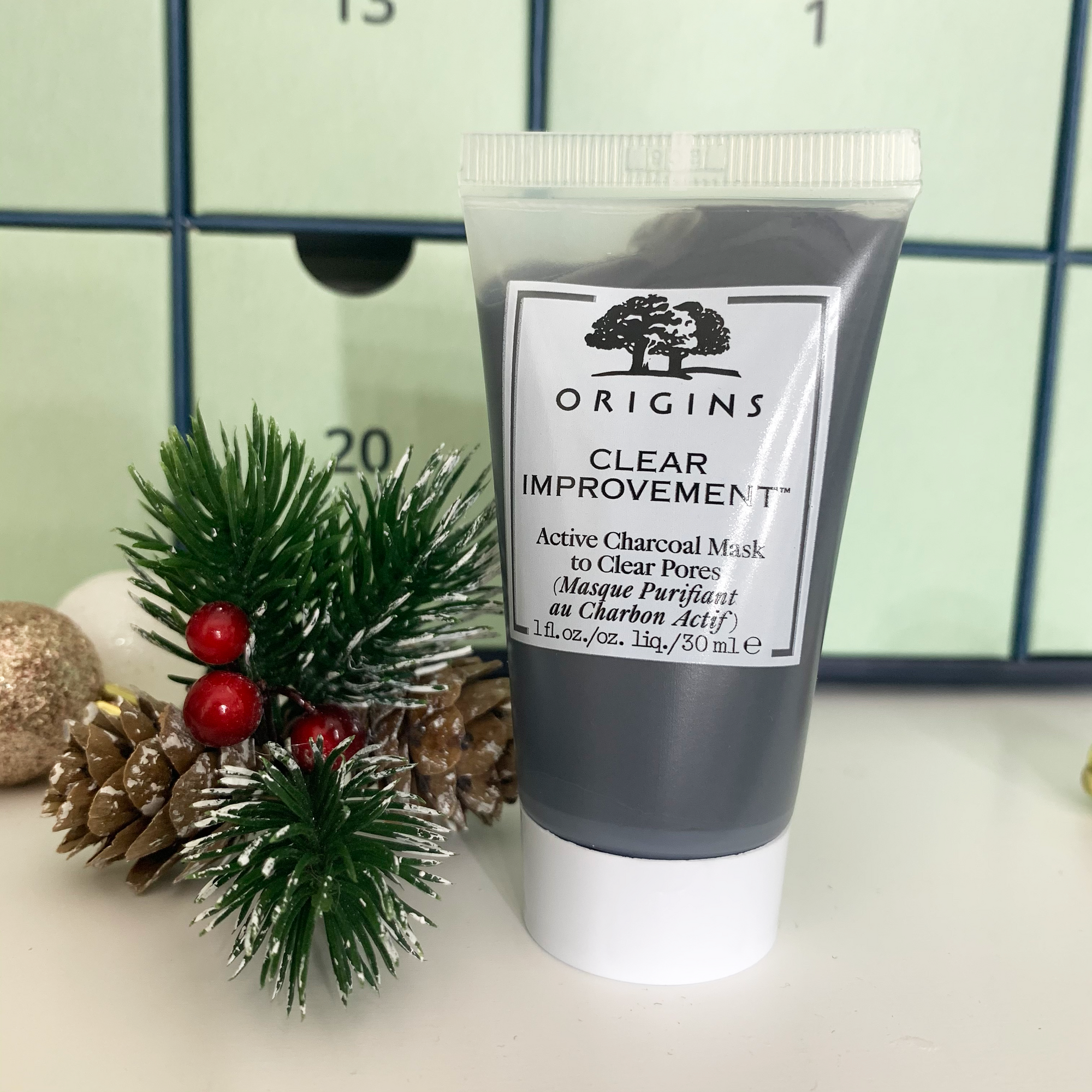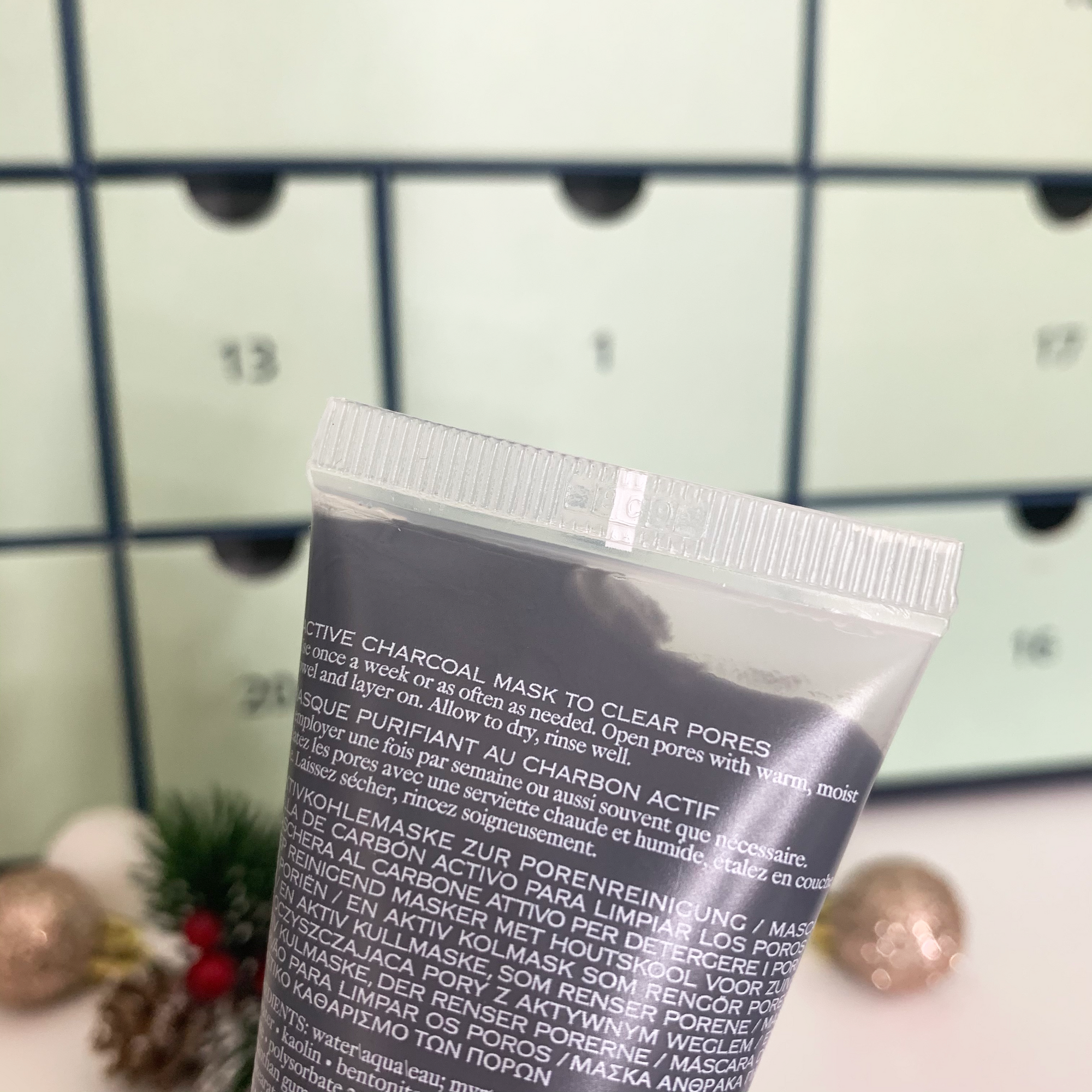 24. SATURDAY SKIN – BRIGHT POTION POWER SERUM
This beautiful packaging is a product from Saturday Skin – the Power Serum. It's a small product, only 10ml but it's definitely big enough to try. It's Korean skincare so I am expecting really good things! It says it promises to give you the start of the weekend glow any day of the week…
It contains niacinamide and cotton extract and should be applied after cleansing, before moisturiser.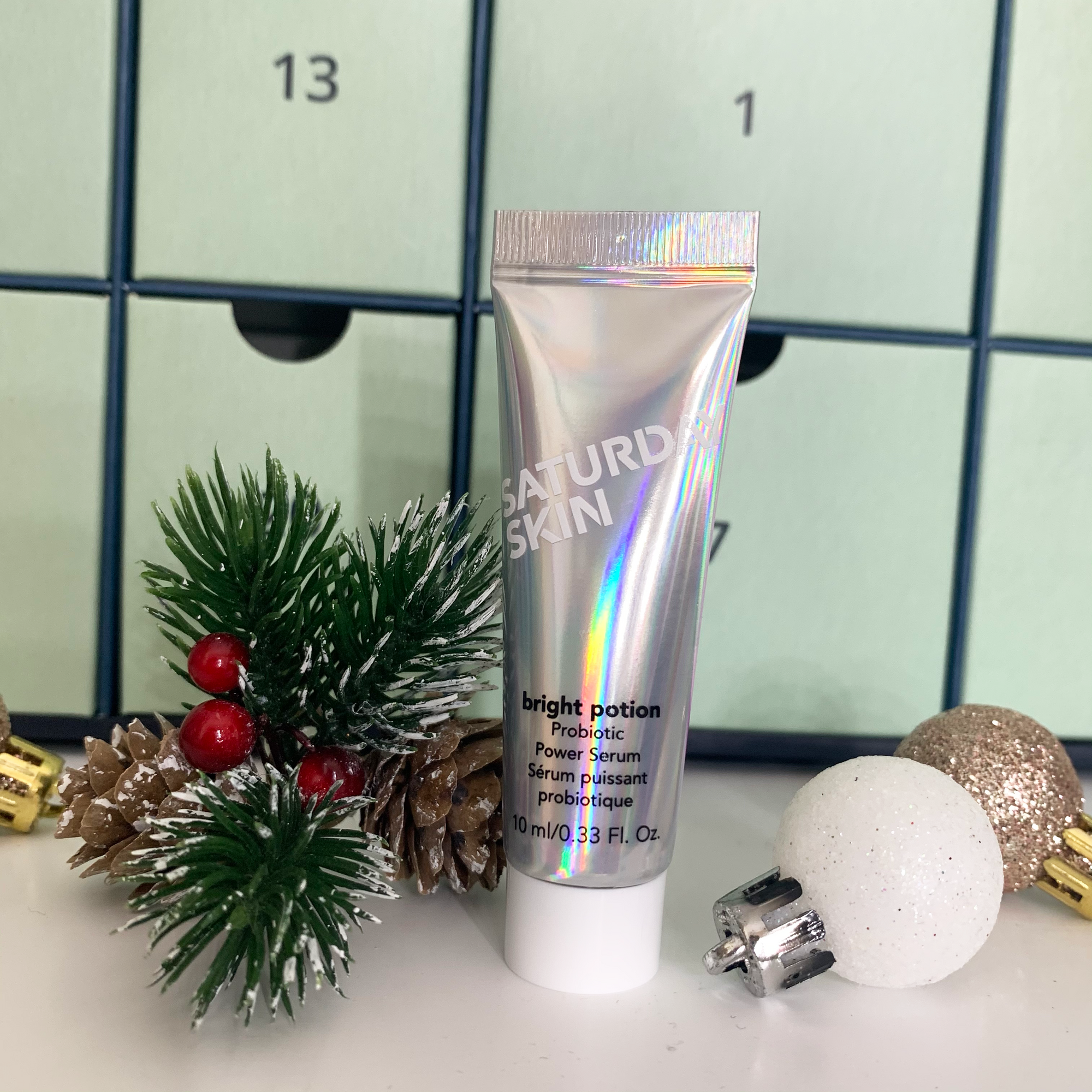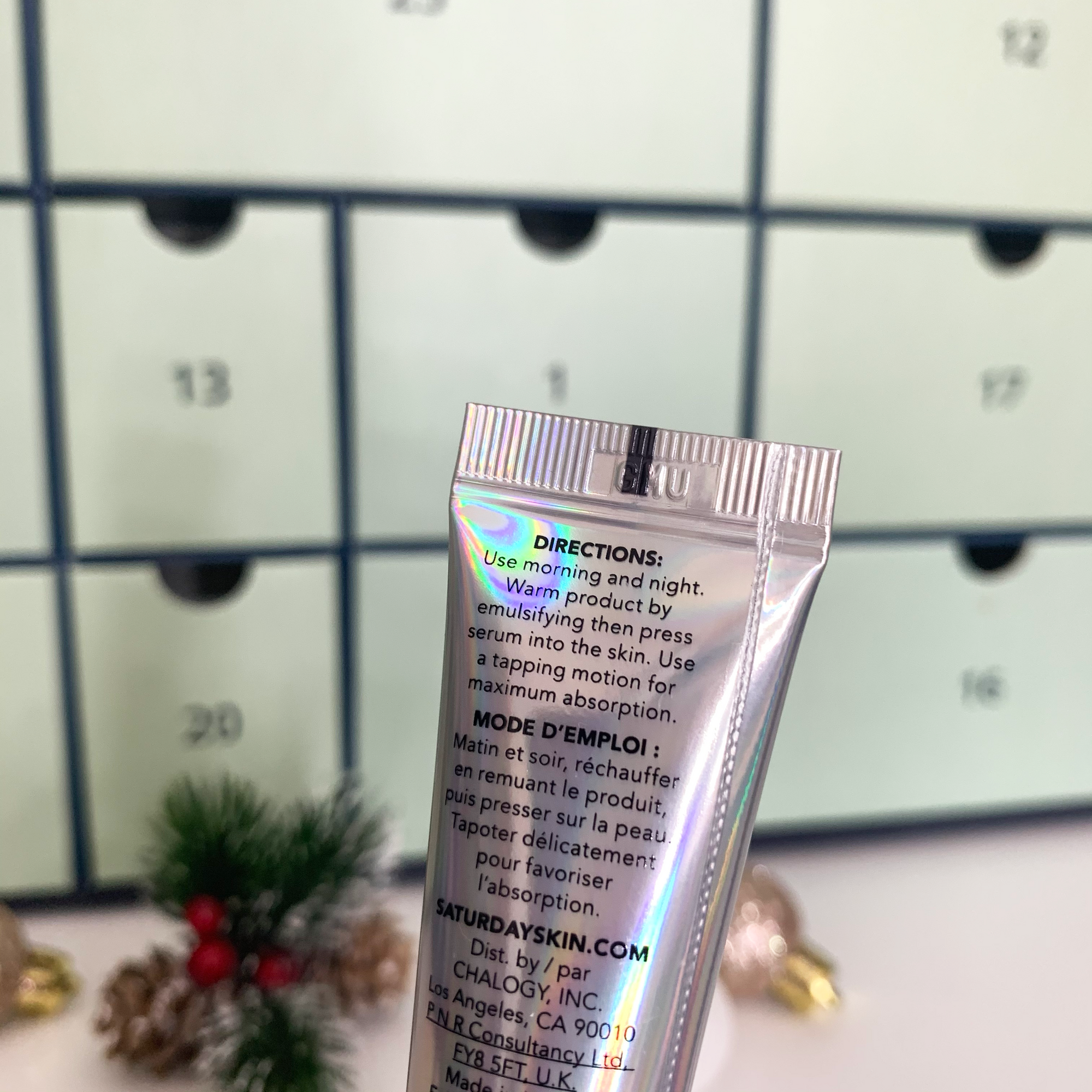 25. HUDA BEAUTY RUBY OBSESSIONS EYESHADOW PALETTE, MORPHE EYELID PRIMER, ZOEVA EYE BRUSH – 228 LUXE CREASE
And in drawer 25 Feel Unique have treated us to three products! The first is a Huda Beauty Ruby Eyeshadow palette – a full sized palette with 9 pans, worth £25. It's a mix of mattes and shimmers and hold some gorgeous Christmassy colours!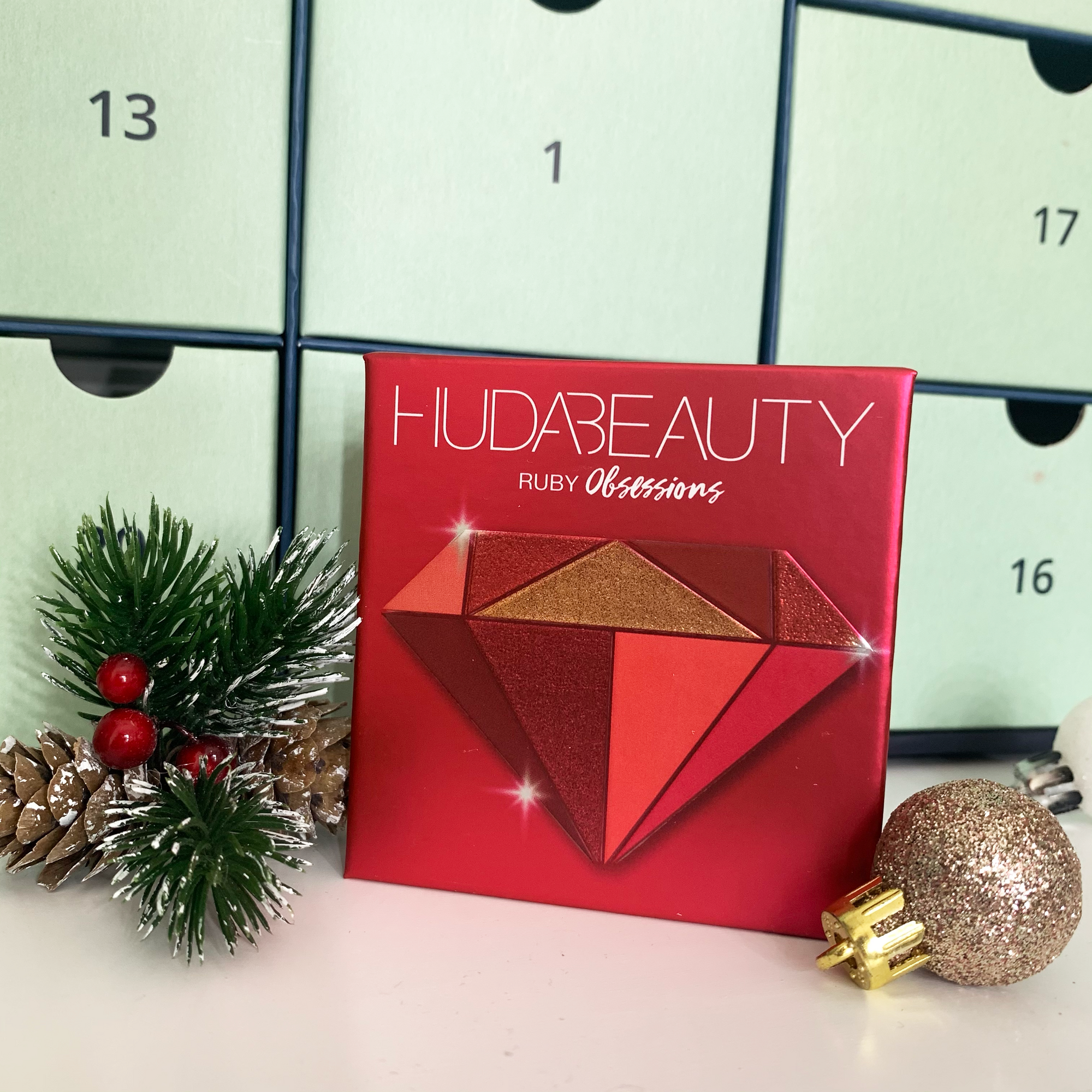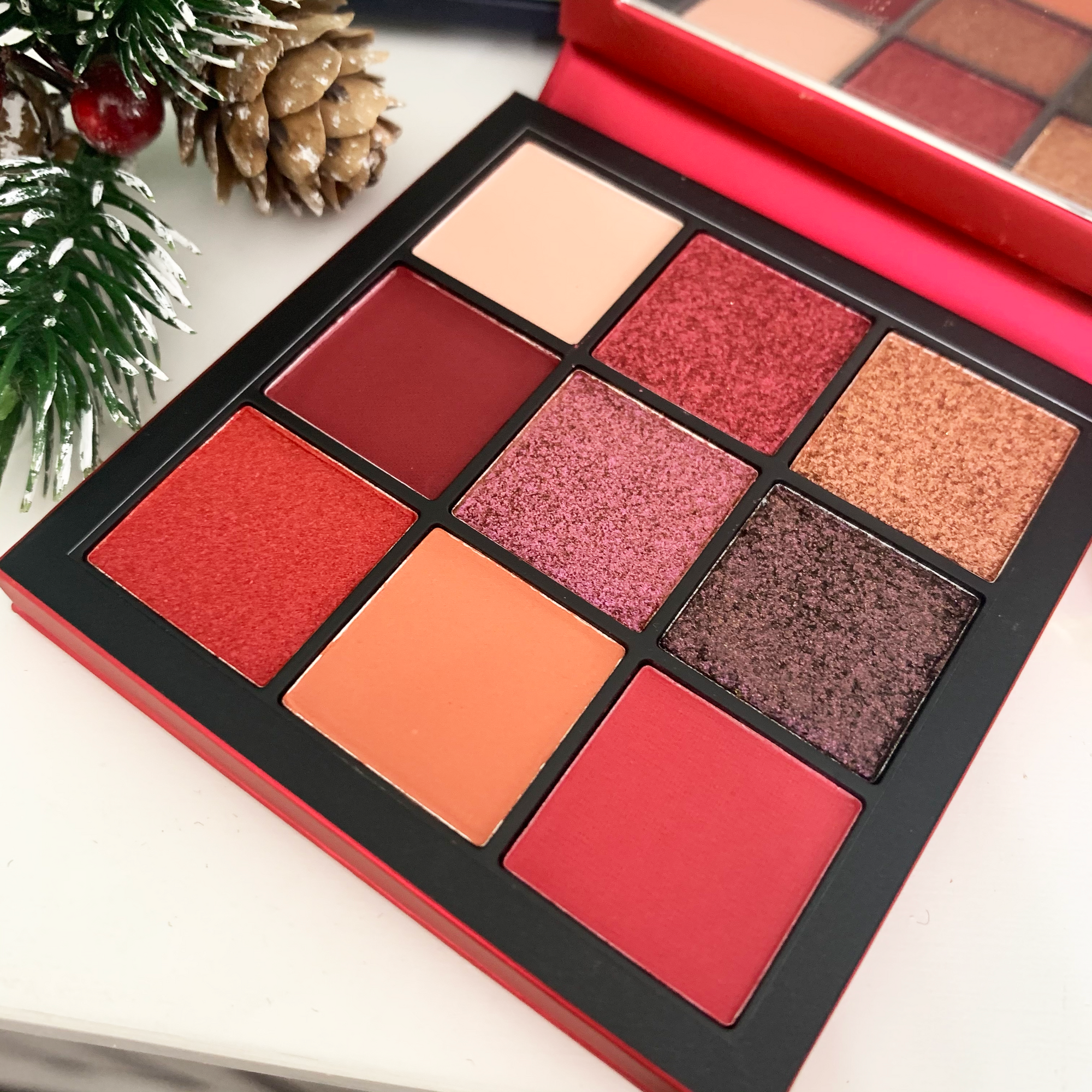 There's also an eyeshadow primer from Morphe in translucent. This is said to provide 12 hours of wear and also be water proof so eye makeup should stay in place all day long. This is 9ml worth £10.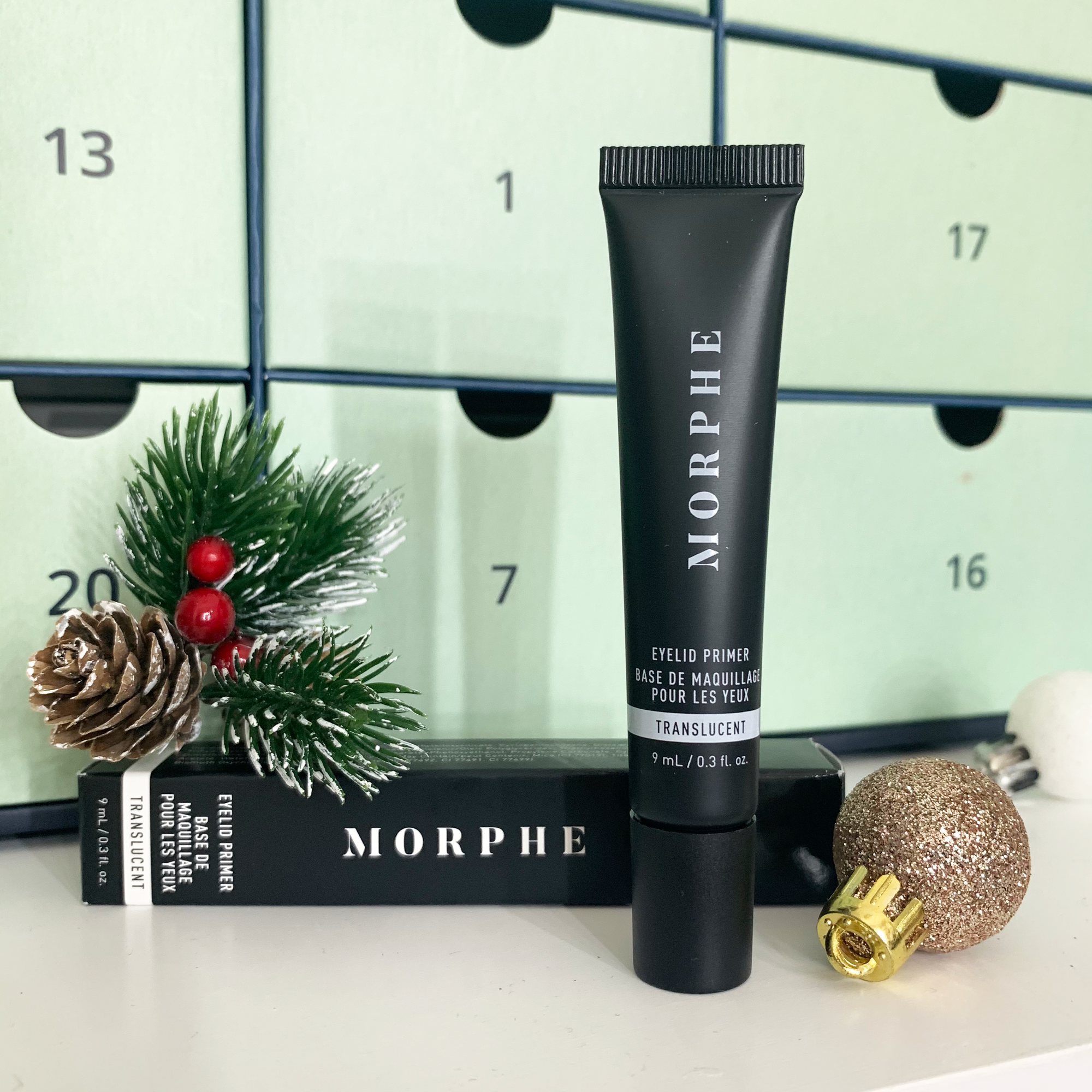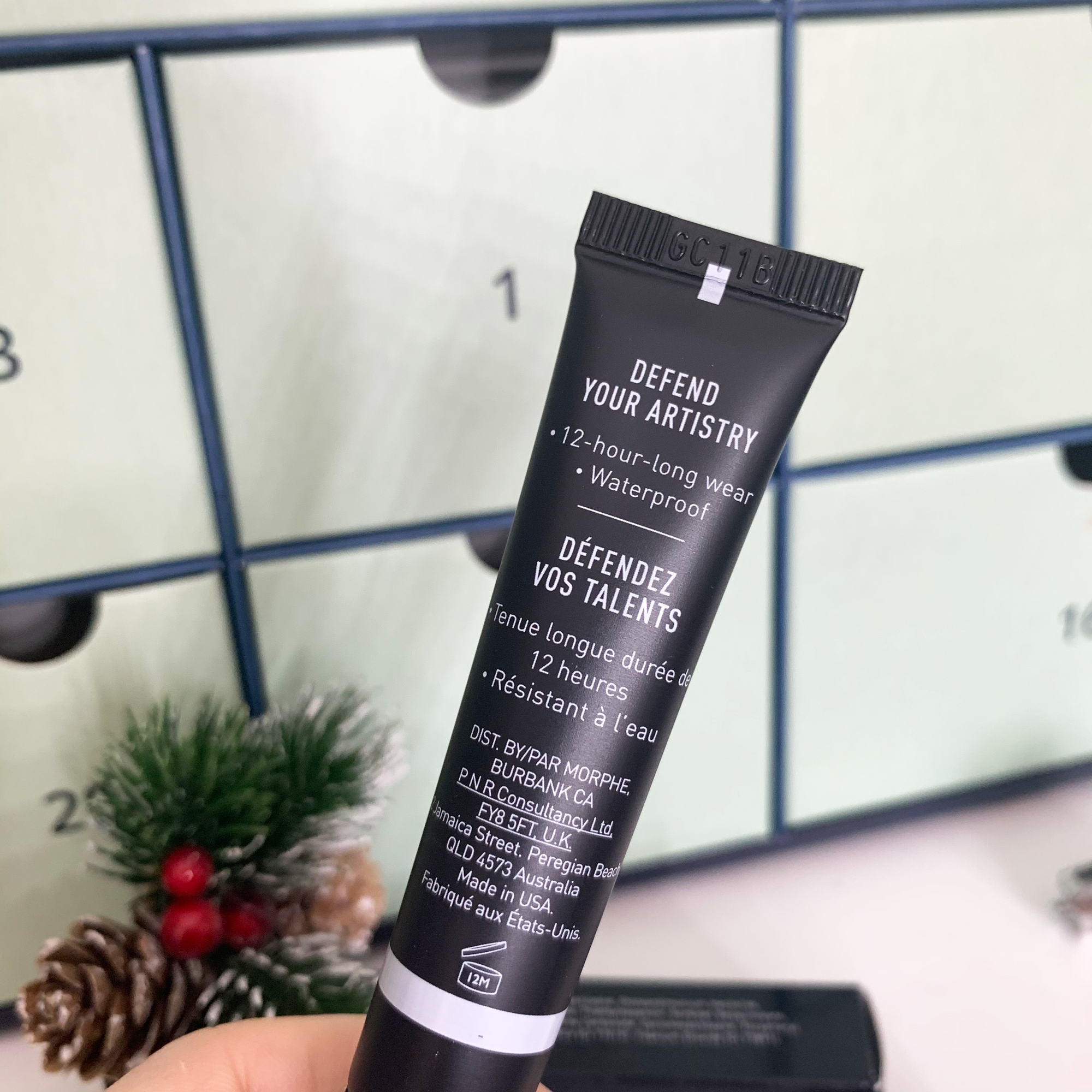 And the third product is a makeup brush from Zoeva – the Luxe Crease 228 Brush… but it's a miniature size and the side of the box says 'Not for sale'. So whilst the brush will work just as well, it seems that it's another sample size.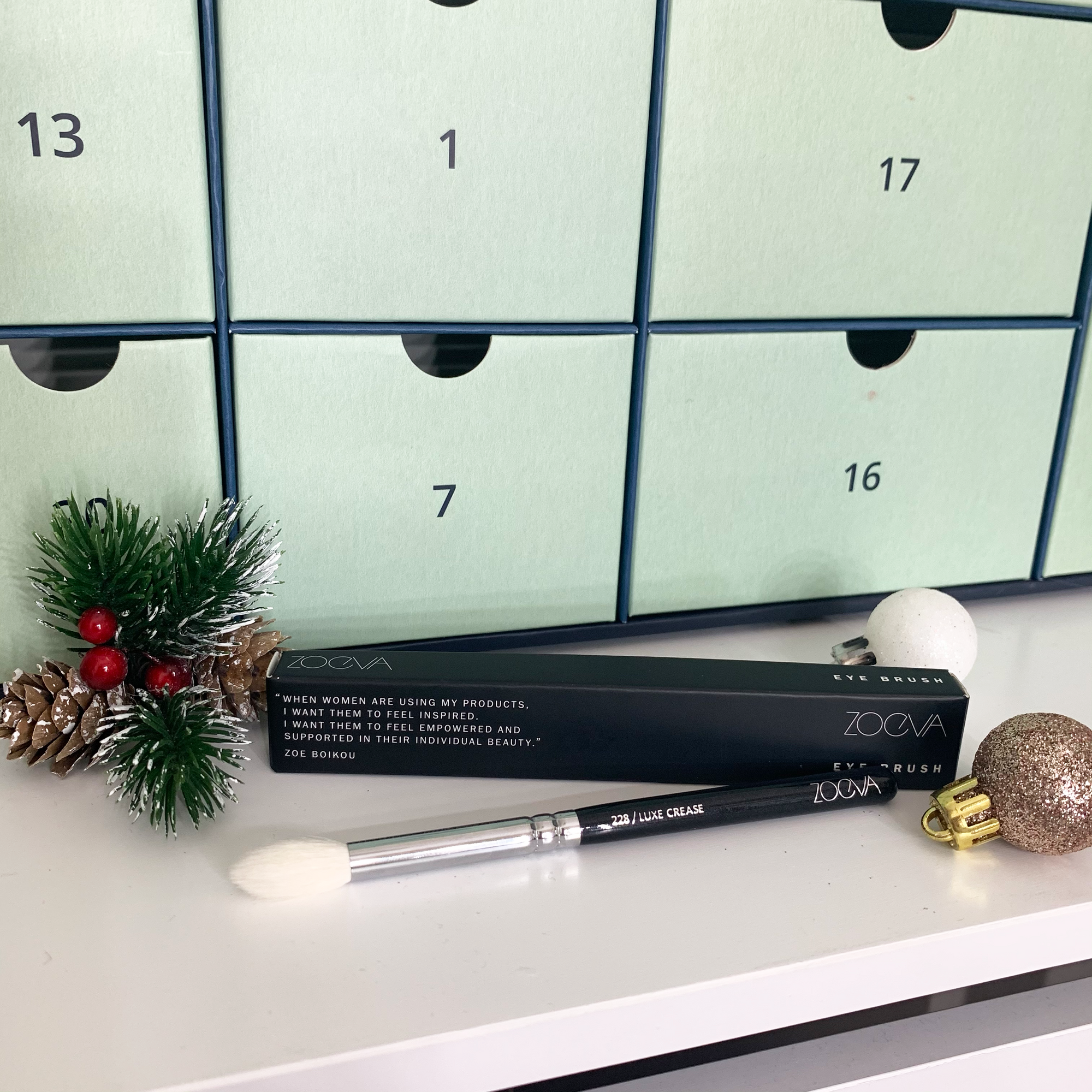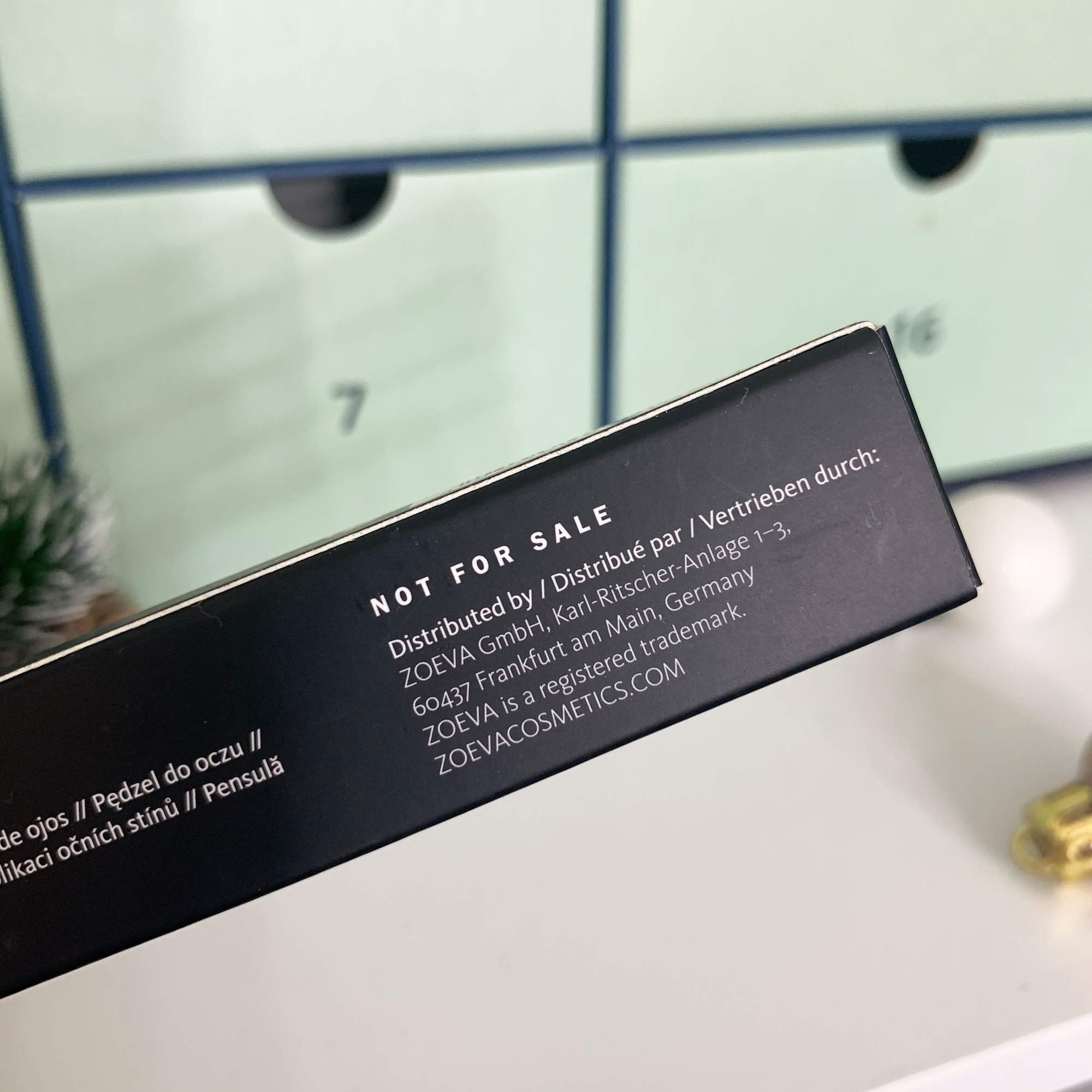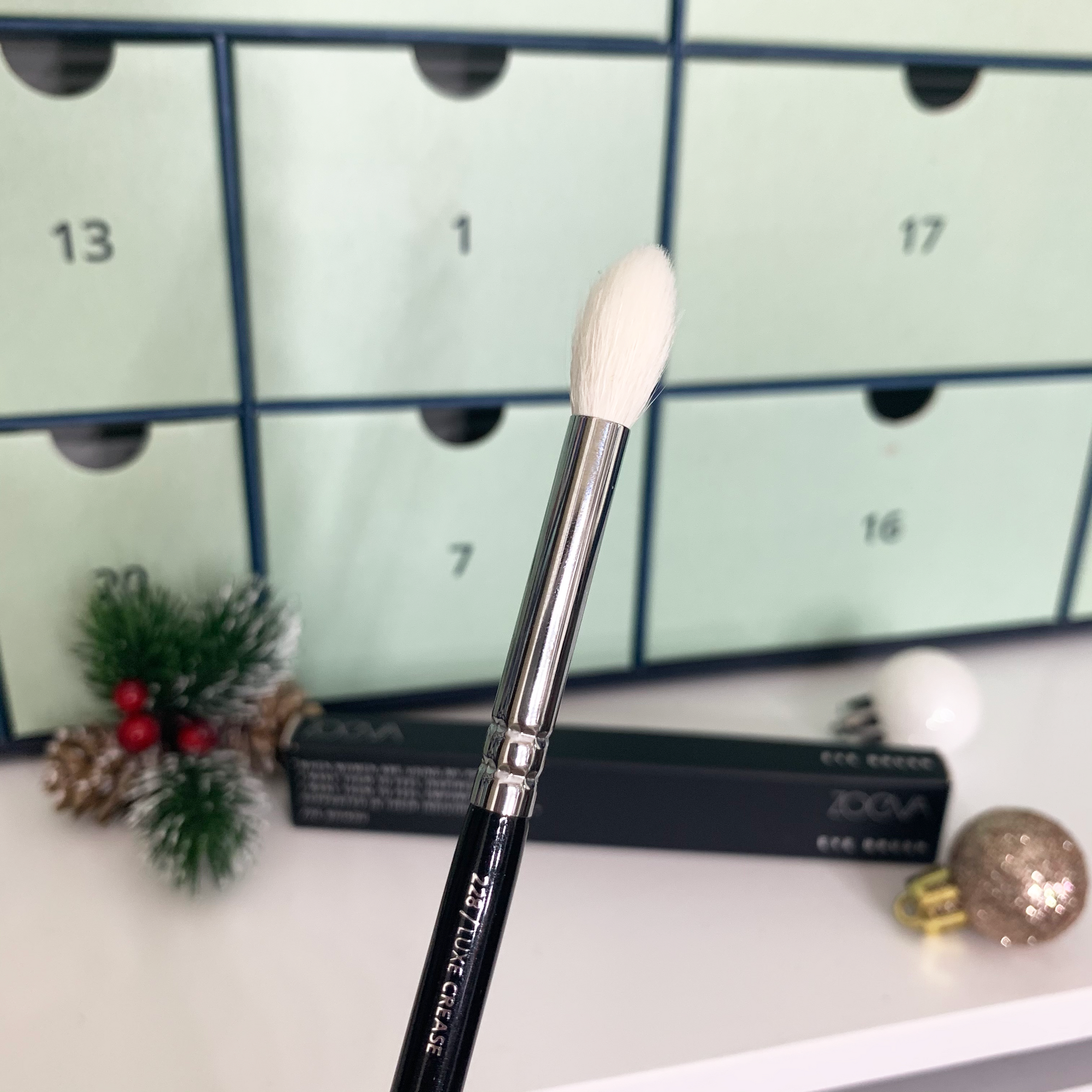 Overall I have mixed feelings about this Calendar. Everything apart from the face masks, candle and 1 mascara were miniature products. I don't think it's good value and we won't be able to try the products completely to decide if we like them, for example the Sol de Janeiro cream will likely have enough to do only1 or 2 uses.
When you compare this to other Calendars such as Glossybox and Look Fantastic, the value just doesn't compare. These other calendars contain lots of full sizes products from big brands, yet they cost £70-£80 (which is less than the cost of this calendar).