Aside from Christmas, the October Glossybox has to be my favourite Glossybox… wanna know why?

Because The October Glossybox is Halloween themed!
If someone knows how to put together a Halloween edition beauty box, it's Glossybox. Last year's Angel and Devil theme was amazing and they've brought it back again this year but made it even better!
This month, you have the chance to receive either the Angel Glossybox or the Devil Glossybox – each with a unique design on the front and carried through to the products inside. The actual items in each box are the same but the colours (and flavours) are different.

As you've probably already guessed, I received the Devil box and I am super excited to use this month's products! The colours are definitely a bit of me.
Also, I love how much attention to detail goes into these boxes – even the tissue paper this month was red and black ombre to match the red box!

So let's take a look at the products I got inside of the Devil Edit of the October Glossybox.
1. STYLONDON VELVET TOUCH PALETTE
The first product in the October Glossybox is the StyLondon Velvet Touch Eyeshadow Palette. Last month's box gave us a sneak peek into the October Glossybox and told us that we would be getting one of two palettes by StyLondon. Both palettes are made up of 9 super pigmented shadows – the Devil Edit boasting a red/orange colour scheme and the Angel Edit, more pinky tones.
These red/orange shades are definitely suited to me – I tend to lean towards bronze/coral/nude eyeshadows as the orange compliments the blue in my eyes.
I've tried a StyLondon palette before and the colours are super pigmented and long wearing so I'm pleased that I now have another in my collection!

The StyLondon Palette is full sized and is worth £15.

2. LORD & BERRY MAXIMATTE LIPSTICK CRAYON – DEVIL RED
It wouldn't be a Devil box without something red for the lips now would it? Forget having to use a lipliner and a lipstick combo though as this little beauty does it all in one. The Lipstick Crayon by Lord & Berry is all you need to create that perfect red lip. Plus the crayon is infused with Vitamin E so it should glide onto your lips and give a matte finish without drying out the lips!

Use the crayon to line the lips and then fill them in!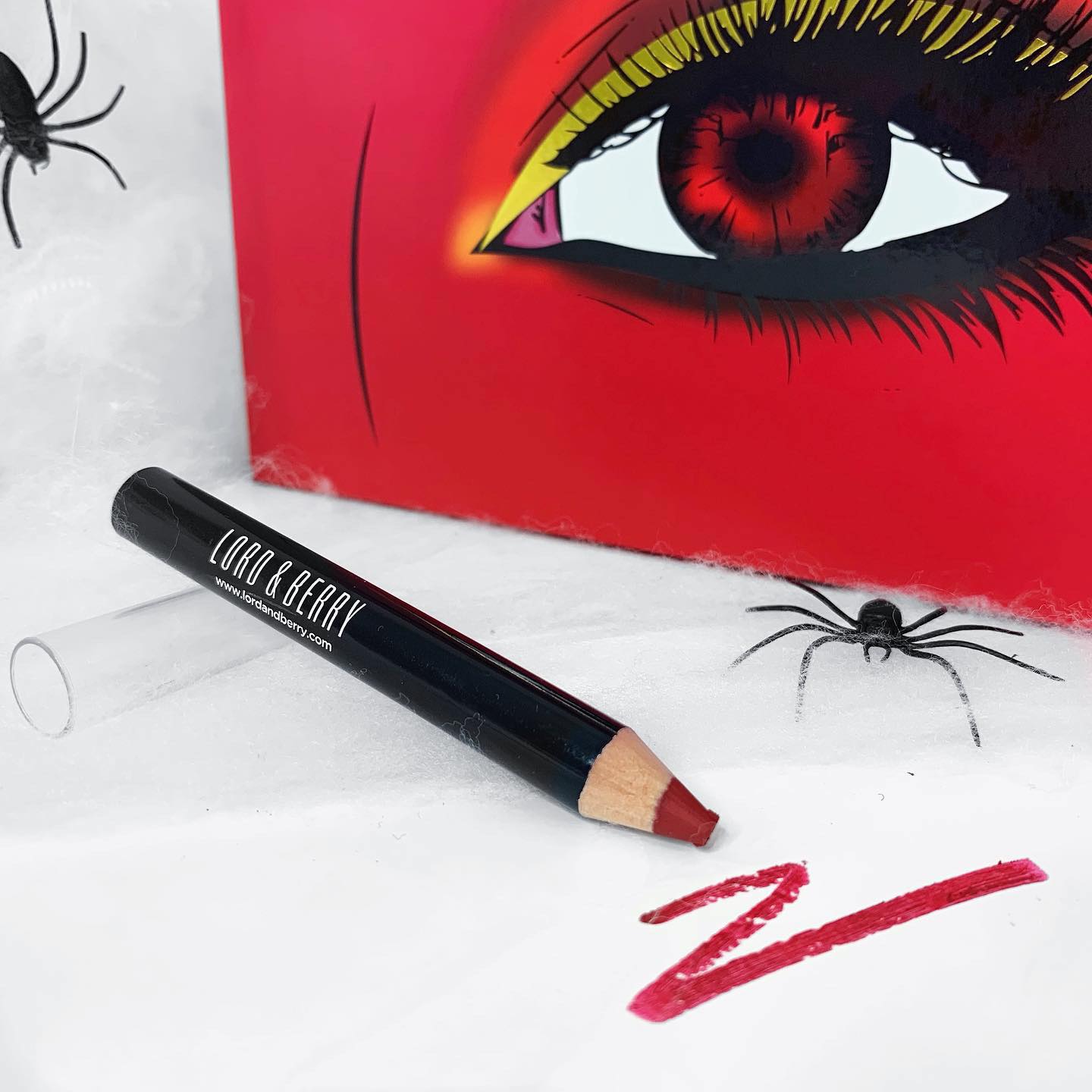 The Lord & Berry Maximatte Lipstick Crayon is full sized and is worth £15.
3. BUBBLE T COSMETICS DEVIL'S DUST FOAMING BATH POWDER
How incredible is the packaging on this limited edition product! The Devil's Dust Foaming Bath Powder has been designed especially for the October Glossybox in collaboration with Bubble T Cosmetics.

Just add it to your bath water and watch the bubbles appear!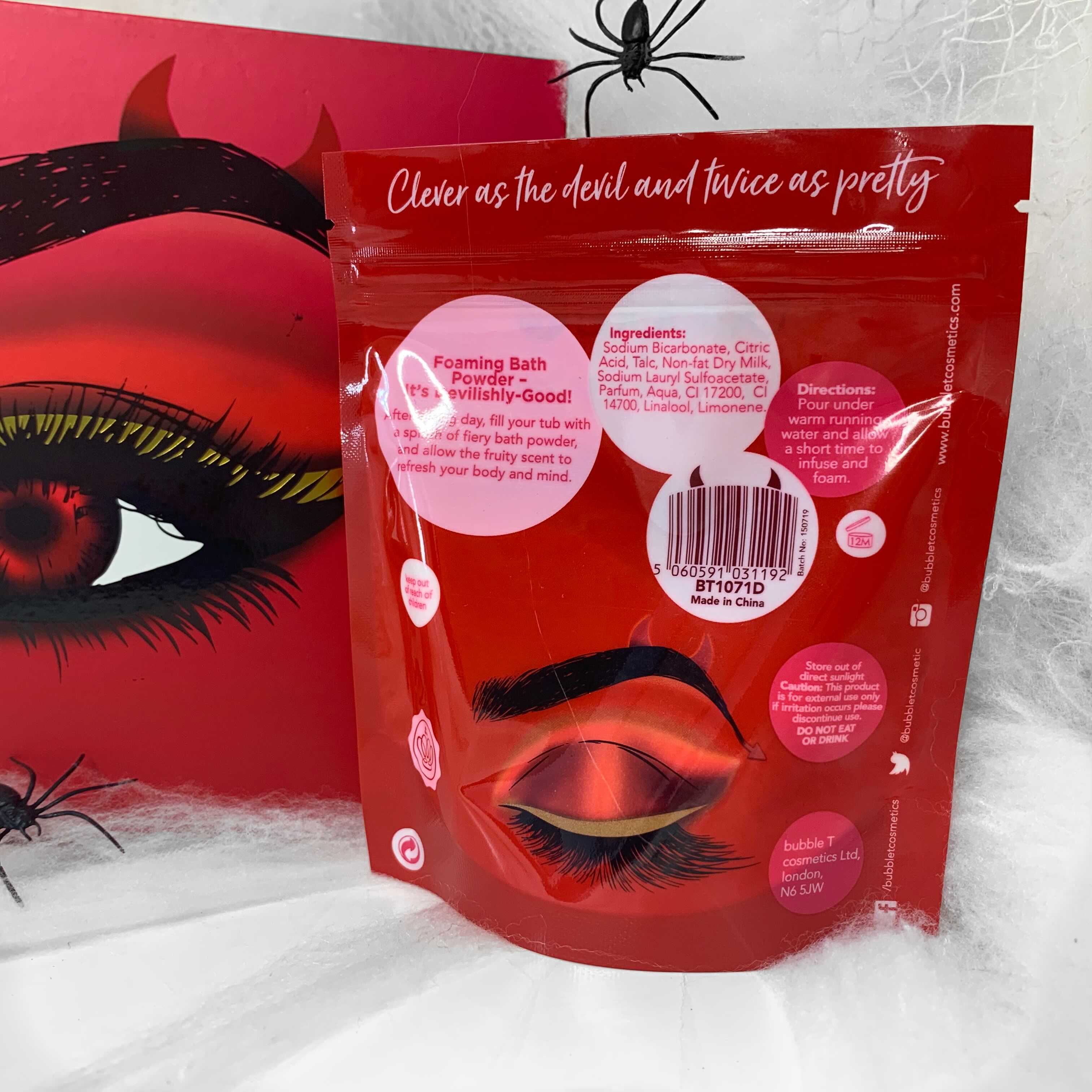 The Bubble T Cosmetics Bath Powder is full sized and is worth £4.99
4. MCO BEAUTY EYE DEFINE CRAYON LINER
Next up is a product from a brand I haven't heard of before… MCO Beauty. This is a newly launched creamy eyeliner crayon in black. Simply twist the crayon and you're ready to go. It's a super pigmented crayon so you can create the perfect black 'flick' or you can blend it along your lash line for a smudged smoky effect. It applies really easily and feels so smooth on the skin!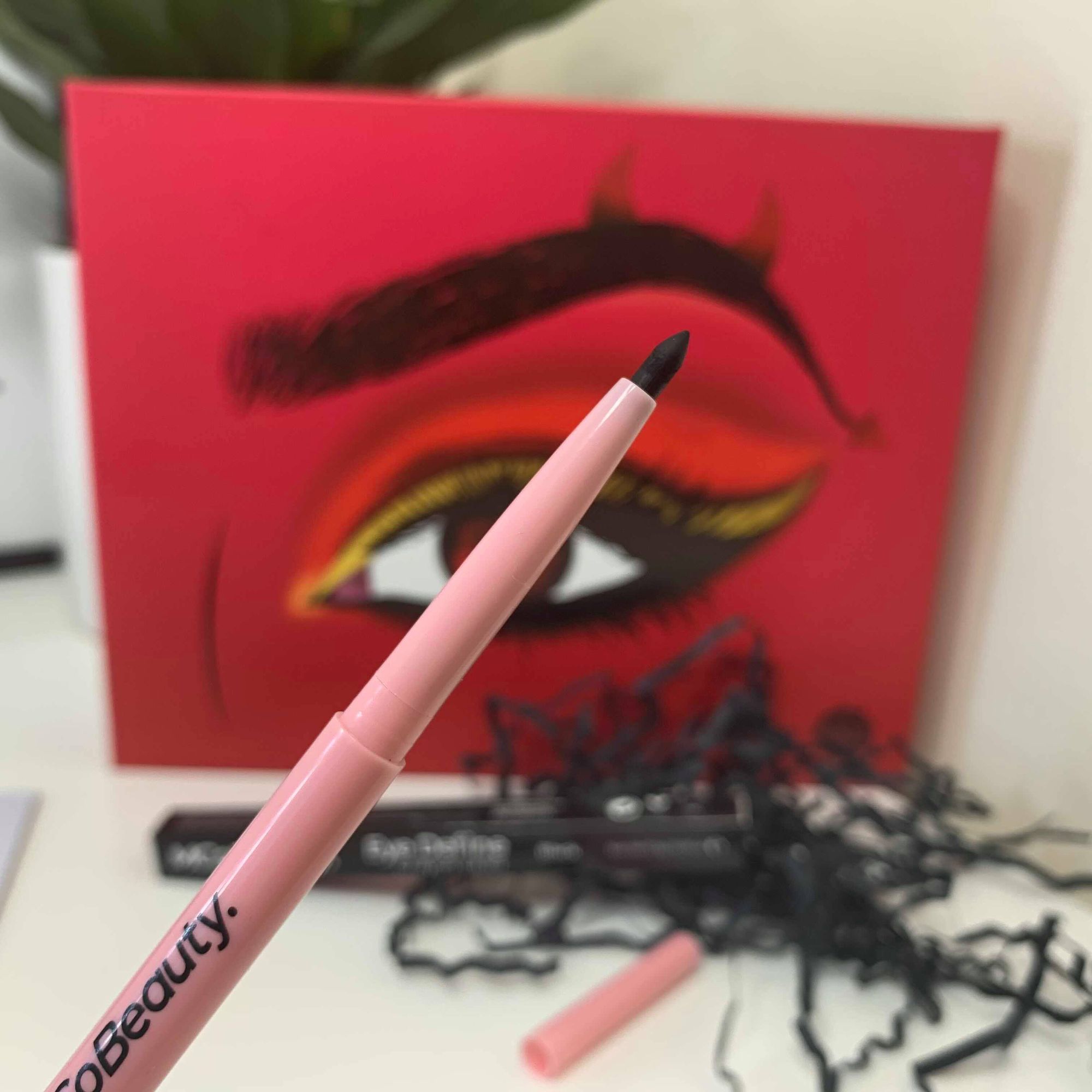 The MCO Beauty Eye Define Crayon Liner is full sized and worth £15.
5. QUE BELLA BEAUTY PLUMPING GOLD PEEL OFF MASK
Next we have a product for the skin… so once you've taken off your makeup and you're relaxing in the bath with your Devils Dust bath powder, give your skin some TLC with this face mask from Que Bella Beauty!!

It's a peel off mask with hyaluronic acid salts and organic rose water and it works to moisturise, brighten and plump the skin. Apply it to clean skin and let it work its magic for 20 minutes before peeling off.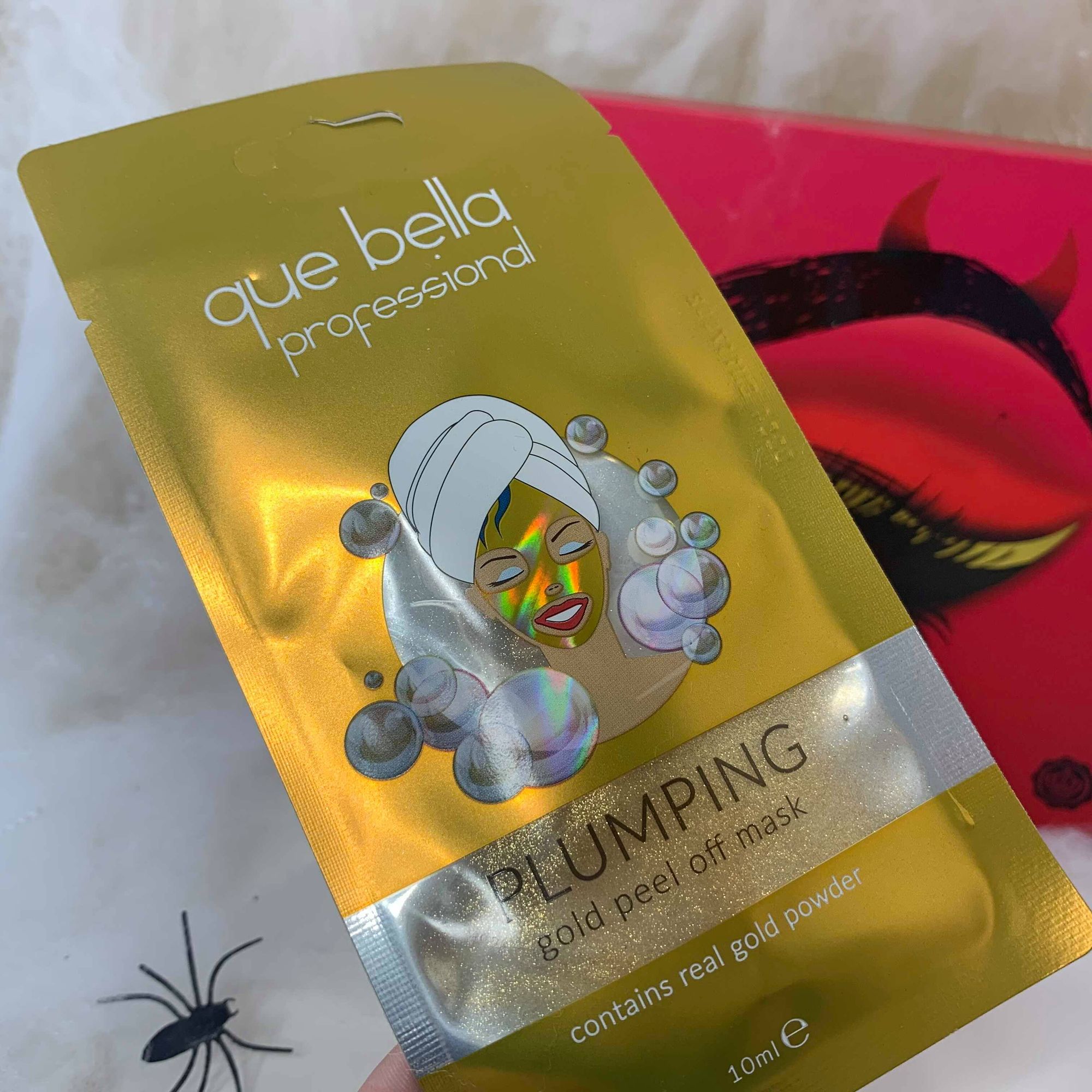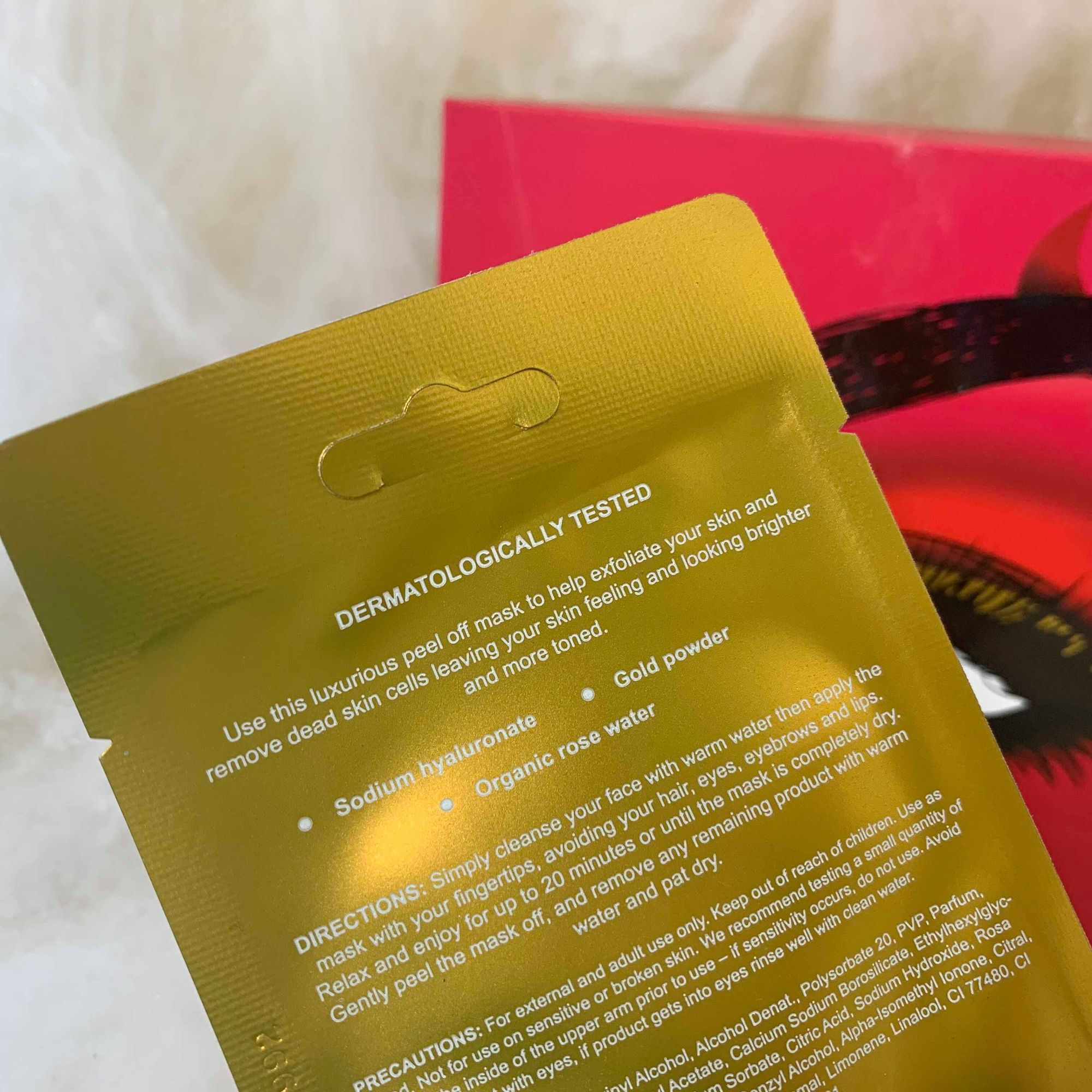 The Que Bella Beauty Face Mask is full sized and is worth £2.49.
6. WHITTARD OF CHELSEA STICKY TOFFEE PUDDING WHITE HOT CHOCOLATE
Product number 6? In a Glossybox? I know, right! Glossybox has treated us again this month with another extra product – and once again it's something to eat… well drink.

The extra treat this month is from Whittard of Chelsea and it's a sticky toffee pudding flavoured White hot chocolate – with a spooky Halloween design on the box! The perfect sweet treat for those colder nights as we head into Autumn.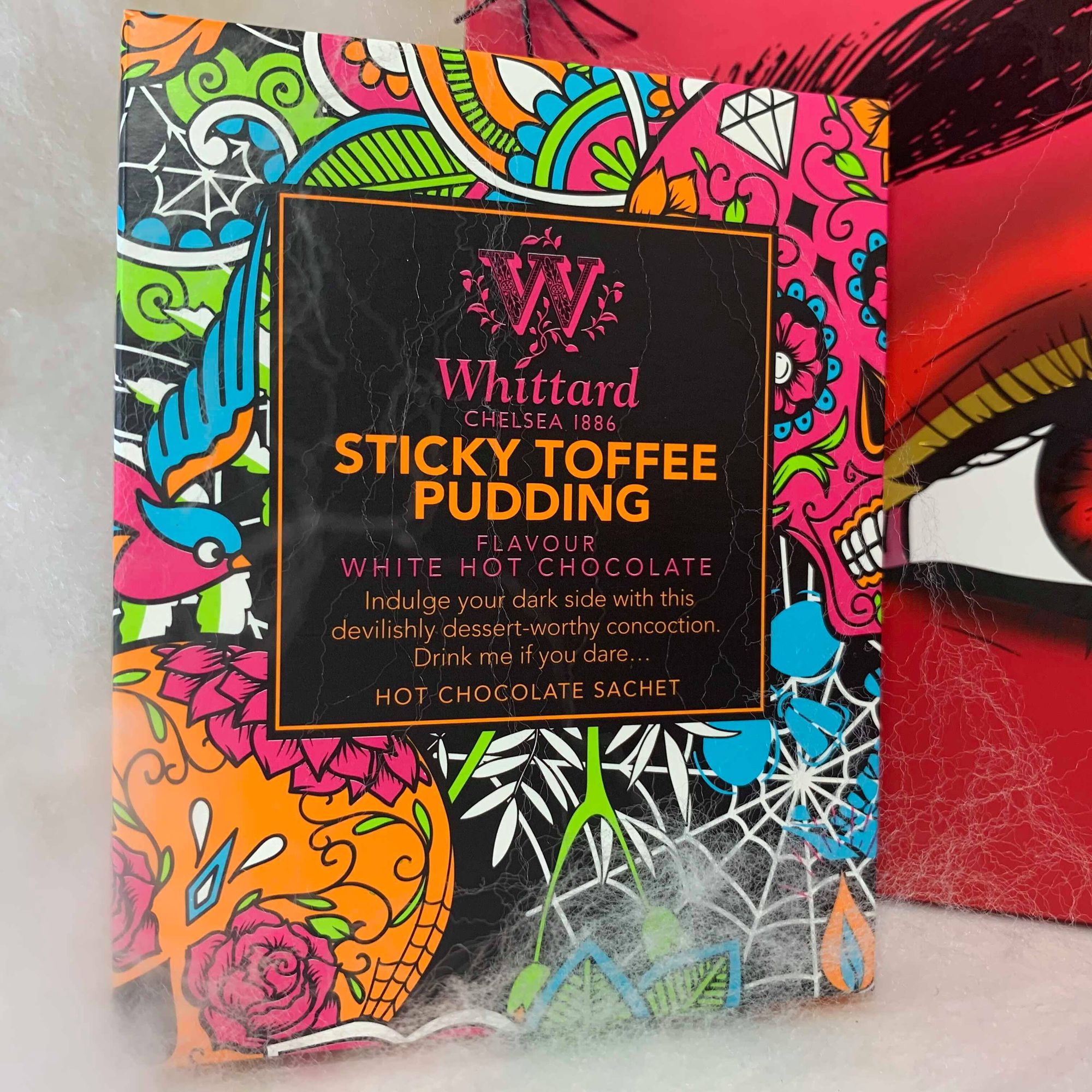 The Angel Edit of the October Glossybox has the same items as above, but the STYLondon palette and the Lord and Berry Crayon are different shades. Plus, the Bath Powder will also be Angel themed… possibly Angel Dust? That sounds good, right!
All of the products add up to a total value of £61.50 which is crazy considering you can get your hands on the box for as little as £8.50! Crazy value!
Use code KTF20 for 20% off your first Glossybox!
I saw a few people commenting on the Glossybox Instagram and Facebook when the boxes were announced this month and some were wanting to know how to get hold of both box designs instead of just the one they receive… Glossybox have been commenting back and have said they are working on something for this so if you don't get the box you want, keep checking on the Glossybox social media channels!
GLOSSY CREDITS
Don't forget to fill out your surveys for each product in the box – these take less than a minute and you can find them in your Glossybox account. All reviews which are completed are rewarded with 25p or 50p of credit to spend on Look Fantastic!

GLOSSYBOX ADVENT CALENDAR
Okay guys, who's received their calendars already? How amazing is it! I can't wait to unbox it for you guys and show you everything that's inside!
If you haven't got your hands on the Glossybox Advent calendar just yet then you need to be quick! The Glossybox Advent calendar has already gone on sale and you can pick it up for £80. If you're a subscriber it's only £70!
So… if you like the look of this month's Glossybox and fancy getting a box for yourself, you can order a box for £8 using code KTF20 and then also order the Advent Calendar for £70 – so for £78 you're getting a Glossybox AND the Advent Calendar. Not bad, right!
Watch this space for the Glossybox Advent Calendar unboxing!