'It's the season to be Glossy'… and don't we know it!
If you aren't a Glossybox subscriber then sign up fast because this box is not one you want to miss. And I can guarantee this will sell out faster than the Black Friday Limited Edition box!
This is probably the biggest Limited Edition box I've seen from Glossybox. With brands including Nars, Huda Beauty, Laura Mercier and Bare Minerals, it's worth a huge £130 but you can get it for a fraction of the price.
The box goes on sale on Monday 2nd December at 7am for Subscribers and 12pm for non-subscribers. Subscribers can pick it up for £30 and non-subscribers £35.
Let's take a look at what's inside the Limited Edition Christmas Glossybox.
1. HUDA BEAUTY – OBSESSIONS EYESHADOW PALETTE (WARM BROWN)
We start the box with a full size product from Huda Beauty (yes I said full size) – this bad boy is a 9 pan eyeshadow palette worth £25. It's the perfect mix of warm shades including 4 shimmers and 5 mattes. The 'Warm Brown' palette features browns (obviously!), amber, gold and bronze shades – Christmas in a highly pigmented palette.
The Huda Beauty Obsessions Eyeshadow Palette is worth £25 and can be found here.
2. LAURA MERCIER TRANSLUCENT LOOSE SETTING POWDER
Yup you read that right – the iconic Translucent Setting Powder by Laura Mercier is also in this box! A product that's been on my wishlist for a long time and now I can finally add it into my makeup routine. Use the powder to set makeup for up to 12 hours and give a matte finish – but not too matte – the powder also contains pearl pigments to add a natural luminous finish… the perfect finish to a face of Christmas makeup.
The Laura Mercier Translucent Loose Setting Powder is worth £3.62 (deluxe mini).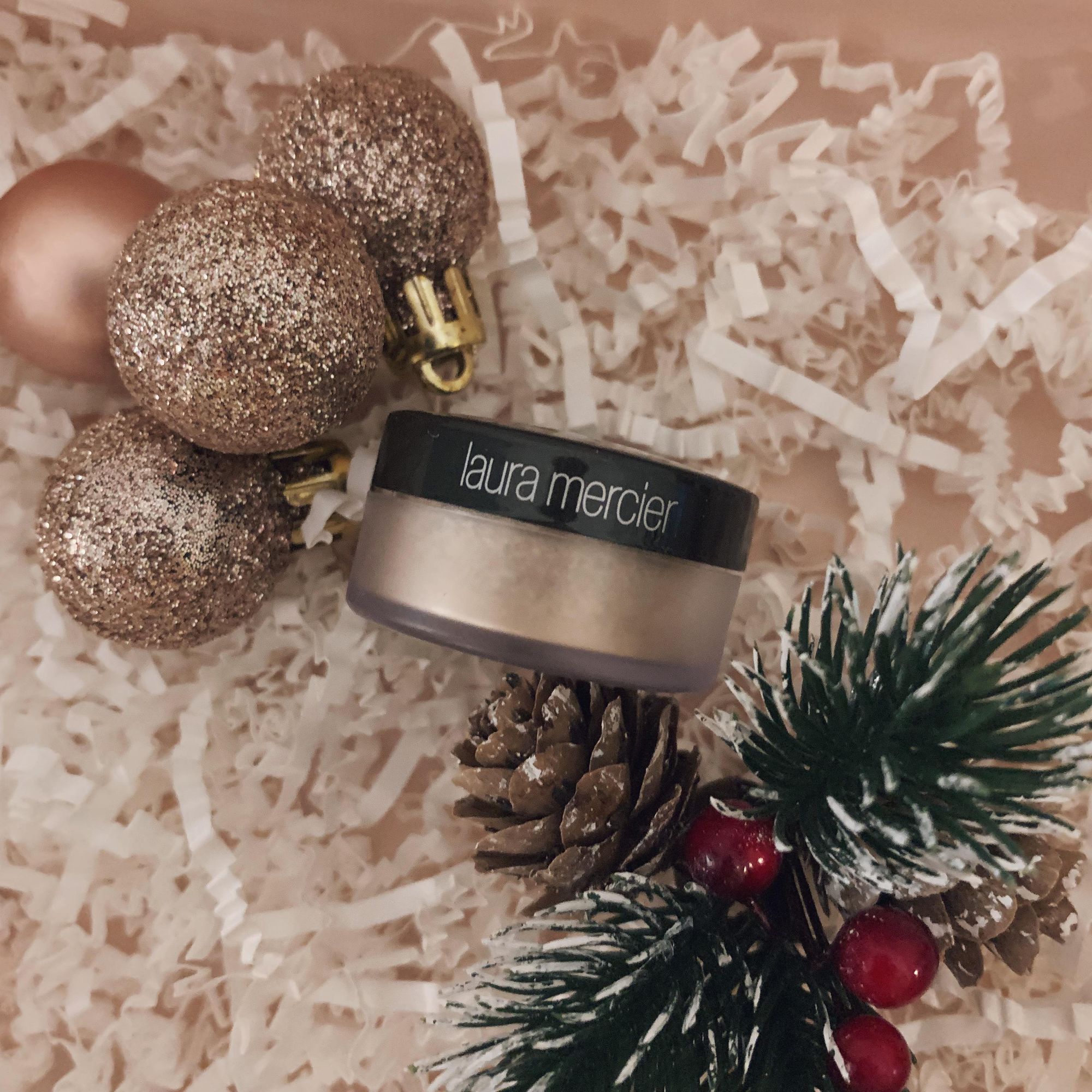 3. NARS BLUSH – ORGASM
Orgasm is probably the most well known Nars Blush shade and you can see why – it's the perfect combination of pink and bronze to give your cheeks a bit of colour but not overly pinky.
The shade blends perfectly with bronzer and contour to create the most natural warm glow on the cheeks. Even if blush isn't a regular step in your makeup routine, winter is the perfect time to try it and add a little colour to the complexion in the cold months.
The Nars Blush in Orgasm is worth £18.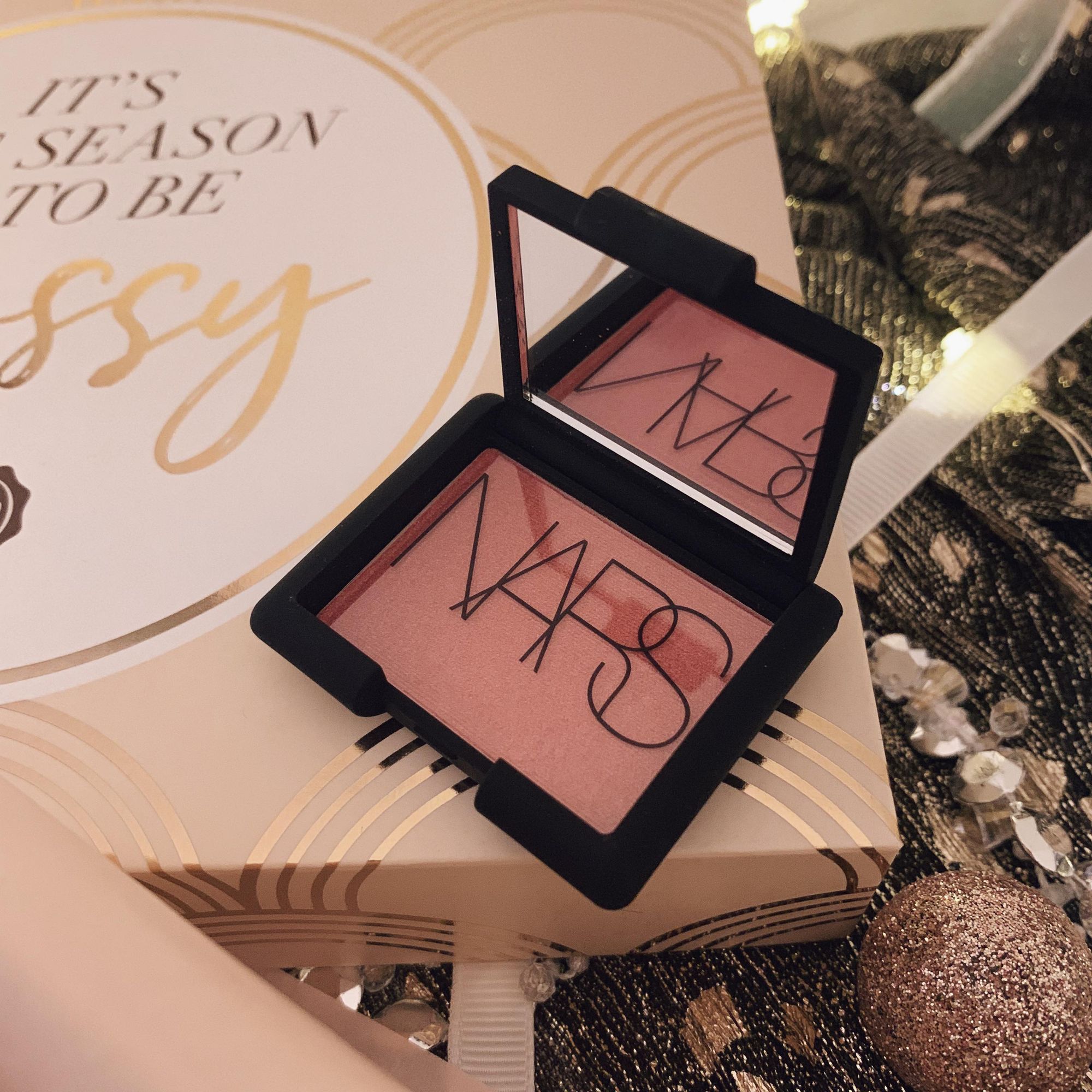 4. BAREMINERALS – COMPLEXION RESCUE DEFENSE SPF30
Ok so this product should be called the Wonder Cream or something along those lines because it's everything your skin needs in winter… and more.
The BareMinerals Complexion Rescue Defense is a daily moisturiser that can be worn on its own or under makeup, it's infused with SPF30 and it works to shield your skin from pollution and blue light. The moisturiser is also vegan and will hydrate your skin whilst evening out skin tone.
If you don't already have an SPF in your skincare/makeup routine this is the perfect way to add one without adding an additional product into your routine.
The BareMinerals Complexion Rescue Defense SPF30 is worth £9.10.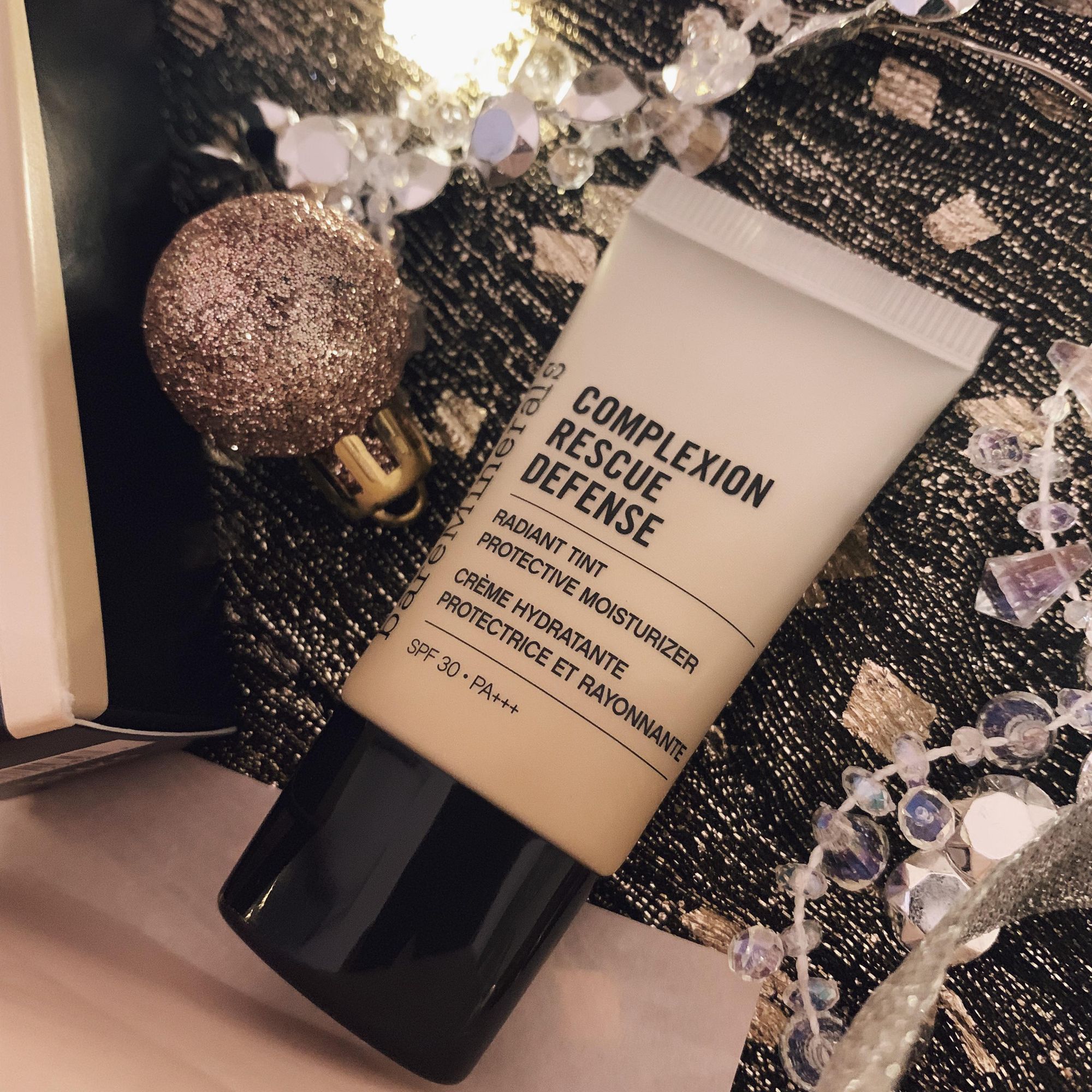 5. LUXIE EYESHADOW BRUSH
If you read my Glossybox posts regularly then you'll know that I'm a big fan of Luxie Brushes – I discovered this brand in a Glossybox and I've been so impressed with their brushes I think they're my fave brush brand. The bristles are always so soft and they apply makeup flawlessly.
The Limited Edition Christmas Glossybox features an eyeshadow brush by Luxie and you'll receive one of two – the Blending Brush or the Precision Shader Brush. In this box I received the Precision Shader which is great for applying shadow to the crease before blending it out. Either brush is a great addition to your collection to create some Glossy Christmas eye looks!
The Luxie Eyeshadow brush is worth £14.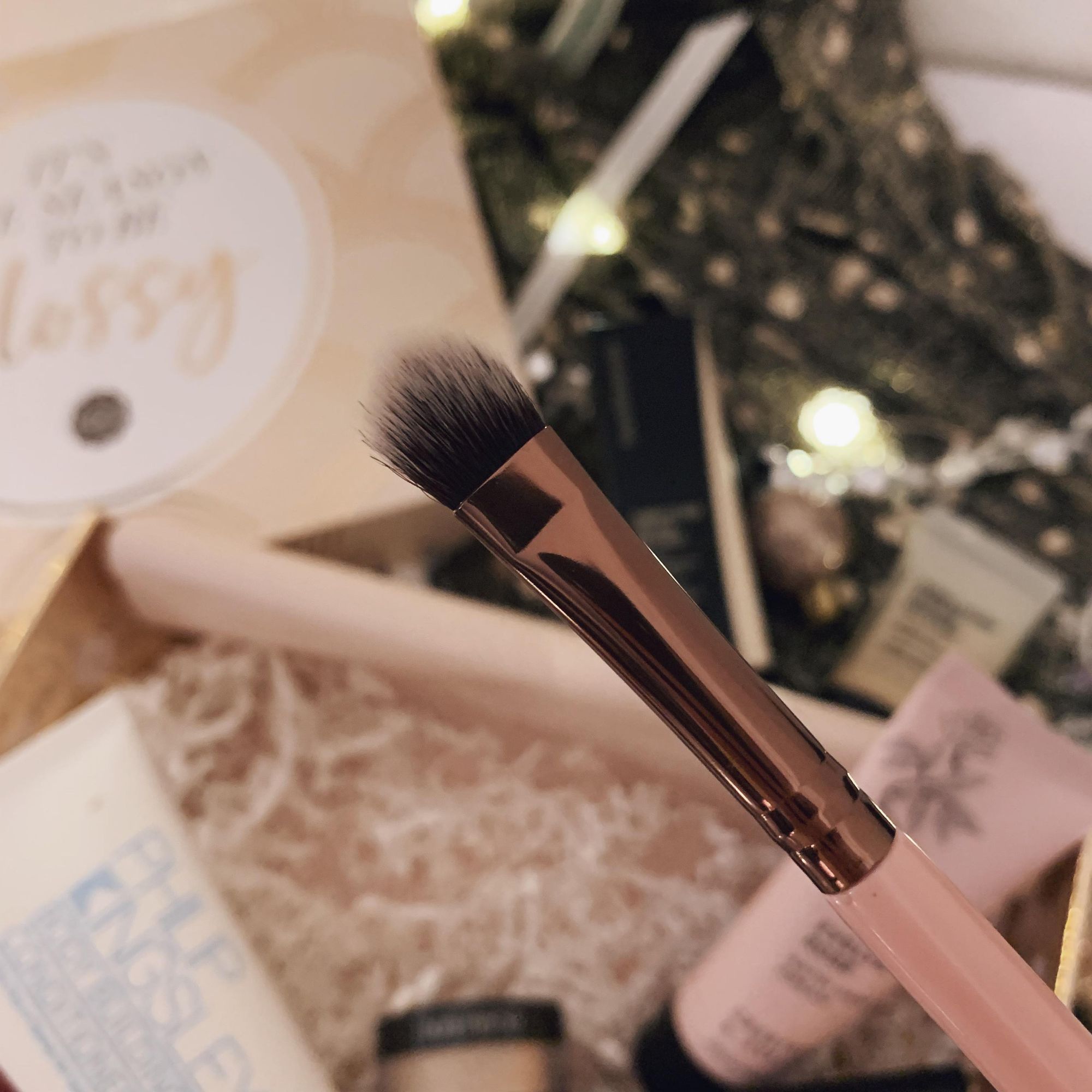 6. RITUALS EAU DE PARFUM – NUIT A MARRAKECH
Who doesn't love trying a new perfume at Christmas?! This travel sized version of Nuit a Marrakech blends subtle saffron with mimosa flowers and cedar wood to create a light floral scent inspired by warm, starry nights in Marrakech – how lush does that sound? And let me tell you… it smells just as incredible.
The Rituals Eau De Parfum Nuit a Marrakech is worth £9.90.
7. SPECTRUM COLLECTIONS MASCARA
Spectrum Collections have finally launched cosmetics and I couldn't be more excited to try them! This Glossybox includes the Mascara from Spectrum, in the shade Dark Matter. If the quality of their makeup brushes is anything to go by… their makeup is going to be incredible! Plus, all Spectrum Collections products are vegan and cruelty free.
The Spectrum Collections Mascara is worth £12.99.
8. CRABTREE AND EVELYN- EVELYN ROSE SATIN HAND CREAM
Whilst we are all party ready with our makeup, this hand cream is the perfect size to keep in your clutch bag to keep your hands soft and nourished whilst you're out in the cold. The Evelyn Rose Satin Hand Cream contains coconut oil, aloe vera and mallow flower extract – so not only does it smell fab, it softens, smooths and hydrates your skin. There's also rosehip seed oil and rose water inside – 2 ingredients your skin loves (and they smell so good!).
The Crabtree and Evelyn – Evelyn Rose Satin Hand Cream is full size, worth £9.
9. ECOOKING MOISTURIZING MASK
A Moisturising Face Mask is exactly what your skin needs in the cold winter months to replenish and hydrate the skin, protecting it from the cold air. This Moisturizing mask from Ecooking is made of purely natural ingredients (see more about Ecooking products in my post here) including shea butter, sunflower oil, hyaluronic acid glycerine and vitamin E. Just 10 minutes of this mask on your skin is all you need for the ingredients to get to work, leaving your complexion restored and hydrated.
The Ecooking Moisturizing Mask is a deluxe mini and is worth £9.60.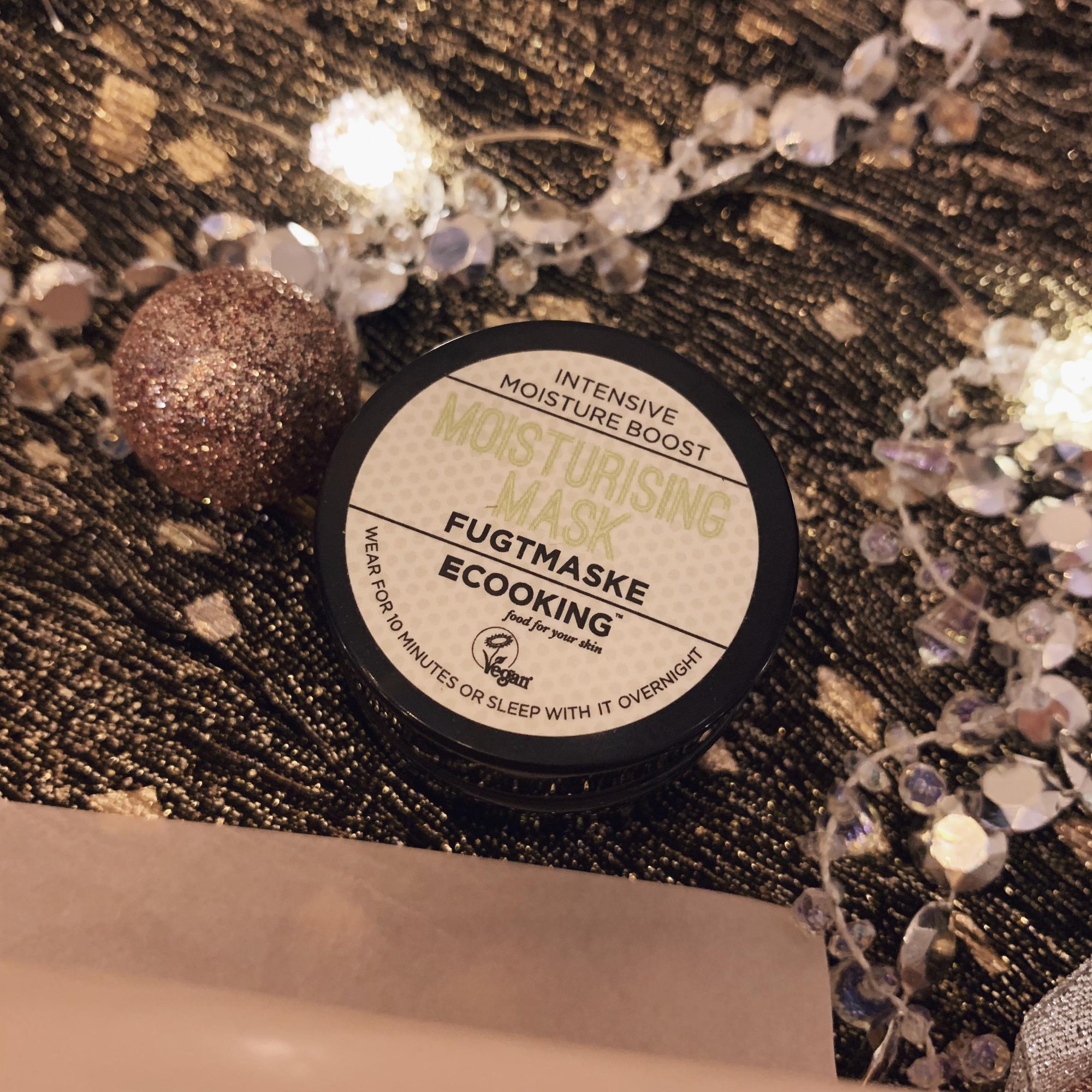 10. PHILIP KINGSLEY BODY BUILDING CONDITIONER
Give your hair a little more volume with this Body Building Conditioner by Philip Kingsley – it works as a hydrating conditioner, nourishing your locks but also tames flyaways and smooths frizz too. Use in place of your regular conditioner and rinse out thoroughly.
The Philip Kingsley Body Building Conditioner is worth £10.50.
11. YANKEE CANDLE – SMALL JAR CANDLE
There's nothing better at Christmas then getting cosy on the sofa, lighting a Christmas candle and watching a Christmas film… so to finish off the Limited Edition Christmas Glossybox we have one of four Small Jar Yankee Candles. You'll either receive Red Apple Wreath, Christmas Eve, Christmas Cookie or Christmas Magic – light the candle and enjoy the Christmassy scents dance through your house. These all smell incredible!
The Small Jar Yankee Candles are worth £8.99.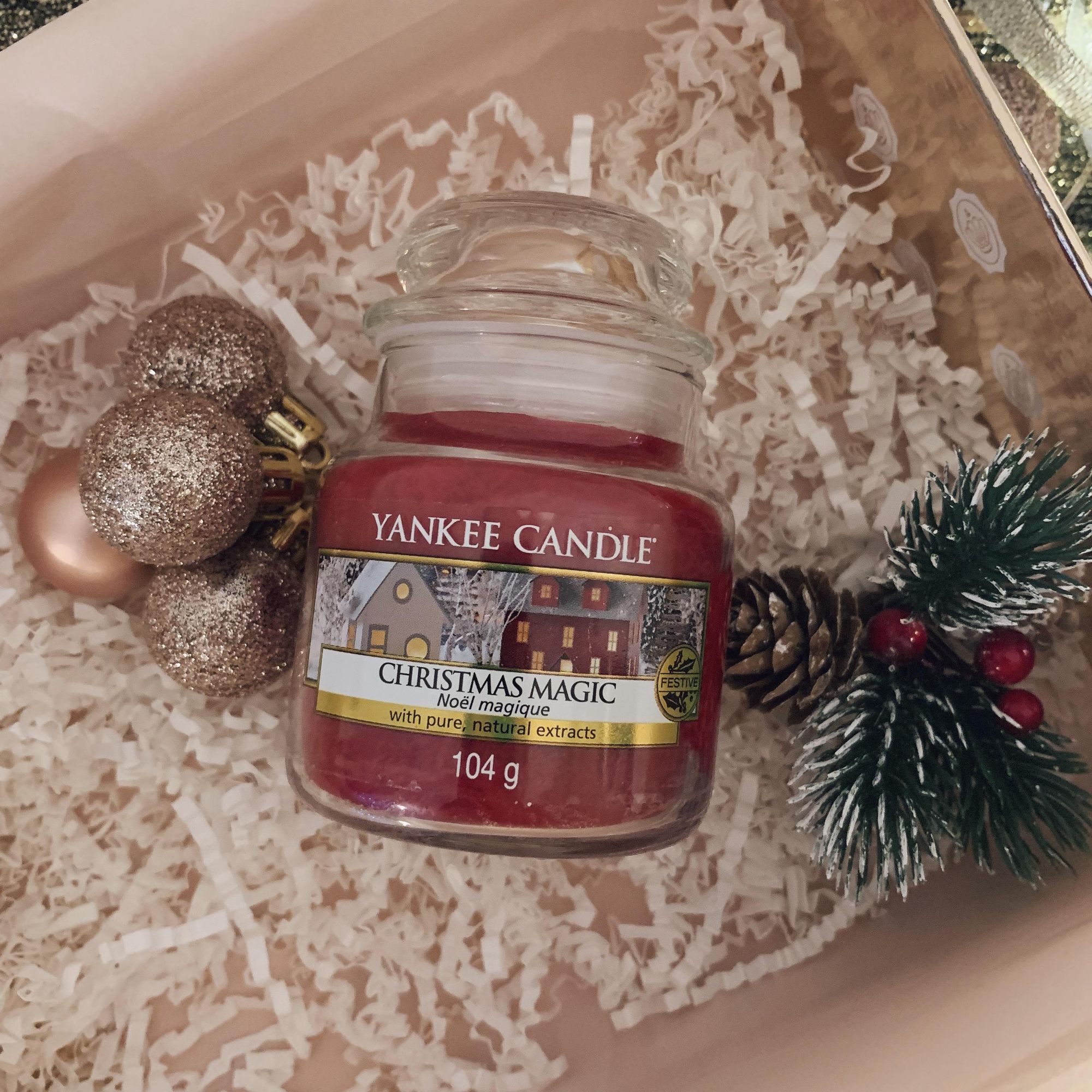 So set your alarms Glossies… 7am Monday 2nd December this Limited Edition Christmas Glossybox can be yours!
If you're not a Glossy but you want to get your hands on this, sign up to Glossybox and use code GLOSSYCYBER to get 50% off your first box, making it only £5!
Merry Christmas Glossies!