There's nothing we love more than a Kylie Cosmetics launch… apart from a surprise launch! The latest Kylie Cosmetics launch was kept hush hush until this week when she posted a picture on her Instagram with the caption 'Paris is always a good idea'. The photo showed Kylie stood with Balmain's Creative Director, Olivier Rousteing wearing a goregeous Balmain dress designed by Olivier, paired with a statement belt inspired by a Kyshadow palette.
Kylie's collaborations have always been kept in the family with collections such as Koko or KKW, but this is the first collaboration outside of the Kardashian Jenner fam. And it's a big one, let me tell you!
If you haven't guessed already, the latest collection is a collaboration between Kylie Cosmetics and Balmain.

Balmain.

Can we just take a minute to let that sink in.

Kylie Cosmetics x Balmain launches this Friday 27th September just in time for Paris Fashion Week… which is also in collaboration with Kylie Cosmetics. Kylie will in fact be the artistic director of makeup at the Show and we can't wait to see her talent! The Kylie Cosmetics x Balmain collection will drop on the same day as the Balmain Spring 2020 Fashion Week Show.

Seriously… how incredible?!

To make this collection happen Kylie has teamed up with her friend Olivier Rousteing who has dressed Kylie and her fam in his designs on several occasions.
WHAT'S IN THE KYLIE COSMETICS X BALMAIN COLLECTION?
The Kylie Cosmetics x Balmain collection isn't one of Kylie's largest collections in terms of number of products… but the 3 products which make up the collection are EVERYTHING. Let's take a look at them!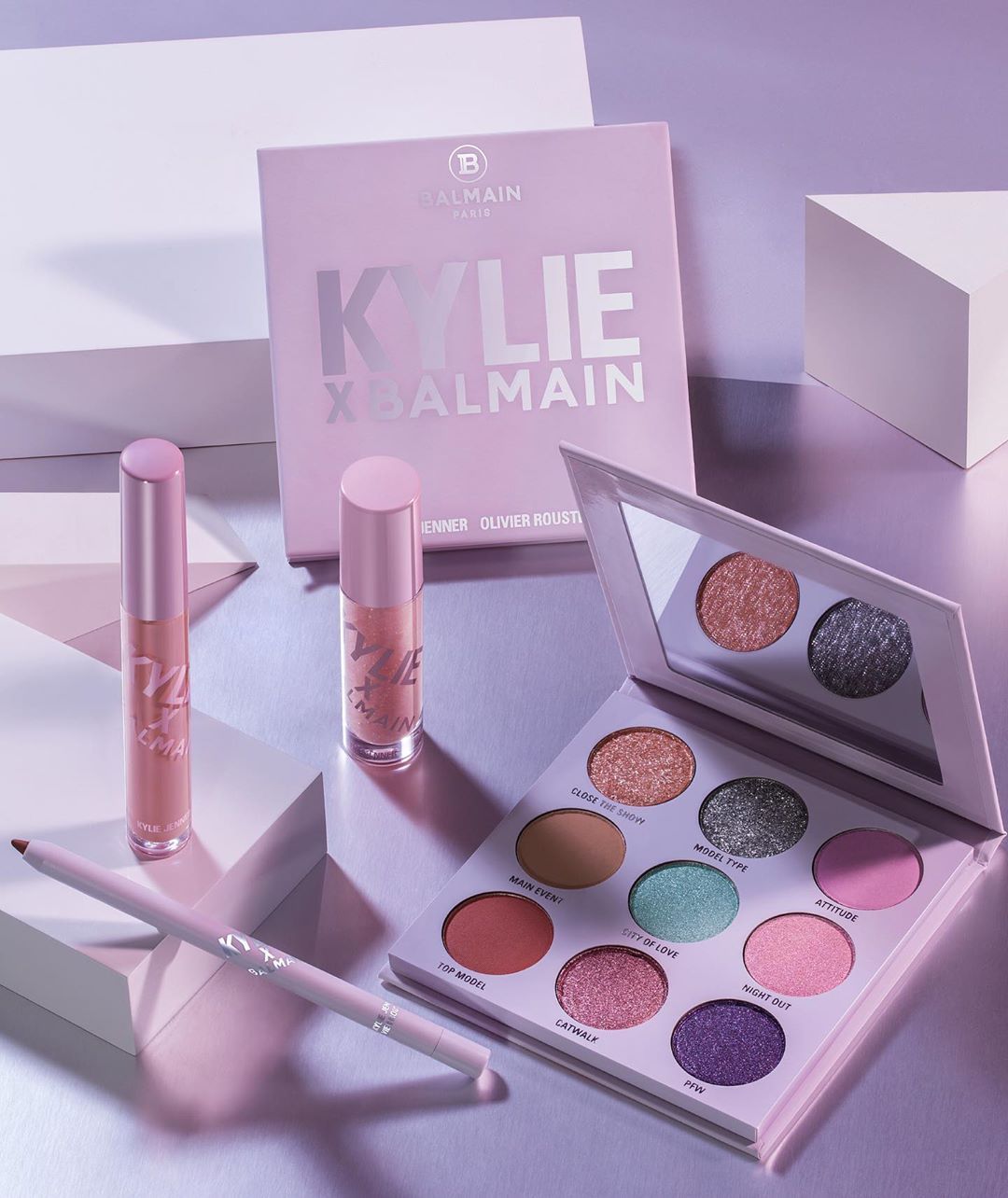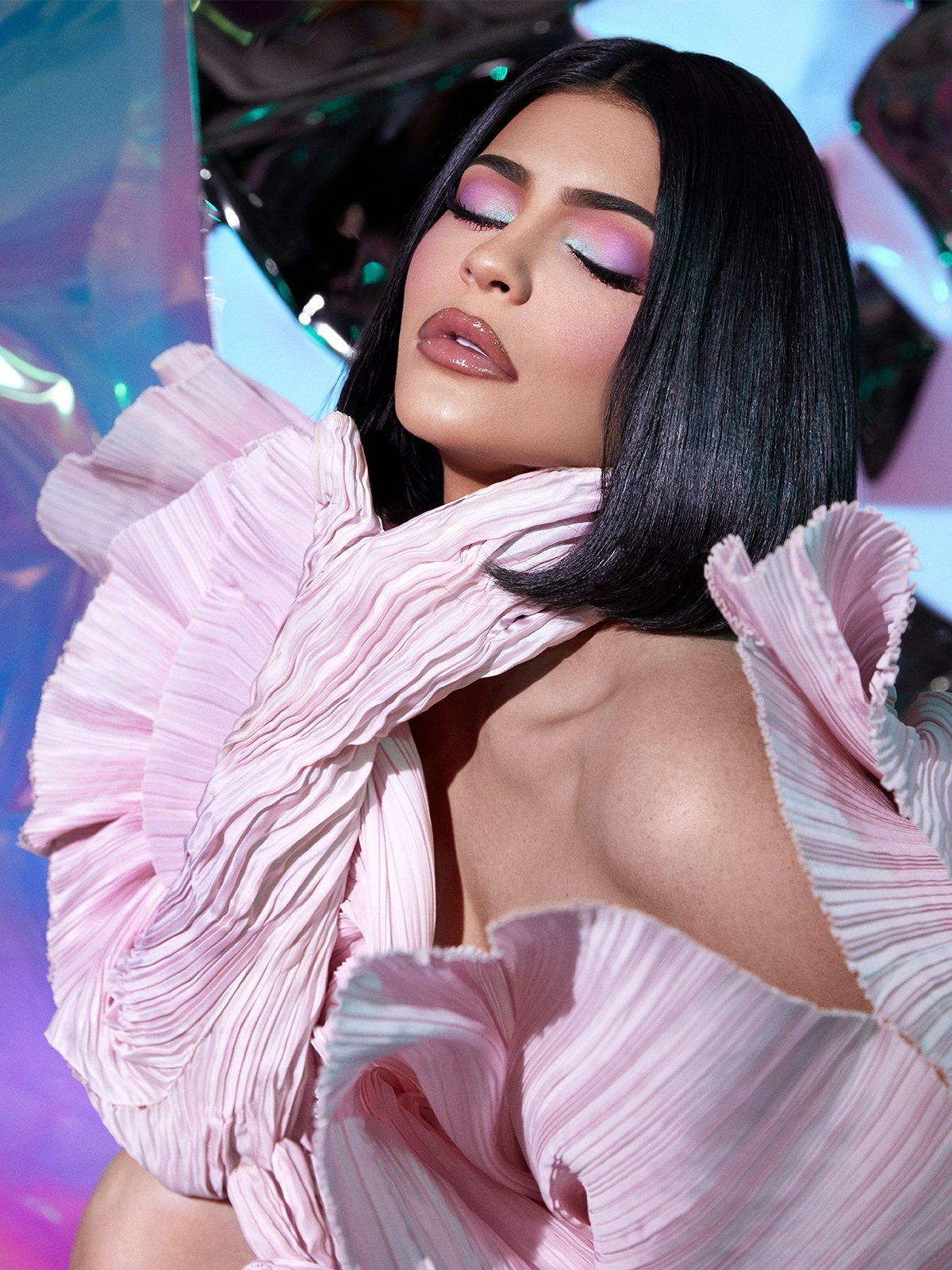 1. BALMAIN PALETTE KYSHADOW $42
Would it be a new collection without a brand new eyeshadow palette? This one is a 9-pan dream palette with 6 metallics and 3 matte shades that can be used to create those bold runway looks (which we will see on Friday) as well as those softer glam looks.
Like usual when there's a new Kylie Cosmetics launch, Kylie shared swatches on her Instagram story and the pigments are incredible as expected! The palette sports 3 pinky shades, 3 nude/rust tones, a metallic pastel green and 2 metallic darker shades – a silver/grey and a blue. With names including 'Close The Show', 'Top Model' and 'PFW', the Balmain Fashion Week Show will be in your mind whenever you use the palette!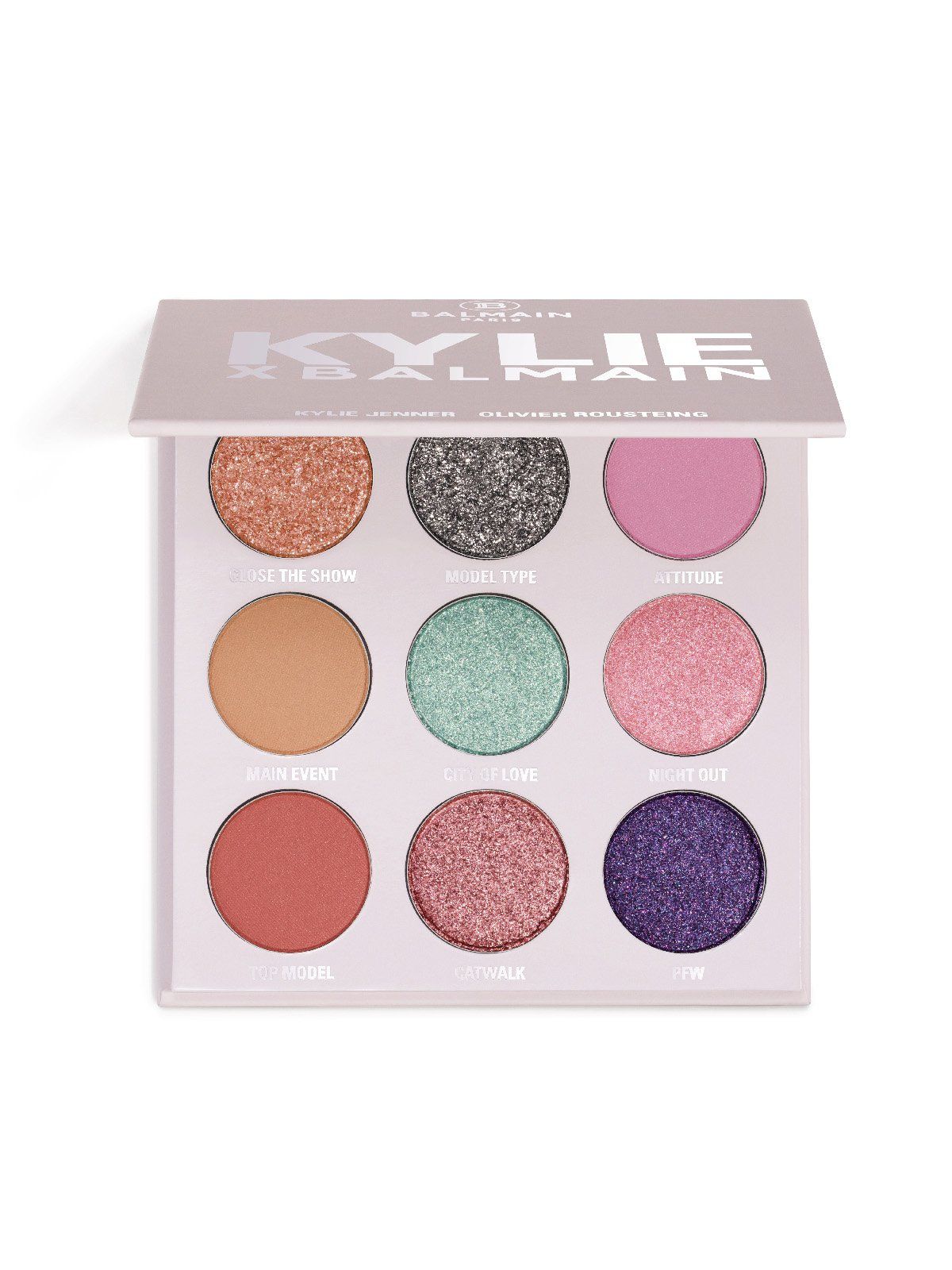 2. 'PARIS' MATTE LIP KIT $29
Of course, there is a special matte lip kit designed especially for this collection. And the colour is perfection. The liquid lipstick is a pale pink shade whilst the lip linker is a chocolate shade – this might not sound like it will look great together… but with a touch of ombre effect this duo makes the lips look unreal! It's definitely going to be a new fave!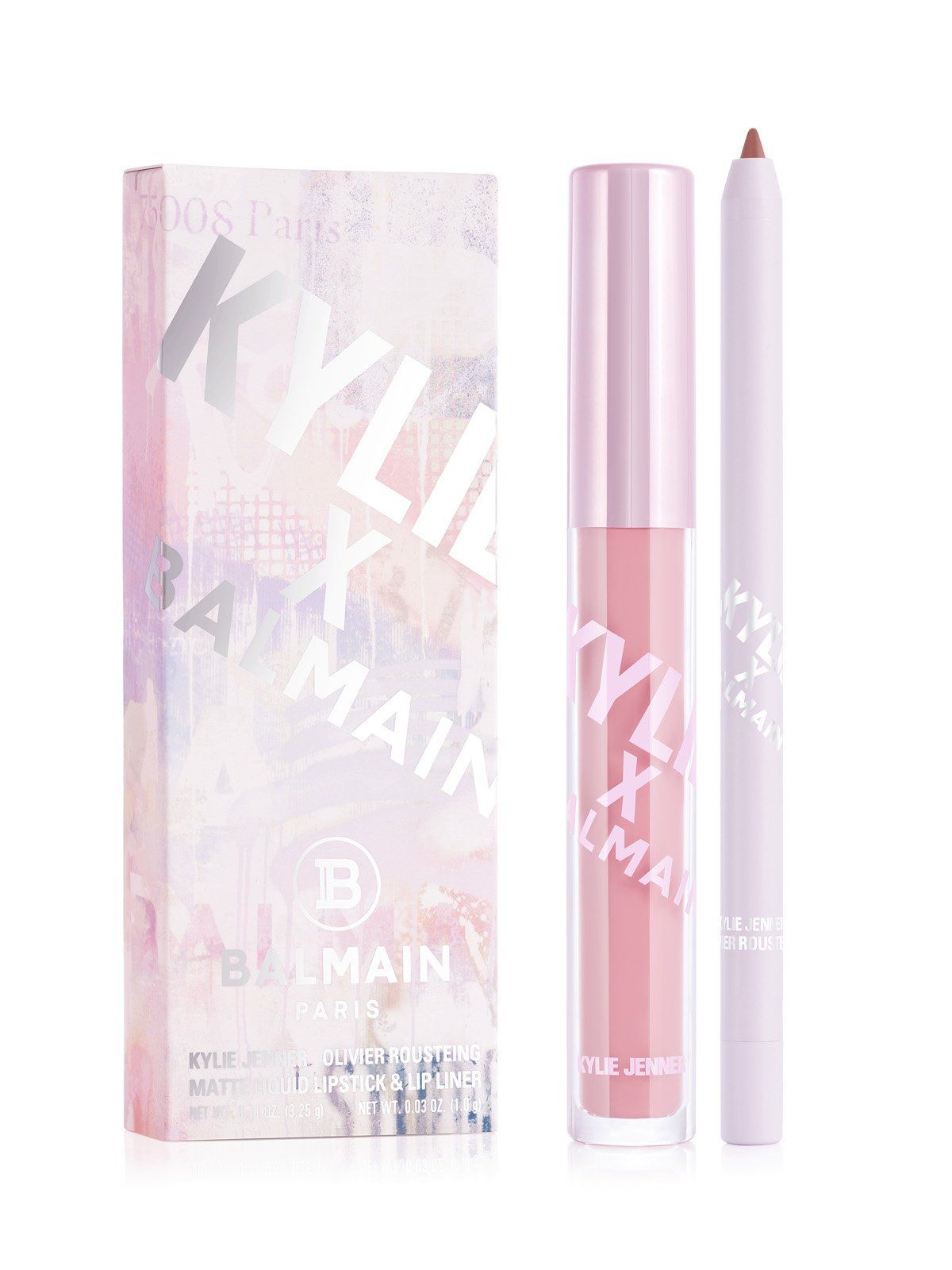 3. 'MODEL BEHAVIOUR' HIGH GLOSS $26
Kylie is adding another High Gloss to the Cosmetics family in a cotton candy shade with gorgeous flecks of shimmer. I'd imagine this would make your lips pop under any light! The perfect gloss to wear alone or over the Paris lip kit.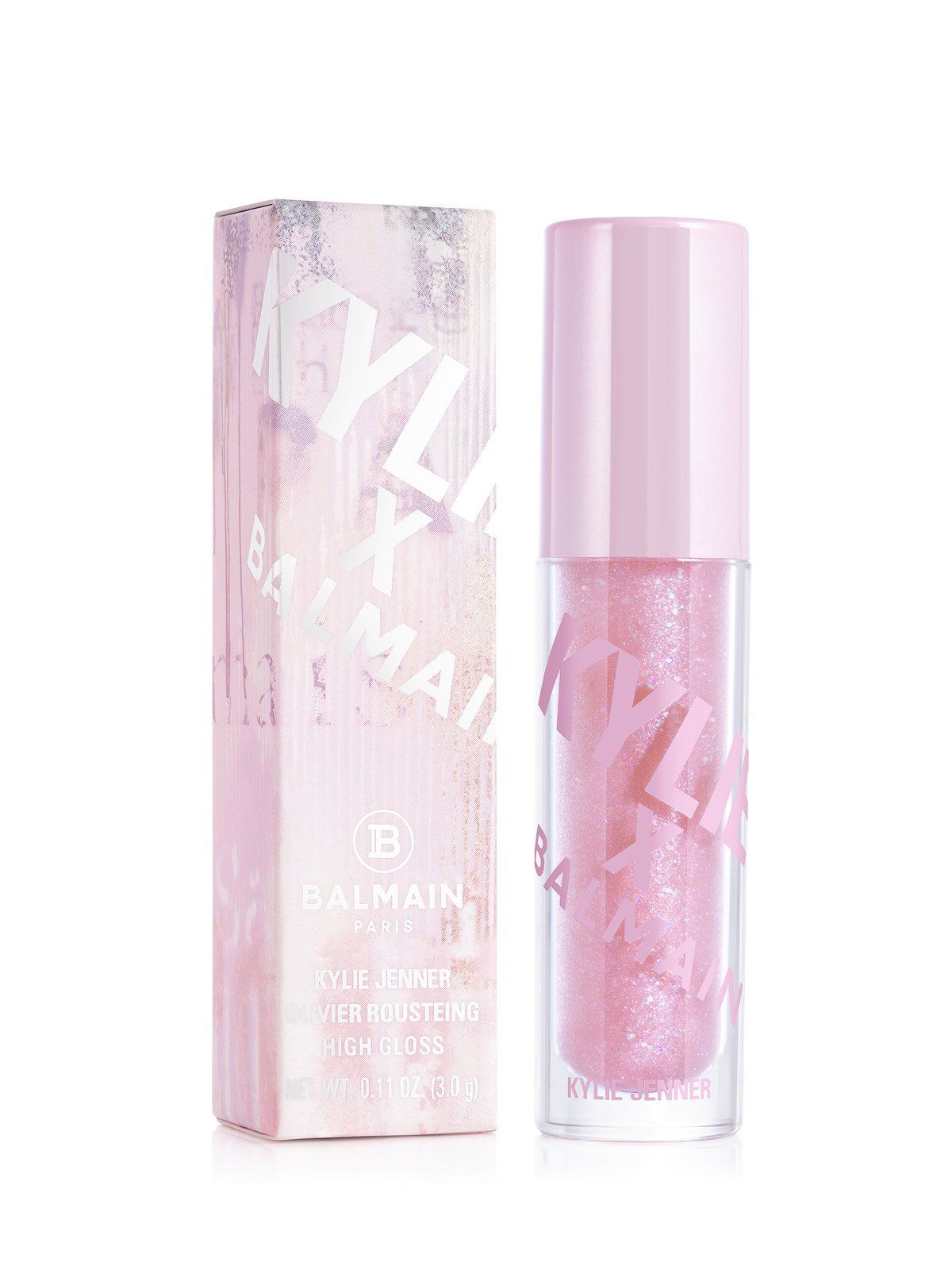 And of course the packaging in this collaboration is show stopping. Designed exclusively for this collaboration, the designer took inspiration from the Balmain Fall/Winter 2020 runway with pastel tones and Parisian prints…. It looks so lux.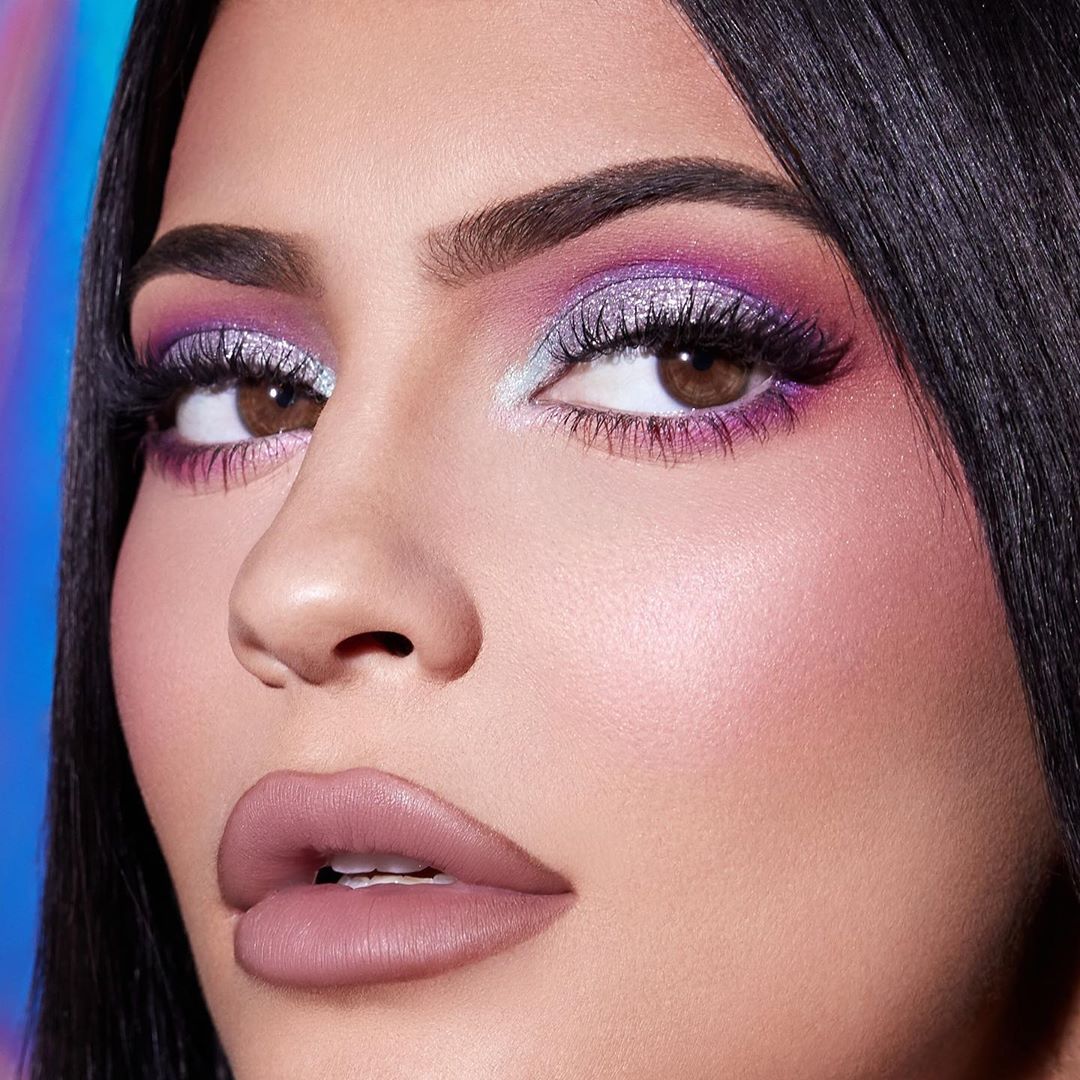 You can pick up the whole collection when it drops at 8am PST on Friday 27 September 2019. There'll also be the option to buy everything in a bundle for $75 (saving $22) or just the 2 lip products for $38 (saving $17).