Latest in Beauty are best known for their monthly beauty box subscription which is slightly different than other beauty box companies out there. With Latest in Beauty you receive a monthly box of beauty treats from skincare to makeup and beauty tools… but you get to choose which products you receive.
Each month you log into your Latest in Beauty account and select six beauty products to go into your box. If you forget to choose you receive 6 random products. The box itself begins at £12.95 a month plus postage, but the longer you sign up for, 3 months, 6 months or 12 months, you pay slightly less.
I've never tried a Latest in Beauty monthly box, but I was having a browse on their website and found that they had two Limited Edition boxes which were just incredible value. One of those was the Sunday Times Style – The #BeautyBOSS Edit which held 18 products, some of which were full sized and in total worth £234… it was on sale for only £50.
£50 for 18 products… I just couldn't say no.
The products in this box were selected by the Sunday Times Style's beauty director, Sarah Jossel who reviews the latest beauty products for her weekly column. So everything in this box has been tried and tested by her and she recommends them.
So let's take a look at what's inside this incredible beauty box: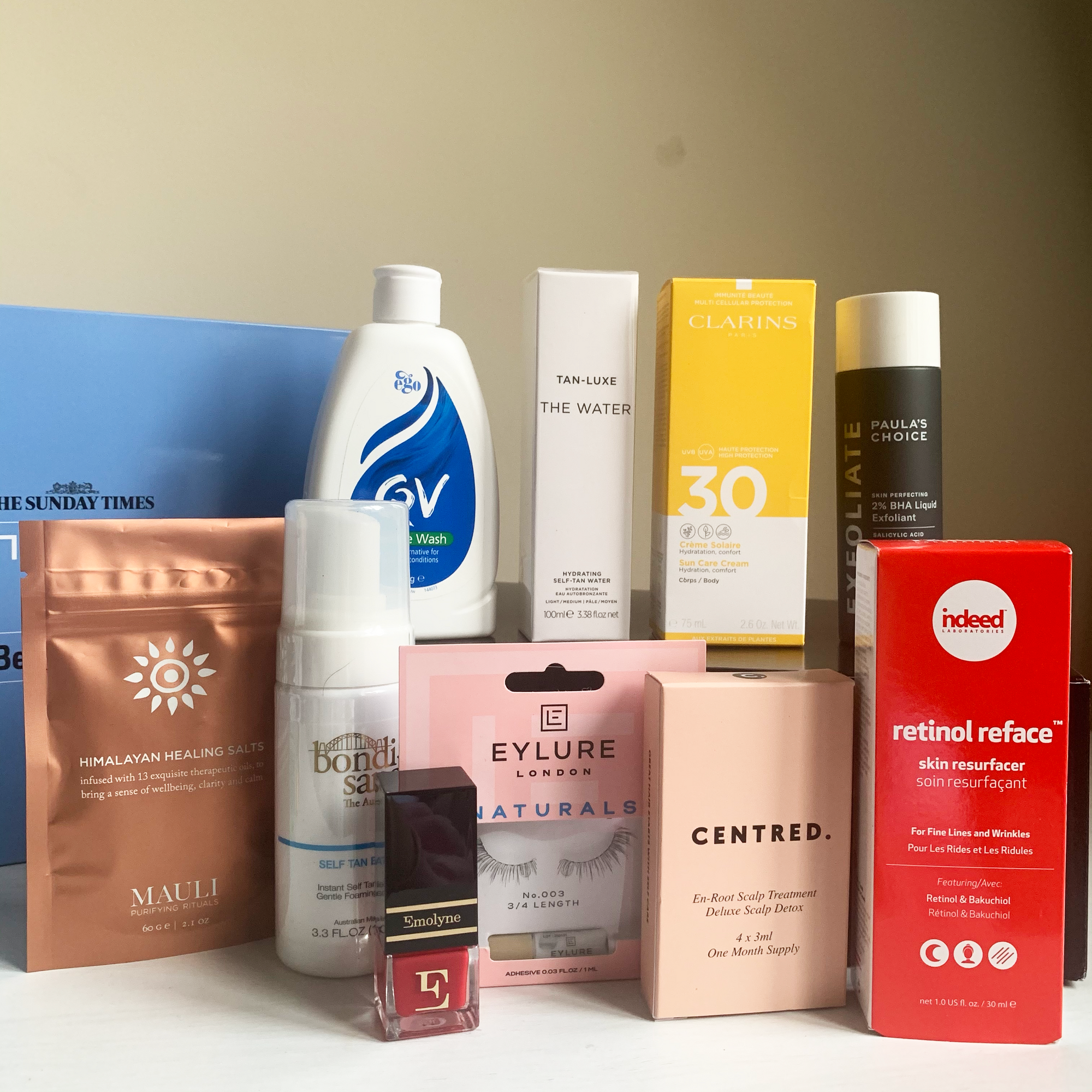 1. EYLURE – NATURALS NO 003
First is a set of eyelashes from Eylure – one of my favourite eyelash brands. The Naturals 003 are 3/4 length and more subtle than other false lashes. These are perfect for a daytime makeup look or for beginners who want to get used to applying eyelashes. As with all Eylure lashes, they are reusable up to 5 times (just be sure to remove the excess glue before reapplying).
2. CENTRED EN-ROOT SCALP TREATMENT
Inside this box from Centred are four 3ml sachets of scalp treatment which works to exfoliate and replenish moisture on the scalp. These are great if you have a dry or flaky scalp as they contain salicylic acid to exfoliate and remove the dead skin cells and product build up. They contain jojoba, hemp seed, argan and coconut oil to moisturise the scalp too.
You can get £5 off at wearecentred.com with code LIBST5 until 15 June 2021.
3. MAULI – RITUALS HIMALAYAN HEALING SALTS
One for the body and the mind now with these Rituals Himalayan Healing Salts. These are infused with a blend of 13 therapeutic oils, laced with soothing powdered rose quartz crystals. These help to sooth muscles, cleanse toxins and restore ph levels in just 15 minutes.
You can get 15% off maulirituals.com using code BEAUTYBOSS until 15 October 2021.
4. QV – GENTLE WASH
If you've got dry skin, or conditions such as eczema or psoriasis then this body wash is for you. This is a soap free alternative to cleansers to treat dry skin. It doesn't contain common irritants and it doesn't strip the skin's natural oils.
You can get 25% off QV Gentle Wash at qvskincare.co.uk using code QVGWASH25 until 15 April 2021.
5. GARNIER – AMBRE SOLAIRE SENSITIVE ADVANCED FACE PROTECTION MIST SPF50
Sunscreen in winter? I know it might seem strange to many people, but sunscreen is an essential in a skincare routine all year round. So this product is perfect! This face mist from Garnier not only provides UV protection but also protects against free radicals, pollution and dehydration.
These face mists can be applied as the last step in a skincare routine and then they can also be used over makeup as a top up throughout the day.
6. INDEED LABORATORIES – RETINOL REFACE
An anti-aging product for those of us looking to hold on to our youth for as long as possible! The Retinol Reface from Indeed Laboratories is a skin resurfacer and intensive wrinkle repair. It contains retinol which is known to reduce the signs of fine lines and wrinkles. The 3-in-1 formula also contains bakuchiol and a retinol-like-peptide to keep skin looking smooth and youthful.
7. CAROLINA HERRERA – THE LIPSTICK SATIN IN RED CAROLINA
The tiny zebra print product right there is a lipstick… how cute is it?! In the box you receive one of two shades, a red or a deep purple. I received the red shade which I'm pleased about as red is much more my colour than berry!
The lipstick is said to be super moisturising on the lips and it doesn't fade. What's different about these is you can choose which charm to add to the top of the tube and it also clips onto your keys or bad – so you'll never be without a lipstick!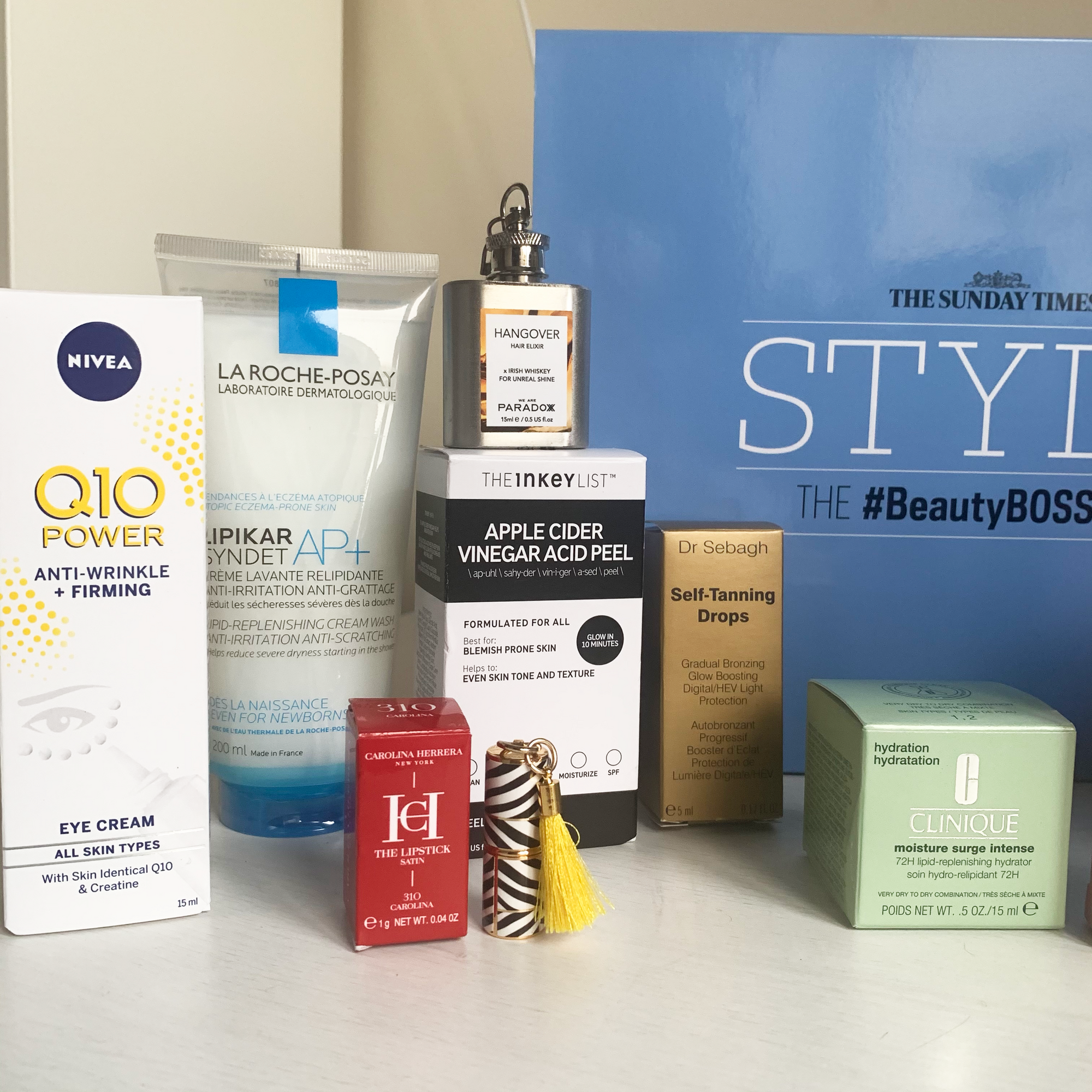 8. EMOLYNE METAMORPHOSIS – GEL LACQUER IN LAGOS
And to match perfectly with the red lipstick is the Emolyne Metamorphosis Gel Lacquer in the shade Lagos which is a gorgeous red shade too. This was pure coincidence as you could have received one of 10 shades.
The nail varnish is super glossy and gives that high end manicure look from home – just what we need right now in lockdown! It's also vegan friendly.
You can get 15% off emolyne.com using code STSXEMOLYNE15 until 15 April 2021.
9. LA ROCHE-POSAY – LIPIKAR SYNDET AP+ LIQUID REPLENISHING WASH CREAM
We then have another body wash but this time from La Roche-Posay. Another product that is perfect for dry or sensitive skin – this one seems more suited to everyone's skin type and will be great for the colder months to ensure our skin retains moisture.
It contains glycerin, shea butter and niacinamide which are all great ingredients for the skin. However, it does contain sodium laureate sulphate which is a drying ingredient… maybe this is balanced out with the shea butter and glycerin though.
10. DR SEBAGH – SELF TANNING DROPS
With holidays off the cards for this year, tanning drops are our next best thing for a natural looking tan. These Self Tanning Drops from Dr Sebagh give a healthy loving glow whilst also protecting against HEV light (high energy visible light). This light is emitted from phones and laptops. The drops also contain HEV melanin in a fractionated form which provides a higher level of protection and also helps protect the skin from the effects of oxidative stress.
Simply add 2-3 drops to your usual moisturiser for a natural look.
You can get 50% off Dr Sebagh Serum Repair at drsebagh.com using code SUNTIMES50 until 31 January 2021.
11. WE ARE PARADOXX – HANGOVER HAIR ELIXIR
This is definitely the coolest container that I've ever received a hair product in! The Hangover Hair Elixir from We Are Paradoxx is an oil serum which restores damaged hair, adds shine and smooths frizz. It also contains Irish Whiskey which helps to add strength, shine and bounce.
You can get 20% off weareparadoxx.com using code BOSS20 until 15 April 2021.
12. THE INKEY LIST – APPLE CIDER VINEGAR ACID PEEL
Next is a face peel from the Inkey List. The Apple Cider Vinegar Acid Peel work to exfoliate the skin, brighten and reduce redness and breakouts. It is packed with antioxidants to brighten whilst minimising the appearance of pores and marks.
It also contains glycolic acid to smooth and refine the skin's texture.
In the box we also received a complementary consultation with the Inkey List.
13. NIVEA Q10 POWER ANTI-WRINKE + FIRMING EYE CREAM
The Nivea Q10 Power Eye Cream is the first anti-wrinkle moisturiser for the eye area which contains coq10 identical to that in the skin to ensure it works in perfect harmony. It's suitable for all skin types and works to smooth the under eye area and reduce dark circles.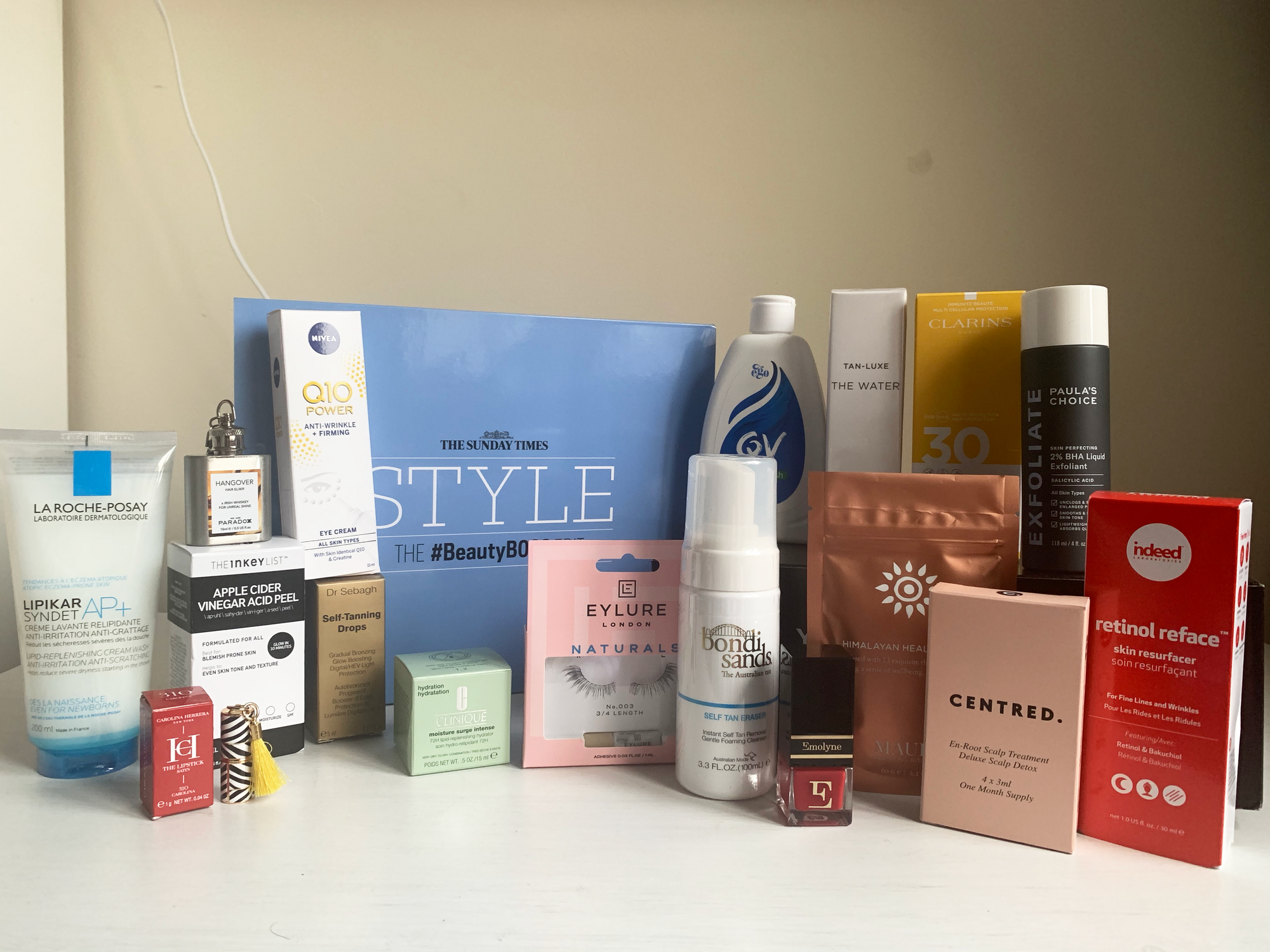 14. CLINIQUE – MOISTURE SURGE INTENSE – 72H LIPID REPLENISHING HYDRATOR
This is a new product from Clinique and again is another product which is great for dry skin. The Moisture Surge Intense is a rich cream gel which contains cica, hyaluronic acid and activated aloe water to intensely moisturise and nourish the skin, keeping it hydrated for 72 hours.
However it also contains whey protein, so it's definitely not suitable for vegans and with my milk allergy, I can't use it. I don't understand why brands include cows milk in beauty products?!
You can use code BEAUTYBOSS for 15% off Clinique.co.uk until 30 April 2021.
15. BONDI SANDS – SELF TAN ERASER
Another tanning product now but this one is to remove the tan rather than apply it. Instead of scrubbing away at your tan with a shower puff, this self tan eraser easily removes tan within 5 minutes. It moisturises the skin too, leaving it silky smooth.
Use code LIB20 for 20% off bondisands.co.uk until 15 April 2021.
16. CLARINS – SUN CARE CREAM BODY UVA/UVB
Another sunscreen product but this time for the body rather than the face. A UVA and UVB protection with SPF30 this is a great sunscreen for the whole body. It's said to absorb quickly without streaks and dries with a soft velvety finish.
17. PAULA'S CHOICE – SKIN PERFECTING 2% BHA LIQUID EXFOLIANT
This is my favourite product in the whole box – and the reason I purchased the box, because I needed a new one! The Paula's Choice BHA Liquid Exfoliant is hands down the best chemical exfoliant I've ever used. It's a fast absorbing liquid that works to gently exfoliate the skin, remove dead skin cells and fight blackheads too.
It contains salicylic acid and green tea extracts which work as anti-inflammatories.
Use code BEAUTYBOSS to get £5 off your first order over £25 at paulaschoice.co.uk until 15 April 2021.
18. TAN LUXE – THE WATER IN LIGHT/MEDIUM
The final product in the box is definitely not the least incredible product! The Water by Tan Luxe is self tanning mist which is super hydrating on the skin. It contains Vitamin B, C E and raspberry oil and gives the most natural looking tan without streaks.
The #BeautyBOSS Edit is still available on Latest in Beauty right now. There's also another edit put together by India Knight, which is another fabulous box worth checking out.
Latest in Beauty have also released an Advent Calendar this year, but slightly different than you'd expect – there are no doors or numbers, just a huge box of goodies. So if you want to check that out, here's the link.