The first box of a new year and Look Fantastic have put together the perfect selection of products to represent their chosen theme… Restoration. Look Fantastic are steering clear of the New Year New Me mantra that usually comes along with the 1st of January and instead are focussing on how we can better ourselves rather than change ourselves. 2021 is all about becoming the best version of yourself. And after the shambles that 2020 was, I think we all deserve some time to give ourselves a pamper.
The box this month is a gorgeous lilac colour… not only is this a cute shade, but Look Fantastic chose to use this colour as it signifies strength, peace and wisdom. Three qualities that are incredibly welcome this year as we (hopefully!) come out of the pandemic.
If you're new to the Look Fantastic Beauty Box, it's a monthly subscription box where you receive six products every month, ranging from makeup and skincare, to haircare and cosmetics. The box is always worth over £50 and subscriptions start from only £13 per month. If you want to subscribe you can sign up for a 1, 3, 6 or 12 month subscription and you can also use discount code BOUXBB to get 10% off your first box.
Here's what's inside the January Look Fantastic Beauty Box:
1. SVR Hydraline Intense Moisturising Cream (40ml)
First up to get our skin in great condition is an Intense Moisturising Cream from SVR. It's perfect for those with dry or sensitive skin as it works to keep skin moisturised for up to 24 hours. During these colder months, an intense moisturiser is always welcome, especially at the moment when most of us are spending a lot of our time indoors with heating on, drying out the skin!
2. So Eco Complexion Sponge
Whether you're recognising Veganuary or you just like to do your bit for the planet, this Complexion Sponge from So Eco has got your back. A makeup sponge/beauty blender for applying cream and liquid products to the skin to create a flawless finish. The texture of the sponge is perfect and the pointed tip makes it easy to apply makeup around the nose and eye area.
3. Grow Gorgeous Balance Overnight Mask (30ml)
The hair isn't being left out of our New Year pamper session… this Grow Gorgeous Balance Overnight Mask will nourish the hair overnight as you sleep, leaving it silky smooth the next morning. It also works to enhance shine, lock in moisture and leave your hair frizz free. It's not only vegan but also free from sulphates, parabens and silicones. Plus, Grow Gorgeous products smell incredible!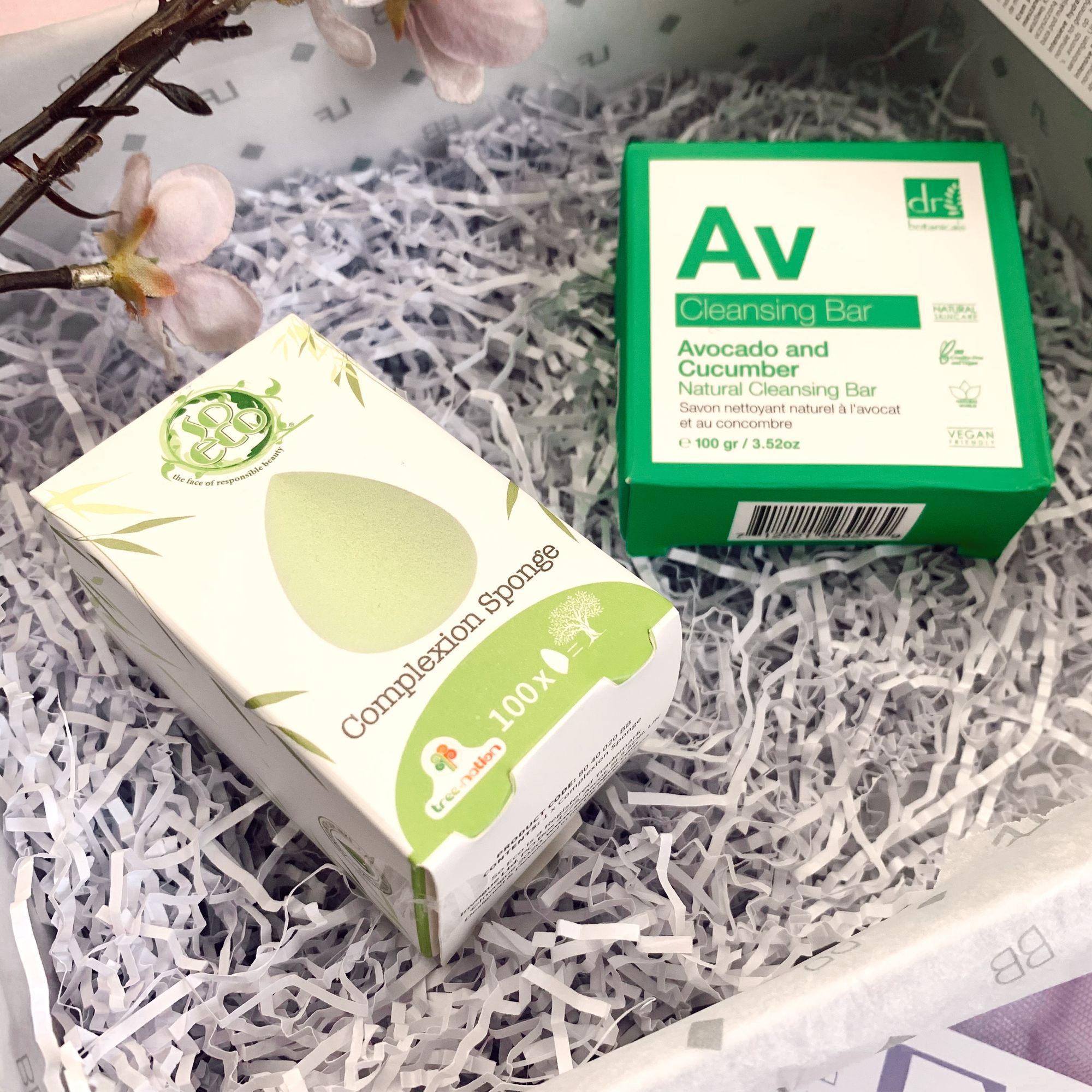 4. Dr Botanicals Avocado and Cucumber Natural Cleansing Bar
As you remove the lid of the January Beauty Box, this is what you can smell and it smells incredible! It's such a gorgeous, refreshing scent that floats out of the box as you dive in. This cleansing bar from Dr Botanicals is a gentle antibacterial soap that you can use on both the face and body. It makes the perfect alternative to shower gel - no plastic bottle, just a cardboard box holding the soap - so much better for the environment! I personally wouldn't use this on my face but my body is going to smell amazing when I start using it in the shower!
(You either receive this Cleansing Bar, or the Verso Eye Cream (7ml))
5.  Sleek Matte Me Liquid Lipstick - shade French Fancy
The makeup product in this month's box is from Sleek Makeup. You receive one of four shades of the Sleek Matte Me Lipstick, ranging from a nude, deeper nude, pink or red shade. I received French Fancy which is the bright pink shade - too pink for me! The lipstick itself is creamy to apply but dries perfectly matte and is supposed to last all day without drying out or flaking on the lips.
6. Starskin Hollywood Hand Model Hand Mask Gloves
The final product is to give our hands a little TLC. Let's face it, our hands have been through a lot this past year, and have definitely seen their fair share of alcohol gels, soap and disinfectant… These Hand Mask Gloves contain shea butter, goji berry, macadamia but oil and olive oil to nourish and hydrate the hands. To use, you apply the gloves to the hands, sit back and relax whilst they work their magic, and once you remove them your hands will be super soft and supple.