February is the month of love and Glossybox are celebrating it the best way they know how – with a themed Glossybox.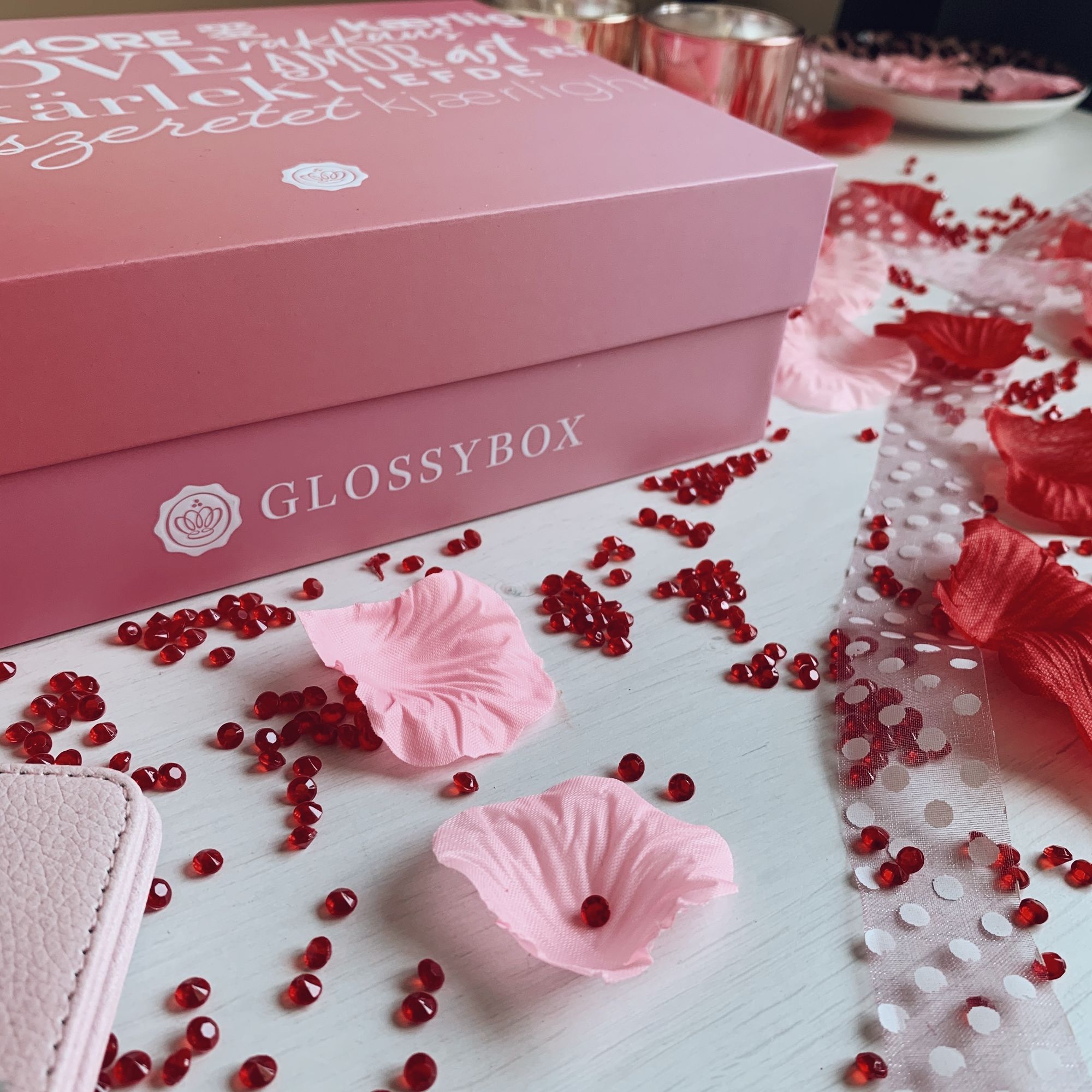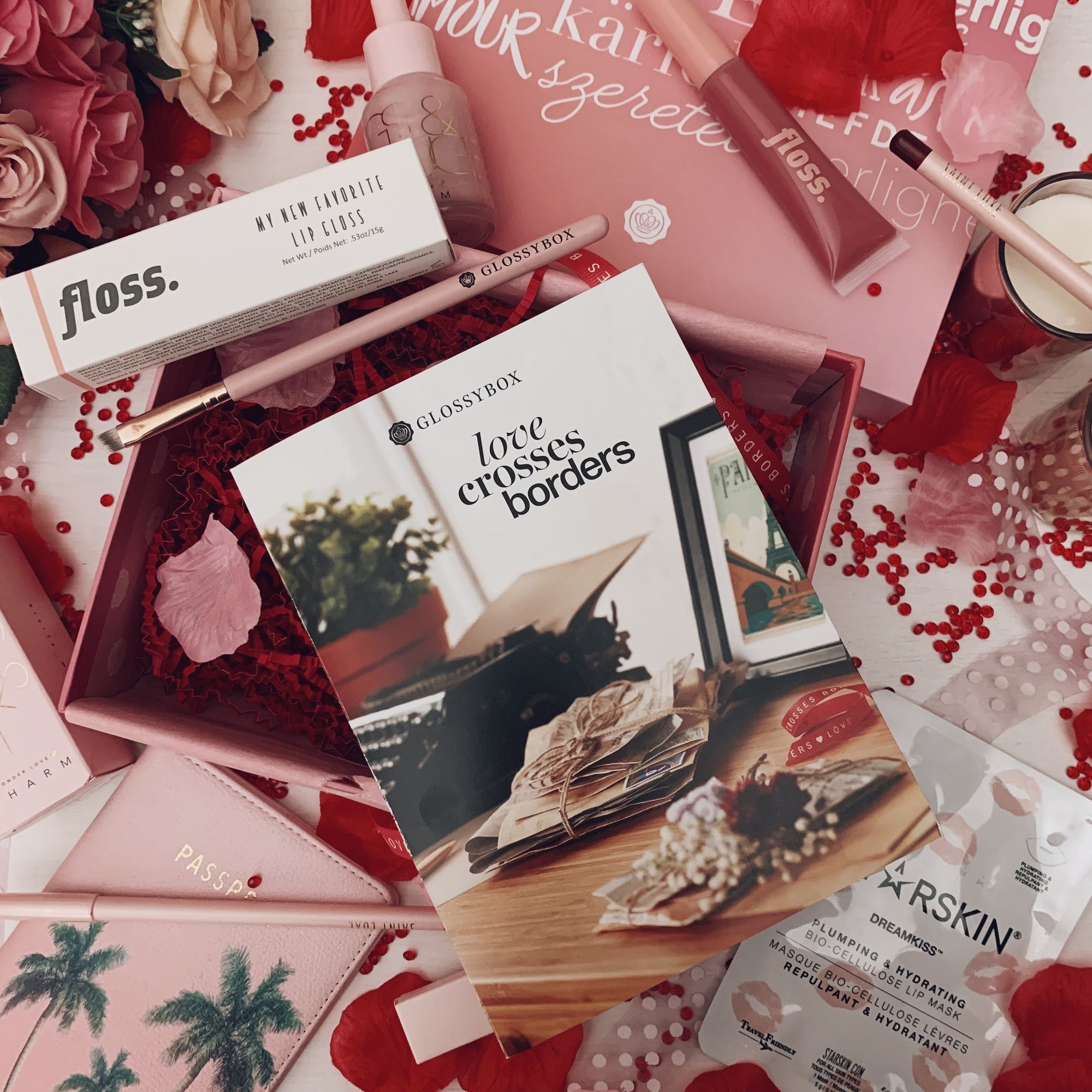 'Love Crosses Borders' has been put together to celebrate the Universal language of love, including 5 products from brands across the world.
So whether you celebrate Valentines, Galentines, or just fancy a bit of self-love, this box has everything you need to give yourself glowy skin and a perfect pout.
The box itself is worth over £85 with 4 full sized products and 1 deluxe mini inside. The themed box design is definitely a keeper too! The 'Love Crosses Borders' theme continues throughout the box with a gorgeous limited edition box design, and even a themed ribbon! The attention to detail in every Glossybox is incredible!
Let's take a look at what's inside the 'Love Crosses Borders' February Glossybox.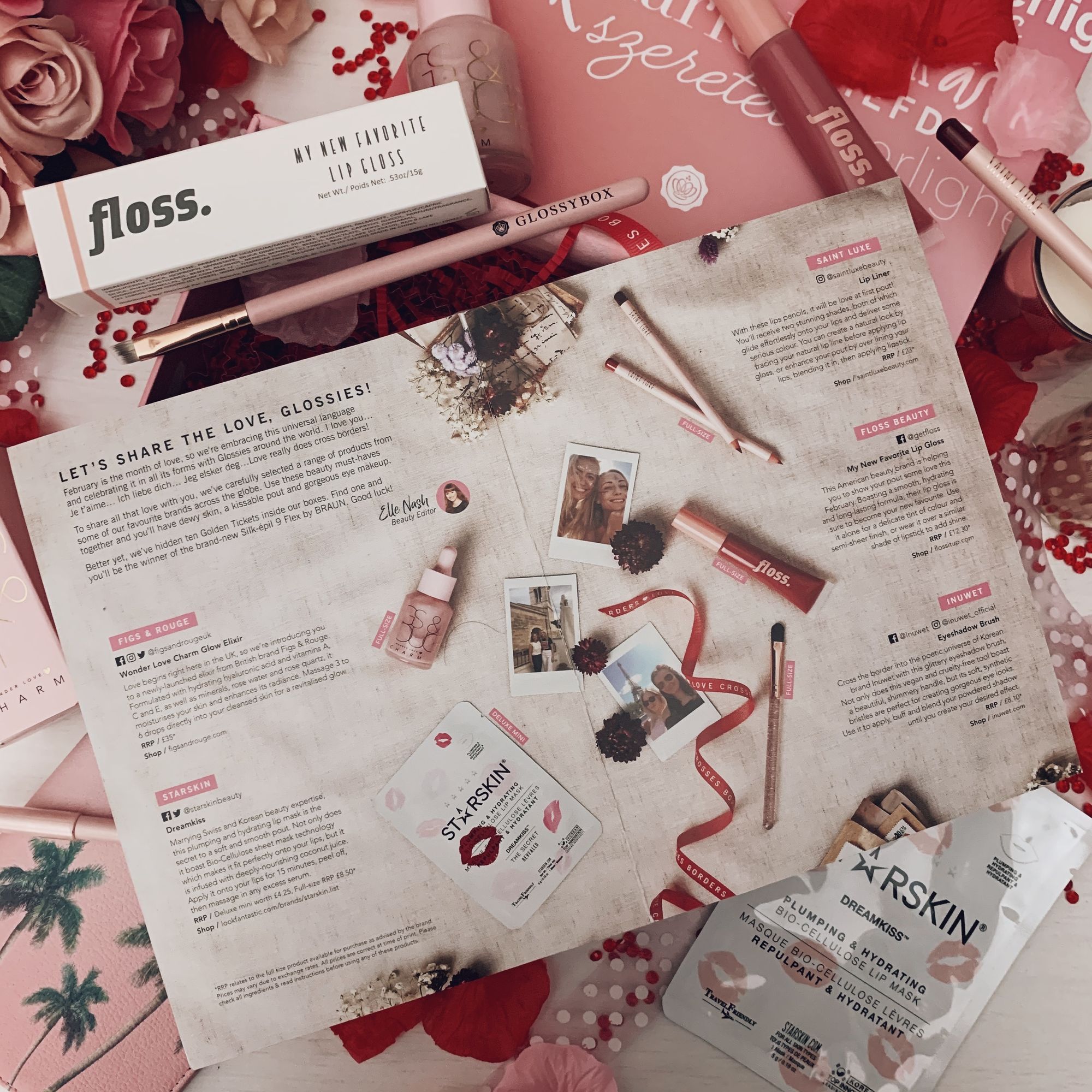 1. FIGS & ROUGE – WONDER LOVE CHARM GLOW ELIXIR
Worth £35 (Full size)
The first product is your key to a glowy complexion this month. The Wonder Love Charm Glow Elixir is a brand new product which has just been launched by British brand Figs & Rouge.
The Wonder Love Charm Glow Elixir is filled with Vitamins A, C and E, hyaluronic acid, rose water and rose quartz to hydrate the skin and leave it looking radiant and revitalised.
The hyaluronic acid helps the skin to retain more moisture whilst the minerals, rose water and rose quartz smooth the skin and enhance its glow. Either add a couple of drops to your moisturiser or apply it as a base before foundation.
You can find the Figs & Rouge Wonder Love Charm Glow Elixir here.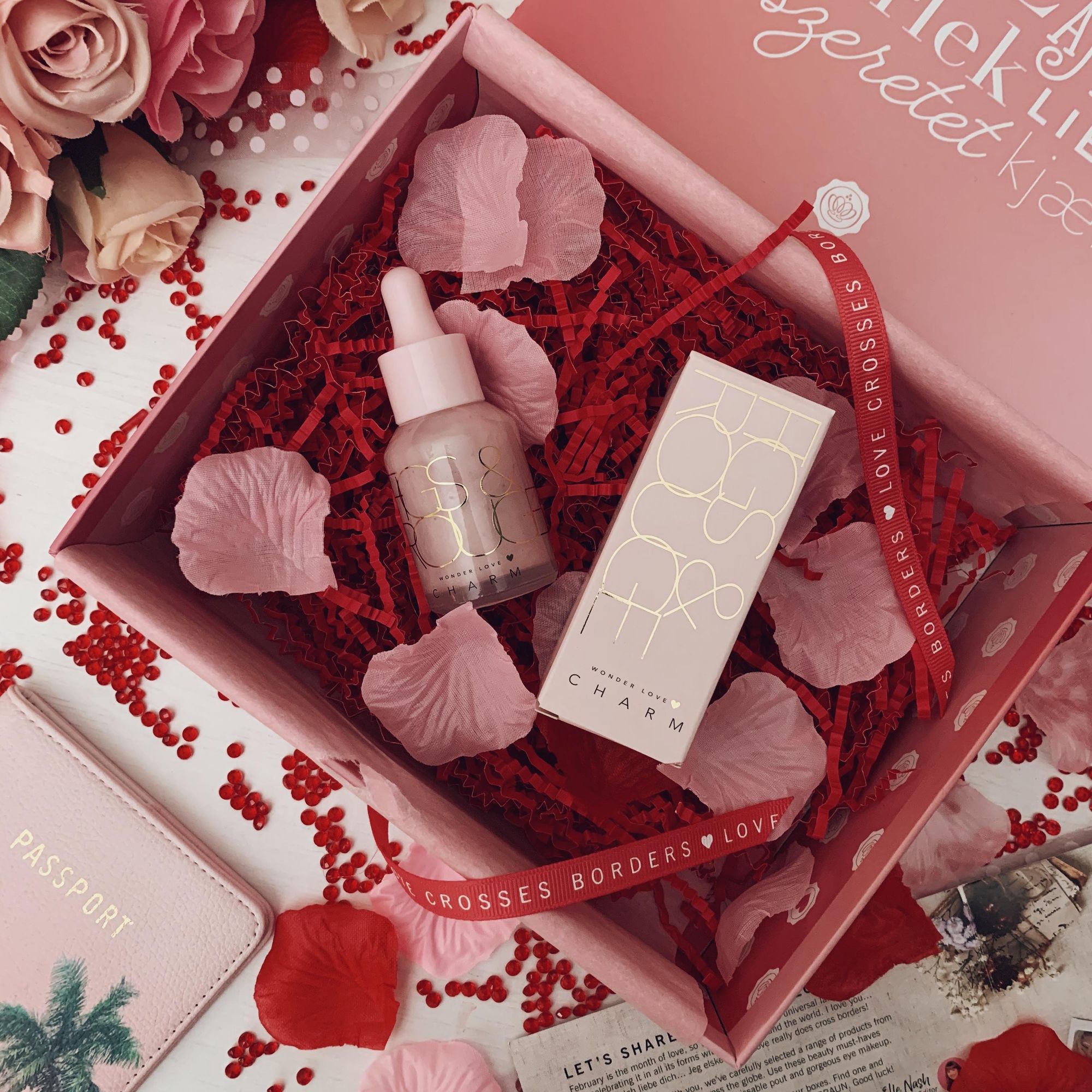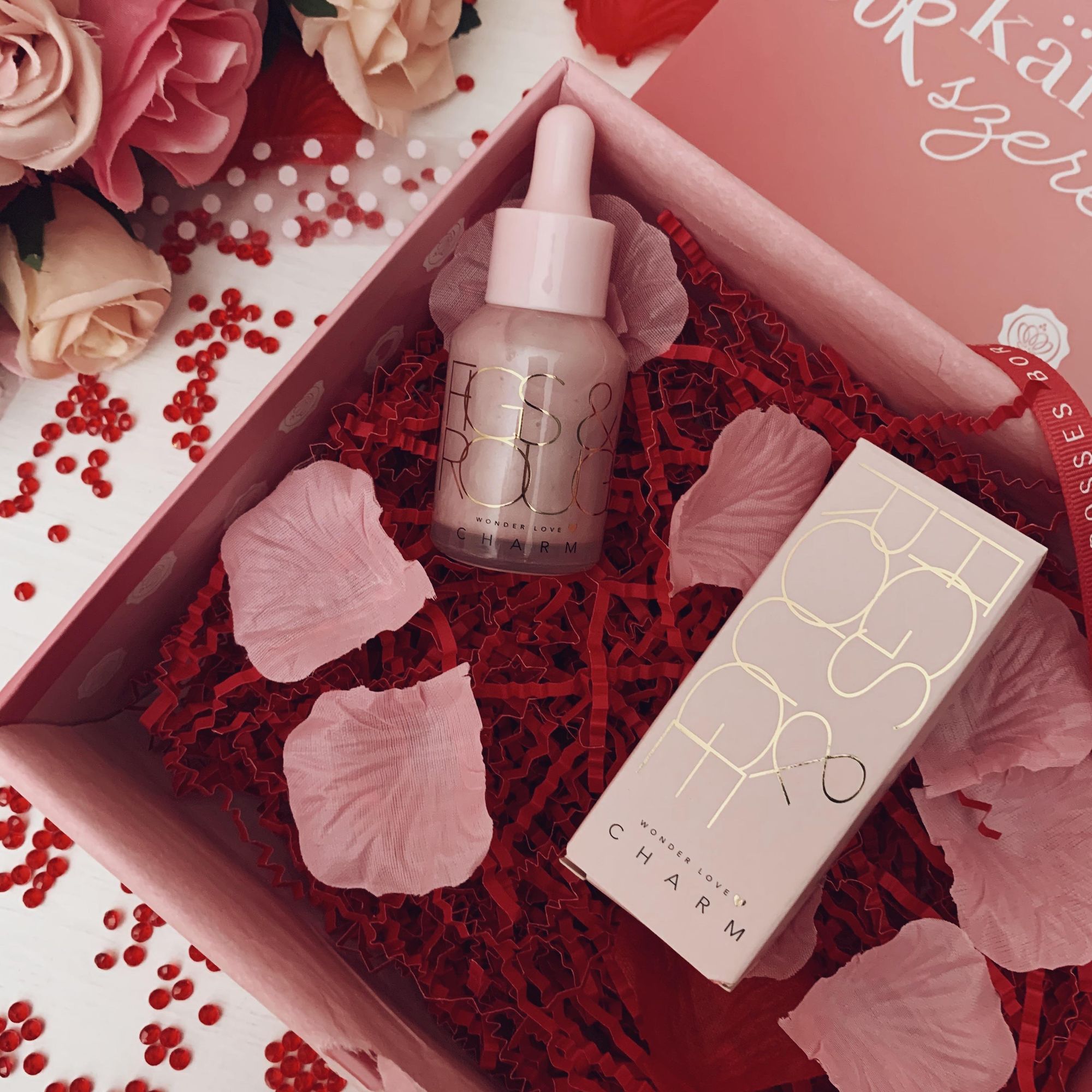 2. STARSKIN – DREAMKISS LIP MASK
Worth £4.25 (Deluxe Mini)
Next up is something for the lips to keep them plump and hydrated… all the way from Korea. (Well… using Korean technology!)
This bio cellulose sheet mask from Starskin contains coconut juice to nourish the lips. The sheet itself is a bio-cellulose sheet mask so it should fit your lips like a glove and stay there whilst the product works its magic.
Apply it to the lips, leave for 15 minutes and then remove, massaging any excess product into the skin.
The Starskin Dreamkiss Lip Mask is a deluxe mini and is worth £4.25 – you can find it here.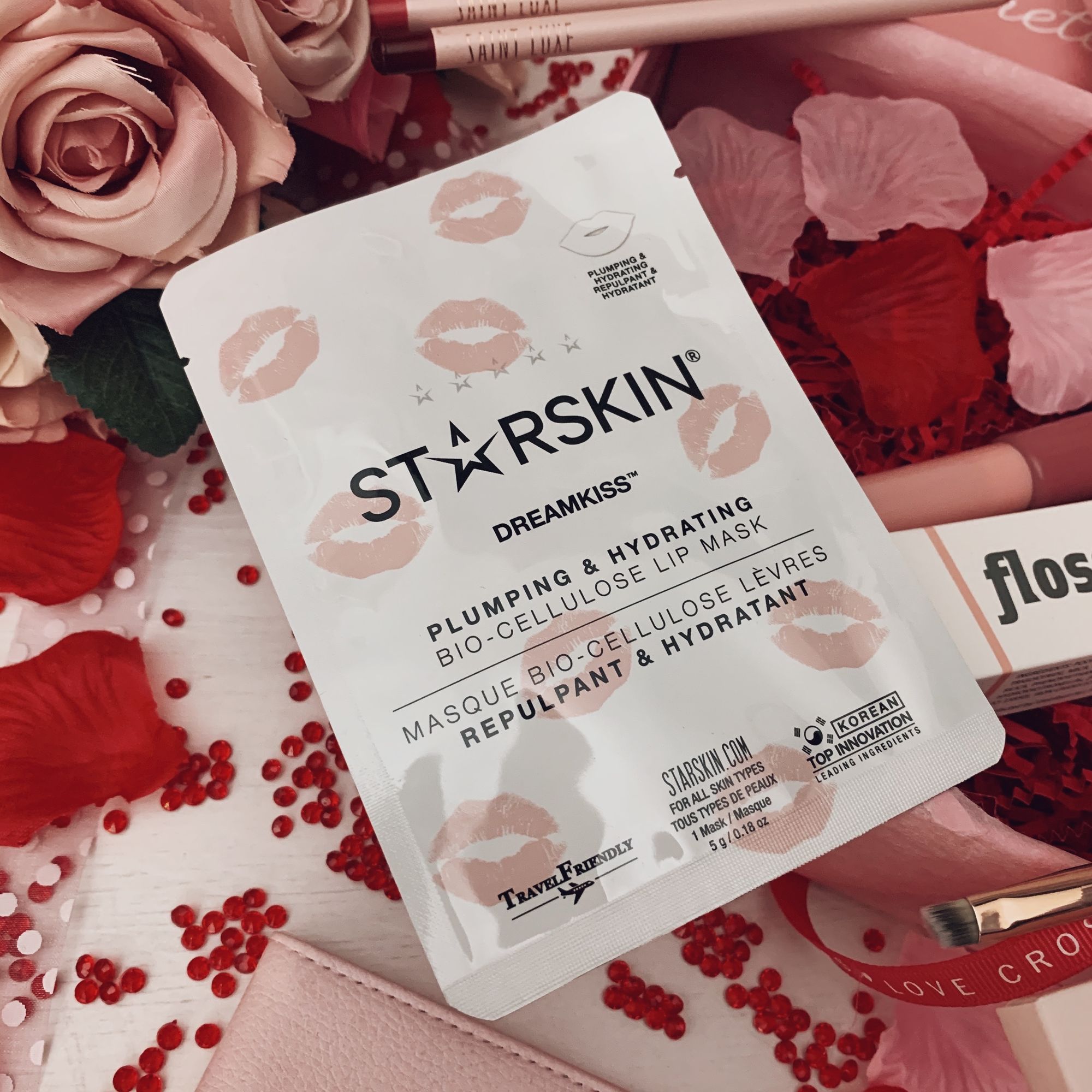 3. SAINT LUXE – DUO LIP LINERS
Worth £23 (Full Size)
Once we've nourished our lips with the lip mask, we have a choice of two lip liners from Saint Luxe to give the lips some colour. Whilst you often get a lucky dip of which liner you'll get in Glossybox, this month, both colours are included – and they're full sized!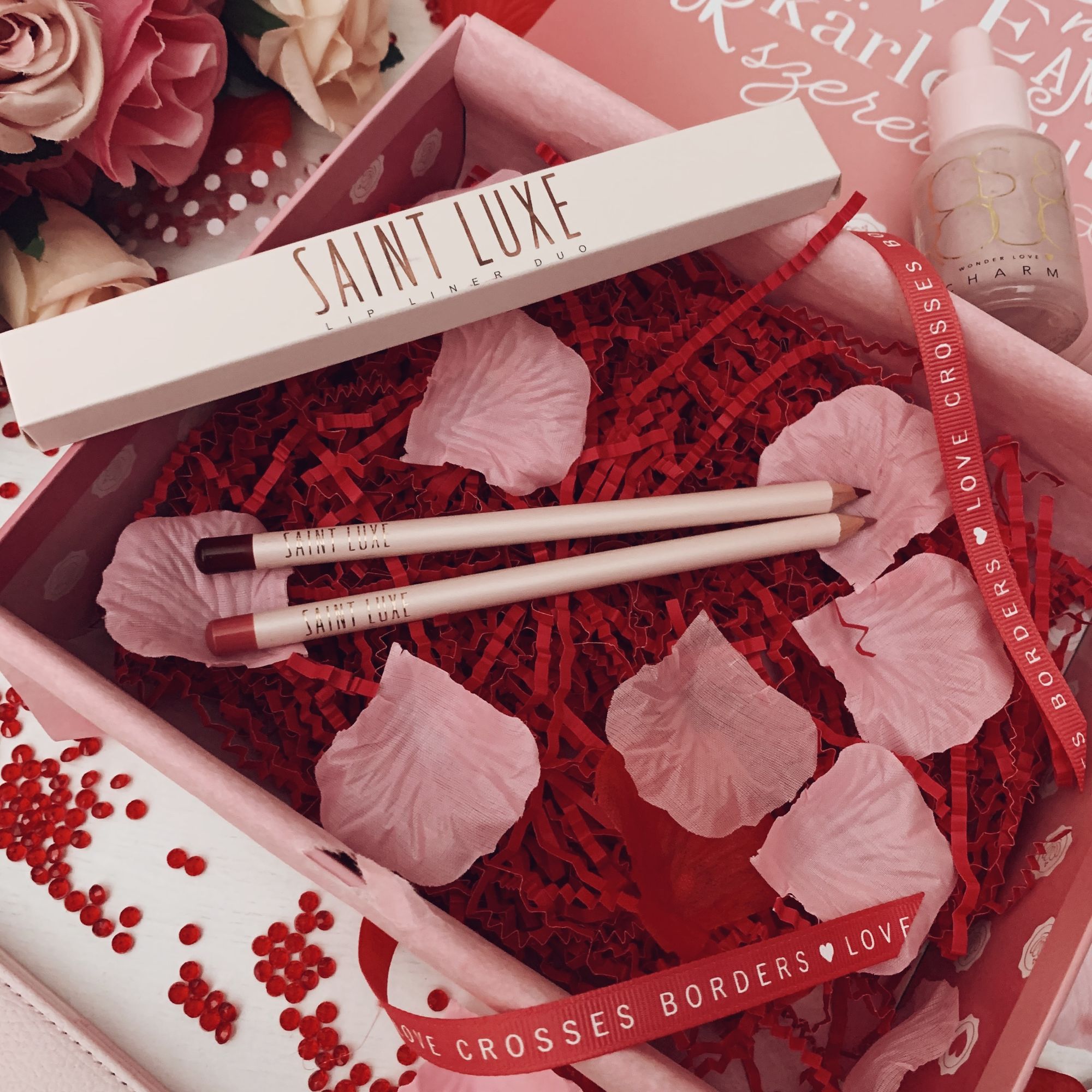 Both shades are perfect for Valentines/Galentines and are super pigmented. Either use the pencil to outline your lips before applying lipstick, or use them to colour the lips and apply a gloss over the top for a more subtle look.
The lip liner duo from Saint Luxe is full sized, worth £23 and can be found here.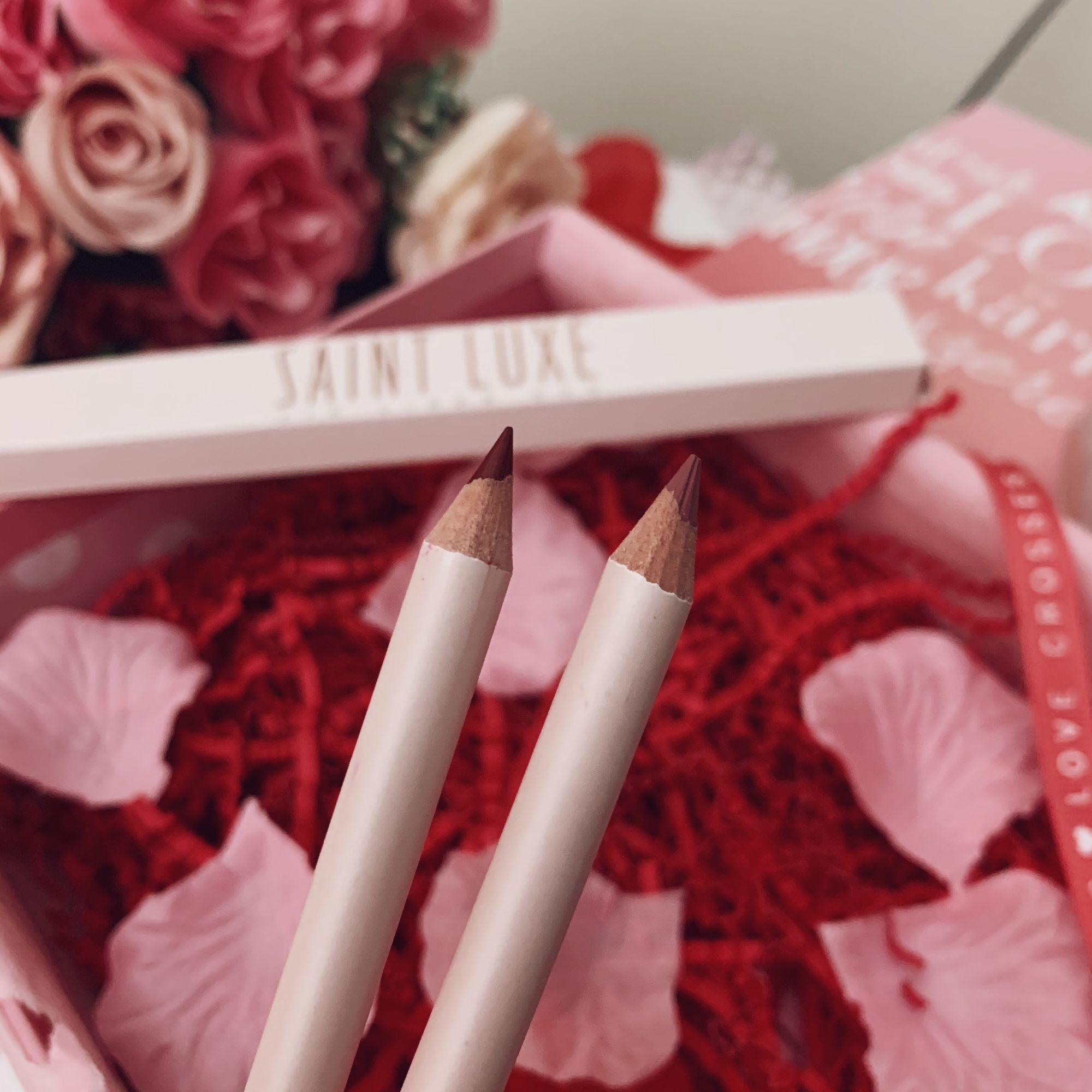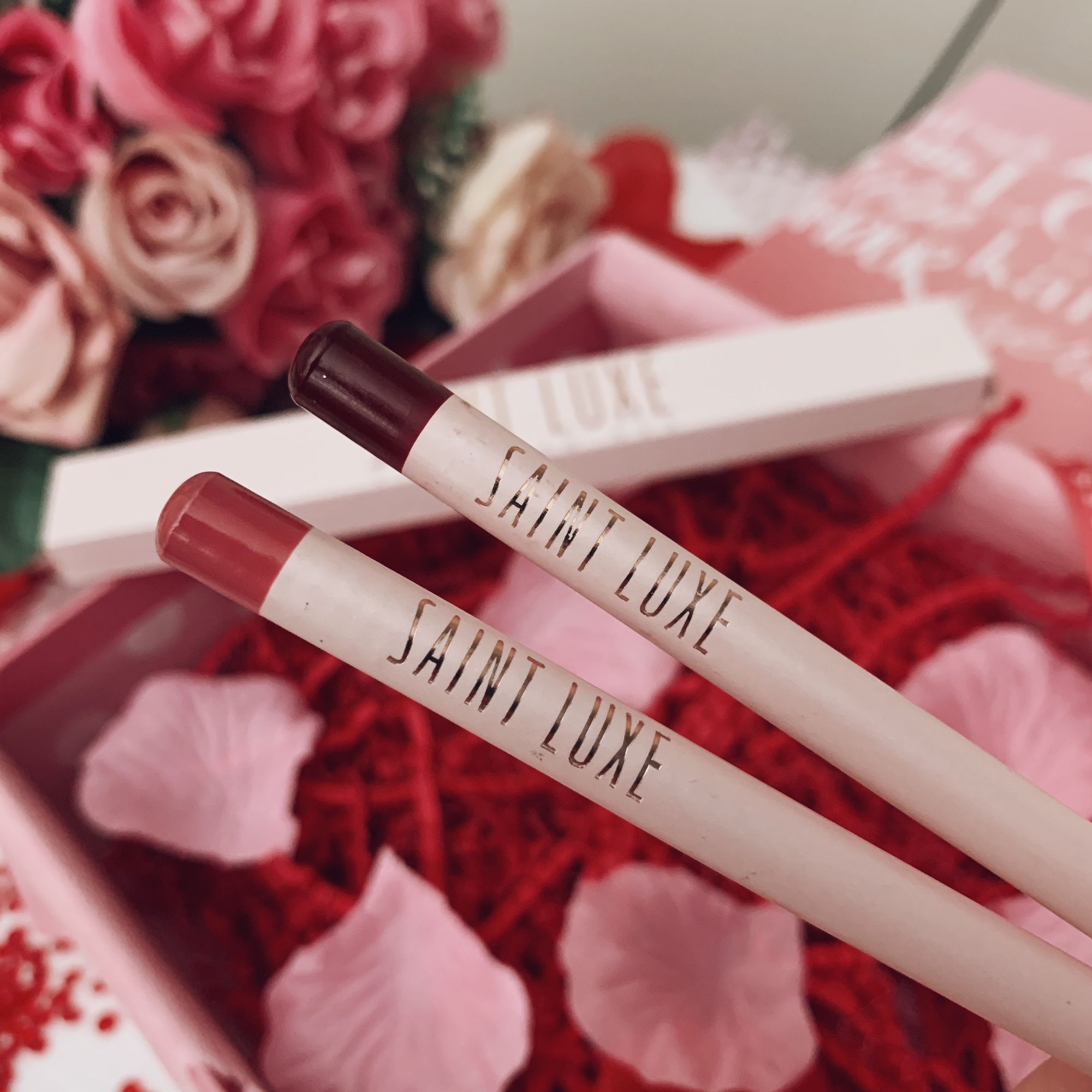 4. FLOSS BEAUTY – MY NEW FAVOURITE LIP GLOSS
Worth £12.30 (Full Size)
And as if by magic the next product is perfect to apply after the lip liners…
My New Favourite Lip Gloss by American beauty brand Floss Beauty (yep, that's the name of the shade!) is a deep pinky nude shade. Wear it either alone on the lips to give a subtle hint of colour or over a lipstick for added depth and shine.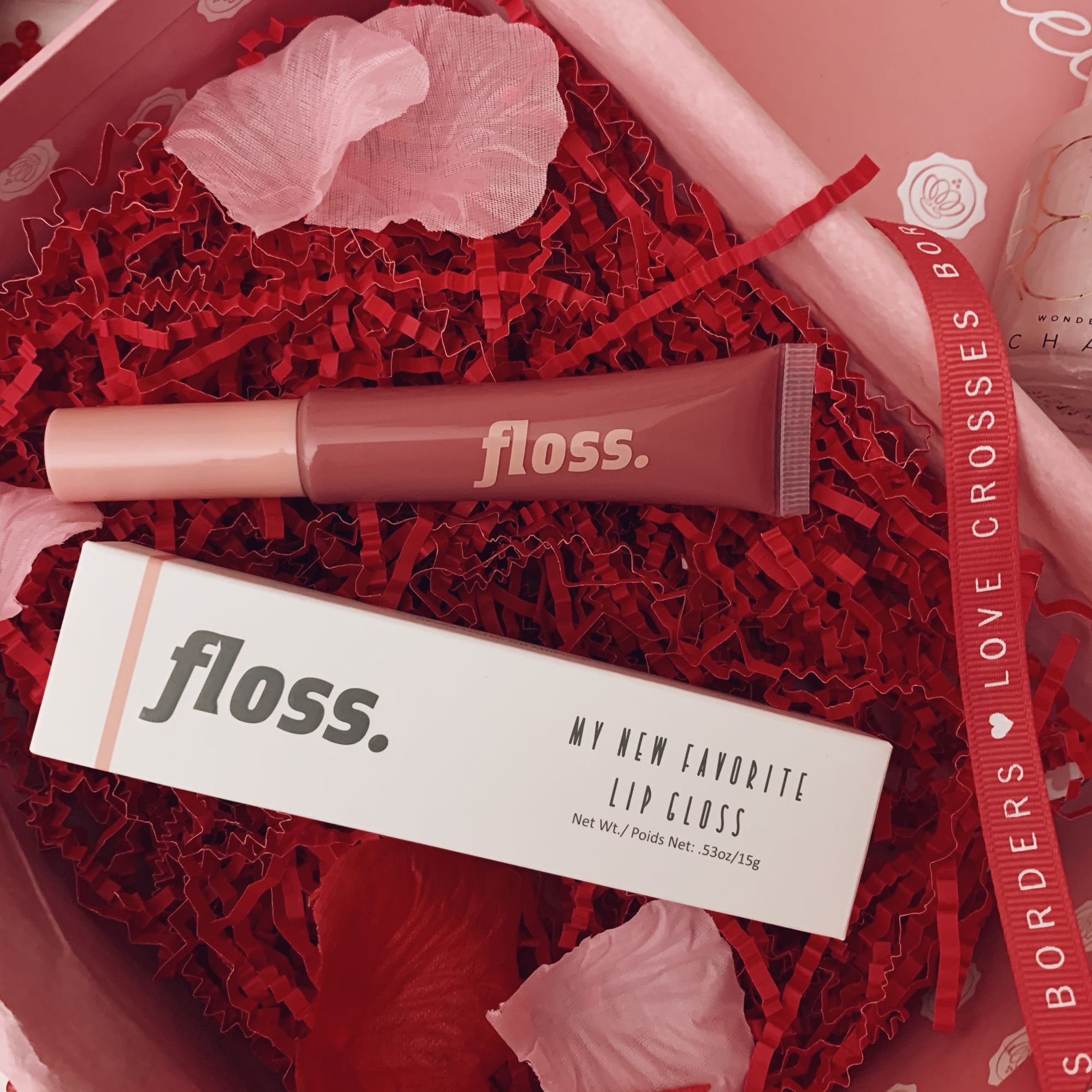 Easy to apply and with a long lasting formula, this will soon become your new favourite lip gloss. Also, whilst it looks like it's one of those squeezy lip glosses, it's actually a twist top with a wand attached – so you can apply it with precision.
The Floss Beauty My New Favourite Lip Gloss is full size, worth £12.30 and can be found here.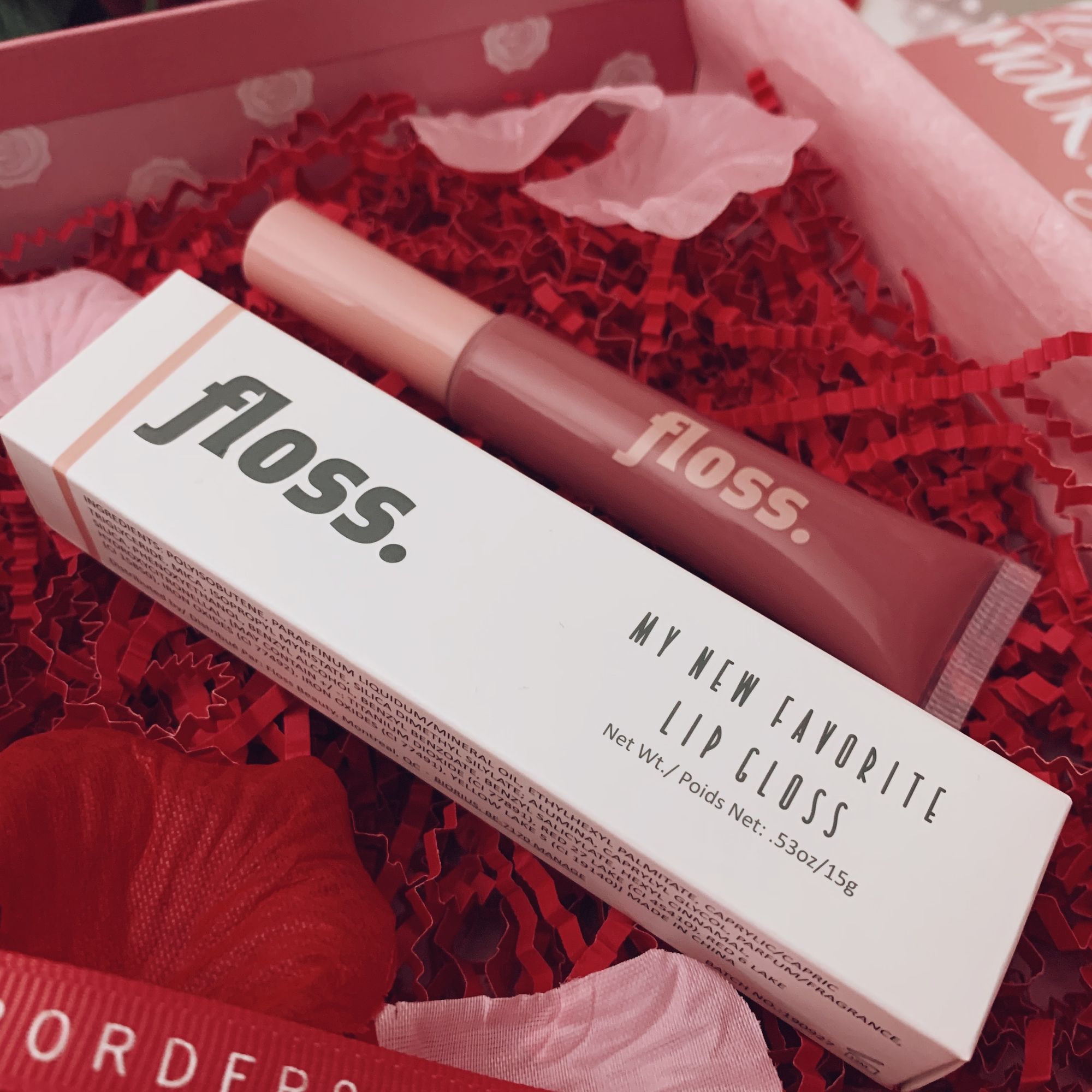 5. GLOSSYBOX – MAKEUP BRUSH
(Full Size)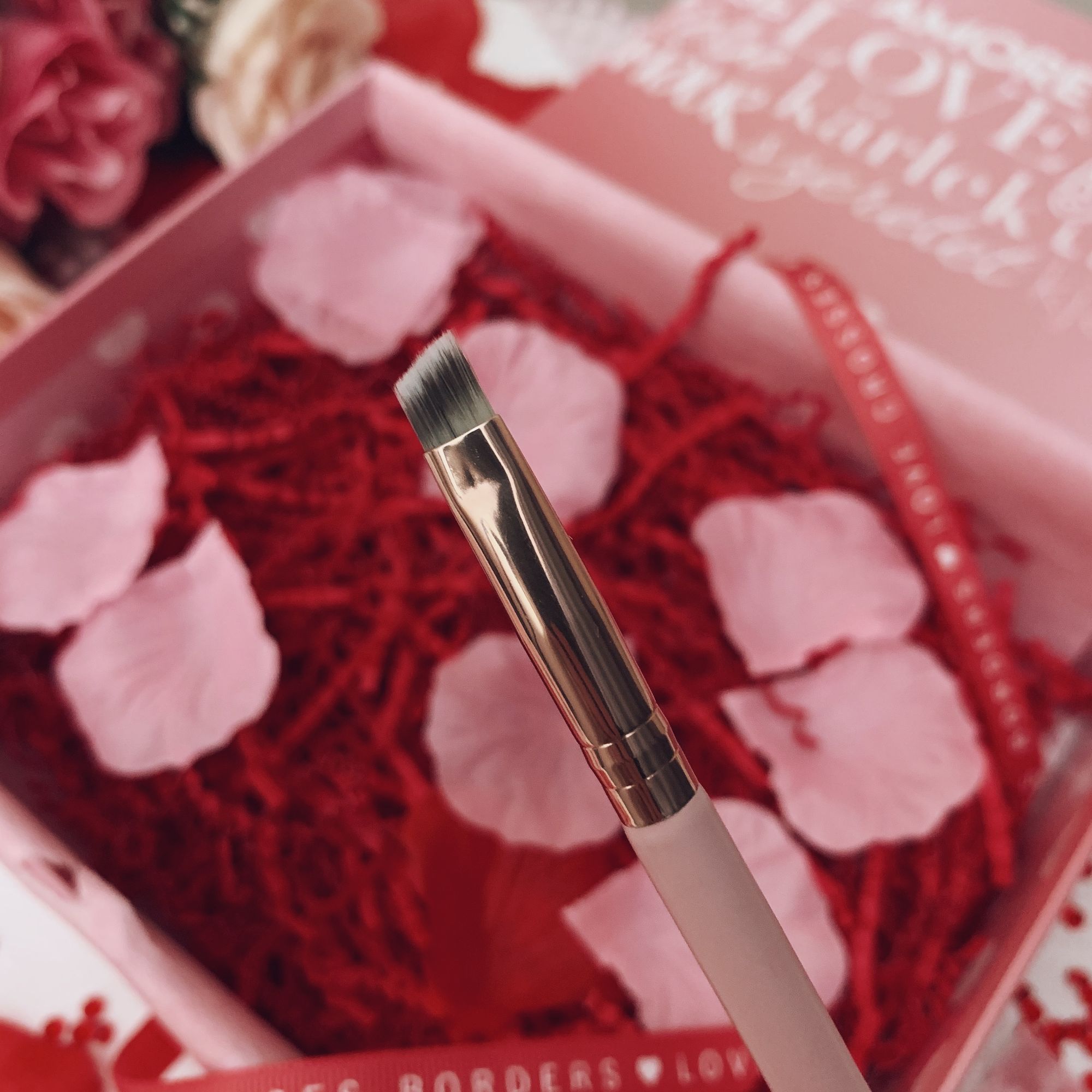 Last but not least in the February Glossybox is a makeup brush. The brush in the boxes will vary – in my box I received a Glossybox eyebrow brush.
If you've tried Glossybox makeup brushes before you'll know just how incredible they are – the quality is insane! I'm happy to be adding another Glossybox brush to my brush collection!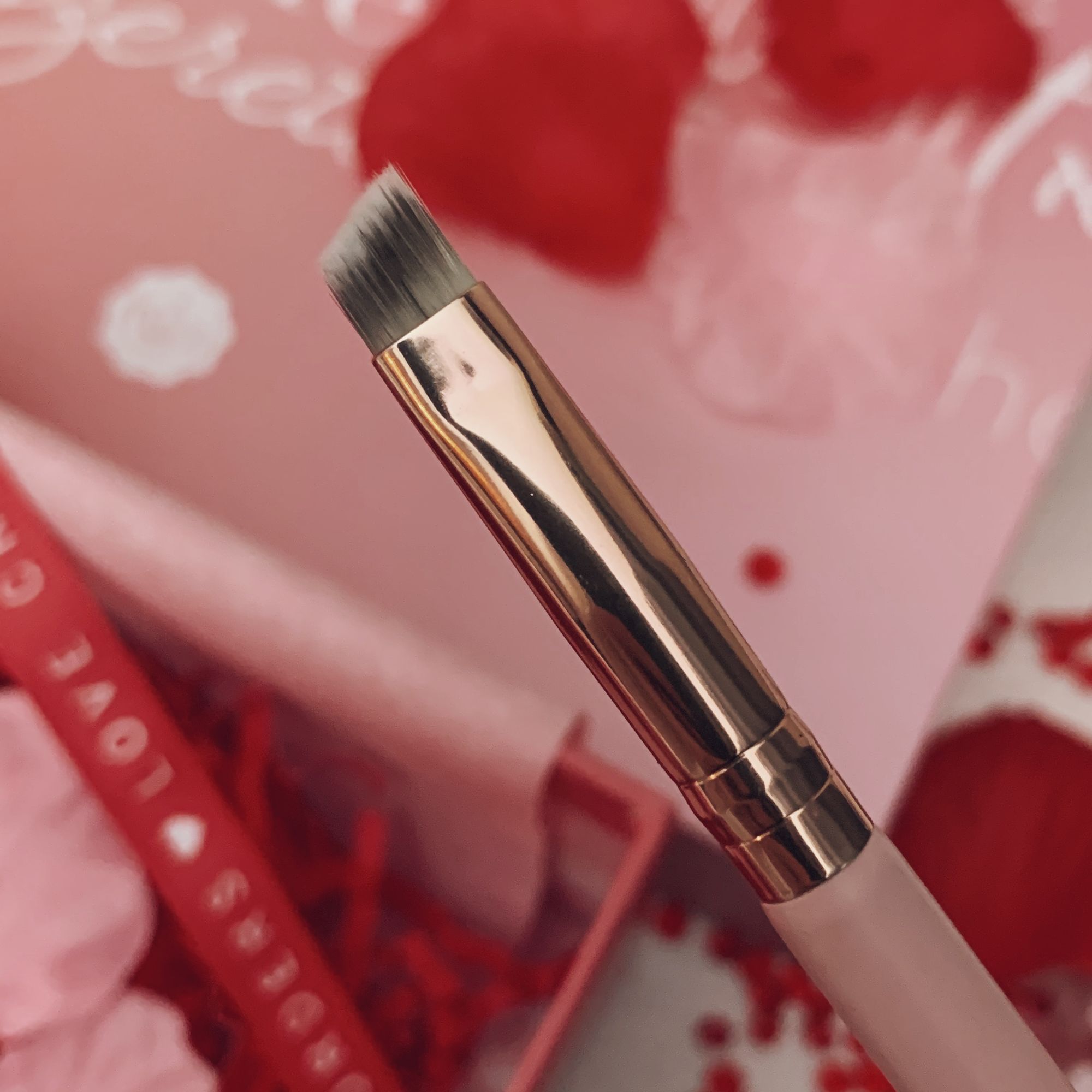 KEEP YOUR EYES PEELED…
… because this month, Glossybox have hidden 10 rose gold tickets inside boxes. If you find one of these in your box, you've won one of Braun's brand new Silk-Epil 9 Flex worth over £300!
Here's a little bit about the prize!
GLOSSY CREDITS
Once you've tried out all five products in this month's Glossybox, head over to the Glossy Lounge and complete the survey for each products (they take less than a minute each!) and for each one you will receive credit to spend on Look Fantastic!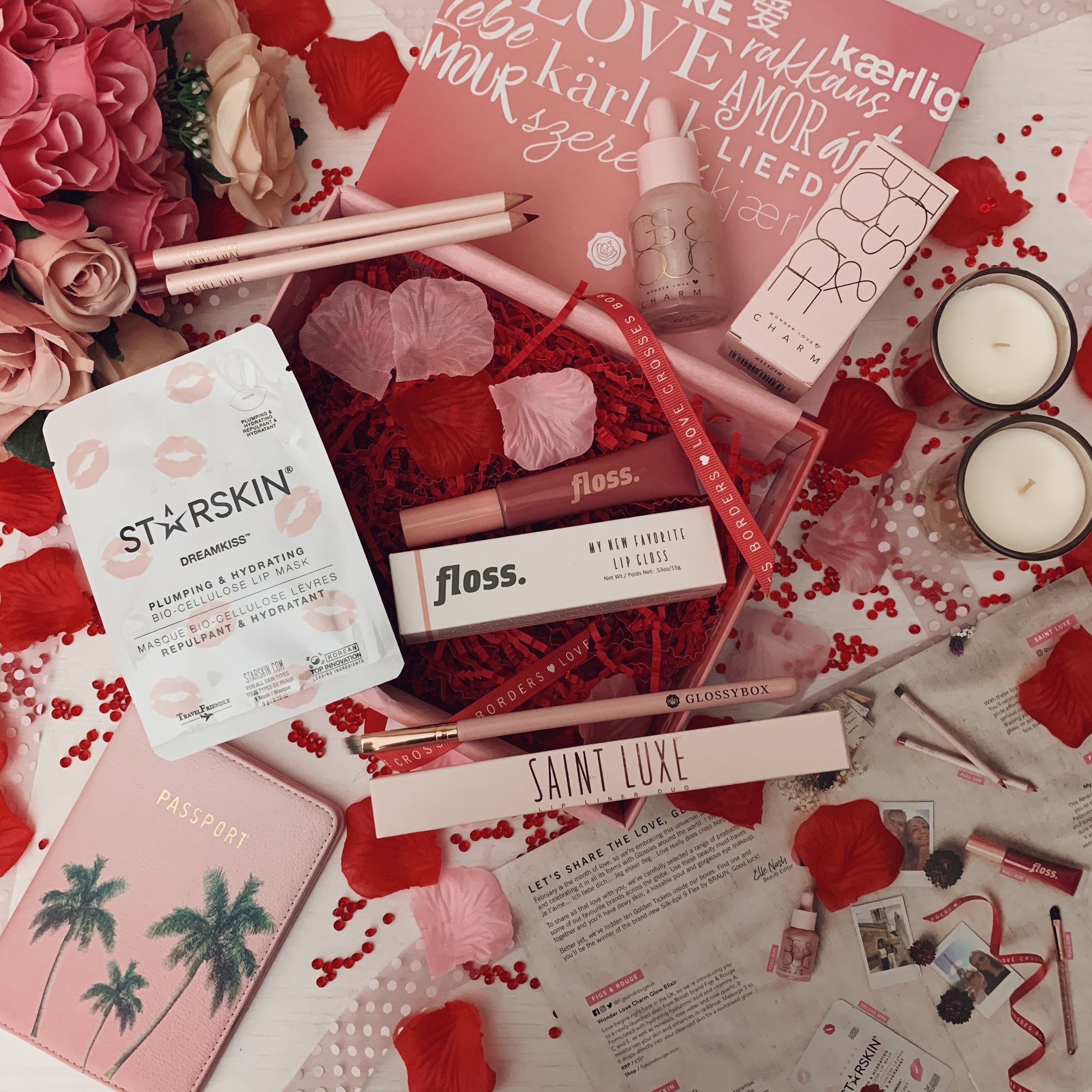 If you're not already a Glossybox subscriber then what are you waiting for? Use code KTF20 and get your first box for just £8! So if you subscribe before the end of this month you'll get your hands on all of these products for only £8. Bargain.