The October Glossybox is one of my favourites every year and this year is no different. Glossybox really pull out all the stops when it comes to the Halloween themed boxes, with a story, incredible design and well thought through collections of products inside.
The last couple of years have been an angel/devil kinda design but this time they're gone for a completely different spooky angle and they've brought us The Beauty Tales.
The October Glossybox comes in two different designs, Enchanted Spirit and Midnight Fantasy, and the box you receive is a surprise until it arrives. The products in each are mostly the same with only one small difference. Both boxes are worth over £50 as always with every Glossybox – definitely worth the money!
The booklet inside the box says 'Filled with five entrancing lotions and potions, you can use the concoctions inside this edit to brew supernatural recipes that relax and soothe your mind, prepare elixirs that transform the look and feel of your skin and create spellbinding guises that enthral and ensnare' – I told you they really go all out! I love it!
I received the Midnight Fantasy Glossybox, and here's what I found inside:
1. AHC – ESSENTIAL REAL EYE CREAM FOR FACE
Deluxe Mini – Worth £8.66
This one confused me slightly at first… a real eye cream… for the face… I wondered where else you'd put eye cream other than your face? But then I read the box…
This Essential Real Eye Cream for the face contains all the concentrated ingredients like an eye cream would, but it can be used all over the face. It contains peptides and vitamins and works to balance out the texture of the skin whilst hydrating and making it firmer.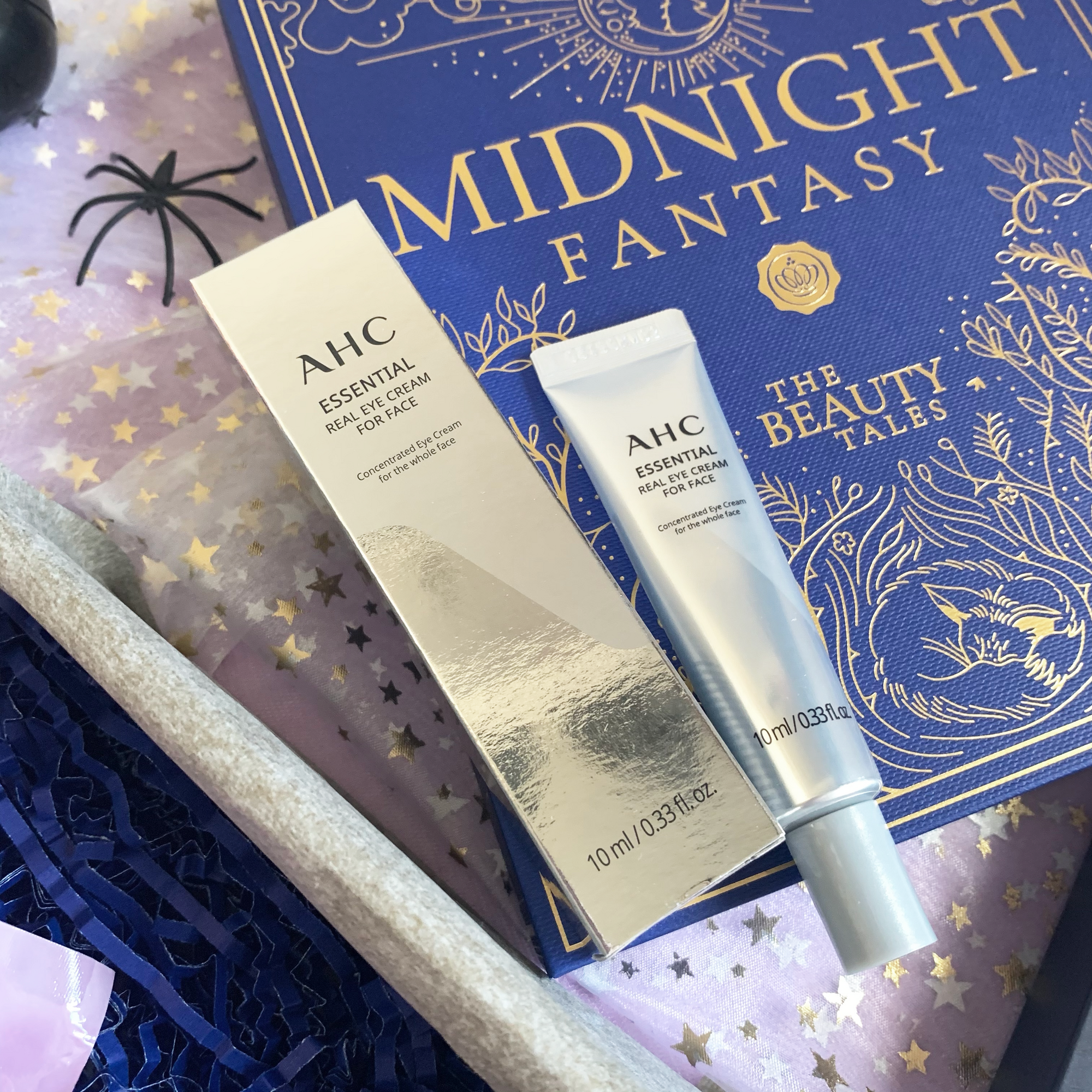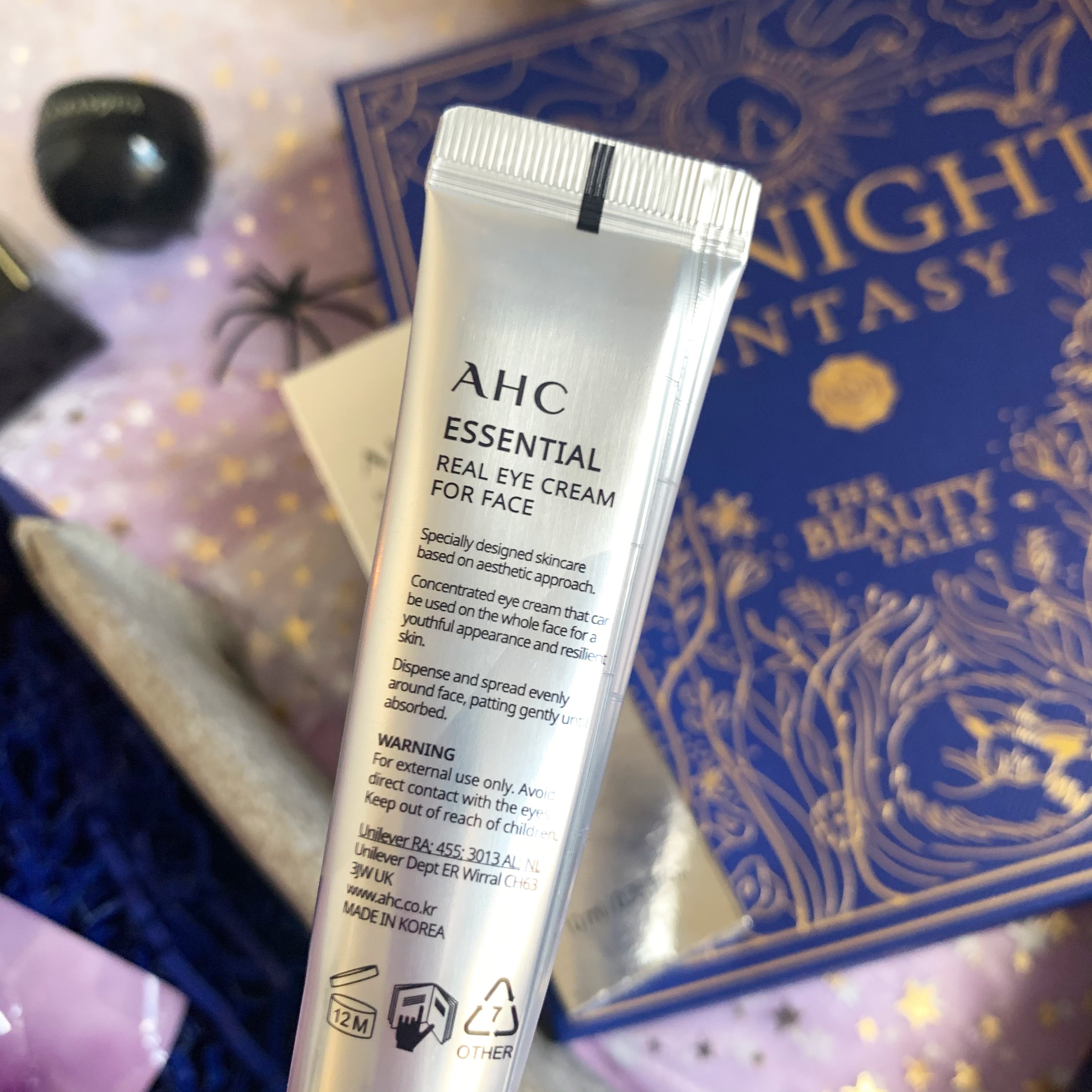 2. BUBBLE T COSMETICS – STAR DUST FOAMING BATH POWDER
Deluxe Mini – Worth £5.99
Next is something for a little bit of a pamper night when it's cold and dark outside and you fancy a bit of you time. The Bubble T Cosmetics Bath Powder matches perfectly with the box! Simply sprinkle the rose scented bath dust into a warm bath whilst it's still running and you've got the perfect relaxing bath time. The rose scent will be super calming too!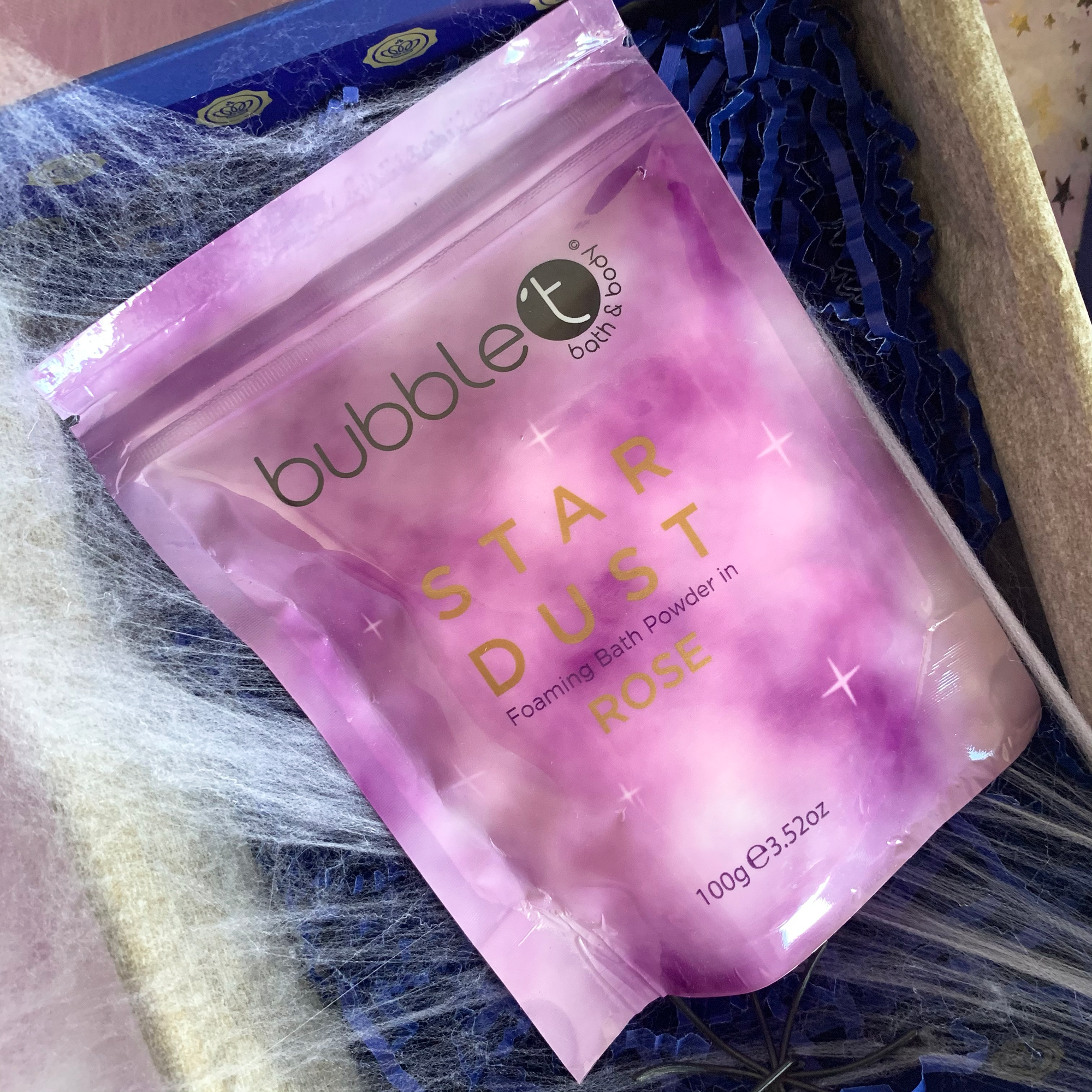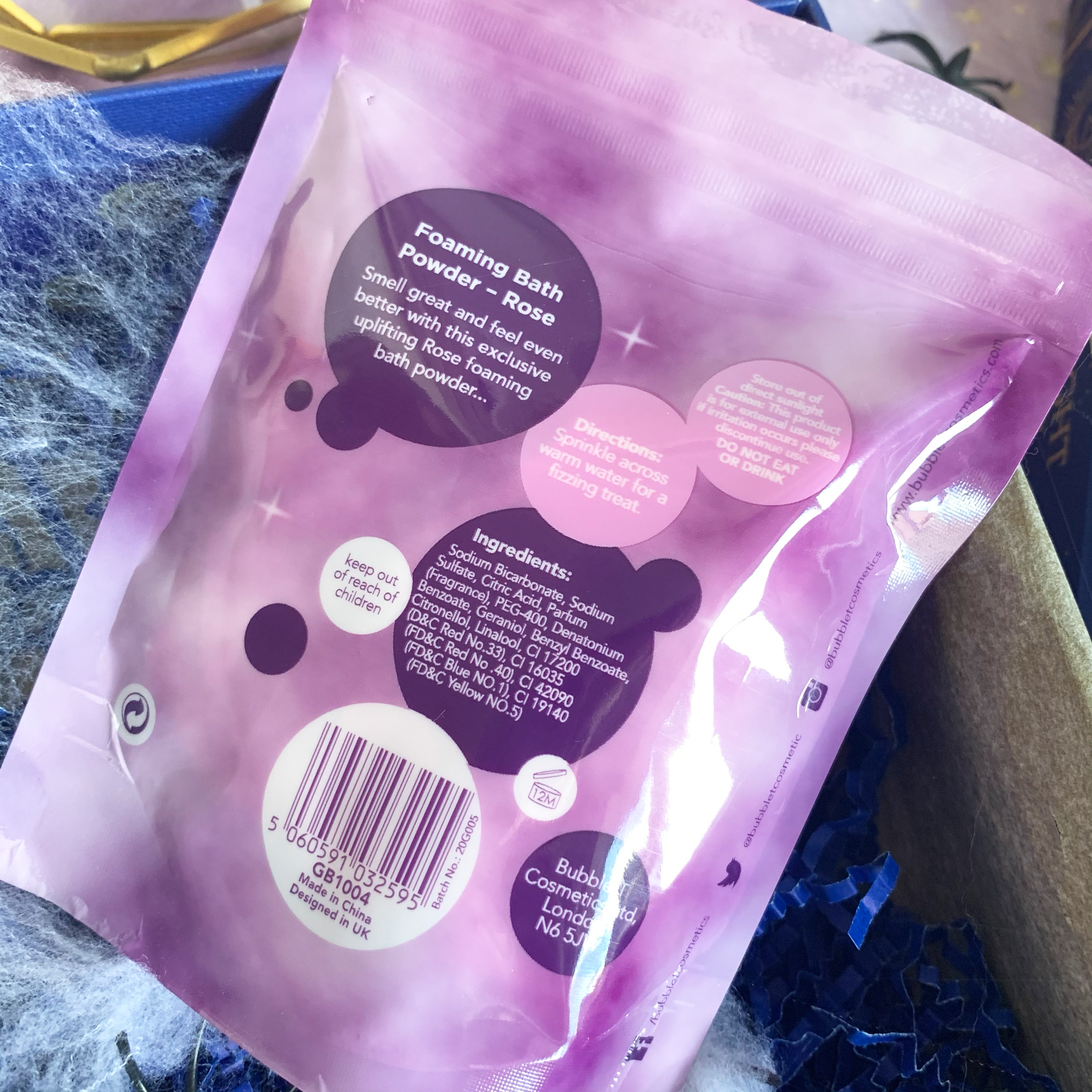 3. LUNA BY LUNA – PIXIE LIPSTICK
Full Size – Worth £15
Another product whose packaging matches the Glossybox perfectly – I don't know if this was planned or if this is Luna by Luna's normal packaging but whichever way it's SO well put together! The Pixie lipstick is a pretty pinky-red shade and the booklet says 'This lipstick is so luscious, you'll think that it's been plucked right out of a fairytale'.
It has a smooth formula which glides onto the lips and lasts all day with its rich pigment. It's also said to not dry the lips or settle into the lip lines which is fab!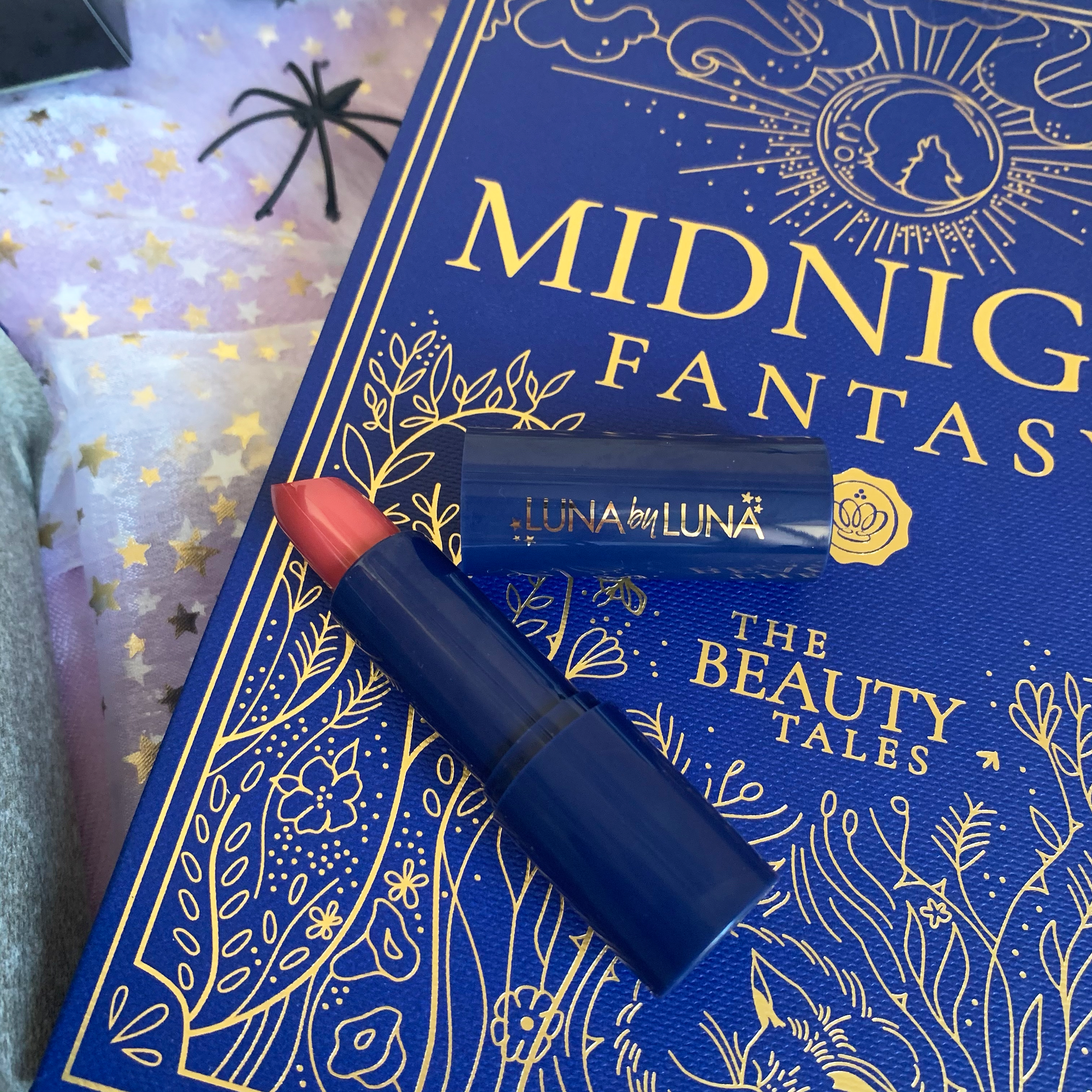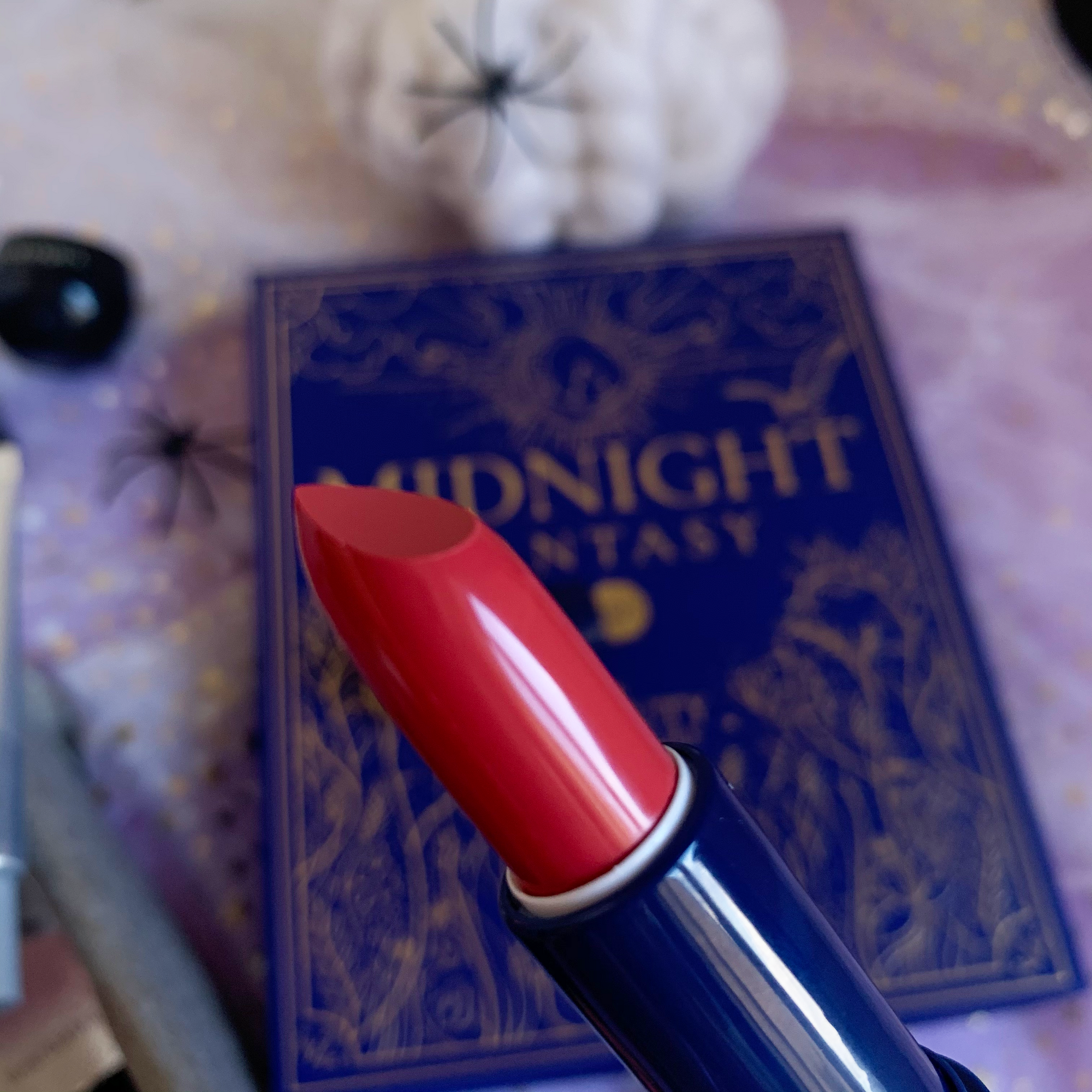 4. ILLAMASQUA – HYDRA VEIL PRIMER
Deluxe Mini – Worth £10
Illamasqua in a Glossybox! Incredible!! This hydra veil primer is a gel like consistency and applies to the skin really smoothly, creating the perfect base for makeup. It's really hydrating and also contains glycerin and niacinamide which is incredible for the skin.
This is a deluxe mini of the Hydra Veil Primer – the full sized one is around £34 and this size is worth £10 so it's a fab size to try out and see if it suits your skin type. I also love the pot it comes in – this is the regular Illamasqua pot but it reminds me of a little cauldron so it's perfect for the October Glossybox!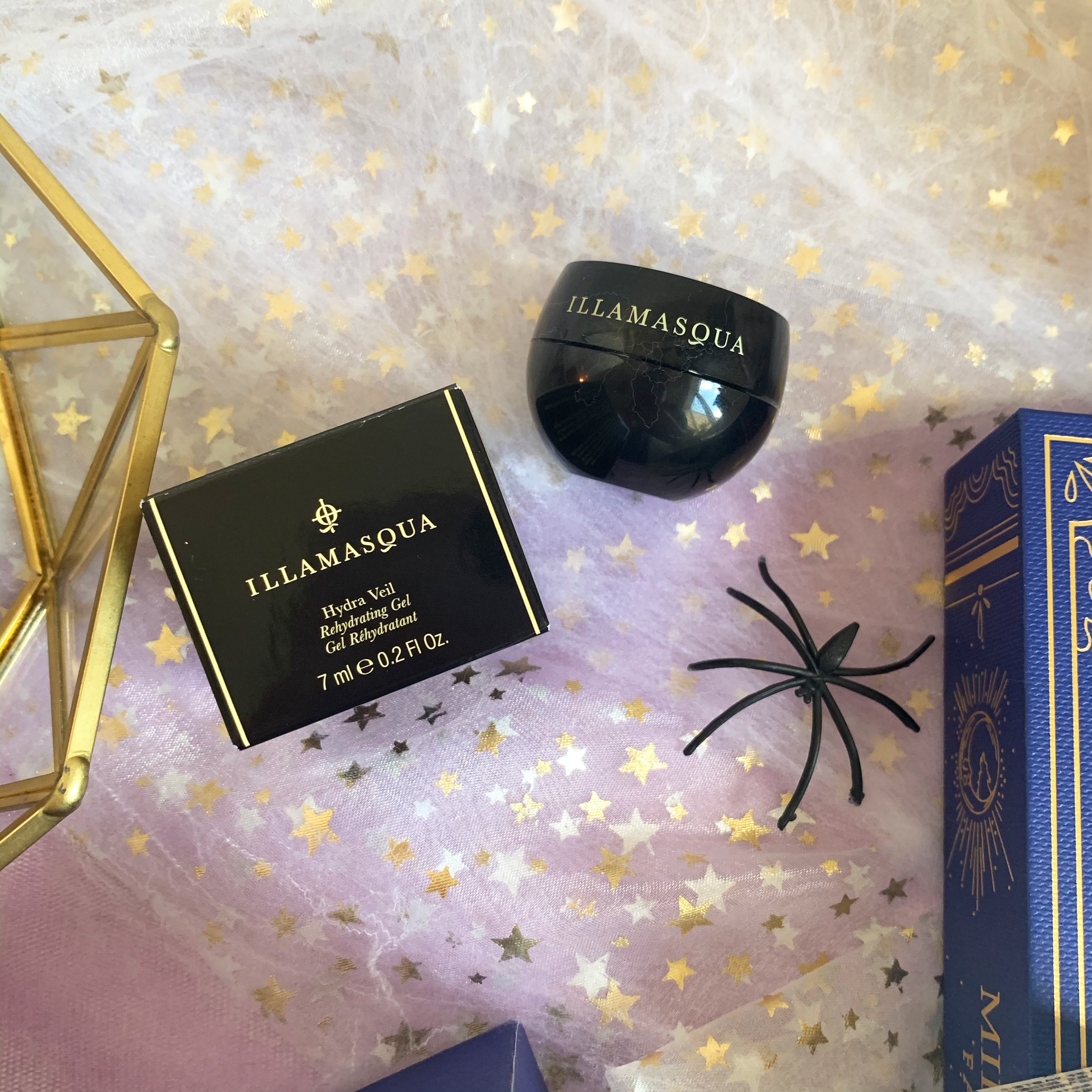 5. THE BEAUTY CROP – STARGAZING BLUSH DUO
Full size – Worth £18
The final product is from The Beauty Crop – the Stargazing Blush Duo. The packaging for this product has definitely been designed with the Glossybox in mind – it's gorgeous and matches perfectly!
The Blush Duo is made up of two beautiful shades of blusher, a pinky shade and a more peachy shade – the pink is shimmer and the peach more matte. You can either swipe a brush across both of them and mix the shades or use each one individually depending on the makeup look you're going for.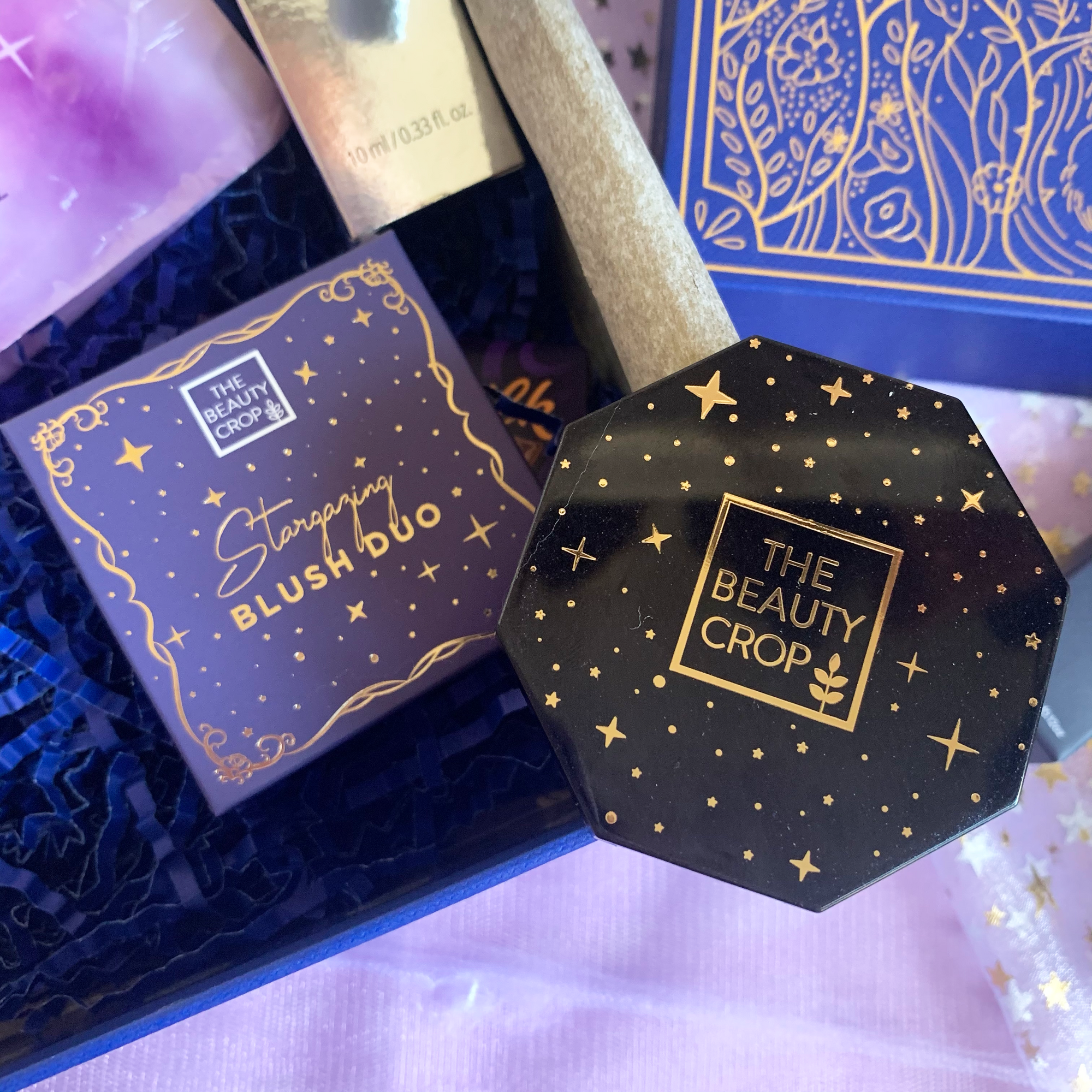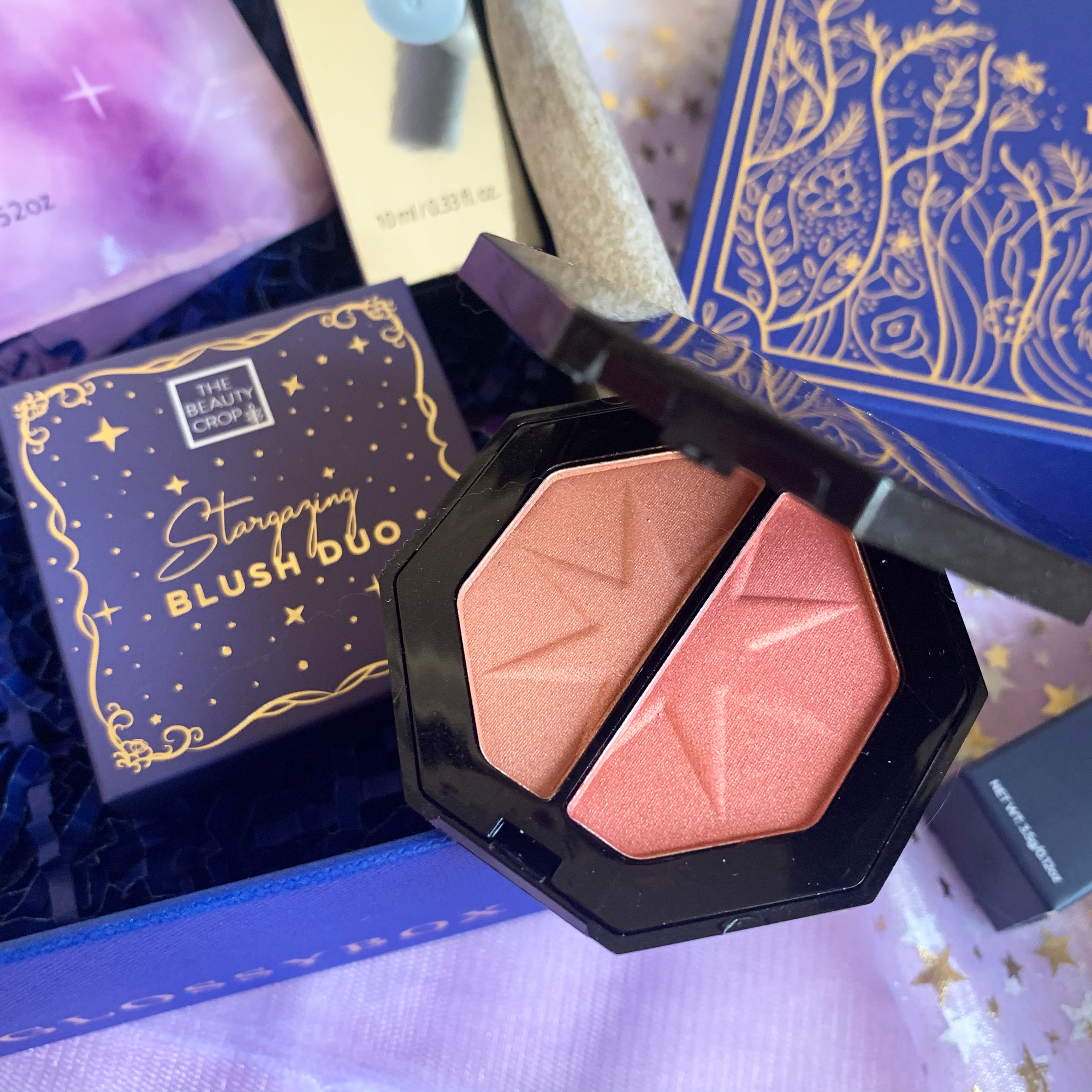 And inside the October Glossybox we also received a little extra chocolatey treat (because Glossybox always likes to surprise us!) – My sister will enjoy mine as obviously I can't eat it!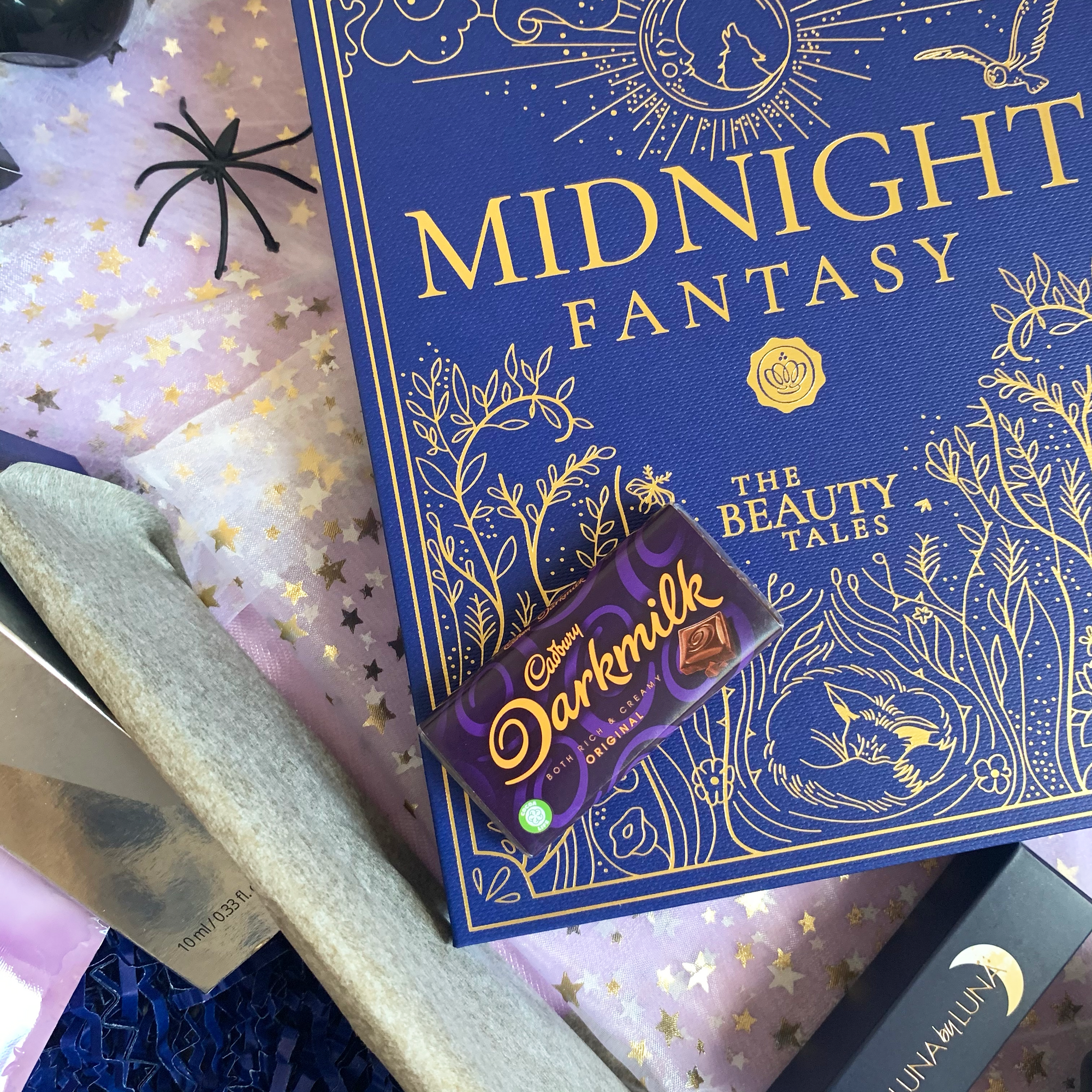 The sneak peek for the November Glossybox is a gorgeous looking eyeshadow palette from La Splash Cosmetics. We've seen La Splash in a Glossybox before, and in last year's Advent Calendar too so it's good to see them returning in a box! The shades in the eyeshadow palette are a mix of warm autumnal shades and there's something there for all skin tones too. It's a full size palette worth £29.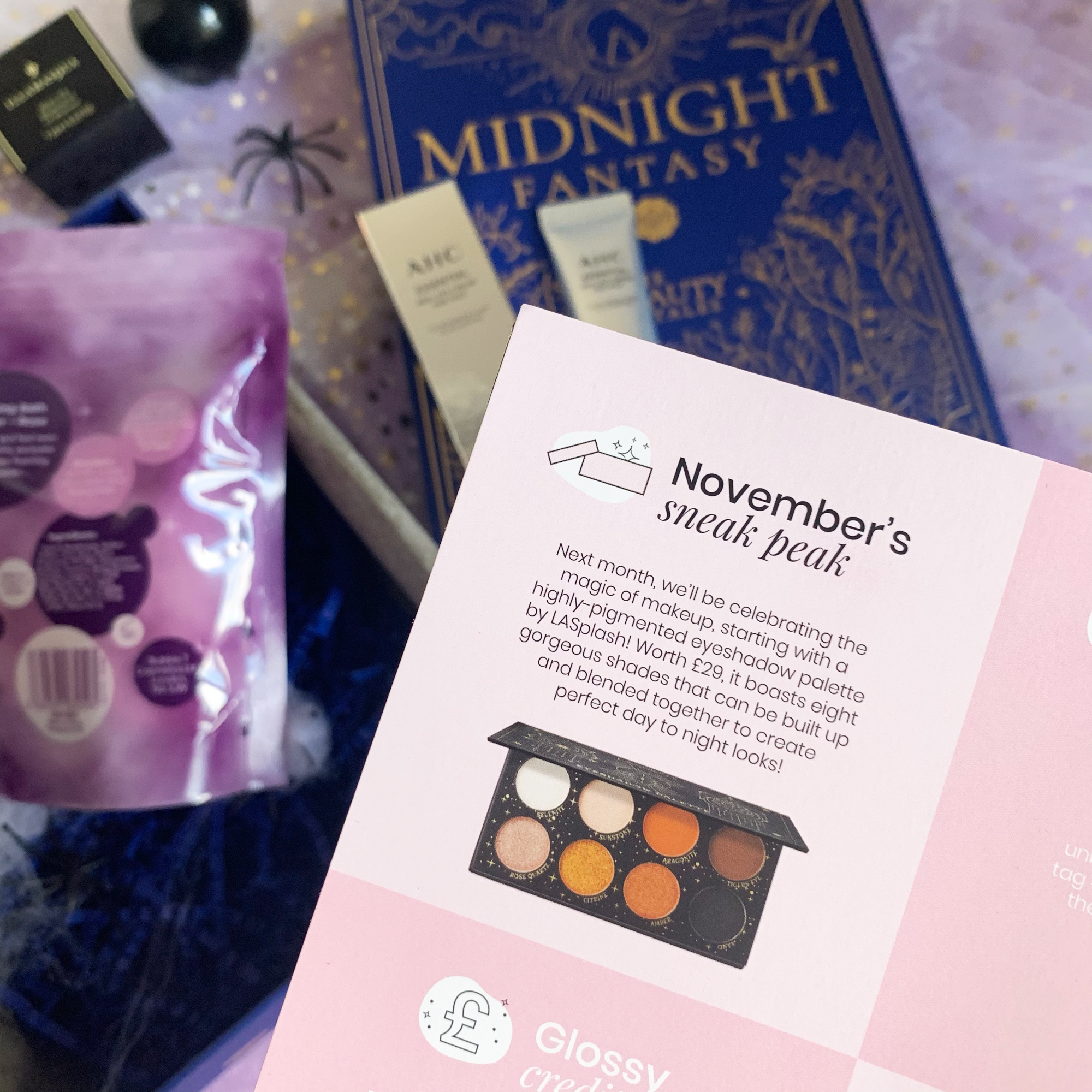 If you've not already subscribed to Glossybox you can use code KTFXO to get your first Glossybox for only £11.50 including postage and also get priority access to the Limited Edition Glossybox's AND the incredible Advent Calendars!
If you missed out on the Glossybox Advent Calendar, the Glossybox x Grazia Advent Calendar is launching on Friday 23rd October at 9am for subscribers and 12pm for non-subscribers so set your alarms! It's worth £530 and contains 12 full sized products! It's a bargain you don't want to miss.
Let me know what you thought of the October box in the comments!