The brand new Pixi Retinol and Jasmine Collection has launched and there are definitely mixed feelings about this one.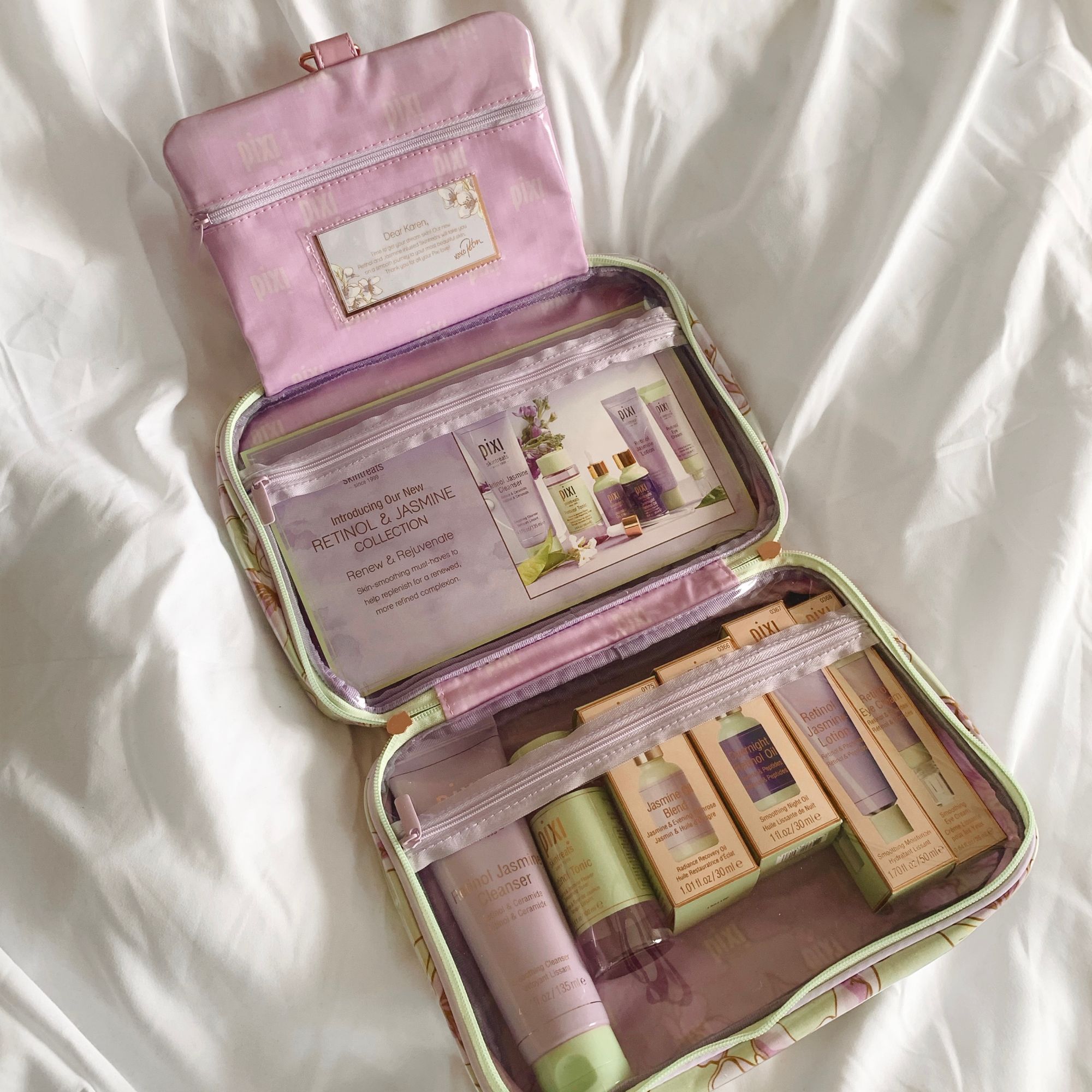 The Retinol and Jasmine Collection is made up of six products and as with most collections from Pixi, you're told which order to use each of the products in.
The focus of the collection is the ingredient, retinol. Retinol is well known for it's anti-aging abilities and how it helps improve the complexion. Pixi have focussed on the theme 'Renew and Rejuvenate' which is exactly what retinol can do if used properly. So a whole collection of retinol products sounds perfect, right?
Before we look at the collection, let's quickly talk about Retinol and why so many people are adding it to their skincare routines.
Retinol is a form of Vitamin A and it's the only ingredient that has actually been proven to reduce ageing by promoting skin cell renewal and enhancing the production of collagen. In simple terms, it works to minimise the look of fine lines and wrinkles and smooth out uneven skin tone. It's also said to have the ability to reverse the effects of sun damage on the skin too. It sounds like an all round miracle ingredient!
So… it's an ingredient you might want to think about adding to your skincare routine if you don't already use it. I added it to my skincare routine around a year ago and I'm not disappointed.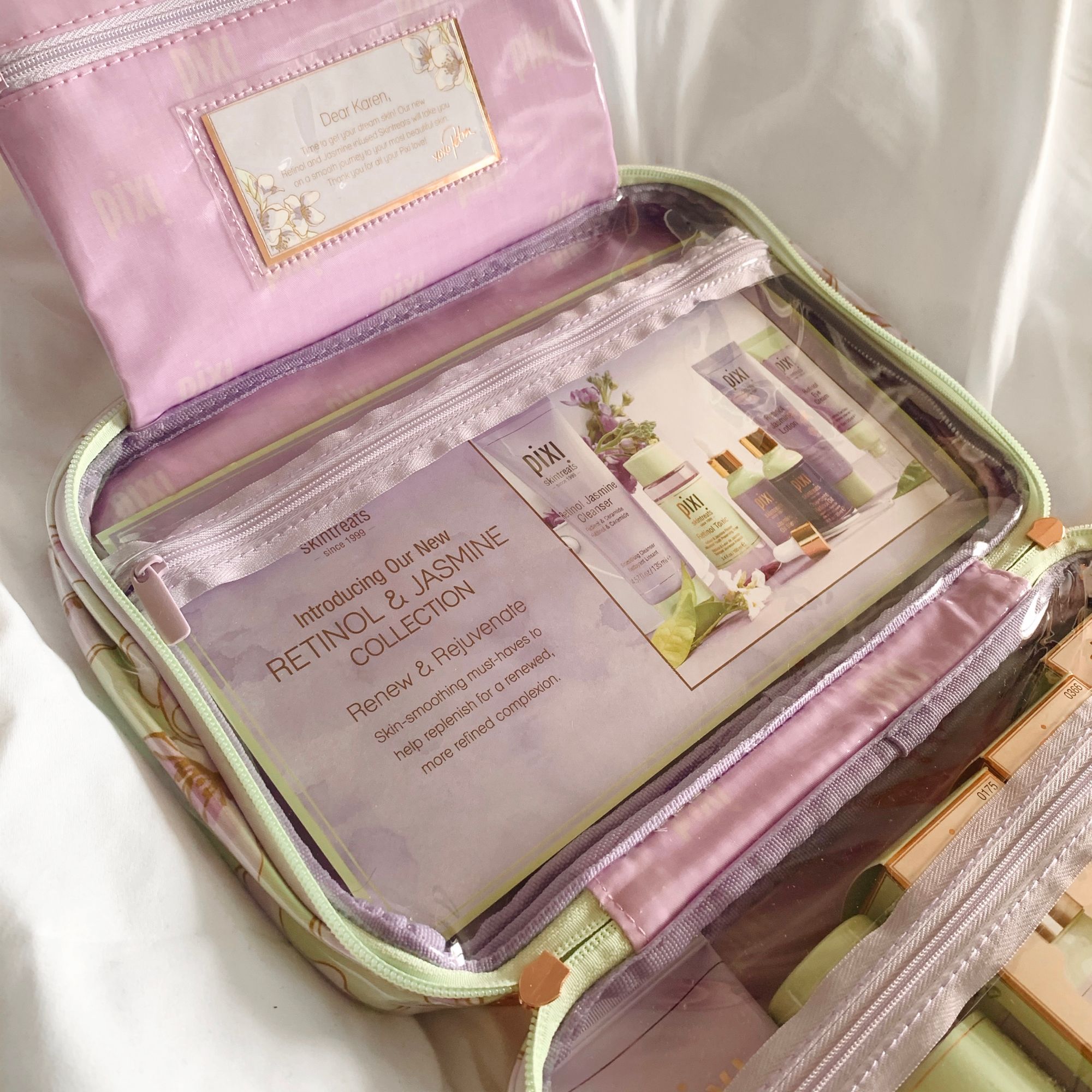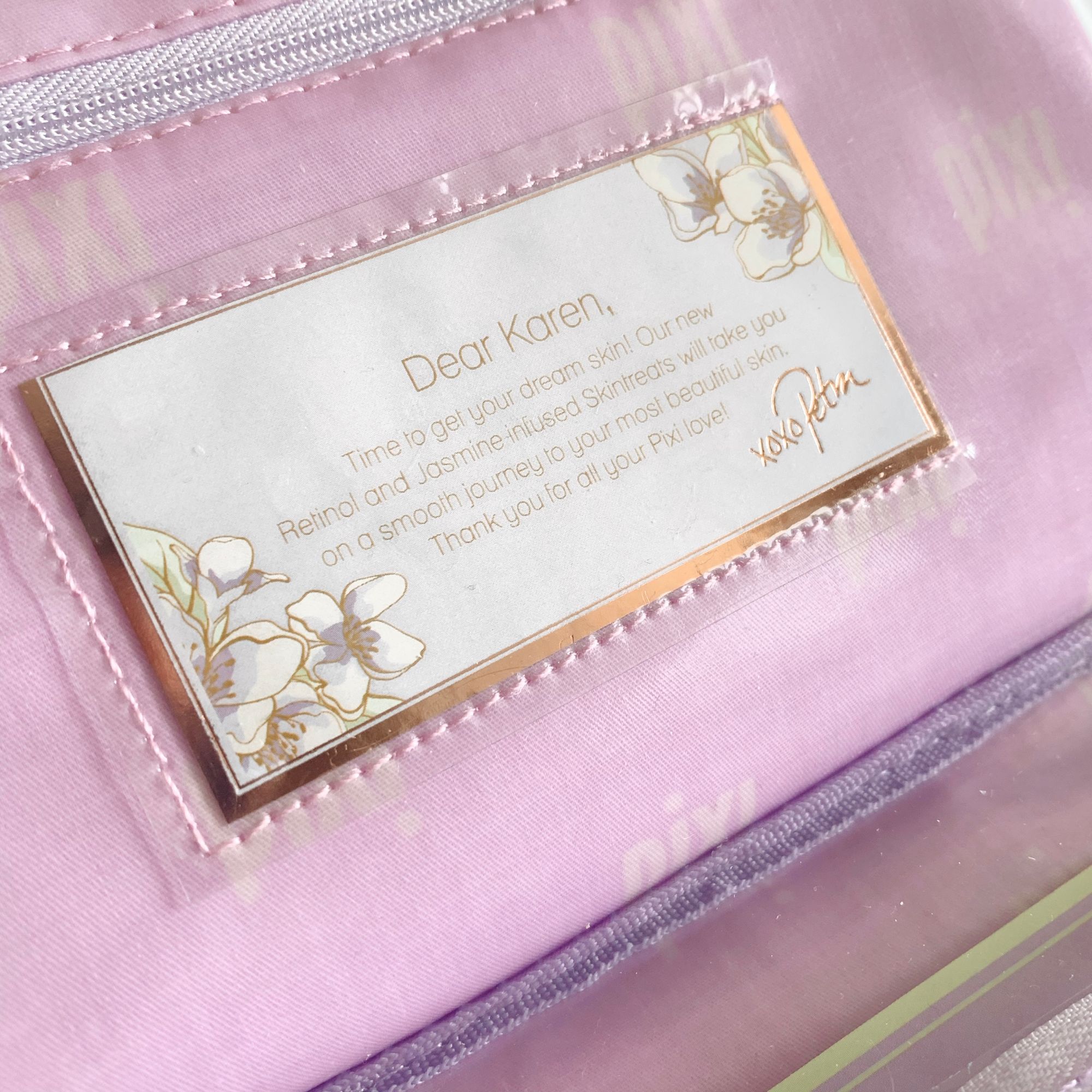 Because retinol promotes skin cell renewal, it's important that you use the right concentration on your skin so your skin doesn't get damaged. It's always recommended to begin with a low concentration of retinol and slowly build it up if you don't have any side effects such as redness and irritation – especially if you haven't used retinol before.
It's also recommended to only use retinol as part of your skincare routine at night because it makes the skin very sensitive to sunlight. Then, the following morning it's incredibly important to use a high SPF on the skin to protect it from the sun.
So retinol isn't just a product you can use whenever and with any other products. Like with any ingredient, it's beneficial to do your research and find out what works best for you and your skin… Especially if you have any skin conditions such as eczema or psoriasis as retinol can increase inflammation.
All six products in the Pixi Retinol and Jasmine collection are said to contain Retinol. When you read the ingredient list on the back of each product you see that they all actually contain a type of retinoid called Retinol Palmitate. This type of retinoid requires another three conversion steps before it is converted into the active form of retinol which delivers the benefits listed above. That's not saying it doesn't deliver any benefits… but it's unlikely to have the benefits you would expect from retinol products.
The concentration of the retinoid listed in the ingredients also isn't specified so it's not clear how strong the product is. As I've explained, retinol should only be used as part of the night time skincare routine, but Pixi recommend the products can be used day and night, further suggesting that the retinoid concentration is low.
As with any products though, if you experience any kind of irritation whilst using them, stop. And don't forget your SPF in any circumstance.
JASMINE
The products also contain Jasmine. This is listed in the ingredient list on each product and it's a pretty beneficial ingredient to include in your skincare routine.
Jasmine is an essential oil which hydrates and restores the skin. It also works to protect the skin due to its antibacterial properties. This makes it a great ingredient in the transitioning months of the year. Jasmine oil also work to help fade scars and blemishes so can be beneficial to use on acne scars and stretch marks.
As with all essential oils however, some people may experience irritation on the skin when using jasmine. It really is about working out what your skin tolerates and what it needs.
So let's take a look at the six products in the Pixi Retinol and Jasmine collection:
STEP 1: CLEANSE
RETINOL JASMINE CLEANSER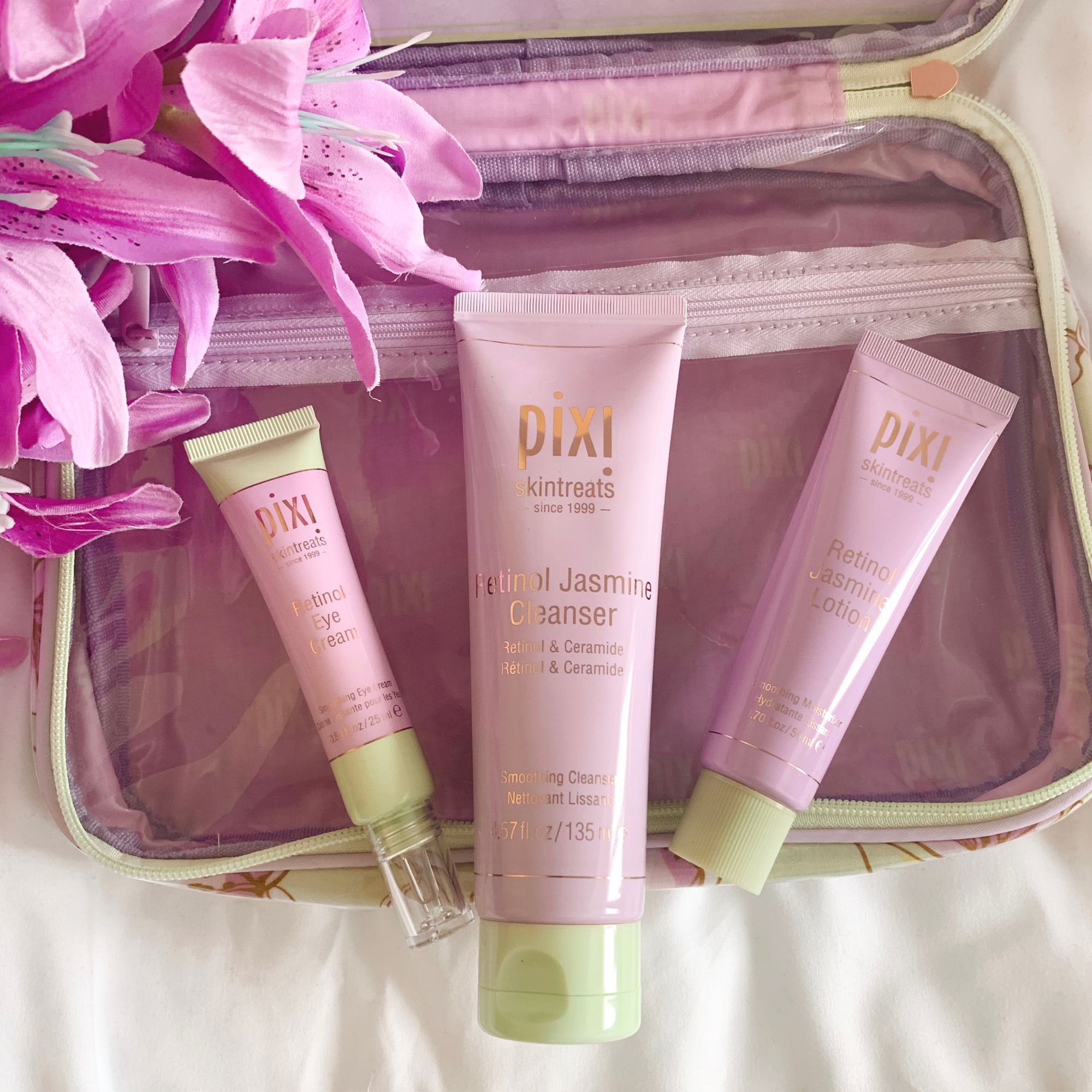 The first product in the skincare routine is the Retinol Jasmine Cleanser. The Pixi website says it contains retinol to smooth the skin, anti inflammatory jasmine oil and ceramics to lock in moisture. As we have mentioned, the benefits of retinol in the product is questionable, but overall, as a cleanser, it does what it says on the tube. It works to cleanse the skin whilst hydrating and doesn't leave the skin feeling tight and dry after use. It's a pleasant product to use and the inclusion of fragrance in the product also isn't a huge problem due to it being a wash off product.
STEP 2: TONE
RETINOL TONIC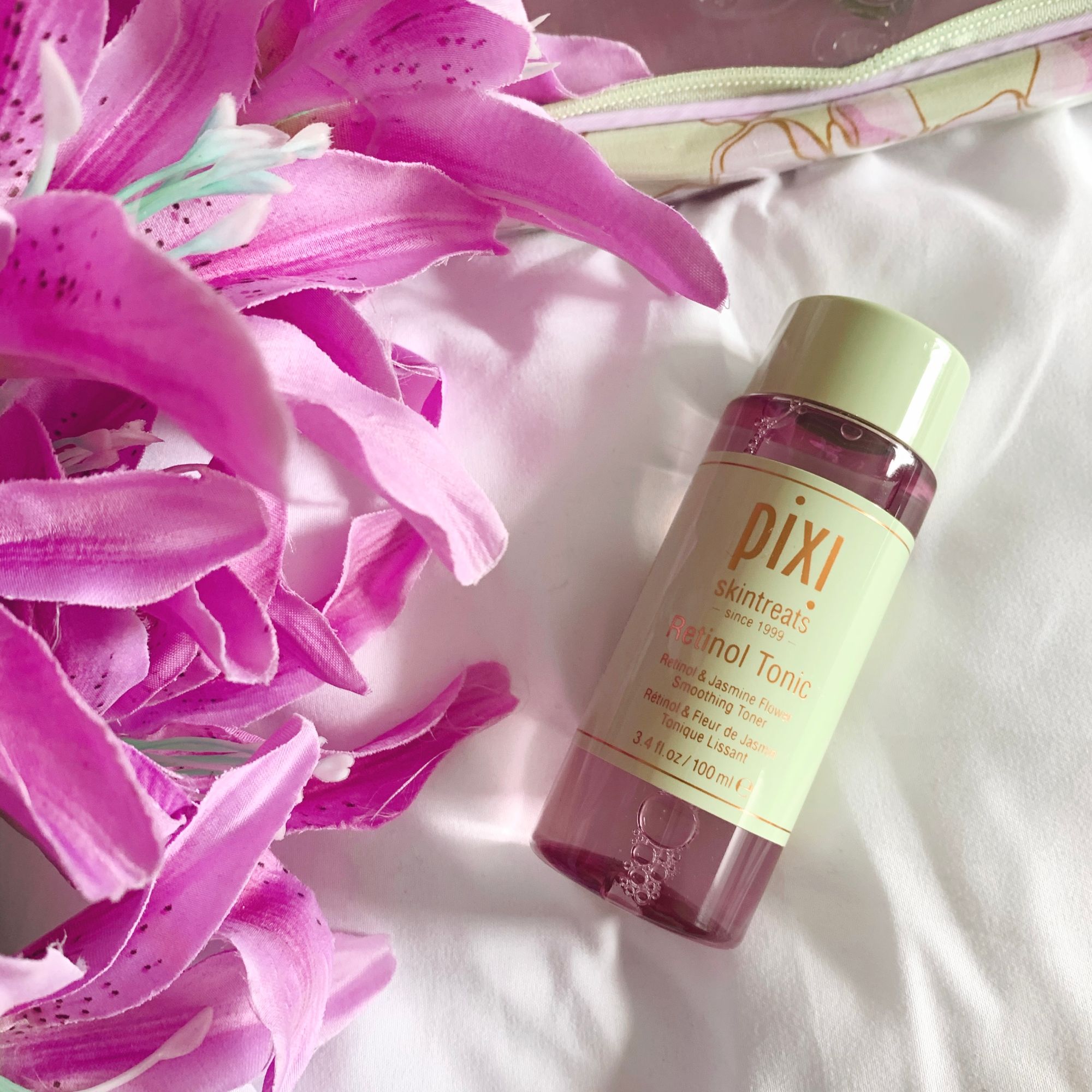 Next up is the Retinol Tonic. If you're a die hard Glow Tonic user then this would be where you'd put down the Glow Tonic and try this one instead… if you can step away from the bottle. I know the Glow Tonic can be a product that's hard to put down once it's part of your skincare routine!
Again this product is labelled as a retinol tonic. The Pixi website describes it as a time release retinol to smooth and refine. Like the other products in this collection, it contains retinoid and the ingredient is listed almost half way down the ingredient list, meaning it's not one of the main ingredients.
It's definitely a product to try if you're someone who is looking to introduce retinol into your skincare routine gently, but if you're looking for those particular retinol benefits, you will likely be disappointed. The tonic also contains elderflower to soften and brighten the skin, and also chamomile to calm the skin and minimise any redness.
Overall whilst the retinol benefits aren't the main benefits of this product, it leaves the skin feeling very hydrated and smooth after use. I am now using this product as part of my night time skincare routine and using the Glow Tonic in my morning routine instead. When this one runs out though I'll probably revert to using the Glow Tonic instead of repurchasing.
STEP 3: TREAT
JASMINE OIL BLEND & OVERNIGHT RETINOL OIL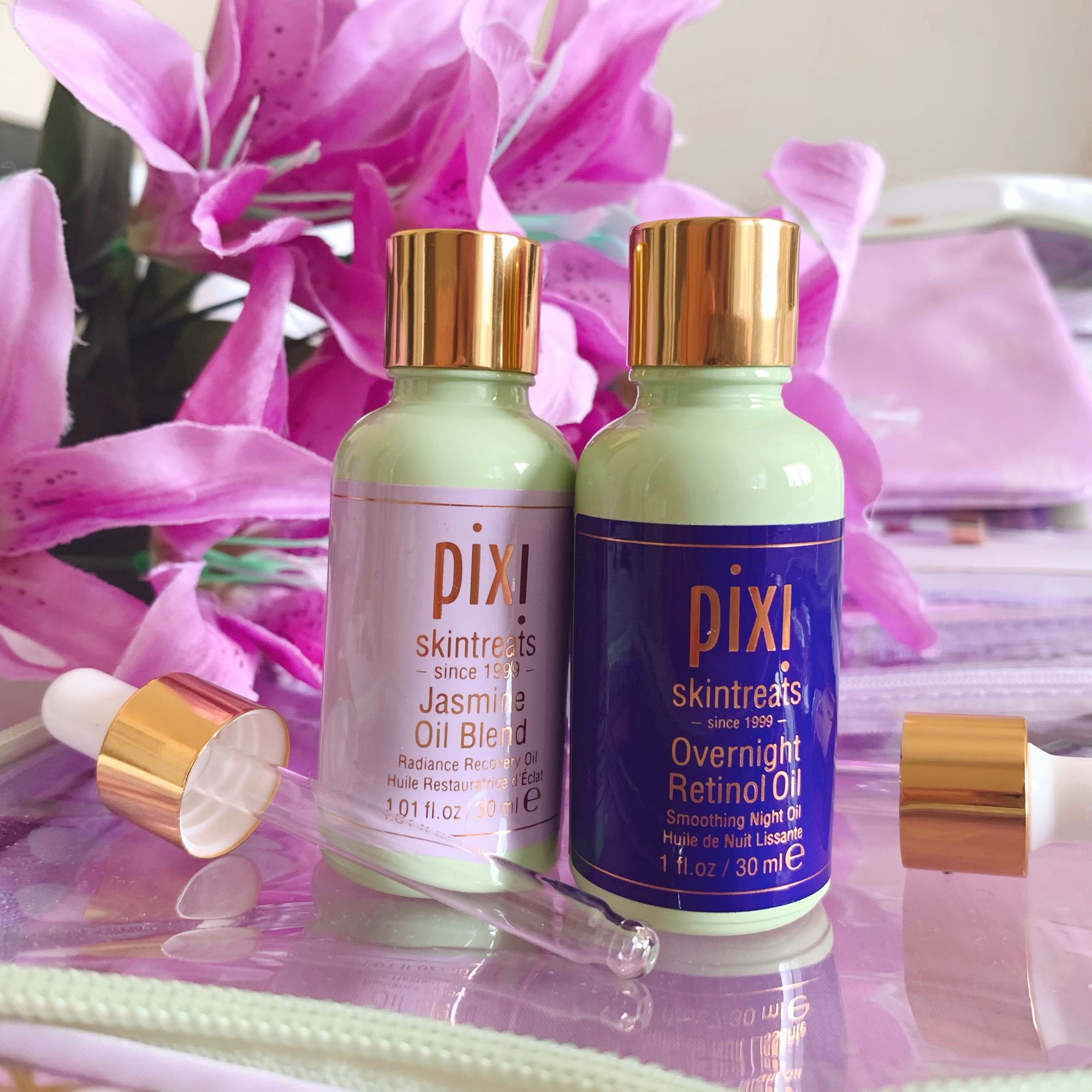 Step 3 in the routine is 'Treat' and the products are two oils – a Jasmine Oil Blend recommended for use in the morning and an Overnight Retinol Oil for use… overnight.
The Jasmine Oil Blend contains jasmine flower, evening primrose and grape seed oil which together work to rejuvenate the skin, boost circulation and nourish. It's definitely a very hydrating oil, but as grape seed oil is an essential oil, this can cause irritation in some skin types.
The second oil is the Overnight Retinol Oil. Like with the tonic, the 'retinol' in this product is described as a 'time release retinol'. And as mentioned in the other products, it's not clear what concentration of retinoid is actually in the products. Other than that it contains peptides to firm the skin and ceramics to lock in hydration.
Both oils feel super hydrating on the skin and leaves the skin feeling super soft after use.
STEP 4: MOISTURISE
RETINOL JASMINE LOTION
I would normally apply eye cream before moisturising so I would switch these final two steps but either way round is fine so follow these steps if this works for you!
The moisturiser in the collection is the Retinol Jasmine Lotion. As the name suggests, it's not as rich as an overnight moisturiser but it's very hydrating and soaks into the skin really quickly leaving it feeling hydrated and fresh.
The retinol is again a retinoid and is lower down on the ingredient list so perfect for those wanting to slowly introduce retinol into their skincare routine very gently. It also contains peptides to firm the skin and jasmine oil to nourish and brighten the skin. It's a really nice lotion but the retinol benefits are likely to be minimal.
I will definitely be using this as my overnight moisturiser on those nights where I don't want to apply a mask or rich moisturiser.
STEP 5: NOURISH
RETINOL EYE CREAM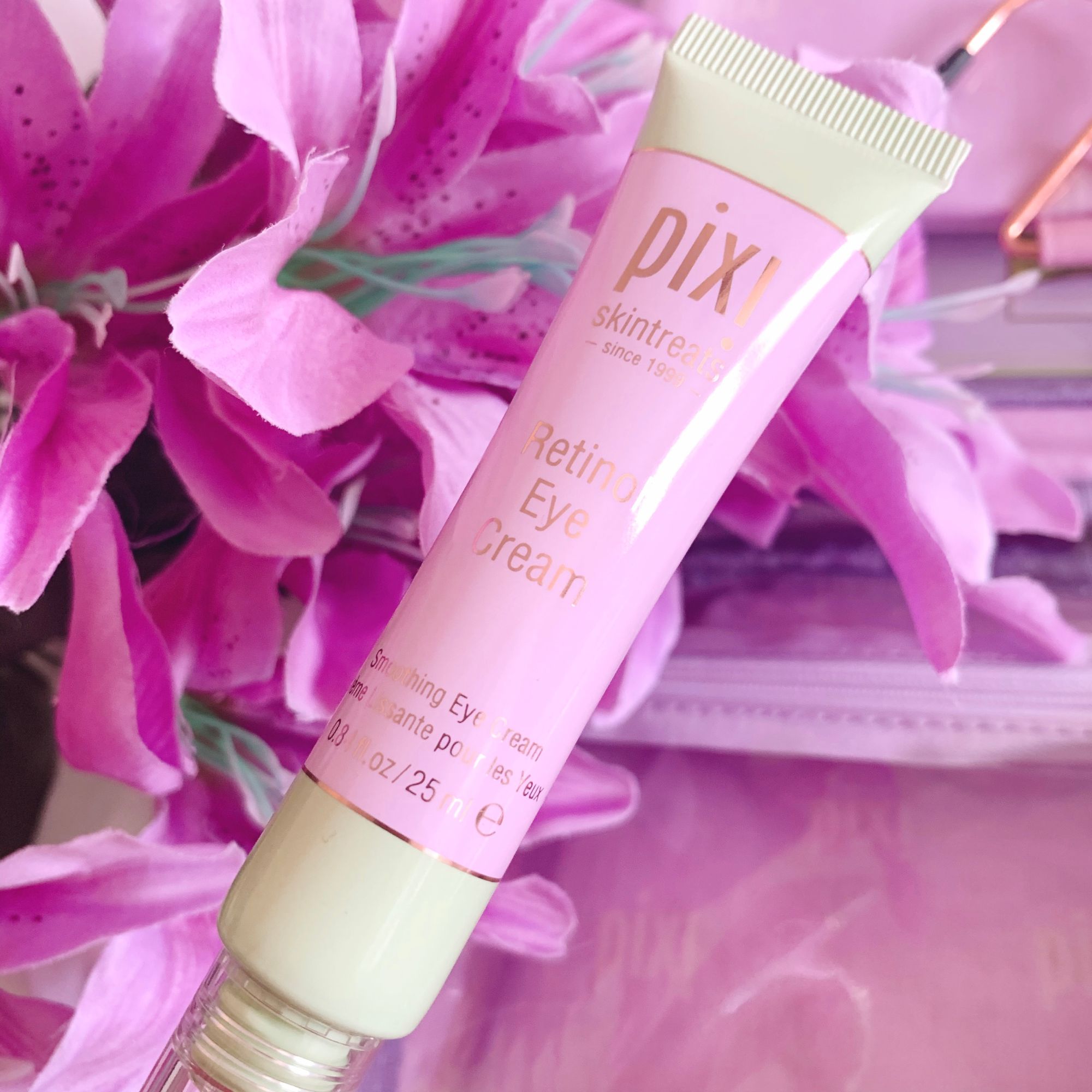 The final step in the routine is the Retinol Eye Cream. I was using this eye cream before I was sent the full collection and I really like it.
The retinol ingredient is the same as the other products but I still found that my eye area would sometimes feel more delicate after using the eye cream for a few nights – so the retinol is definitely present and working on the skin! It also contains caffeine which is a great ingredient for de-puffing the eyes, and peptides to firm and revitalise the skin.
OVERALL THOUGHTS
Overall, I do like most of the products in the collection, not for their retinol benefits but for their other benefits. My skin feels so soft and hydrated after using a combination of the products.
Aside from the eye cream, if retinol is something you want to add to your skincare routine, this could be a very gentle starting point. I'm also not sure how Pixi can market this collection as being Retinol when it's unlikely to produce some the benefits of a retinol. I'd almost say it's misleading. Personally, it's unlikely I will repurchase any of the products after I've used them, especially if I'm looking for retinol benefits. However, if you're looking for products to smooth and soften the skin, try them out.
Have you tried the collection out? What did you think of it?
*These products were provided to me as a PR sample. I was not obliged to write about them and all opinions are my own.