Rhodes is one of my favourite Greek Islands - so much so that I've visited it at least once every year for the past 3 years!
When I go away I like to explore the place I go and not just lie by a pool for the whole time so Rhodes is perfect for this! There are obviously stunning pools and beaches but like most Greek Islands, Rhodes has a lot of culture and history to explore too.
This time I visited I didn't visit as many of the touristy places as I'd already seen them before so it was more of a chilled relaxing holiday with a few bits of sightseeing.
When I go away I LOVE to buy a bunch of new clothes - there's something so exciting about holiday shopping! And of course I took quite a few photos for the 'gram whilst I was there so I thought - why not put them in a Lookbook and link them all here!
So below you'll find some of the outfits I wore whilst I was in Rhodes, plus some of my fave accessories and also some of my fave holiday products.
I was lucky enough to arrange some collaborations with brands before I left for Greece so those will all be detailed below too.
OUTFITS
I can't remember on which day I wore which outfit (there was sometimes some alcohol involved) so they'll be in a random order but starting off with my I Saw It First outfit.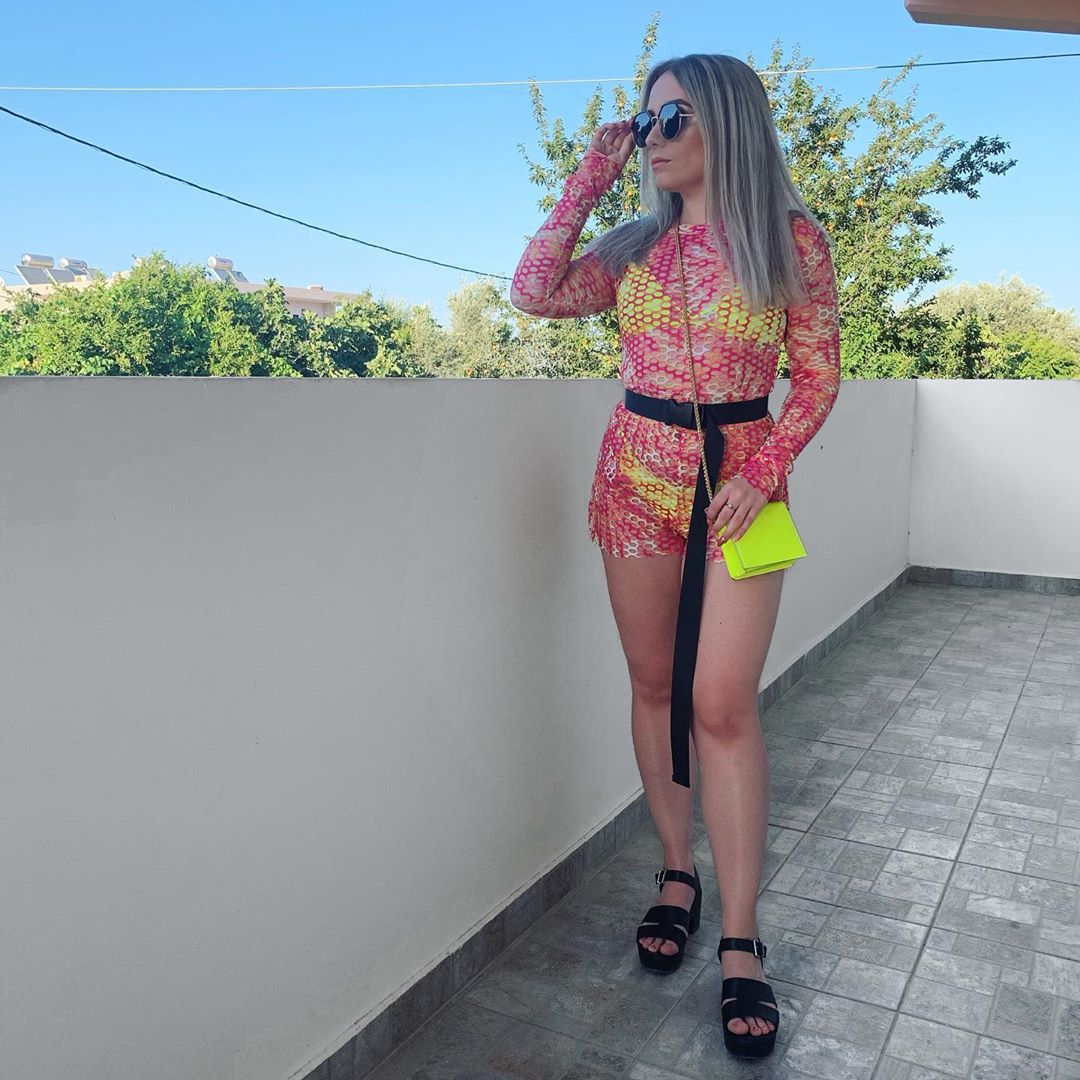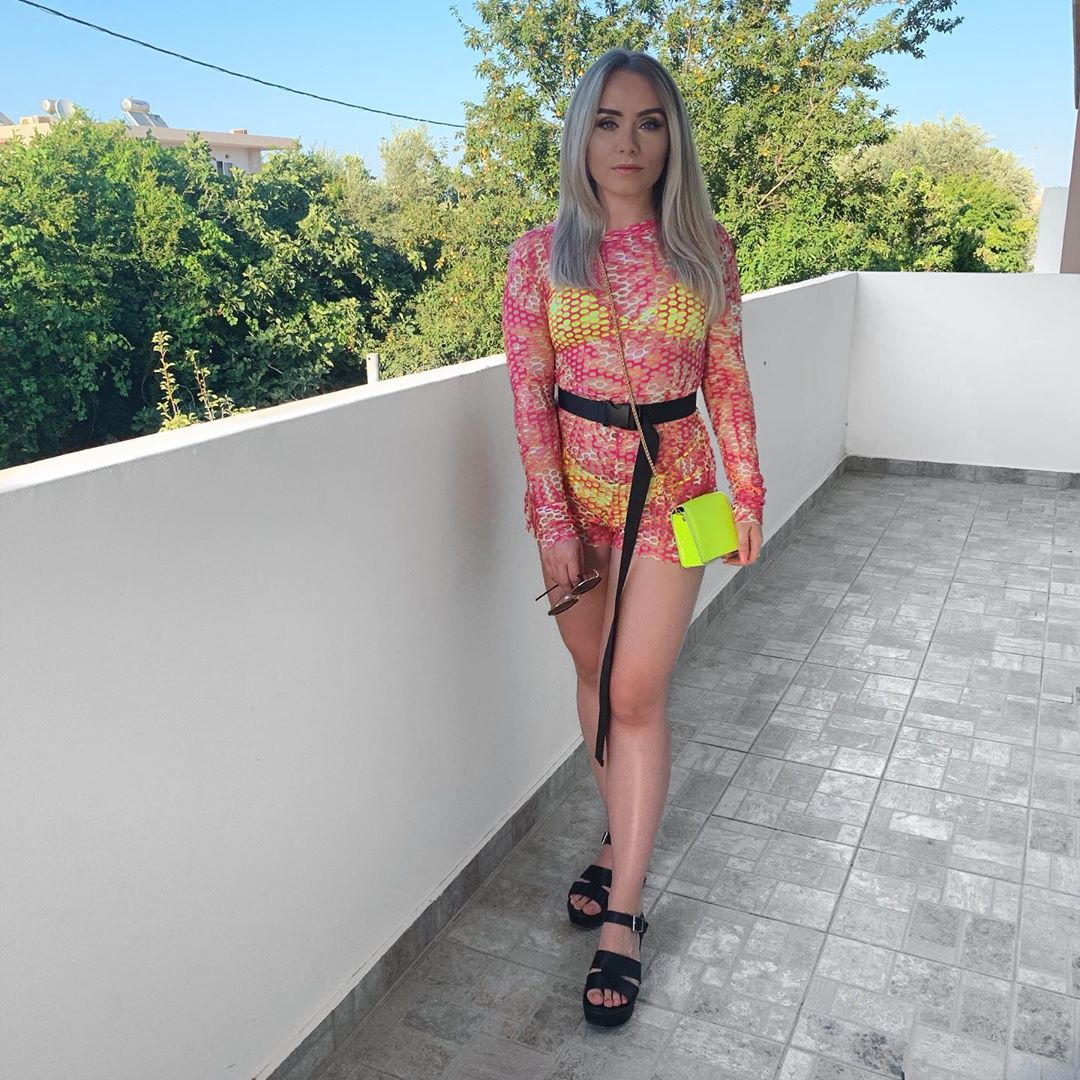 This outfit was kindly gifted to me and I am OBSESSED with it! If you follow me on Instagram you'll know I love neons so this outfit is me all over. I paired the mesh neon playsuit with a neon yellow bikini from Topshop (which is now in the sale) and brought it in at the waist with a buckle belt from Pretty Little Thing.
I completed the outfit with my fave Topshop sandals and my new fave sunglasses from Quiz (also gifted). The sandals were from a few years ago but I will link similar below:
Quiz sunglasses (black) and (pink)
Next up are my pieces from NaaNaa clothing.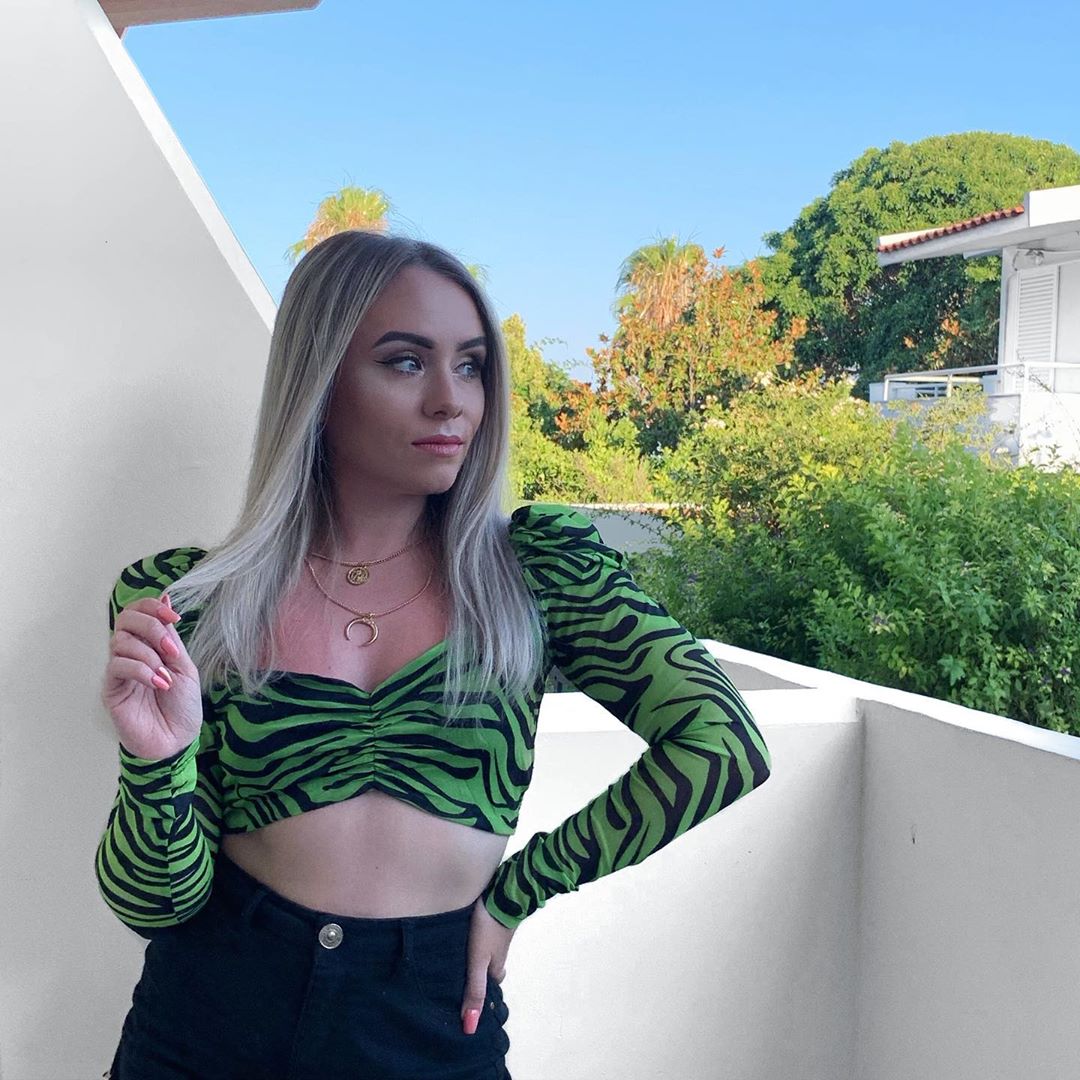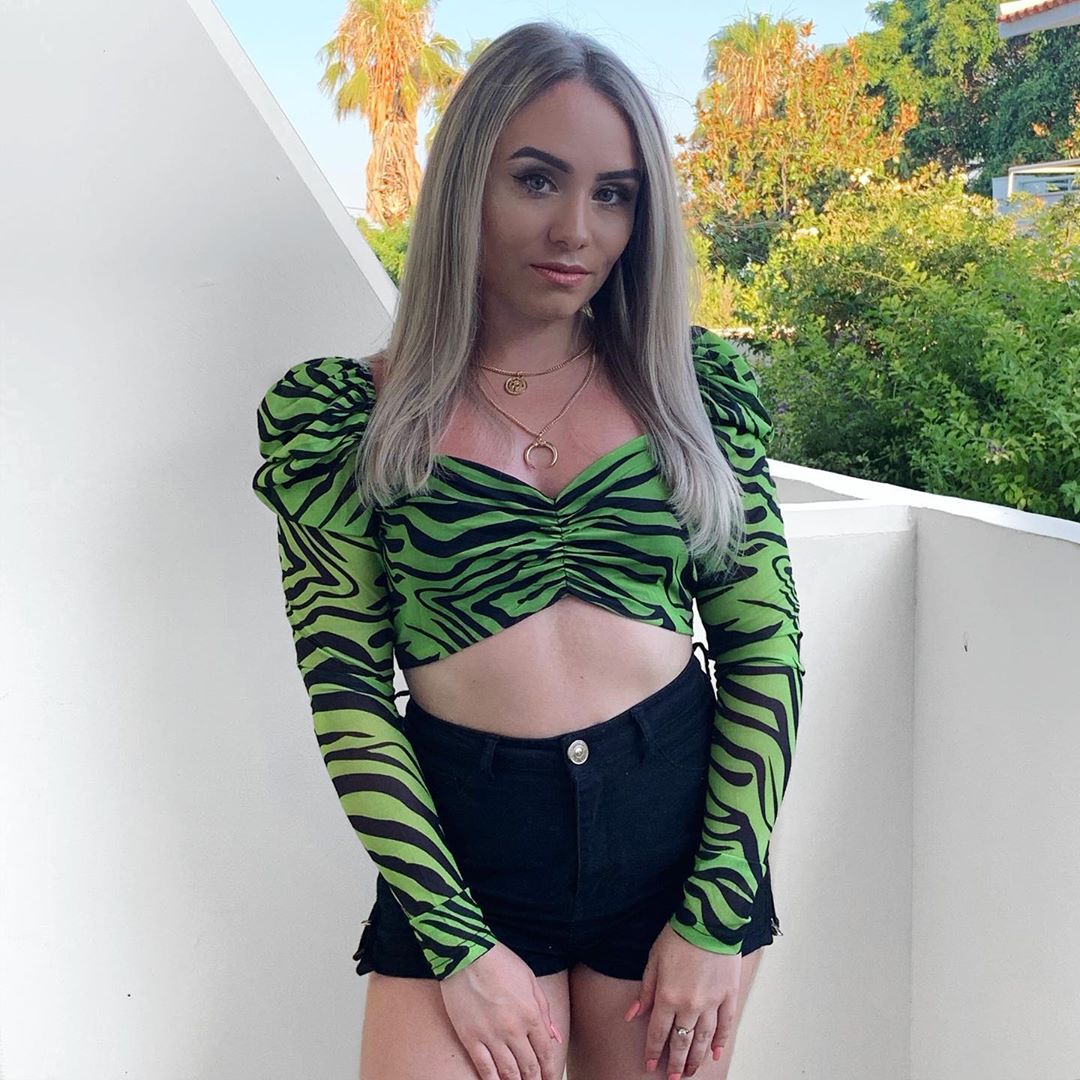 This first outfit is also one of my faves - its the puffy zebra print green top. Now this one was a little different for me as I wouldn't usually take any long sleeve tops on holiday... but as this was a crop top I thought I would give it a try. The puffy shoulders looked so good! And the mesh material meant that I didn't feel too hot in it either. I paired it with some black denim shorts from River Island (from a few years ago).
The lacy bodysuit has become a staple in most girls' wardrobe at the moment and the white bodysuit was a must whilst abroad. Paired with some denim shorts, a belt and some sandals I went for a more casual look but this would have also looked fab dressed up!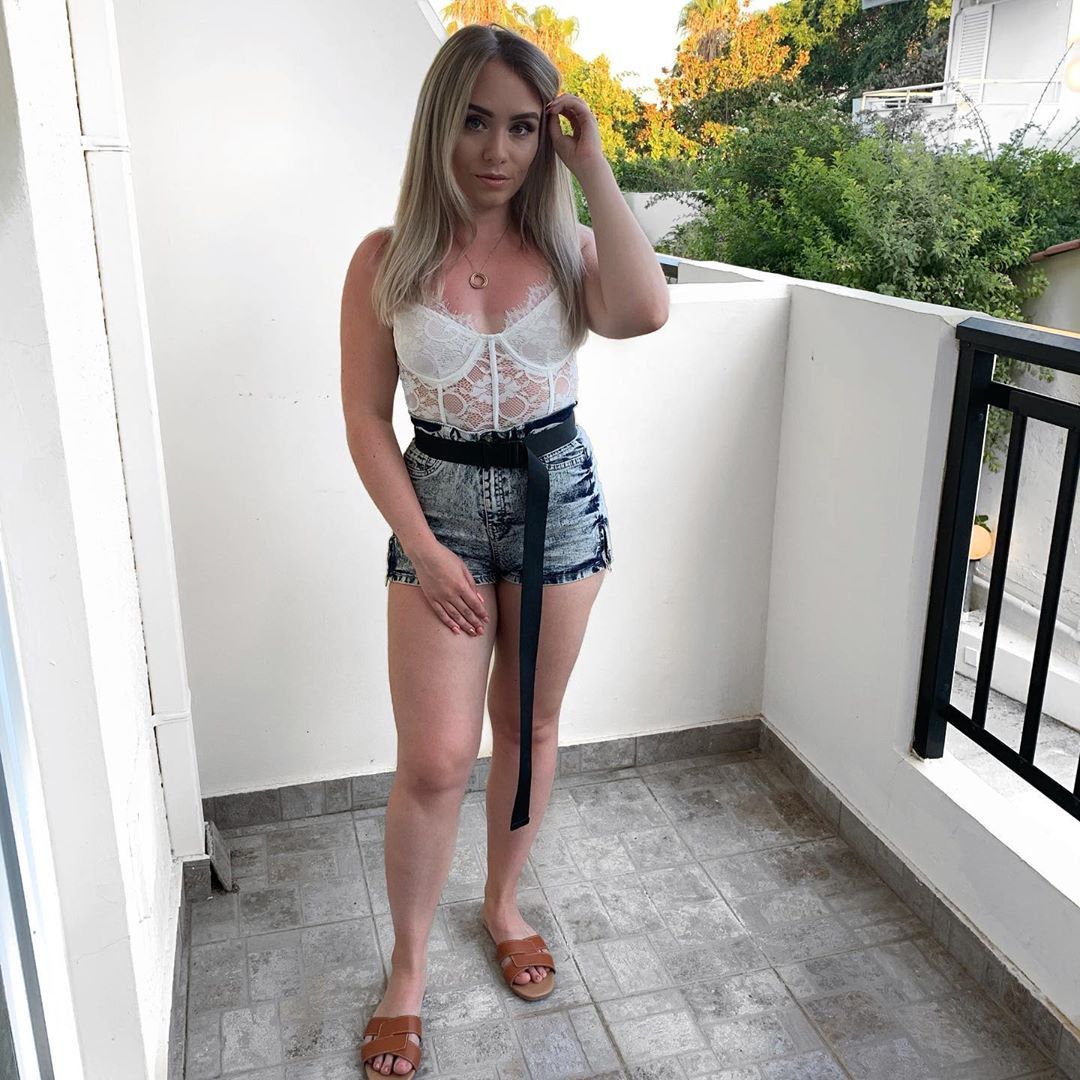 The final NaaNaa piece was this cute little black halter neck crop top - one of the comfiest tops I wore out there! It's a stretchy crepe material and felt so comfortable to wear. I paired it with a neon skirt and wedges for an evening meal.
I remember this next outfit as being my night 1 outfit - it's my fave skort from last year and the comfiest wedges from Lavish Luxe. The beaut floral sheer top was gifted by Rebellious Fashion and it also looked fab over my white bikini!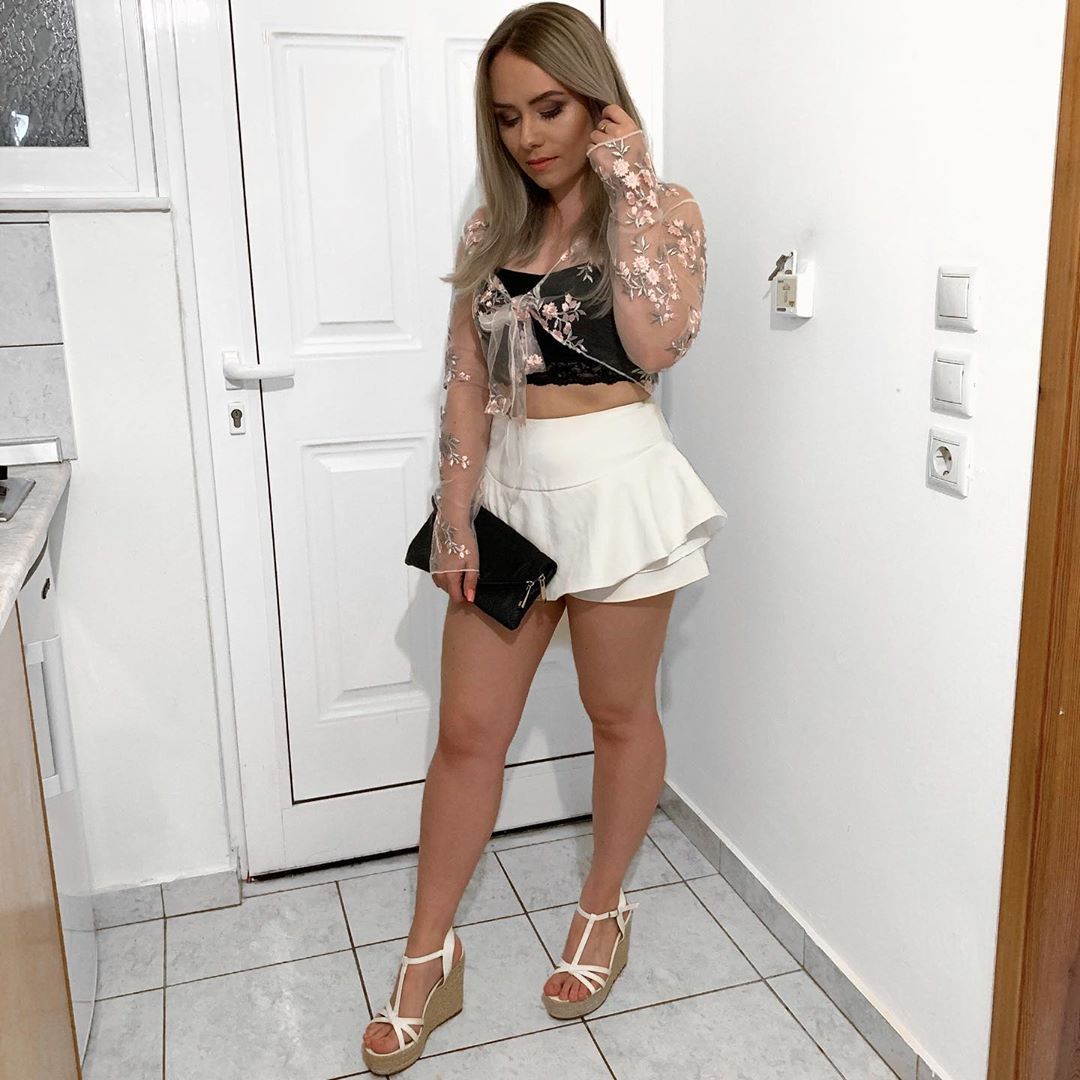 I didn't manage to get many swimsuit/bikini pics as I was either full of suncream/oil or too busy swimming (yes we bought snorkels to look at the fishes!) but I did get a shot of my fave swimsuit of the holiday which is this beaut neon tie die one piece from Pretty Little Thing. As its a tie front swimsuit you can pull it in as tight as you need across your boobs and around your waist.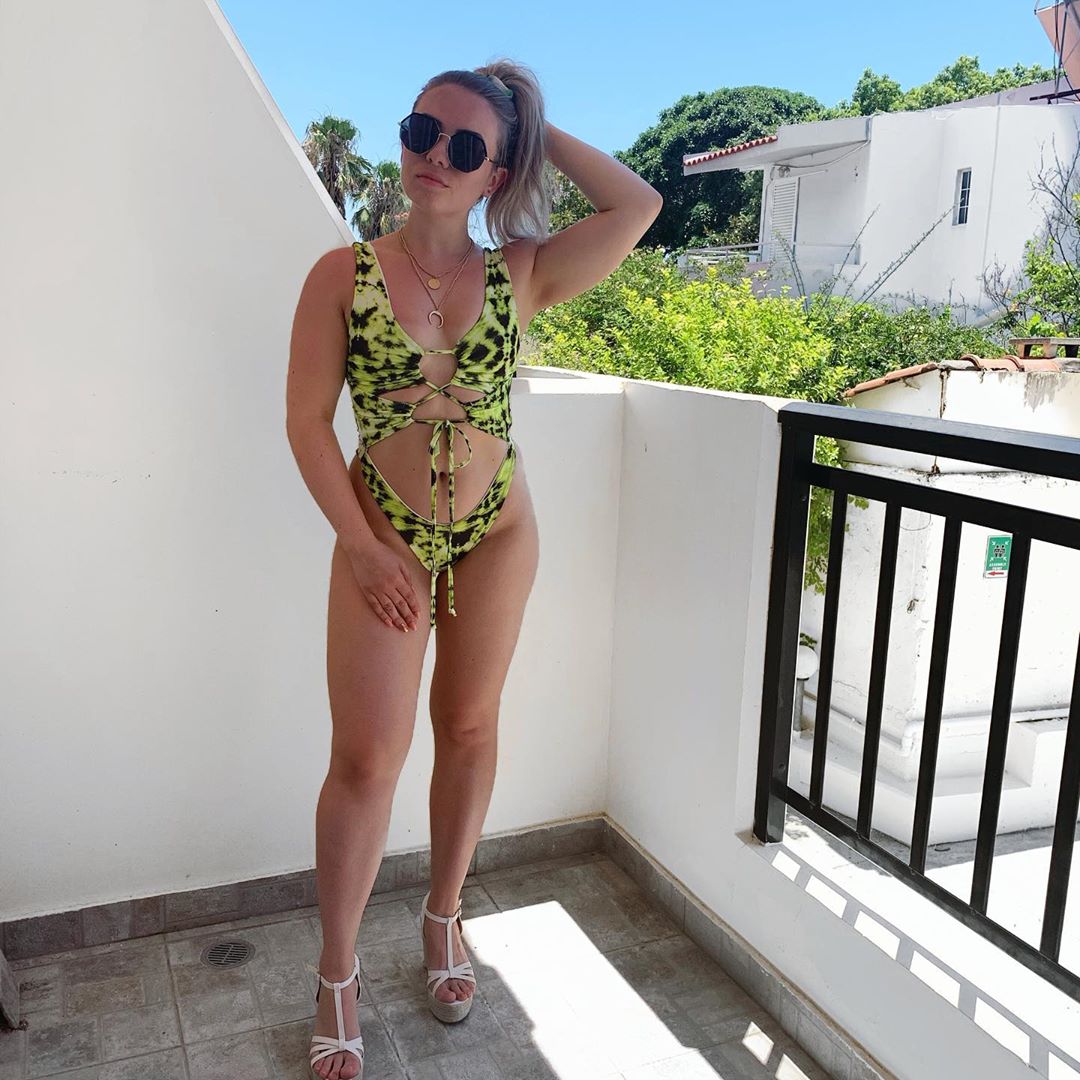 I wore this as a swimsuit but also paired it with the denim shorts (above) for wandering round Rhodes town.
ACCESSORIES
I always seem to go overboard with accessories as I think I can never have too many… and every outfit needs different accessories, right?
First up are a few pieces from Quiz Clothing. I've begun shopping at Quiz a lot more recently and again was lucky enough to be sent a few pieces in time for me going away!
I picked out some sunglasses, a bag and some gorgeous sandals.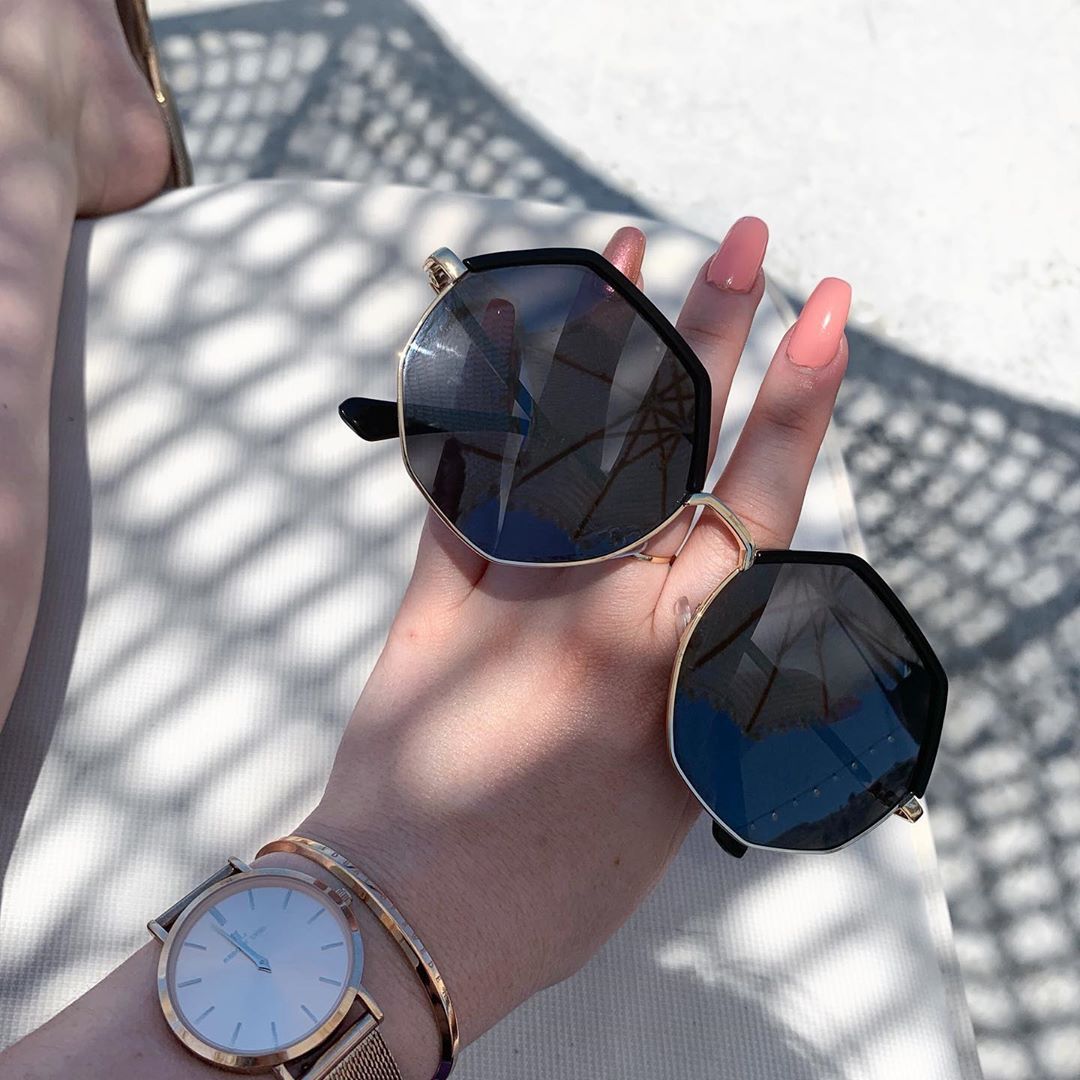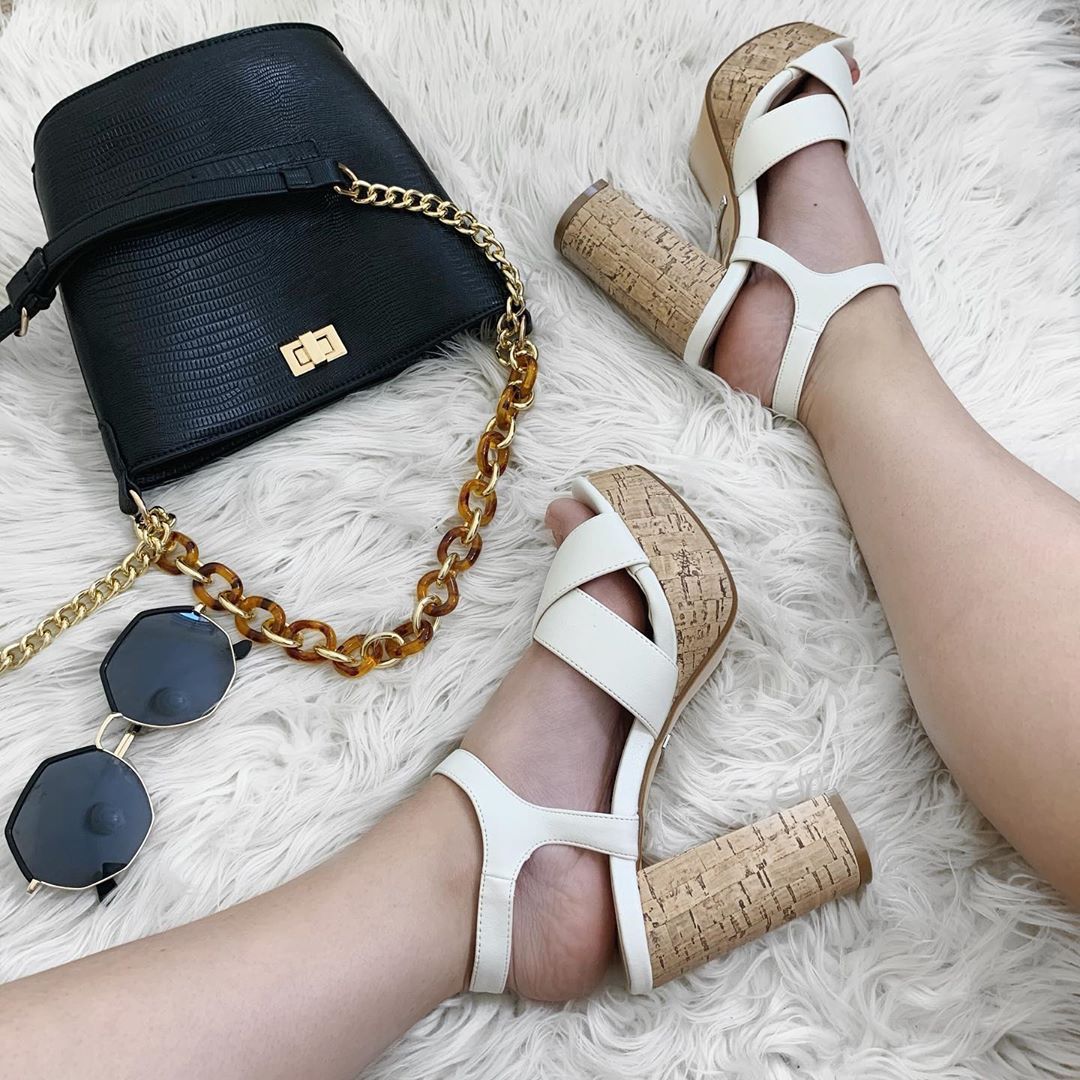 The sunglasses are octogon which is different than the usual circular, aviator or cat eye shapes that are around and I immediately fell in love with them! I think the shape really suits my face - circular sunglasses (as cute as they are) never suit me!
The back is a cross body bag but it also has a smaller strap to carry it or hold it on your arm. It's got two compartments with a zip section and is big enough for all your essentials, day or night. I chose black as I planned to use it as my evening bag but it also comes in white (and I think it's also in the sale right now too!)
I have way too many sandals but couldn't resist these beauties. I love a cork heel and platform as it instantly makes the shoes more summery! And a white shoe on holiday is a must - I think most of my shoes are white! As these are quite chunky they're super comfy to walk in too.
One of my fave shoe brands is Lavish Luxe and I chose two pairs from their new collection to bring with me on holiday.
The first pair are these gorgeous wedges - again in white. I bought a couple of pairs of wedges from Lavish Luxe earlier in the year as they are literally the comfiest wedges I've ever worn… so I thought I'd try a slightly different style this time.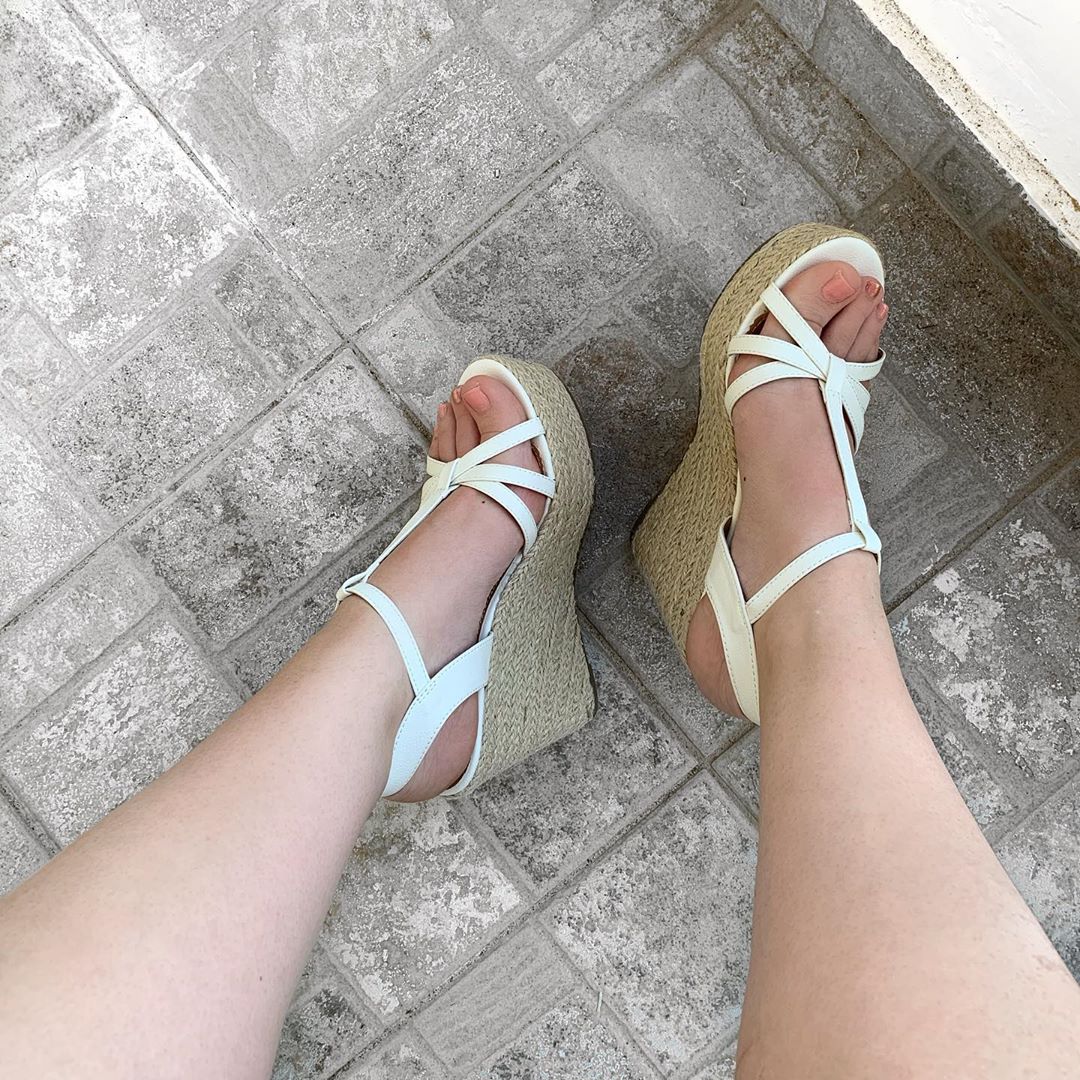 And I also picked out these chunky trainer shoes for travelling. I always like a comfy shoe on the plane as it can get a bit chilly wearing sandals and they're also super comfy if you have to walk ten minutes to your gate (like we did in Manchester Airport this time!).
I've been a fan of chunky trainers for a while now and these are definitely in my top faves - I've also seen they now have a boot version online so these are next on my wishlist!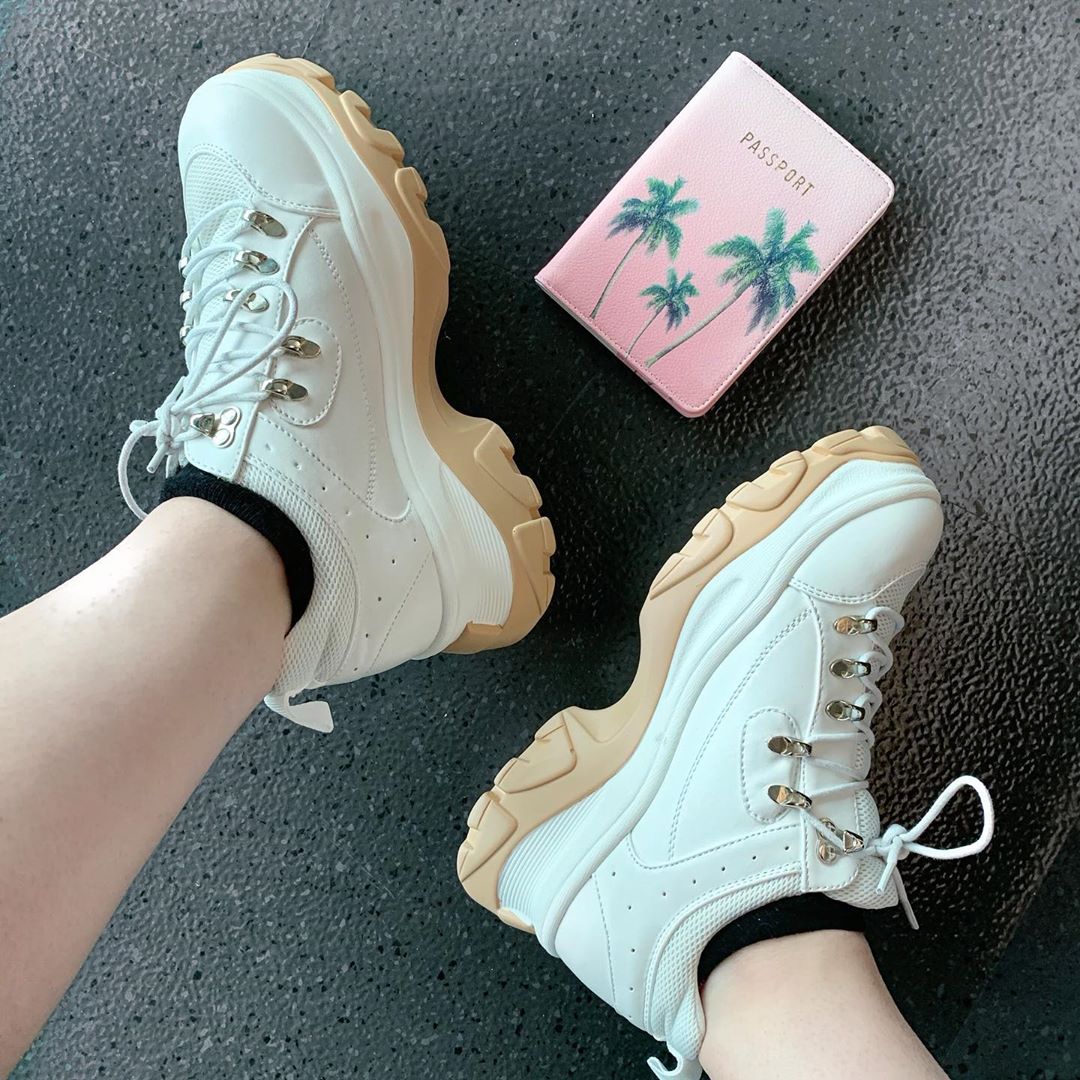 Before I went away I was also sent a backpack and passport holder form Gaston Luga - this was a brand I hadn't heard of before but their bags looked very luxurious and I had been looking for a new travel bag so we set up a collaboration.
When I'm travelling, I always take a suitcase in the hold of the plane but then a pretty big bag on the plane with me too (for all the heavy items that don't fit under the weight limit in my case) - but carrying a heavy bag on my shoulder is never comfortable and it's always tricky carrying other items too.
So I decided to switch it up and try a backpack - it was honestly the best idea. Everything fitted in my backpack - the weight was spread evenly (rather than on one shoulder) and I had two free hands! It also came with a passport holder which was super cute!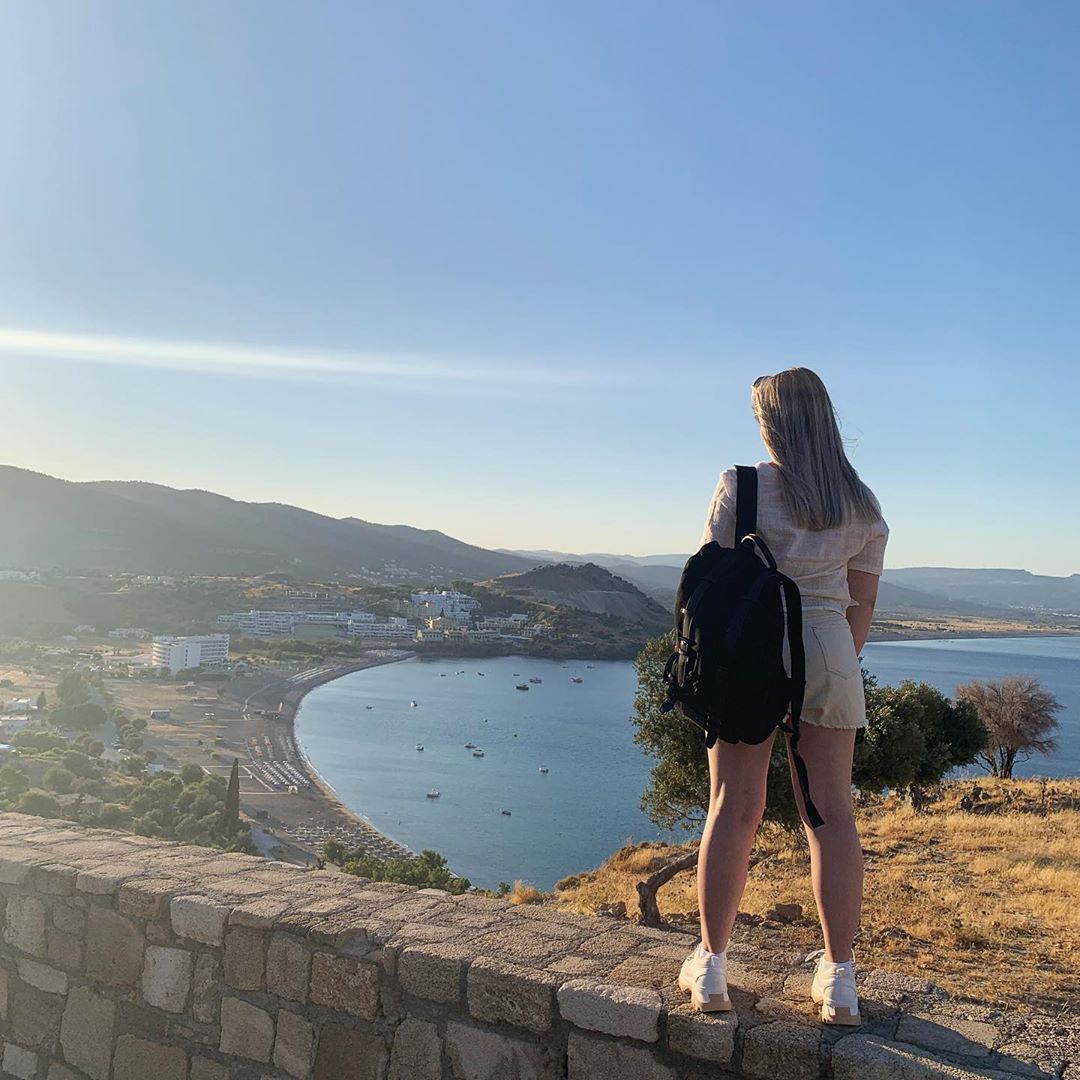 KTF15 gives you 15% off anything at www.gastonluga.com and at the moment you also get a free passport cover with every order!
I took two watches away with me - a Daniel Wellington Melrose and one from Abbott Lyon. The DW was my day time watch and the Abbot Lyon mainly my evening watch. I couldn't resist snapping a pic of the Abbott Lyon by the infinity pool though - it looked so lush!
The bracelet I wore with both watches was a brand new cuff bracelet from Ideal of Sweden - I chose the rose gold bracelet as most of my watches are more rose gold than regular gold and it matches all of them. The bracelet also comes in a silver and a gold colour too.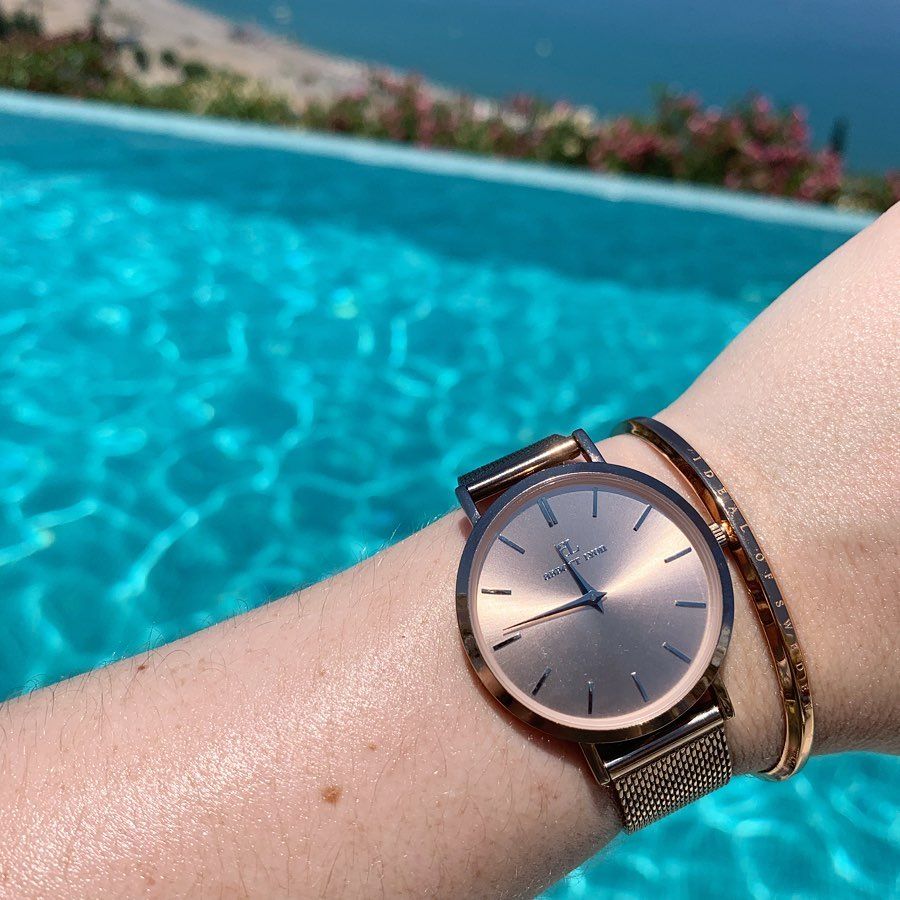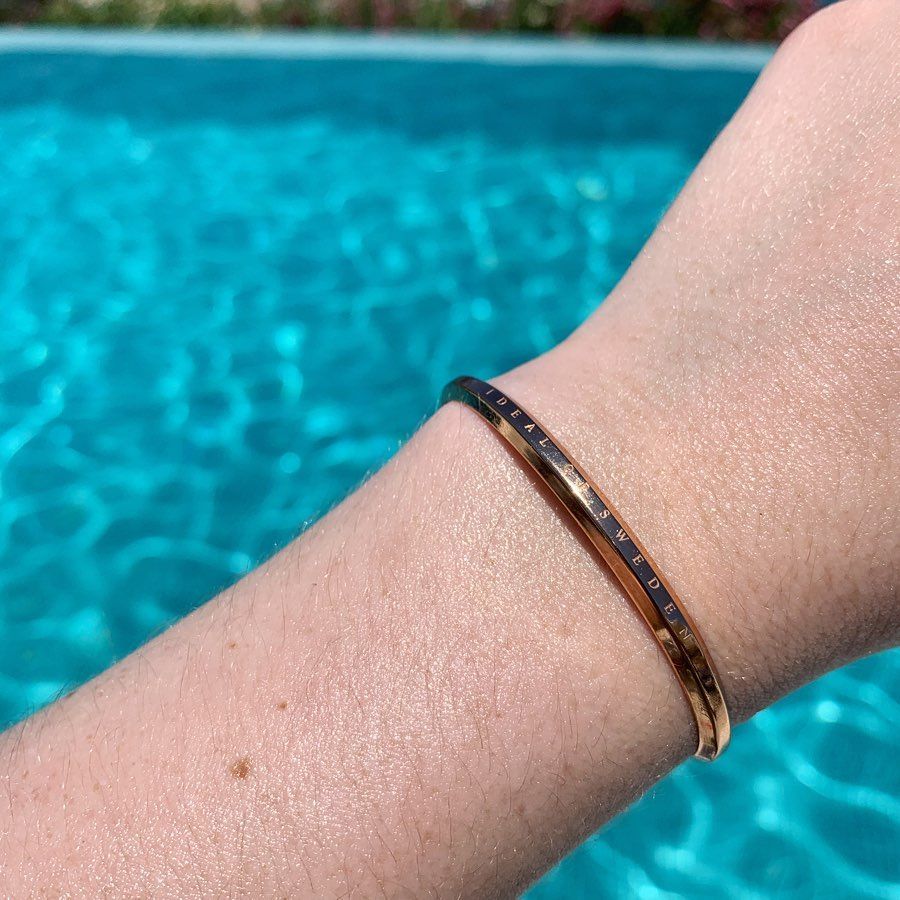 I also wore this gorgeous rose gold pair of diamond earrings from The Jewel Hut. These are by a brand called Petite Diamonds and have one small diamond in each. They look stunning in the ear and when the sun shines on them they look so luxurious! These were also kindly gifted to me.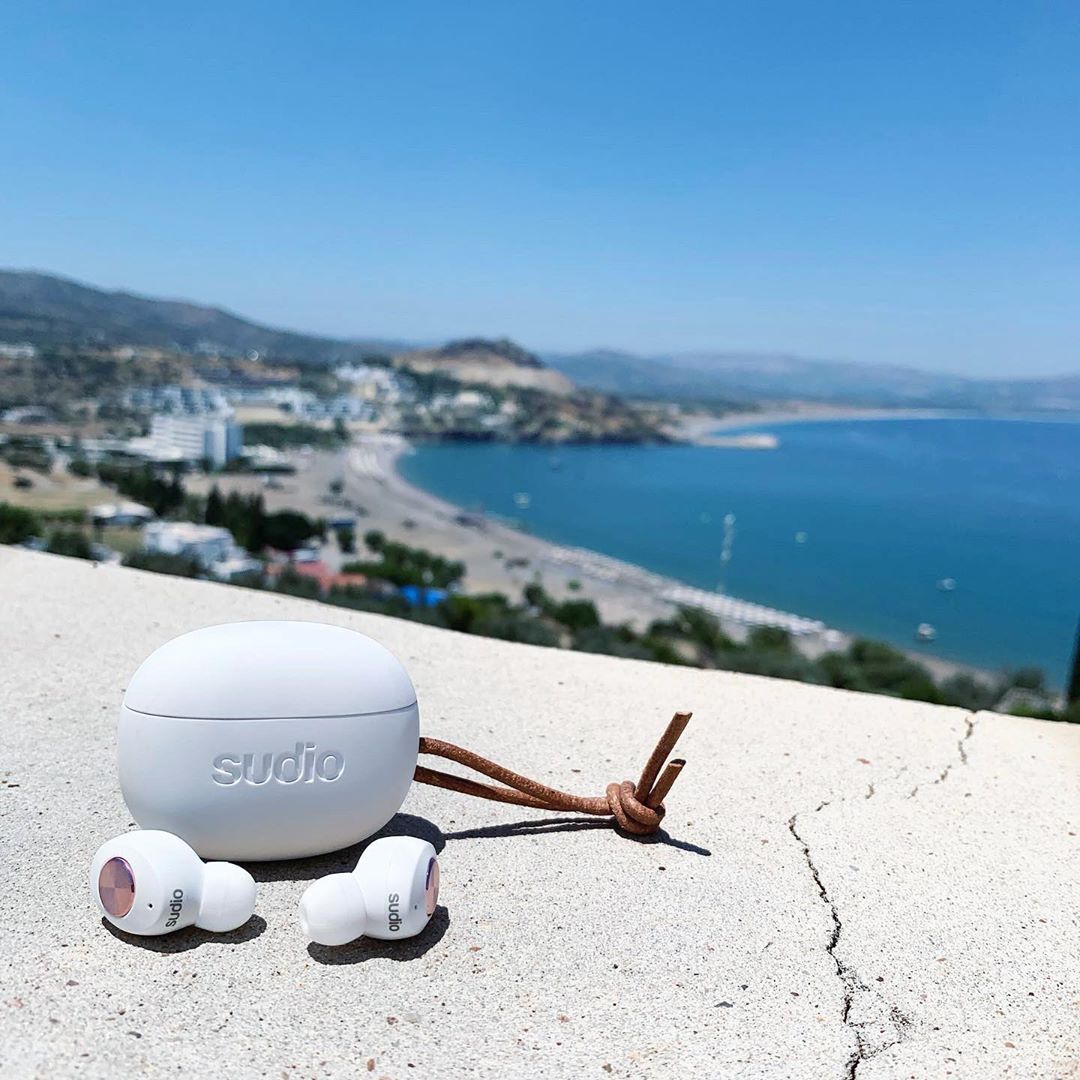 The final two items I'm including in this Lookbook are my earphones and skincare.
I've always been one to stick with the wire earphones - until I changed phones earlier this year and there was no earphone jack! So then I switched to Bluetooth.
My go-to earphone brand at the moment is Sudio and they kindly sent me their brand new Tolv bluetooth earphones to try out. So, for this trip I switched from their Nova pair to the Tolv, which pair with devices automatically and are stored in a more compact case. These were perfect for taking on holiday as they fit in my bumbag easily and were super convenient on the plane!
You can use KTF15 for 15% off anything on the Sudio website.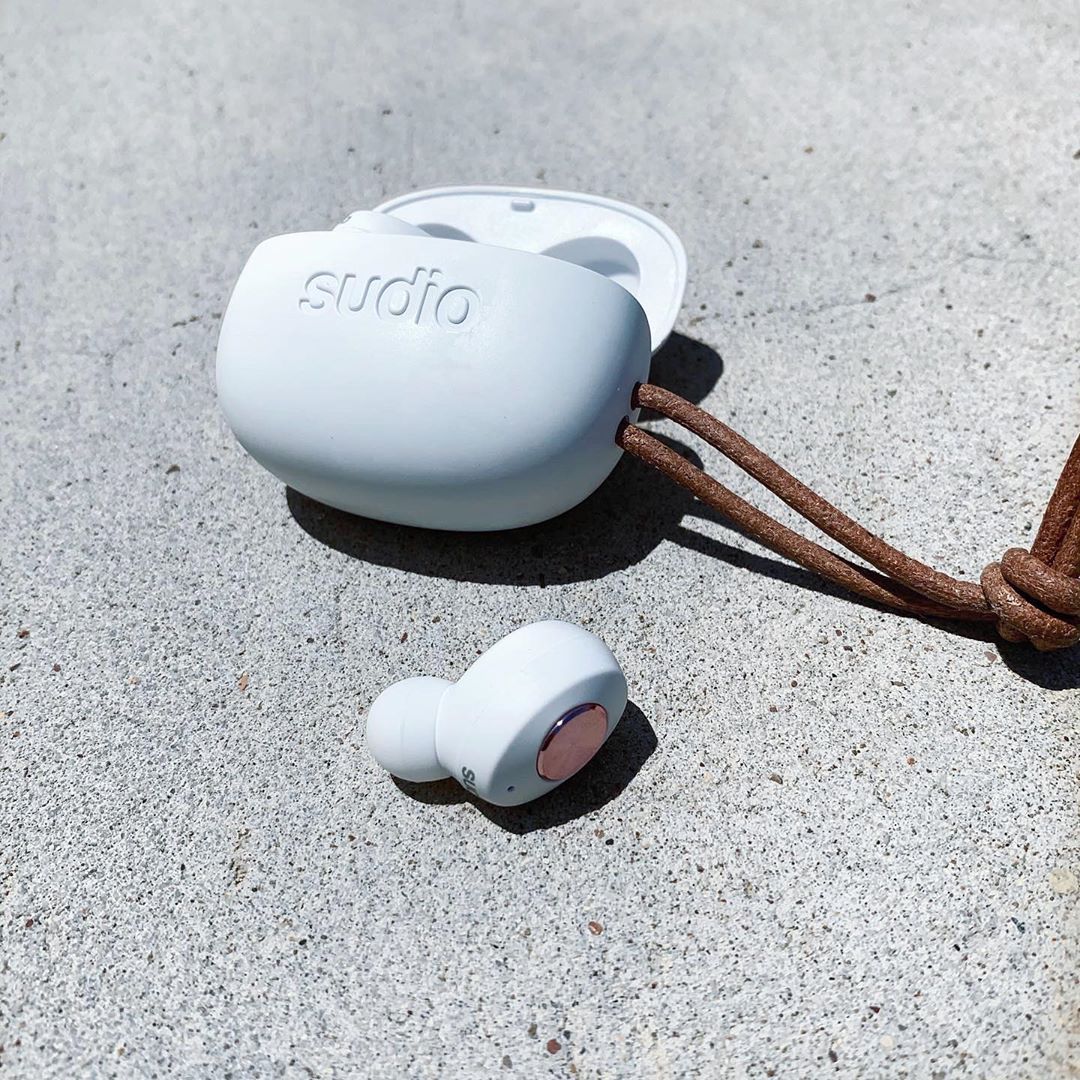 As I only go away one or two times a year, my skin sometimes needs a little boost to start off my tan. I have used Zhuzh for so many years and it has always worked wonders but I thought I'd give The Fox Tan a try this time.
I bought the Rapid Elixir and applied it daily before my sun cream. I also paired this with SkinWoof tan enhancing vitamins which contain L-Tyrosine and Copper plus antioxidants to boost melanin production in the skin. I took 2 of these every morning whilst away and I think it definitely started my tan off well.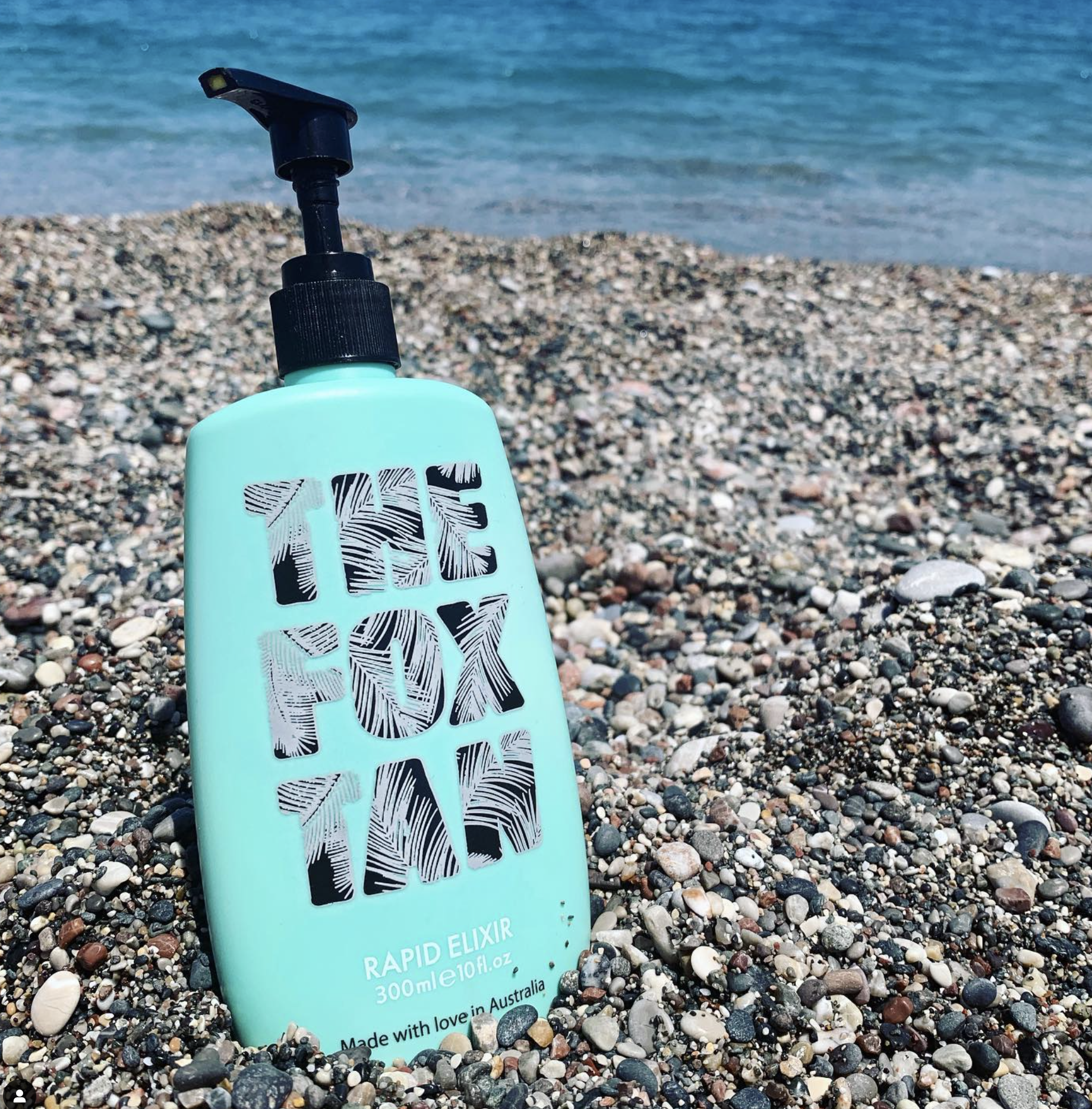 So that was a round up of my fave outfits, products and accessories from my trip to Rhodes.
Some of the items in this post were gifted but there was no obligation for me to include them in this post... I'll also only ever share things I genuinely love!