BeautyPro have joined the Beauty Advent Calendar scene this year with their very first '12 Days of Christmask' 12 day Advent Calendar.
And this is a one-of-a-kind Advent Calendar too… it's the only one containing just sheet masks behind every single door. It's the ultimate pamper Advent Calendar for those who like a pamper on the run up to Christmas.
Inside are 12 of BeautyPro's best selling full sized sheet masks to give the skin everything it needs to feel radiant and pampered. And not only do they have the face covered, but BeautyPro have also thrown in something for the hands, feet and eyes. They've thought of everything to make sure we feel relaxed and ready for the Christmas period.
You can find the Advent Calendar at beautypro.com, but also Look Fantastic, Feel Unique, Urban Outfitters, Fragrance Direct, The Fragrance Shop and The Perfume Shop. With a value of £59.40 you can pick it up for only £39!
So let's take a peek behind the 12 doors!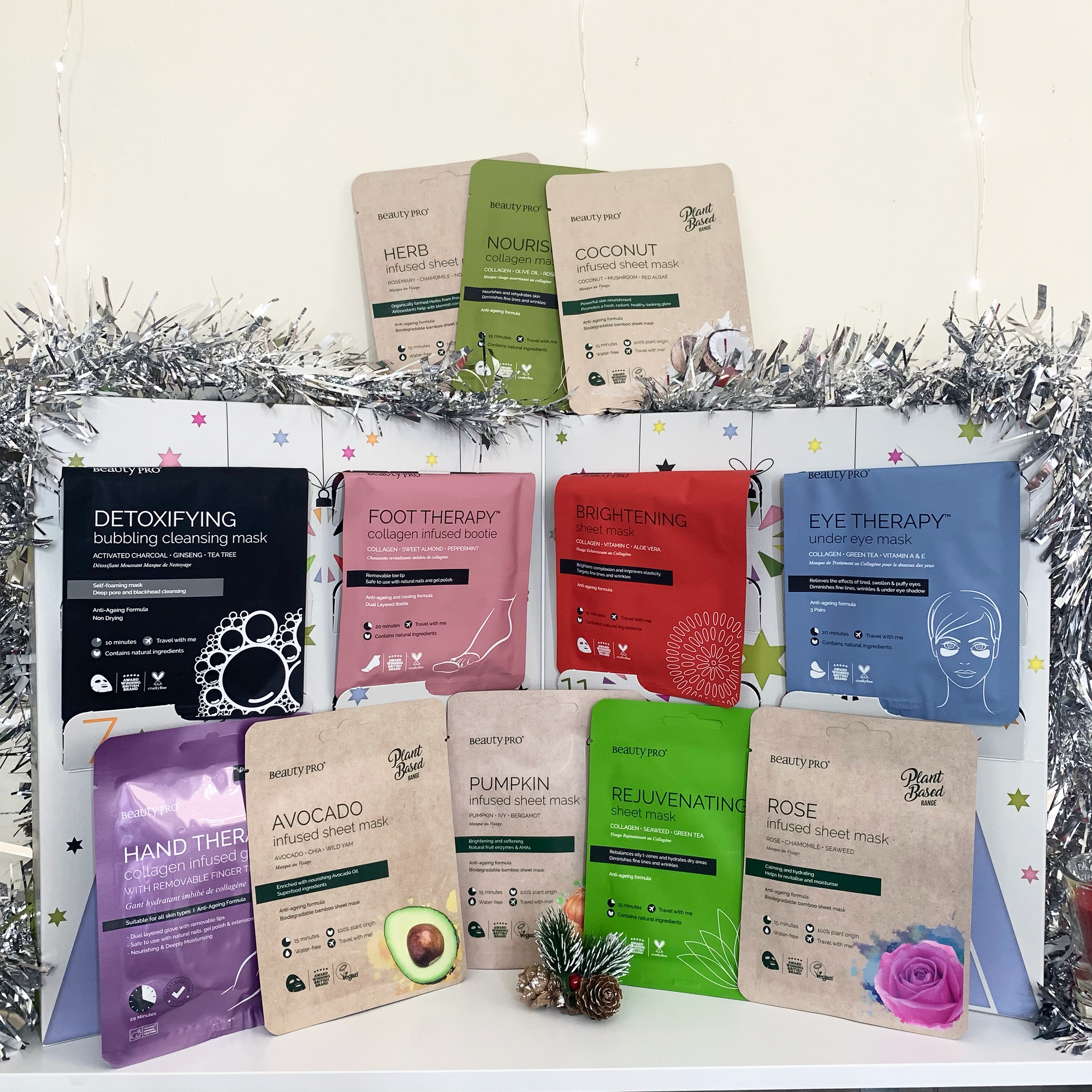 1. COCONUT INFUSED SHEET MASK
First up is the Coconut infused sheet mask from the Plant Based range. This is super nourishing and moisturising, repairing the skin whilst locking in hydration. It's also antibacterial and leaves the skin fresh and dewy.
The Coconut sheet mask is a blend of vitamin E, essential amino acids and coconut which is sourced in Thailand!
This mask is perfect if your skin need a little more hydration or you just want to give your skin a glowy finish.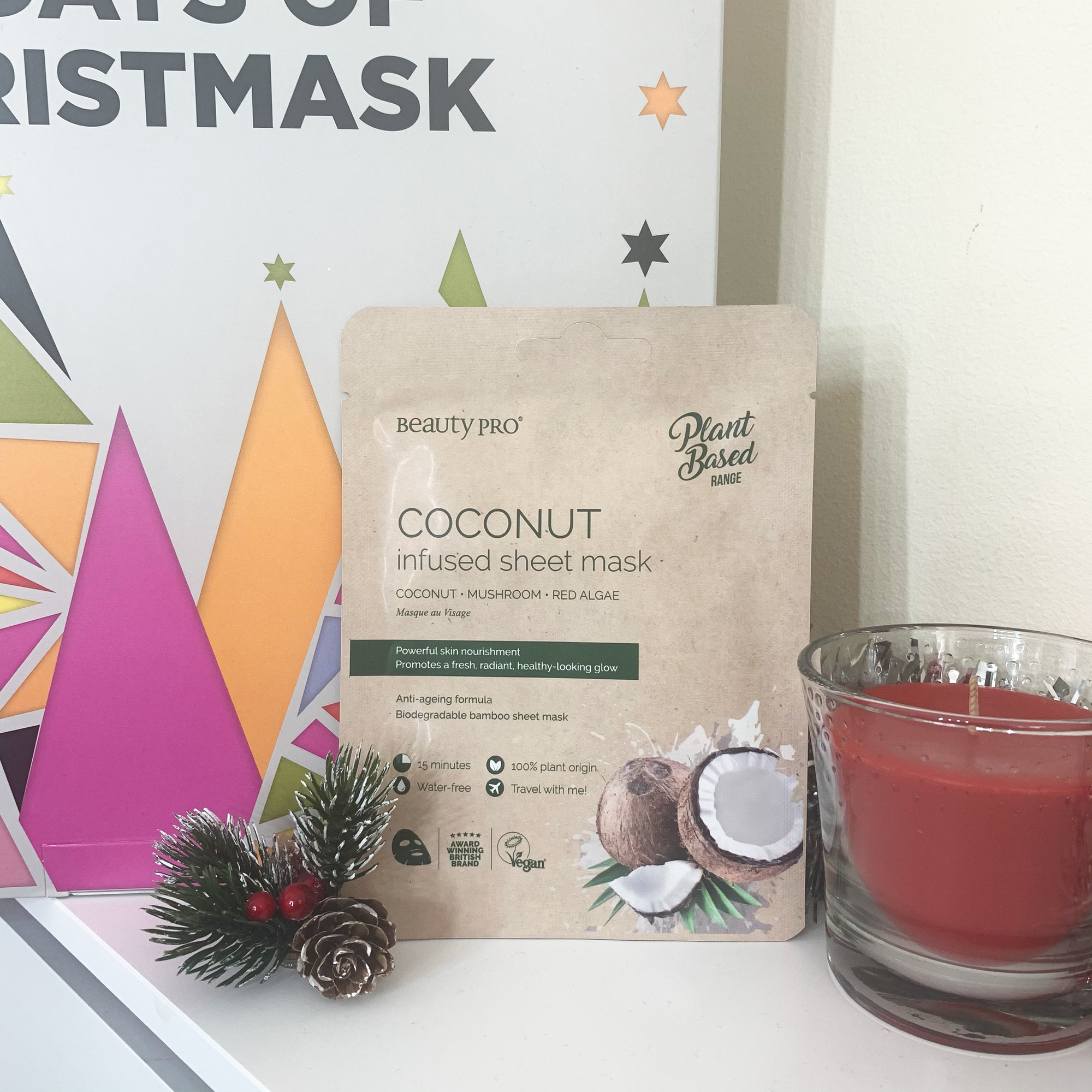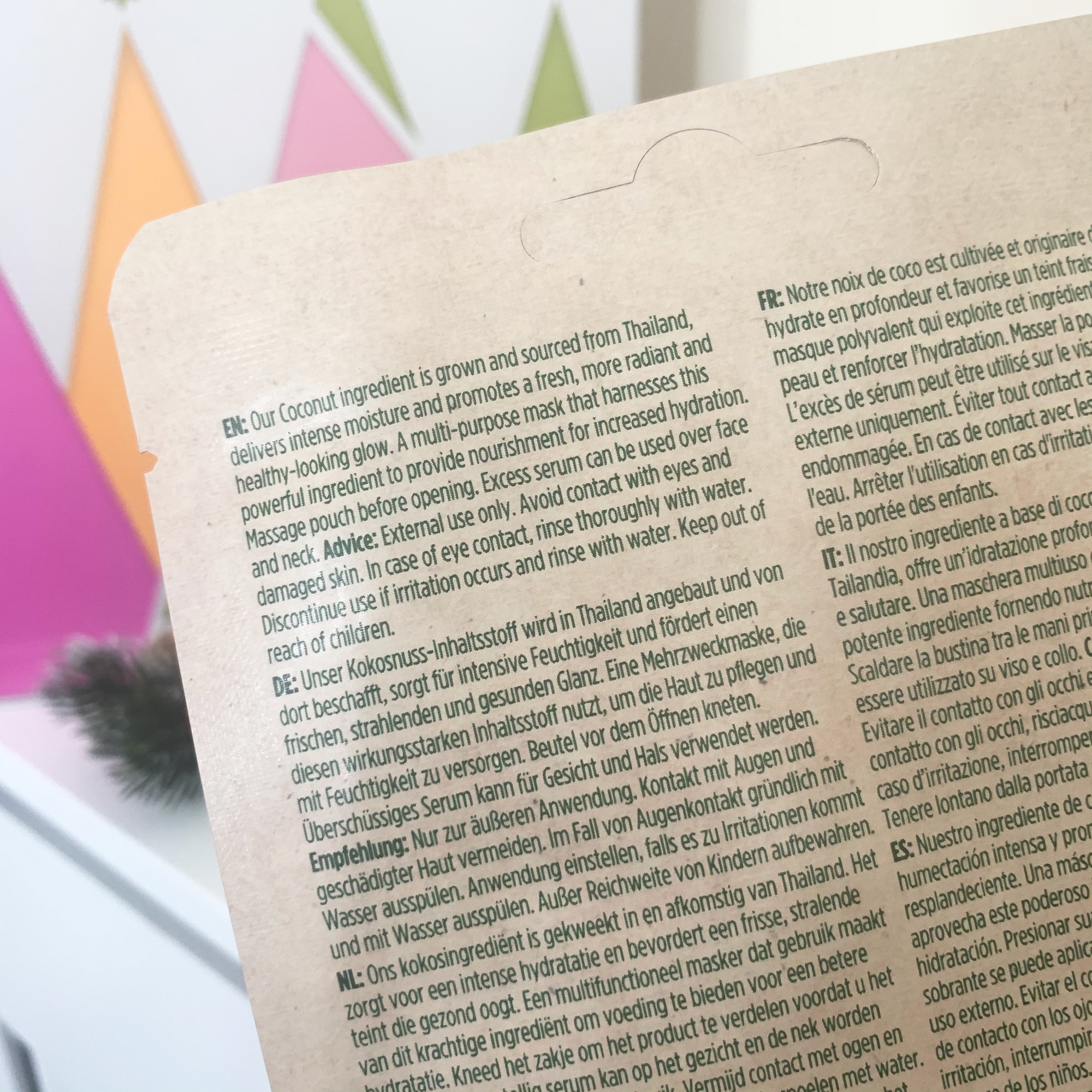 2. BRIGHTENING SHEET MASK
You've guessed it… this mask works to brighten the skin! The Brightening sheet mask contains collagen, vitamin C and aloe vera and leaves your complexion looking brighter whilst also improving elasticity.
The mask only needs 15 minutes to work it's magic and it also combats fine lines and wrinkles as an added bonus! If you have an uneven skin tone or pigmentation, this mask can help with both of those and leave skin soft and supple.
These masks are not only great for a pamper night in, but they're great to apply whilst you're getting ready for a night out to create the perfect base for makeup.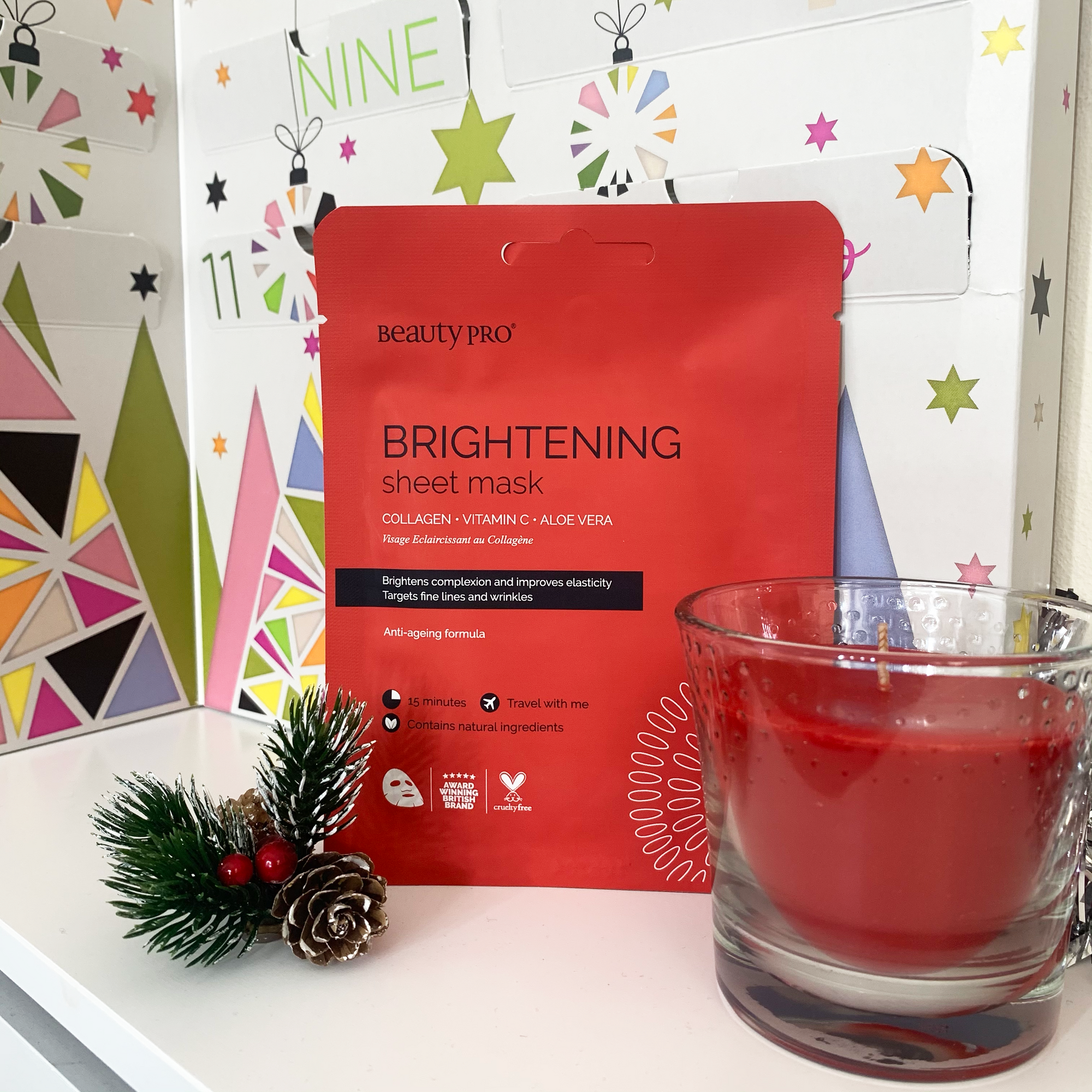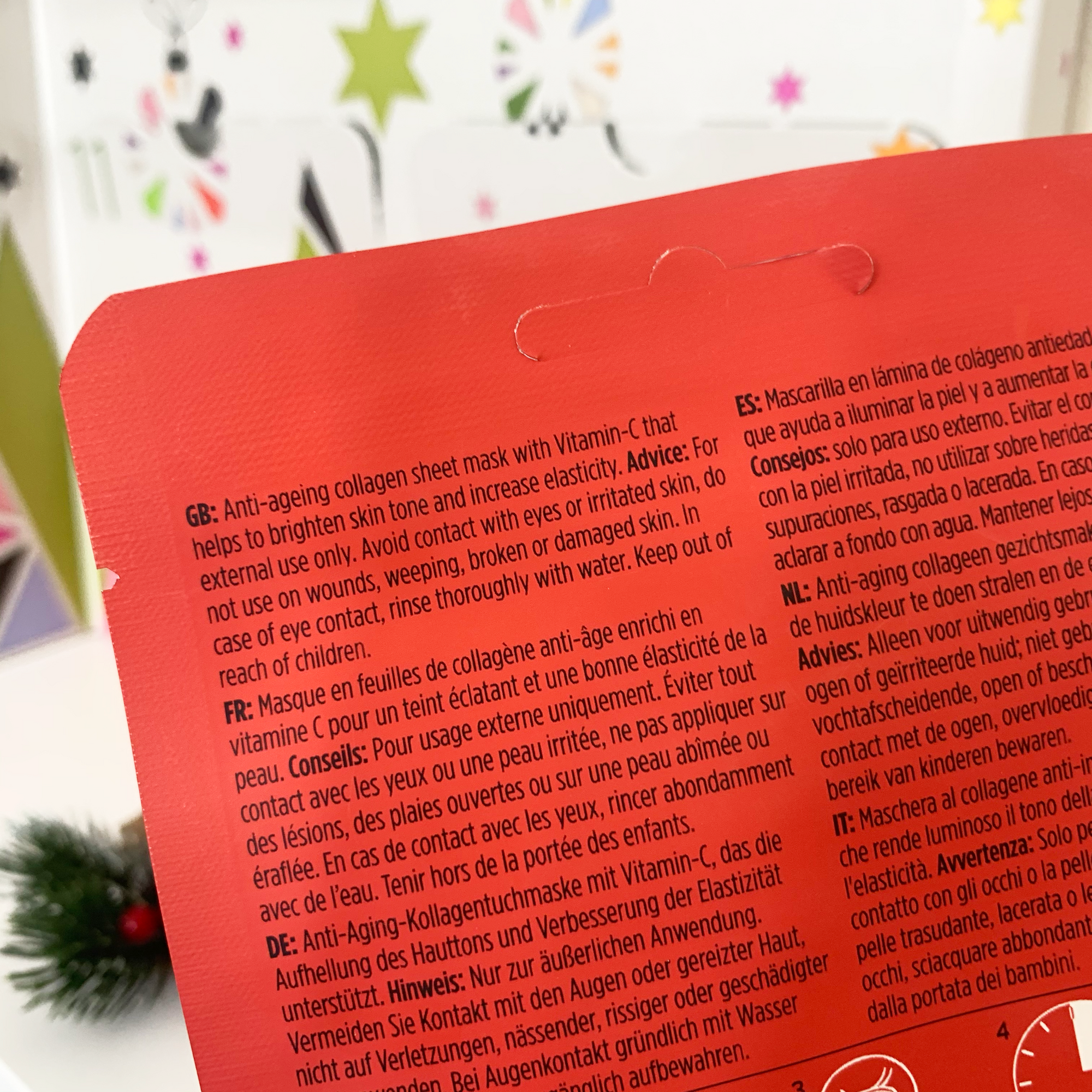 3. EYE THERAPY UNDER EYE MASK
One of my favourite masks from Beauty Pro – the Eye Therapy under eye masks. These are super soothing and cooling and are the perfect mask to apply to brighten and hydrate the under eye area.
These masks work to reduce puffiness and reduce fine lines and wrinkles. They contain collagen and green tea along with aloe vera, vitamin A and vitamin E – an incredible formula for the under eye area!
Whilst this looks like one set of masks, there are actually three pairs inside!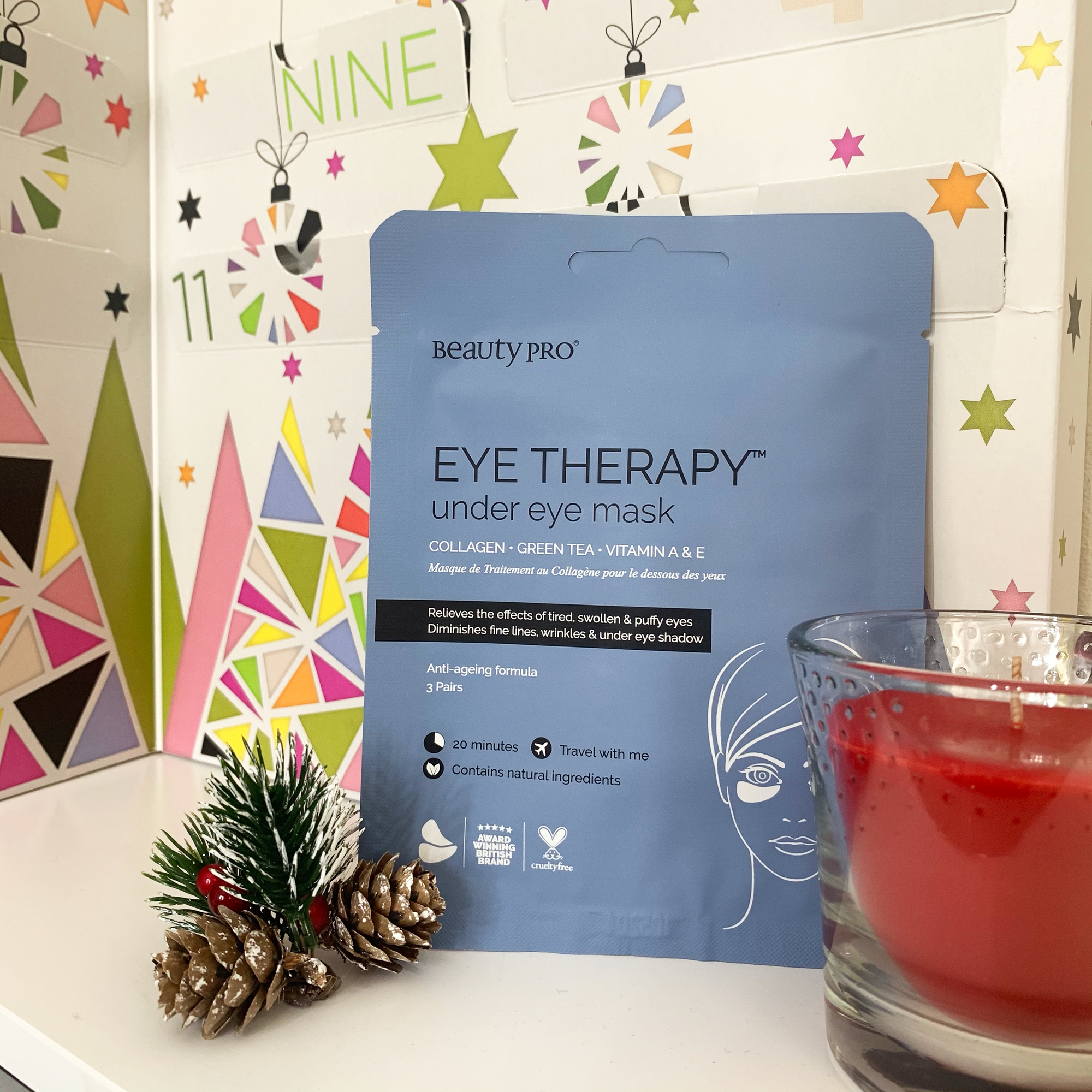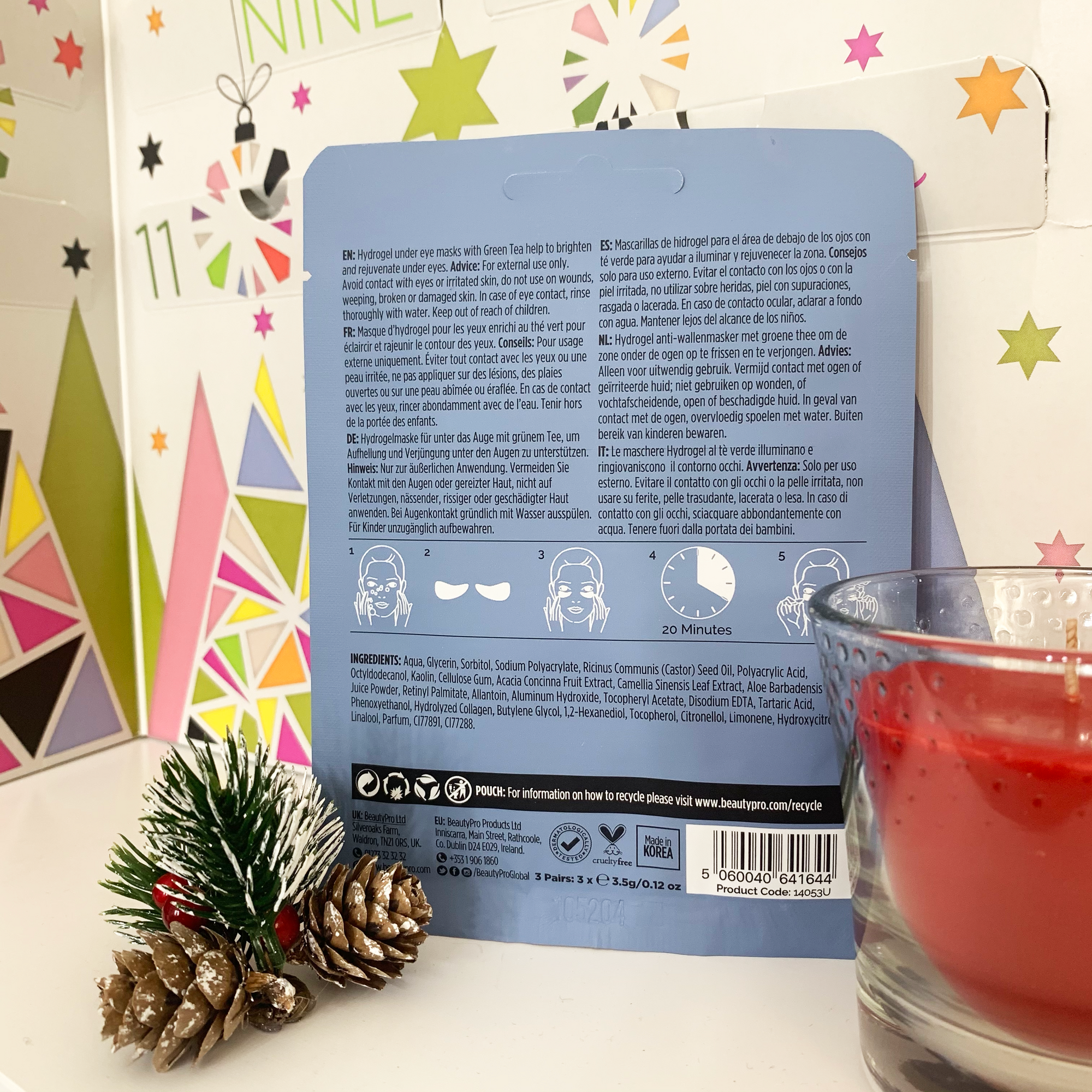 4. HERB INFUSED SHEET MASK
A second mask from the Plant Based range and it's the Herb Infused sheet mask. The sheet masks from the Plant Based range are all made from 100% bamboo, they contain no plastic and they are also biodegradable, so a great option if you're looking for small ways to help the planet.
The Herb sheet mask is packed with herbs and vitamins and works to brighten the skin whilst also rebalancing the skin tone, reducing enlarged pores and leaving a healthy glowy finish.
This mask is also really good for oily T-zones as it works to balance the oil levels in the skin.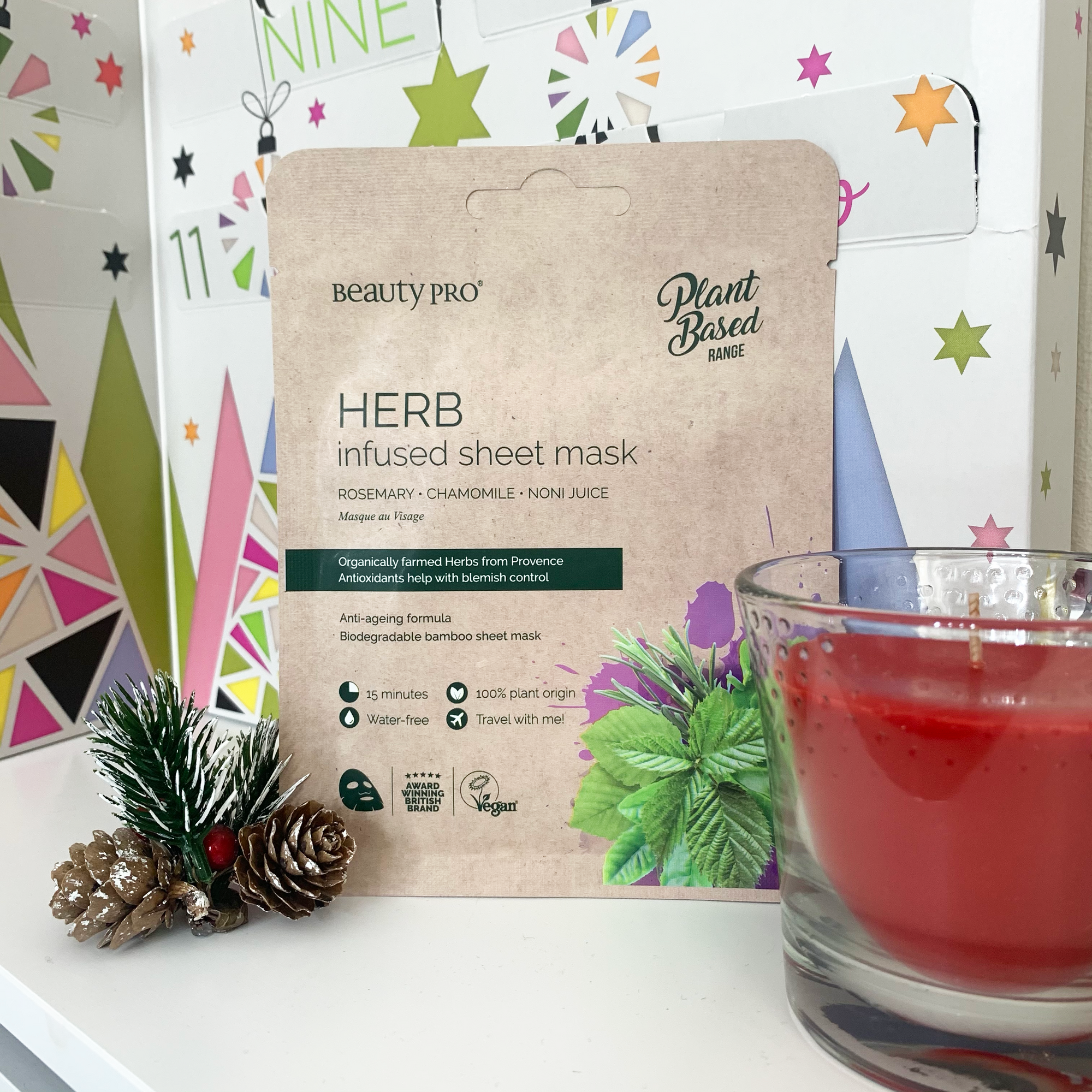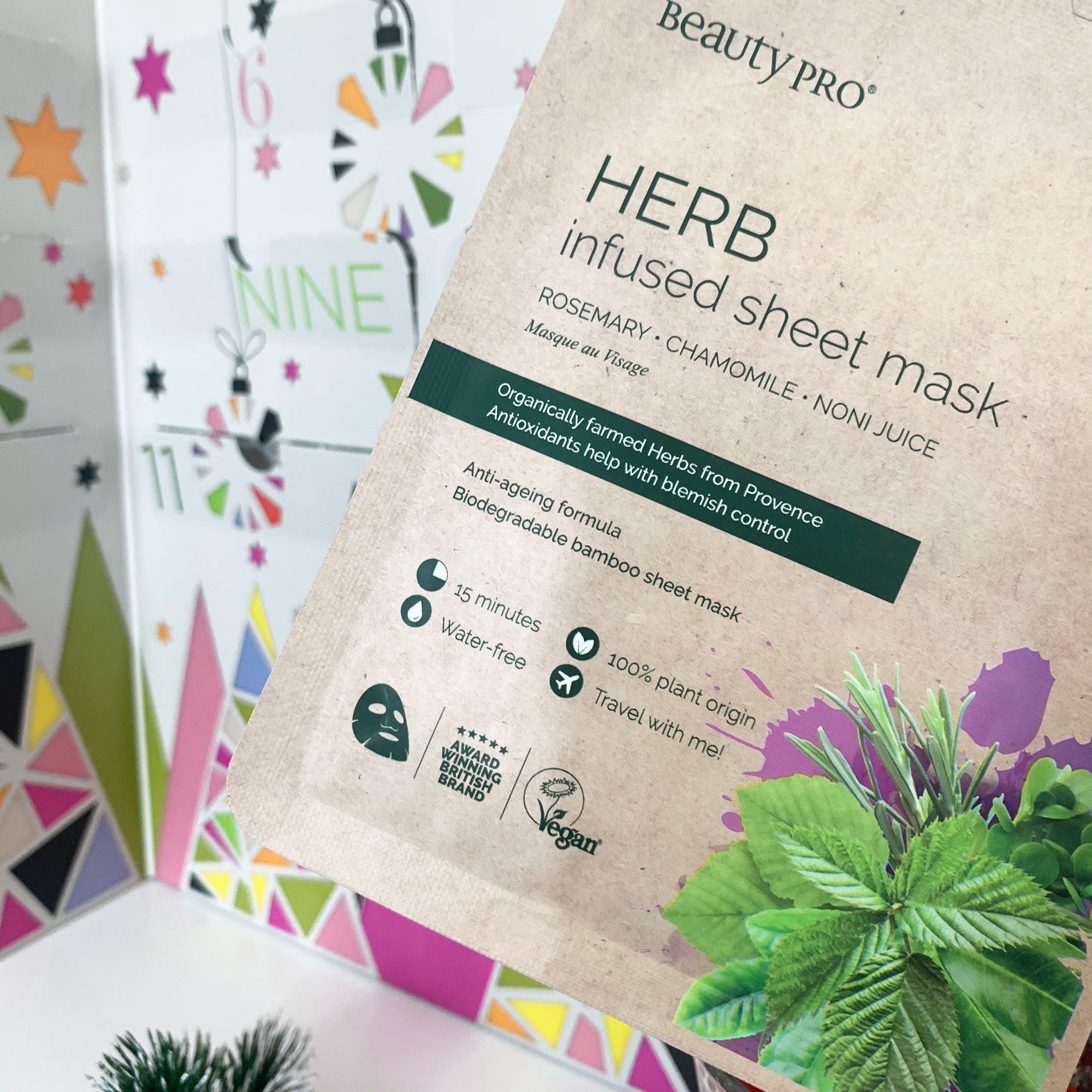 5. HAND THERAPY COLLAGEN INFUSED GLOVES
One for the hands now, the Hand Therapy sheet 'gloves' are the perfect treatment for hands which need a little extra TLC (don't we all right now?!). The gloves are enriched with collagen and fruit extracts and leave the hands feeling silky smooth.
The tips of each finger in the gloves are removable if you fancy painting your nails whilst the gloves are working their magic. If not, the formula is also fine with nail extensions and natural nails too.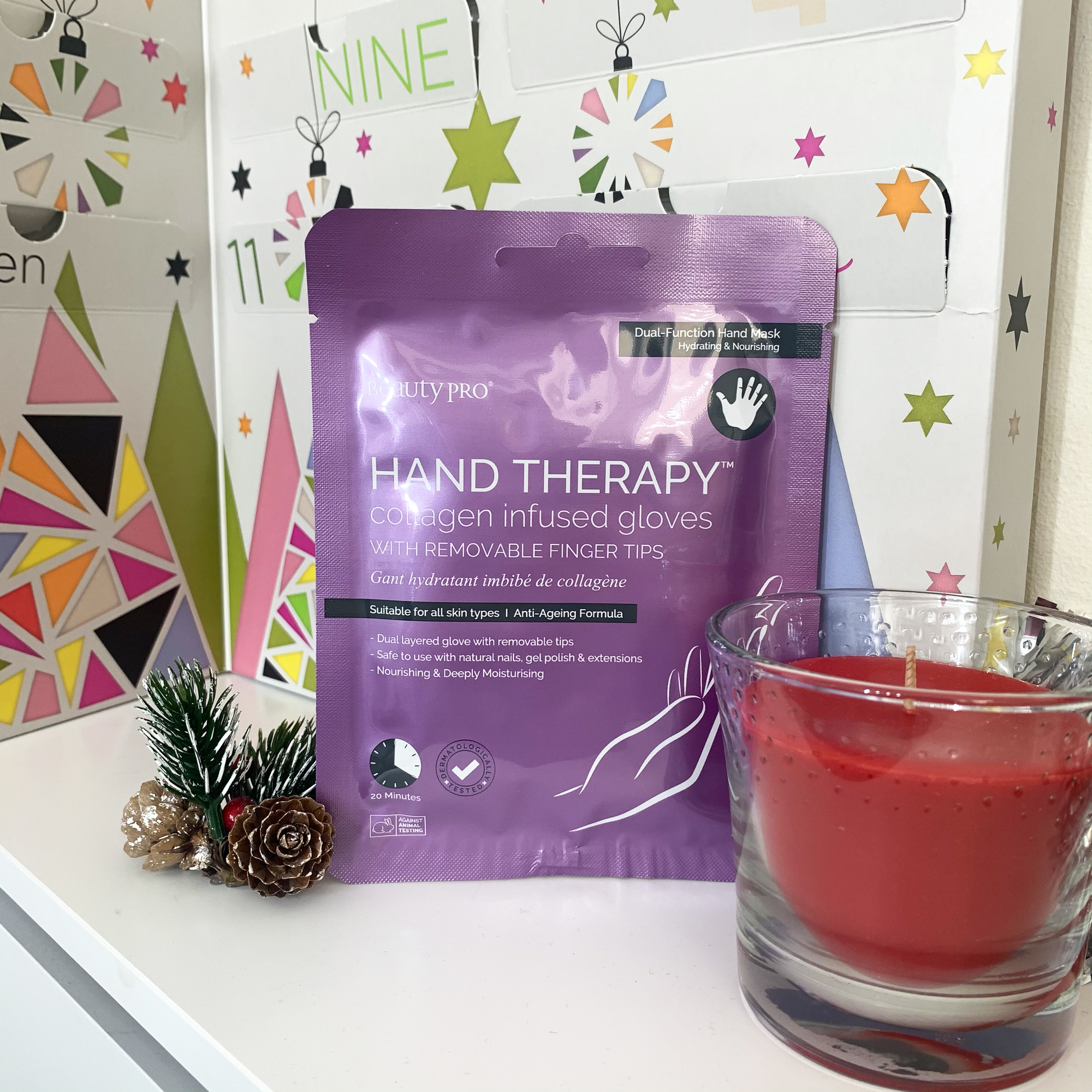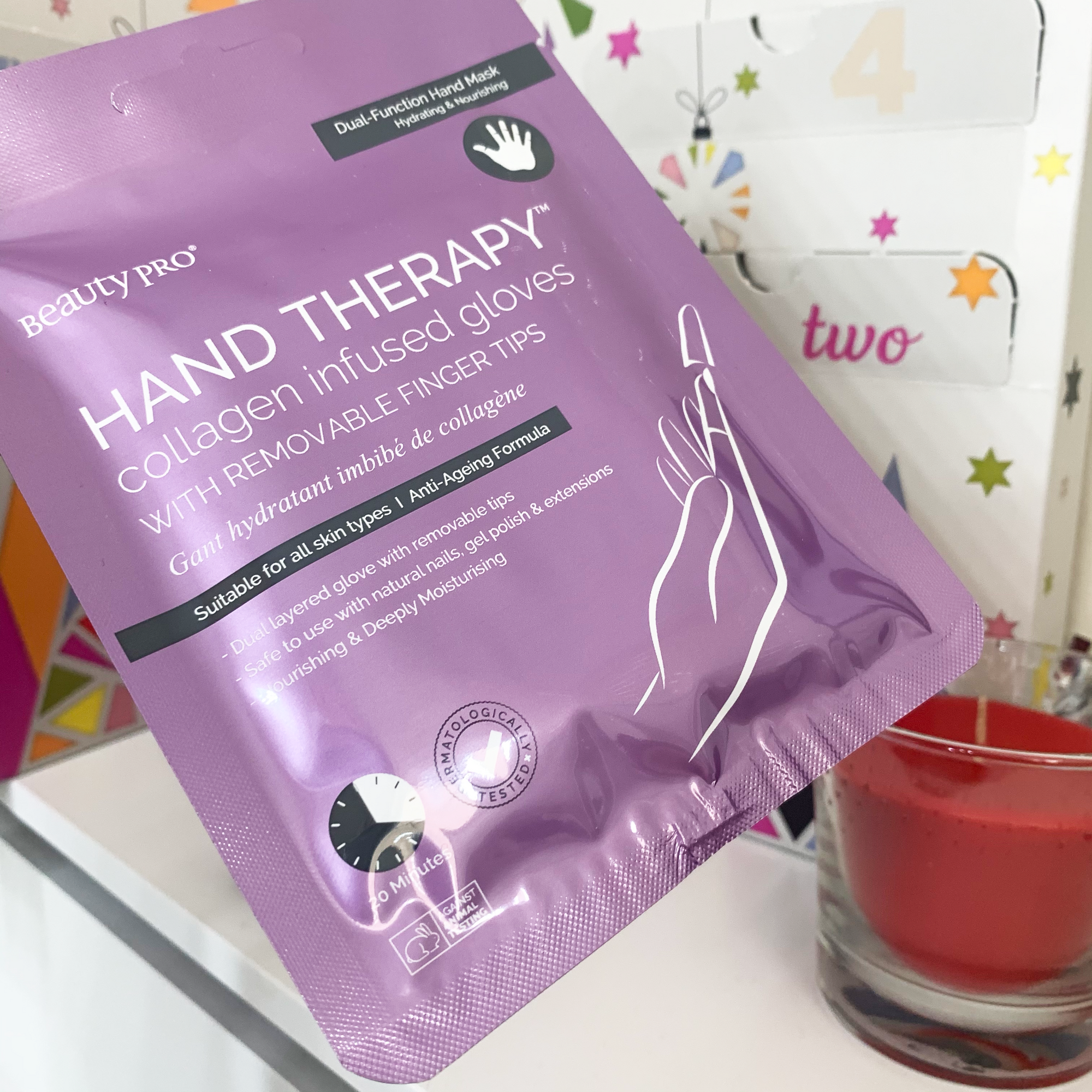 6. DETOXIFYING BUBBLING CLEANSING MASK
The Detoxifying sheet mask is definitely one of the more fun masks I've tried! This is a self-foaming and bubbling sheet mask which works to deeply cleanse the skin. When it's placed on the skin, the ingredients activate and the foaming begins. It contains activated charcoal to target blackheads and also reduce oil production. The rich AHA complex acts as a cleanser too whilst also leaving the skin looking fresh and glowy.
It's also suitable for acne prone skin.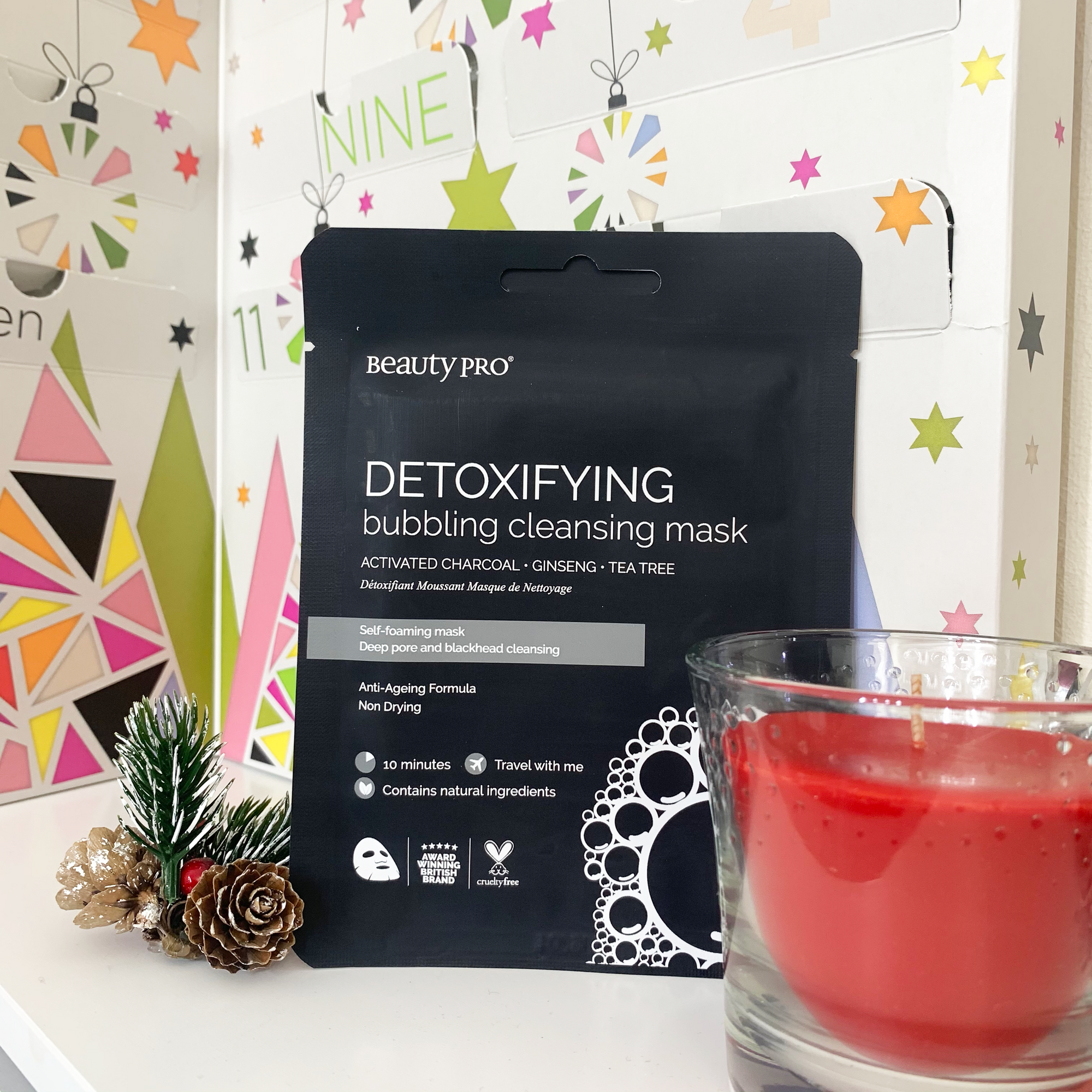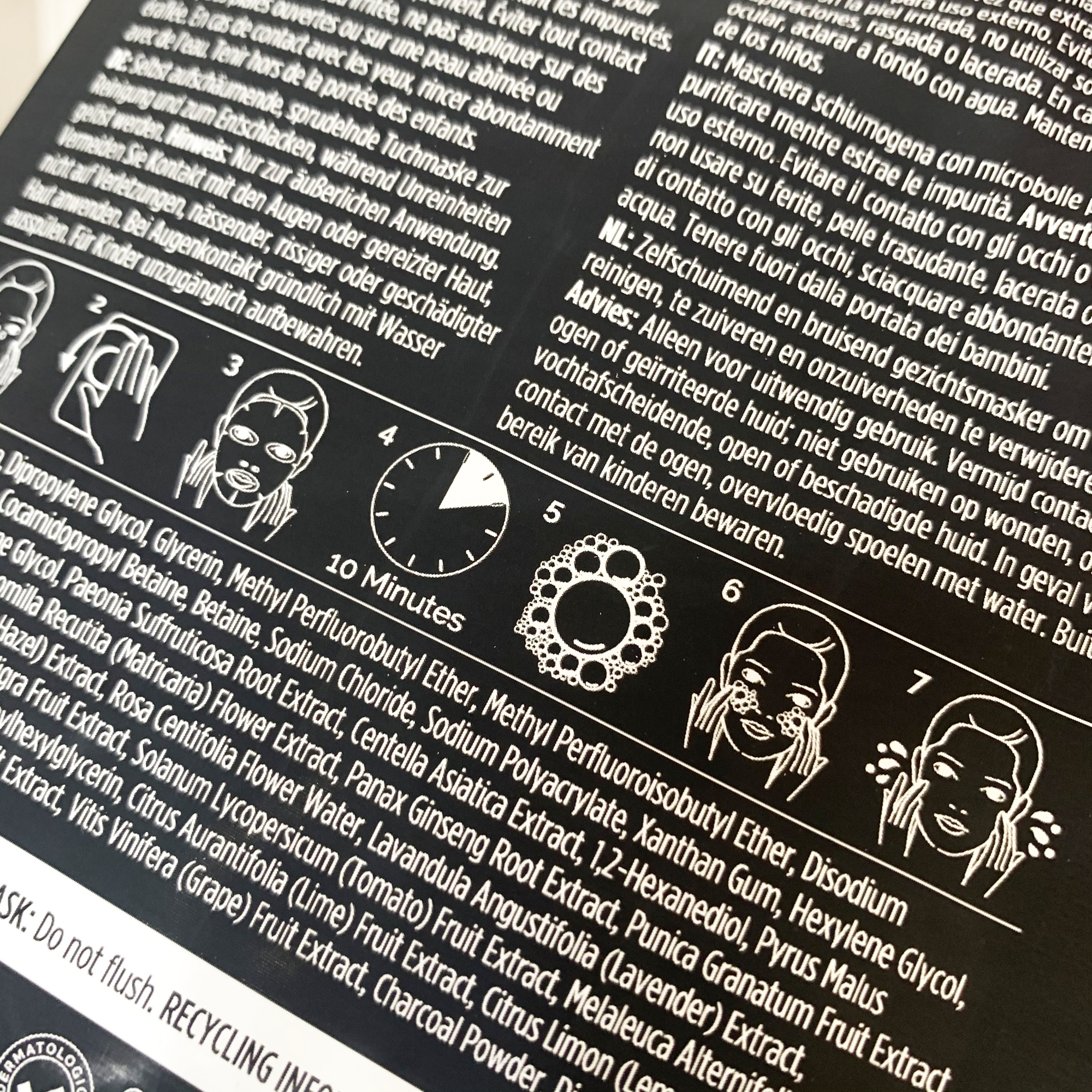 7. REJUVENATING SHEET MASK
The Rejuvenating sheet mask is great for troubled skin, or if you generally just want to rebalance your skin and get a healthy glow.
It contains green tea and collagen which are antioxidants and help to reduce puffiness. The mask also has anti-aging properties so fine lines and wrinkles are targeted whilst hydrating the skin and leaving it looking healthy and glowy.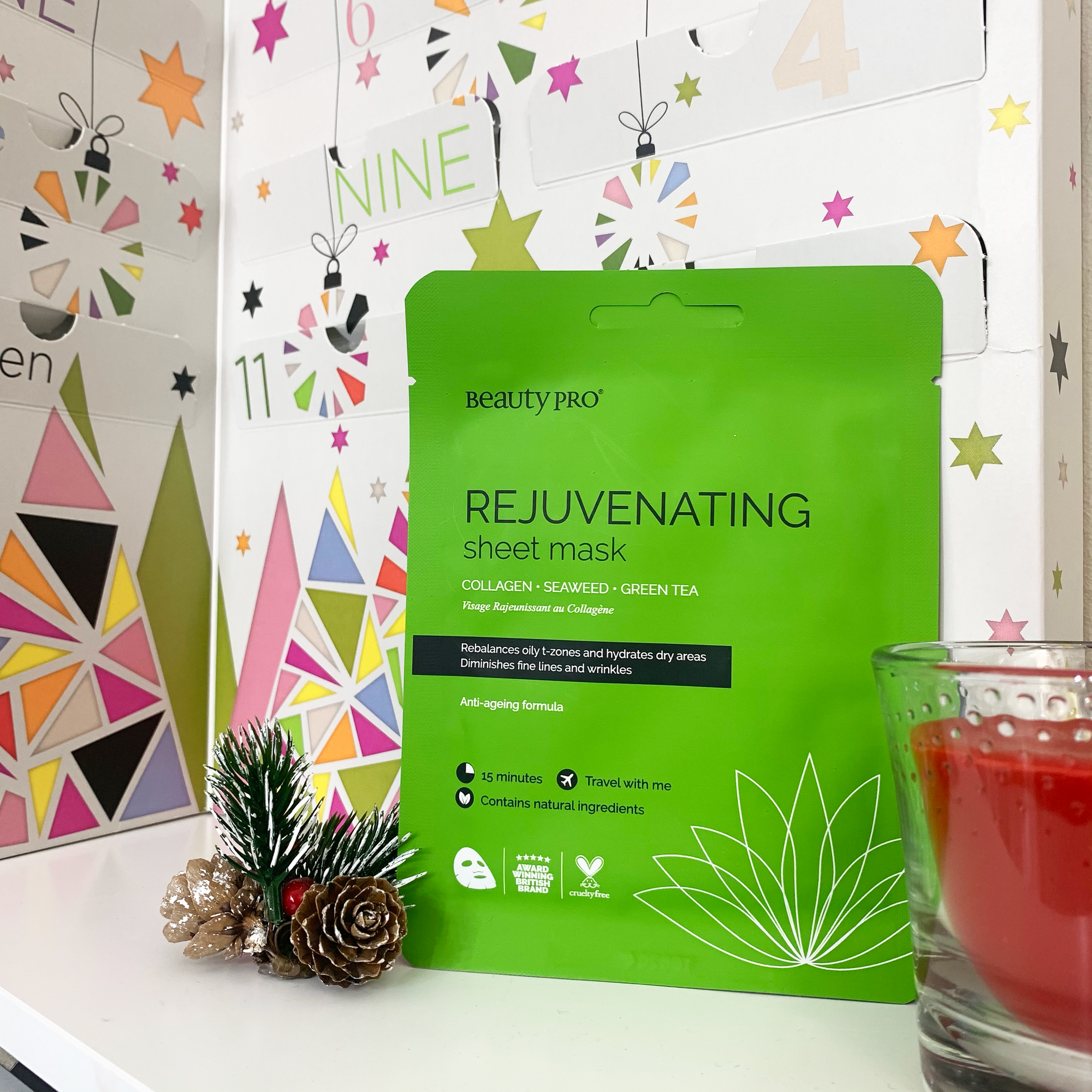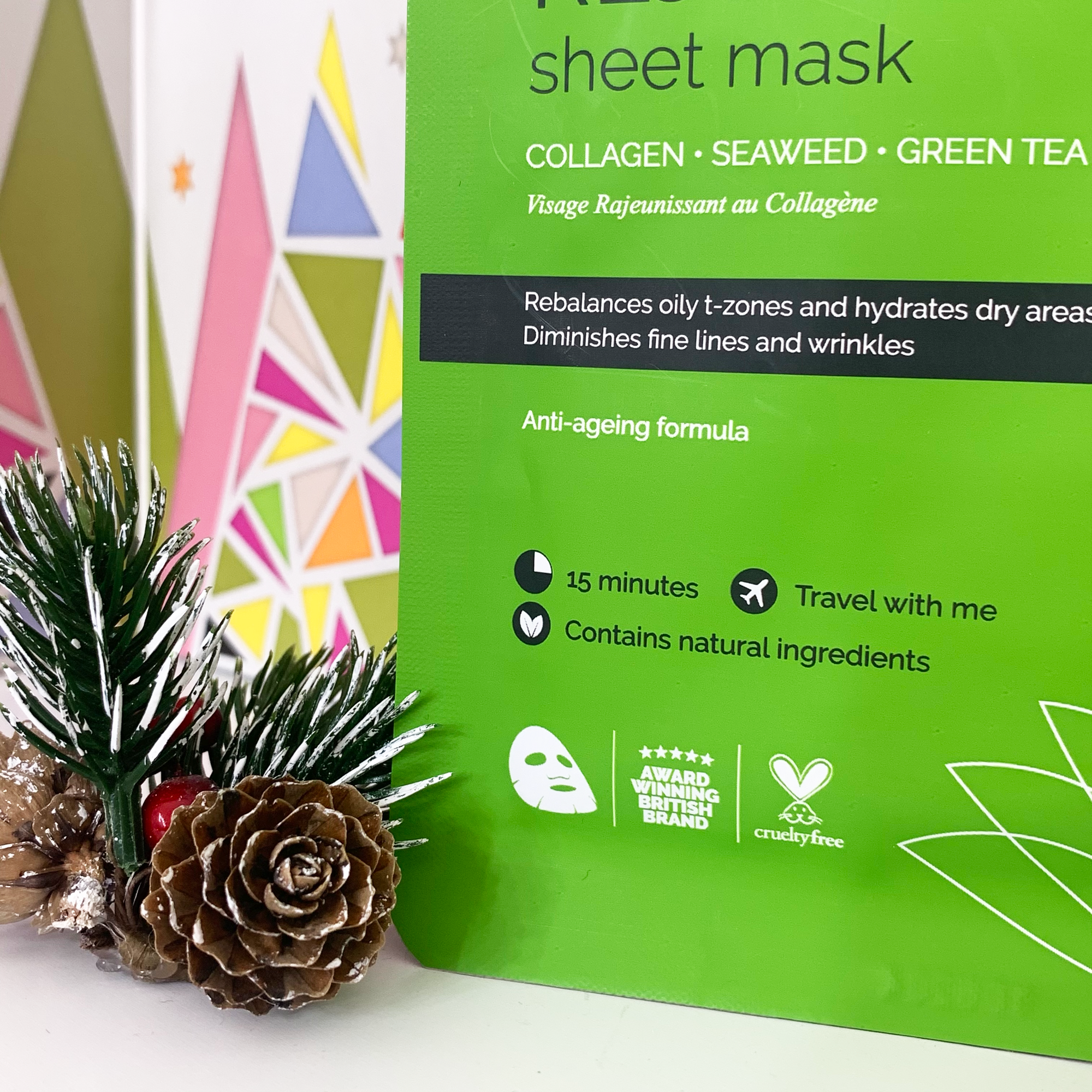 8. ROSE INFUSED SHEET MASK
The Rose infused sheet mask is another from the plant based range and it works to cleanse the skin from impurities and reduce any redness.
This is another mask which is great for oily t-zones as it has healing benefits which soothes the skin and prevents blemished. The formula is also anti-inflammatory.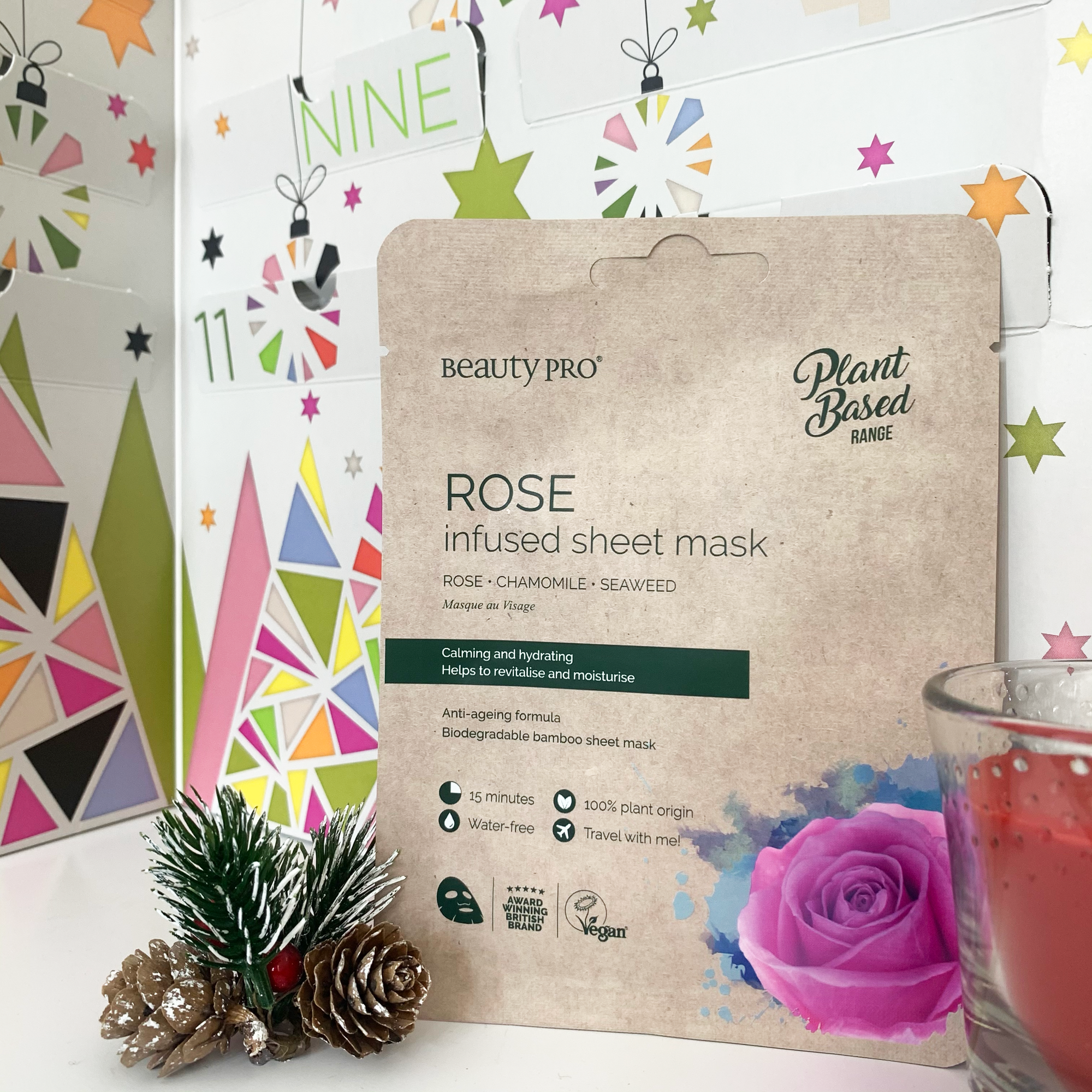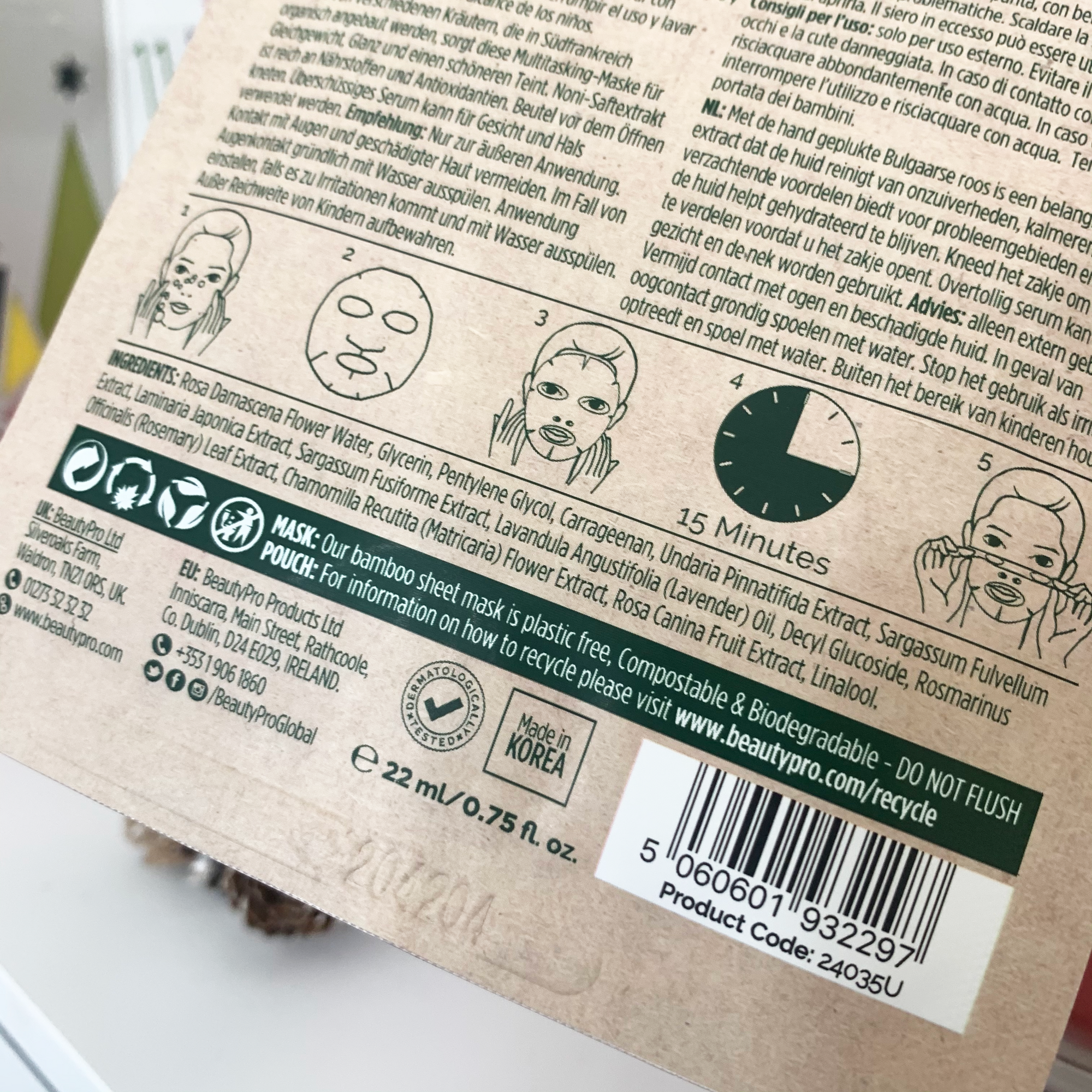 9. NOURISHING COLLAGEN MASK
Another mask which is perfect if your skin needs a little TLC is the nourishing sheet mask. This mask is super hydrating and works to rehydrate and moisturise the skin whilst also combatting fine lines and wrinkles. It contains a blend of collagen, olive oil and rose which also helps boost the skin's firmness and improve the overall clarity of the skin.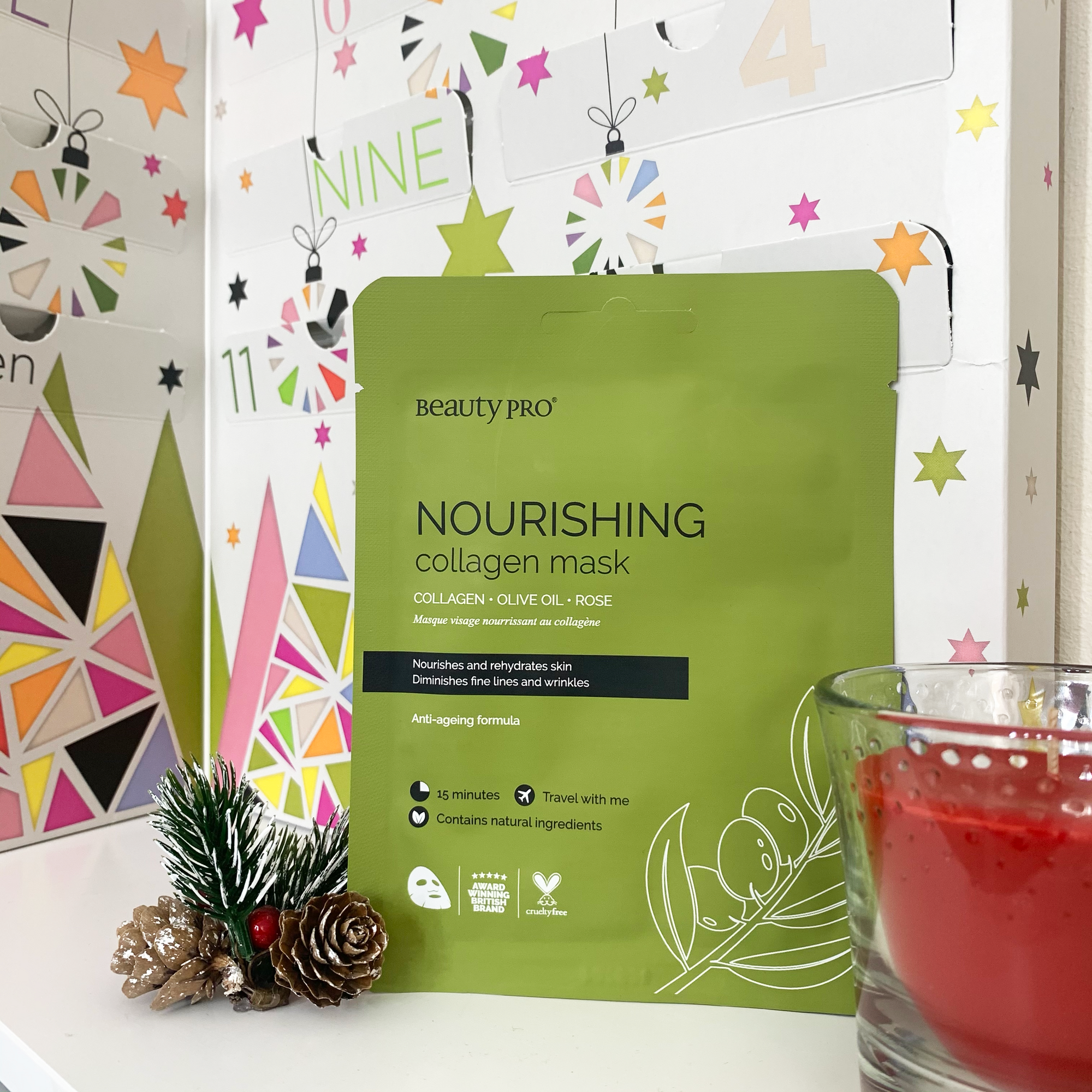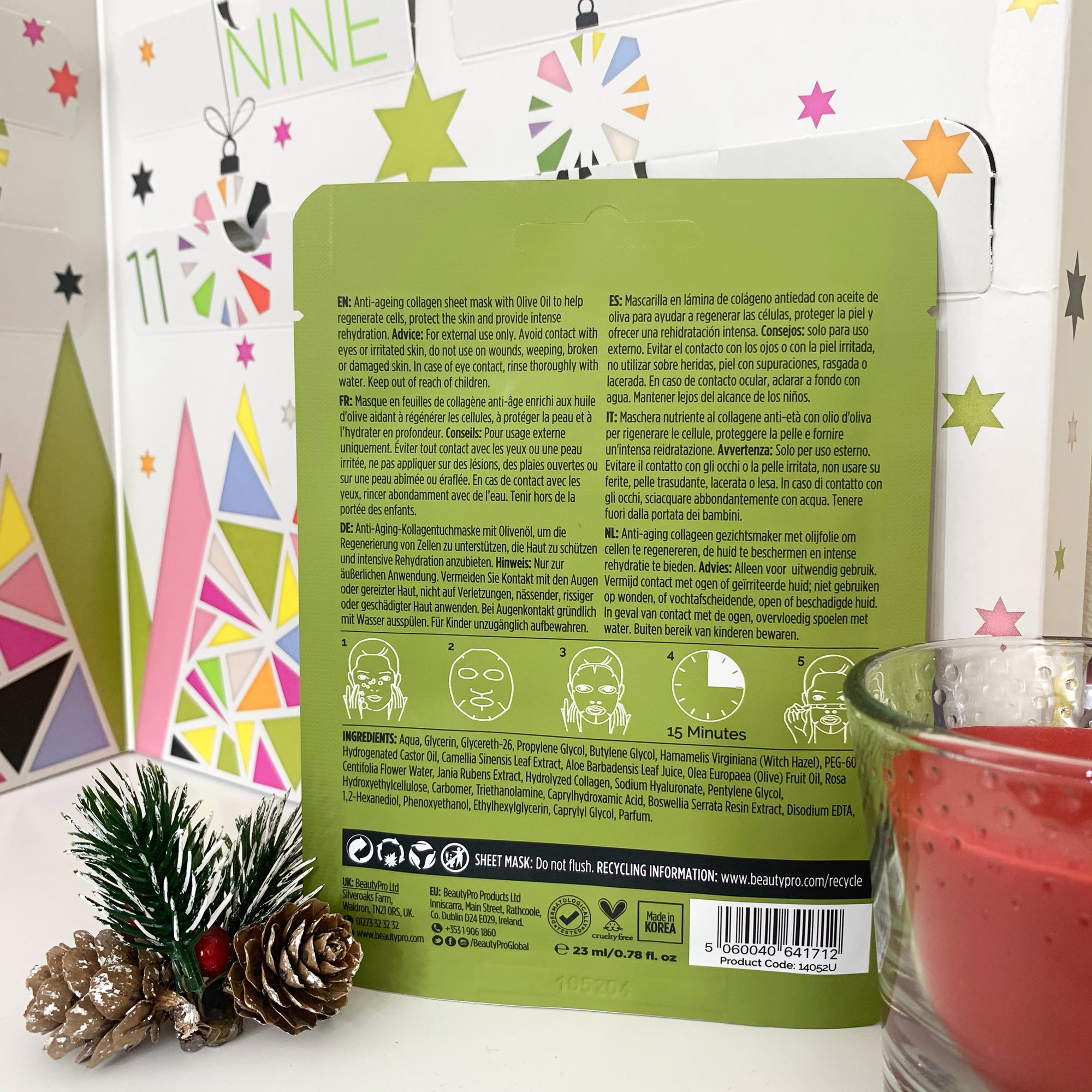 10. AVOCADO INFUSED SHEET MASK
The Avocado infused sheet mask is from the Plant Based range again and is really good for repairing the skin. It leaves the skin feeling soft and supple whilst also focussing on reducing fine lines and wrinkles.
The avocado is sourced from New Zealand!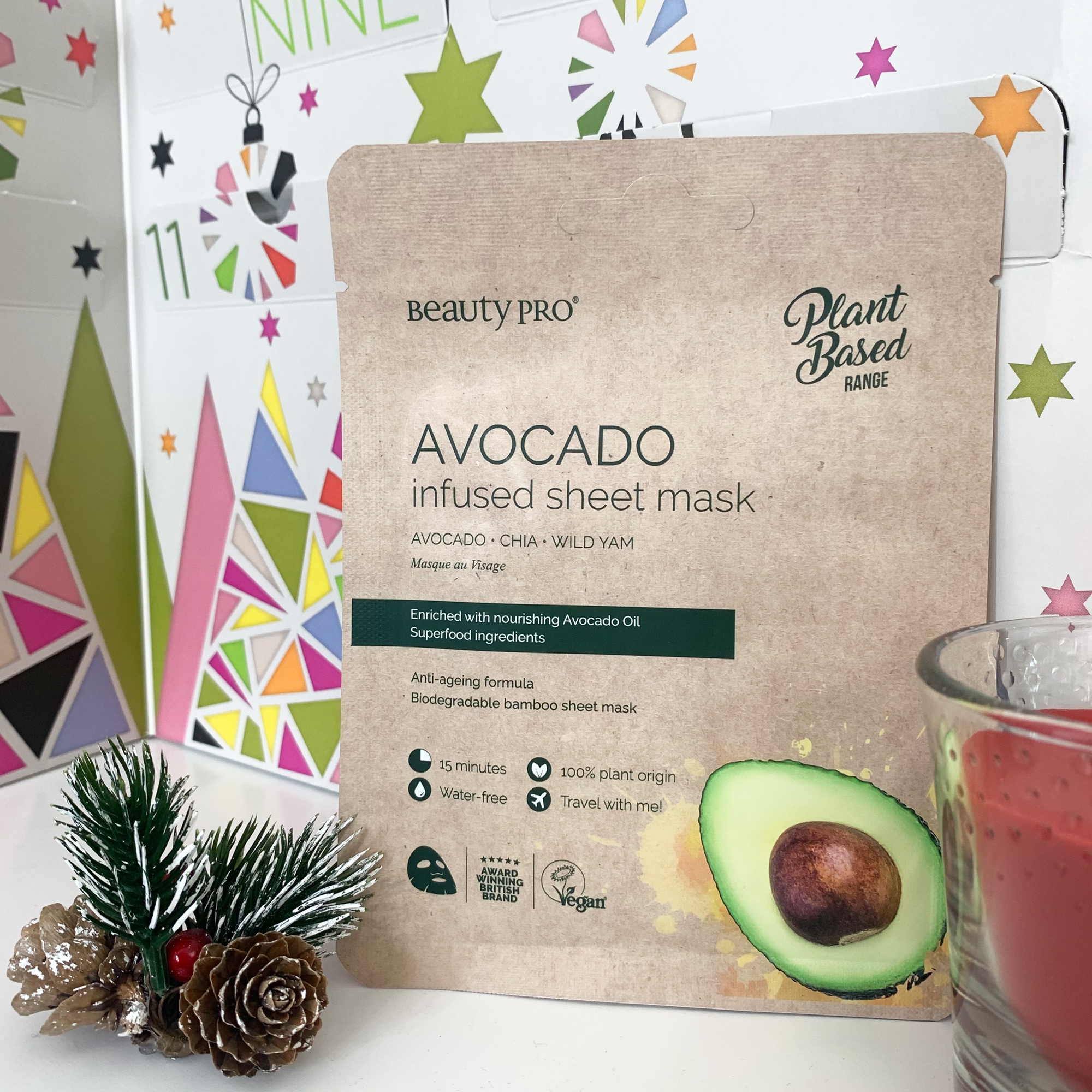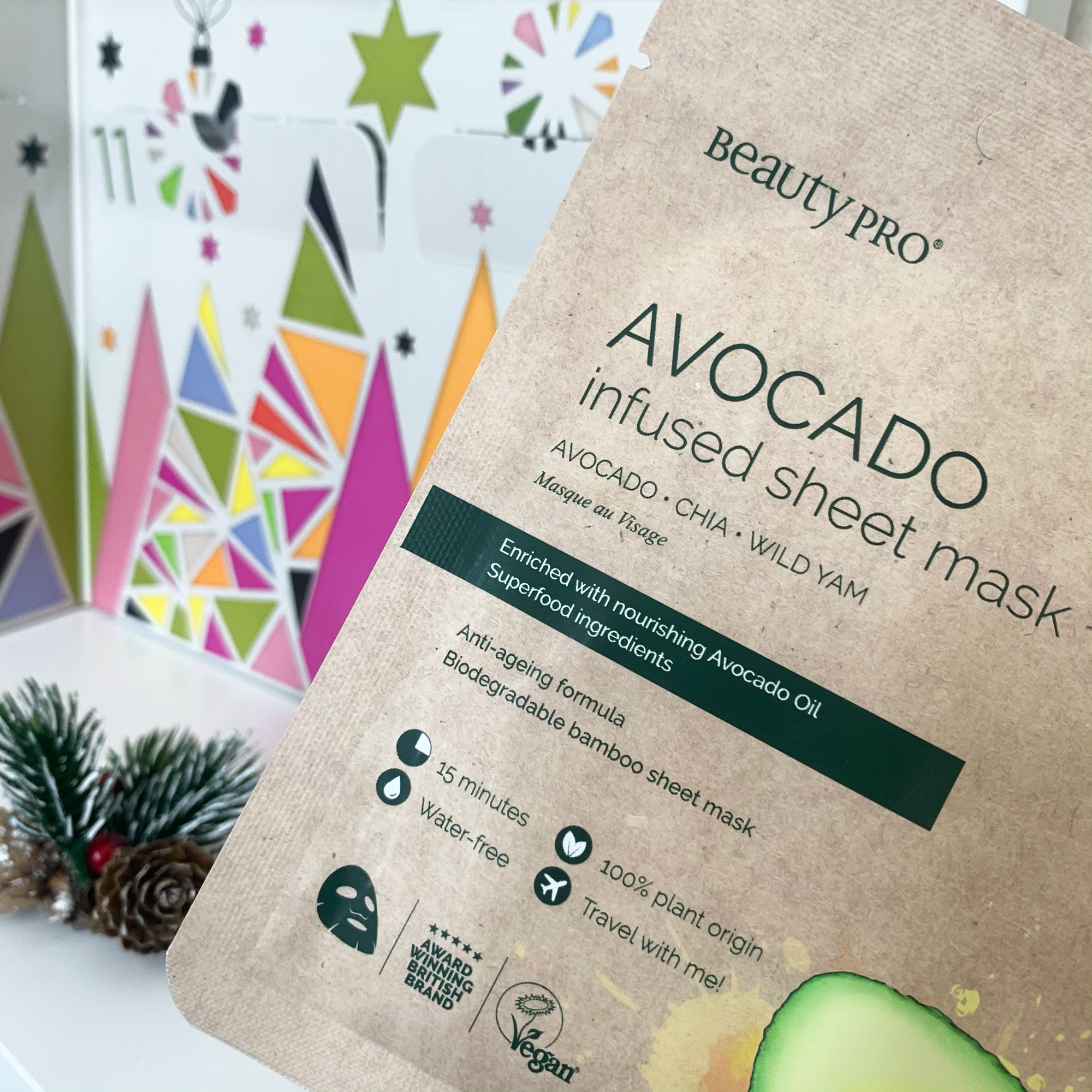 11. PUMPKIN INFUSED SHEET MASK
Another mask from the Plant Based range, the Pumpkin mask is an all round wonder mask! It contains natural enzymes and AHA's which help increase cell renewal and gently exfoliate, whilst it also works to smooth and brighten the skin.
The Pumpkin mask contains organically farmed herbs and is also Anti-aging.
As with the other masks from the Plant Based range, the mask is 100% biodegradable.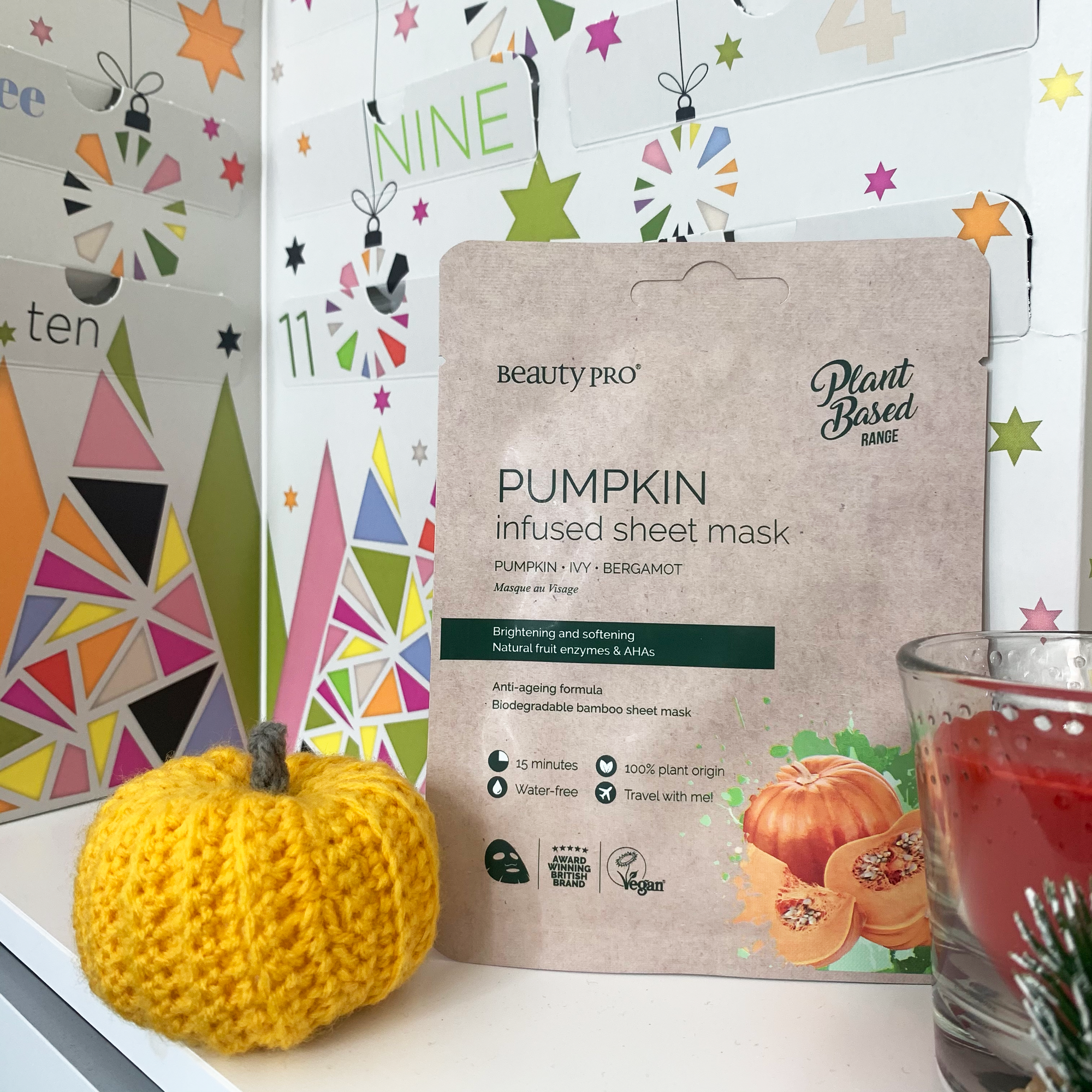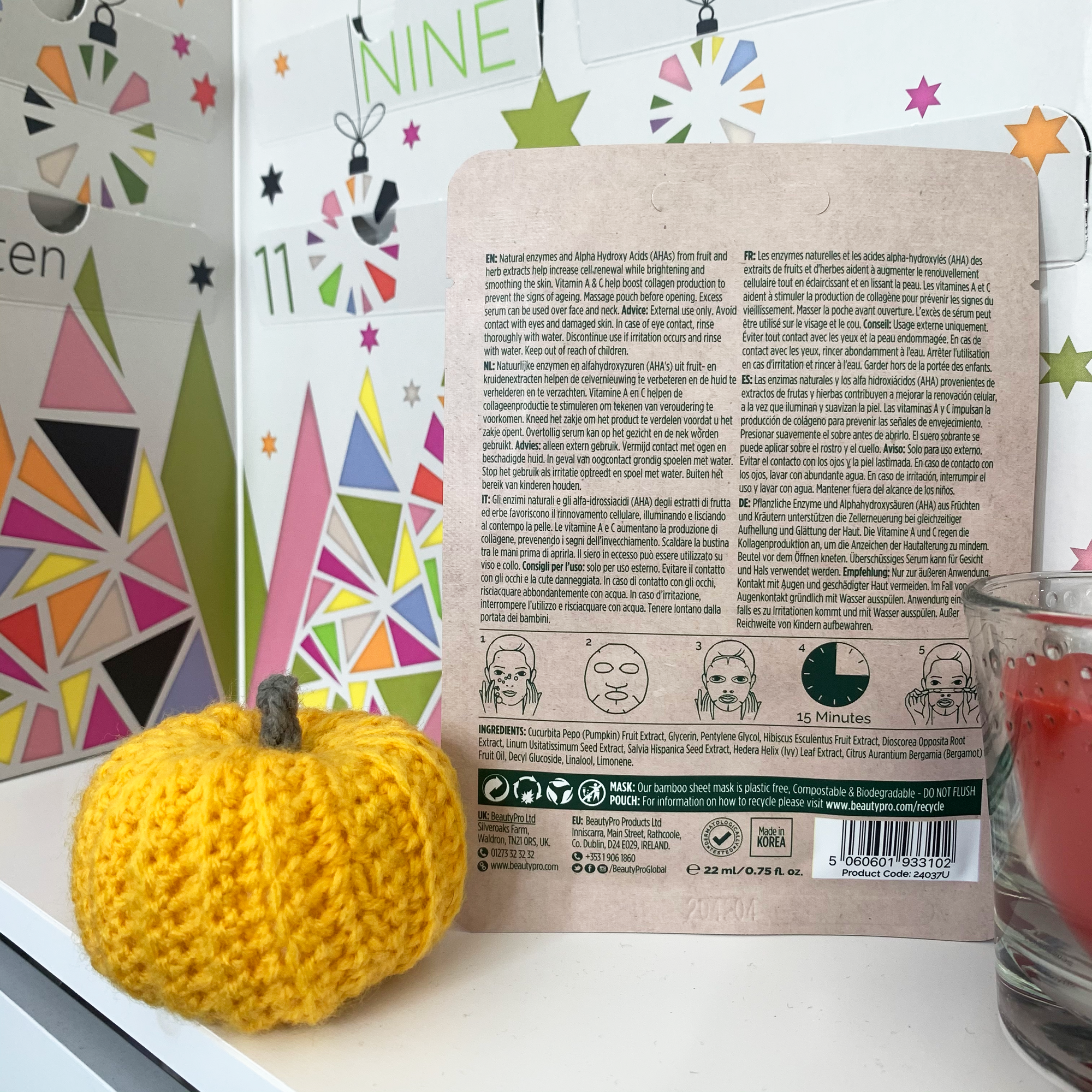 12. FOOT THERAPY COLLAGEN INFUSED BOOTIES
The final treat in the Beauty Pro Advent Calendar is one for the feet! The Foot Therapy Sock Booties are a dual-layered anti ageing treatment. You place your feet in them and let the blend of collagen, peppermint and fruit extracts nourish the feet.
If your feet need a little bit of TLC, these are the perfect booties to hydrate and soften the skin.
The toe tips of the booties are also removable so if you're having a full pamper and painting your toe nails at the same time you don't have to wait for the mask to be finished. However, if you wanted to keep the toe section attached to the boot, the formula does not damage artificial or natural nails so there's no need to worry.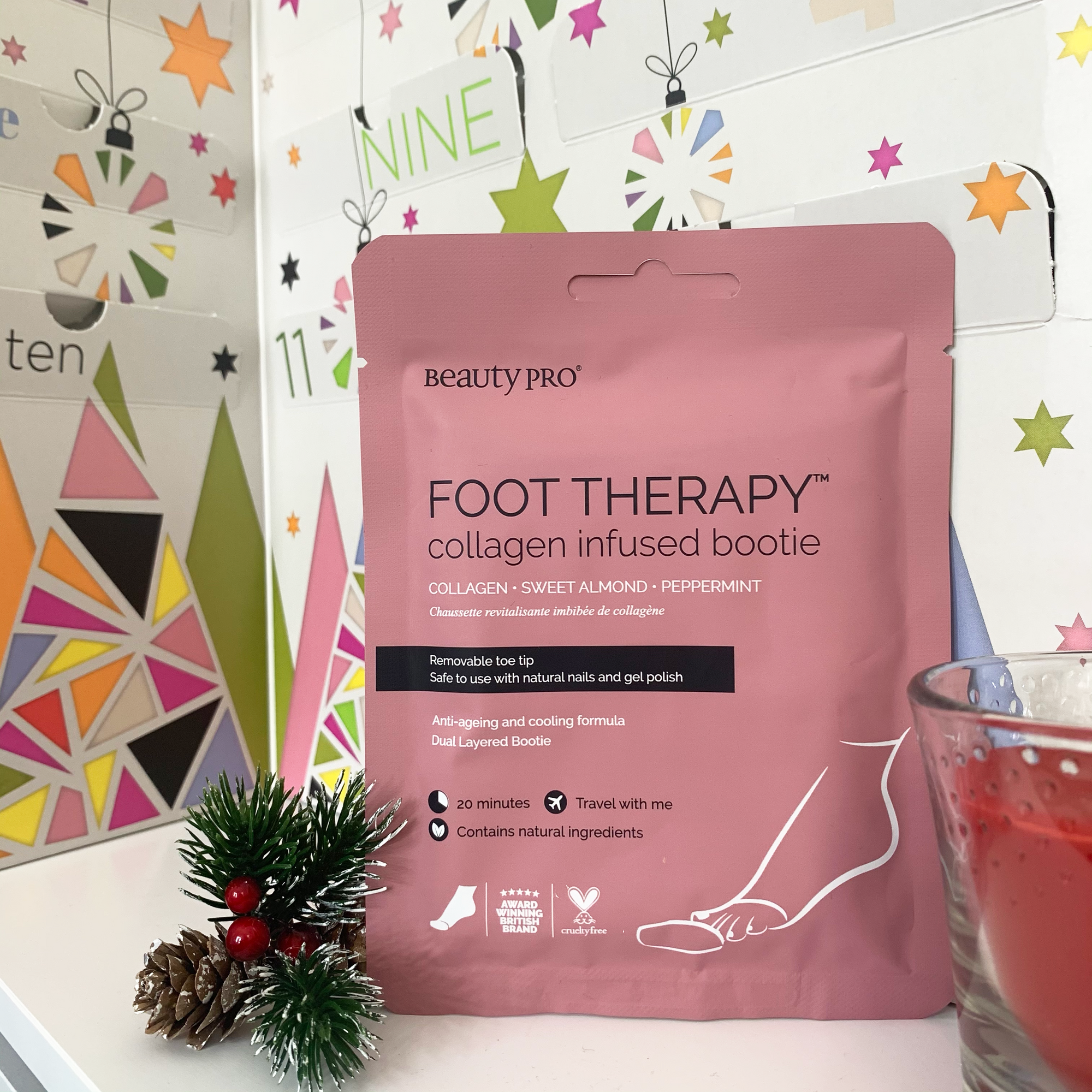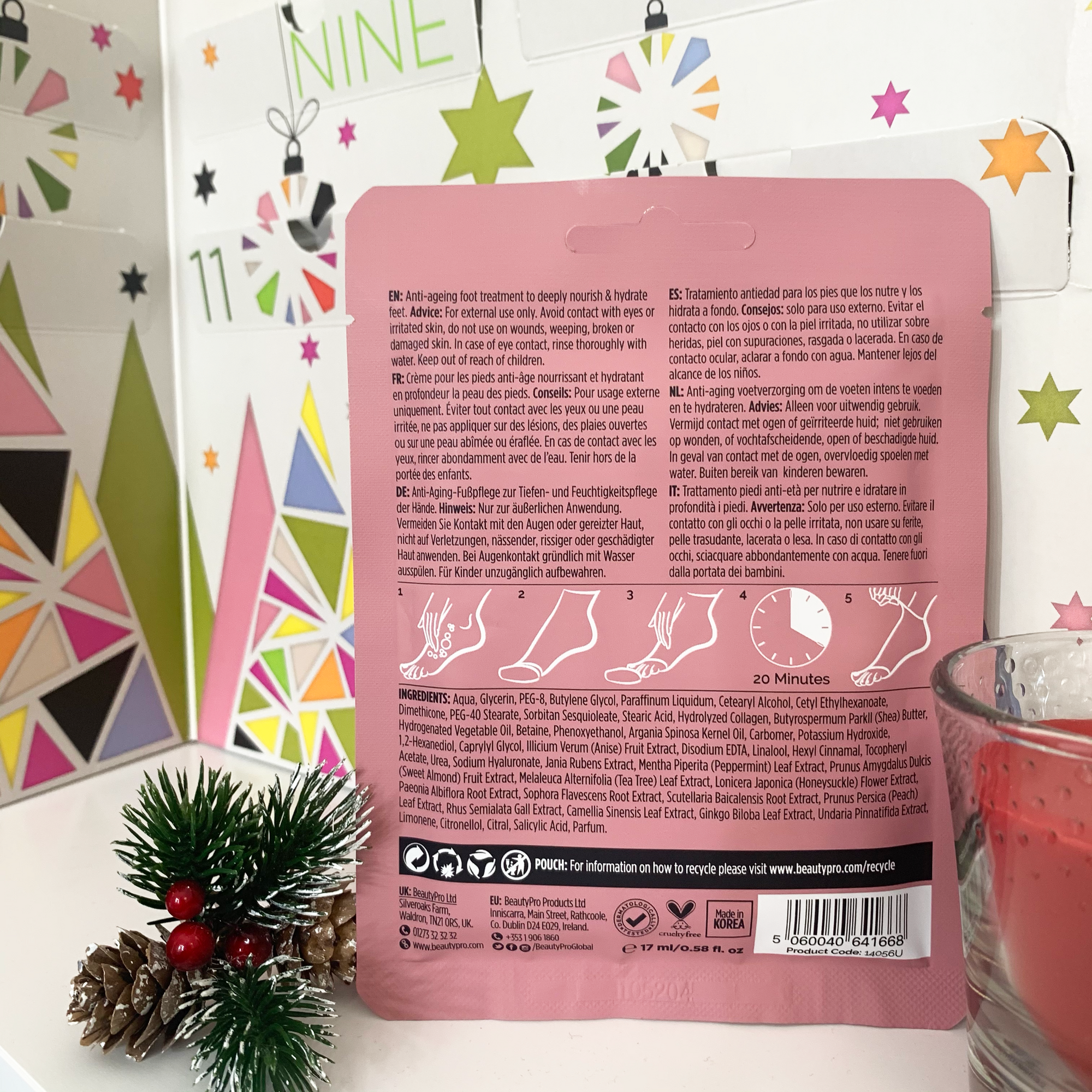 I also unboxed this Advent Calendar on Youtube if you'd rather watch than read!
*This calendar was kindly gifted to me with no obligation to share. This doesn't affect my opinions.