Summer isn't over yet and if you've got a holiday planned… or if you're just wishing for the sun to come back out in England, then you need to be stocking up on your summer essentials.
One of my favourite parts of getting ready to go on holiday (apart from clothes shopping of course) if shopping for toiletries, beauty items and travel sized miniatures. I like to be super prepared and have every possible problem covered before I even set off…
To protect my skin in the sun, I take lots of suncream, after sun and aloe vera...
For insect bites (just in case I get bitten although I rarely do!); repellant, hydrocortisone cream and bands
For allergic reactions; antihistamines
For cuts and scratches (I love to climb on the rocks by the sea but they can be super sharp!); plasters (waterproof and regular)
And in case of an upset tummy; rehydration powders and paracetamol
That little travel bag I take is full! Thankfully, whenever I've been away, the items in it are rarely used but if anything was to happen, you can bet I'm prepared!
The only problem with being prepared is that all of those items can be quite pricey - especially when many of them also have an expiry date so they need to be re-purchased every 6-12 months.
I've recently discovered however that buying Superdrug own branded products rather than the well known brands can actually save quite a bit of money on certain items - and the quality is just as good.
Superdrug sent me a few items from their holiday essentials range to try out for myself - this is what I tried:
1. Superdrug Instant Body and Face Cooling Spray 200ml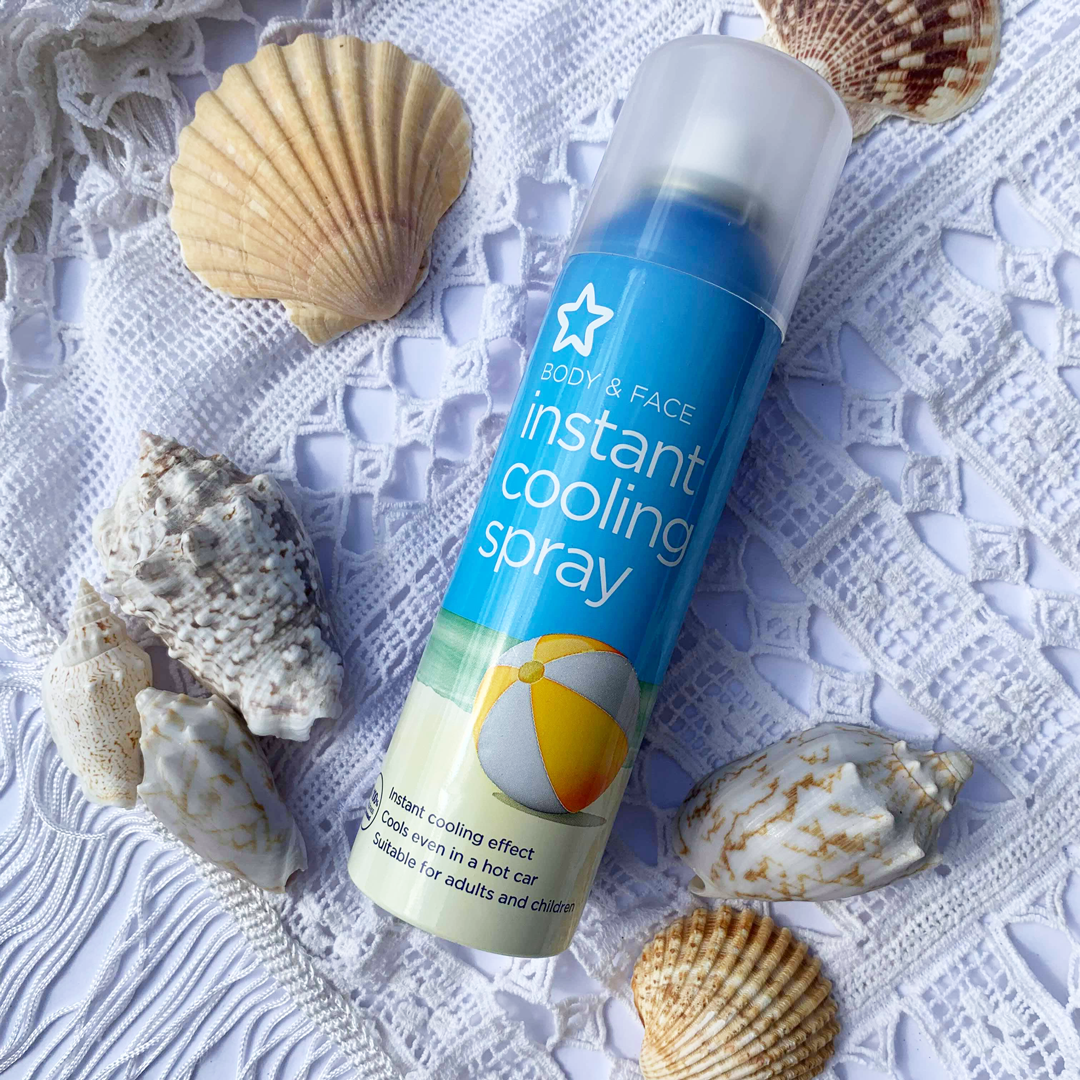 A cooling spray always comes in handy if you're going somewhere hot! Whether you're sitting in a restaurant, chilling on the beach or even just in the car, a spritz of this can cool you right down.
Before I tried cooling sprays, I was a bit sceptical of how it could cool you down any differently than spritzing water on your skin - but it works!
This was the first time trying out the Superdrug Instant Cooling Spray and I'd say it worked just as well as the more well known brands. It was slightly scented (which I wasn't expecting), but it's a fresh kind of smell and it doesn't linger for too long.
A 200ml can costs £4.49 in Superdrug which (at the time of this post) is £3 cheaper than the leading brand. It's also suitable for vegetarians and vegans and can be used by all ages.
2. Solait After Sun Face Lotion 50ml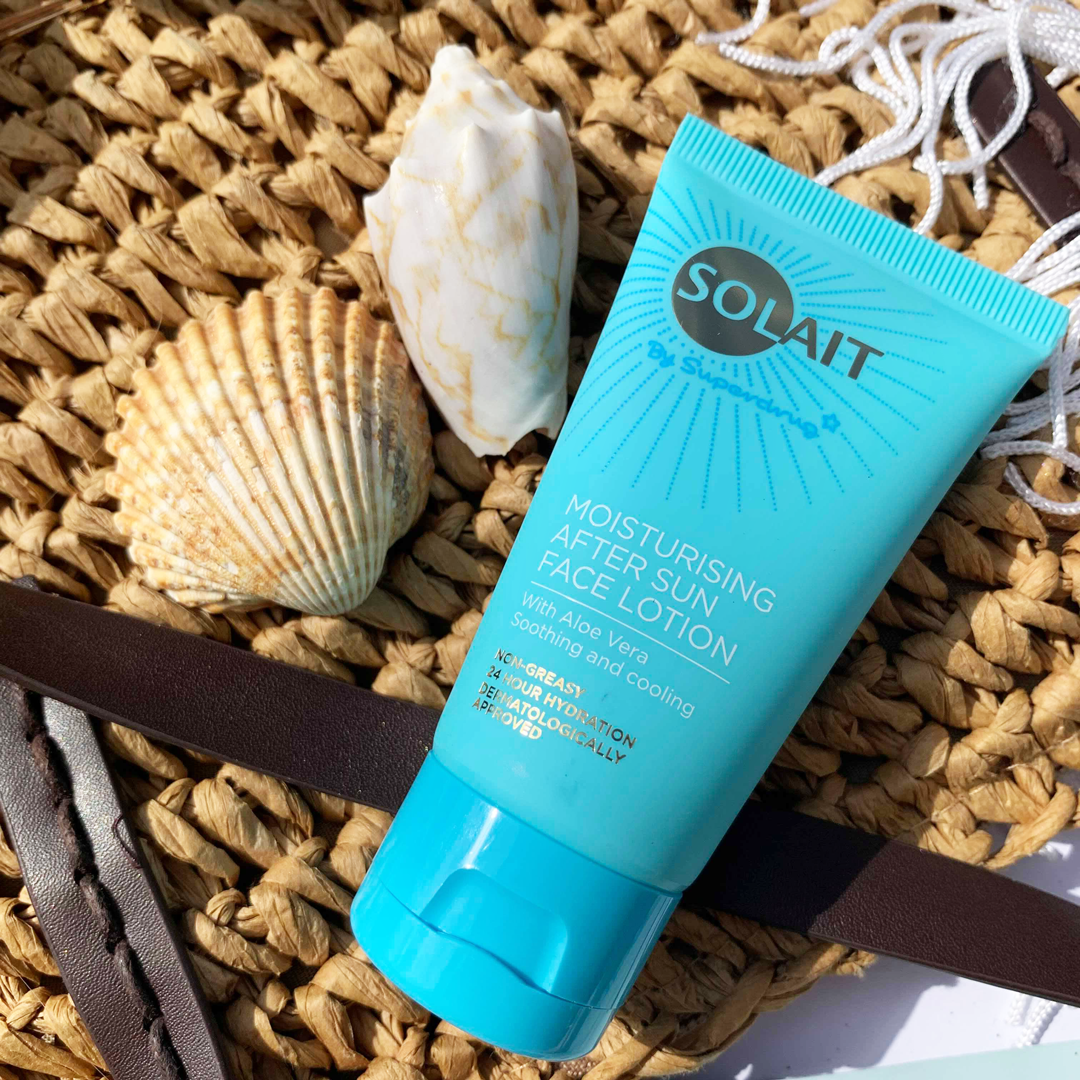 After sun is one of the main toiletries I take away with me. There's nothing worse than spending a day in the sun, showering off your sun cream and then your skin feeling tight and dry. I always make sure I use lots of after sun not only to make my skin feel soft and moisturised again but also to prevent peeling!
The Solait After Sun Face Lotion is designed just for the face but after sun lotions for the whole body are also available in the Solait range. This little tube is the perfect size to take on holiday and it's definitely more than enough to last a couple of weeks if applied daily.
It contains aloe vera, cucumber juice and Vitamin E - three ingredients your skin needs to repair itself after sun exposure. The aloe vera works to soothe the skin and cool any sunburn whilst the cucumber juice provides 24 hours of hydration.
Plus it smells incredible!
You can pick up the 50ml tube for £2.99 which saves you another £3 if you had bought one of the more well known brands.
At the moment, Superdrug also have an offer on Solait - if you buy any 2 Solait products, you receive this 50ml lotion free (until 10 September 2019)… plus they're also running a 'Buy 1 get 1 half price' offer too, so snap them up whilst you can!
3. Superdrug Travel First Aid Kit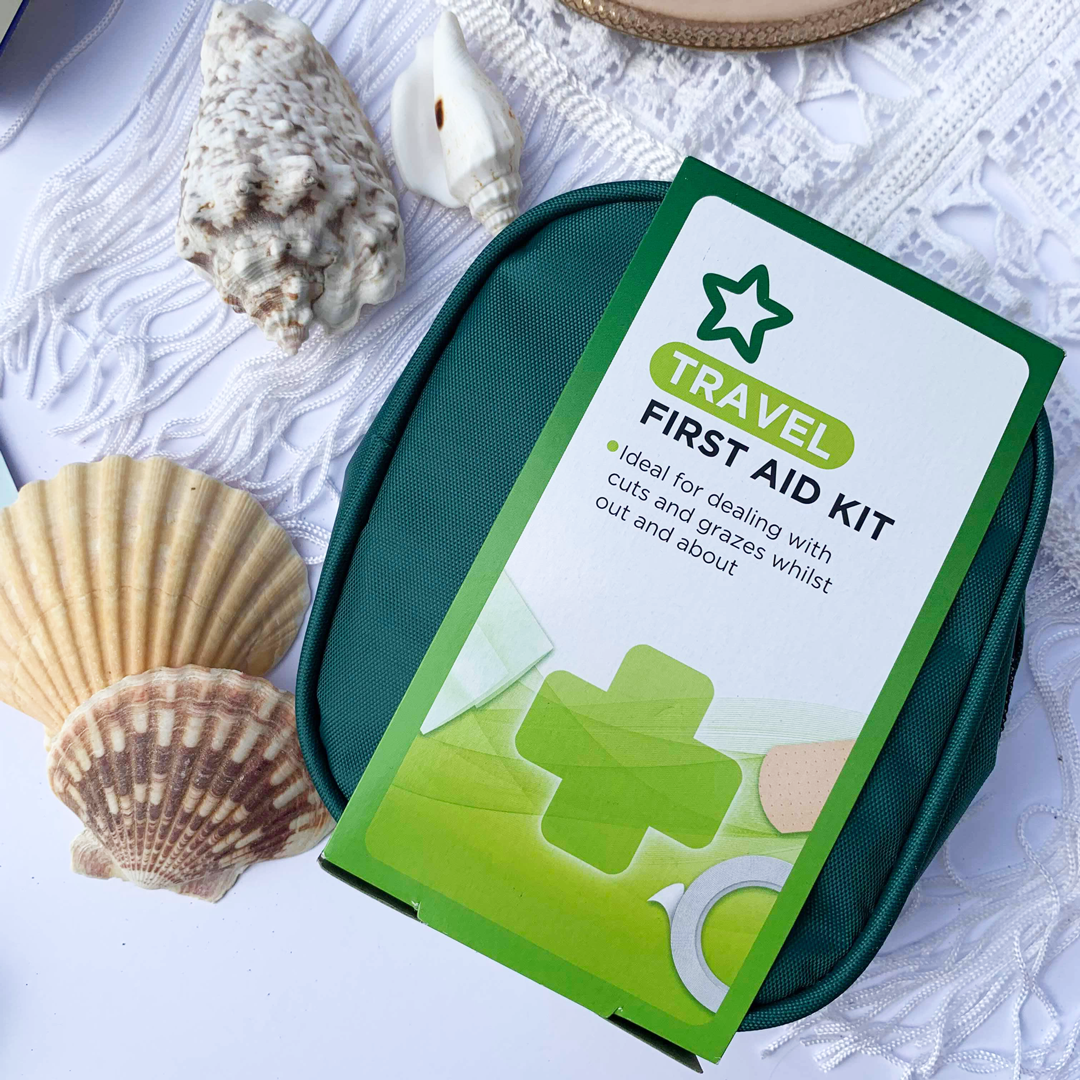 When it comes to a first aid kit I usually just take plasters with me just in case I get any cuts or in case my shoes rub. I never thought of taking a full little first aid kit as I presumed it would take up too much space or be too heavy for the case. But this little lightweight kit is perfect!
Inside the Superdrug Travel First Aid Kit you'll find:
1 Microporous Tape 1.25cm x 5m
10 Assorted Plasters
1 Non-adherent Dressing 5cm x 5cm
5 Antiseptic wipes
1 Fabric Dressing Strip
1 Stretch Bandage 5cm x 4m
1 Pair of Vinyl Gloves
1 Printed Advice Slip (Full of super handy tips to show you how to deal with common first aid situations)
It's such a compact case and will easily fit into your luggage. It's also one of those things you won't have to re-buy every time you go away (apart from replacing the antiseptic wipes when they expire!).
You can pick this up for £4.99 - such a bargain price when I would usually spend £1-2 on just plasters!
4. Superdrug Foot Sock Packs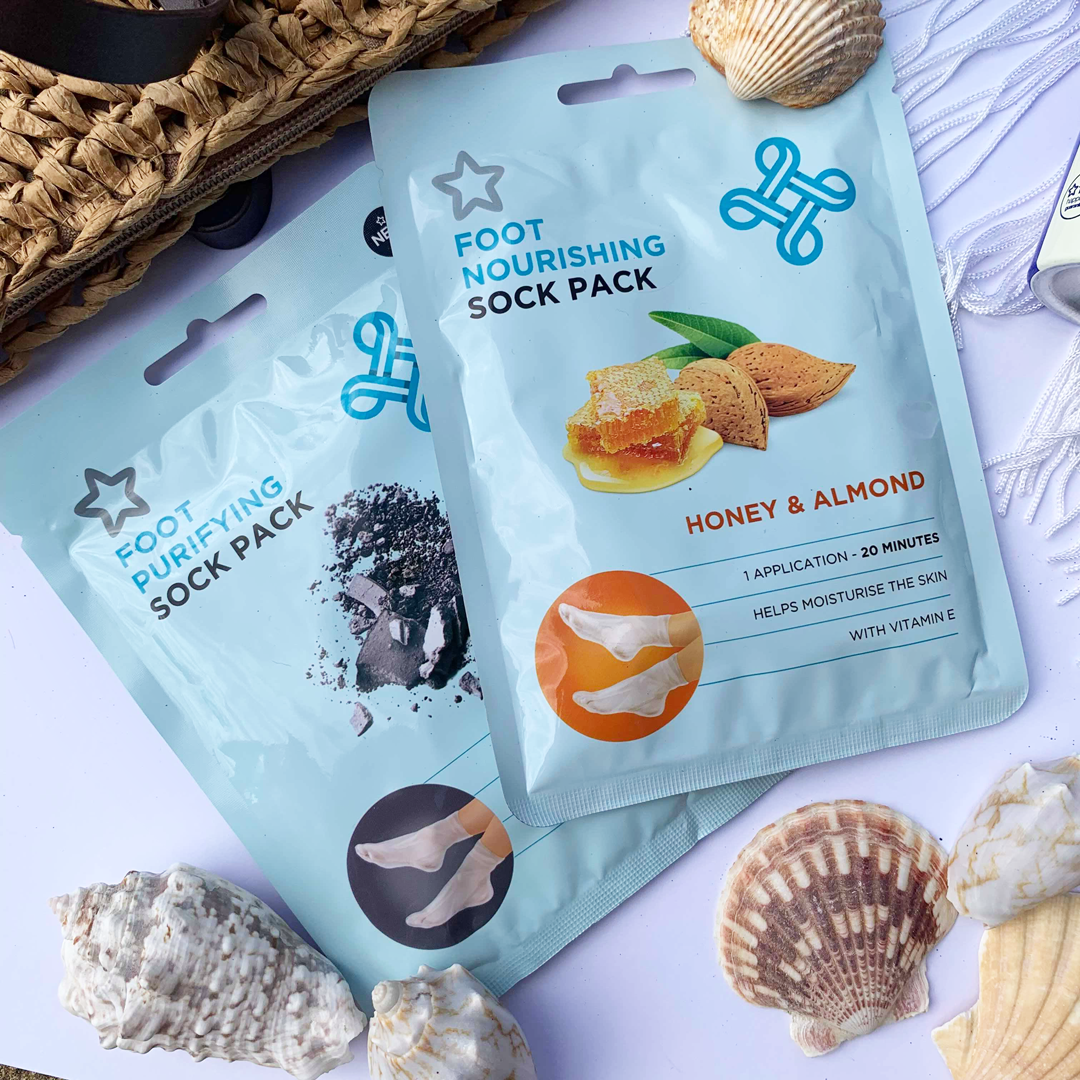 I think I must have been living under a rock because I have definitely never seen these before but now I've looked they seem to be everywhere!
After keeping our feet tucked away in cosy socks and boots all winter, when summer comes, there's nothing better than breaking out those gorgeous sandals, or throwing on your flip flops for a walk on the beach… but what about your feet? Are they ready for that?
These sock packs give your feet the TLC they need to keep them looking and feeling healthy all summer.
I picked out the Superdrug Foot Nourishing Sock Pack - Honey and Almond and also the Superdrug Foot Purifying Sock Pack - Charcoal.
The Honey and Almond Sock Pack works to soften and moisturise the skin, in particular the rough dry skin often found on the heel. It just takes one 20 minute application to give your feet a boost of moisture with vitamin E, honey and almond.
The Superdrug Foot Purifying Sock Pack contains charcoal powder which works to purify the skin on your feet. Like the Honey and Almond pack it also contains Vitamin E plus coconut oil to help soften cracked and dry heels.
Each of the sock packs are only £1.99 - another bargain to fix your feet before throwing on the flip flops!
Aside from those items Superdrug has a whole range of their own branded items which can save you a fair bit of money - without compromising the quality.
Check out more of Superdrug's own branded items here.