New Year, new beauty routine, right? And what better way to do this than with a Glossybox full of beauty goodies!
This January, Glossybox are focussing on 'The Power of Beauty' and are taking inspiration from the natural world around us when picking out this month's products. In each Glossybox we usually find five products, but this month we have six… Glossybox have thrown in an extra little treat which will definitely come in handy for everyone this month!
If you're new to Glossybox, it's a monthly beauty subscription box containing five beauty products from makeup, skincare, haircare and beauty tools to cosmetics. The value of the box is always worth at least £50 but you only pay a fraction of that price! Each month you also receive a sneak peek into one product which will be featured in the next box and the February sneak peek is a product from Avant - the Velvet Perfecting Rose Sugar Lip Scrub. This will get our lips in perfect condition for Valentines!
If you're not already subscribed, you can use code KTFXO to get your first box for only £11.50 including postage!
Here's what's inside the January 2021 Glossybox:
1. Daily Concepts - Daily Reusable Rounds
Worth £6.80
First up we have some Daily Reusable Rounds from Daily Concepts. These are such a fab addition to your makeup bag/skincare collection. The reusable rounds are basically a replacement for cotton rounds or makeup wipes, so instead of reaching for a new cotton round each time you want to take your makeup off, use micellar water or apply toner, you can use one of these super soft rounds instead and when you've used it, just pop it in the wash! These are a fab way to do your bit for the environment and minimise your eco footprint.
2. ECooking - Moisturising Serum
Worth £22.50
This was the sneak peek from last month - the Ecooking Moisturising Serum. It's suitable for all ages and all skin types and works to give your skin a moisture boost - likely needed by all of us in this cold weather! Plus the heating in the house can also cause dry skin too so any additional moisturising products are perfect. It's said to also reduce the appearance of fine lines and wrinkles too to leave a more radiant and youthful glow. I'm personally not a huge fan of Ecooking products - I've tried them on a few occasions and they haven't really suited my skin.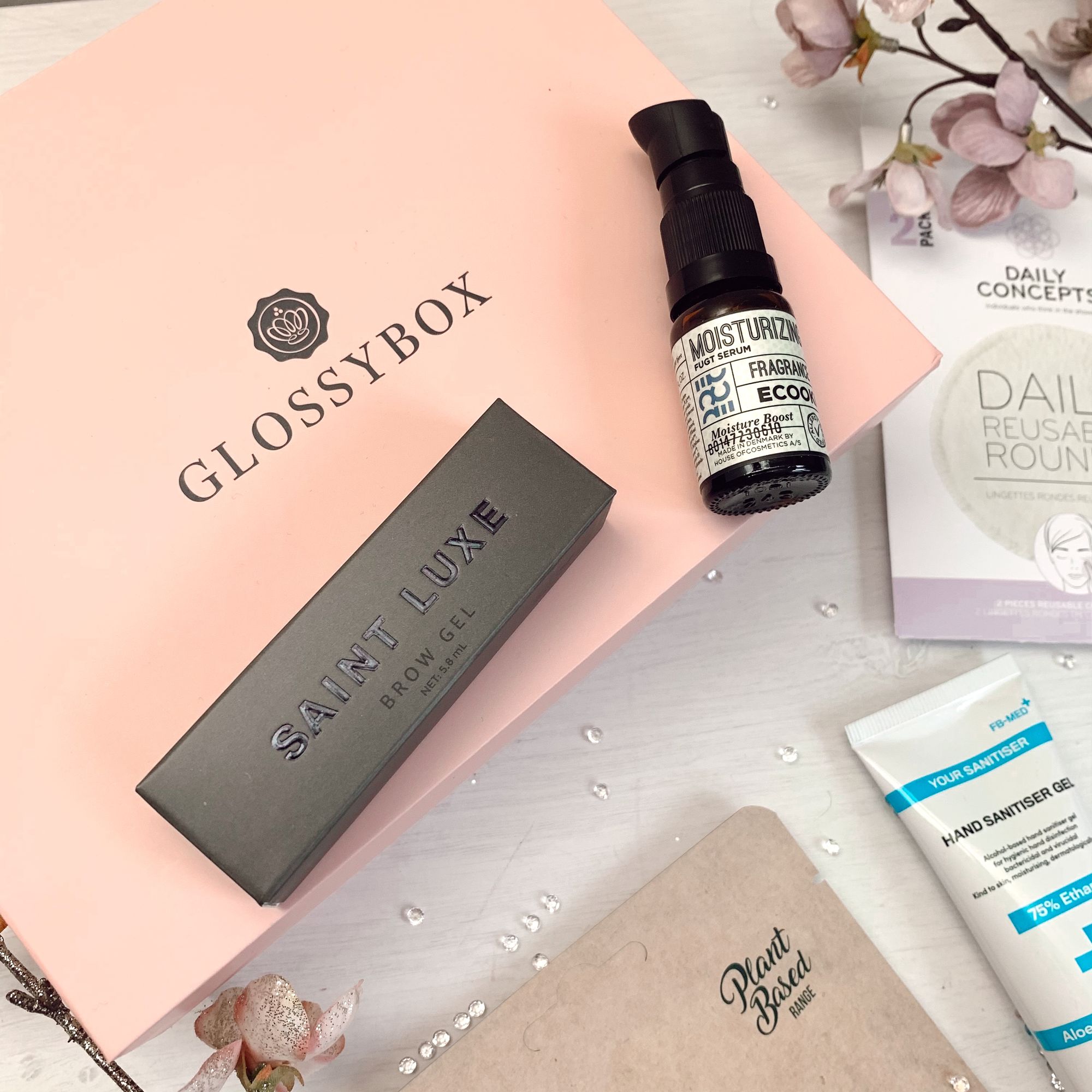 3. Saint Luxe Beauty - Brow Gel
Worth £16
The makeup product in this month's box is from Saint Luxe and it's a clear brow gel. Perfect for keeping those brows in place, simply apply to the brows after any pencil, crayon or pomade and they should stay put all day. With it being a clear gel, it's suitable for everyone, no matter what shade brows you have and it's also not sticky when dry!
4. Mudmasky - Eye Mask
Worth £44
If your product card this month doesn't show this product, don't worry - Glossybox explained that there had been a delay with the Gua She which was supposed to be in the box, so Mudmasky stepped in and provided their Eye Mask! It's not another eye cream… I know we have had a few of those in various boxes and Advent Calendars recently… this is a little different. It's designed to reduce puffy skin, dark circles, fine lines and wrinkles. You apply it to the area under the eyes for 8 minutes and then remove.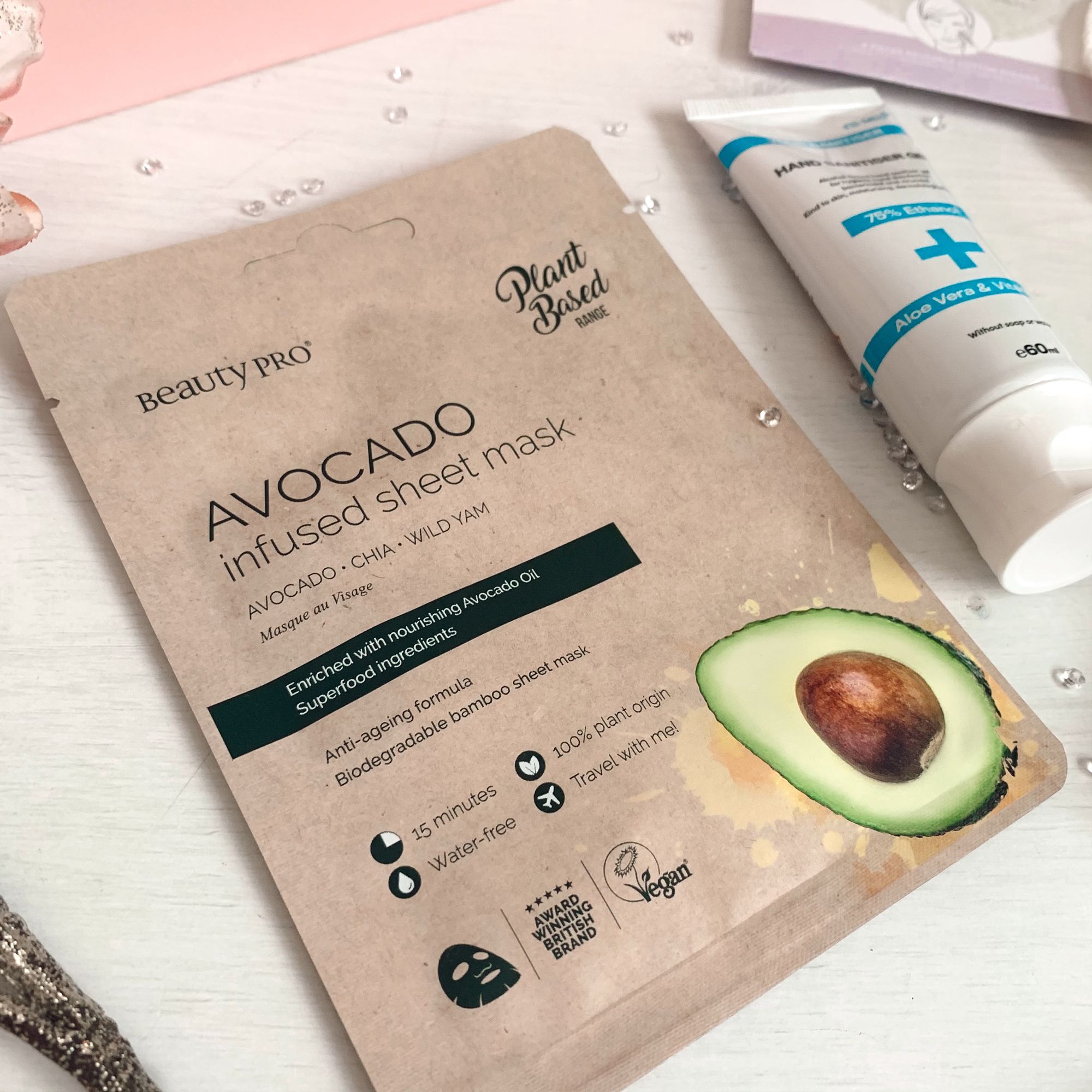 5. Beauty Pro - Avocado Infused Sheet Mask
Worth £4.95
Would it really be a January pamper without a sheet mask?! I think not… this month's box features the Avocado infused Sheet Mask from Beauty Pro (one of my fave face mask brands!). This is part of the plant based range, it's vegan and cruelty free and the mask is made from bamboo which is better for the environment than regular masks. The mask works to reduce fine lines and wrinkles and protect the skin from the elements.
6. Your Sanitiser - Hand Disinfectant Gel
Worth £2.72
The sixth product this month - our bonus product - is a Hand Disinfectant Gel from a brand called Your Sanitiser. I'm sure we can all make good use of this at the moment during lockdown! I've used this product before and I really liked it. It contains 75% ethanol which kills 99.999% of all germs but also aloe vera and vitamin E. Not only is it not drying on the skin, but it increases skin's moisture by 34%.