After a crazy 2020 and a very unusual Christmas and New Year, what better way to kick off 2021 than with a Feel Good Face + Body box from Asos?! January is always the perfect month for a bit of a pamper after a hectic festive period, and now more than ever, self-care needs to take a front seat.
The ASOS Face + Body box is a monthly box costing £12. It contains 5 beauty products which can be found on the Face + Body section of the ASOS website and each month ASOS put together a theme with these goodies, package them in a little box and send them out. It's a pay as you go beauty box rather than a subscription and you get to see what products are inside before you buy the box – so if you aren't a fan of the products you don't have to purchase it!
The theme for the January box is 'The Ultimate Feel Good' and the products inside have been selected to help boost your mood and give you a little bit of a pamper.
The box also comes with a little card to tell you a bit about the products, but as it's only small, if you want to know more, you can find the product descriptions on the ASOS website.
Here's what's inside the January 2021 ASOS Beauty Box:
1. ALPHA-H CLEAR SKIN DAILY FACE & BODY WASH 30ML
First up is a cleanser for your face and body from Alpha H. It works to purify and revitalise the skin leaving it clean and fresh. It's ingredient list includes beta hydroxy acids, niacinamide and glycerin which contribute to healthy bright skin. It's said to be designed to help treat and prevent breakouts on the face, neck, chest and back so it's the perfect addition to your shower.
2.  CAUDALIE VINOPURE PURIFYING TONER 50ML
Step 2 in our new routine is this Purifying Toner from Caudalie. It's suitable for combination to oily skin and should be applied morning and evening after cleansing.
3. ELEMIS SUPERFOOD VITAL VEGGIE MASK 15ML
For our evening pamper we have the Superfood Vital Veggie Mask from Elemis. This prebiotic green mask is packed with ingredients to help brighten, nourish and hydrate the skin. Simply apply to cleansed skin and leave for 10 mins before removing with a warm cloth.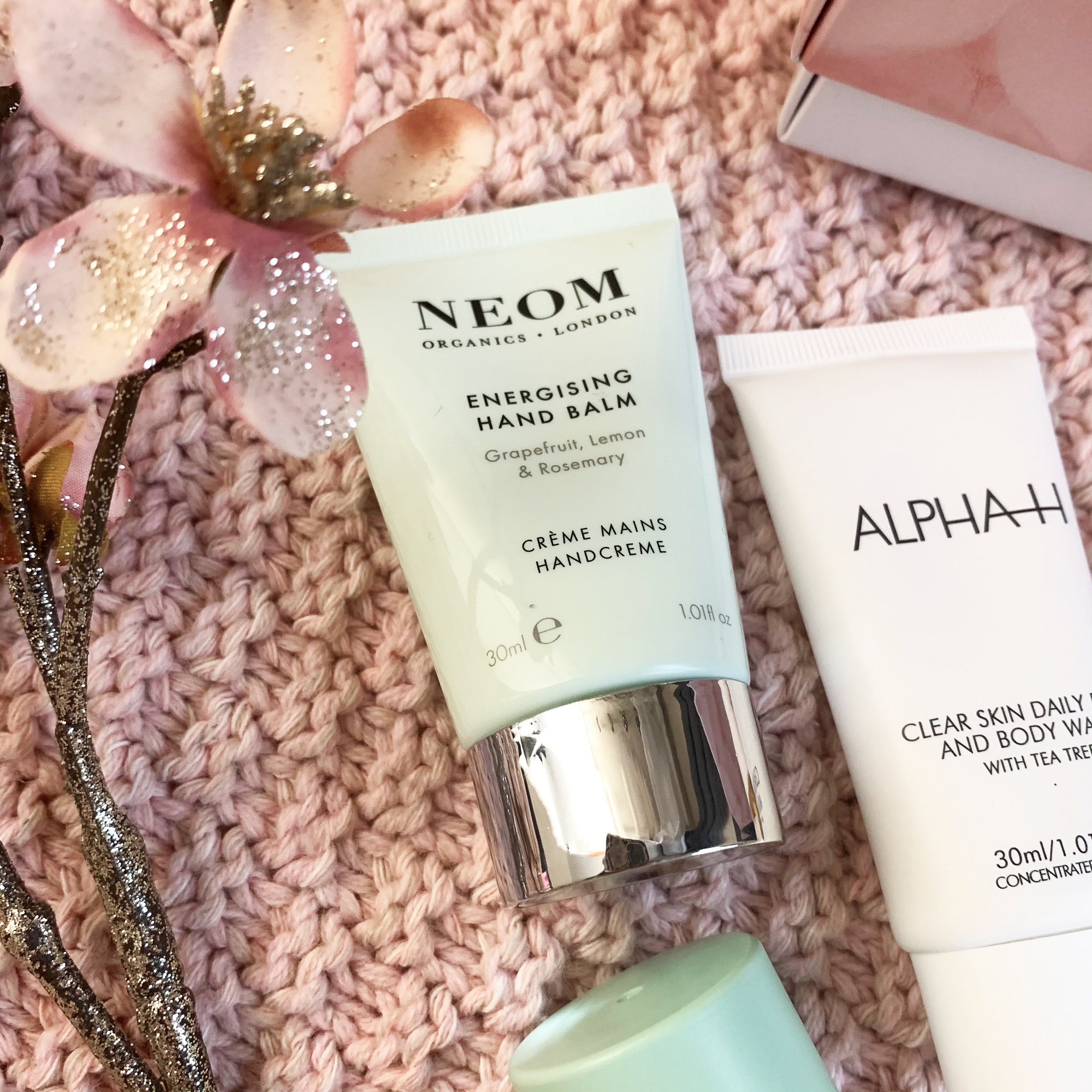 4. NEOM ENERGISING HAND BALM
For the hands we have a gorgeous hand balm from NEOM organics. This energising hand balm is scented with grapefruit, lemon and rosemary along with a combination of other essential oils. Once applied to the hands, inhale the fragrance to help boost your energy and wellbeing.
5. OUAI WAVE SPRAY
The final product in the box is a Wave Spray for the hair, from OUAI. It's a lightweight mist that adds volume and boost to your hair for an effortlessly chic finish.
As always there is a fab mix of products in the ASOS Face + Body box, with something for everyone. You can find the January box here whilst it's still available.