The Ultimate Guide To Silky Smooth Legs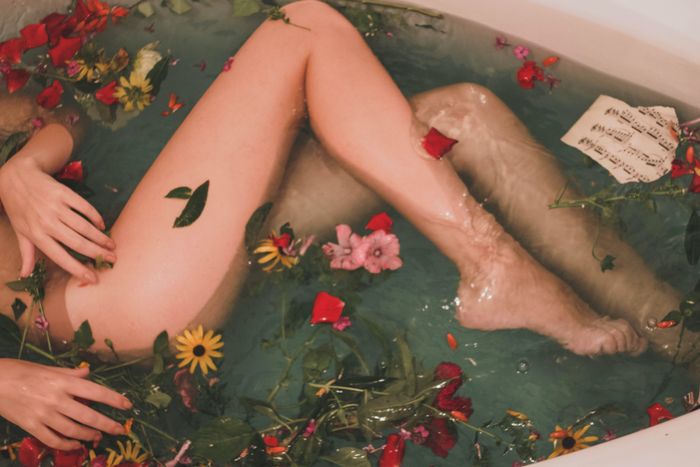 Party season is upon us.
That means Christmas parties, party dresses… and the bigger questions like tights or no tights? Tan or no tan? How and when do I de-fluff my legs?
Should you guarantee smooth skin by using wax?
Or should you invest in one of those 'expensive things' that take it all off super easily?
What about tan?
Should you tan before you shave?
Too many questions and too many decisions to make…
If any of that sounds like you, then look no further.
By the end of this post you'll know exactly when to remove the hair… exactly how to remove it… and some top tips and best products to use along the way.
Preparation
One of the most important parts of hair removal - which a lot of people forget about - is the preparation. Silky smooth legs don't just happen… you gotta put the work in girl!
But don't worry I got you covered.
No matter whether you're shaving, waxing or pulling them out one by one (please don't…), exfoliating is essential to remove all the dead skin cells, leaving a clean surface for the hair removal. (It'll also help prevent ingrown hairs because they have nowhere to hide)
It's best to exfoliate around 24 hours before removing any hair to give the skin chance to settle and for any irritation to disappear. After hair has been removed, skin can be much more sensitive so avoid any exfoliation immediately afterwards to prevent any irritation.
This might sound like a given but only because most people generally shave when they're in the shower. But when it comes to the other hair removal techniques, clean skin is just as important. Not only will it prevent any infections but it will also make sure any products you use actually reach the skin rather than a layer of dead skin cells or dirt (yes, we all get dirty!) - the razor can also get closer to the skin too! When it comes to waxing, the easier the wax grips to the skin, the less painful it is to remove.
Clean also means no moisturiser…it forms a layer over the skin and make hair removal just that teeny bit trickier. Sorry girls but give it a miss whilst you get rid of those pesky hairs.
If you're using a new product on your skin…whether it's for hair removal or anything else, it's so important to ALWAYS test it before you use it properly. A 'patch test' will let you know if you're allergic to it or if it irritates your skin. Applying a small amount on one area before smothering it all over your legs is so much better if it turns out the outcome is going to be hives… trust me.
Make sure you get yourself ready beforehand - grab some clean towels and move your party dress out of the firing zone of that bottle of removal cream. This will prevent any mishaps and give an all round smoother experience (yes, pun intended).
Okay so now you're all ready, let's take a look at how we can get super silky smooth legs just in time for the party season!
1. Shaving
Shaving is probably the most common and obvious choice for most people. It's cheap and easy to do, giving that silky smooth finish in minutes.
Simply soak your skin in water for a few minutes to soften the hairs and glide the razor back against the direction of hair growth - key word being glide - to remove the hair, the blade only has to glide across the surface of the skin… not dig into it (that won't end well - been there done that, worn the plasters). Areas such as the back of the legs or around the knee might be a bit tricky to get with just a few glides, but pulling the skin taut will help the razor get closer to the skin's surface.
It's not just as easy as grabbing any old razor (we've all been guilty of using cheap disposable ones in the past) - a multi blade razor seems to give better results.
It's always recommended to use a shaving gel or cream to keep the skin moist and prevent any accidents (dry shaving can be super irritating, leaving you with dry and itchy legs for the rest of the day).
You don't need to grow your leg hair for weeks before shaving it… everyone's hair growth is different but usually a couple of days is all it takes before hair starts to grow back. (Mine lasts around 24 hours before stroking my legs feels like stroking my boyfriend's chin!)
But hair length doesn't matter for shaving. As soon as there's a little bit of 'stubble', you can hop in the shower and get rid - so if you've been invited to a last minute Christmas party or you just fancy a spontaneous festive night out with the girls, look no further than the razor.
It's super important to use a clean, sharp blade each time - it's best to change blades every 1-2 weeks, depending on how you shave.
Old razors can become blunt and pick up bacteria hanging around in the bathroom.
But… fresh razor blades can be super sharp so watch out for those awkward areas like the ankle and knee, a teeny cut is quite painful!
Top tip - Shaving can dry the skin so be sure to have some fragrance-free moisturiser to hand after shaving to soothe and hydrate the skin.
My allbeauty recommendations
Skin Doctor's Body Depilatories Ingrow Go
RRP £12.99 Allbeauty's price £9.20
If it's too late to prevent the ingrown hairs, Skin Doctors Body Depilatories Ingrow Go is what you need. This little beauty works to bring ingrown hairs to the surface and smooth out bumps, clearing pores and exfoliating at the same time. It's an all round wonder lotion.
Skin Doctors recommend using the lotion morning and night until the skin has smoothed out. If you're shaving or waxing you also have to wait up to 12 hours after before applying the lotion.
Philips Lady Shavers Satin Shave
RRP £39.00 Allbeauty's price £25.95
If the regular razor isn't for you, you could always try an electric shaver… I mean why should the guys get it so easy but we can't? Plus, with a shaving foil over the trimmers, it can prevent scratching and help the shaver glide evenly over the skin.
Of course with electric razors it's not always as easy as picking them up and using them - they need to be charged. So, make sure you plan to charge it if you need it at a certain time.
​2. Depilatory Creams
Next up is the good ol' depilatory cream… a.k.a hair removal cream. Another super-cheap, easy to use product you can apply in your bathroom at home. Unlike shaving, there's no risk of bleeding and no risk of pain… and as the product sits on the skin for a short while whilst it works its' magic you can even get on with something else.
The downside to depilatory cream is that it can get pretty messy… and it usually smells. Lots of brands add their own fragrances now to mask the scent of calcium thioglycolate or potassium thioglycolate but the chemicals are pretty strong so it still isn't that nice.
Each brand will be slightly different so it's important to check the instructions on the back of the bottle before you try it out. Simply apply a layer to the skin, making sure all hairs are buried under the surface and then wait while it gets to work. Usually the instructions say to wait up to 10 minutes before removing the cream… so use this time to choose your shower gel, trim your nails or scroll Instagram. Once the time's up, either use the plastic spatula which comes with it to scrape it off (don't scrape too hard - it can scratch the skin and it's not pleasant), or hop in the shower and rinse it off in lukewarm water.
Don't leave the cream on for any longer than the instructions say to do so...it's not a pretty experience. The chemicals don't stop after ten minutes so leaving it on for longer can cause skin burns and irritation… and then you'll wished you had opted to shave instead… or just gone out hairy.
Because it only takes 10 minutes (plus application and removal time), this is another hair removal technique which can be left until the day of the party if you're running a bit late. But if you're thinking of wearing tan it's probably best to use the cream a day before.
The smell of the chemicals can also sometimes linger and I'm pretty sure that eau d'hair removal isn't the scent you were planning on wearing this Christmas.
If you're in a rush, it's also better not to use this to avoid any potential mishaps whilst in panic mode rushing around trying to get ready.
Again, it depends on your hair growth-rate, but hair tends to grow back within 2-3 days.
My allbeauty recommendations
Skin Doctors Depilatories Hair No More Set
RRP £18.99 - allbeauty price £12.95
The perfect complete set for hair removal. Containing 2 tubes of hair removal cream, one inhibitor spray and a spatula, this is Australia's no.1 hair removal product!
It only takes minutes to remove hair and a few spritz' of the inhibitor spray afterwards works to prevent the hairs growing back. This product has been proven to make hair regrowth more sparse and fine.
Plus it contains salicylic acid which works wonders on the skin keeping it super soft!
When using hair removal cream you might think that one bottle is enough but making sure there's a thick even layer covering all the hairs can sometimes mean you use way more than you're expecting - 200ml might not be quite enough.
So I'd recommend stocking up just in case… that way you'll never be caught out with one hairy leg and an empty bottle of removal cream!
Guinot Hair Removal Depil Logic Corps Body Lotion
RRP £31.50 allbeauty price £17.95
This is an anti hair regrowth body lotion. So it doesn't exactly remove hairs like depilatory cream does… but used as a daily moisturiser and after hair removal sessions it helps to inhibit hair growth and prevent ingrown hairs.
At 43% off the RRP, it's a good addition to your hair removal kit to prevent regrowth and keep those legs looking and feeling silky smooth!
3. Waxing
If you're looking for something a little more long term, and don't mind pain (this sounds like some weird kind of dating ad…) then waxing could be for you.
Waxing is well known for being painful because instead of removing the hair just above the skin, waxing removes the hairs and their roots completely.
But for a bit of pain, the results can definitely be worth it as it can last between 3 and 6 weeks (depending on how fast your hair grows). Waxing is great for a low maintenance body care routine and if you wax on the reg, you'll find each time the hairs grow back less coarse and the pain isn't usually as bad.
Hot waxing machines can be a little messy and a little pricey too, but pre-coated wax strips are great at removing hair without the mess and expense of a machine.
Instructions on the box of the wax strips should always be followed.
But generally these say to apply the wax in the direction of hair growth and rip the strip off in one quick motion in the opposite direction. It helps if the skin is held taut and the same area shouldn't be waxed more than twice to prevent irritation and damage to the skin.
To get results using waxing strips, you'll need to let your hair grow. Wax won't touch stubble, so make sure there's a good few weeks' growth before trying them out for yourself.
Waxing smaller sections at a time will be less painful but it will obviously take longer so if you're feeling brave I'd opt for the fewer strips to cover more ground at once.
If you want a low maintenance Christmas body care routine then waxing is exactly what you need to keep your legs silky smooth for every occasion without having to factor in shaving each time there is an event.
No pain, no gain, hey?!
My allbeauty recommendation
Decleor Body Care Aroma Epil Post Wax Cream
RRP £19.00 allbeauty price £10.95
Whilst this is designed for sensitive areas such as the bikini line and eyebrows, there's no harm in applying it to the legs too. Not only does it work to soothe the skin after it's been traumatised with a waxing strip, it also works to prevent hair regrowth, boasting a record 92% reduction in hair growth after 6 days.
4. Epilators
Another long term but painful choice is the epilator. Using an epilator can leave legs hairless for up to 4 weeks and it's super easy to do at home with no messy creams or gels flying around the bathroom.
Literally no preparation is needed other than cleansing the skin and charging the epilator.
An epilator works by basically acting like robo-tweezers, plucking the hairs out from their root at speed.
It's an electronic handheld device which you hold at a 90 degree angle to the skin and roll over the area you want to remove hairs from. It's easier to start in an area which is less painful, like the front of the legs and use the device in the direction of hair growth.
For areas which are less taut, it helps to pull the skin tight to ensure the maximum amount of hair is exposed, ready to be plucked.
There's no growing hair for weeks on end in preparation for this - the hairs only need to be about 0.5mm in length and the epilator can fish them out.
After the hairs have been removed the skin might be slightly red (and your eyes might be watering), so it's probably not the best hair removal method when you're in a rush. Your best bet is to epilate a few days before any event so the skin has chance to calm down.
My allbeauty recommendations
Philips Satinelle Essential Compact Corded Epilator
RRP £45 - allbeauty price £34.95
Made by Philips - the well-known electronics brand, this compact epilator is the perfect shape to fit comfortably in your hand - and the perfect size to throw in your handbag for any hairy emergencies!
It comes with an efficiency cap to maximise contact with the skin and the epilation head is super easy to detach and wash.
Because the epilator itself is so compact, the head isn't super wide so you might want to set aside some time.
For only £34.95 how can you complain?!
Philips Satinelle Advanced Wet and Dry Epilator
RRP £155 - allbeauty price £69.95
Another Philips product but this one is slightly longer in size. It can be used on either wet or dry skin and comes with 7 different accessories.
The epilator head is 'extra wide' so it'll cover a larger area than other epilators and it even has an inbuilt light to make sure you can spot any areas you've missed. This one is slightly more expensive than the compact corded epilator but the additional features, and the fact it's cordless, makes this one super convenient.
5. Intense Pulse Light (IPL)
One of the more pricey hair removal techniques but probably the most rewarding is IPL. If you don't need immediate hair removal but want those hairs gone in the long term, then this is the technique for you.
IPL uses pulses of light to heat the roots of the hairs and put them in a resting-phase to prevent them from regrowing. Whilst it sounds like this requires some expert with a huge laser gun aiming at your legs, you actually only need a small handheld device. Say goodbye to messy gels, waxes and hair removal creams!
But… this little wonder tool isn't so wonderful for everyone… due to the pigment in the hair and skin, IPL isn't as effective on really dark or really light skin.
Plot twist... before using the device, the skin must be hair free. Yup… as backwards as that sounds, the area you want to target must have no hair… but it helps if there is a root for the light to target - so shaving is the better option before using IPL.
If IPL is something you want to try I'd throw out all of the creams and gels, start shaving those legs and blasting them with the IPL - by next Christmas you might not even need to shave at all!
It's recommended to stay out of the sun when using IPL and always use an SPF… plus after using the handheld wonder, skin might be slightly hot-to-touch but an ice-pack will sort that out.
My allbeauty recommendations
Philips Lumea Prestige Rose Gold
RRP £575.00 - allbeauty price £359.95
The Phillips IPL Lumea has 5* reviews and whilst I haven't tried this myself yet, it sounds like it's definitely worth the investment. Phillips recommend treating the area every 2 weeks for an 8 week period to reduce hair growth.
Studies have shown significant hair reduction after 3 to 4 bi-weekly treatments. The best way to maintain this is by touching it up every 4 to 8 weeks.
The obvious hurdle with this product is the price… and honestly it would make me hesitate… but after reading tonnes of reviews online, I'm convinced it's worth the investment.
Braun Silk Expert 5
RRP £399.99 - allbeauty price £249.95
Another well reviewed IPL product is the Braun IPL Silk Expert 5. Using a SensoAdapt, the skin tone sensor is constantly 'reading' the different tones on your body and adapting the intensity of the light. Pretty genius don't you think?!
The legs or arms can be treated with this IPL in only 8 minutes so you could even add it into your morning routine! This one is slightly less expensive than the Philips, but I expect that is largely due to the fewer accessories and the built in power cord.
6. Tweezing
Ok… I know what you're thinking… a post on removing leg hair and there's a section on tweezing… is she kidding?! Don't worry I'm not recommending tweezing your hairs out one by one - not only would that take all day but can you imagine the pain?!
Tweezers are the perfect little tool to tidy up after the hair removal process. They're super cheap, easy to use and I bet the majority of people already have a pair lying around at home somewhere, right?
Tweezers are great at removing hairs which still won't budge after 2 waxing strips... or just for those hairs in the really awkward places. Hold the tweezers firmly, grab the hair and give it a slight pull. It's best to always tweeze hairs in the direction of growth to prevent them breaking.
My allbeauty recommendations
Tweezerman Pointed Tweezers
RRP £20.00 - allbeauty price £12.95
These award winning tweezers (which currently have a place on my dressing table) are perfect for removing even the finest hairs due to their precision tip. They're super effective on ingrown hairs too but make sure the skin is clean and the tip of the tweezers are disinfected with alcohol before trying to remove any pesky ingrown hairs.
Tweezerman Mini Slant Classic
RRP £13 - allbeauty price £9.95
Another award winning pair (who knew there were so many awards for tweezers?!) but these are the perfect size to keep in your handbag for tweezing on the go.
These are slanted rather than pointed and work better on coarser, more difficult hairs.
Top tip: When tweezing stray hairs, take a warm shower before tweezing to make them easier to remove. Afterwards place a cold flannel over the area to close the pores (this will help to prevent infections).
Information Overload Summary
Just in case that was a total blur, or if you just haven't got time to plow through everything, here's a handy summary to help you choose the best hair removal technique depending on how much time you have!
| Time Until The Party Starts | | |
| --- | --- | --- |
| | | Always shave against the direction of hair growth using a sharp, clean blade. |
| | | Always patch test and make sure the product isn't left on for longer than recommended. |
| | | For areas which are less taut, pull the skin tight to ensure the maximum amount of hair is exposed. |
| | | Make sure the root of the hair isn't removed - choose shaving over waxing or epilating whilst using IPL |