If you're looking for a Premium Beauty Advent Calendar for this year… if you just fancy treating yourself after a tricky year, or you just want to enjoy a luxury pamper on the run up to Christmas, then The White Company Beauty Advent Calendar is the one for you.
At a slightly higher price than other Beauty Advent Calendars, it oozes luxury and high end skincare/self care products. For £160 you receive the gorgeous Advent Calendar which feels incredible quality and weighs quite a lot! Inside are 25 drawers filled with a huge selection of The White Company products.
So whether you're a White Company fan, or you fancy using this as your opportunity to try out a large selection of their products and scents, this is perfect for you.
The colour scheme is silver and white and the front of the wardrobe design depicts a beautiful silver Christmas tree and the doors open using two small white ribbons. Inside the drawers alternate between white and silver, with shredded paper inside each to cushion the products.
As you open the doors on the Calendar you're immediately met with a luxurious scent – a mix of the huge selection of different scents to be unboxed inside. The design of the calendar is almost minimalistic too which means it can easily be reused after Christmas as a storage solution for makeup and beauty products.
Inside the White Company Advent Calendar 2020 you can find:
1. VOTIVE CANDLE IN MIDNIGHT
This scent is said to be inspired by the magic of Venice and fireworks at midnight. It features notes of cardamom, warming amber, spicy nutmeg and a twist of ginger. Honestly it smells incredible, the perfect winter scent!
2. SPA RESTORE BATH OIL SHOT
The Spa Restore range features products which focus on the scents geranium, neroli and eucalyptus. This also contains sweet almond oil among other oils to keep the skin feeling silky smooth. This scent is so refreshing and adding a small amount to a bath will create the ultimate relaxing experience. It's also vegan and alcohol free.
3. SPA RESTORE SKIN BRIGHTENING SUPERFINE BODY SCRUB
The second product in the Spa Restore range but this time a body scrub. It smells exactly like the bath oil and works to gently exfoliate the body leaving it silky smooth.
4. SPA RESTORE BODY BALM
And when you thought that was it, there's another Spa Restore product in the next drawer! This drawer holds the Spa Restore Body Balm so after bathing and exfoliating, this is the final step to lock in moisture to the skin and keep the scent lingering for longer.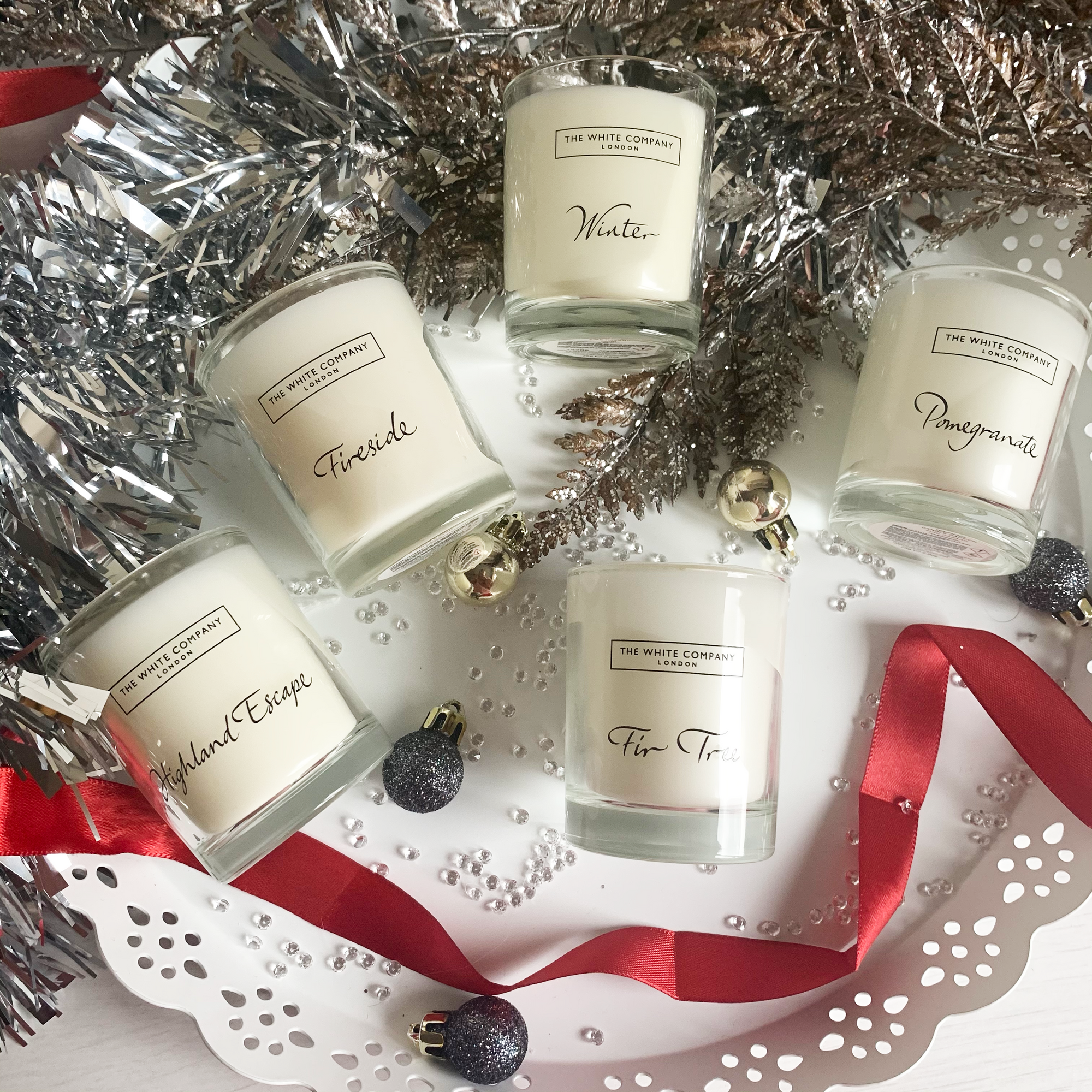 5. VOTIVE CANDLE IN FIR TREE
The second candle of the Advent Calendar is in the scent Fir Tree. And wow. It literally smells like a forest!
It's said to be inspired by the depths of a faraway forest, thick with pine trees and laden with snow. It contains woody scents of fresh eucalyptus and pine needles, along with warming cedar and earthy moss. It's said to capture the magic of winter… and it definitely does that! It smells like a real Christmas tree in the home.
6. SEYCHELLES BATH & SHOWER GEL
Moving onto a different scent, we find the Seychelles Bath & Shower Gel in drawer number 6. This is more of a summer scent and is said to be like a warm Indian Ocean breeze. It contains bergamot, bright orange and fresh coconut with a hint of jasmine, amber and vanilla.
It's such a summer scent and if there is a Seychelles candle this will definitely be on my shopping list next summer!
7. SEYCHELLES BODY LOTION
Like with the Spa Restore range we receive a second Seychelles product on day number 7 and it's the Body Lotion. It smells just like the bath and shower gel so you can lock in the scent and moisturise your body at the same time.
8. SEYCHELLES LIP BALM
This doesn't specifically say what scent range the Lip Balm is from… but with a quick check on the website, it says the lip balm is in 'Seychelles' too.
A lip balm is essential for me all year round so I'm looking forward to having a summery scent on my lips too!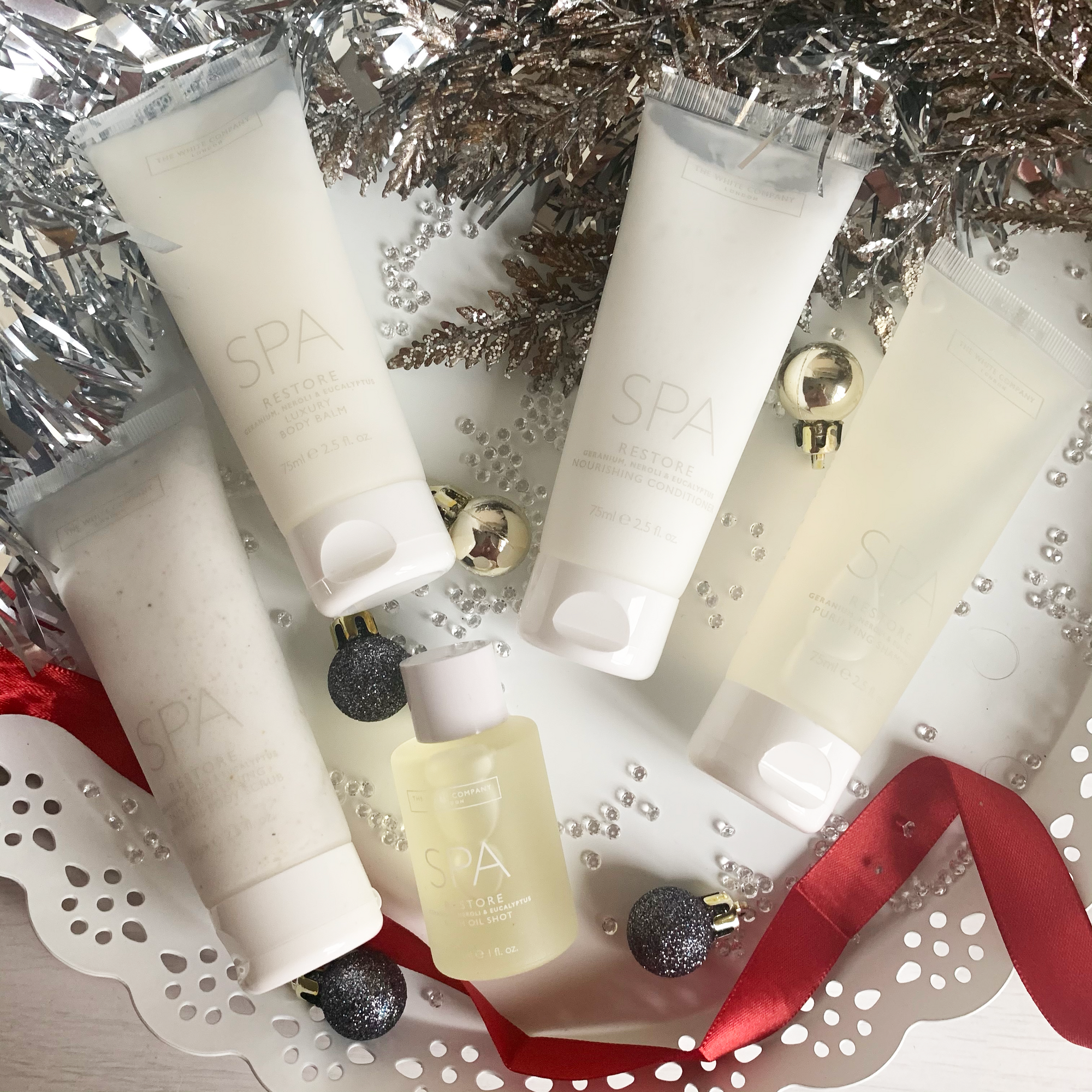 9. CALM BATH OIL SHOT
A second bath oil shot but in a different range, Calm. The Calm scent is a combination of Angelica, Clary Sage and  Cedarwood. This scent is definitely more refreshing but smells more like a bubble bath than a spa product like the Spa Restore scent.
It contains a combination of essential oils including juniper berry, geranium leaf, ylang ylang, tonka bean and sandalwood and is super therapeutic and peaceful.
10. CALM PULSE POINT OIL
The same scent as the Bath Oil Shot in day number 9, the Pulse Point Oil is perfect for bringing a little calm into your day when the stress rears it's head. Simply roll the oil onto the wrists, temples or behind the ears to begin to feel relaxed and take some time out for yourself.
11. VOTIVE CANDLE IN FIRESIDE
The next candle in the Advent Calendar smells exactly like it's name. A fireside. Imagine sitting in a cosy chair next to a roaring log burning fire. That's the scent right there. It's such a warming scent and will instantly make a home feel more wintery when lit.  It contains smoked woods, fresh birch and rich patchouli with clove leaf, amber and creamy vanilla.
12. BLANC BODY WASH
Onto another scent range now – this is what I love about this calendar, there are so many different scents to try out! This is the perfect scent for a relaxing shower or bath. It's said to encapsulate a fresh, carefree and modern essence. It's a combination of white geranium and juniper berry enriched with ginger, mandarin oils and patchouli to create a crisp floral finish.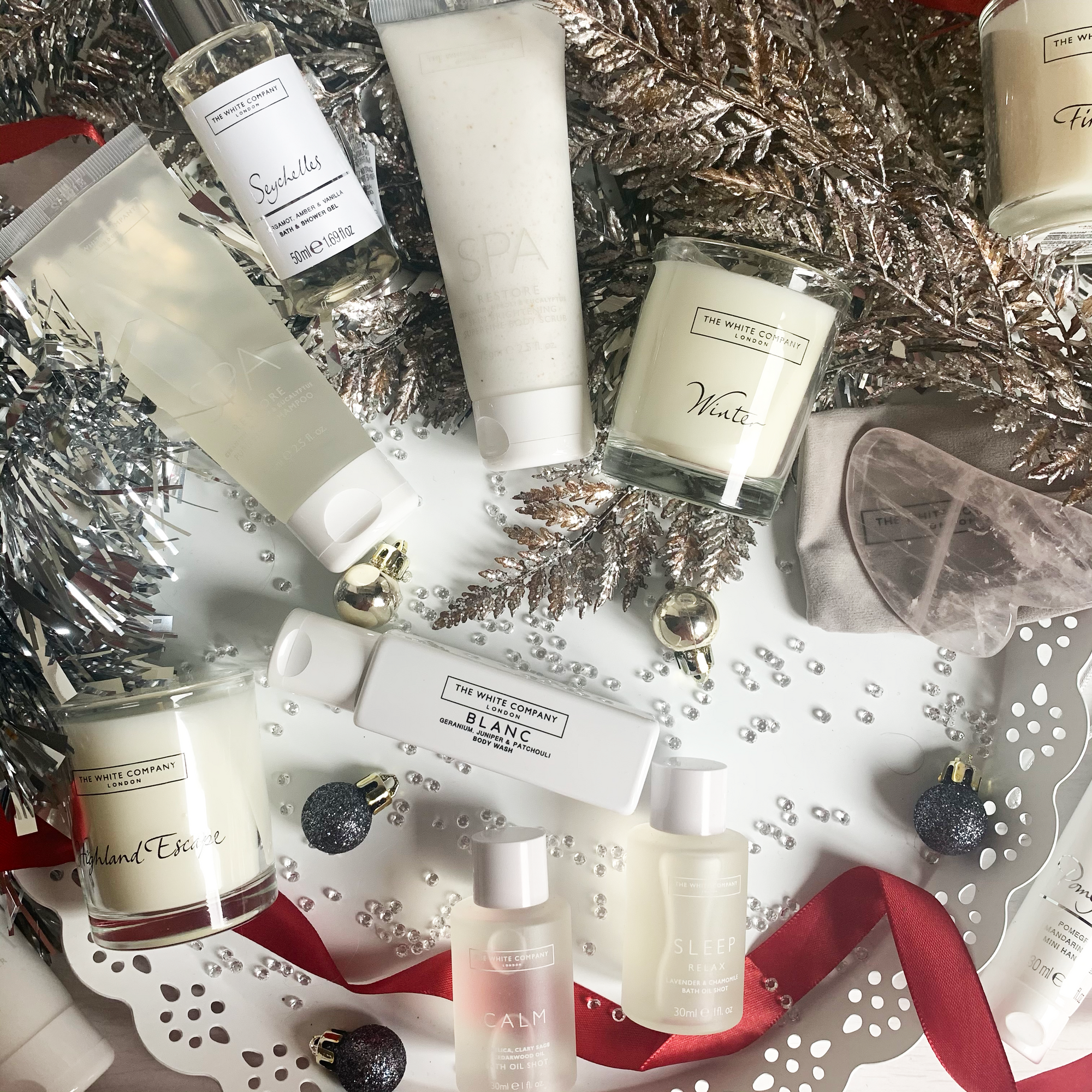 13. BLANC SHIMMER BODY BALM
The same scent as the body wash, again to hydrate the body and lock in the scent. This Body Balm has an added shimmer to it so perfect for this time of year when sparkle becomes an accessory.
14. SPA RESTORE PURIFYING SHAMPOO
Back to the Spa Restore range with the Purifying Shampoo. This smells just as incredible as the other Spa Restore products. I won't be using this however, as I only use a small range of products on my hair so I will be giving this as a gift.
15. NOURISHING CONDITIONER
And to go with the Purifying Shampoo, we have the Nourishing Conditioner in drawer number 15. Again another incredible scented product but I won't be using this one.
16. VOTIVE CANDLE IN POMEGRANATE
Onto a new candle scent in drawer number 16 – Pomegranate. This has warming notes of pomegranate and mandarin with patchouli and amber too. It smells much more fruity than the others, but definitely warming.
17. POMEGRANATE MINI HAND CREAM
Following the pattern in this Advent Calendar, the next product is a Mini Hand Cream in the scent Pomegranate. A hand cream has definitely been an essential for everyone recently so this will definitely be used up quickly!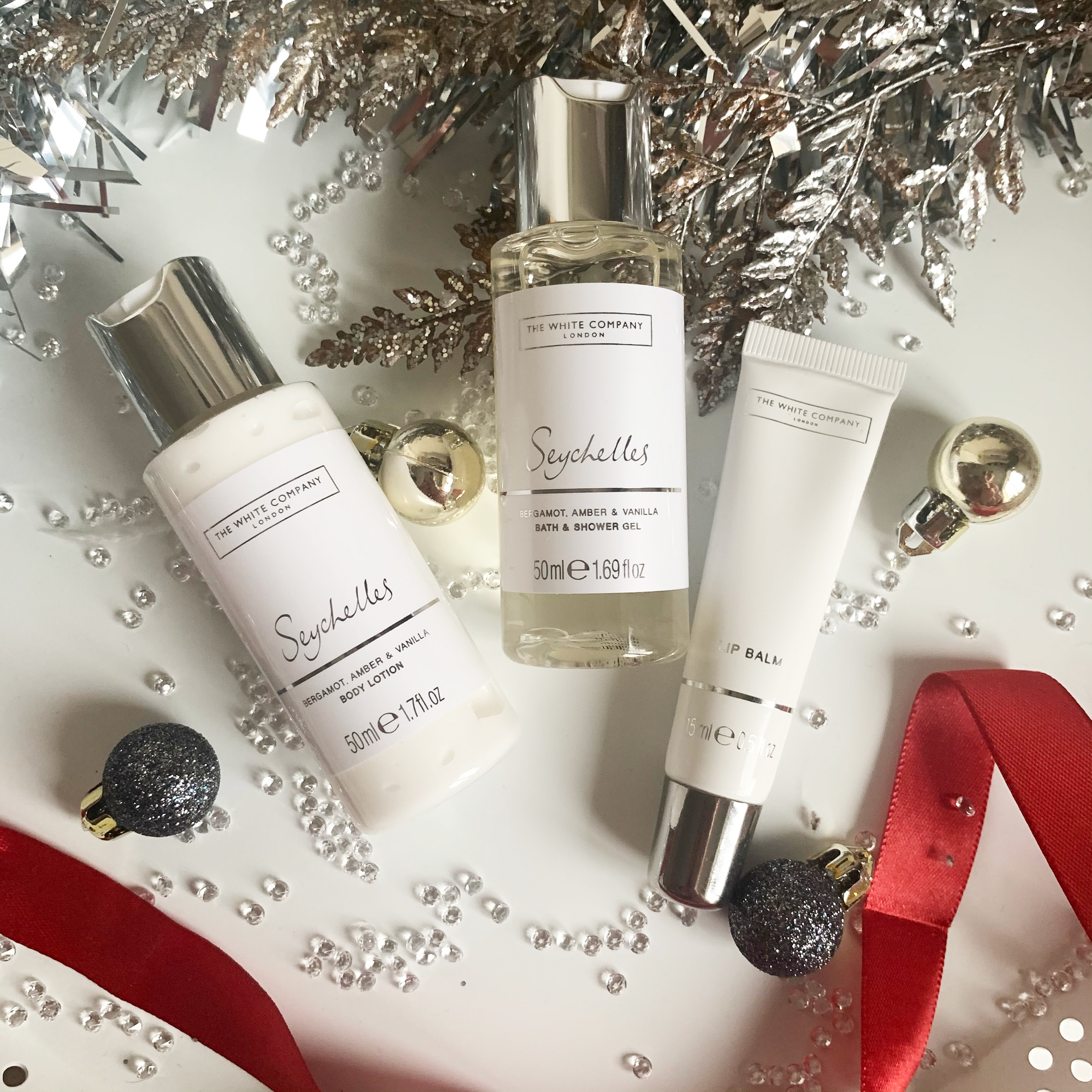 18. NOIR HAND WASH
This bottle is so unusual, just like the Blanc bottles too, they're a different shape to the other products. To me this smells slightly more like a masculine scent, but one I would still use myself… it contains notes of Amber, Mandarin and Sandalwood.  It's said to be inspired by Parisian nightfall when the streets are dark yet behind closed curtains the occasional window glints. I'm not sure how you capture that in a scent but that's exactly what The White Company have done here.
19. NOIR HAND LOTION
And to follow on from the Noir Hand Wash, day number 19 brings us the Noir Hand Lotion to keep our hands smelling incredible even after the hand wash has been washed away.
20. VOTIVE CANDLE IN HIGHLAND ESCAPE
These candle scents are never ending! Yet another new scent and this time in Highland Escape. This is a blend of aromatic bergamot, saffron and woody patchouli with a rich warming swill of cognac. I mean, it smells incredible but I'm not sure I could pick out the cognac scent from that!
21. LIME & BAY MINI HAND CREAM
A second hand cream of the Advent Calendar in a brand new scent, Lime and Bay. This is a super citrus scent and is really richly hydrating on the skin. It's said to smell like a perfect Mediterranean Garden captured in a scent. It contains scents of lime, pink grapefruit. Orange blossom and bay leaf. It's another refreshing summery scent.
22. SLEEP BATH OIL SHOT
The final Bath Oil Shot of the Advent Calendar is from the Sleep range. The products in this collection are said to have been crafted to help you enjoy a tranquil nights sleep and is a naturally infused sleep remedy. The essential oils which have been included in this scent were hand picked and it also contains aloe vera to sooth the skin too.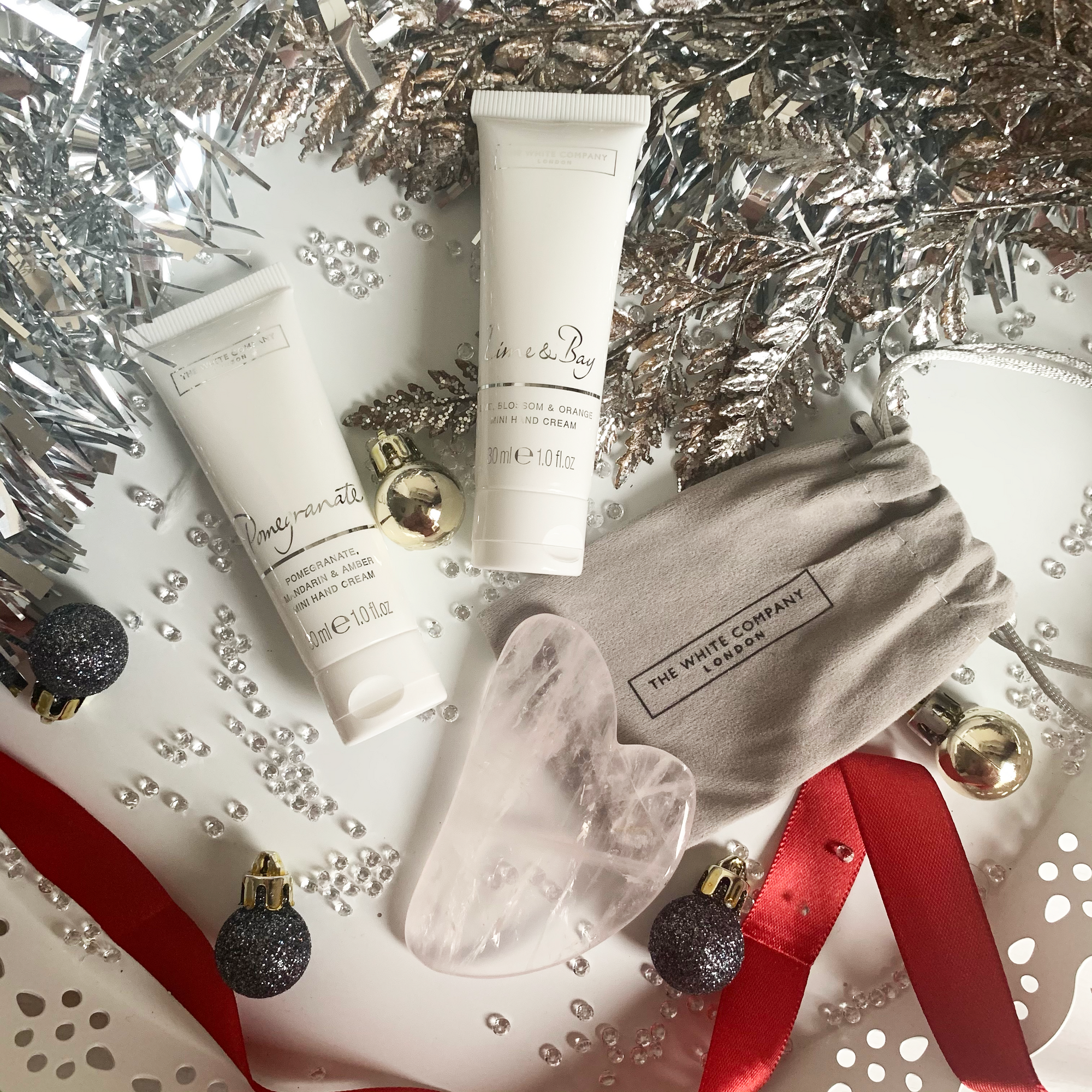 23. SLEEP PULSE POINT OIL
And to add to the lingering scent from the Sleep Bath Oil Shot, we then find the Sleep Pulse Point Oil. Like the Relax Oil, you apply it to your wrists, temples and behind the ear and the scent will help you relax and fall asleep easier.
24. VOTIVE CANDLE IN WINTER
They definitely saved the most Christmassy scented candle until last. This is Winter – said to be a magical combination of cinammon, warming clove and fresh zesty orange. It's a real spicy, warm scent and will definitely fill your home with the smell of Christmas.
25. ROSE QUARTZ GUA SHA
On Christmas Day we get something completely different from The White Company Advent Calendar – a Rose Quartz Gua Sha. It comes beautifully packaged in a grey pull string pouch and it has been hand crafted from natural rose quartz. Rose quartz is renowned to help tone and firm the skin.
After applying serums and moisturisers, the the Gua Sha and gently draw it across the skin from the centre of the face outwards to gently massage the skin.
Overall I thought the calendar was an incredible selection of scents and fragrances which is perfect for White Company 'beginners' to try out and see which they prefer before investing in the full sized products! Or if you're a big White Company fan then this Calendar is perfect for you anyway.
I'd definitely recommend this to anyone who loves the White Company, or someone who wants to purchase their products but doesn't know which scents to purchase.
The White Company Advent Calendar costs £160 and can be found here, or in Selfridges here.