With over 10 million users of the app you might have heard of 21 buttons some way or another - you might even have the app yourself.
But... if you've not heard of 21 buttons, or don't know how to make the most of the app, then keep reading because I'm going to tell (and show) you why you need to download the 21 buttons app. I'll also explain how you can best use 21 buttons to grow a following, find the best outfits and even earn money just by sharing photos of your outfits with your followers.
WHAT IS 21 BUTTONS?
21 buttons was founded in 2015 and it's basically an app which allows you to post photos of your outfits. The idea is that you tag each item in the photo, with a link to the item online so your followers can see where it was from and can purchase it themselves. For each item you tag, where someone purchases that item and there is an affiliate partnership in place, 21 buttons generates revenue for that sale… and shares it with you!
Call it your online styled wardrobe with a side bonus of extra cash.
I've been using the app for a long time now, but when I first started out I was completely unaware that when someone clicks on your item, goes through to the retailers website and purchases it, you get a commission.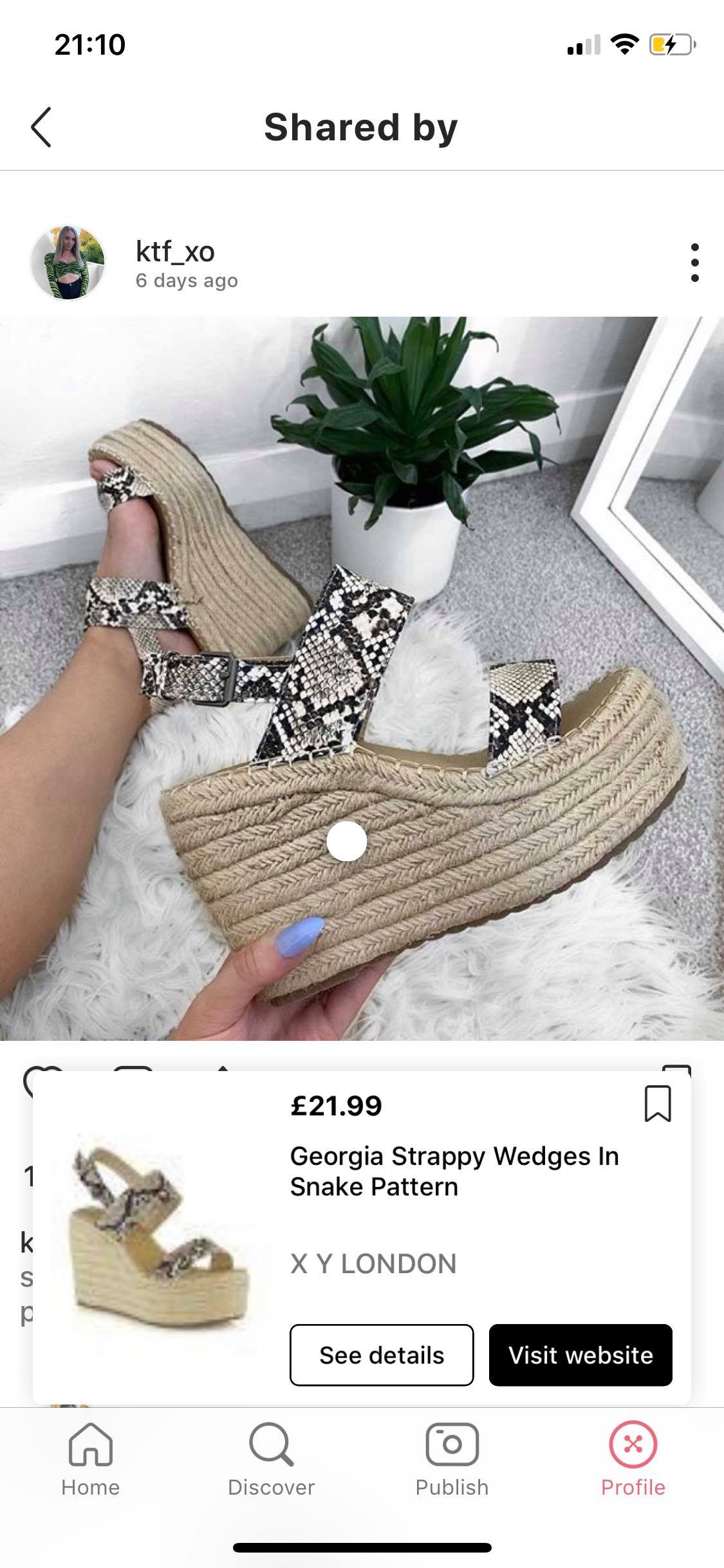 I remember the day I was playing around on the app and clicked 'Rewards' and I had £4.69 sitting in there… I was like 'where did this come from?' So I did a bit of googling and found out that it was my commission from where people had purchased the items which I had recommended.
Many influencers now use the 21 buttons app which makes it super easy to find exactly what your fave social media influencers are wearing and buy it for yourself.
There's been so many times where I've been scrolling an influencer's feed on Instagram and seen a lush top or bag and instead of telling me where the item was from in the caption, it just said - linked in stories. I'd then realise that the post was from weeks ago and unless the influencer has added the story to highlights, I'd have to take a wild guess where it was from and Google it...
So yay for 21 buttons… it's been an absolute time saver for me!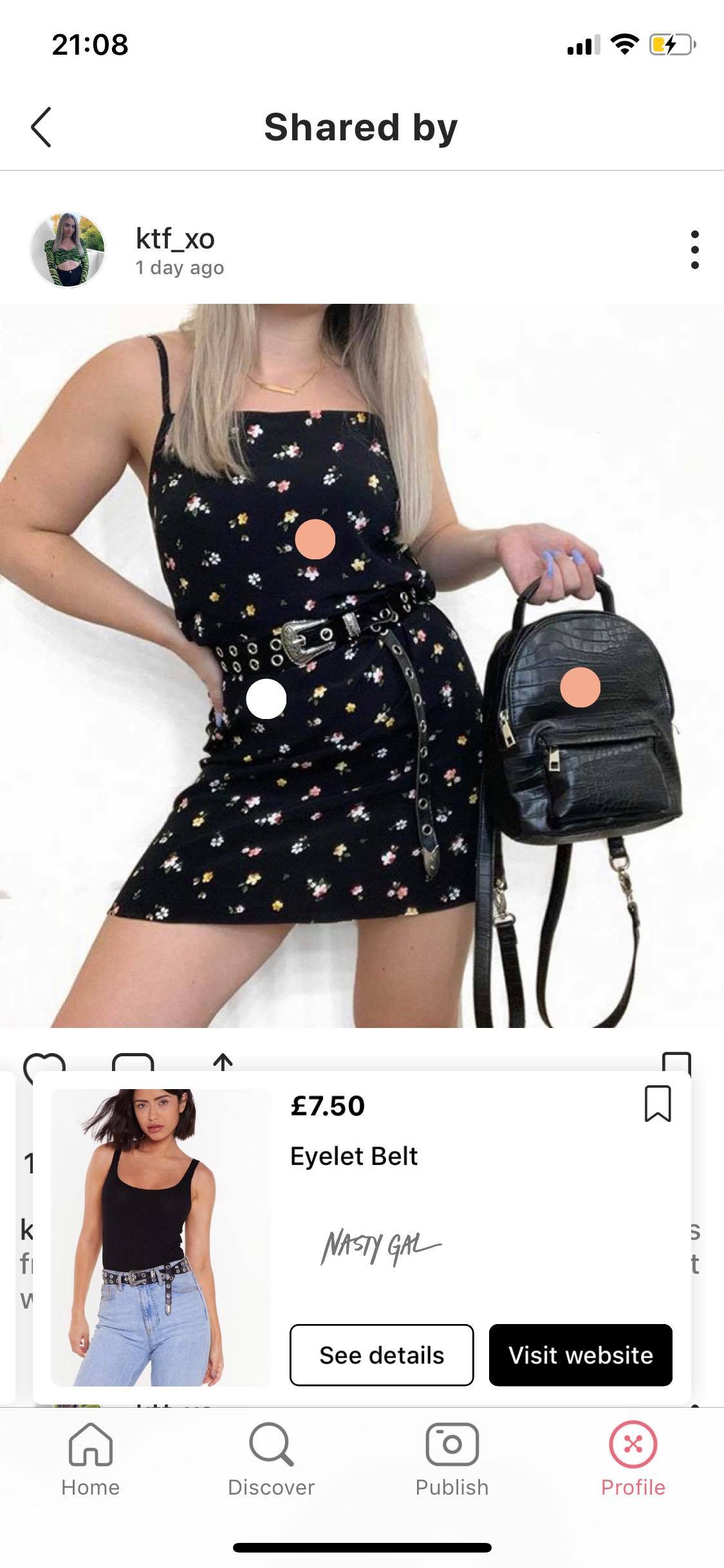 HOW DOES 21 BUTTONS WORK?
21 buttons is similar to Instagram in the way that your uploaded images are displayed as a grid on your profile. You can also follow people, people can follow you and you can like and save different posts. When you follow someone, their posts will show on your home feed.
Any time you upload an image to 21 buttons, you add 'buttons' to each item (like little stickers) and then you tag the item which you've buttoned. You have the option to add a caption to the post and also add hashtags so your post is more likely to be found - much like Instagram.
When someone sees your post and taps on the button you've put on the item, a pop up will appear which shows them which store the item was purchased from and then there are options to either save the item to one of their 'wardrobes' or visit the website to purchase it.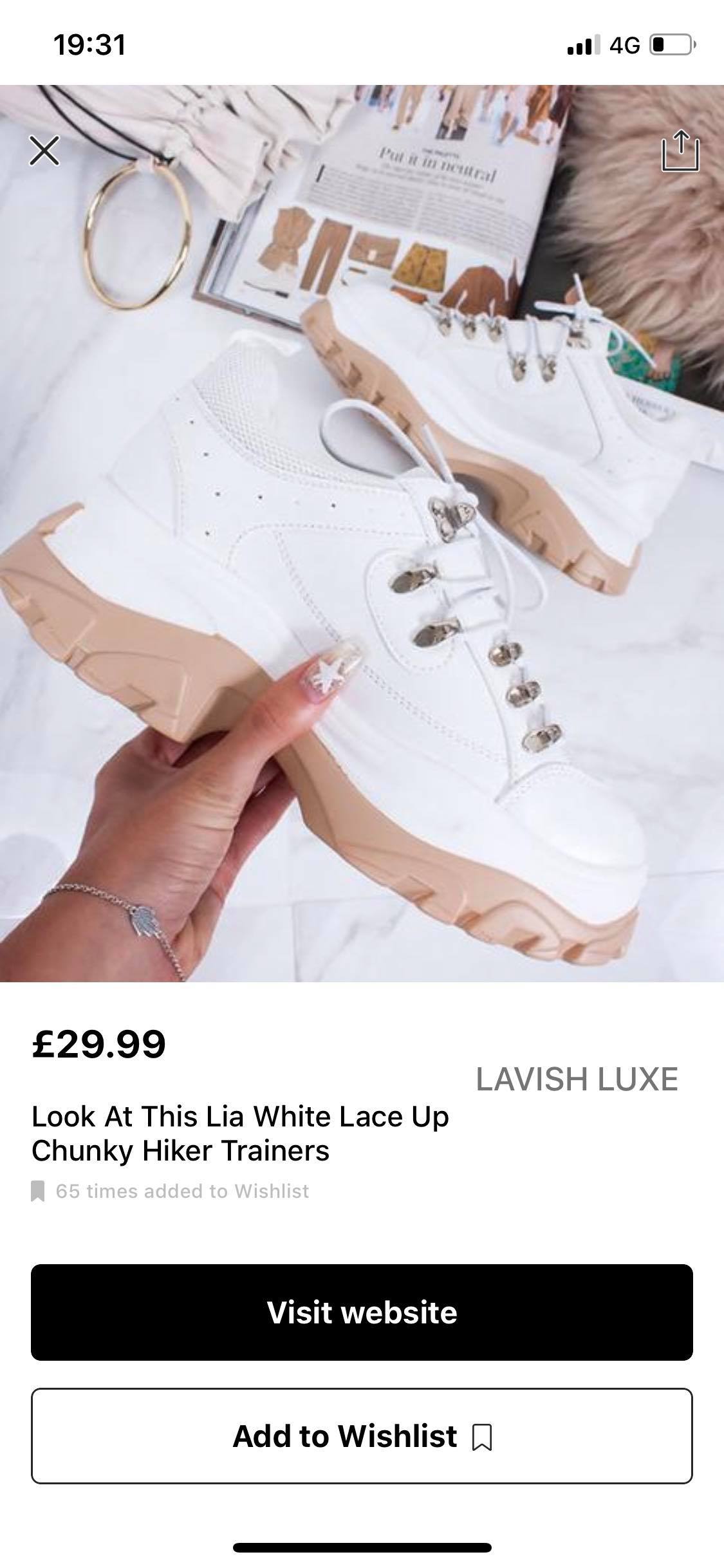 If the person saves your button then you receive a notification to let you know that your item has been saved. The number of likes and saves on an image gives you an idea of which items your followers like best so you could repost them in a different image later on.
And like I said before, if someone clicks through to the website, from your button then you receive a commission if there is an affiliate partnership in place.
Aside from purchasing items you've seen on 21 buttons, the app also lets you create 'closets' where you can save people's posts for future inspo.
HOW TO POST ON 21 BUTTONS
It's super quick and easy to post on 21 buttons and I actually find it quicker than posting on Instagram. There are 3 different ways to post on 21 buttons.
Firstly, click the 'Publish' button in the middle bottom of the screen.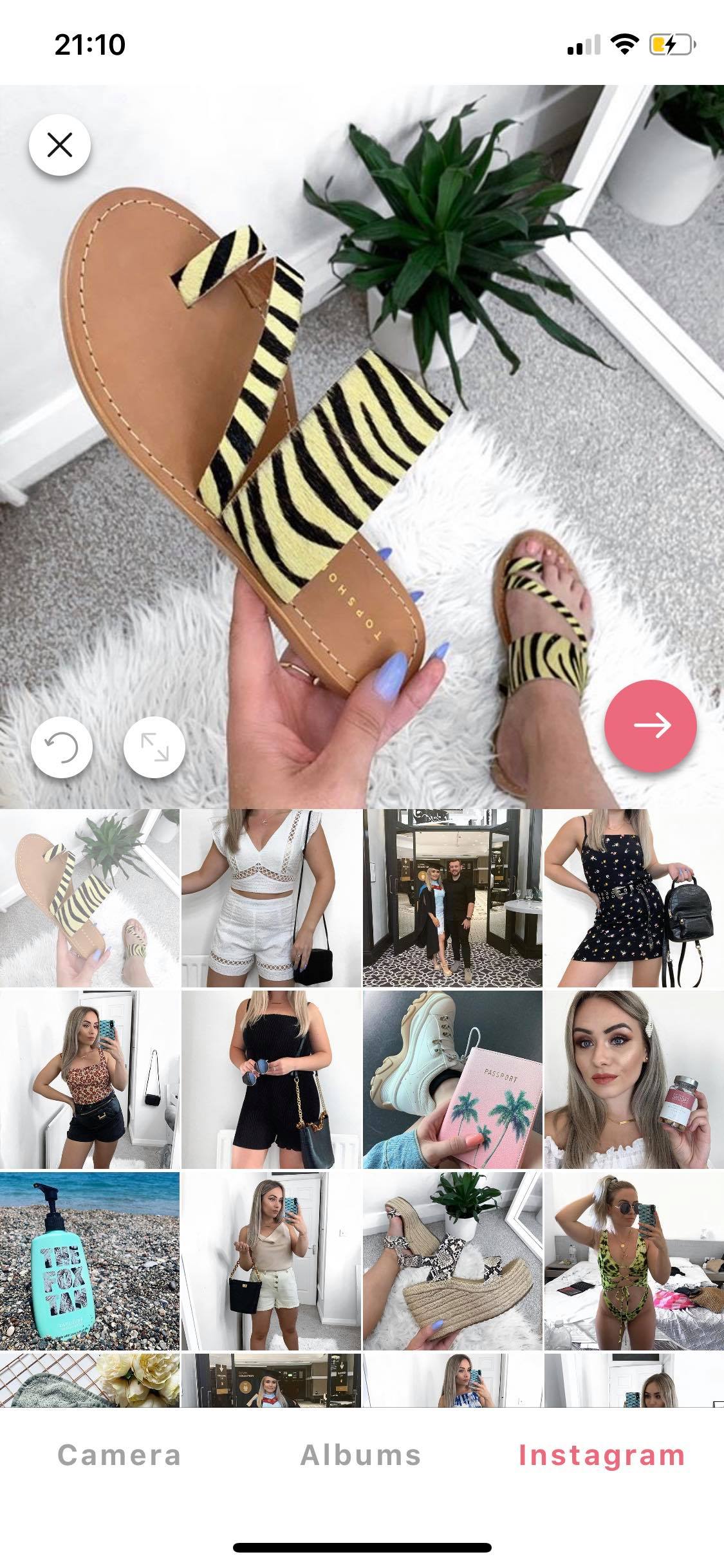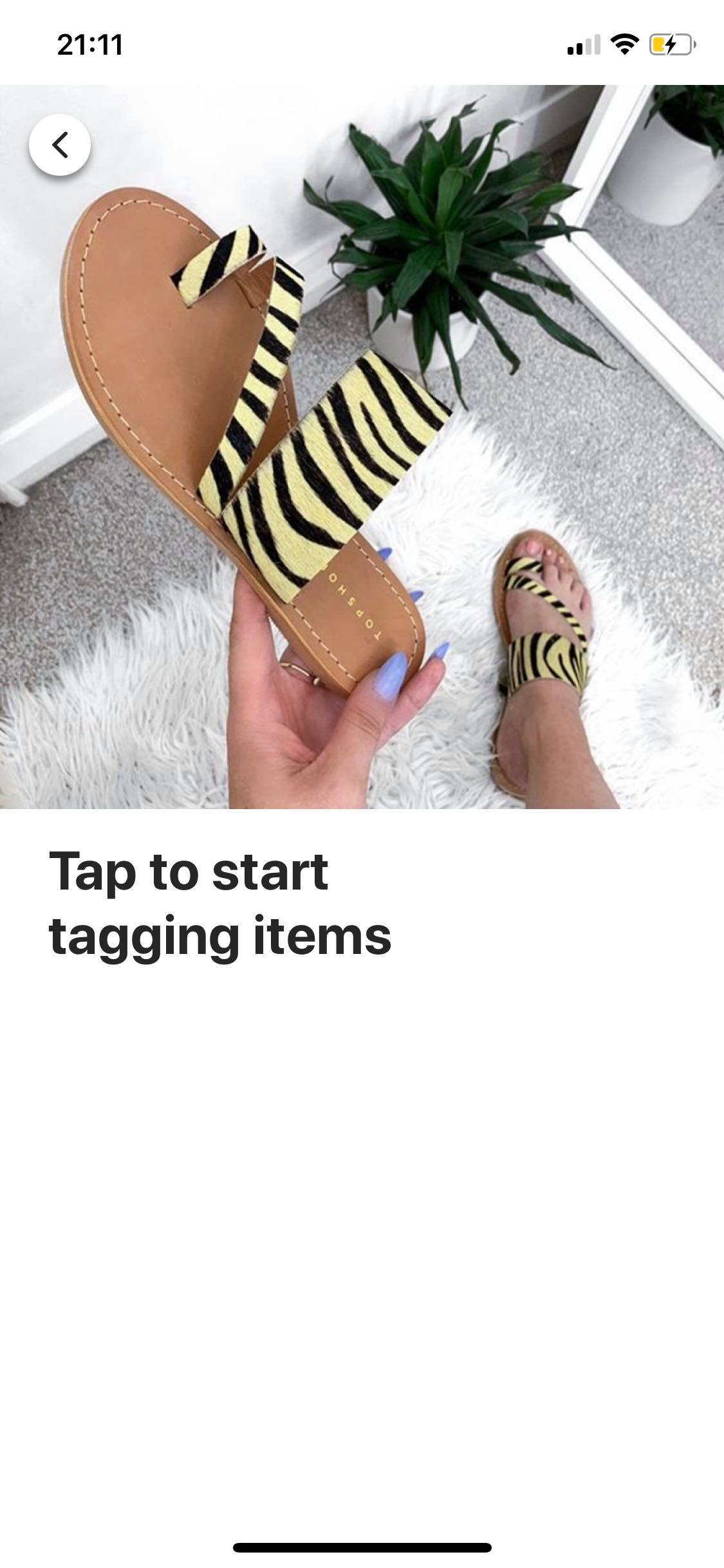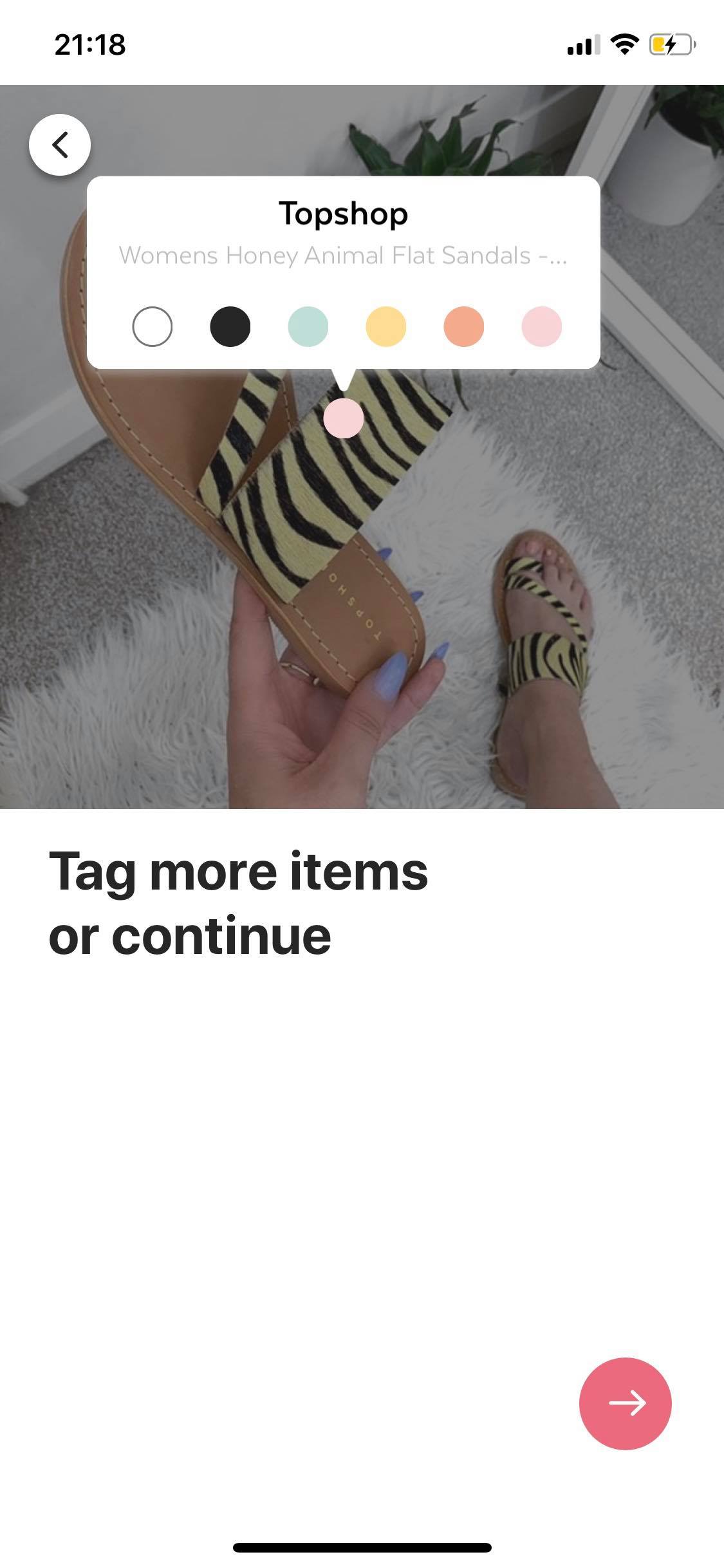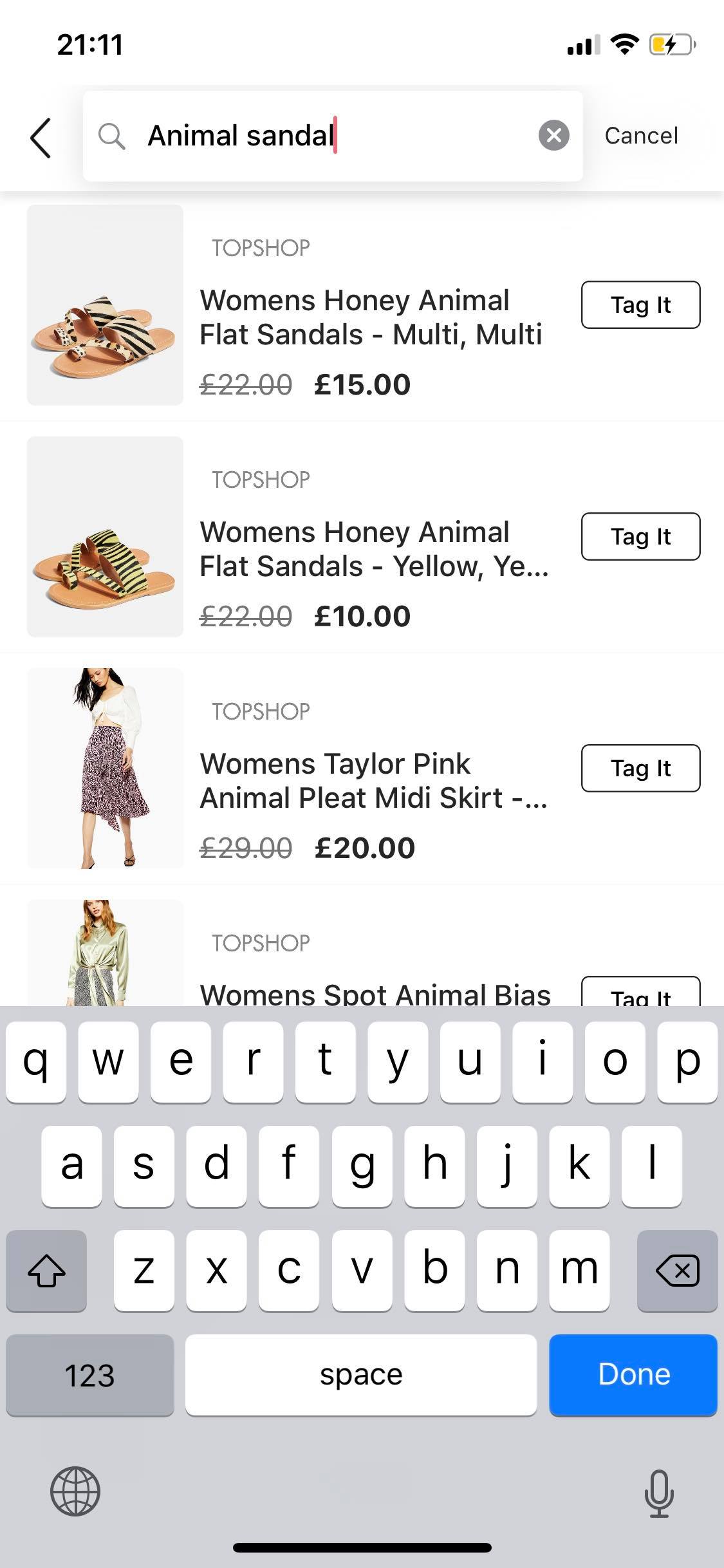 Then you can either choose:
'Camera' which will allow you to take a quick snap then and there and upload it right away.
'Library' which will take you to your phone photo library to choose one of your existing images (you need to allow access to your photo library for this to work).
'Instagram' - 21 buttons will show you your Instagram feed and let you click on any image from there.
Once you have an image to post, you then choose where on the image to add your first button. Tap the item you want to button and then either choose one of your existing items (saved from previous posts if you have already posted a pic) or choose the brand.
One thing I really like about 21 buttons is that there is no set list of retailers - so you aren't restricted on the items you are uploading. If you're posting an item which is from a small business that not many people have heard of, you can still tag them and link to the item.
Once you've chosen the brand, select the item by typing in its name at the top of the screen. I sometimes find that this can be a little hit and miss - sometimes the item is either not in the list or it appears miles down the list of items (bit of an exaggeration but you get my point). So a quicker way to find an item if it doesn't come up immediately is to click 'search the web'. This takes you to Google where you can search the actual website which sells your item and then tell 21 buttons that you have found the item and wish to tag it.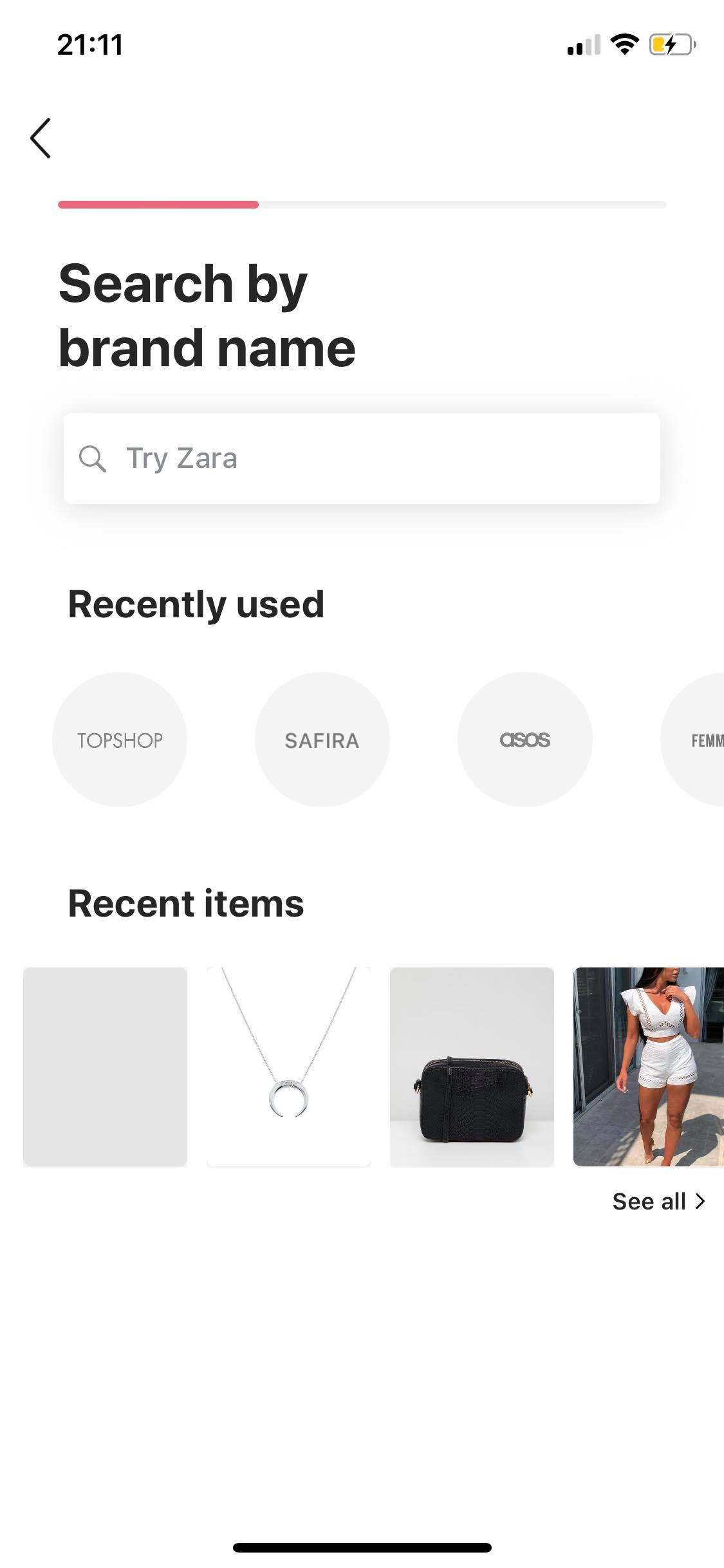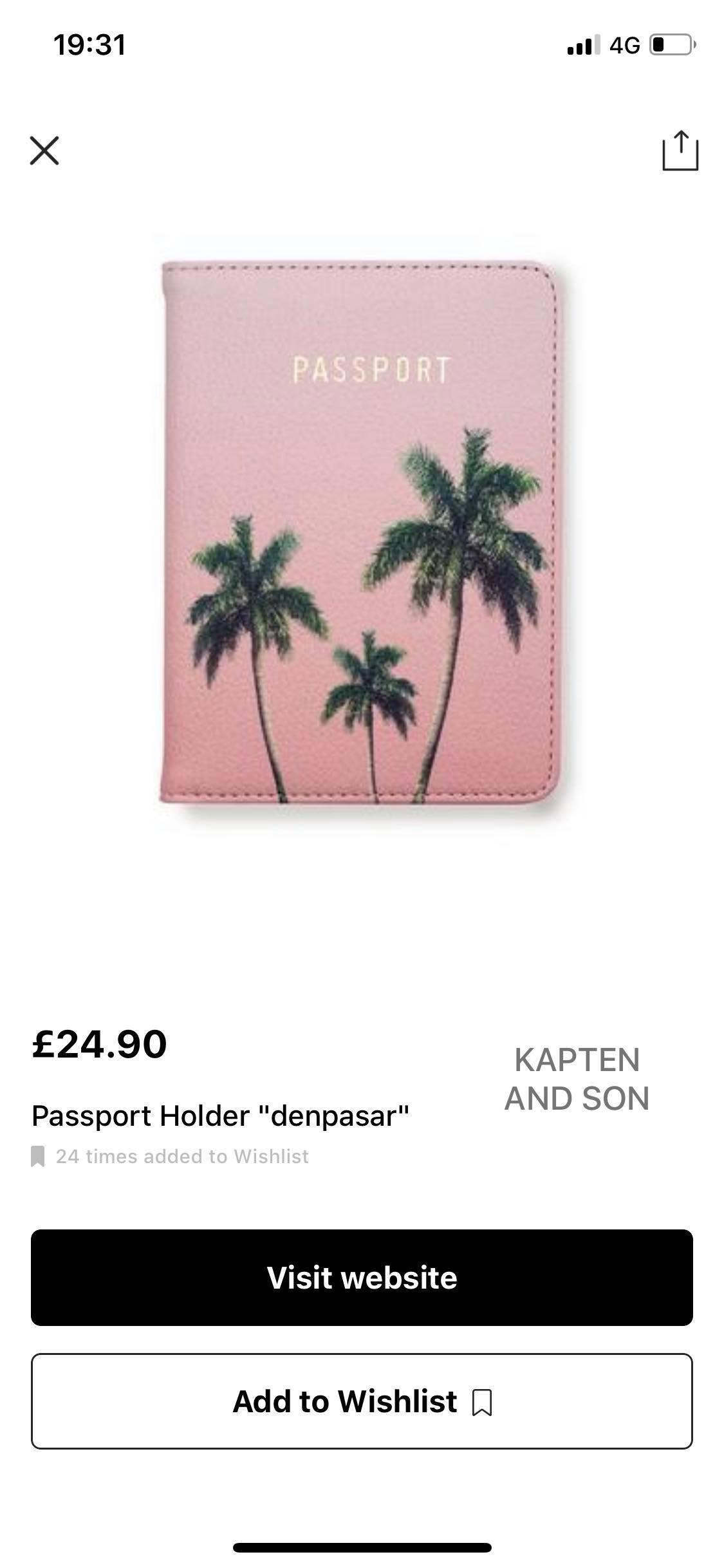 After you've chosen the item and the tag has been added, the next screen shows you details of the item such as price, name, brand etc. If you've linked to an item from the web rather than choosing it within the app, then these fields might be blank so just add in the price (don't forget to check you've selected the right currency), give it a name and let people know what brand it is.
When you click 'next' again, 21 buttons then lets you add a caption and hashtags to make sure your image is seen.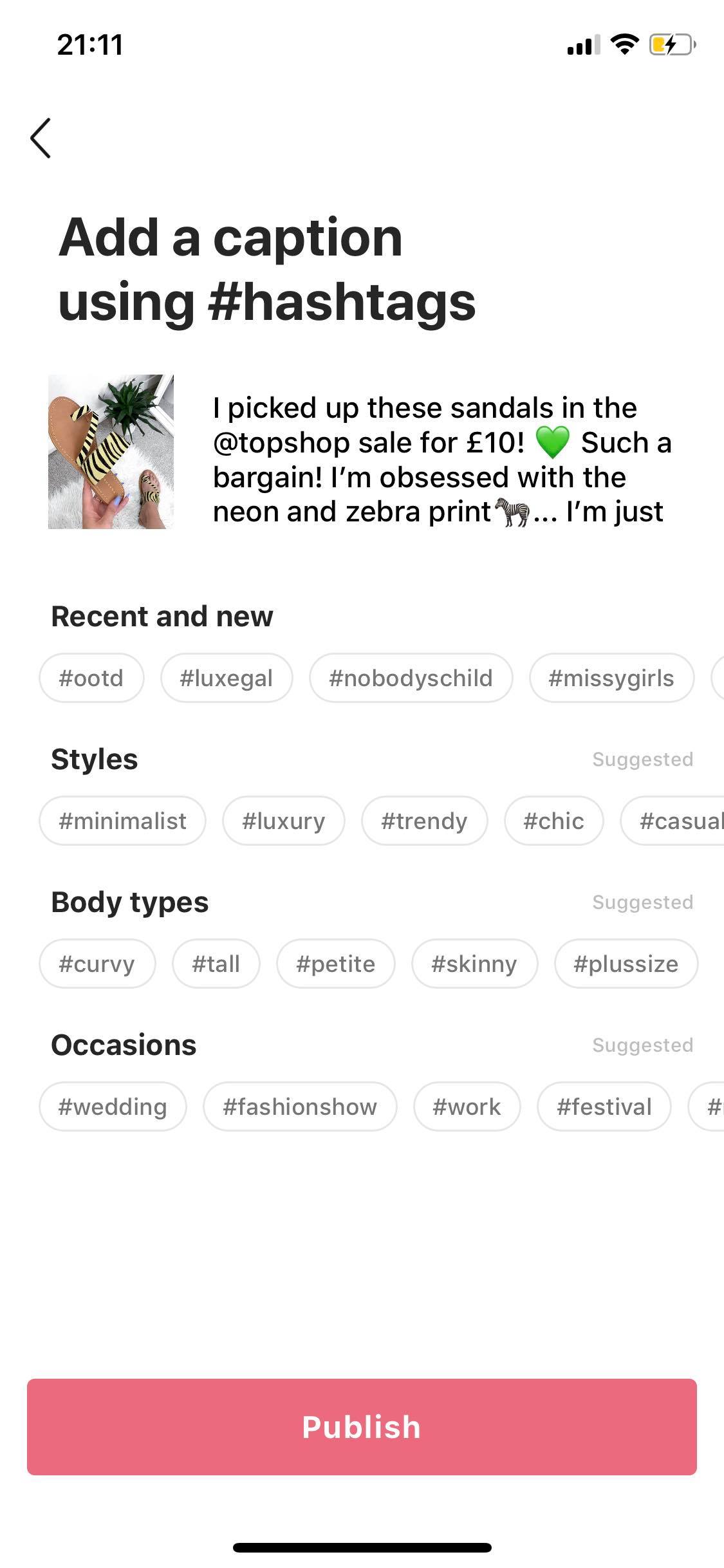 If you choose to take a photo there or import a photo from your library then you will have the option to add a caption and hashtags on the next page. If your image is imported from Instagram, the app will also import the caption from your Instagram post too, so all you need to do is add a couple of hashtags and click post!
Once the item is posted, it will show in the home feeds of your followers and the number of views the image has had will also show by a number underneath the image, next to a symbol of an eye.
HOW TO EARN MONEY ON 21 BUTTONS
Super simple.
All you need to do is post your images, tag your items and hope someone buys one, right?
Well, yeah kinda... but how do you make sure people see it and want to buy the items in your post?
Here are a few ideas:
Post consistently - Like Instagram, the more you post, the more success you will have on the app. 21 buttons recommend that people try to post 4 times a week at least for optimum results. I try and post everyday if I can but it can sometimes be tricky.
When an item is old or out of stock, tag some similar options - whilst you're supposed to tag the actual items in your post, if they aren't available, help a girl out and tag something super similar! If the item is sold out, the next best thing is a similar one from another shop, right? So share it with your followers!
Tag current and popular items - the most successful people on the app tag new pieces. Now, I know this can be tricky as keeping up with the latest trends can be kinda pricey… but be smart - buy cheaper essential items or items which you can wear several ways to get the most out of it. Don't forget, the more you post, the more followers.
Post quality images - Make sure the lighting is right and you don't add filters which change the colour of the clothing too much - you want to display the items looking as they actually look so as to not deceive your followers. If your followers think you're wearing a blue top and then when they purchase it, it turns out to be white (because of a filter you used), you'll lose credibility and its unlikely that person will purchase an item of clothing they've seen on you again.
If you are posting luxury items which are a bit on the pricey side, tag some cheaper alternatives for those who want to copy your style but don't always have the budget for it.
A theme could help - either posting the same type of post or same posts to keep your page looking the same all matching and also so your audience know what type of post to expect from you.
HOW TO SEARCH/FIND INSPO ON THE APP
Again, like Instagram 21 buttons has a 'discover' tab. On here you can not only search for buttoners (people who use the 21 buttons app) but you can also search by type of item, for example 'jeans' or 'jackets'.
This makes it super easy to search for your fave influencers or if you've just picked up a new denim jacket and you're looking how to style it, type Denim Jacket into the search bar and see how others have styled it
Another way you can find inspiration on 21 buttons is by the 'see who else has styled this' feature. When you select an item and the pop up appears, if you scroll down you'll see other images on 21 buttons where this exact items have been styled by other buttoners. So you'll find lots of different ways to style.
Top tip - pinch and zoom to see outfits more clearly.
CREATE YOUR OWN CLOSETS
If you're browsing for holiday clothes but also looking for work outfit ideas... as well as fitness clothes, create a closet for each! A closet is basically a wishlist and you can create as many wishlists as you like to make it easier to separate different types of clothes.
WHY IS 21 BUTTONS GREAT FOR INFLUENCERS AND BRANDS?
21 buttons has a super good relationship with influencers and being part of the influencer scheme myself, it is one of the best apps out there for making money whilst just sharing content.
21 buttons actively work to promote certain influencers within the app to ensure they get as much exposure as possible.
The app is also great for influencers with less than 10k followers on Instagram. These smaller influencers aren't able to add swipe up link to their story but can easily link outfits on 21 buttons.
Whilst it's mainly clothes you can tag anything - I've tagged makeup, accessories, stationery and even furniture!
One thing you can't do is paste a link onto a button - you have to be able to search on Google and find the item and then 21 buttons adds the link to the post for you.
You also don't know how much commission you're getting for each item and you don't get a notification when you make commission. But, as soon as you've earned £10 you can withdraw it to your Paypal account.
HOW TO CREATE THE PERFECT FASHION POST FOR 21 BUTTONS
The images that do the best - like on Instagram - are those taken by a photographer. Buttoners like to see quality content which shows the clothing in it's best light. If you can't afford to have a photographer follow you around though, don't worry! There are other types of post which can do just as well too...
One of these is outfit style posts - a display of clothing which when put together looks amazing... either laid out or hung up, displaying all of the items you would style together from clothing to shoes and accessories.
Selfies/headless selfies - the easiest and most natural shots. These show you actually wearing the clothes rather than only wearing them once for a shoot... and you can take these photos yourself with a tripod.
The app is available to download in Spain, Italy, Germany and the UK and has recently launched in Brazil, Mexico, Russia, Turkey,Belgium and Austria! Download it here.